Teriyaki Duck Donburi, a beautiful Japanese rice bowl featuring slow-cooked teriyaki duck leg served with a fried egg, rice & bok choi.
It is a really morish and simple recipe you can make your own by swapping in and out ingredients.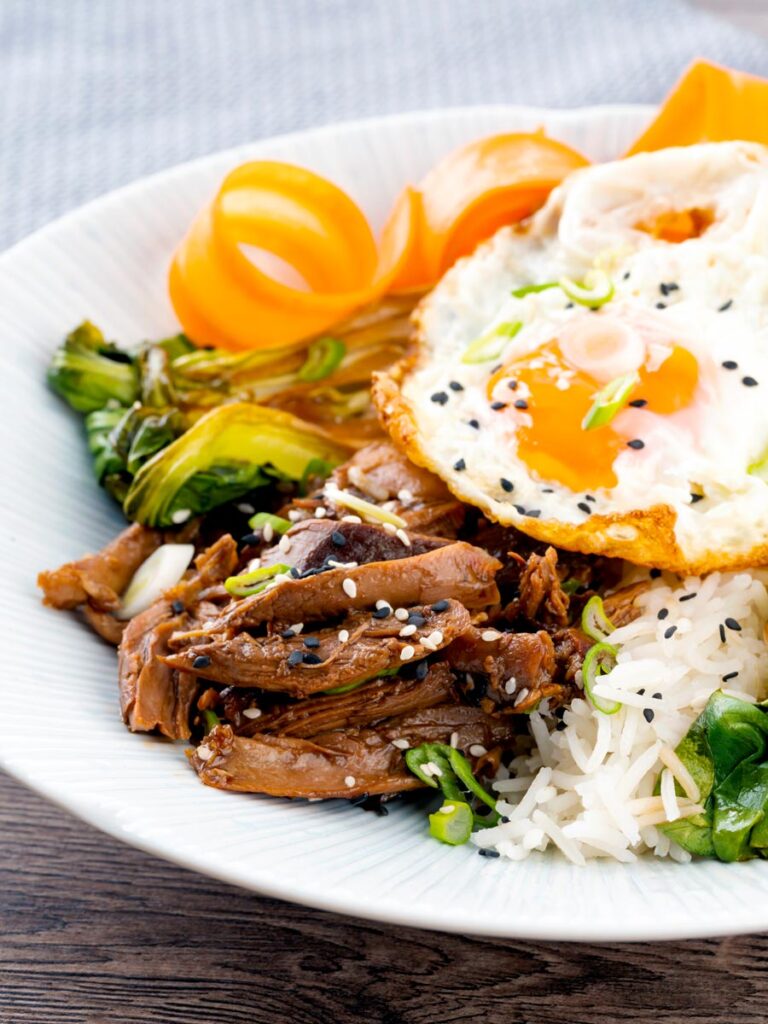 Teriyaki Duck Rice Bowl.
Duck makes a fairly regular appearance in these pages and this Teriyaki Duck recipe utilises slow cooked legs.
Much like my duck burger, the star of this rice bowl dish from Japan is slow-cooked duck leg.
This recipe comes from my mate Jo over at Every Nook and Cranny and it is a corker.
I've virtually known Jo for ages through a mutual real-world friend and her recipes are super. She pinged a private message me when she first published this a while ago.
Essentially a donburi is Japanese rice bowl, so some rice some veggies and some protein and off you go.
It's very much the sort of dish that I would have ordered from Wagamama back in the UK.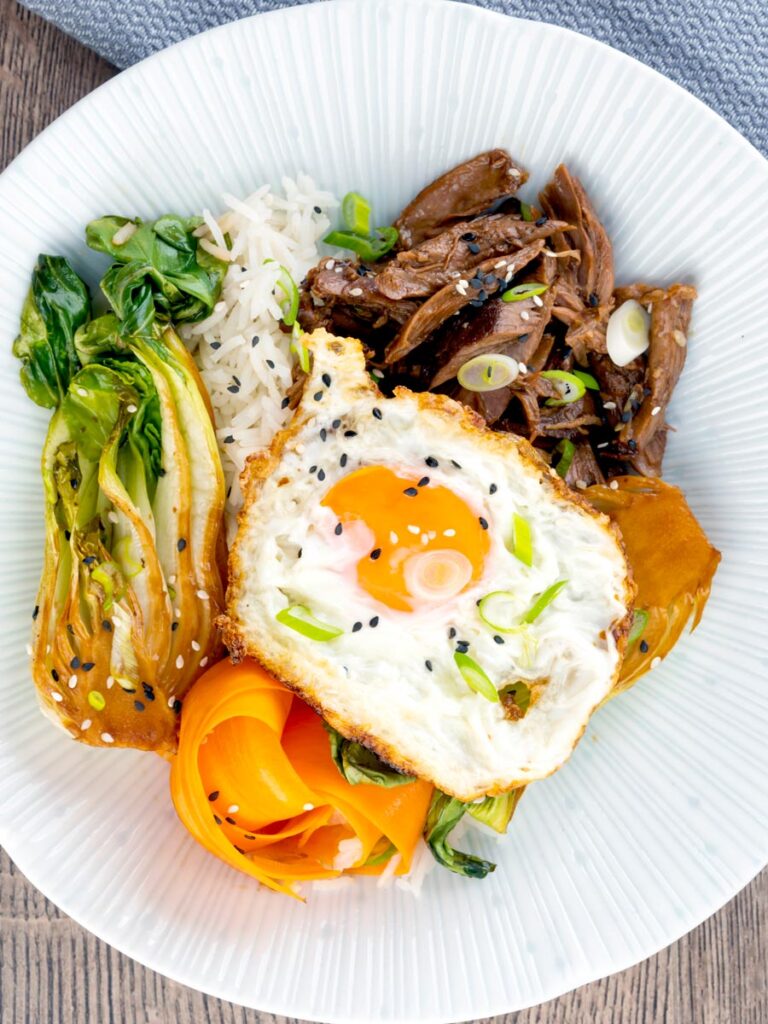 Knock Yourself Out With Veggies!
As for the vegetables in this dish, go to town use what you have that is good fresh and in season.
I am sure Jo will be along in the comments shortly to agree with me. Apart from the bok choi, which I recently found out she hates as much as I hate avocado.
Yes I hate avocado, A real honest to goodness who hates the darling of the food blogging world I'll just leave you with the image that Avocado comes from the word āhuacatl, it means testicle. You are welcome!
However you should definitely ignore her, she is mad bok choi is perfect in this recipe.
When I say she is mad, I mean it, she is friends with me. Ergo batshit crazy!
You can steam/roast it in the duck cooking liquid for 10 minutes whilst you are preparing the rest of your ingredients.
The leaves will be lovely and wilted and the base should have a lovely texture and be just softened enough.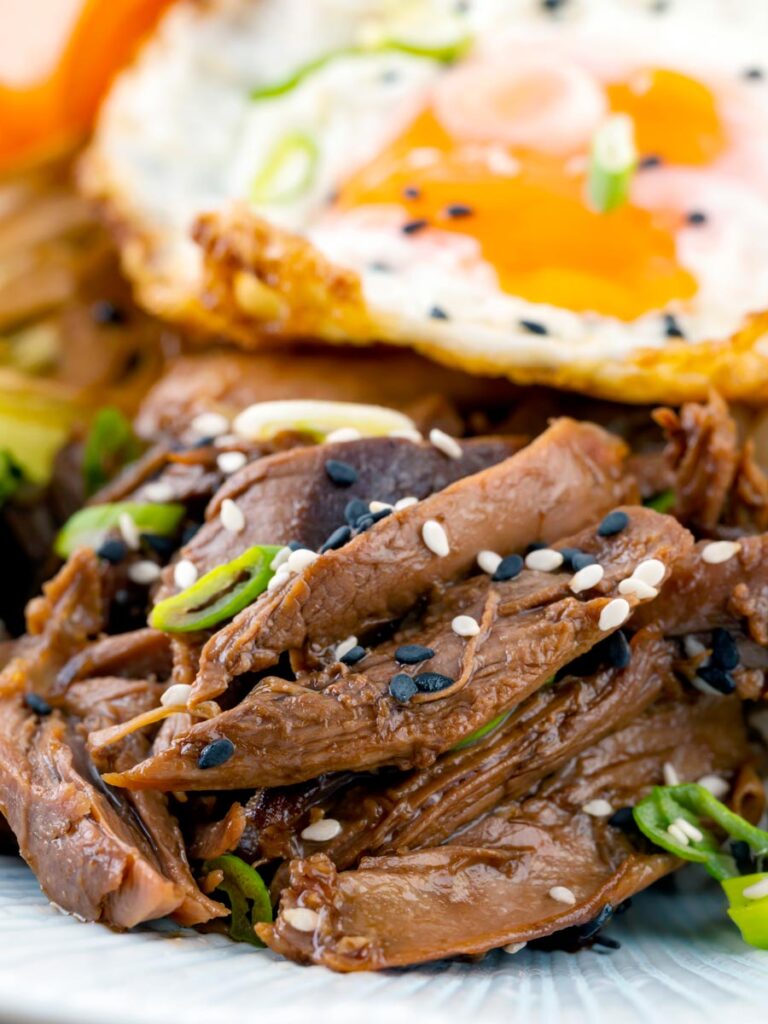 How To Make Teriyaki Sauce.
For me, the core ingredients of teriyaki sauce are store cupboard essentials. As a result, I never buy store bought, particularly as making it at home is so easy.
The core ingredients for a teriyaki sauce are soy sauce, mirin and some form of sugar. These ingredients are then reduced to create the desired consistency.
I often vary the amounts of each to suit the dish I am making, it is essentially sweet sour and salty.
Classic combinations that work on so many dishes, here it is used as a coating for slow cooked duck legs.
But I use it in this recipe on some pan fried salmon. However, you can even go left field as I do in these teriyaki meatballs!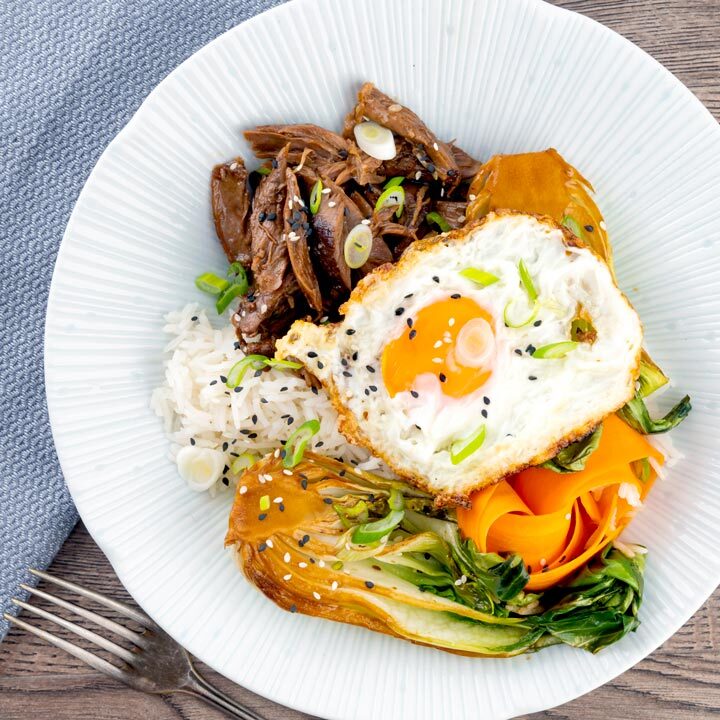 Yield:

2 Servings
Teriyaki Duck Donburi Recipe
Cook Time:
1 hour
45 minutes
Inspired by Wagamama, this shredded teriyaki duck donburi is a beautiful bowl of tasty goodness, slow-cooked duck leg served over rice, and a host of other goodies.
Ingredients
2 Duck Legs
125ml (1/2 Cop) Water
2 Tbsp Light Soy Sauce
1 Tbsp Dark Soy Sauce
4 Tbsp Rice Wine
2 Tbsp Dark Brown Sugar
85g (1/2 Cup) Long Grain White Rice
50 g (1 carrot around 10-15cm) Carrot
2 Spring onions
1 Large or 2 Small Bok Choi (about 250g total)
1 Tbsp Sesame Seeds
2 Eggs
Salt (For the Rice Water and Egg)
1/2 tsp Sesame Oil
Instructions
Mix together the soy sauces, rice wine, water, and brown sugar.
Score the skin of the duck breast and place it in an ovenproof dish.
Pour the sauce mix over the duck and place in the oven at 180˚C or 350˚F for 90 minutes, basting the exposed duck with the sauce every 30 minutes.
Remove the duck legs from the oven and set aside for 10-12 minutes under foil.
Drain the fat from the cooking sauce and set aside.
Have a pan of boiling water ready for when the duck is ready to remove.
Season the water with a generous teaspoon of sea salt and add the rice.
Cut the bok choi into quarters.
Place the bok choi in the bowl dish that the duck legs have come out of, cover with foil.
Turn the heat off on the oven and put the bok choi dish into it and allow it to sit for 10 minutes.
Turn the heat down under the rice and simmer for 10 minutes or until the rice is slightly al dente, then drain through a fine-mesh sieve.
Allow the rice to sit for a minute to steam dry a little then fork through to fluff up.
Use a vegetable peeler to create ribbons of carrot.
Slice the spring onions at 45 degree angle 2-3mm thick.
Shred your duckand dress with some of the cooking liquid just before frying your eggs.
Fry your eggs, how you prefer them, for me, it needs a crispy fringe and a runny yolk.
Place the rice in the bottom of the bowl.
Add the carrots followed by the duck
Drain the bok choi and add then add the egg.
Finally, sprinkle with sesame seeds, spring onion, and a drizzle of toasted sesame oil.
Nutrition Information:
Yield:
2
Serving Size:
1
Amount Per Serving:
Calories:

626
Total Fat:

19g
Saturated Fat:

5g
Trans Fat:

0g
Unsaturated Fat:

13g
Cholesterol:

291mg
Sodium:

2045mg
Carbohydrates:

64g
Fiber:

3g
Sugar:

13g
Protein:

40g
Calorific details are provided by a third-party application and are to be used as indicative figures only.