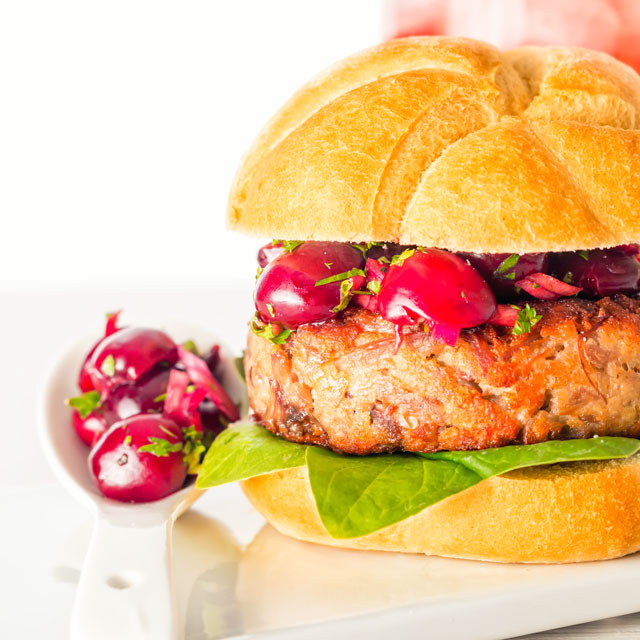 This duck burger with cherry salsa is a strange follow on from my pea and ham pasta recipe last month, my and my friends this month are all working on cherry recipes (my choice this time round) and I could not resist pairing duck with cherry. There are some food "couples" or pairings if you want to be proper, that go together so well and for me duck and cherries are one of those. In fact duck is a wonderful meat to pair with lots of fruits with oranges or plums both being classics, but at this time of the year, for me it is cherries, we have 3 cherry trees in the garden that produce the most wonderful fruit, I make all sorts of dishes with them ranging from jams and syrups to of course the wonderful cherry salsa that is served on my duck burger and cherry wine, hic… It is a might good slurp although I doubt the 'mumble' kilos of cherries required to make it a viable recipe to be dropping here on Krumpli.
If you follow me on Facebook you may have noticed the genus of this burger form sometime over the last 6 weeks in a post I shared by another food blogger, Slow the Cook Down, did a fantastic shredded duck burger and whilst my flavours and approach to the burger are a little different, the idea is all thanks to Betty. Whilst we are talking about my approach to this burger I want this burger to hold together on the outside and be wonderfully loose on the inside, in order to achieve this be careful not to compress the burger too much. Don't be afraid of working it too much, you can keep spinning on your work surface and smoothing with your hands to get a pretty uniform surface, but don't start pushing, it will take a little time, but it will come together. As is the new way at the end of every month, here are the recipes from the other wonderful cooks taking part this month, stroll on over say hi and tell em Brian sent you 🙂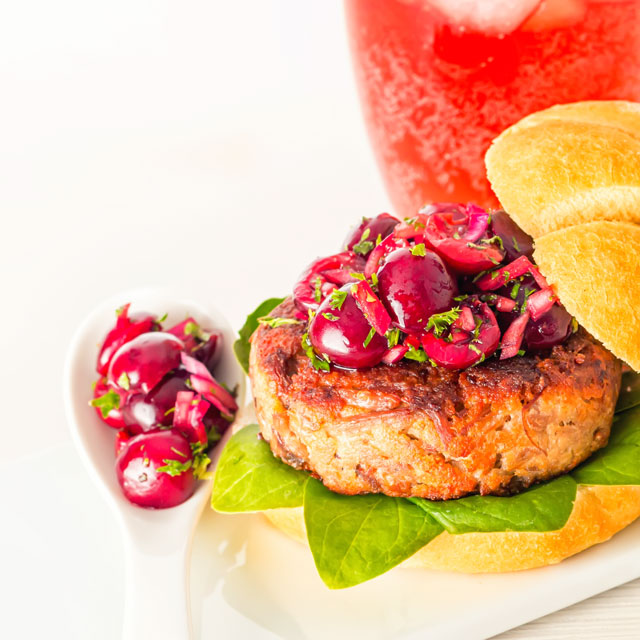 Print
Shredded Duck Burger with Cherry Salsa
You all know by now I have favourite "couples" when it comes to food, this cherry and duck burger is built on the back of one of may favourite "couples".
Total Time
3
hours
10
minutes
Ingredients
2

kg

Duck Legs.

125

g

Cherries

Dark sweet cherries are the best.

2

Mace.

Salt and Pepper.

1

Egg.

25

g

Bread Crumbs.

2

Burger Buns.

Use what ever you like.
For The Cherry Salsa:
50

g

Red Onion:

Finely diced.

150

g

Cherries.

Same as above, pitted and cut in half.

1

Tbsp

Balsamic Vinegar.

1/2

Tsp

Lemon Juice.

Parsley.
Instructions
Take a large frying pan with a lid that is oven proof and heat over a high heat.

Generously season your duck legs with salt and pepper and then sear in the dry pan on all sides until a nice dark golden colour.

Throw in the cherries, star anise and then place in the oven to slowly roast for two hours.

Now we will pull together the salsa as this improves after being allowed to stand for a few hours.

Mix together all of the ingredients for the salsa with the exception of the parsley and allow to steep.

After 2 hours remove the duck form the pan and the by now confit cherries.

When the duck legs have cooled enough to handle remove the skin and finely shred with two forks and add the confit cherries. Feel free to eat the skin as a treat you deserve it!

Once completely cooled add the egg and breadcrumbs to the shredded duck and form in to two patties and allow too cool in the refrigerator for an hour or so, this will help the duck fat solidify.

Shallow fry the burgers over a medium high heat.

I keep these burgers real simple, just some spinach and loads of the salsa.