You all know by now I have favourite "couples" when it comes to food, this cherry and duck burger is built on the back of one of many favourite "food couples".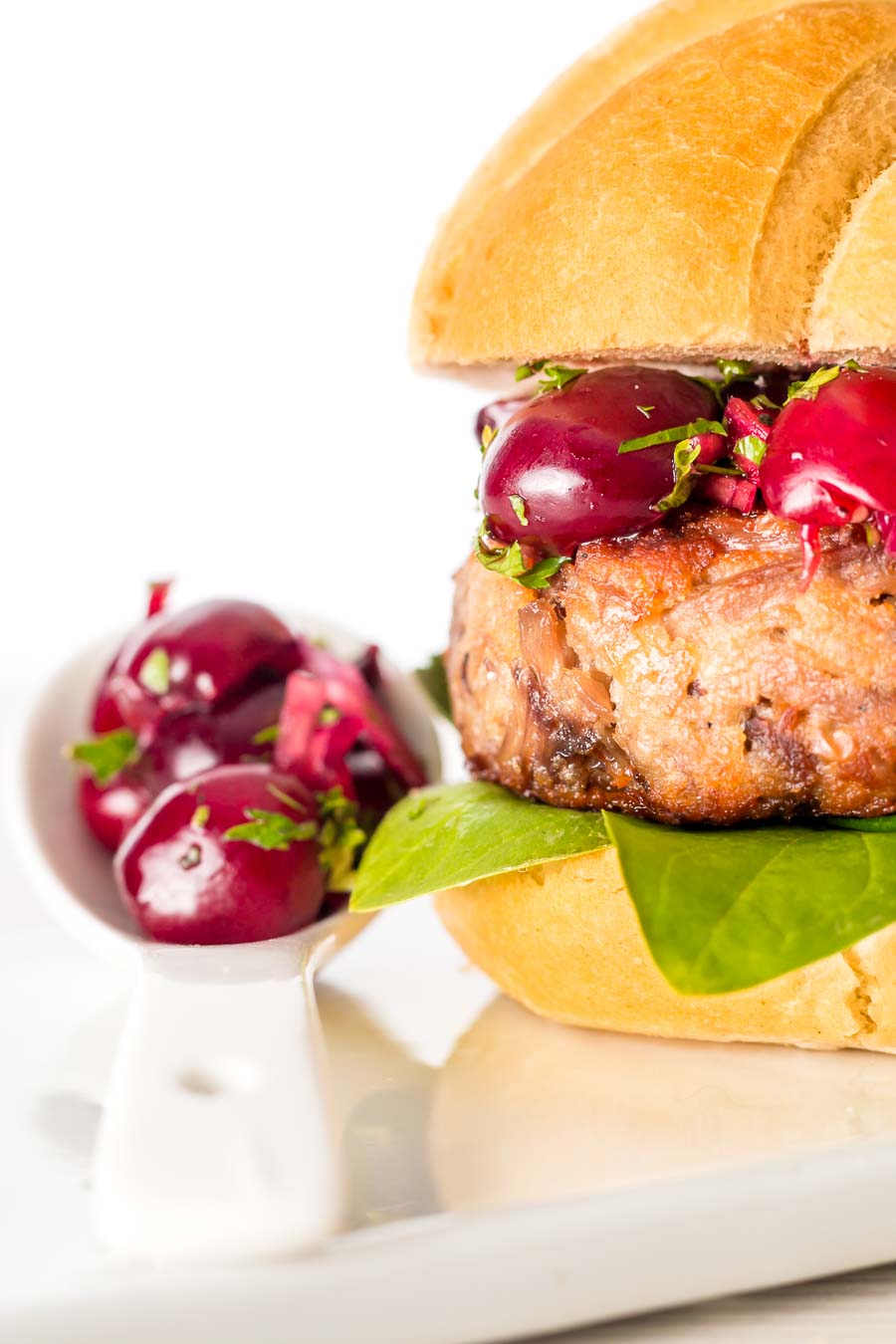 Shredded Duck Burger with Cherry Salsa.
This duck burger with cherry salsa is a strange follow on from my pea and ham pasta recipe last month.
Me and my friends this month are all working on cherry recipes and I could not resist pairing duck with cherry.
There are some food "couples" or pairings if you like, that go together so well and for me duck and cherries are one of those.
A cherry sauce for duck really is one of those classic recipes.
Duck With Fruit.
In fact, duck is a wonderful meat to pair with a whole host of fruits. Duck A L'Orange is a classic. My take on a Thai red curry with duck and pineapple is a bit special too! But at this time of the year, for me it is cherries.
We have 3 cherry trees in the garden that produce the most wonderful fruit. I make all sorts of dishes with them ranging from jams and syrups to of course this wonderful cherry salsa.
I also make a cherry wine, hic. It is a mighty good slurp. Although I doubt the 'mumble' kilos of cherries required to make it disqualify it as a viable recipe to be dropping here on Krumpli.
Recipe Inspiration.
If you follow me on Facebook you may have noticed the genus of this burger form sometime over the last 6 weeks. Slow the Cook Down, did a fantastic shredded duck burger. Whilst my flavours and approach to the burger are a little different. This idea is all thanks to Betty.
Whilst we are talking about my approach to this burger recipe I want this burger to hold together on the outside. Whilst at the same time remaining wonderfully loose on the inside. In order to achieve this be careful not to compress the burger too much.
Obviously, the slow roasted duck legs also help this process! If slow roasted duck legs are your thing then you should definitely try this Duck Donburi recipe!
Don't be afraid of working it too much! You can keep spinning on your work surface and smoothing with your hands to get a pretty uniform surface.
But most importantly don't start pushing, it will take a little time, but it will come together.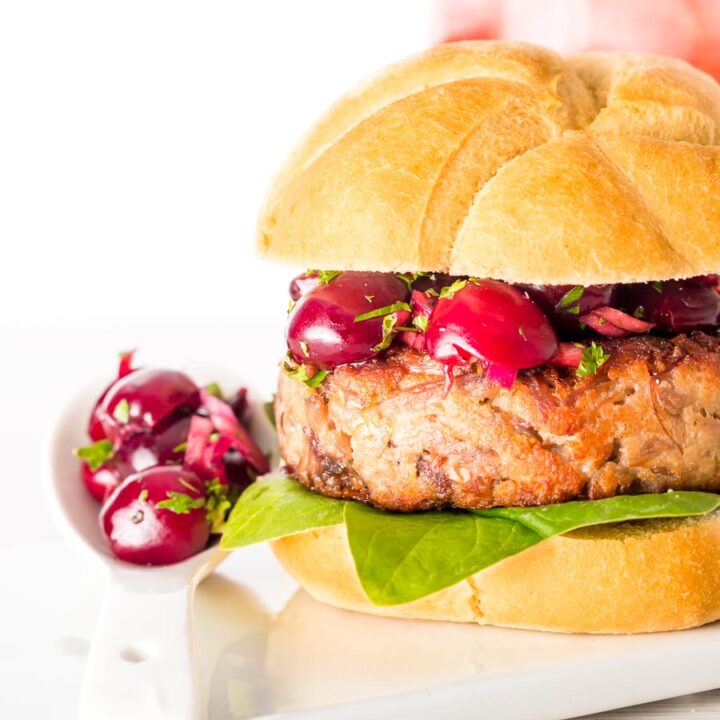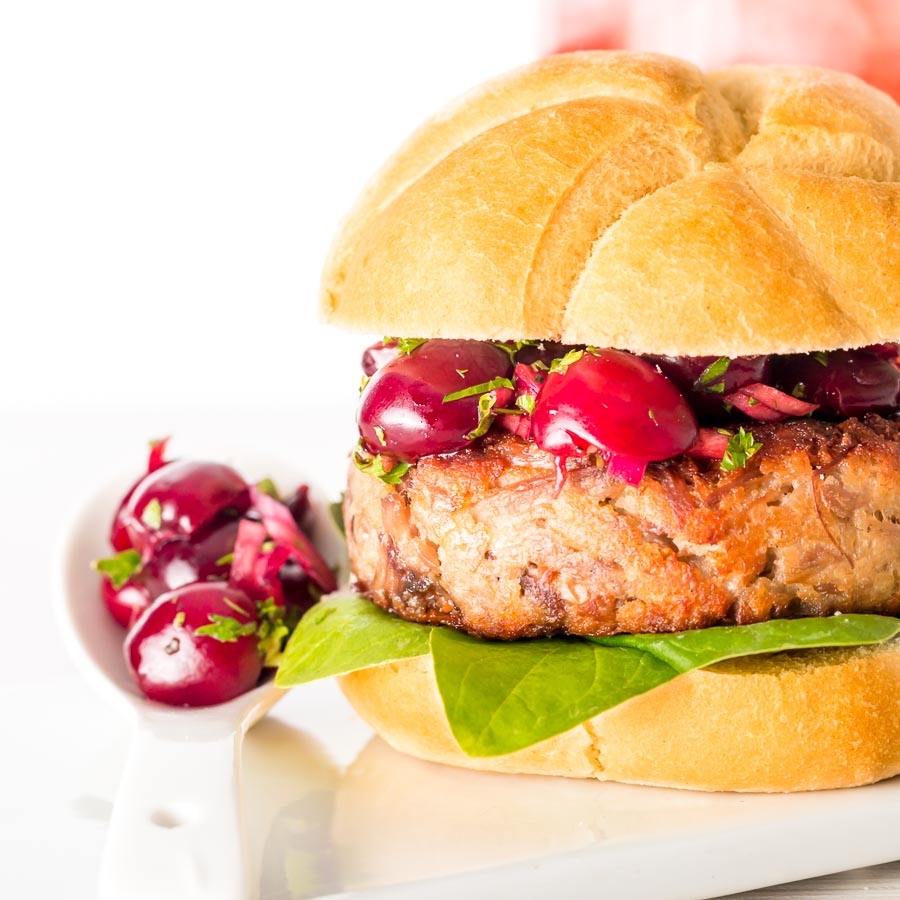 Yield:

2
Shredded Duck Burger with Cherry Salsa
Total Time:
3 hours
10 minutes
You all know by now I have favourite "couples" when it comes to food, this cherry and duck burger is built on the back of one of may favourite "couples".
Ingredients
1 kg Duck Legs
125 g Cherries, Dark sweet cherries are the best
2 Mace
Salt and Pepper
1 Egg
25 g Bread Crumbs
2 Burger Buns, Use what ever you like
For The Cherry Salsa:
50 g Red Onion, Finely diced
150 g Cherries, Same as above, pitted and cut in half
1 Tbsp Balsamic Vinegar
1/2 Tsp Lemon Juice
Parsley
Instructions
Heat your over to 150°C.
Take a large frying pan with a lid that is oven proof and heat over a high heat.
Generously season your duck legs with salt and pepper and then sear in the dry pan on all sides until a nice dark golden colour.
Throw in the cherries, star anise and then place in the oven to slowly roast for two hours.
Now we will pull together the salsa as this improves after being allowed to stand for a few hours.
Mix together all of the ingredients for the salsa with the exception of the parsley and allow to steep.
After 2 hours remove the duck form the pan and the by now confit cherries.
When the duck legs have cooled enough to handle remove the skin and finely shred with two forks and add the confit cherries. Feel free to eat the skin as a treat you deserve it!
Once completely cooled add the egg and breadcrumbs to the shredded duck and form in to two patties and allow too cool in the refrigerator for an hour or so, this will help the duck fat solidify.
Shallow fry the burgers over a medium high heat.
I keep these burgers real simple, just some spinach and loads of the salsa.
Nutrition Information:
Yield:
2
Serving Size:
1
Amount Per Serving:
Calories:

1415
Total Fat:

63g
Saturated Fat:

16g
Trans Fat:

0g
Unsaturated Fat:

41g
Cholesterol:

663mg
Sodium:

1057mg
Carbohydrates:

60g
Fiber:

5g
Sugar:

25g
Protein:

145g