These Lamb Burgers are inspired by Indian flavours, light bright and zingy with hints of fenugreek, cumin and turmeric and elements of a Kachumber salad.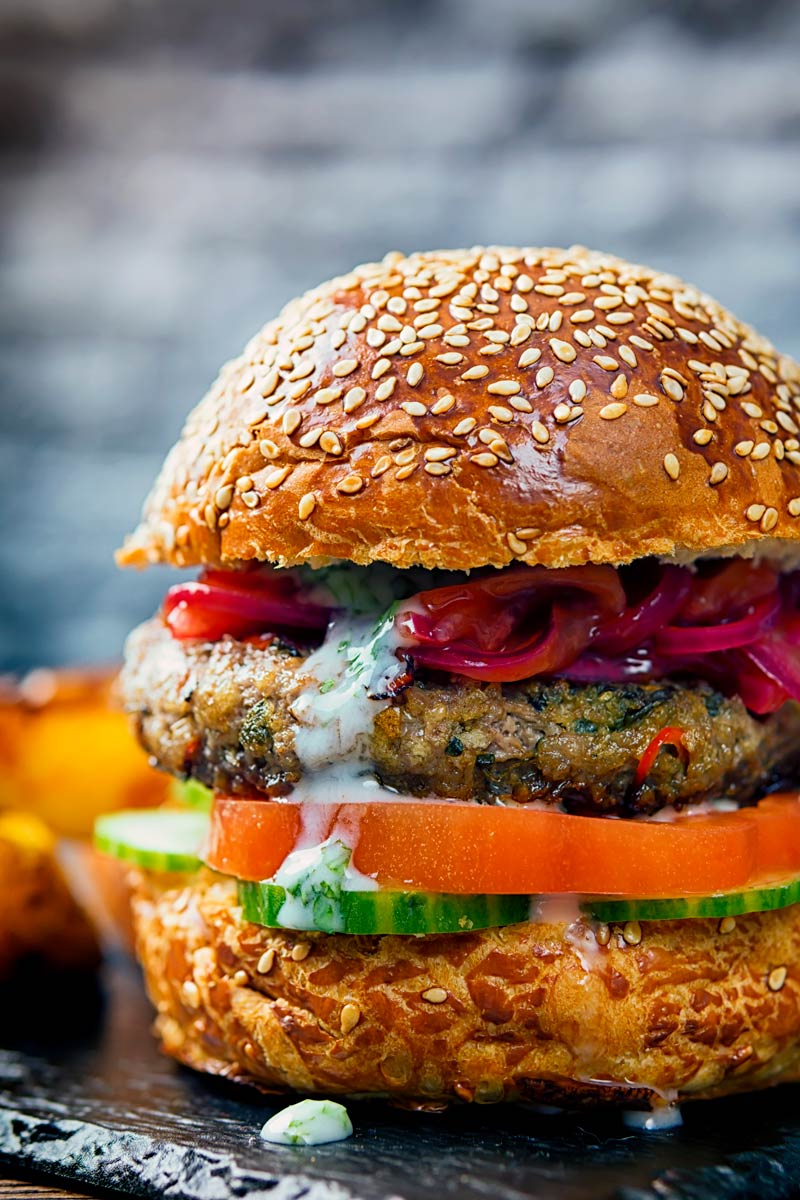 Indian Lamb Burger.
These Indian inspired burgers join a slowly growing list of 'left field' burgers on my website.
I have mentioned before my fondness for the 'missionary position' of burgers when it comes to a hamburger!
Seriously it is full on Burger King 'Whopperesque', no whizz-bang, just great Mayo, great ketchup, onion, pickles tomatoes and lettuce.
That does not mean that when it comes to other meat that I don't get imaginative with my burgers.
This lamb burger recipe is very much influenced by my love of Indian flavours. That does not mean that it should be confused with a 'curry burger'!
The flavours here are the same sweet and sour flavours often associated with burgers.
Pickles make an appearance in the guise of some quick pickled red onion and even ketchup gets a look in.
The burger patty itself features fenugreek, a flavour I adore along with some cumin and coriander.
Add to this the elements of a kachumber salad and mint raita and you have a very different Indian inspired food experience!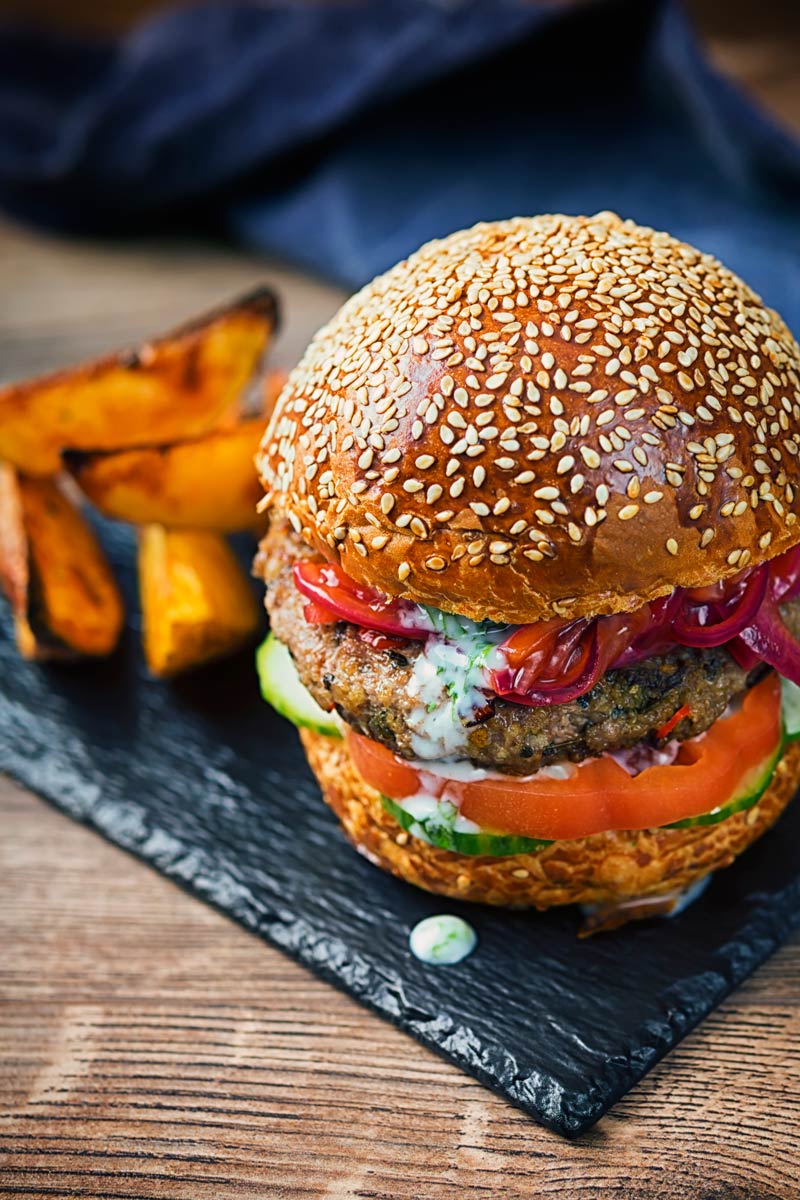 Gourmet Burgers.
Burgers get a bad wrap as crap fast food… I cry poppycock… Well, I don't my language is typically much more colourful.
A great burger is a beautiful thing and the secret is simply good quality ingredients. Let's face it that goes for all cooking!
These Indian inspired burgers join veal burgers and duck burgers here on Krumpli.
Meats that are often associated with food that is a little fancier than a burger.
Taking a stroll through my site will show I am rather fond of the fancy, but as far as I am concerned a good burger can be every bit as gourmet as anything else!
Add potato wedges and you have a meal fit to grace any table.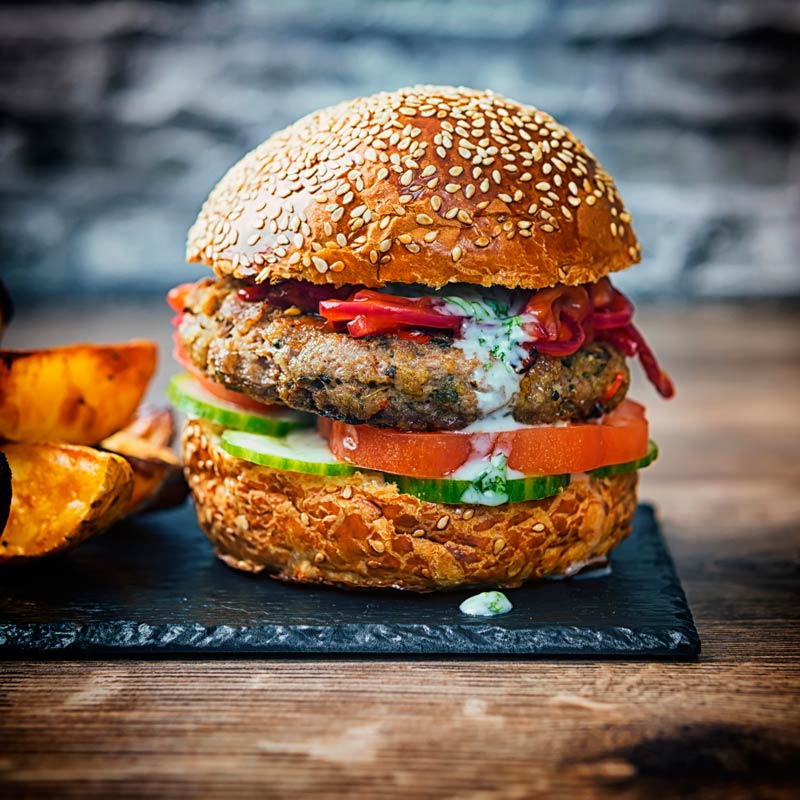 What Cut of Lamb Makes a Good Burger?
I have mentioned many times before that I always grind or mince my own meat and consider a meat grinder to be an essential kitchen tool.
This is not being poncey or chefy, it is just about knowing what I am eating.
Unless you ask your butcher to grind your meat you will get a hodgepodge of whatever crap the store struggles to sell.
This burger recipe needs some fat, pretty much like all burgers.
I find lamb shoulder has just about the right amount of fat, it is around 25%. It is a little higher than beef, but that is ok because fat equals flavour!
Unlike some, I also insist on using eggs (yolk only) and breadcrumbs as a binding ingredient in my burgers.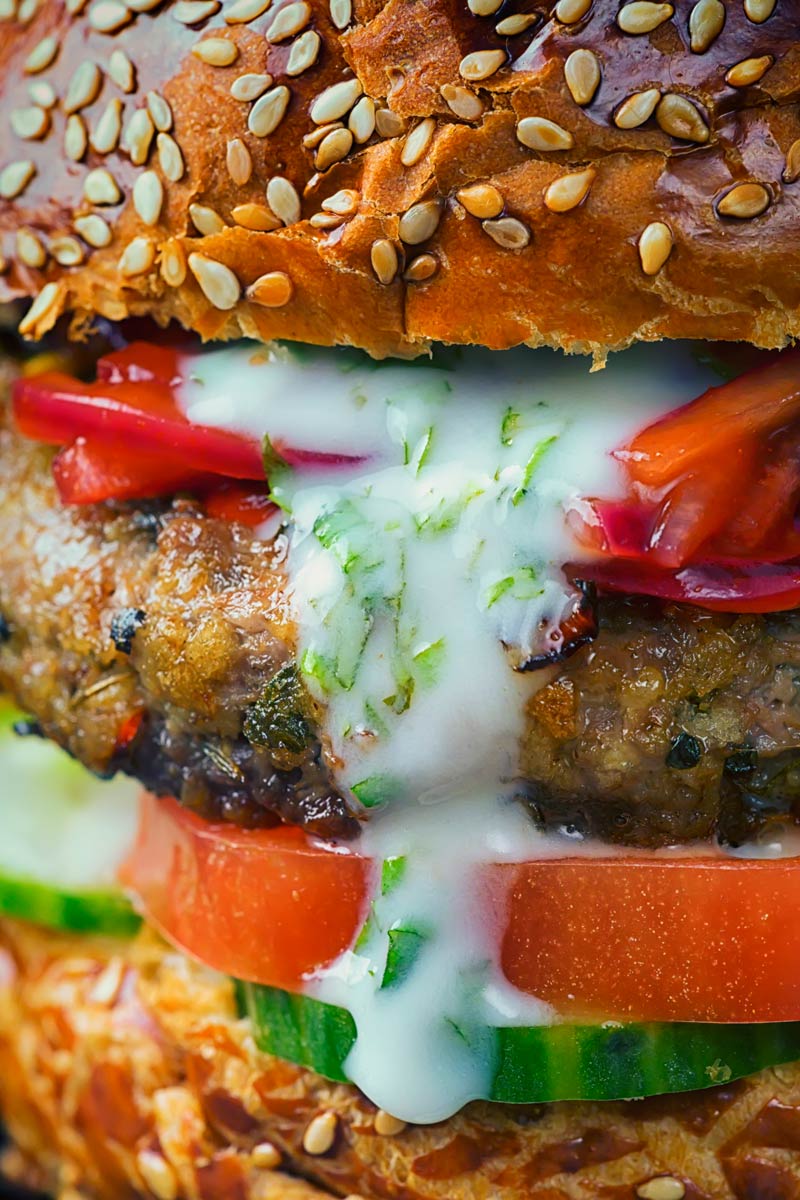 How to Freeze Homemade Burgers?
Stick a piece of baking parchment between the burgers and then freeze. They should be good for up to 3 months in the freezer.
This recipe cooks them in a pan but they work wonderfully on the BBQ and freezing them takes out a load of work!
I personally prefer to thaw my homemade burgers before cooking them.
This just helps them cook more evenly and prevents the overcooking of outer layer whilst you wait for the inside to cook.
As a side note, I never cook ground meat pink.
If you want to do so fill yer boots, but I cook my whether they are beef or lamb burgers all the way through.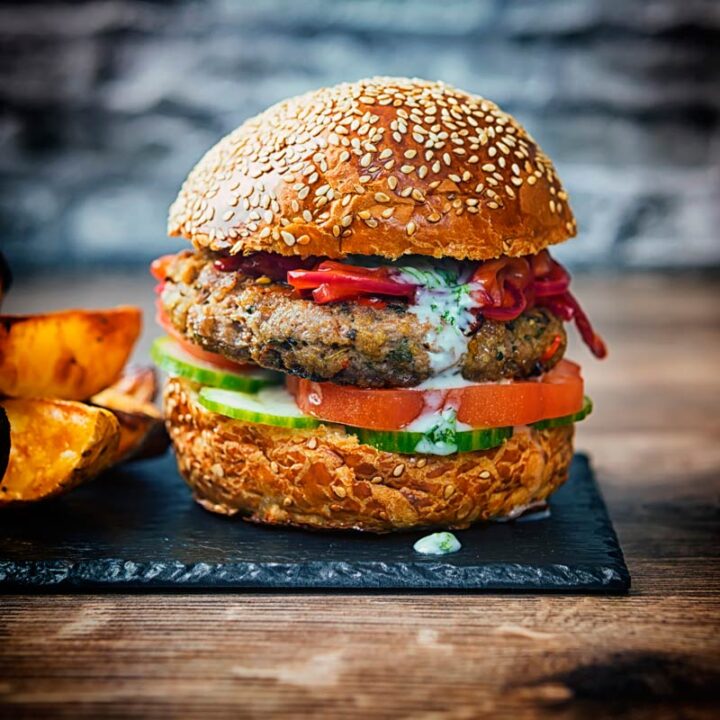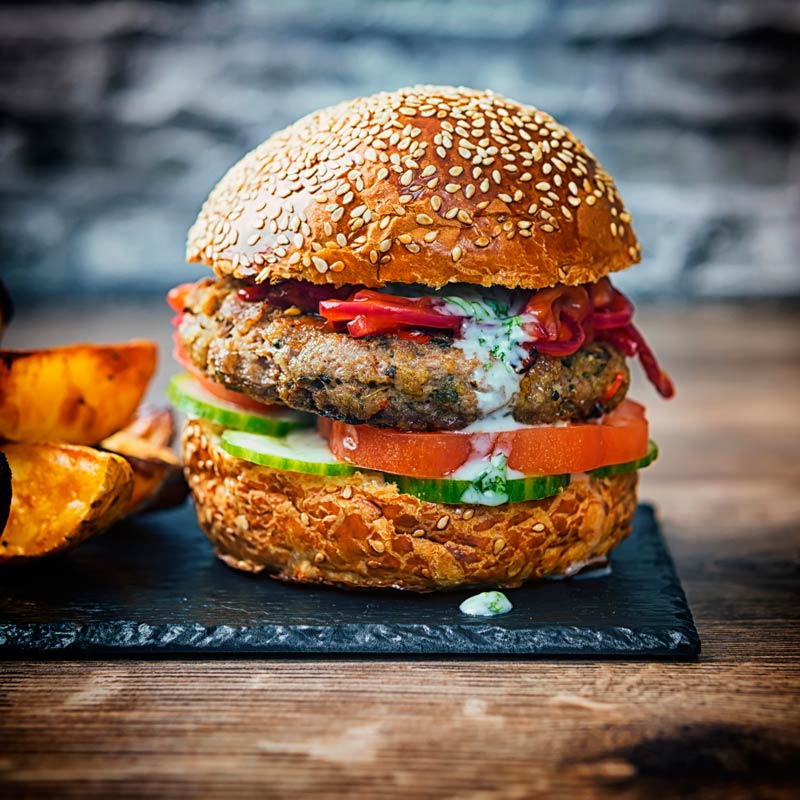 Yield:

2 Burgers
Indian Lamb Burgers
Ain't no such thing as just a Burger... This Indian Lamb Burger is all sorts of special featuring classic Indian spices, a really special simple 'pickled' red onion chutney and a raita dressing. Yup, you need this in your life!
Ingredients
For the Lamb Burger:
250 g Minced Lamb
1 Red Chili
1/2 Tsp Ground Cumin
1 Tsp Turmeric
1 Tbsp Dried Fenugreek
1 Egg Yolk
1/2 Tsp Ground Coriander
25 g Breadcrumbs
Salt and Pepper, To Taste
For the Pickled Red Onion Chutney:
75 g Red Onion
75 ml White Wine Vinegar
100 ml Water
50 g Sugar
1 Tbsp Salt
1 Tbsp Tomato Ketchup
1 Tsp Hot Sauce
1 Tsp Toasted Cumin Seeds
For the Minted Yoghurt Sauce:
3 Tbsp Natural Yoghurt
1 Tbsp Chopped Mint
1 Tsp Honey
Salt to taste
Burger Buns and Sundries
2 Burger Buns
1 Sliced Tomato
50 g Sliced Cucumber
Instructions
For the Lamb Burger:
Combine all of the Ingredients for the burger and form into two burger buns 10-15% larger in diameter than your burger bun.
Once you have your toppings made then heat a pan over a high heat.
Rub the burgers with oil and then place them into the pan.
Cook for 3-4 minutes per side.
Build your burger, I like to start with cucumber and tomato on the base followed by mint sauce, then the burger. Finally, top with onions and more mint sauce.
For the Pickled Red Onion Chutney:
Begin by slicing the red onion into thin (3-5mm) half moon shapes.
Place the vinegar and water in a pan and bring to a gentle boil add the sugar and tablespoon of salt and stir until dissolved.
Pour this vinegar mix over the red onion and allow to steep for 30 minutes.
Drain the onions and then add in the remaining ingredients and stir.
For the Minted Yoghurt Sauce:
Combine all of the ingredients for the sauce.
Notes
I usually serve this with some potato wedges!
Nutrition Information:
Yield:
2
Serving Size:
1
Amount Per Serving:
Calories:

798
Total Fat:

32g
Saturated Fat:

13g
Trans Fat:

0g
Unsaturated Fat:

16g
Cholesterol:

215mg
Sodium:

4363mg
Carbohydrates:

83g
Fiber:

5g
Sugar:

44g
Protein:

42g