Keema Matar is a classic Pakistani curry featuring minced lamb or mutton and peas in a delightfully simple but spicy gravy.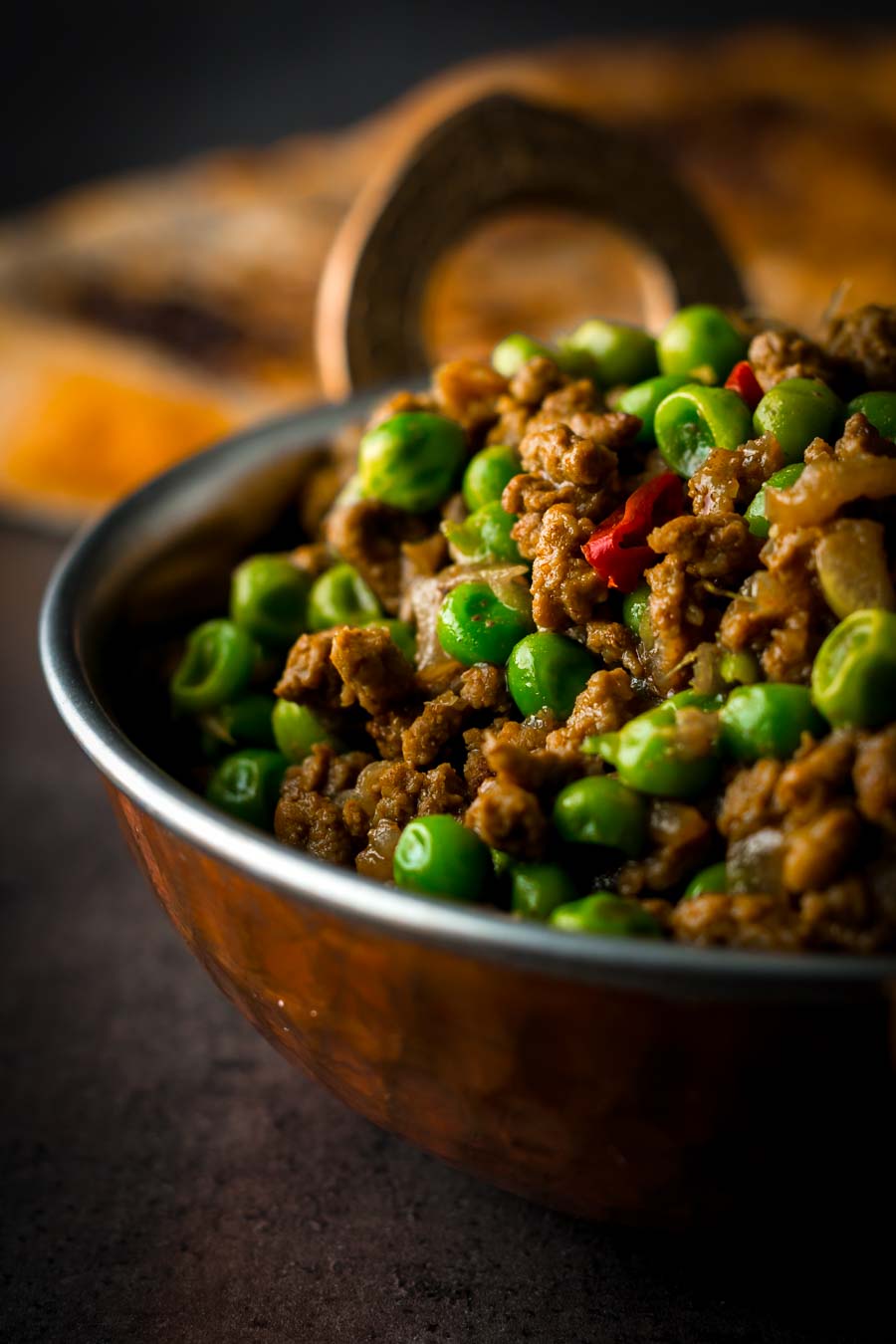 A Keema Curry!
This recipe is really rather exciting for me, one of my very favourite dishes and one I rarely get an opportunity to cook!
I have waxed lyrical about green peas pretty much from day one and my love of curry is hardly subtle here either.
Not forgetting lamb, a meat I often lament not being able to buy very often.
I love lamb so much that I have been known to buy a whole beast and have it dispatched. Just to get my hands on the rarest of all meat finds here in Hungary.
My version of lamb keema with peas features spice heat from both pepper and Kashmiri chili powder.
It is also heady with Fenugreek, a herb/spice I find synonymous with Northern Indian and Punjabi food.
So yeah it is safe to say that this dish is not just a few of my favourite things. It is without question ALL of my favourite things!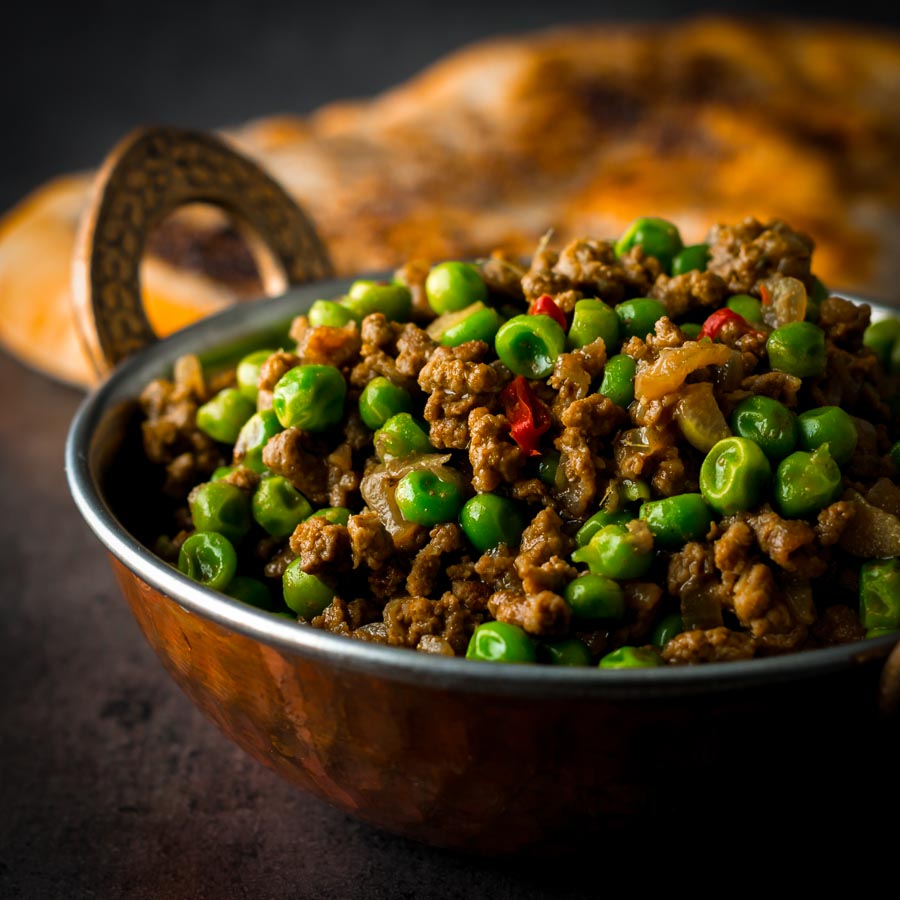 Cooking a Lamb Curry!
If you ask me lamb is the perfect meat for an Indian Curry because it has such a big flavour. Let's face it an Indian curry is full of huge big flavours, not only that but complex flavours too.
As a result, Lamb can cope with slightly bolder flavours.
Many people mistakenly think that you can just swap out one meat for another when creating a curry.
Nothing could be further from the truth!
Now you could make this with beef, but for me, it is not a straight-up trade. Lamb is a rich meat much more so than beef.
Consequently, I would scale back the ground coriander and cumin whilst increasing the earthiness of turmeric and fenugreek.
It is just a matter of balance, and the fundamental aspect of cooking with Indian spices is balance.
If all you can taste is spice and not the meat then you have done it wrong!
If you want to play around with another lamb curries then you should check out this really rather lovely lamb rogan josh recipe or indeed this delicious lamb madras!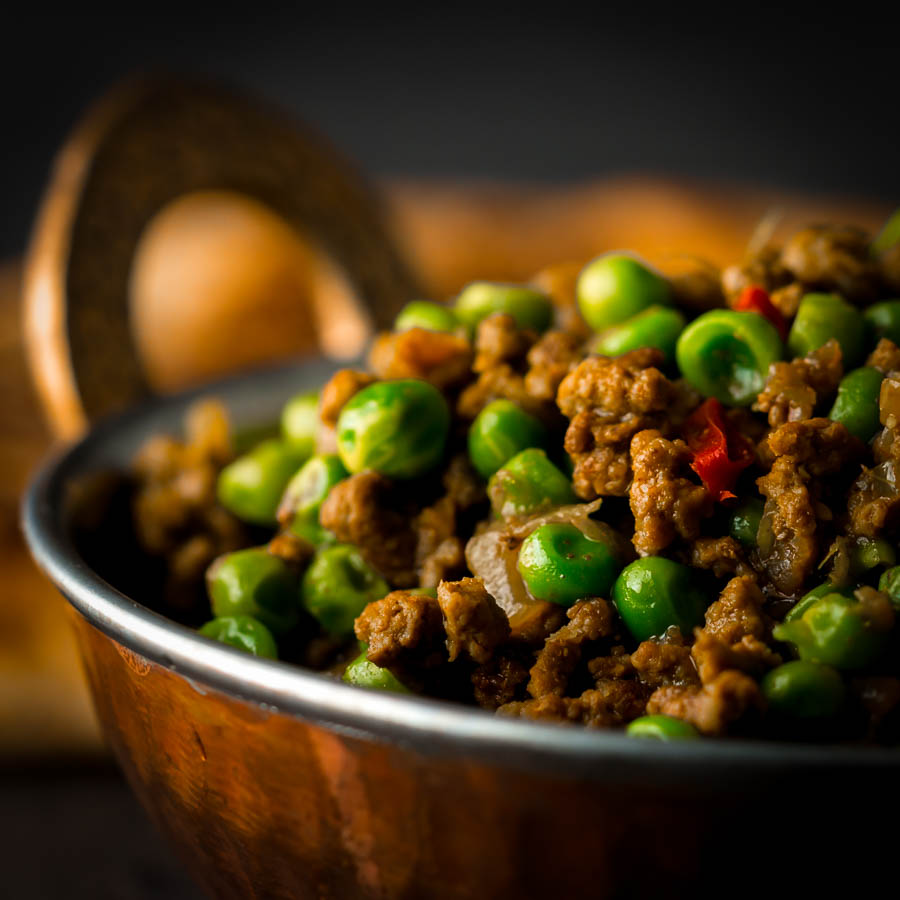 Recipe Hints and Serving Suggestions.
The secret to really getting a rich well rounded flavour in this keema matar is the fat in the lamb.
First of all, you need lamb with some fat content, shoulder is perfect.
Secondly and most importantly you need to cook that lamb long enough to render out that fat.
It does not take long, the whole dish takes just over an hour. But it is not a quick half an hour curry!
The fat holds the spices in suspension and creates the most luxurious mouthfeel and an incredibly well-rounded flavour.
As for serving suggestions, look no further than the good old Mr naan bread.
It is perfect for this dish, in fact, take a seat, you can even get keema stuffed naan bread!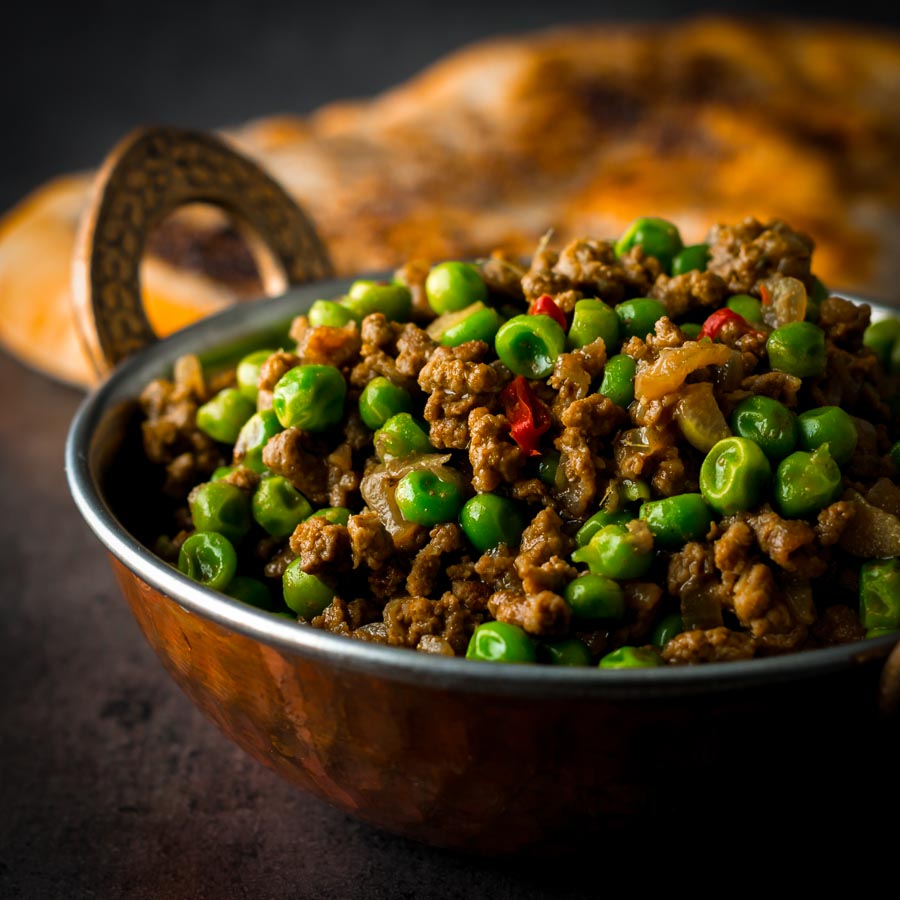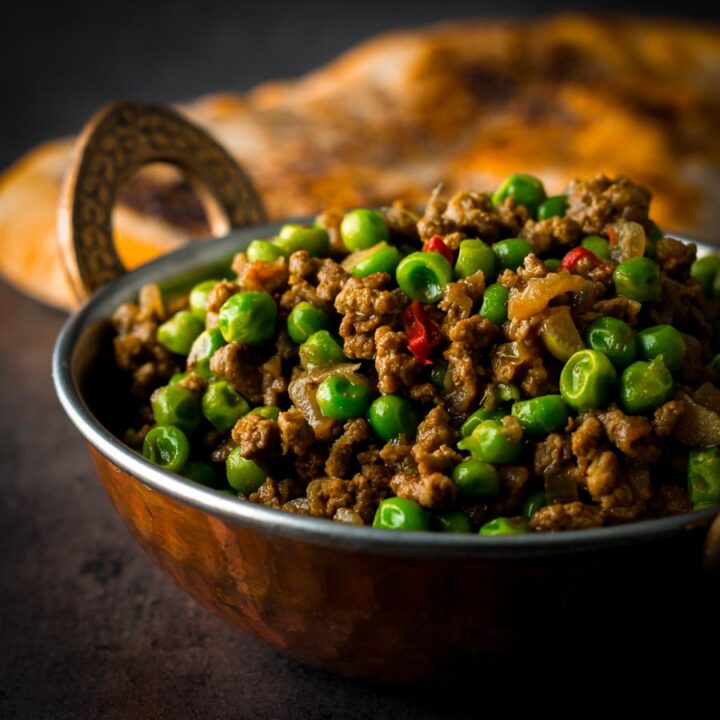 Keema Matar Recipe
Cook Time:
1 hour
5 minutes
Total Time:
1 hour
10 minutes
Keema matar is one of the lesser-known Indian Curries, one that features minced or ground meat usually lamb or mutton and sweet green peas. It is simple, delicious, homely and a recipe you all need to know how to make!
Ingredients
350 g Ground Lamb Shoulder
125 g Onion
4 Cloves Garlic
2 Chile
35 g Ginger
6 Black Peppercorns
4 Green Cardamom
2 Cloves
1 Bay Leaf
1 Tbsp Ghee
1 Tsp Coriander Powder
1 Tsp Ground Cumin
1 Tsp Ground Turmeric
1/2 Tsp Kashmiri Chilli Powder
1/2 Tsp Ground Fenugreek
1 Pinch Salt
150 g Frozen Peas
1 Tsp Garam Masala
Instructions
Finely dice the onion, slice the chilli and mash the garlic to a paste.
Grate the ginger.
Heat the oil in a heavy based pan and when hot add in the black pepper, cardamom, cloves and bay leaf and allow to sizzle for 30 seconds.
Now add in the onion and cook for 3-4 minutes.
When lightly browned add in the ginger, garlic paste and chilli and cook for a further minute.
Add in the minced lamb and cook for 5 minutes over a very high heat so that it sears and releases the fat.
Reduce the heat to medium and add in the coriander, cumin, turmeric, chilli powder and fenugreek and stir,
Throw in a generous pinch of salt and 250ml of water and the cover and cook on low for 30 minutes.
Remove the lid and add in the peas before turning up heat and cooking until the liquid has reduced by half which should take 10 minutes or so.
Take off the heat and stir in the garam masala and allow to sit for 2 minutes before serving.
Nutrition Information:
Yield:

2
Serving Size:

1
Amount Per Serving:
Calories:

459
Total Fat:

17g
Saturated Fat:

8g
Trans Fat:

0g
Unsaturated Fat:

8g
Cholesterol:

128mg
Sodium:

281mg
Carbohydrates:

36g
Fiber:

10g
Sugar:

9g
Protein:

43g
Calorific details are provided by a third-party application and are to be used as indicative figures only.