Keema matar is a classic homestyle curry recipe from Pakistan featuring minced lamb or mutton and peas in a generously spiced sauce.
After a leisurely 10 minutes of preparation, this recipe takes a shade over 30 minutes to cook and can be made in advance and reheated.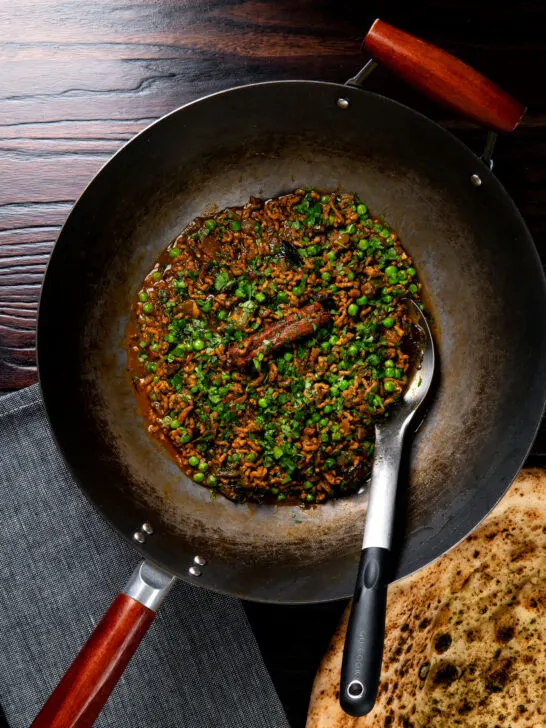 Lamb Keema Curry with Peas
Yeah, yeah, yeah it's another curry, what can I say I love Indian flaovurs!
This keema matar recipe is one of my favourites, it is a dish that I am delighted to see appear on more restaurant menus too.
Although making it at home is really simple and far cheaper than your local takeaway!
Lamb is a wonderful meat for Indian and Pakistani food as far as I am concerned. It's bold flavour and fat content means that it plays so well with heavily spiced dishes.
I use it in everything from my classic lamb madras and lamb rogan josh recipes to less classic inventions like my keema rice recipe and lamb chop curry.
My version of keema matar is mainly Punjabi and Pakistani in influence. It features spice heat from both fresh peppers and Kashmiri chilli powder.
It is also heady with Fenugreek, a herb that I adore along with loads of curry leaves. The sweetness of the peas and the lamb is beautifully balanced with earthy sour tamarind too.
So yeah it is safe to say that this dish is not just a few of my favourite things. It is without question ALL of my favourite things!
Frequently Asked Questions
Can I use beef?
Keema just means minced meat so yes, of course! Although I would personally change the spicing a little. Or alternatively, make my minced beef curry. If you have the same question but with chicken, then checkout my chicken keema curry.

If I am making this keema with beef mince I scale back the coriander and cumin in the recipe by half. Then I increase the fenugreek by 50%.
This is a similar spicing to the one that I use in my methi gosht recipe.
If I am using beef I also use ghee rather than oil to approximate the rich mouthfeel that you get from lamb. I personally think it gives a much better balance.
Can I use low-fat minced lamb?
I personally would not, a huge part of both the flavour and texture of keema matar is the fat that comes from the lamb. Using low-fat mince negates that!
Can I use dried curry leaves?
I would not use them, I find them lacking in flavour and they add very little to the recipe.

The good news is that they are relatively easy to find in well-appointed Indian and Pakistani stores. They also freeze wonderfully, so you can buy a load, drop them in the freezer, and always have them to hand.
Why do you defrost the peas?
I do this for two reasons, the first is to avoid adding too much liquid to the curry. The second is to avoid reducing the temperature of the curry and then reheating it.
Can I use tamarind concentrate?
Yes, but I personally find that the concentrates vary greatly in strength, so tread lightly.

If you use too much concentrate I find that it gives dishes a metallic taste and can very quickly spoil the balance of flavours.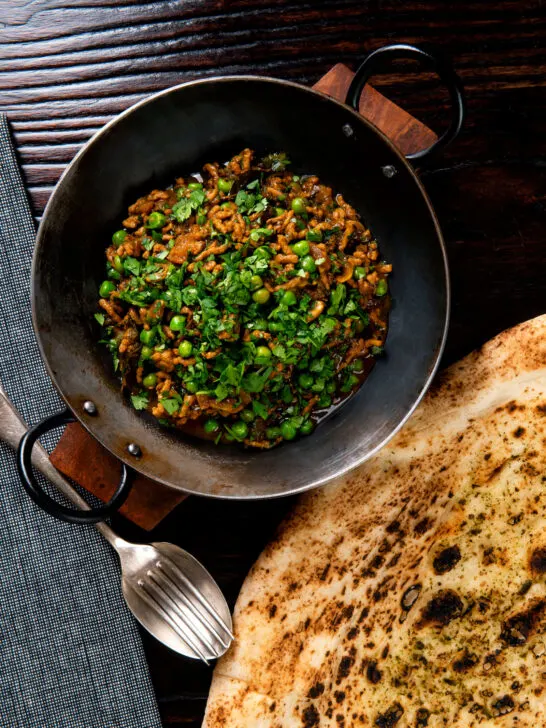 Serving Suggestions.
Look no further than the good old Mr tandoori naan bread to serve as your bread for this keema matar recipe, although chapatis work really well too!
I often round out this dish by serving a kachumber salad on the side.
That whole minty, onion combination works perfectly with the rich lamb keema and explosions of sweet garden peas.
As a Brit, I do have an affinity for serving this with Bombay potatoes. It is the whole minced meat and potato thing that reminds me of frugal dinners growing up!
If you want to serve it with rice then try a jeera rice, a Pakistani rice flavoured with cumin, cinnamon and sometimes bay.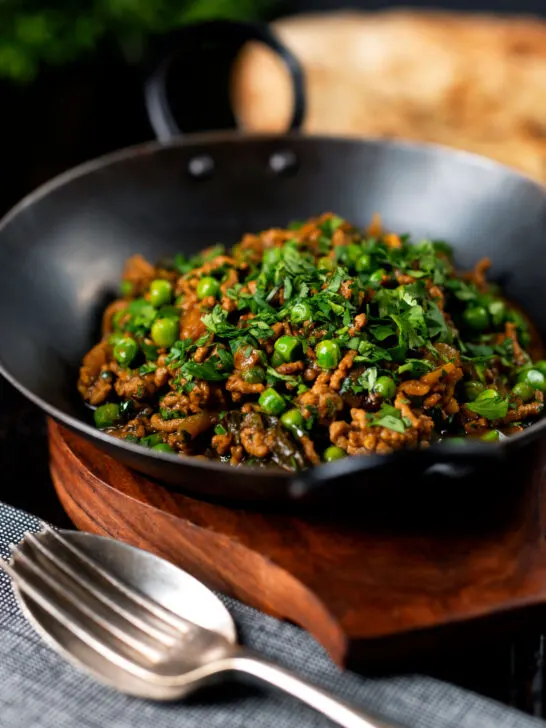 Equipment Used
I only mention specific equipment brands if I think that they make a material difference to a recipe. If you have any questions feel free to ask them in the comments section below the recipe.
Stovetop.
Wok, I use a large carbon steel wok.
Chopping board.
Kitchen knife.
Weighing scales and or measuring cups and spoons.
Small bowl to soak the tamarind.
Fine mesh sieve.
Stirring and serving spoons.
Kettle or pot for boiling water.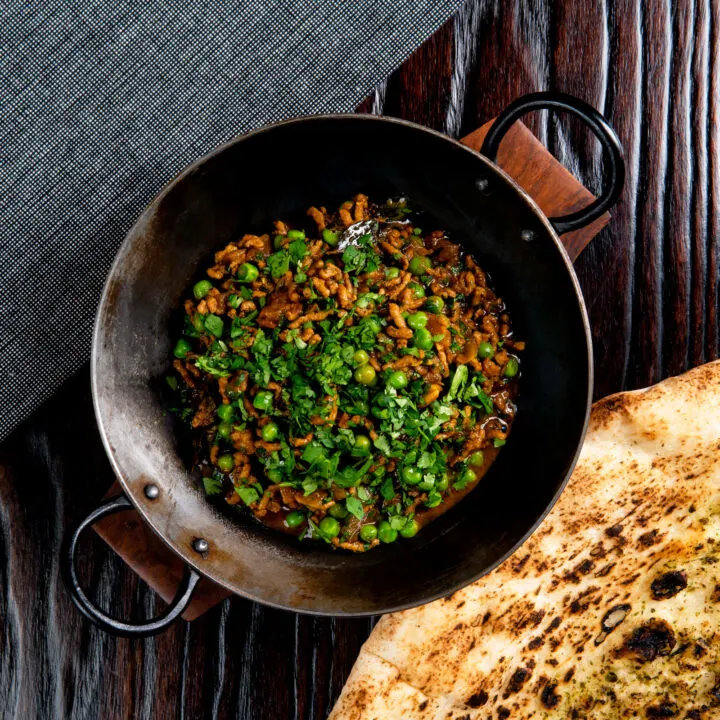 Yield:

2 Servings
Keema Matar Curry Recipe
Keema matar is one of the lesser-known Indian Curries, one that features minced or ground meat usually lamb or mutton and sweet green peas. It is simple, delicious, homely and a recipe you all need to know how to make!
Ingredients
400g (14oz) Minced Lamb
50g (1-1½") Cube Tamarind
50ml (3 Tbsp + 1 Tsp) Boiling Water
150g (1 Cup) Onion
1 (100-125g) Medium Tomato
4 Cloves Garlic
4 Green Chilli Peppers
4 Green Cardamom Pods
4 Cloves
1 Cinnamon Stick
12-18 Curry Leaves
2 Tbsp Mustard Oil
1 Tsp Coriander Powder
1 Tsp Ground Cumin
1 Tsp Ground Turmeric
1 Tsp Kashmiri Chilli Powder
1 Generous Pinch Salt
1 Tsp Light Brown Sugar
125ml (½ Cup) Lamb Stock (or Water)
2 Tsp Dried Fenugreek Leaves
175g (1¼ Cups) Frozen Peas
1 Tsp Garam Masala
Lots of Fresh Coriander to Serve
Instructions
Place the tamarind into a bowl and pour over the boiling water, let it soak for 10 minutes then push it through a fine mesh sieve.
Peel the onion, then chop it into a 4-5mm (¼") dice.
Cu the tomato into a rough 1cm dice.
Peel the garlic and dice it as finely as you can.
Cut the chilli peppers in half lengthways.
Bash the cardamom pods with the side of a knife to crack them open.
Heat the oil in a wok over a medium-high heat.
Add in the cardamom, cloves, cinnamon stick, green chillies and curry leaves and stir fry them for 30 seconds.
Throw in the diced onion and cook for 3-5 minutes or until they become golden brown.
Add the garlic and tomatoes and cook for another 2-3 minutes.
Turn the heat up to maximum and throw in the minced lamb and fry hard until it is all browned and nicely coloured. This will take around 8-10 minutes.
Reduce the heat to medium and add in the coriander, cumin, turmeric, chilli powder and fenugreek and stir.
Throw in a generous pinch of salt, brown sugar, tamarind and the lamb stock or water and then cook for another 10 minutes, if the curry dries out too much add a little more liquid.
Whilst the curry is cooking place the frozen peas in a sieve or colander and run cold water over them to defrost them.
After the keema has had 10 minutes throw in the peas and cook for two minutes or until the peas have heated through.
Finally, throw in lots of coriander and stir through the garam masala and allow to sit for a couple of minutes before serving.
Nutrition Information:
Yield:
2
Serving Size:
1
Amount Per Serving:
Calories:

871
Total Fat:

49g
Saturated Fat:

17g
Trans Fat:

0g
Unsaturated Fat:

27g
Cholesterol:

194mg
Sodium:

496mg
Carbohydrates:

51g
Fiber:

12g
Sugar:

21g
Protein:

60g
Calorific details are provided by a third-party application and are to be used as indicative figures only.