Roast pork tenderloin offers the perfect way to change up what is typically a sweet and sour stir fry dish, the pork is so tender and soft and needs just 15 minutes in the oven!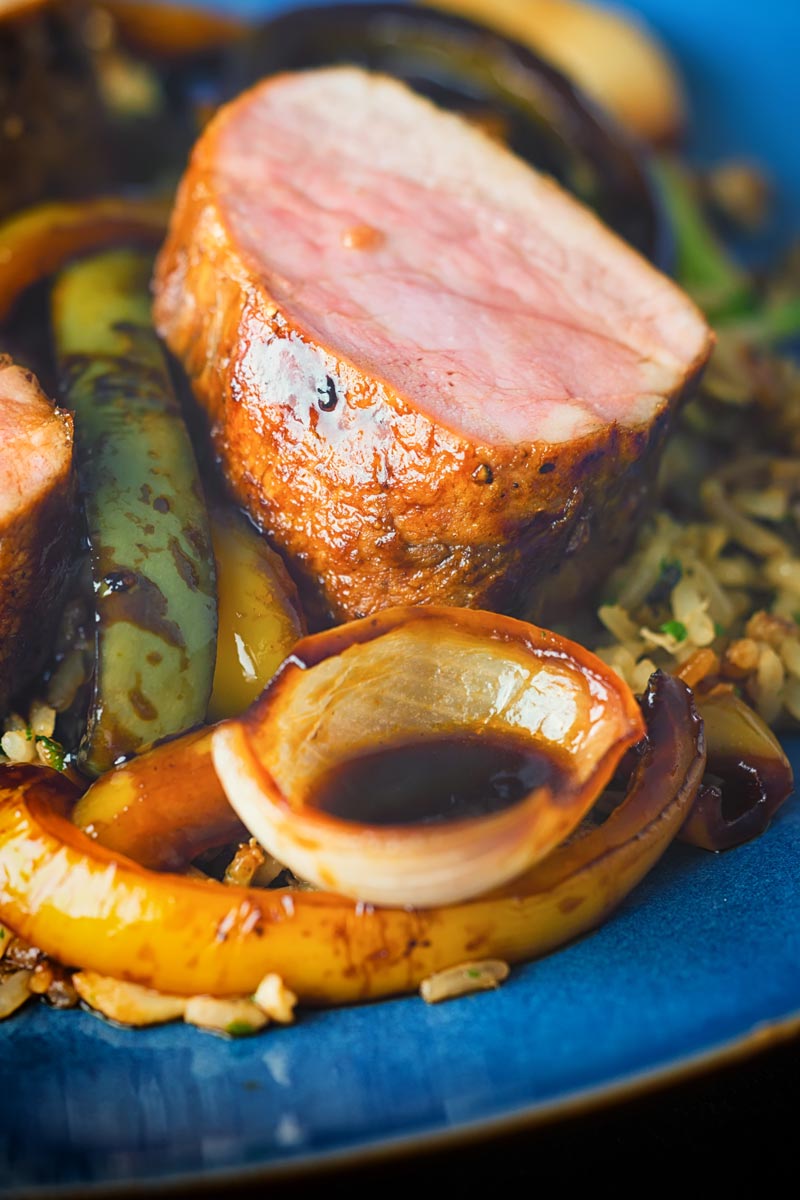 Sweet and Sour Roast Pork Tenderloin With Egg Fried Rice.
It would seem that I am on a full fakeaway run here on Krumpli to kick off 2018, Lamb Rogan Josh, Keema Matar and now a sweet and sour roast pork tenderloin with egg fried rice.
I honestly have no real idea why! I rarely have any clue what I am doing in terms of a wider plan.
This recipe has been kicking around for a few months. In fact, I have been cooking a lot with pork tenderloin recently.
I am a little obsessed with this fab cut of pork, so keep your eyes open for more in the coming weeks and months.
I guess my obsession is fueled by it being so quick to cook but with it being a really elegant cut of meat that is perfect for scaling.
The sweet and sour sauce for this dish is based on the sweet and sour sauce from my sweet and sour chicken recipe.
It is definitely not that bright red overly sweet stuff you get from the local takeaway!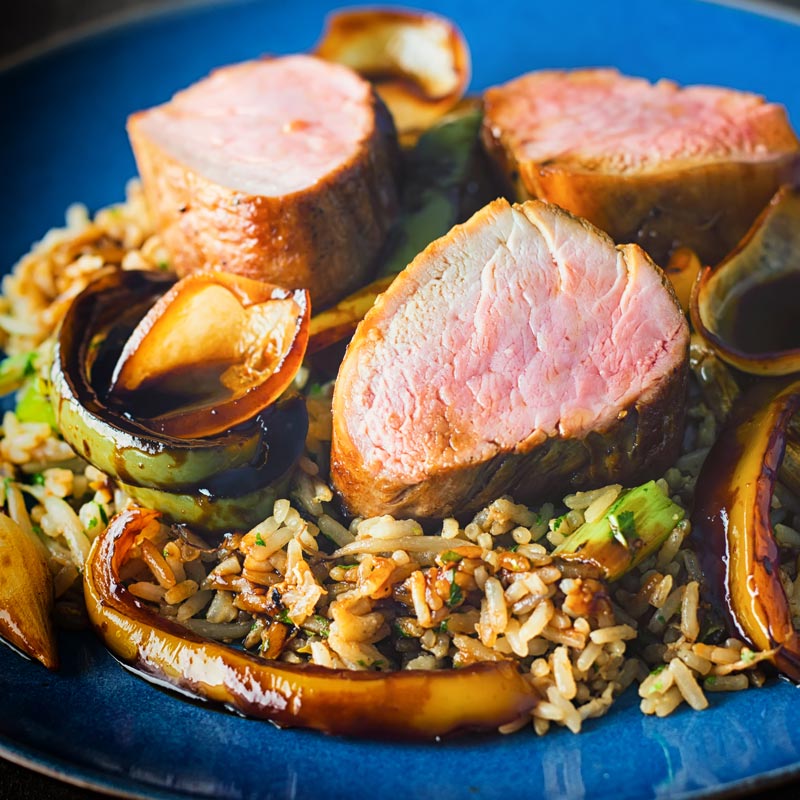 Egg Fried Rice.
What better to serve with sweet and sour roast pork tenderloin?
I try to avoid cooking too much food, leftovers often result in either gluttony or waste! But egg fried rice is also the perfect way to use up leftover rice.
In this instance, it is a perfect vehicle to carry the sauce and it cooks in just the right amount of time.
After putting your pork in the oven you have the perfect amount of time to get yourself a drink… Panic about not having your camera ready to do your photoshoot… No that's just me!?
Chop your vegetables, beat your egg and whip up the most simple and perfect side dish!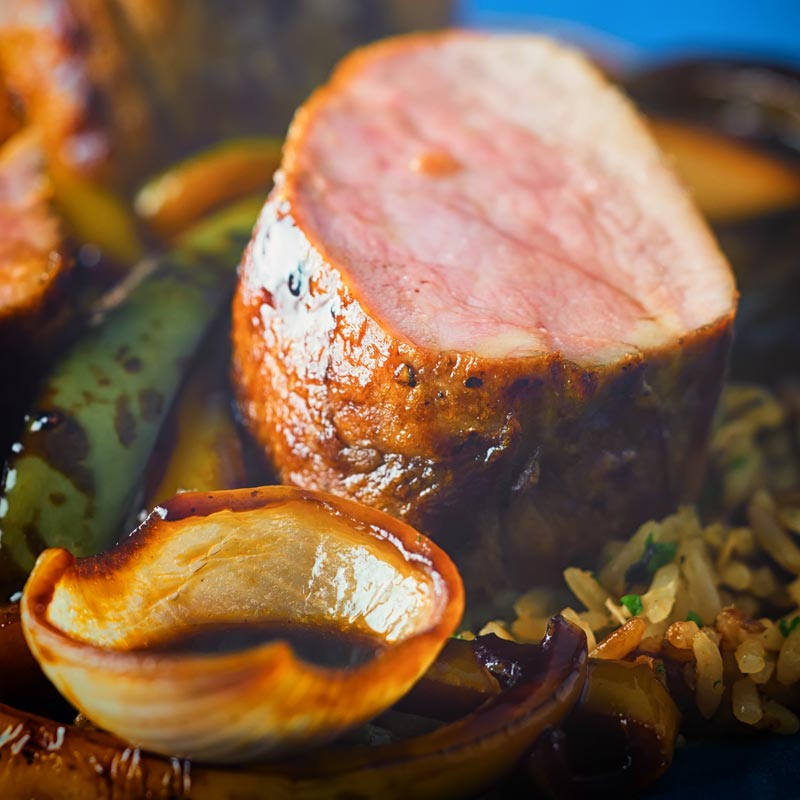 How To Roast Pork Tenderloin.
For a roast pork tenderloin, I will sear and then transfer to the oven and cook until the internal temperature reaches 57-58°C. That is around 135°F for those who work that way.
This will typically take between 14 and 17 minutes depending on the size of the loin. Then leave to rest, do not skip the resting it plays a huge part!
After 3-5 minutes of resting the pork will reach and hold a temperature of around 63°C (145°F). This is within the safe temperature zone for pork.
I'm sure many will find my cooking of the pork controversial, pink pork is still seen as being wrong.
That is despite the fact that all food safety advice changed many years ago.
Now I don't cook loin or shoulder pink it just does not work.
But tenderloin is such a beautifully soft and tender piece of meat that it really does benefit from this approach.
A 350-400g piece of tenderloin is perfect for 2 but if you want 4-6-8 it is so simple to add more as you go. And because you just add more pieces of meat it does not impact on cooking time at all.
This means that it is the perfect scalable dinner party cut of meat.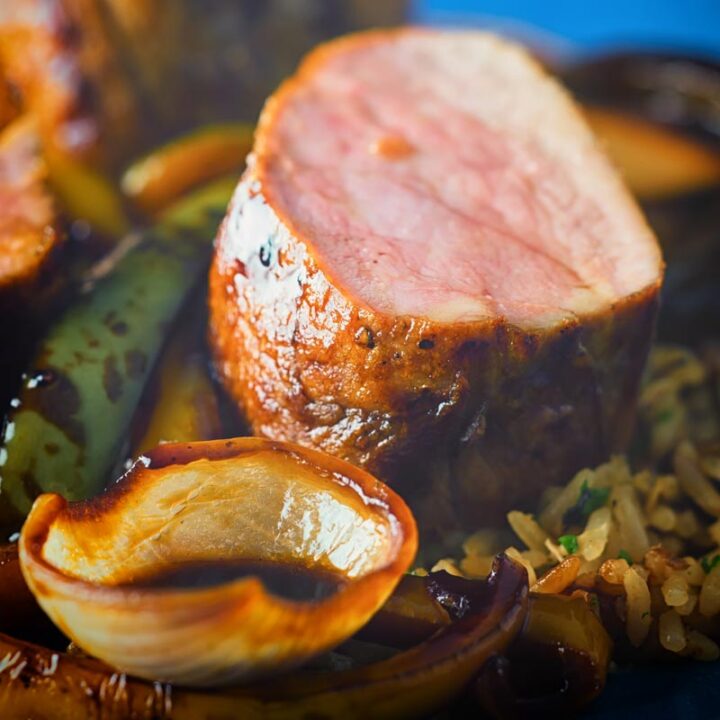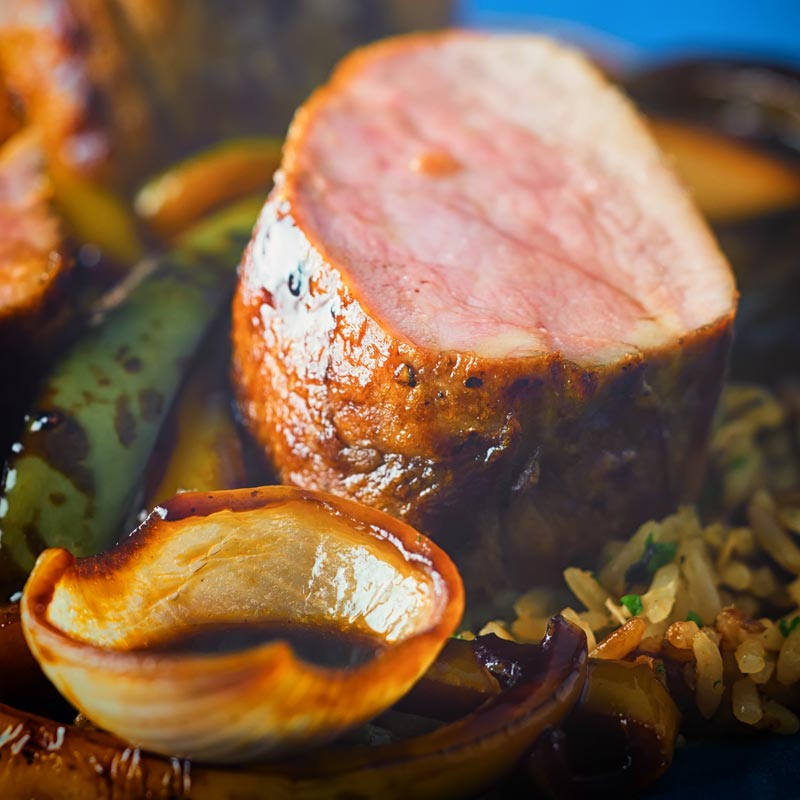 Yield:

2 Servings
Sweet and Sour Roast Pork Tenderloin With Egg Fried Rice
Roast pork tenderloin offers the perfect way to change up what is typically a sweet and sour stir fry dish, the pork is so tender and soft and needs just 15 minutes in the oven!
Ingredients
For The Sweet and Sour Roasted Pork Tenderloin:
400 g Pork Tenderloin
1 Bell Pepper
2 Shallots
1 Tbsp Brown Sugar
1 Tbsp Dark Soy Sauce
1 Tbsp Light Soy Sauce
1 Tbsp Mirin
1 Tbsp Chinkiang Vinegar
2 Tbsp Tomato Ketchup
1 Tsp Cooking Oil, Neutral
For the Egg Fried Rice:
125 g Long Grain Rice
2 Spring Onions
50 g Bamboo Shoots
50 g Beansprouts
1 Clove Garlic, Sliced
1 Tsp Cooking Oil
1 Tsp Light Soy Sauce
1 Egg
1 Handful Parsley
1 Tsp Cooking Oil
Instructions
Begin by bringing a pan of water to the boil and cooking the rice as per the instructions on the pack. You can do this hours before or even the day before!
Cut the pepper into strips, I like to use half a pepper of two different colours but use what you want/like.
Top and tail the shallots and break down into individual 'leaves'
Cut the spring onions into 1cm lengths.
Preheat your oven to 180°C or 350°F.
Mix together the brown sugar, soy sauces, mirin, vinegar and tomato ketchup and set aside.
Heat a pan that can be transferred to the oven and add a teaspoon of cooking oil.
Season the pork tenderloin with salt and pepper and sear on all sides, remove from the pan and set aside.
Now add in the shallots and pepper and stir fry for 2-3 minutes.
Pour in the sauce we made in step three and bring to a boil.
Roll the pork tenderloin in the sauce to coat and transfer to the oven for 15 minutes.
After the pork has been in the oven for 10 minutes.
Take another pan or wok for the fried rice and heat a tsp of oil and when hot stir fry the bamboo shoots, beansprouts and spring onions for 2 minutes.
Add in the rice and garlic then stir fry for a further 3 minutes.
Now you should be removing the pork from the oven and allowing to rest.
Add in the egg and soy sauce and stir continuously until the egg is just cooked.
Remove from the heat and stir in the parsley and arrange on a plate.
Add the vegetables, then slice the pork and add some sauce.
Nutrition Information:
Yield:
2
Serving Size:
1
Amount Per Serving:
Calories:

609
Total Fat:

18g
Saturated Fat:

4g
Trans Fat:

0g
Unsaturated Fat:

12g
Cholesterol:

239mg
Sodium:

1498mg
Carbohydrates:

47g
Fiber:

4g
Sugar:

19g
Protein:

62g