Sweet and sour chicken is an ever present Chinese take away favourite, sure it is not an authentically Chinese dish… But let's face it, we all know it and love it!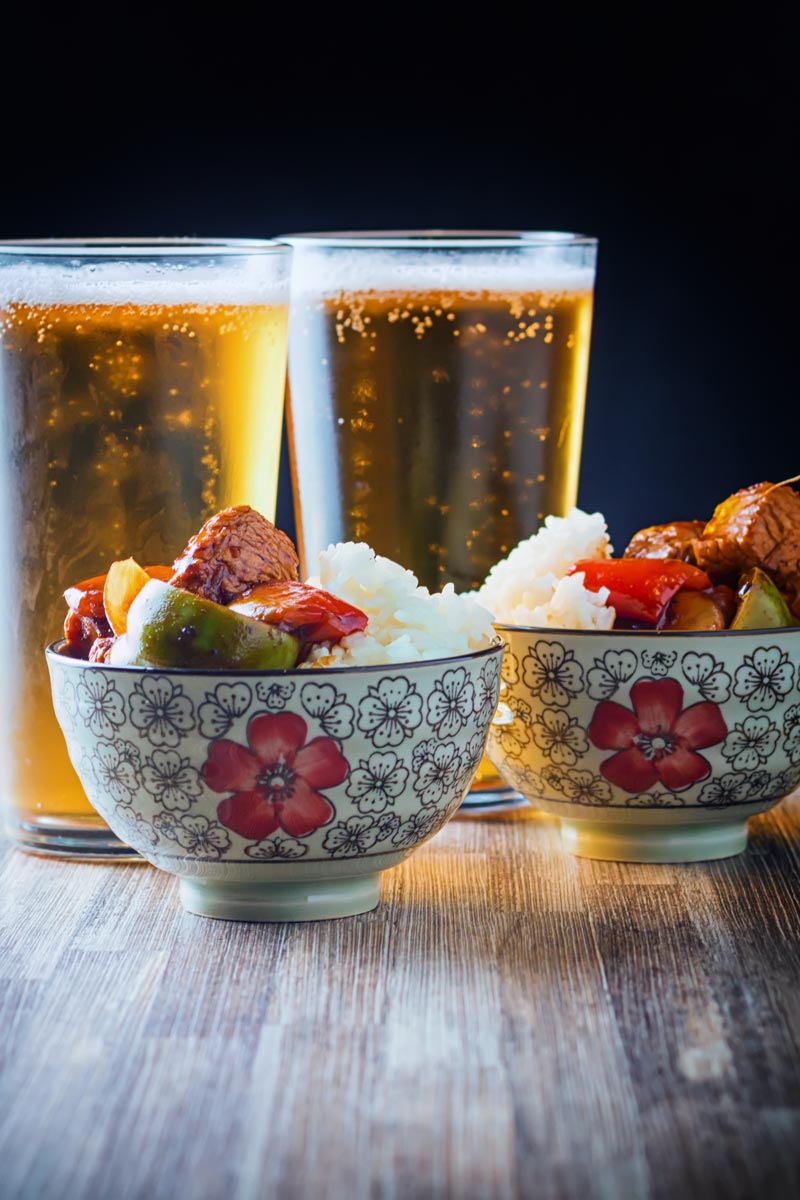 Restaurant Style Sweet and Sour Chicken Recipe!
Sweet and sour chicken is a stalwart of Chinese takeaways in the UK. This recipe is my homage to that.
Gone is the much more traditional sweet and sour sauce of my recent sweet and sour noodle recipe. In comes something loaded with ketchup and even tinned pineapple.
This is certainly a memory of home and Saturday afternoons watching the football results roll in on the weekends my team were playing away.
I have however refrained from making the gallon of luminous orange sauce. The addition of dark soy sauce and Chiangking vinegar gives the sauce a much more complex flavour.
It also helps cut through the sweetness and give a much more balanced sweet and sour sauce.
In all honesty, the quality of Chinese takeaways in the UK was always very poor. The cost of eating in good Chinese restaurants was also always beyond what I would be prepared to pay for simple Chinese food. I
never really understood the cost differential between good Chinese food and good food from elsewhere in the world in the UK.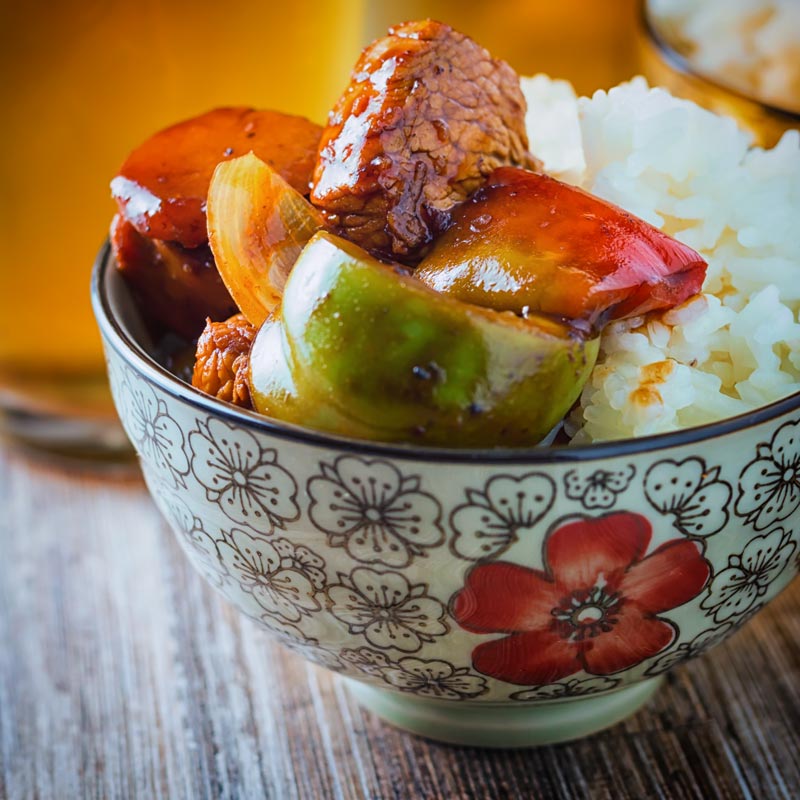 Easy Sweet and Sour Chicken.
This is very much food for lazing around with and as far as I am concerned it is a TV meal made to be consumed with an ice cold beer. In all fairness, it is not a dish I would ever have ordered in the UK.
I developed it for fearless stunt wifey who loves sweet and sour chicken and my tweaks have actually turned it into a dish I love too.
It is also eye wateringly simple. You can throw this together in less than 30 minutes. You can even make the sauce up in advance and it will keep for weeks in the fridge.
If you prefer yours with battered chicken then take a look at this crispy honey soy chicken recipe.
The great thing about creating simple fakeaway recipes is that you can tweak them to your own tastes. We all have our favourite takeaway restaurants yet they all make, in the main, the same things. This is like your favourite takeaway restaurant in your own kitchen.
You get all of the warm and fuzzy feelings of comfort food. But you also get to tweak and add flavour profiles you like and scale back some of the things you don't like.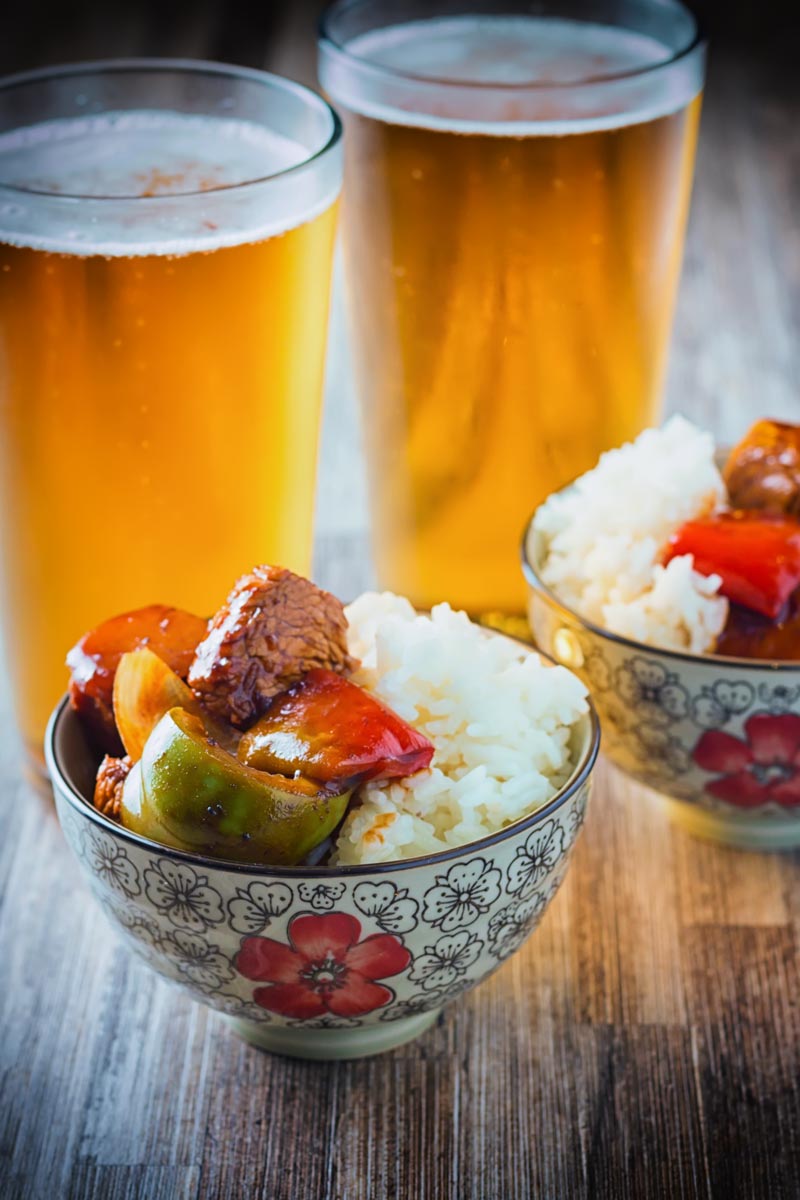 Essential Asian Storecupboard Igredients.
This restaurant style sweet and sour chicken recipe seems to be incredibly popular when we have guests visit from the UK.
Most of the time we will eat out. However, on occasions, I will throw something together and either this or my butter chicken, seem to be the most popular.
The key to cooking fakeaway or fakeout food at home is your store cupboard. Most of the ingredients in my Asian stash of essential ingredients have a long shelf life.
As a result, you do not need to worry if you do not cook Asian food very often.
Baring in mind I live in rural Hungary, the land that food progress forgot. So if I can get these ingredients then I am sure with a little effort you can too!
So no matter whether you are cooking Kung Pao Chicken, Mushroom Chow Mein or sticky chili beef, these ingredients have you sorted! Most importantly, don't be intimidated, cooking is easy!
Light Soy Sauce.
Dark Soy Sauce.
Shaoxing Wine.
Chinkiang Vinegar.
Mirin.
Fish Sauce.
Sesame Oil.
Cornflour (Cornstarch).
Szechuan Pepper Corns.
Hoisin Sauce.
Oyster Sauce.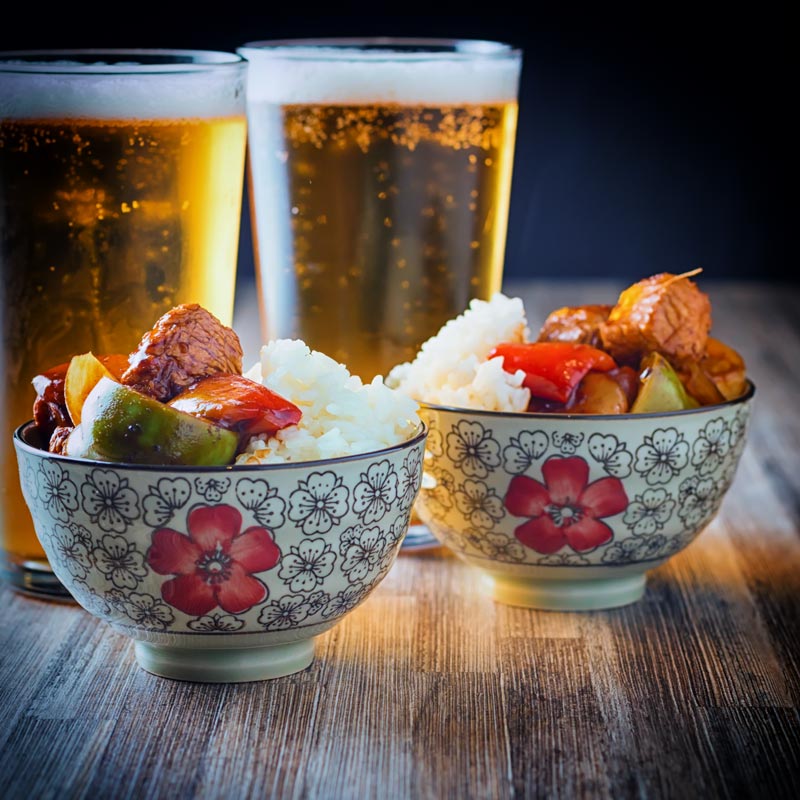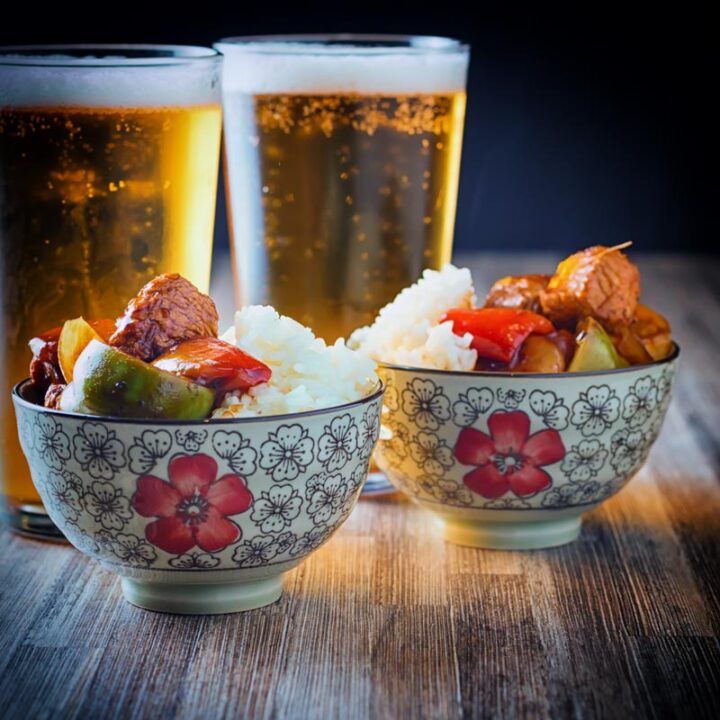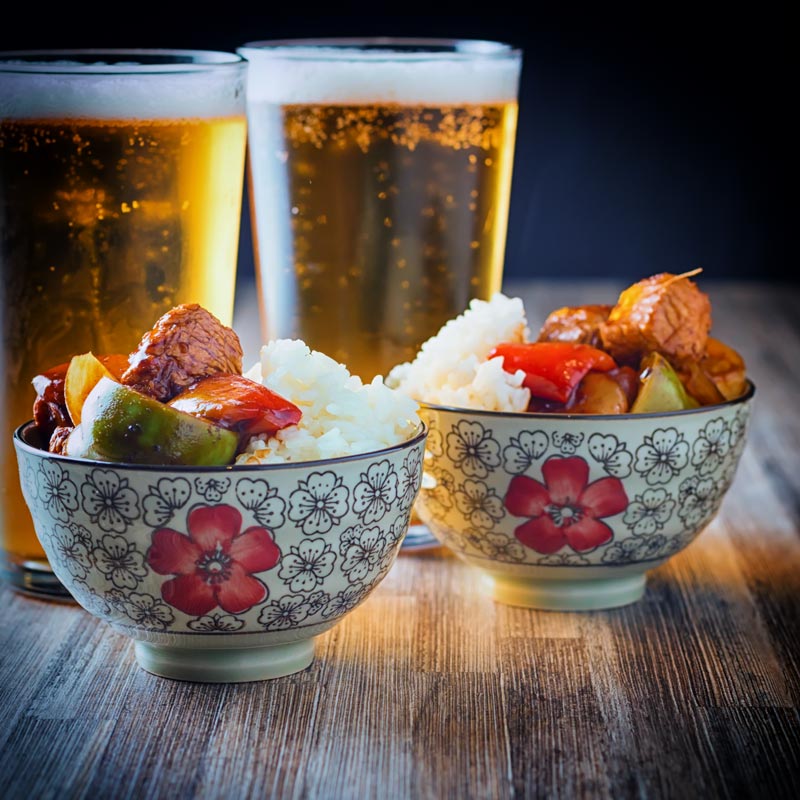 Yield:

2 Servings
Sweet and Sour Chicken - Take Away Stylee
Sweet and sour chicken is an ever present Chinese take away favourite, sure it is not an authentically Chinese dish... But lets face it, we all know it!
Ingredients
For the Sauce
1 Tbsp Dark Soy Sauce
1 Tbsp Light Soy Sauce
1 Tbsp Mirin
1 Tbsp Chiangking Vinegar
1 Tbsp Light Brown Sugar
1 Tbsp Tomato Ketchup
50 ml Water
1 Tbsp Cornflour
For the Chicken
1 Clove Garlic, Finely sliced
25 g Ginger, Grated
75 g Onion, Cut into 8 wedges
1/2 Tsp Chili Flakes
350 g Chicken Breast, Cut into large dice
1 Sweet Pepper, I personally prefer to use two small peppers from our garden so I can have a red pepper and a green pepper, cut into dice roughly the same size as the chicken
50 g Water Chestnuts, Cut in half if they are whole
75 g Pineapple Chunks, Try and get a can in natural juice
3 Tbsp Juice from the can of pineapple chunks
Instructions
For the Sauce
Begin by making your sauce, mix all of the ingredients in a small saucepan with the exception of the cornflour and bring to a boil over a medium high heat
Mix the cornflour with 1 further tablespoon of cold water to form a paste and when the sauce is boiling add it into the sauce and stir until the sauce begins to thicken and set aside
For the Chicken
Heat a Wok over a high heat with a splash of flavourless cooking oil and throw in the garlic and ginger and stir fry for 30 seconds
Add the onion wedges and Chili flakes then stir fry for 2 minutes keeping them moving with the garlic and ginger
Add the chicken and stir fry for 3 minutes keeping them moving as with the onion wedges
Then add the diced sweet pepper and fry for 2 minutes
Reduce the heat to medium and add the sauce we set aside earlier along with the water chestnuts, pineapple chunks and the juice from the pineapple chunks and allow to simmer until the chicken is cooker through, this should take no more than 5 minutes
Notes
Serve with some simply boiled white rice and garnish with some toasted sesame seeds, which I naturally forgot to add!
Nutrition Information:
Yield:
2
Serving Size:
1
Amount Per Serving:
Calories:

733
Total Fat:

13g
Saturated Fat:

4g
Trans Fat:

0g
Unsaturated Fat:

8g
Cholesterol:

189mg
Sodium:

1333mg
Carbohydrates:

84g
Fiber:

6g
Sugar:

64g
Protein:

71g