Sweet and sour chicken balls are a bit of an institution in British Chinese takeaways, they are remarkably quick to make at home & taste fab.
Preparation is key to getting this recipe right, the cooking is easy, and if you get all your prep done this dish will go from your cupboard to your table in right around 30 minutes!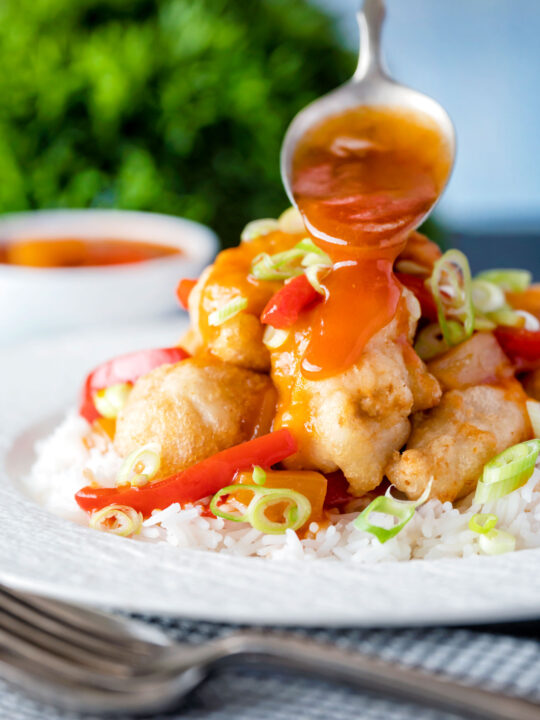 Chinese Takeaway Style Sweet and Sour Chicken
The ultimate takeaway treat for us when I was growing up was a Chinese takeaway, it literally happened once a year on Christmas eve.
For years I would only order, crispy sweet and sour chicken balls, or sweet and sour pork balls. This recipe is an ode to my very personal Christmas food recipe, go figure lol!
I still love sweet and sour Chinese takeaway flavours, although I am now much less likely to deep fry the main element.
I have dishes as diverse as sweet and sour tofu, sweet and sour prawns and some stunning sweet and sour pork chops!
This recipe is surprisingly quick to cook, it takes right around 30 minutes, which is probably quicker than your delivery driver can get to you!
Your balls will likely be crispier this way too… no your a child!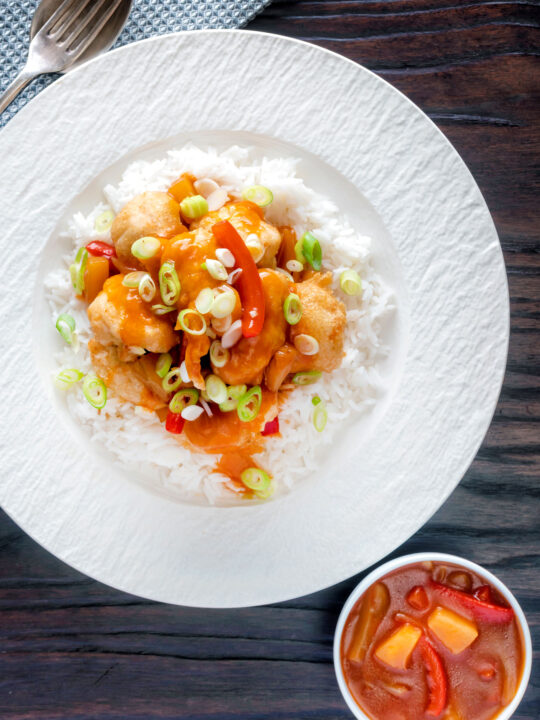 Frequently Asked Questions
Do I have to fry the chicken in a wok?
No, I use a wok because it offers a good compromise on safety and convenience. The best way to cook this is in a deep fat fryer, but I do not fry often enough to look after one!

A wok has a broad top and a narrow base, this means when you fry there is LOTS of room for the oil to expand. You can use a saucepan but be sure not to fill it more than a quarter to a third with oil before frying.

Most importantly NEVER leave the oil unattended!
How do I know when the oil is at the right temperature?
Buy a sugar thermometer or other thermometer.

Temperature is critical when it comes to deep-frying, too hot and things will burn on the outside and not be cooked in the middle. Too cold and whatever you are frying will soak up oil rather than frying in oil!

I've been cooking for decades and even with all of that experience I get better results with a thermometer!
Is cold and sparkling water really important?
In my testing, yes! You get a crisper and lighter batter with this combination.

I guess the temperature differential between the cold and the hot makes a significant difference, and the bubble adds air leading to lighter balls.
What is cornflour?
A question often asked by my US readers, cornflour is known as cornstarch in the States.
Can I use the juice from the tinned pineapple?
Yes absolutely, just make sure you have pineapple chunks in juice and not pineapple chunks in syrup!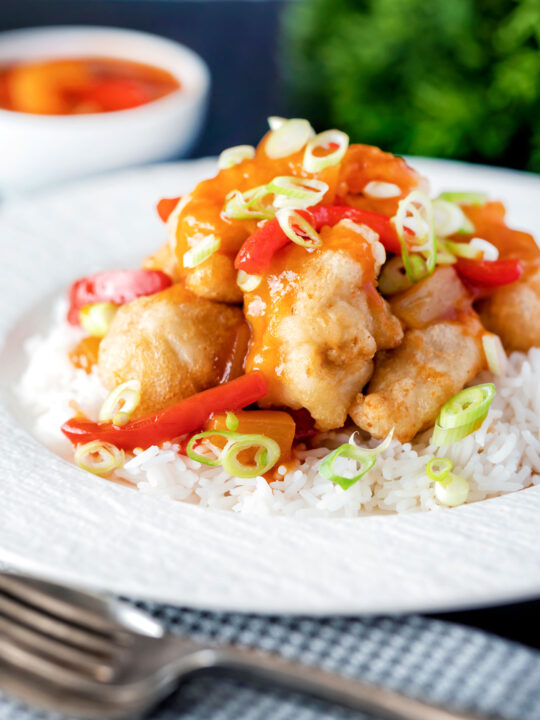 Serving Suggestions.
These crispy sweet and sour chicken balls are often served with plain boiled rice in our house.
Although egg-fried rice is awesome too if you have planned well enough, but that does mean some juggling on the stovetop!
Although on occasions I do serve it with my fried potatoes. I'm British and "chips" work with everything especially if it has a sweet and sour sauce!
It is also great served alongside my stir fried broccoli or asparagus stir fry.
If you are a noodle fiend then these soy and peanut noodles would also work really well!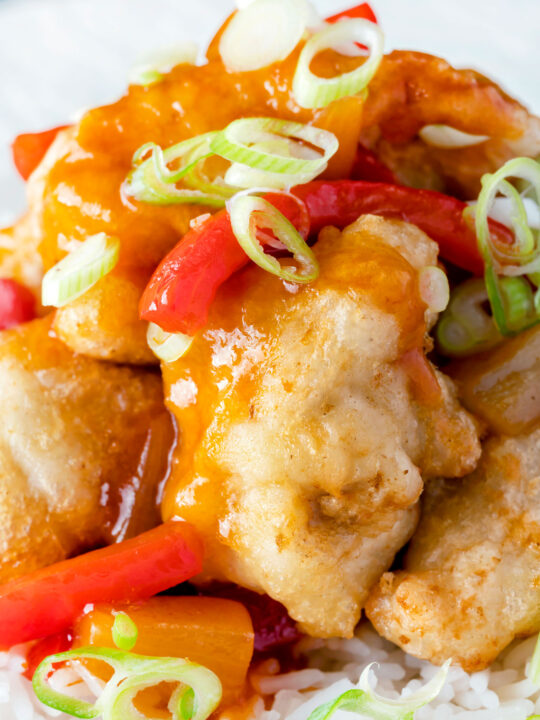 Equipment Used
Generally speaking, I do not recommend specific brands of equipment unless I think that it makes a material difference to a recipe. If you have any questions feel free to shout up in the comments section!
Wok, I use a large carbon steel wok. You could use a pan or deep fat fryer.
Oil thermometer, I use a sugar thermometer.
Small 15cm (6″) saucepan.
Weighing scales and or measuring cups and spoons.
Sharp kitchen knife.
Chipping board.
Stovetop.
Mixing bowls
Whisk.
Slotted spoon.
Kitchen paper.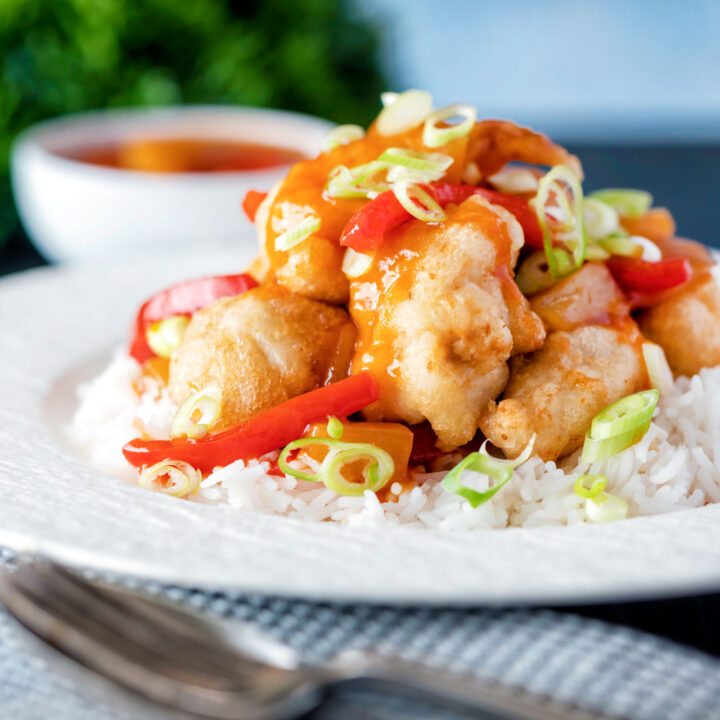 Yield:

2 Servings
Sweet and Sour Chicken Balls Recipe
Crispy fried sweet and sour chicken balls were my "gateway" to Chinese takeaway food, this recipe is a simple ode to those memories, and surprisingly this is probably quicker to make than your delivery driver can get to you!
Ingredients
300g (12oz) Chicken Breast
For the Sweet and Sour Sauce:
3 Tbsp Light Soy Sauce
1 Tbsp Rice Wine Vinegar
1 Tbsp Light Brown Sugar
3 Tbsp Tomato Ketchup
4 Tbsp Pineapple Juice (Juice from the pineapple tin is fine)
1 Tbsp Toasted Sesame Oil
2 Tbsp Water
1 Tbsp Cornflour or Cornstarch
1 (~75g) Small Onion
1 Red Pepper
100g (½ Cup) Tinned Pineapple Chunks in Juice
1 Tbsp Oil
For the Batter:
35g (¼ Cup) Plain (All Purpose) Flour + 1 Tbsp of Flour to dredge the chicken
30g (¼ Cup) Cornflour or Corn Starch
½ Tsp Salt
1 Tsp Baking Powder
100ml (⅓ Cup + 1 Tbsp) Cold Sparkling Water
Plus 500-750ml (2-3 Cups) Oil for Frying
Instructions
Preparation
Cut the chicken breast into 2cm (¾") cubes. It is important that the chicken is fairly uniform in size.
Top and tail then onion, then cut it in half lengthways, then peel it. Cut the onion halves into 5mm (¼") strips lengthways.
Remove the stalk and seeds from the pepper then cut it into 5mm (¼") thick strips.
Mix together the brown sugar, sesame oil, pineapple juice, soy sauce, tomato ketchup, and rice wine vinegar in a bowl and set aside.
If your pineapple chunks are too large cut them down in size, I usually cut mine into quarters.
Make the Sauce
Heat the oil for the sauce in a small (15cm or 6") saucepan over a medium high heat.
Add the onions and pepper and cook for 2-3 minutes.
Pour in the sauce you prepared and reduce the heat to medium and simmer for 5 minutes.
NOW IS THE PERFECT TIME TO BEGIN HEATING THE OIL FOR FRYING THE CHICKEN. Add 3-4cm of oil in the base of the wok.
Stir together the cornflour and water for the sauce.
Pour the cornflour slurry into the sauce and stir it until it thickens, this will take 1-2 minutes.
Add the pineapple chunks and stir to combine.
Set aside and keep warm whilst you prepare the batter and fry the chicken
Make the Batter
Whisk together the cornflour, 35g of plain flour, baking powder and salt.
Pour in the cold sparkling water and whisk to form a batter. It is important that the water is both ice cold and sparkling!
Coat and Fry the Chicken:
Sprinkle the leftover tablespoon of flour into the chicken and toss to coat.
Dip the chicken 6-7 pieces at a time into the batter, then carefully drop them into the hot oil,
Fry for 4-5 minutes turning them with a slotted spoon in oil at 170°C or 340°F, then transfer to a plate lined with kitchen paper to drain.
Repeat with the remaining chicken. You can keep the chicken balls warm in low oven if needed.
Finally, serve with the sauce on the side or poured over the top.
Nutrition Information:
Yield:
2
Serving Size:
1
Amount Per Serving:
Calories:

900
Total Fat:

55g
Saturated Fat:

5g
Trans Fat:

0g
Unsaturated Fat:

47g
Cholesterol:

128mg
Sodium:

2807mg
Carbohydrates:

50g
Fiber:

2g
Sugar:

25g
Protein:

52g
Calorific details are provided by a third-party application and are to be used as indicative figures only.