These almost Chinese sweet and sour pork chops make for the perfect midweek meal. They have loads of flavour, come with a superb 'from scratch' sweet and sour sauce and lots of veggies… And all done in around 30 minutes!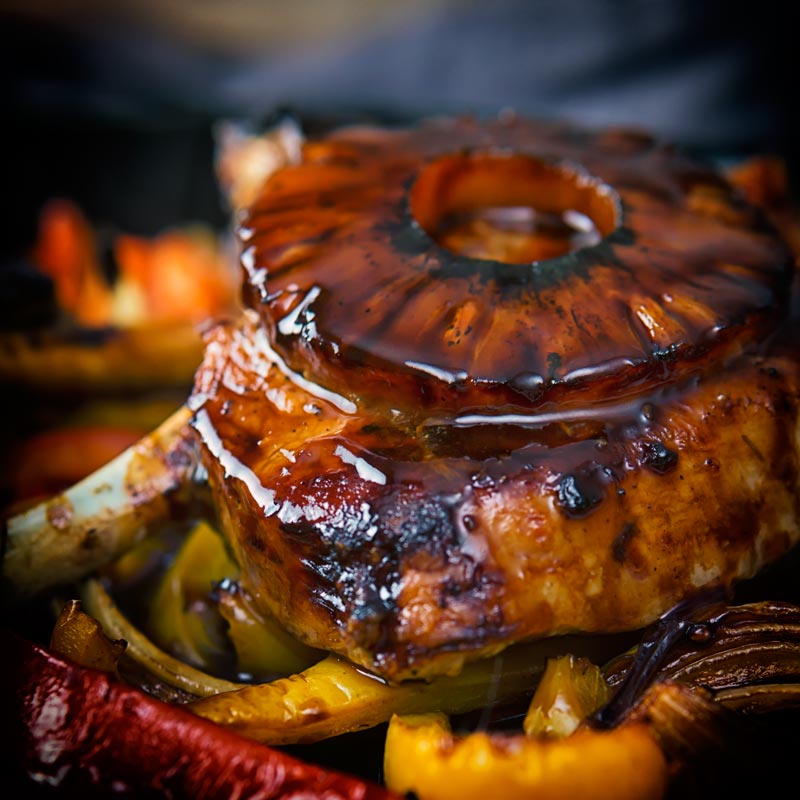 Sweet and Sour Pork Chops.
Sweet and sour recipes are no rarity here on Krumpli. These almost Chinese sweet and sour pork chops are just the latest sign of my love affair with sweet, sour and savoury flavours.
Whether I am rocking pea and goats cheese or honey and lemon, sweet and sour flavours are always close to my heart.
In this recipe, those flavour profiles are very much Asian in influence.
Sweet and sour pork is such a classic take away recipe. Certainly in the UK mostly seen in the form of sweet and sour pork balls.
Here I have opted for a thick cut pork chop, the paired it up with bell peppers, onions and carrot.
It gets cooked in a single skillet keeping washing up to a minimum and it all is cooked in around 30 minutes.
I suppose in many ways it is a similar way of cooking to my fog and pork chop tray bake.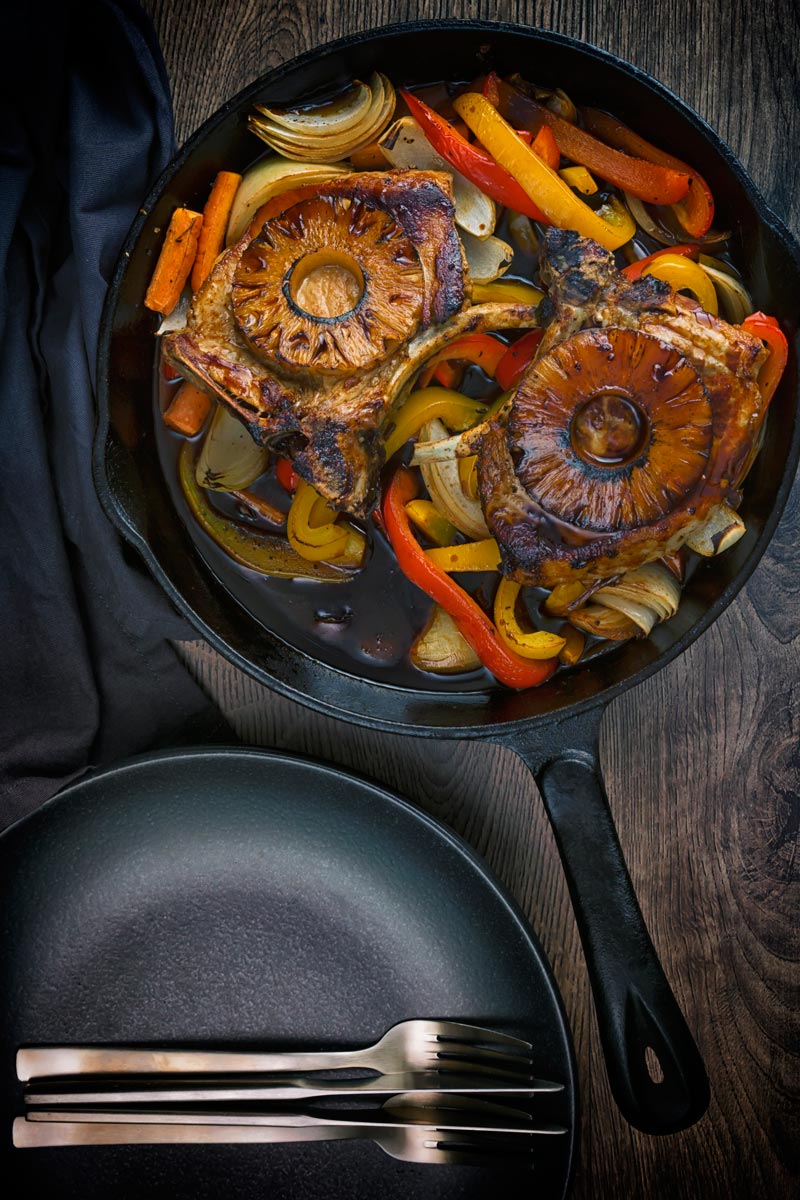 The Sweet and Sour Sauce Recipe.
The sweet and sour sauce for these sweet and sour pork chop recipe is a derivation on one that appears in several places here.
Probably most notably in my sweet and sour chicken recipe or in a similar vein my crispy honey soy chicken.
My sauce is kind of reminiscent of a restaurant style of sweet and sour sauce.
But it dials back the sweetness a little because I find takeaway sweet and sour sauce heavy on the sweet and light on the sour.
The ingredients I use may seem a little 'exotic' at first glance. But they really do form the bedrock of my 'Asian' store cupboard.
They all have a long shelf life, should be readily available from an Asian store and all of them make your Asian style food taste better!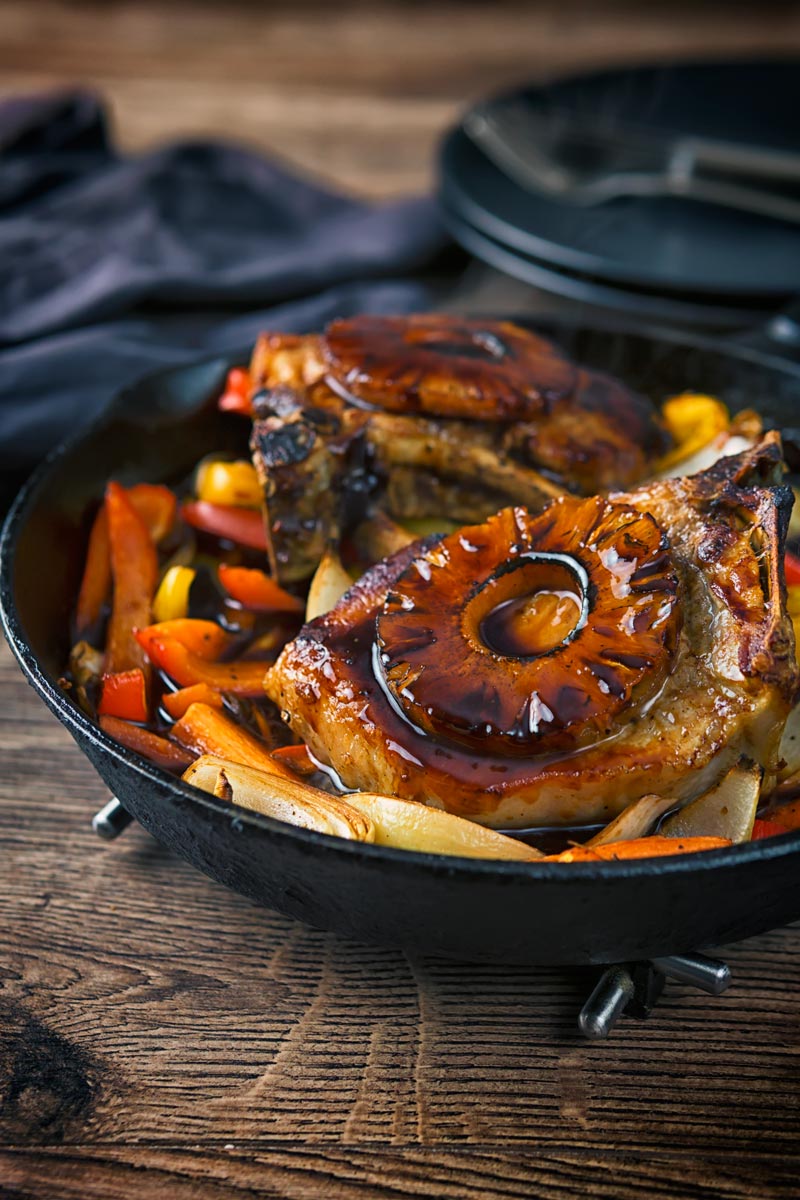 Let's Talk About Pineapple!
So I am going to fess up… If you go near my pizza with pineapple I will call you a monster!
Now, this may sound odd but if you hand me a sweet and sour dish without pineapple I will call you a monster.
I'm complicated, get used to it!
These sweet and sour pork chops are topped with some canned pineapple rings.
Only a couple, I am not after turning this into a dessert.
If you can try and get pineapple in 'natural juices'. But if all you can get is pineapple in syrup then do not use the syrup to add to the sauce.
Also if your pineapples were in syrup and drain them thoroughly and wipe off as much syrup as you can.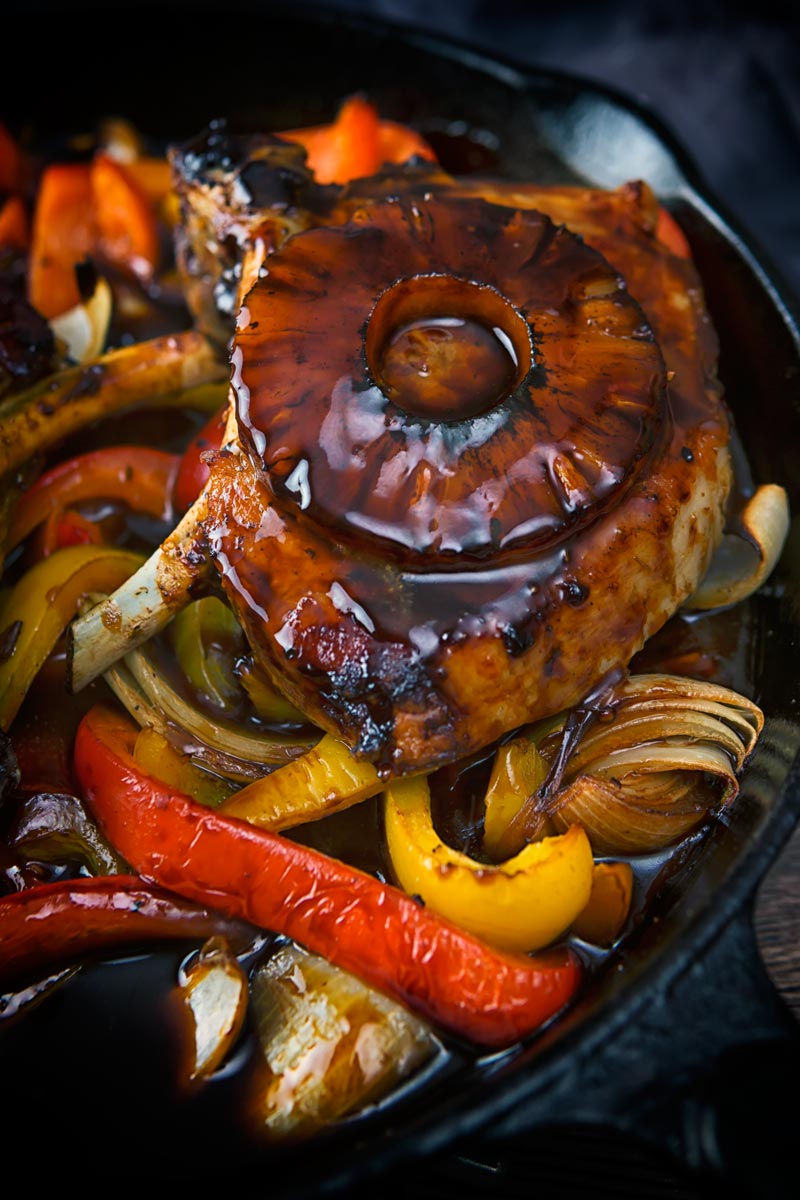 Cooking in a Cast Iron Skillet.
If you do not have one you should really consider adding a cast iron skillet to your kitchen.
These chinese sweet and sour pork chops are just the latest recipe I use mine for.
I have had mone for nearly 20 years. It takes little maintenance, distributes heat wonderfully and is super easy to clean.
To be honest with you it will probably outlast me.
If you do not have one you could cook this recipe in a heavy-based oven safe pan.
You could even make it work in a casserole dish if you like. Just sear the pork chops in a pan and then make it as per my instructions.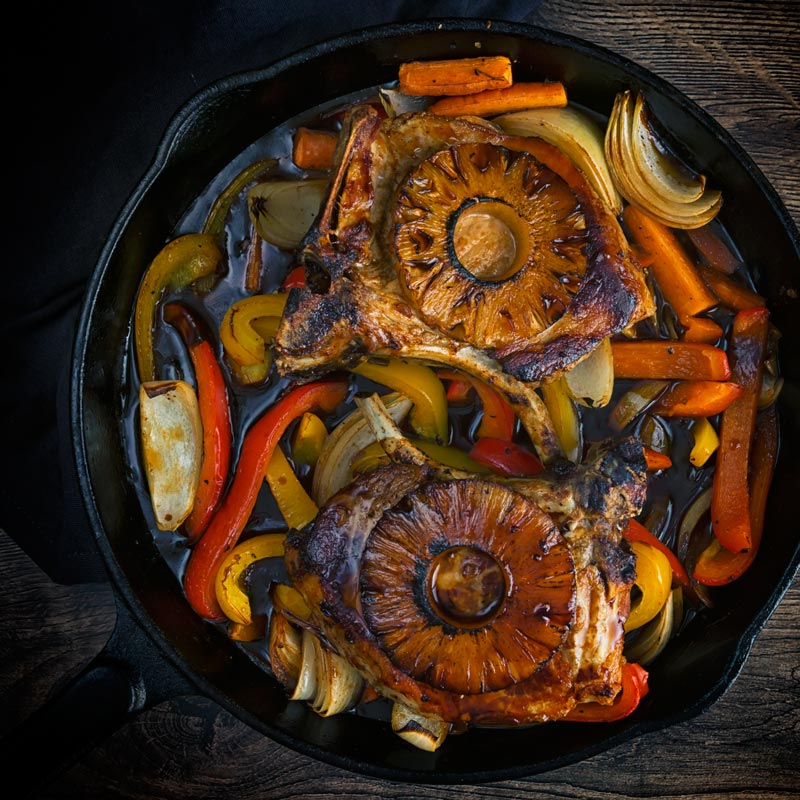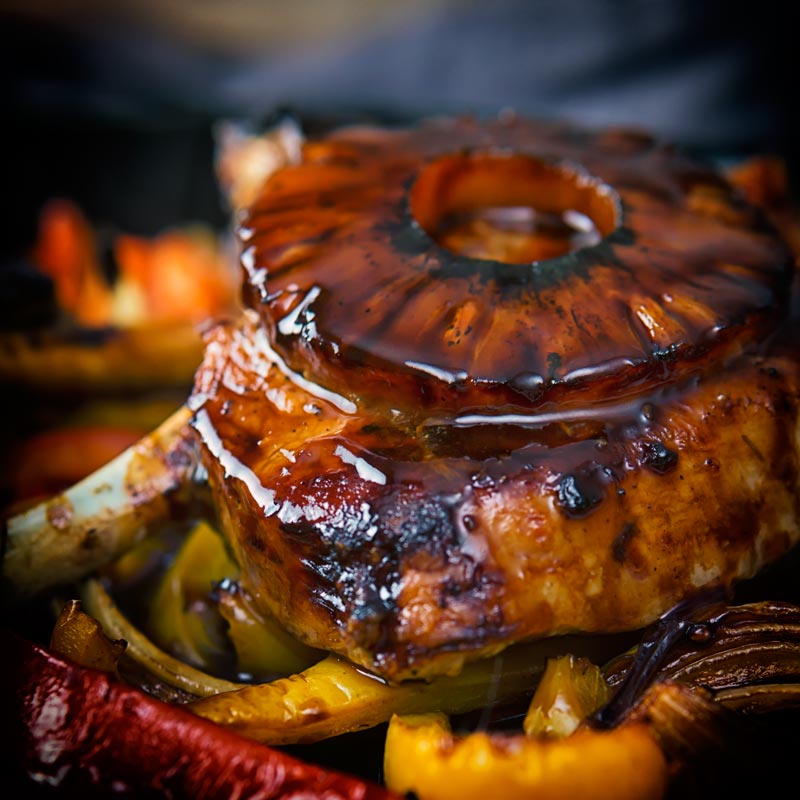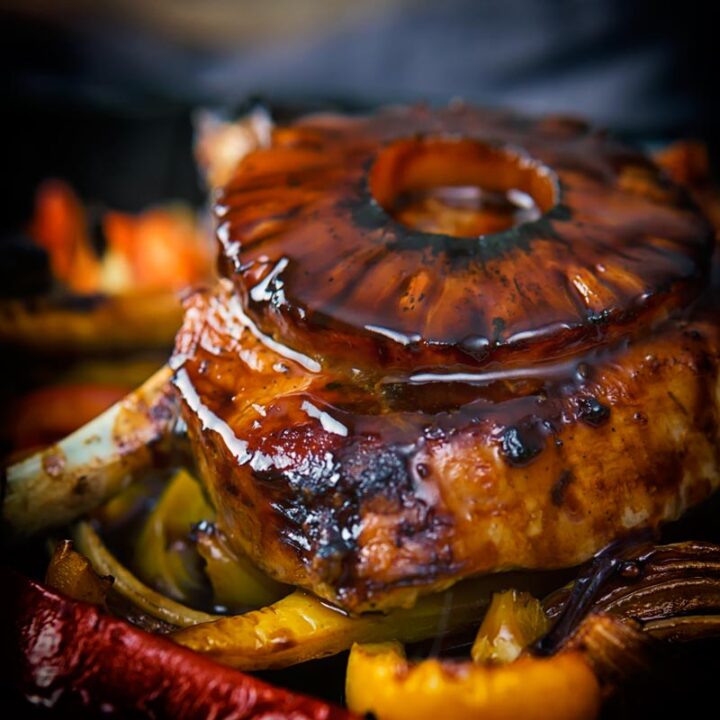 Sweet and Sour Pork Chops
These sweet and sour pork chops make for the perfect midweek meal, loads of flavour a superb 'from scratch' sweet and sour sauce and lots of veggies!
Ingredients
700 g Pork Chops
2 Sweet Peppers
175 g Onion
150 g Carrot
1 Tbsp Cooking Oil
2 Pineapple Rings
Salt and Pepper to taste
For the Sweet and Sour Sauce
1 Tbsp Light Soy Sauce
1 Tbsp Dark Soy Sauce
1 Tbsp Ketchup
1 Tbsp Chinkiang Vinegar
1 Tbsp Brown Sugar
3 Tbsp Pineapple Juice
50 ml Water
1 Tbsp Cornflour
Instructions
Heat an oven to 220

°

C or 425

°

F with a cast iron skillet or heavy based pan in it.
Slice the peppers in to strips around 1cm thick.
Peel and top and tail the onion and then cut into 8 wedges.
Cut the carrot into wedges and then into lengths around 4-5 cm long.
Season the pork chops with salt and pepper.
By now the oven and the pan should be hot, add the cooking oil and then sear the pork chops for 2-3 minutes.
The chops will release themselves from the pan when they are nicely seared.
Place the pork chops in the oven and cook in the pan for 15 minutes.
Whilst the chops are cooking combine all of the ingredients for the sweet and sour sauce with the exception of the water and cornflour.
Mix the water with then cornflour and then stir into the sauce.
After 15 minutes remove the pan from the oven and set the pork chops aside for a couple of minutes.
Throw the vegetables into the hot pan and stir.
Season the vegetables with salt and pepper, then nestle the pork chops on top.
Place a pineapple ring on top of each pork chop then pour over the sauce.
Return to the oven and cook for 10 more minutes.
Take to the table and serve!
Notes
You want 2 bone in, thick cut, loin pork chops that weigh around 350g each.
I try and buy canned pineapple in natural juices and use them in this sauce. If you can only get pineapple in syrup try and wipe off as much as you can and use regular pineapple juice.
Nutrition Information:
Yield:

2
Serving Size:

1
Amount Per Serving:
Calories:

1025
Total Fat:

47g
Saturated Fat:

13g
Trans Fat:

0g
Unsaturated Fat:

26g
Cholesterol:

294mg
Sodium:

1454mg
Carbohydrates:

56g
Fiber:

7g
Sugar:

38g
Protein:

95g
Calorific details are provided by a third-party application and are to be used as indicative figures only.