This simple chicken and pineapple curry is a bit of a throwback to the British Indian Curries of the late 70's and it is delicious!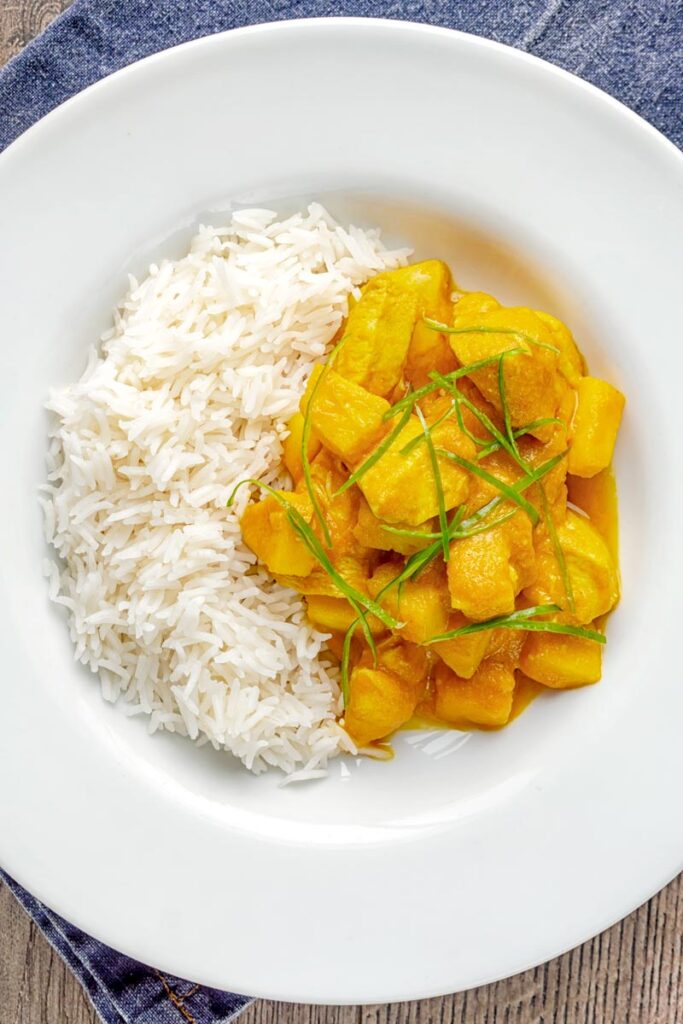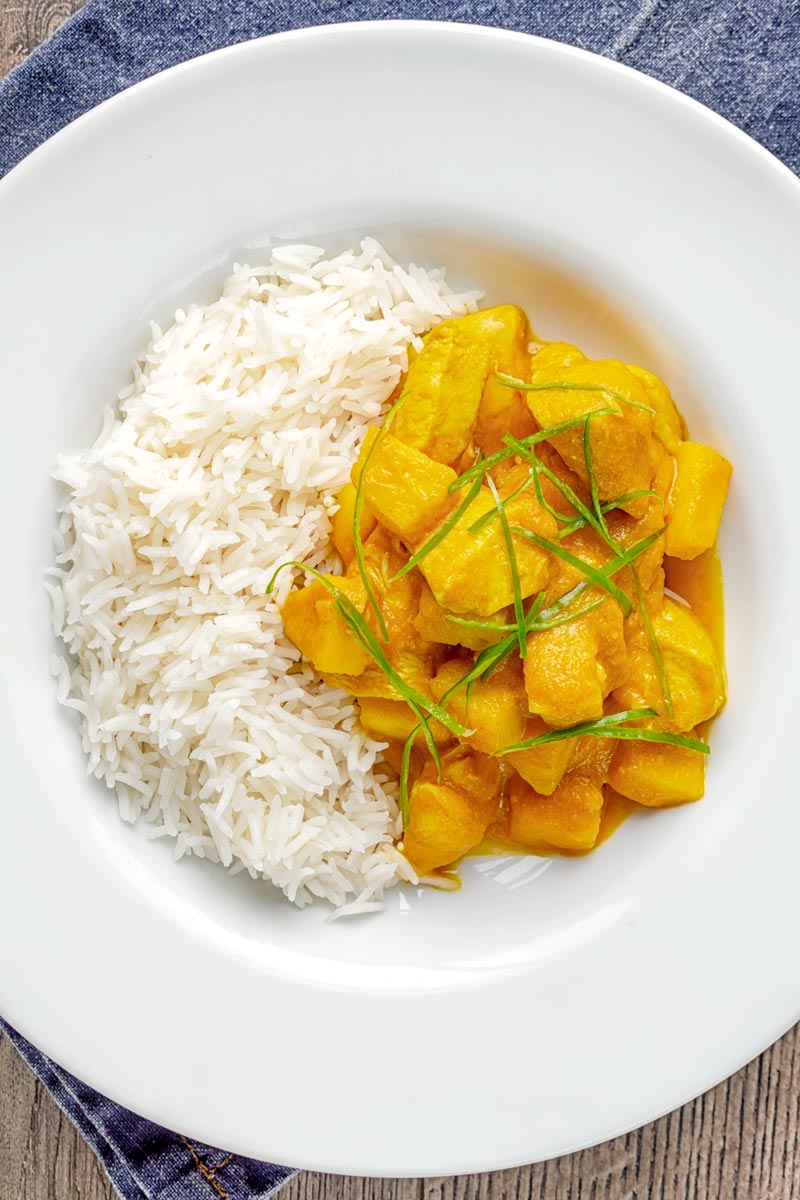 A Fruity Chicken Curry.
This stupidly simple chicken curry recipe really is quite the departure from my usual curry offerings.
It is a throwback to memories of British curries in the 1970's and 80's rather than what they have become today.
So yeah, it's a retro recipe, and I'm not sure where it comes from.
I must have read at least parts of it somewhere as it really is right out of leftfield.
However, since I first made it my wife fell in love with it.
The sauce for this recipe freezes wonderfully and as a result, this makes a great freezer meal!
Sure it is not an "authentic" Vindaloo or Madras but this fruity curry is really rather special!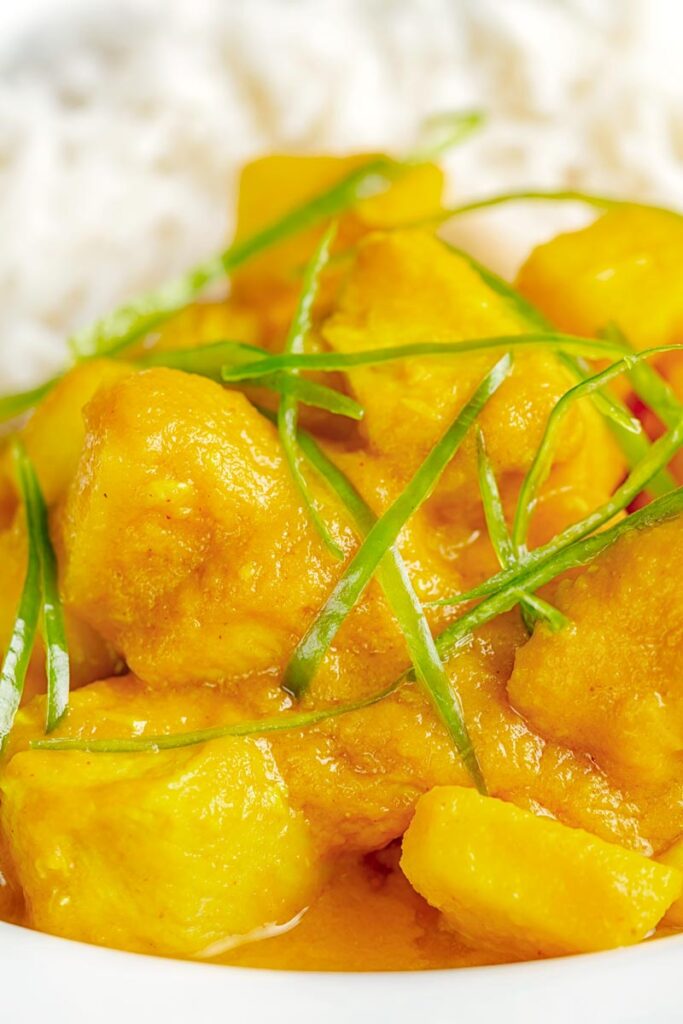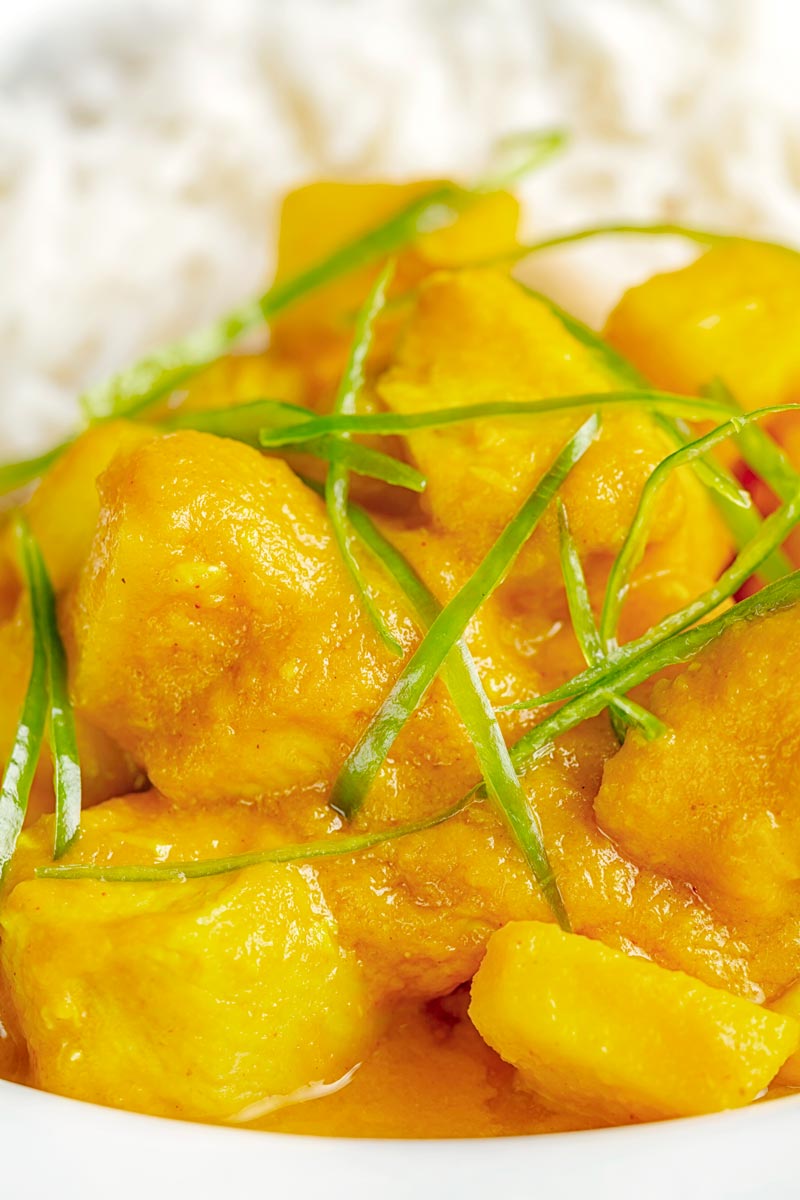 How to Prepare the Pineapple.
I recommend using fresh pineapple in this recipe, but you can get away with good quality canned stuff so long as it is in its own juices.
It is way too sweet if it is in syrup.
Preparing the pineapple may seem intimidating if you are new to it. But it is simple!
Cut off the top and bottom and stand on a board.

Using a large sharp knife remove the skin creating a barrel shape following the natural lines of the pineapple.

You are now left with a pineapple with lots of black dots on.
These eyes follow a natural spiral pattern.
Flip it on to its side and cut "V" shaped channels following this natural spiral.

You can now dice or slice as you wish.
For this recipe I want dice, so I stand on its end and cut into 8 wedges.

Remove the inner core and dice.

Pineapple will last 3-4 days in the fridge after preparing.
So if you are cooking for the smaller family, then planning in advance to use it up helps.
My Thai Red Duck Curry is a stunning way to keep the curry theme going and pineapple pork belly goes off on a Chinese vibe.
Or you could just prepare up lots of this sauce.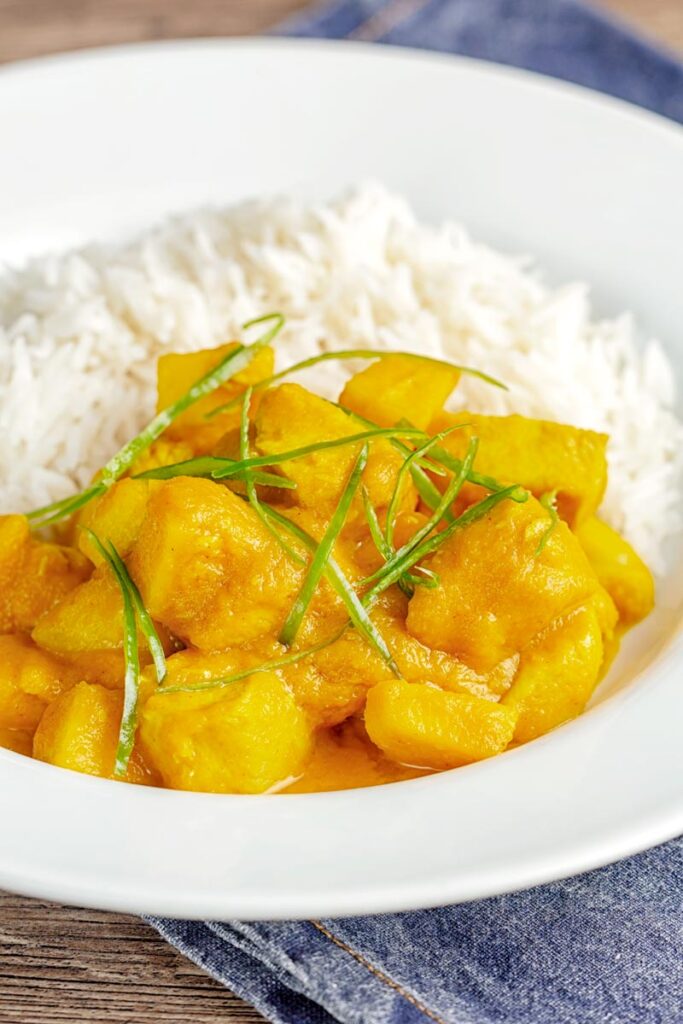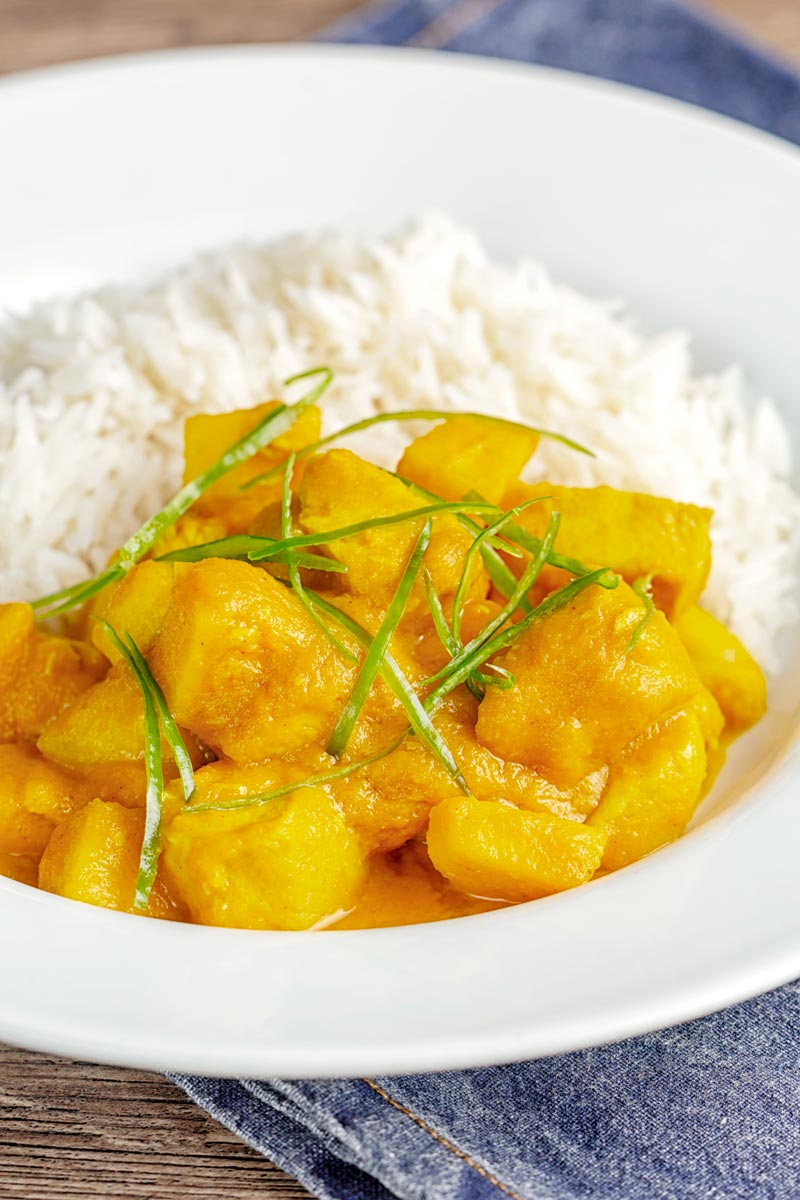 Batch Cooking and Serving Suggestions.
I have eluded to the fact that I will often make up lots of this sauce and freeze it.
It is perfect for making up a quick dinner and works just as well with pork as it does chicken.
The recipe scales linearly for serving numbers and within reason, the cooking time remains the same.
Simply follow the instructions 1-9 in my recipe below. Then portion into bags and freeze, it will keep well in the freezer for up to 3 months.
I like to serve this recipe with simply cooked rice and a few shreds of green chilli.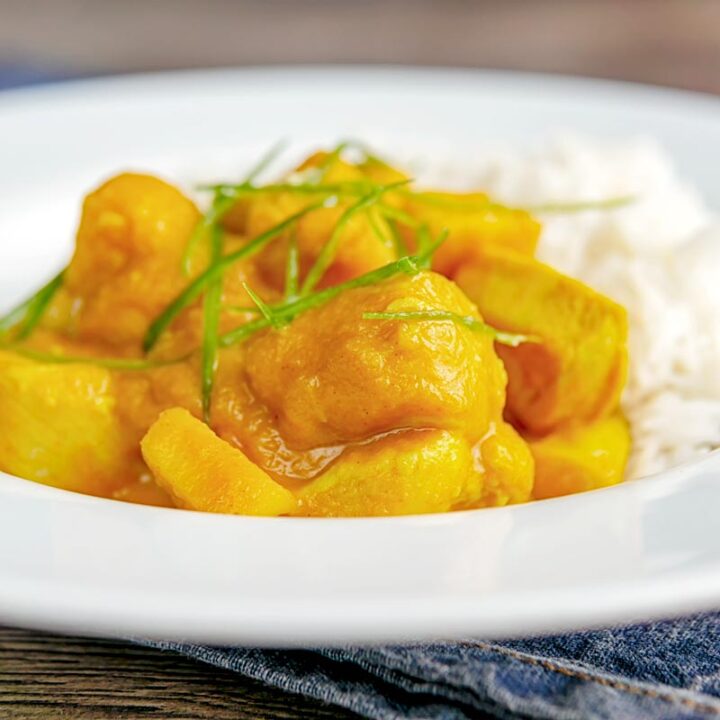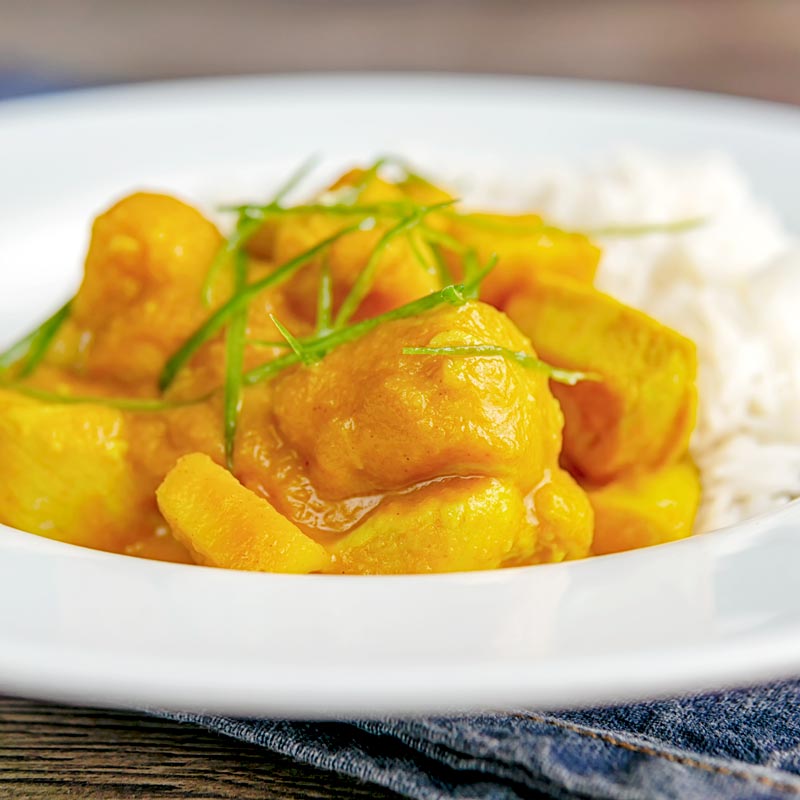 Yield:

2 Servings
Chicken and Pineapple Curry Recipe
Total Time:
1 hour
10 minutes
Welcome to my interpretation of a 1970's retro British Indian Curry. This pineapple chicken curry may sound unusual but it tastes phenomenal, is super simple to make and is a fun nod to my memories of British Indian food in the late 70's early 80's!
Ingredients
400 g Chicken Breast
1 Tbsp Ghee
75 g Onion
50 g Carrot
125 g Pineapple
125 g Apple
2 Cloves Garlic
1 Tbsp Tomato Puree
250 ml Pineapple Juice
1 Tbsp Curry Powder
1 Pinch Salt
1 Green Chili pepper
Instructions
Dice the chicken breast into 2-3cm cubes.
Dice the onion, carrot, pineapple and apple into a 1 cm dice.
Slice the garlic and chili pepper.
Melt the ghee in your pan over a medium heat.
When hot add the onion, carrot, pineapple, apple (reserving 50g of pineapple and apple for finishing) and garlic and cook for 3-4 minutes.
Stir in the curry powder for 60 seconds.
Then add the tomato puree, pineapple juice and salt, reduce the temperature and cook for 45 minutes on a very low simmer.
Remove the sauce from the heat and blend the sauce doing a quick test for seasoning and pass through a sieve.
Now return to the pan, turn up the heat to medium low add the chicken and cook for 10 minutes with a lid on.
Finally add in the remaining apple and pineapple and just bring to temperature before serving with white rice and sliced green chili if you like things hot!
Notes
Passing the sauce is of course optional.
Nutrition Information:
Yield:
2
Serving Size:
1
Amount Per Serving:
Calories:

572
Total Fat:

15g
Saturated Fat:

6g
Trans Fat:

0g
Unsaturated Fat:

7g
Cholesterol:

186mg
Sodium:

240mg
Carbohydrates:

45g
Fiber:

6g
Sugar:

30g
Protein:

65g
Calorific details are provided by a third-party application and are to be used as indicative figures only.