This simple chicken and pineapple curry is a fun take on pineapple chicken and fuses a little Indian inspiration with fruit!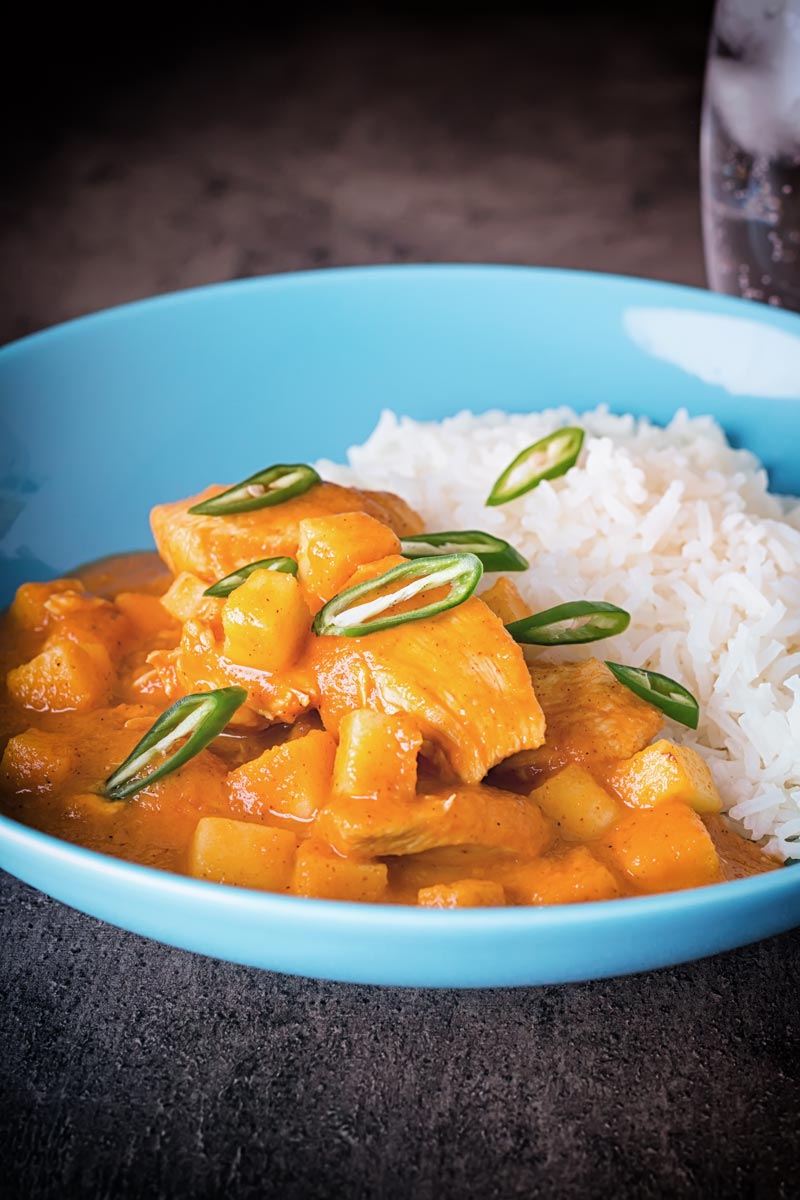 Pineapple Chicken Curry.
This stupidly simple chicken curry recipe really is quite the departure from my usual curry offerings.
It is a throwback to memories of British curries in the 1970's and 80's rather than what they have become today.
So yeah, it's a retro recipe, and I'm not sure where it comes from.
I must have read at least parts of it somewhere as it really is right out of leftfield.
However, since I first made it my wife fell in love with it.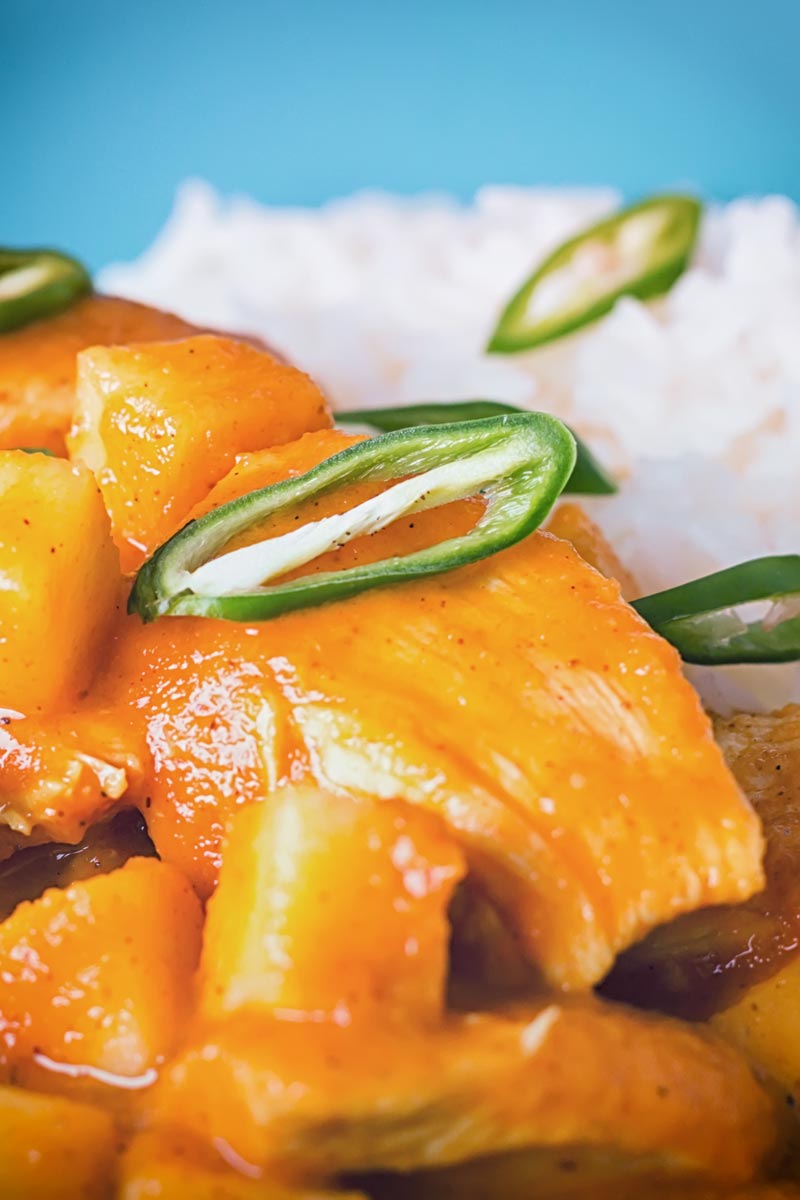 Can I Freeze the Curry Sauce?
The sauce for this recipe freezes wonderfully and as a result, this makes a great freezer meal!
It's quite hard to believe how quickly this quirky little recipe has embedded itself in our recipe routine.
It usually takes an awful lot longer for a new recipe to become popular in casa Jones! But this chicken curry recipe has muscled in real damn quick.
Sure it is not a Vindaloo or Madras but this fruity curry is really rather special!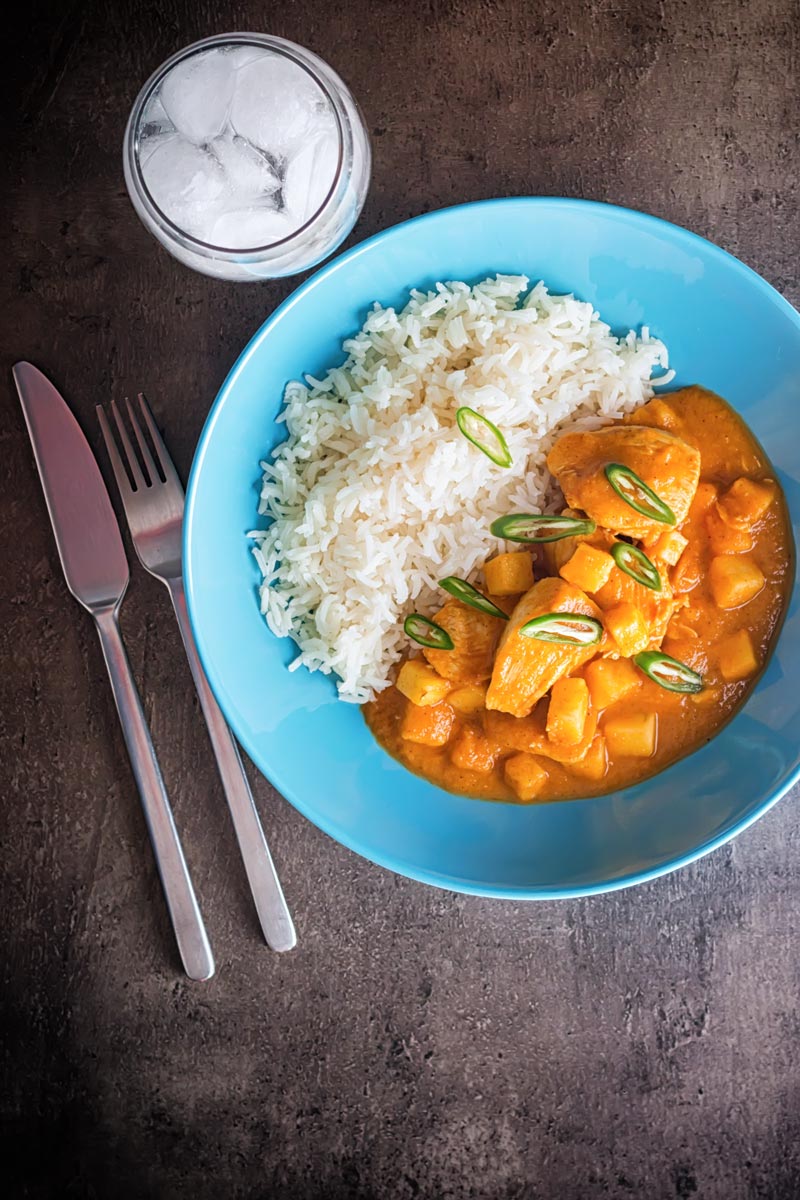 Fruity Curry Recipes.
Regular readers will know I am always up for retro recipes and I am definitely not shy of adding 'controversial' ingredients to foods.
Whether it is raisins in my biriyani recipe or anchovies, well anywhere, I don't really care.
For me, the sweetness of fruit in a curry is a wonderful addition.
Indian food is quite often served with sweet and sour chutneys as a side so the flavours certainly work.
This curry with pineapple is certainly not the first fruity curry on offer here.
In fact, it features in my Thai Red Duck Curry! Mango Chutney is also the base of my ever-popular Chicken Pathia recipe.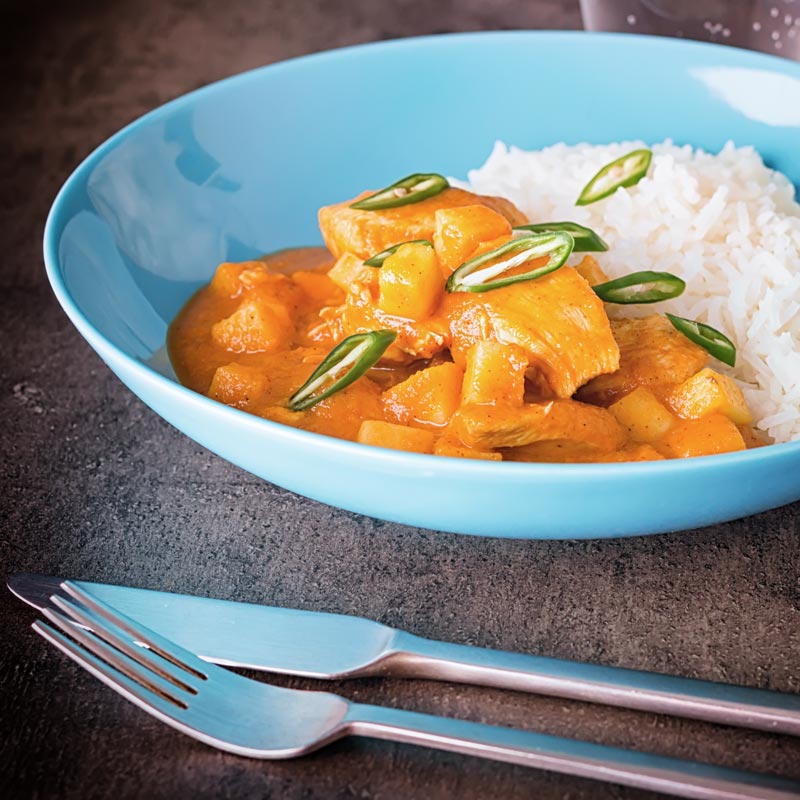 Simple Cooking.
There seems to be a modern interpretation that simple food must equal quick food. It is an association I really do not understand.
This pineapple chicken curry takes a shade over an hour to cook but it is eye wateringly simple.
The video recipe shows you all you need to know!
It is a simple case of chopping some ingredients and chucking them in a pan.
Most cooking is exceptionally simple and just because something takes time does not mean that it is difficult.
This simple curry recipe requires no precise cooking so you can float around chat, or even grab a beer whilst this is cooking.
Most importantly, as I have mantioined above, you can prepare and freeze the curry sauce for this recipe.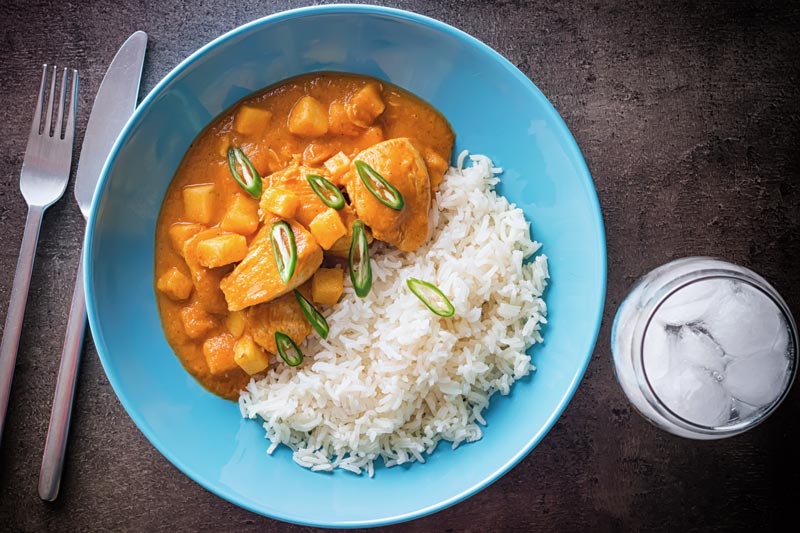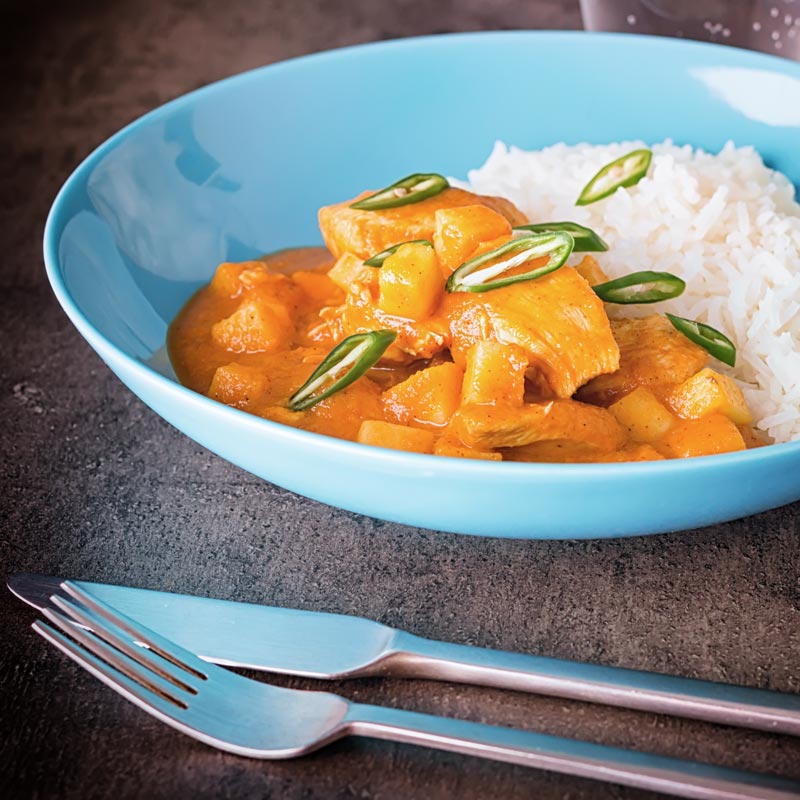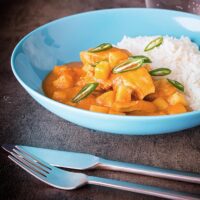 Chicken and Pineapple Curry Recipe
Total Time:
1 hour
10 minutes
Welcome to my interpretation of a 1970's retro British Indian Curry. This pineapple chicken curry may sound unusual but it tastes phenomenal, is super simple to make and is a fun nod to my memories of British Indian food in the late 70's early 80's!
Ingredients
400 g Chicken Breast
1 Tbsp Ghee
75 g Onion
50 g Carrot
125 g Pineapple
125 g Apple
2 Cloves Garlic
1 Tbsp Tomato Puree
250 ml Pineapple Juice
1 Tbsp Curry Powder
1 Pinch Salt
1 Green Chili pepper
Instructions
Dice the chicken breast into 2-3cm cubes.
Dice the onion, carrot, pineapple and apple into a 1 cm dice.
Slice the garlic and chili pepper.
Melt the ghee in your pan over a medium heat.
When hot add the onion, carrot, pineapple, apple (reserving 50g of pineapple and apple for finishing) and garlic and cook for 3-4 minutes.
Stir in the curry powder for 60 seconds.
Then add the tomato puree, pineapple juice and salt, reduce the temperature and cook for 45 minutes on a very low simmer.
Remove the sauce from the heat and blend the sauce doing a quick test for seasoning and pass through a sieve.
Now return to the pan, turn up the heat to medium low add the chicken and cook for 10 minutes with a lid on.
Finally add in the remaining apple and pineapple and just bring to temperature before serving with white rice and sliced green chili if you like things hot!
Notes
Passing the sauce is of course optional.
Nutrition Information:
Yield:

2
Serving Size:

1
Amount Per Serving:
Calories:

572
Total Fat:

15g
Saturated Fat:

6g
Trans Fat:

0g
Unsaturated Fat:

7g
Cholesterol:

186mg
Sodium:

240mg
Carbohydrates:

45g
Fiber:

6g
Sugar:

30g
Protein:

65g
Calorific details are provided by a third-party application and are to be used as indicative figures only.