This braised sticky pork belly recipe is sweet, sour, salty and spicy and all ways around my idea of indulgent comfort food.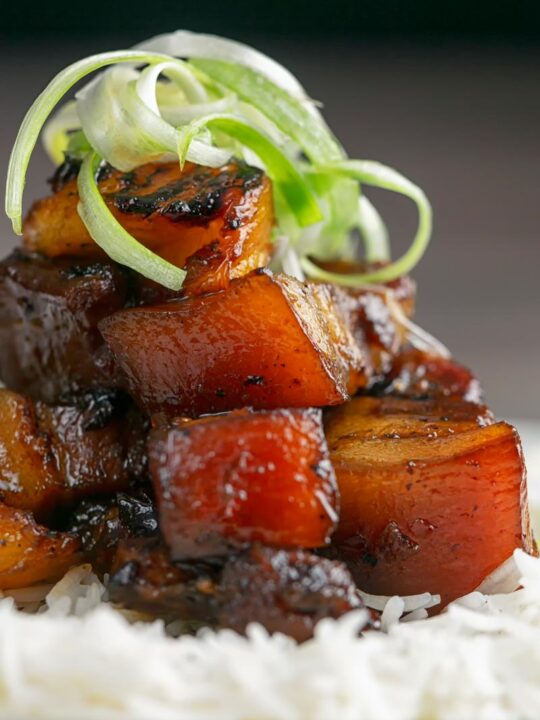 Pineapple and Pork!
You will find pineapple appearing in all sorts of savoury recipes here on Krumpli. Although I must point out that it will never appear on Pizza… You know, because that is just dirty!
It is particularly good with pork, whether that be my sweet and sour pork chops or my pork and pineapple filled lettuce wraps.
This recipe features wonderfully fatty pork belly and uses pretty classic Chinese techniques.
It combines them with very Western flavour combinations.
So essentially pretty classic Chinese techniques and full-on sweet and sour takeaway flavours.
If you are looking for other braised pork belly recipes then you must check out my Indonesian influenced babi chin or Vietnamese pork belly recipes.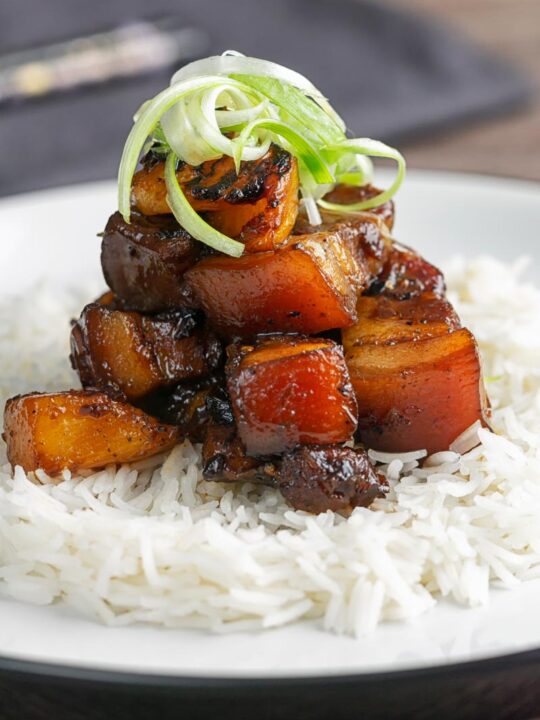 Why Cook Pork Twice?
The twice-cooked pork method is pretty common in Chinese food, particularly with pork belly.
It is often said that this is to remove impurities from the meat… Which sounds, let's face it frightening!
However, by impurities, it means pulling off some of the protein and blood deposits.
These form a "foam" or "scum" on the water that we use in the initial cooking phase. You can see this in my video!
It is not bad for you, it is just what it is. However, by cooking twice you are removing it and not putting this into the braising liquid.
This leads to a crystal clear shiny coating on you braised pork belly.
I also personally think that it adds to the texture, adding to that beautiful gelatinous feel of the fat and skin. I use the same technique in my Korean Pork Belly recipe.
Oh yeah, if that ain't your scene then this really is not a recipe for you!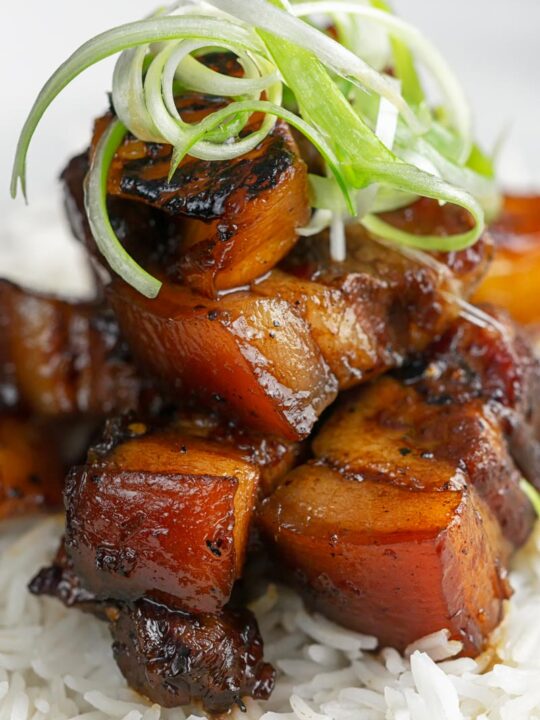 Ingredient Advice!
The first thing to mention is soy sauce, they are not all the same.
This recipe uses light soy sauce and not dark soy sauce, whatever you do, do not mix them up.
Also, all soy has very different salt levels. Get to know your brand and how salty it is and use your experience to amend as necessary.
For the record, I use Pearl River Bridge.
Next Chinkiang vinegar, please try and find it because it really cannot be replaced by anything else.
It is a black Chinese rice vinegar that has a less astringent sourness. This helps mellow out that sweet and sour vibe with a lovely earthiness.
If you absolutely must then you can use rice wine vinegar, this has a much "sharper" flavour. This results in a very different dish, not unpleasant, just different.
Vinegar lasts for such a long time there is no need to worry about shelf life. Most importantly, I use it here a lot so it will keep you coming back teehee.
Finally pineapple, you will have plenty leftover! As a result, I would like to helpfully suggest my retro chicken and pineapple curry to use it up.
As for sides, I usually go for plain boiled rice.
But it would work well with stir fried broccoli or an asparagus stir fry.
This quickly cooked Asian Cabbage recipe would also be a good option.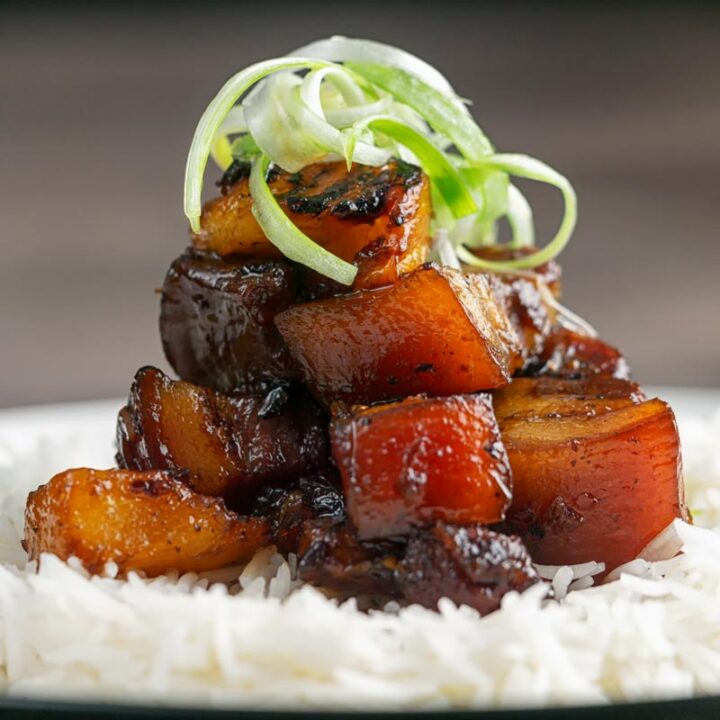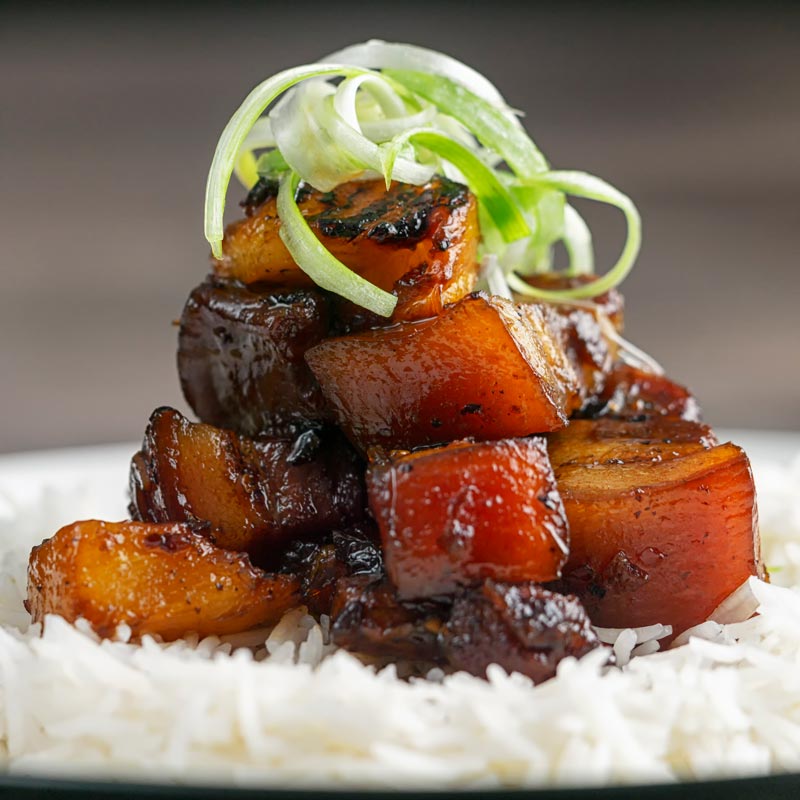 Yield:

2 Servings
Spicy Sticky Pork Belly Recipe
Cook Time:
2 hours
15 minutes
Total Time:
2 hours
25 minutes
This delicious twice cooked pork belly recipe is simply stunning, that rich pork with the fresh sweet and sour pineapple is a match made in heaven!
Ingredients
400 g (14 oz) Pork Belly
250 g (8.75 oz) Pineapple
250 g (8.75 oz) Onion
4 Cloves Garlic
50 ml (1.7 fl oz) Chinkiang Vinegar
100 ml (3.4 fl oz) Light Soy Sauce
75 g (2.6 oz) Honey
1 Tsp Dried Chilli Flakes
1 Tsp Black Pepper
2 Tbsp Cooking Oil
250 ml (8.5 fl oz) Water
Instructions
Dice the pork belly into 2.5cm cubes.
Peel and cut the onion in half and then slice into 3mm thick half-moon shapes.
Slice the garlic as thinly as you can.
Bring a wide pan of water to the boil and then add the pork.
Simmer for 20 minutes, then remove and pat dry.
Clean out the pan and then add half of the cooking oil.
Add the sliced onion and pork and cook for 10-12 minutes on a high heat to get a little colour.
Throw in the garlic, chilli flakes and black pepper and cook for another 60 seconds.
Pour in the water, soy, vinegar and honey.
Bring to a boil before turning down to medium and then simmer for 70 minutes.
After an hour or so dice the pineapple into cubes roughly the same size as the pork.
Add the remaining cooking oil to another pan over a high heat.
Throw in the pineapple and sear on both sides, this should take 7 or 8 minutes.
Add the pineapple to the pork mix and cook on for a final 20 minutes.
Nutrition Information:
Yield:
2
Serving Size:
1
Amount Per Serving:
Calories:

988
Total Fat:

58g
Saturated Fat:

17g
Trans Fat:

0g
Unsaturated Fat:

39g
Cholesterol:

169mg
Sodium:

3173mg
Carbohydrates:

66g
Fiber:

4g
Sugar:

49g
Protein:

54g
Calorific details are provided by a third-party application and are to be used as indicative figures only.