This cucumber salad salts cucumber to reduce water and maximise flavour, we add chilli, spring onion, peanuts & a simple dressing.
A Perfect Simple Side Salad.
Cucumber is a much-maligned vegetable. There is a seemingly an even split from detractors who seemingly believe that they either taste of nothing or are simply disgusting.
Well, I am not detractor, I love them and my wife orders pickled cucumber every time we eat out.
This pickled cucumber salad takes the approach of salting the cucumbers before creating the salad. Cucumber has an incredibly high water content, around 95% of its weight is water.
As a result of this, it ain't a great vehicle for flavour.
Now salt is like a magnet for water, salting the cucumber draws out this water. Giving a good squeeze reduce the water and helps maximise the cucumber flavour in this salad.
But it also allows it to become a vehicle to carry flavour.
That means that when we add the other ingredients the flavours all melt together to form a coherent group of flavours.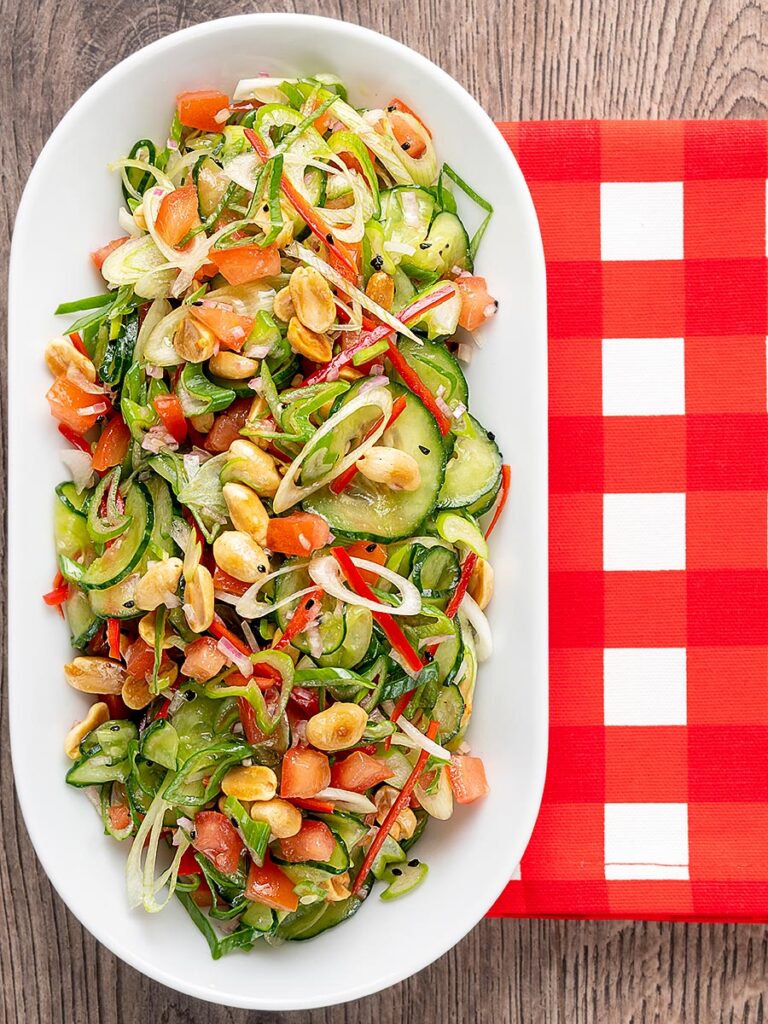 Onion Seeds.
One note on the ingredients, if you cannot get onion seeds then feel free to omit them.
They perform a "cameo" role in this recipe, but if you can get them then please do. They are a truly wonderful ingredient, and are also known as kalonji seeds or Nigella seeds.
I use them in lots of my Indian inspired recipes like my chicken jalfrezi and even sprouted as a garnish for dishes like my chicken adobo.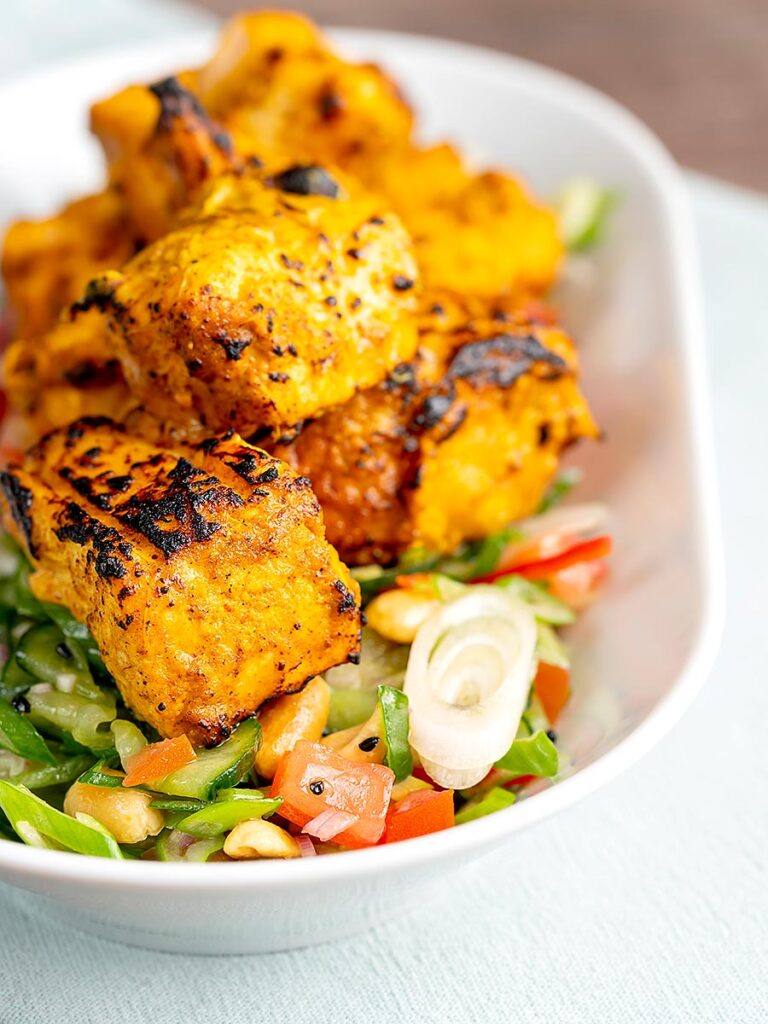 Serving Suggestions.
This cucumber salad is wonderfully diverse and it sits well alongside a whole host of dishes.
It features and apple cider vinaigrette that is sweet yet sour but "neutral enough" to sit perfectly with a host of international dishes.
The picture above shows it pictured with a glorious Indian style Salmon Tikka. But you can shift cuisines with this really easily, it is utterly delicious with my Chinese Blackened Pork Belly.
But oh no we are not only playing around with Asian flavours! This cucumber salad woks perfectly with classic European flavours too.
You could even go North African, this would be fab with my Moroccan meatballs.
I have piled it onto my duck burger when cherries are in short supply and it is stunning with pan fried salmon.
And if you are vegetarian then how about treating yourself to this vegetable wellington. A slice of it would be perfect served with a delicious pile of this cucumber salad.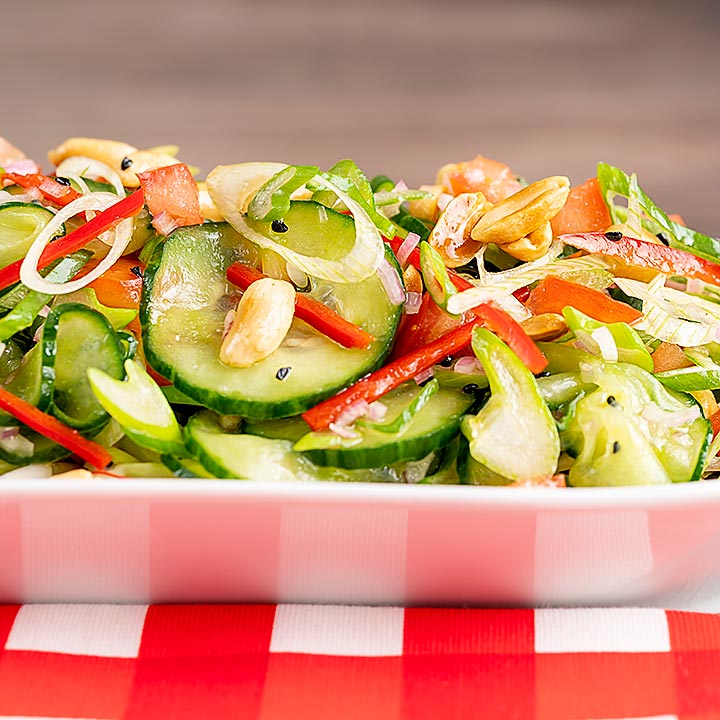 Yield:

2 Servings
Cucumber Salad Recipe
This wonderful cucumber salad recipe features fresh chilli, spring onions, ripe tomato flesh and crunchy peanuts all wrapped in a simple cider vinegar vinaigrette.
Ingredients
200 g (1 2/3 Cups) English Cucumber
1/2 Tsp Salt
50 g (1/3 Cup + 2 Tbsp) Peanuts
75 g (3/4 Cup) Spring Onion
1 Medium Hot Red Chilli Pepper
150 g (1 Medium-large) Tomato
2 Tsp Cider VInegar
2 Tbsp Rape Seed Oil
30 g (1/4 Cup) Shallot
1/2 Tsp Onion Seeds
1/2 Tsp Sugar
Instructions
Slice the cucumber into slices 1mm or so thick.
Place in a colander and sprinkle over the salt and toss to coat.
Place the colander over a bowl for 15 minutes.
Toast the peanuts in a dry pan for 4-5 minutes.
Finely slice the spring onions at a 45 degree angle.
Deseed the chilli and cut into ribbons as finely as you can.
Deseed the tomato and then cut into a 5mm dice.
Dice the shallot as finely as you can and place in a jar.
Add the onion seeds, sugar, oil and vinegar.
Place the lid on the jar and give it a shake.
Grab the cucumber and give it a firm squeeze, we want to drive off a good amount of water.
Mix together all of the ingredients with the exception of the peanuts and dress with the dressing.
Toss through the peanuts just before serving.
Nutrition Information:
Yield:
2
Serving Size:
1
Amount Per Serving:
Calories:

336
Total Fat:

27g
Saturated Fat:

3g
Trans Fat:

0g
Unsaturated Fat:

22g
Cholesterol:

0mg
Sodium:

700mg
Carbohydrates:

20g
Fiber:

5g
Sugar:

9g
Protein:

9g
Calorific details are provided by a third-party application and are to be used as indicative figures only.