A delicious pork mince curry that is easy & really cheap to cook, it features lots of green chilli peppers, sour tamarind and green beans.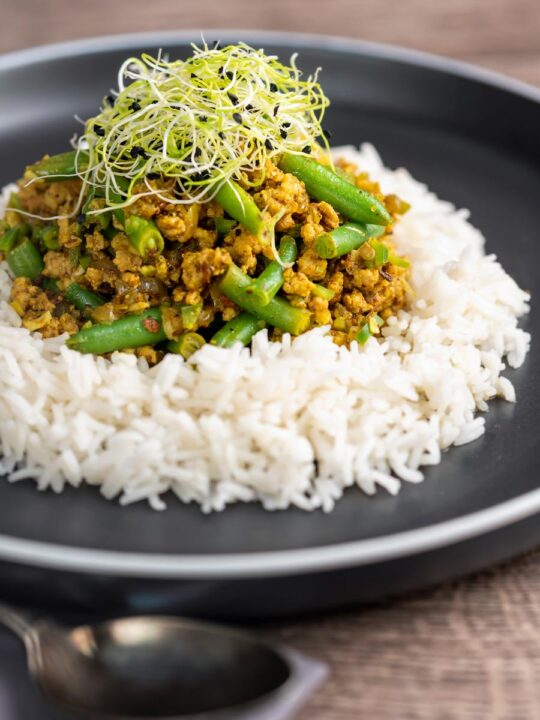 A Minced or Ground Meat Curry, Really?
Absolutely! I have a lamb keema matar and a minced beef curry here already and keema just means minced meat.
Now, pork is avoided for a host of cultural and religious reasons in some parts of the world and as such is not really associated that closely with Indian food.
However, it is a meat that lends itself really well to the rich spicing of Indian food.
This is not the first pork curry to appear here. I also have a very old school pork vindaloo, which is where all vindaloo curries started.
Like that recipe, this one balances the rich "fatty" nature of pork with sour flavours.
Here we use tamarind whereas in the vindaloo it is vinegar!
Tamarind is a glorious ingredient that I use in everything from my slow roast duck legs through to a classic Thai beef massaman curry and this Indian inspired pheasant curry.
This recipe was inspired by a recipe called India by Rik Stein. A name I have mentioned here a few times.
Whilst that curry does not use minced pork or green beans it is where the addition of ingredients towards the end of the cooking process originates.
It adds a fresh vibrancy to the dish with both the chillies and ginger retaining a real freshness.
It is a technique that I also use in my ginger pork stir fry.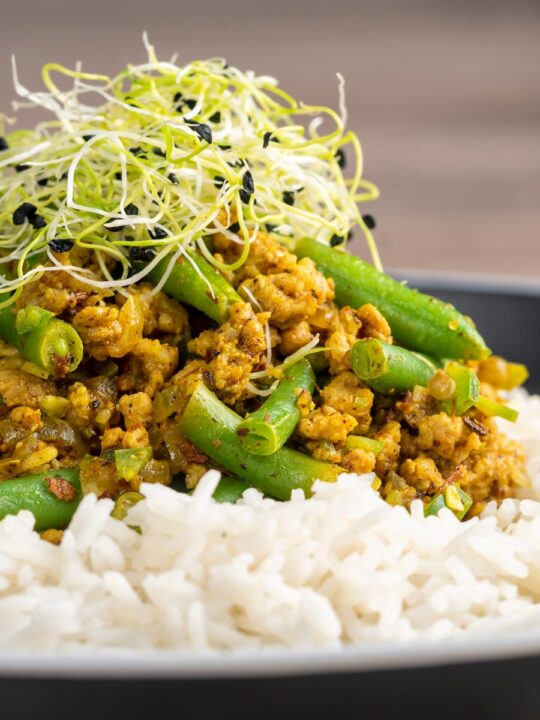 Ingredient Advice.
The instructions here refer to making tamarind from a solid block of tamarind pulp.
You can use any of the concentrates available. But you will need to work out the amount used from the jar as they all have different "strengths".
This recipe uses around 30-35g (a shade over 1 oz) of prepared weight tamarind paste.
I have written a lot about chilli peppers in the past and just like all of my other recipes you should use a chilli that you are comfortable with.
I recommend a green chilli as they do not add as much sweetness to the recipe. But then knock yourself out, remove the seeds keep the seeds add more add less.
This recipe is not designed to be super spicy so I use a chilli roughly the same sort of heat as a jalapeno.
Finally the pork, I mince my own collar or belly for this recipe because that's what I do. But a packet from the store is fine just do not go for the lean stuff.
This recipe needs a little fat to get the textures right as we do not add a sauce. Failing to do so will result in something approximating the texture of packing peanuts, and that ain't good!
So look for a fat content in the pork between 15% & 20%.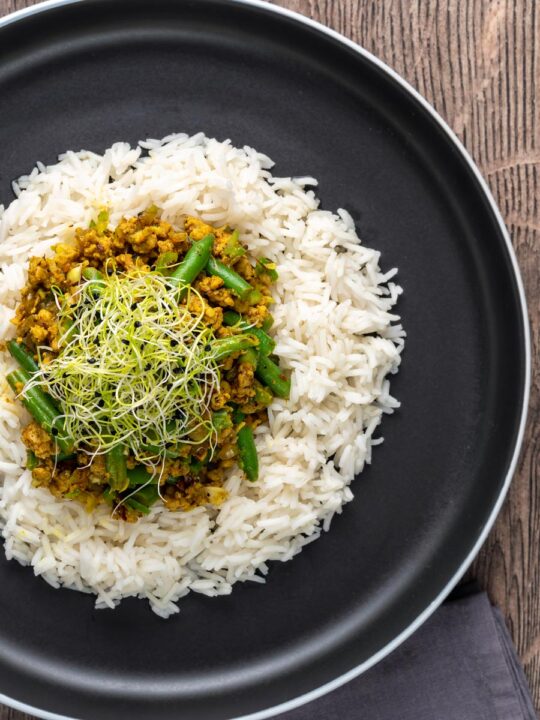 Serving Suggestions.
As you can see from the images in this recipe I keep this dish pretty simple.
Plain boiled rice is my side of choice for this recipe and I serve it with sprouted onion seeds. If you can not get them then snipped chives would be great too.
I would avoid coriander though as it is adding too much "sour" into the mix.
This recipe works well with a touch of sweetness so a nice big spoon of mango chutney on the side would be superb.
As ever if you are feeling suitably greedy then either naan bread or a couple of chapatis make a perfect addition to this pork mince curry.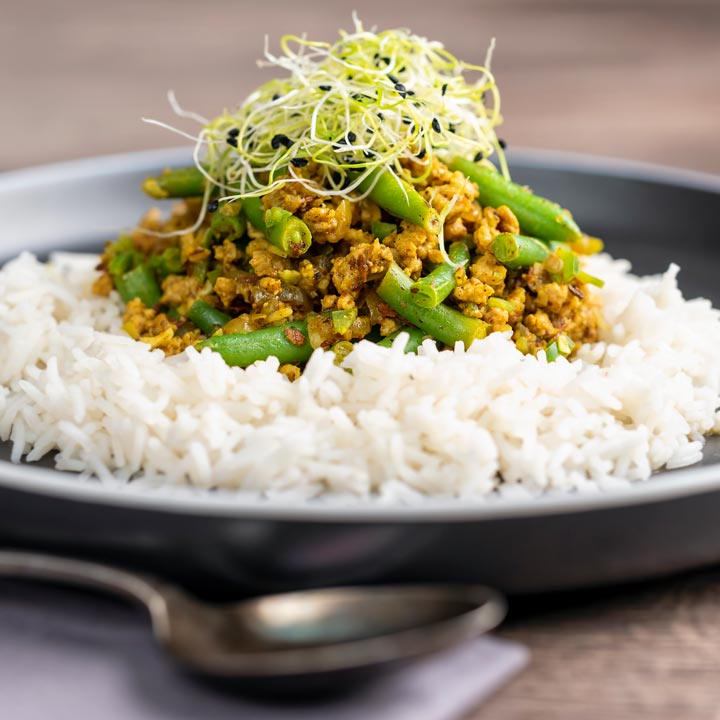 Yield:

2 Servings
Pork Mince Curry Recipe
Pork may not be the first meat associated with Indian flaovurs, but this gloriously flavoured sour pork mince curry is a real triumph of both texture and flaovur.
Ingredients
300 g (10 oz) Pork Mince
30 g (1" Cube) Tamarind Paste
30 g (2 Tbsp) Boiling Water
100 g (2/3 Cup) Onion
2 Garlic Cloves
60 g (1/4 Cup) Mild Green Chilli Peppers
1 Tbsp Minced Ginger
150 g (1 Cup) Green Beans
1 Tsp Brown Mustard Seeds
1/2 Tsp Black Onion Seeds
1/2 Tsp Cumin Seeds
1/2 Tsp Coriander Seeds
1/2 Tsp Fennel Seeds
2 Cloves
5 cm (2") Cinnamon Stick
1 Tsp Black Peppercorns
Instructions
Place the tamarind pulp in a jug and pour over the boiling water and allow to sit for 10 minutes stirring occasionally.
Cut the onion into a 2-3mm dice.
Heat a wide-based pan over a high heat.
Add the mustard, onion, cumin, coriander, fennel seeds, cloves, peppercorns and cinnamon stick.
Toast for 2 minutes then grind in a spice grinder or pestle and mortar.
Return the pan to the heat and add the oil.
Fry the diced onion over a high heat for 5 minutes.
The tamarind should have sat for 10 minutes by now and is ready to pass through a fine-mesh sieve.
Add the minced pork and fry for another 5 minutes.
Add the ground seed mix, turmeric, salt and water then stir.
Reduce the heat to low and add a lid, then cook for 15 minutes.
Chop the garlic as finely as you can.
Remove the root of the chilli peppers and cut into a 2-3mm dice.
Peel and grate the ginger.
Cut the green beans into 2.5-4cm lengths.
Remove the lid from the curry and add in the tamarind, garlic, ginger and green beans.
Stir to combine and simmer gently for a final 5 minutes.
Nutrition Information:
Yield:
2
Serving Size:
1
Amount Per Serving:
Calories:

567
Total Fat:

32g
Saturated Fat:

12g
Trans Fat:

0g
Unsaturated Fat:

17g
Cholesterol:

141mg
Sodium:

158mg
Carbohydrates:

28g
Fiber:

6g
Sugar:

12g
Protein:

42g
Calorific details are provided by a third-party application and are to be used as indicative figures only.