This Chinese pork belly recipe features soft and juicy pork with a blackened Szechuan pepper crust and a crispy crackling topping!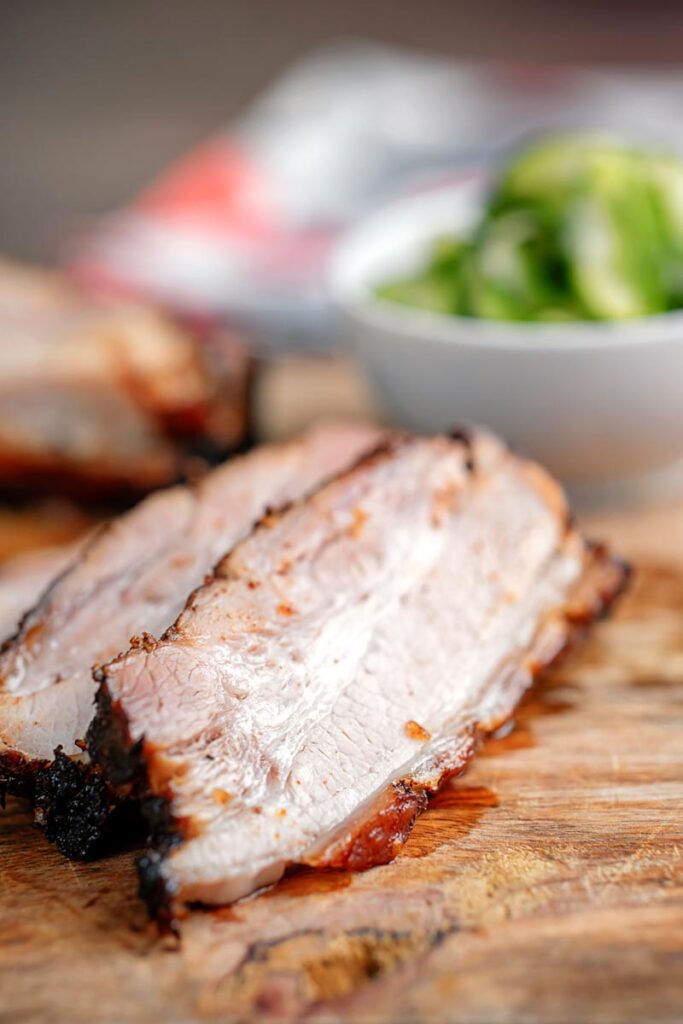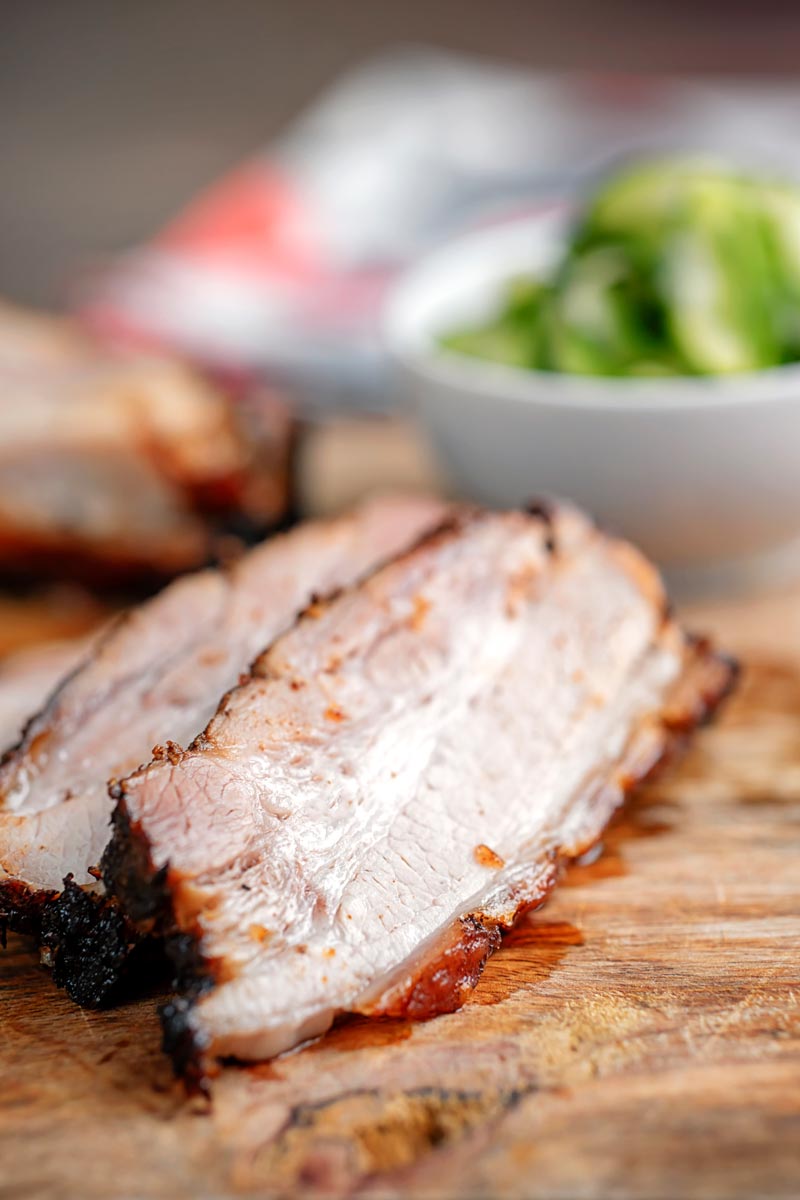 Crispy Pork Belly!
I adore pork belly, if I ever get to that mythical last meal choice then it is likely what I would choose!
It is a piece of meat that has a wonderful flavour, the perfect amount of fat and that skin makes for the best crispy crackling crust.
I cook with it a lot in dishes as diverse as this traditional British roast pork to my pressed pork belly with cherries and a sticky spicy Korean Pork Belly through to roast pork belly slices.
This recipe combines it with another of my favourite ingredients Szechuan pepper.
The ingredient that gives dishes like kung pao chicken and dan dan noodles their distinctive flavour.
Throw in a little soy, Chinese five spice, garlic and ginger and off you go.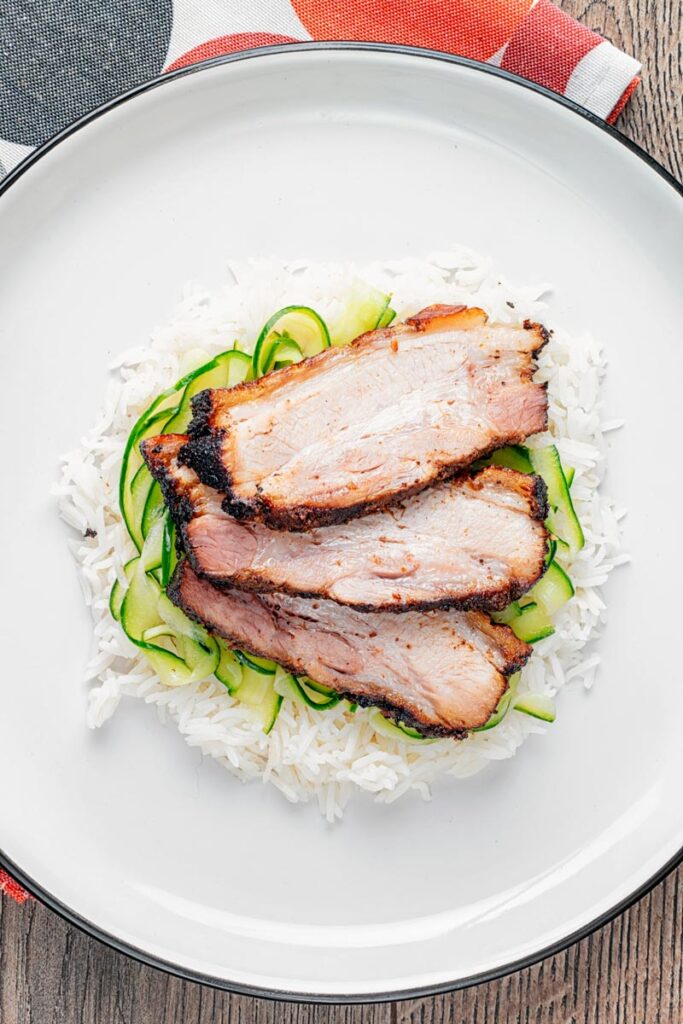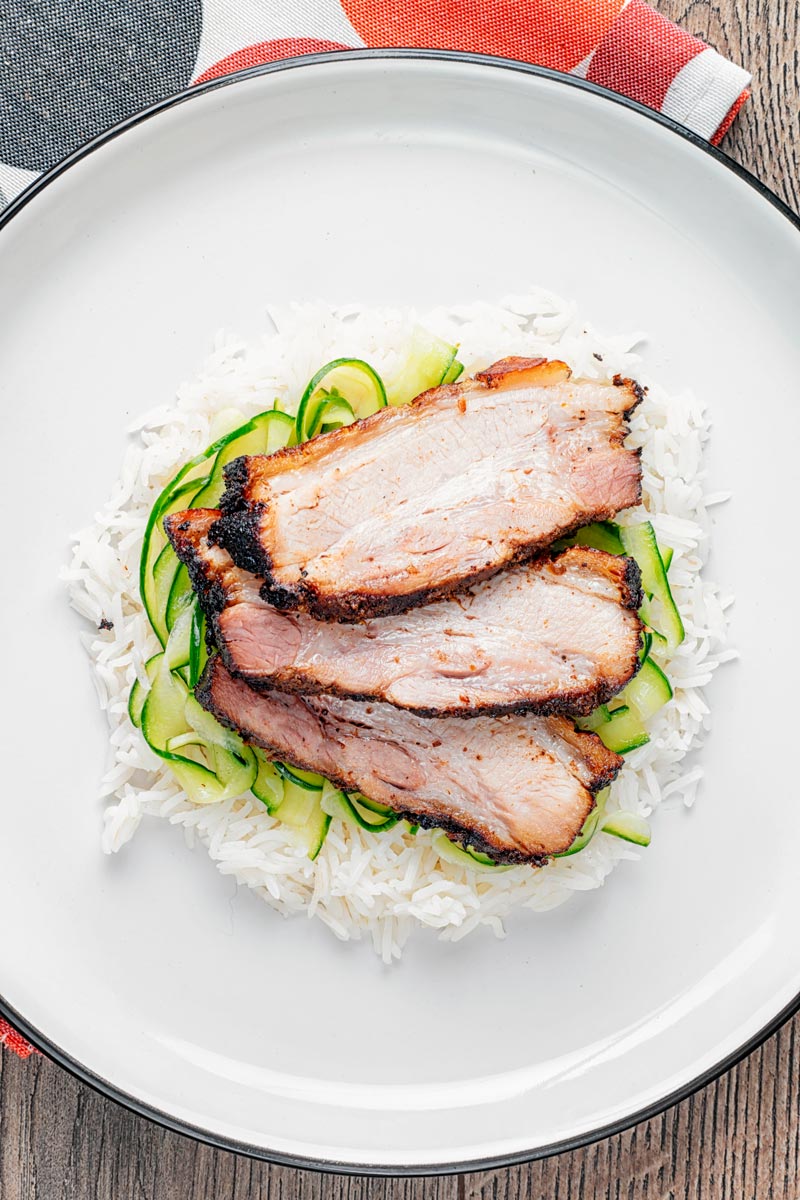 The Perfect Crackling.
There is much written about cooking the perfect pork crackling.
It is often said that the skin should be as dry as the Sahara desert when it goes into the oven.
It is a method that works and the one I use here, however I cook a pork knuckle recipe that has beer poured over it before it goes into the oven. Click through and watch the video, crispy skin again, just like this one!
Others say the oven needs to be hot before the pork goes in, others say the oven should be hot at the end.
Again both work. The only time I have ever struggled to get good crackling is when I have used fat or oil on the skin.
In short, there is no such thing as one way to do anything in the kitchen!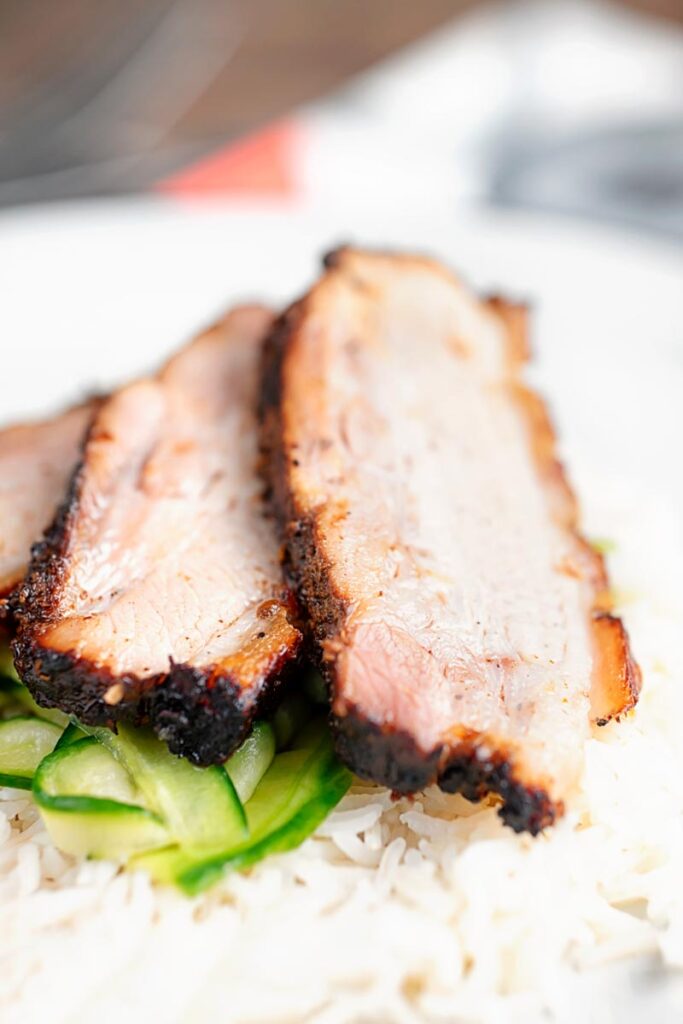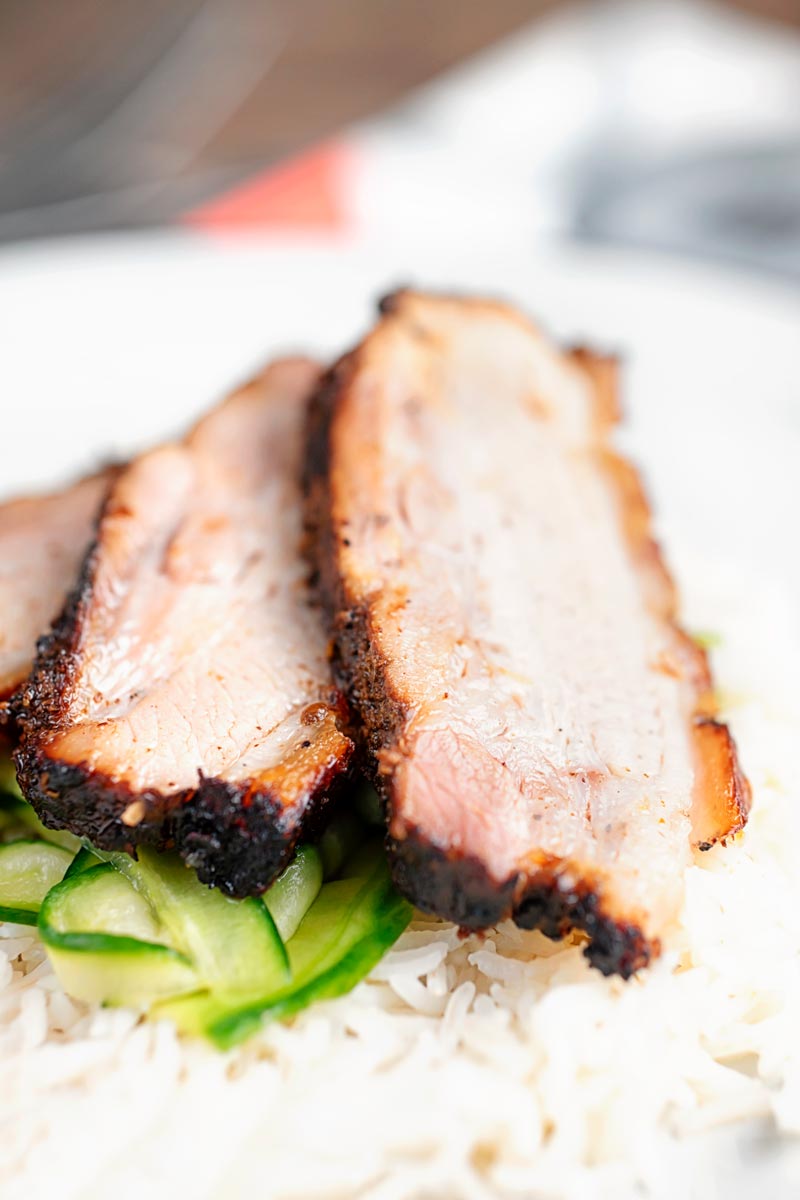 Scaling Instructions and Serving Suggestions.
This recipe serves two greedy people or will push to 3 people if needed.
You can increase the size of the pork up to 650g which can serve 4 people with no real changes in the timing. That is providing that the pork does not get thicker than around 5cm.
You will also have enough of the marinade for a larger piece of pork.
As you can see from the images the pork belly for this recipe needs to be bone-free and skin on.
The richness of pork belly works exceptionally well with pickles.
I serve this with some quick pickled cucumber, but pickled daikon would work equally well.
But it also works well with stir fried broccoli.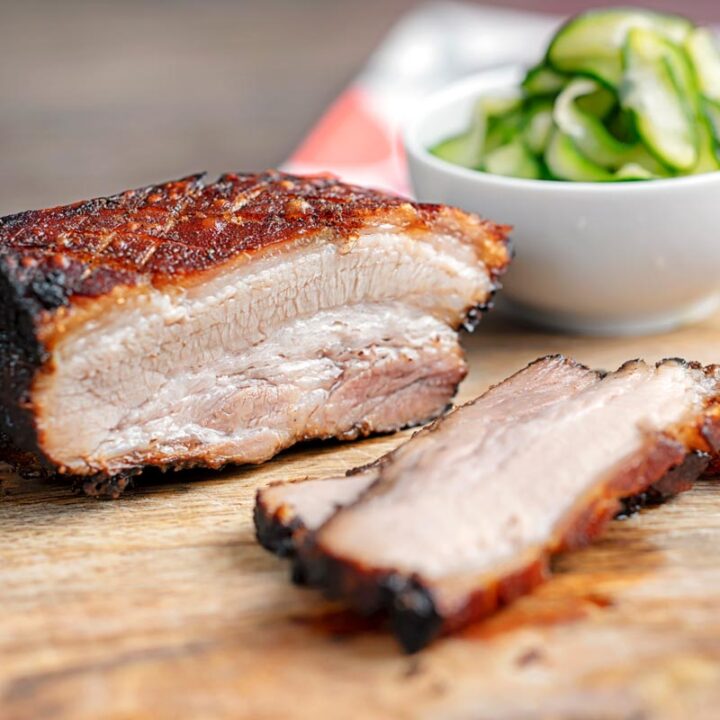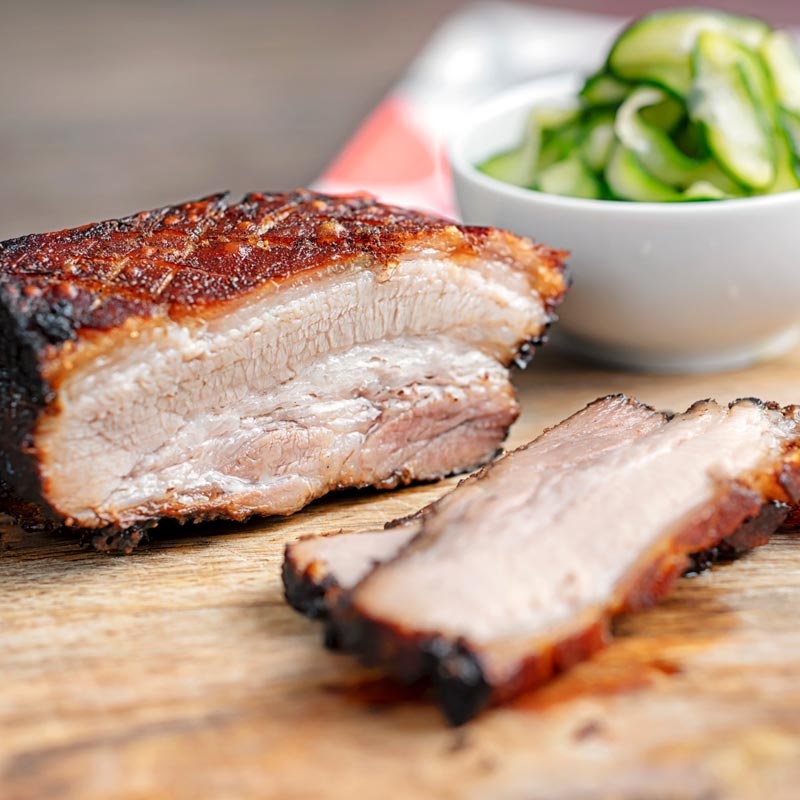 Yield:

2 Servings
Roast Chinese Pork Belly Recipe
Cook Time:
1 hour
30 minutes
Total Time:
9 hours
45 minutes
Roasted Chinese Pork Belly with a blackened crust of Chinese five spice and lashings of Szechuan Pepper all topped with a perfect crisp crackling crust.
Ingredients
Ingredients
400 g Pork Belly
1/4 Tsp Salt
1/8 Tsp Chinese Five Spice
For the Marinade
2 Tbsp Szechuan Pepper
1 Tbsp Light Soy Sauce.
2 Tbsp Dark Soy Sauce
1 Tbsp Chinese Five Spice
2 Tsp Ground Ginger
1 Tsp Ground Garlic
1 Tsp Sesame Oil
Instructions
Toast off the Szechuan peppercorns in a wok and grind in a pestle and mortar or spice grinder.
Add the Szechuan pepper to a bowl along with the remaining ingredients for the marinade.
Mix to form a thick paste.
Dry the pork skin with a kitchen towel.
Score the pork skin to a depth of 2-3mm diagonally across the meat at a distance of 1cm apart.
Spin the meat around and score to the same depth, 1cm apart perpendicular to the first cuts to create a crosshatch pattern.
Flip over the pork and pour the marinade over the flesh side and massage in.
Place the pork on a plate and clean off any marinade from the skin.
Transfer to the fridge for at least 8 hours and leave uncovered.
An hour before you are ready to cook remove the pork from the fridge.
Rub the salt and remaining Chinese five spice into the skin.
Place on a grid "balanced" above a roasting tin and pour hot water into the tin.
Cook in an oven at 220°C or 450°F for 30 minutes.
After 30 minutes reduce the temperature to 170°C or 340°F and cook for a further hour.
Rest for 10-15 minutes before serving.
Nutrition Information:
Yield:
2
Serving Size:
1
Amount Per Serving:
Calories:

396
Total Fat:

22g
Saturated Fat:

8g
Trans Fat:

0g
Unsaturated Fat:

12g
Cholesterol:

132mg
Sodium:

1358mg
Carbohydrates:

7g
Fiber:

0g
Sugar:

5g
Protein:

40g
Calorific details are provided by a third-party application and are to be used as indicative figures only.