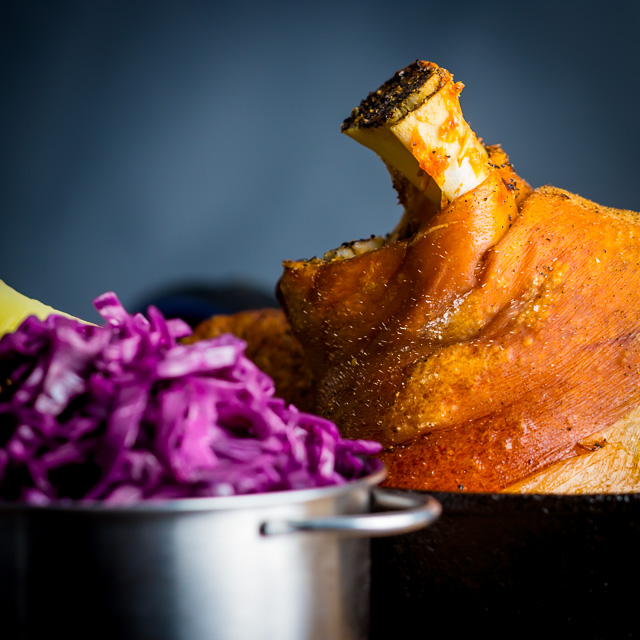 How about we kick off 2018 with something altogether fabulous and just a little but frugal, I don't know about you but Christmas and New Year always leaves me broke so this crispy beer roasted pork knuckle hits all the right fiscal measures… Not to mention that it is basically all of my favourite things.
Pork is hands down my favourite meat and pork knuckle with a bit of care and attention, a bit like pork belly can be utterly spectacular and a match for anything 3 or 4 times the price.
Now when I say a bit of care an attention I mean just that, there are no mad chef skills involved here just a wee bit of time and changing the temperature on the oven a couple of times over 4 and a half hours… So stupidly simple and a real winner, you will be fighting over the crispy skin on this beer roasted pork knuckle every single time!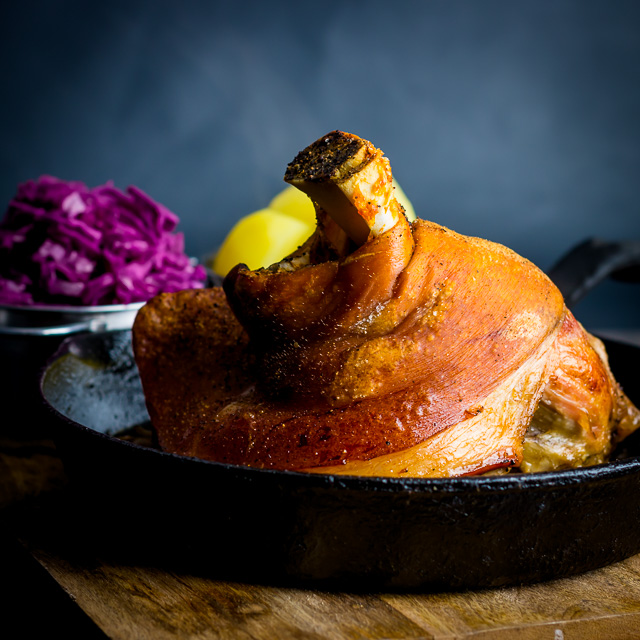 This dish is crazy popular all over this part of Europe, in Germany and Austria it is known as Schweinshaxe and here in Hungary it would be sörben sült csülök and I have not been into a single old fashioned Hungarian restaurant in my nigh on 10 years here that does not have a version of this on the menu.
Rightly so it is spectacularly good and a cut of meat that is often overlooked, often called the ham hock as well as the knuckle it is a gloriously flexible cut of meat, in fact I turned it into a rather fancy ham hock salad this past spring. Personally one of my favourite recipes that appears here on Krumpli!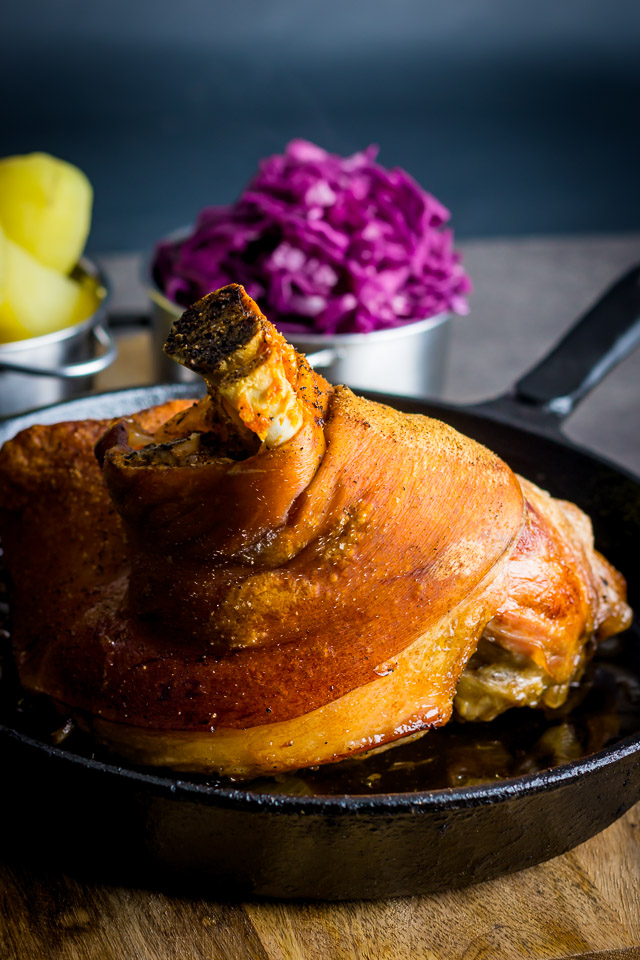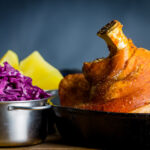 Crispy Beer Roasted Pork Knuckle
Popular across all of central Europe my version of beer roasted pork knuckle has definite Hungarian leanings with dark beer and caraway seeds.
Ingredients
For the Beer Roasted Pork Knuckle:
1.5

Kg

Pork Knuckle

300

ml

Dark Beer

350

g

Onion

Cut into half moons

6

Cloves

Garlic

1

Tsp

Caraway Seeds

1

Tsp

Salt

1/2

Tsp

Black Pepper

2

Bay Leaves
For the Red Cabbage:
400

g

Red Cabbage

Finely shredded

25

g

Sugar

35

ml

Red Wine Vinegar

100

ml

Water

1

Stick

Cinnamon

3

Star Anise
Instructions
Throw the onion and garlic into the base of a heavy based pan, I prefer a cast iron skillet.


Stand the pork knuckle on the onions with "foot" end pointing upwards.


Pour over the beer and then season the pork with the salt, pepper and caraway seeds then tuck in the bay leaves.


Place in a pre-heated oven at 180°C and roast for 3.5 hours.


About 45 minutes before the meat is due to come out of the oven add all of the ingredients for the red cabbage into a pan and cover with a lid.

Cook on low for 45 minutes.

After the pork has been cooking for 3.5 hours turn up the heat to 220°C and roast for a further 30 minutes.

Remove some of the onions and liquid from the cooking pan and blitz to form a gravy and serve.
Recipe Notes
I like to serve with boiled potatoes along side the cabbage!