Popular across all of central Europe my version of beer roasted crispy pork knuckle has definite Hungarian leanings and features dark beer and caraway seeds.

Pork is hands down my favourite meat. The knuckle with a bit of care and attention can be utterly spectacular.

This pork knuckle recipe is very homely and simple but it is a cut of meat that can be dressed up too.
Easy Crispy Roasted Pork.
How about we kick off 2018 with something altogether fabulous and just a little bit frugal. I don't know about you but Christmas and New Year always leaves me broke.
This hearty recipe hits all the right fiscal measures… Not to mention that it is basically all of my favourite things.
This ham hock salad is probably one of my personal favourites on my whole site! It also lends itself really well to Asian flavours as in this Chinese Black Bean Sauce braised Ham Hock.
As far as I am concerned it is a match for anything 3 or 4 times the price.
Now when I say a bit of care and attention I mean just that.
There are no mad chef skills involved here just a wee bit of time. Oh yeah, and changing the temperature on the oven a couple of once over 4 and a half hours…
So stupidly simple and a real winner, you will be fighting over the crispy skin on this every single time!
Don't get me started on that beer and onion gravy that requires no more work than blending!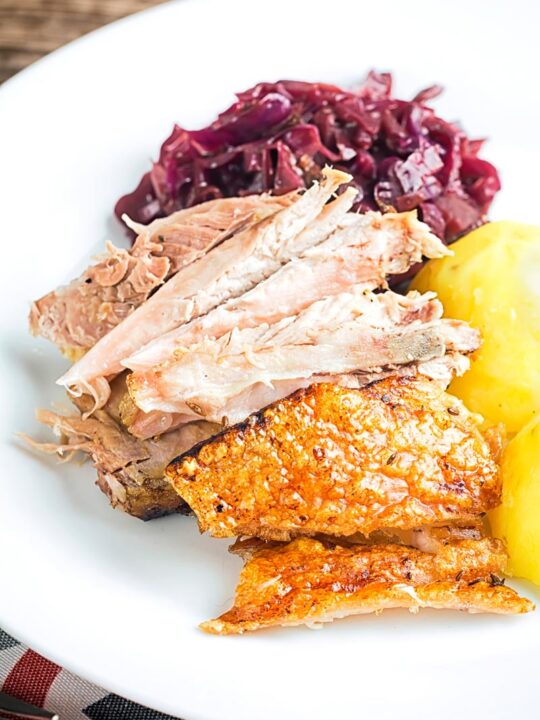 Pigs Have Knuckles?
Of course!
It is a cut of meat also goes by the name ham hock or pork hock and it is the bit of the leg that falls between the main ham joint and the pig's trotter.
Stop pulling a face, I can see you!
Pigs trotters are responsible for the jelly in my pork pie and just like the trotter the knuckle is packed with tendon and ligament.
Sounds tasty right?
Well, it is these bits that break down under slow roasting or braising. This creates an insanely juicy and sweet meat that "never" dries out.
You could call it the pork knee or pork shank I guess as it is the same cut of meat as the lamb shank.
Variants on this ham hock recipe are crazy popular all over this part of Europe.
In Germany and Austria, it is known as Schweinshaxe and here in Hungary, it would be sörben sült csülök.
I have not been into a single old fashioned Hungarian restaurant in over 10 years here that does not have a version of this on the menu.
Rightly so it is spectacularly good and a cut of meat that is often overlooked.
As far as I am concerned it is the best cut of pork for roasting it never dries out!
Recipe Hints and Serving Suggestions.
To begin with, I will hold my hands up and say this pork knuckle definitely serves more than two!
Most of my recipes here are focussed on the smaller family, but sometimes you just have to eat what you love. And I love Roast Pork!
Your average Pork Hock will weigh in at around 1-1.5kg and despite common thoughts there is not a lot of waste. Particularly when it is slowly roasted.
The good news is that the leftover meat makes the best sandwiches! Slap on some of your favourite chutney and off you go.
As you can see from my video I blend the onion/garlic mix to form a thick onion gravy.
You can leave out some of the liquid and onions and add this back in after blending if you wish.
And the secret to that crispy crackling… Simple, that last 30 minutes. Remove the liquid, crank up that heat and watch it go!
When it comes to serving then this porker has to be served with braised red cabbage and boiled potatoes!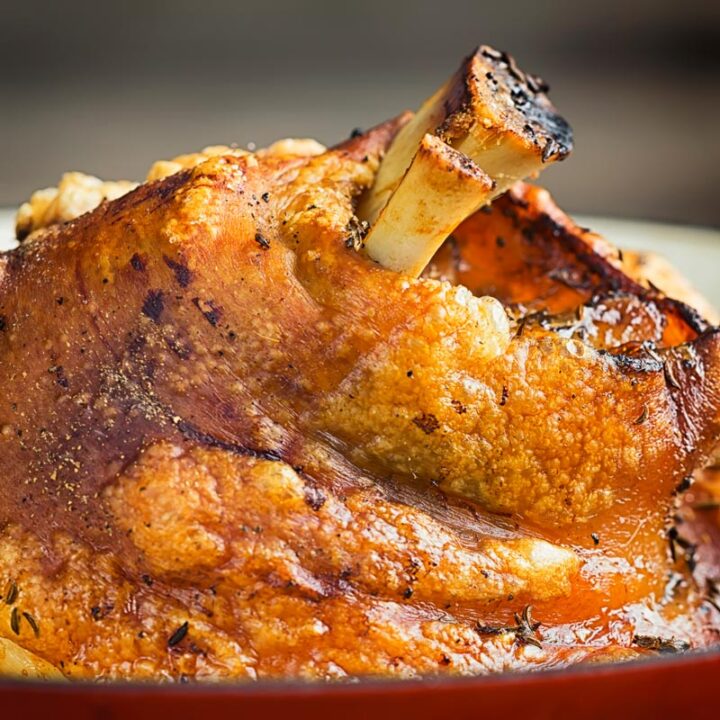 Yield:

4 Servings
Crispy Beer Roasted Pork Knuckle Recipe
Total Time:
4 hours
10 minutes
Pork Knuckle or Ham Hock is one of my favourite things to order off a menu. It is however, perfectly easy to cook this frugal classic crispy pork recipe at home!
Ingredients
1.2 Kg Pork Knuckle
300 ml Dark Beer
350 g Onion
6 Cloves Garlic
1 Tsp Caraway Seeds
1 Tsp Salt
1/2 Tsp Black Pepper
2 Bay Leaves
Instructions
Peel the onion and cut it into 1cm thick half moons.
Throw the onion and garlic into the base of a heavy based oven proof pan.
Stand the knuckle on the onions with "foot" end pointing upwards.
Pour over the beer and then season the pork with the salt, pepper and caraway seeds then tuck in the bay leaves.
Place in a pre-heated oven at 180°C or 350°F and roast for 3.5 hours. Keep an eye on the pan if it looks to be running "dry" pour in a little more beer.
After the pork has been cooking for 3.5 hours remove the onions and liquid from the cooking pan and blitz to form a gravy.
Turn up the heat to 220°C or 450°C and return the roast for a further 30 minutes.
Alternatively, if you have a fan assisted oven increase the heat to 200°C or 400°F for 30 minutes.
If you are using a fan assisted oven keep an eye on the pork as the crisping time varies greatly!
Finally, reheat the gravy to serve.
Nutrition Information:
Yield:
4
Serving Size:
1
Amount Per Serving:
Calories:

786
Total Fat:

41g
Saturated Fat:

14g
Trans Fat:

0g
Unsaturated Fat:

25g
Cholesterol:

273mg
Sodium:

831mg
Carbohydrates:

12g
Fiber:

2g
Sugar:

4g
Protein:

80g
Calorific details are provided by a third-party application and are to be used as indicative figures only.