A 'traditional' Hungarian goulash or Gulyásleves is not the thick stew most people believe but it is rather a glorious and simple soup!
Real Hungarian Goulash or Gulyásleves.
I have been wondering what recipe to write up as the first on my new blog. Of course, I settled on something from the land I now call home a real Hungarian Goulash Soup.
I am certainly no stickler for authenticity as I am sure we will establish as time goes on. But this recipe Hungarian Goulash recipe is definitely erring towards both authentic and traditional.
Just the same as many people, I thought a Goulash was a stew heavy in Paprika. Then I went and moved to Hungary. I have been here since 2008, eaten hundreds of goulash or gulyás every one of them has been a soup!
A good gulyás is indeed heady with sweet Hungarian paprika but other than that it is a simple affair of potatoes, peppers, onions and meat, traditionally beef.
There are of course many variations on this theme, babgulyás is a bean goulash, and even Halászlé a fish soup is very similar to a goulash. Although Hungarians will and do argue to the contrary!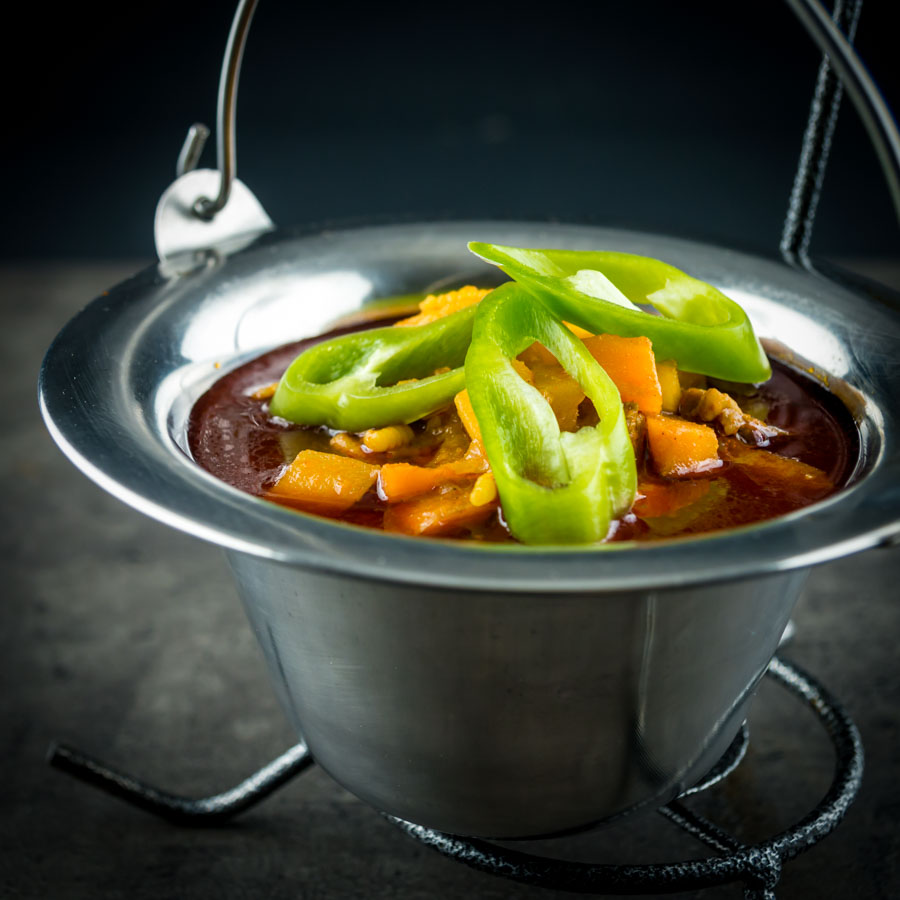 How Do You Make Traditional Hungarian Beef Goulash?
Traditionally any goulash recipe would have started with a fire and a big pot called a bogrács. Very similar to the mini one that this beef goulash recipe is served in.
Then it is simply a case of adding stuff to the pot and allowing it to slowly cook. Now the order in which things are added to the pot are hotly debated and on some occasions physically fought over.
My goulash recipe is bodged together from a number of sources.
Principally from an old cookbook written by Hungarian Food Royalty, one of the Gundel clan. I have twisted and tweaked based on many great gulyás I have eaten since I have been here.
I then tweaked a little more to feed just 2 rather than 20 and then some more to cook on stove top rather than an open fire!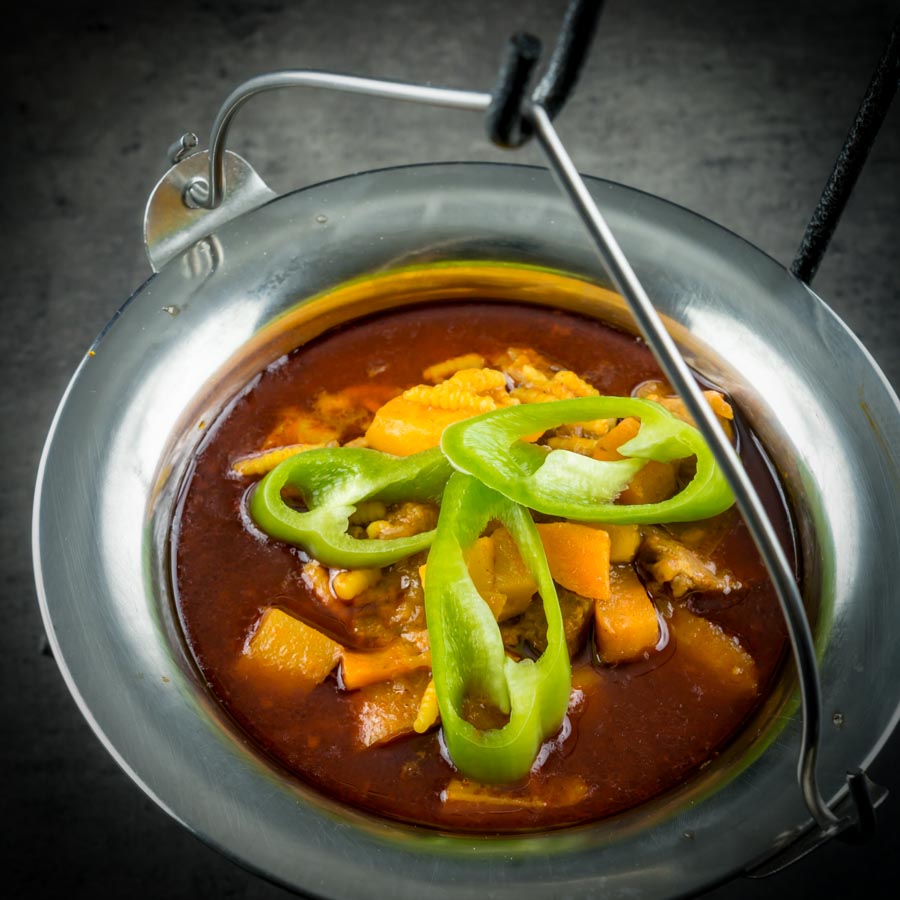 Hungarian Paprika.
Hungarian food is very much defined by paprika.
It goes in everything from sausages to goulash and will be found in breakfast lunch and dinner dishes!
It is also the defining flavour in paprikash, or paprikás another classic Hungarian recipe. I should say recipes, because just as with goulash there are many variants on paprikash.
I have two here, a chicken paprikash and a catfish paprikash which is my absolute favourite!
Not all paprika is made equal and Hungarian paprika is never traditionally smoked. It varies from sweet to spicy and is typically much bolder in flavour than Spanish paprika.
I get my paprika from the local market rather than the store. But if you do find Hungarian paprika in the stores csípős denotes spicy édes denotes sweet. For this recipe you want sweet.
Most importantly for any Hungarian recipe take what you consider to be an appropriate amount of paprika. Then add the same again and then a little bit ore for luck!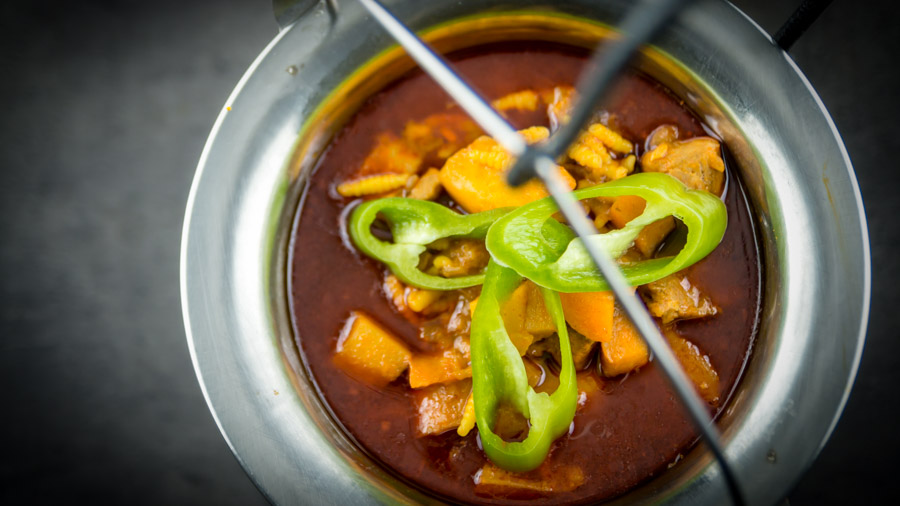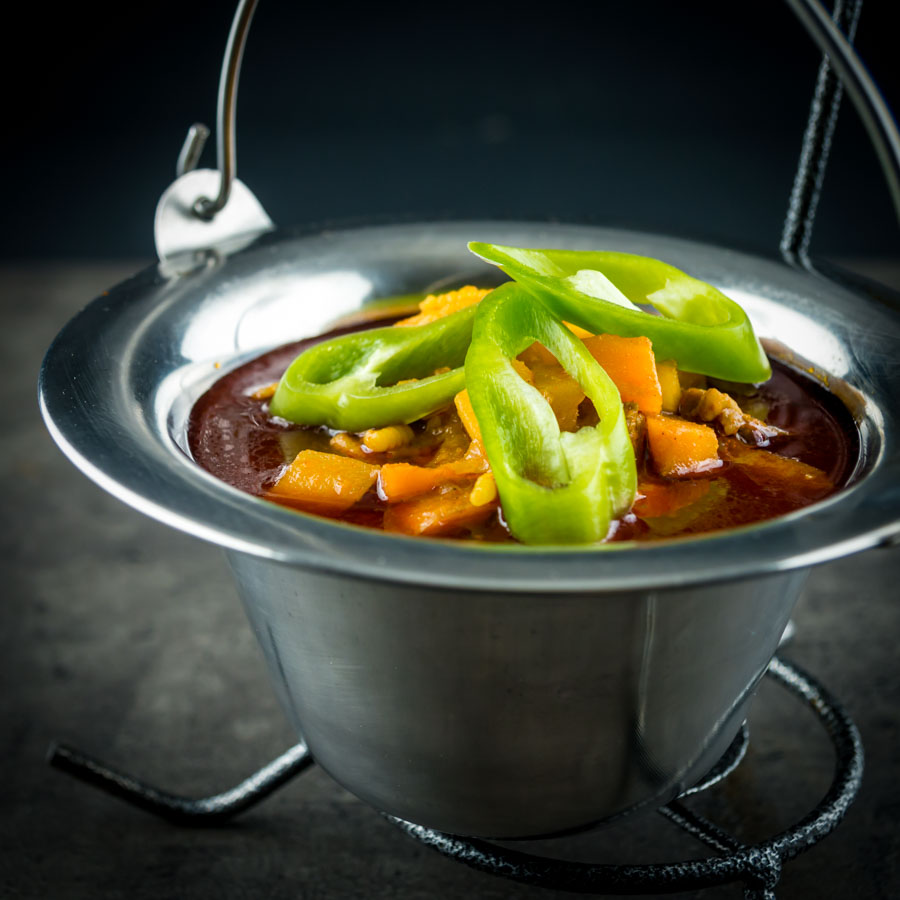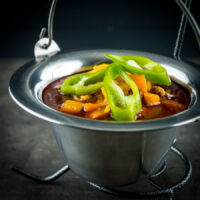 Real Hungarian Goulash or Gulyásleves
Cook Time:
1 hour
30 minutes
Total Time:
1 hour
45 minutes
A 'traditional' Hungarian goulash or Gulyásleves is not the thick stew most people believe but it is rather a glorious and simple soup!
Ingredients
250 g Onion, Finely chopped into a 3mm dice
2 Cloves Garlic, Chopped
10 g Lard, Feel free to substitute with what you have available I use lard as I am cooking pork and have access to the most wonderful unrendered lard
1 Tsp Caraway Seeds
1 Tsp Salt
500 g Beef, Blade or Chuck is good, cut into 1.5cm dice
5 Tbsp Sweet Hungarian Paprika, Try and get this if you can it really is the taste of Hungary if it is not possible use inferior paprika 😉 But avoid smoked or spicy paprika, using it in these quantities will kill any dish
150 g Carrot, Peeled cut into quarters length ways and the sliced into 5mm pieces
150 g Parsley root, Treat as per the carrot above. If parsley root is unavailable use parsnip but ensure it is cut to the same size as the carrot
300 g Potato, A fairly floury potato is good but don't go too far as they will break up if they are too waxy they will not thicken the soup, something like a Désirée is an ideal start
1 Hungarian white pepper, Cut into 2cm dice if unavailable use ½ green bell pepper
200 g Tomato, Cut into 8 wedges and deseeded
1 L Water
100 g Soup Pasta, Almost all Hungarian stores are littered with a variety of great quality bit of pasta usually about 5-10mm long and are the life blood of many a Hungarian soup. If you have nothing available find some good quality linguini, spaghetti or macaroni and break it into 5-10mm pieces
Instructions
Cook the onions in the lard until they become translucent.
Add the garlic and caraway seeds and cook for a minute.
Add the beef and cook for 2 minutes stirring occasionally.
Remove from the heat add the salt the stir then sprinkle the paprika on top of the meat, onion and garlic mix, ensure that the pan is small enough to ensure that the base is completely covered. 
The paprika should sit on top of the mix and not on the base of the pan and almost steam in the juices from the previous items, then add a lid and cook for 30-40 minutes on the lowest heat possible. You could do this on a slow cooker for a few hours if you wanted.
Add the carrot, potato, parsley root, Pepper, and tomato and stir in with the Paprika which should now be quite wet with the water.
Bring to the boil and then simmer gently for 15-20 minutes until the potato is nearly cooked.
Check the liquid for seasoning and add more salt and pepper if required and also add the pasta, cook until the pasta is al dente.
Notes
Serve with Hungarian Hot Wax Pepper cut into slices 3-5mm slices on the diagonal, if there is a substitute for this I have no idea what it is, they are delightfully spicy without being rip your face off hot but also substantial enough to add a fresh crunch to the soup. You could of course go for some crushed red chili flakes which I quite often add alongside the pepper.
Nutrition Information:
Yield:

4
Serving Size:

1
Amount Per Serving:
Calories:

1126
Total Fat:

45g
Saturated Fat:

16g
Trans Fat:

0g
Unsaturated Fat:

23g
Cholesterol:

166mg
Sodium:

1355mg
Carbohydrates:

117g
Fiber:

15g
Sugar:

18g
Protein:

67g
Calorific details are provided by a third-party application and are to be used as indicative figures only.