My Hungarian Goulash recipe comes from the true home of gulyas, the Great Hungarian Plain, it features beef, veggies & homemade csipetke (pasta).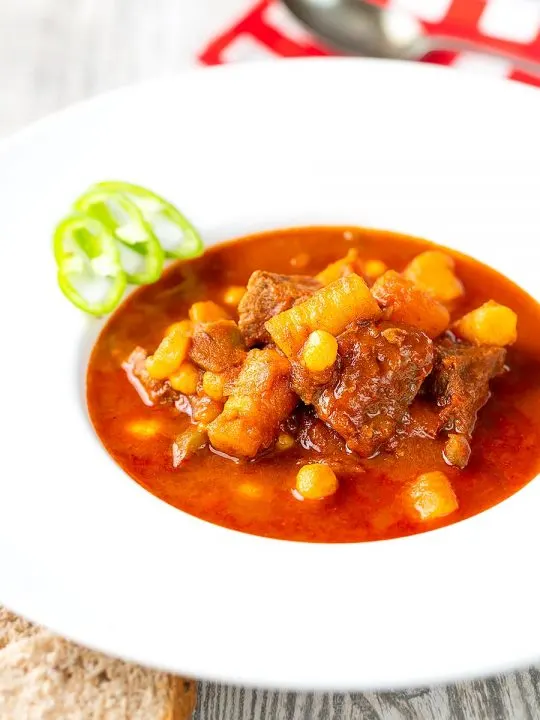 A Real Deal Gulyasleves Recipe.
It is very apt that the first recipe on my website is a beef goulash from my adopted homeland.
Over time I will be introducing a host of Hungarian dishes, everything from langos and lecso to rakott krumpli and Brassói aprópecsenye with a load of stops in between!
I have been here on the Great Hungarian Plain since 2008 and it really is the spiritual home of what I know as Gulyásleves.
There is much written about this dish which dates from the 9th century in pretty much my backyard! The first thing to note is that it is a soup, this is not negotiable.
You may have seen thick stews called Hungarian goulash, these more closely resemble what Hungarians call marha porkolt if beef and birkapörkölt if it is mutton.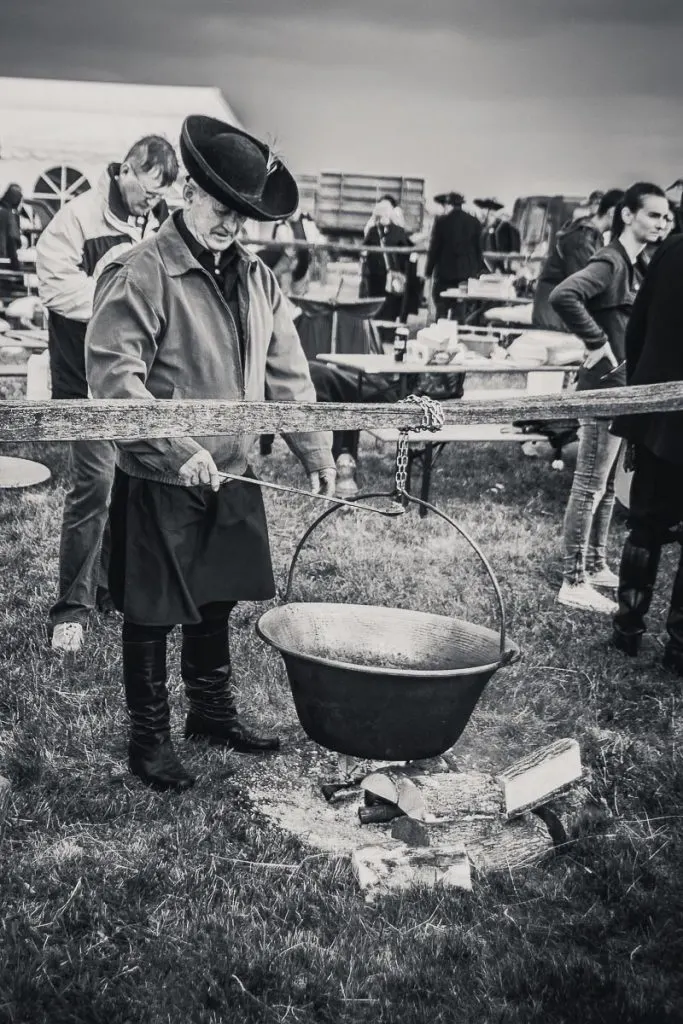 If you can serve it on a plate it is not a Hungarian Goulash! It is traditionally cooked in a cauldron called a bogrács over an open fire and comes in many varieties.
Halaszle is a form of "fish gulyas", then there is the ever-popular babgulyas which features beans.
I also have a lamb goulash that is simply stunning.
This version my Alfoldi Gulyasleves adaptation that cooks it on a stovetop and your choice of pot is essential. I use a 20cm pan that holds around 2.5-3 litres of liquid.
A larger pot will allow too much evaporation, too small and it will not all fit in!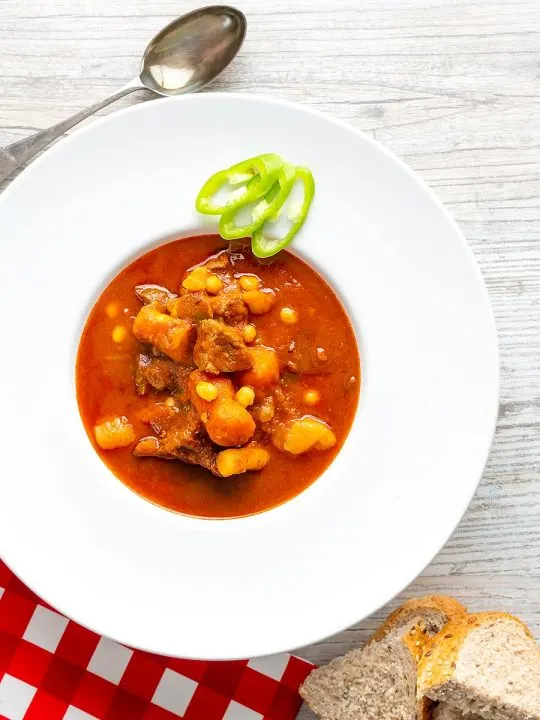 Ingredient Guide.
A traditional Hungarian Goulash is a simple dish, it is beef and cooked with water and paprika. Simple hey!
But your choice of ingredients really do define how "authentic" your dish will taste and eat.
First of all we need to talk about the fat, this dish is SO much better cooked with a hard meat fat. Lard, beef dripping, duck or goose fat are all perfect.
You can use oil if you absolutely must but it i will not taste or eat the same.
Next up, paprika. You need sweet Hungarian paprika, and you really should avoid smoked paprika. You can add a pinch of hot Hungarian paprika if you like but I prefer to add heat at the end.
Then the potatoes, you want these to stay whole throughout the cooking process so go for something waxy. A salad potato like Charlotte or Anya are perfect.
This recipe is a little sweeter than a true Hungarian gulyás as I have added parsnip here. Traditionally a parsley root would be used which is fantastic, but tough to find in most of the places you guys are reading.
Finally I must mention the peppers that I use green peppers, avoid red yellow or orange as they add too much sweetness. Particularly if you as using parsnip.
Again in Hungary a fairly niche type of pepper would be used. A very mild white or pale green pepper called TV paprika or feher paprika would be used.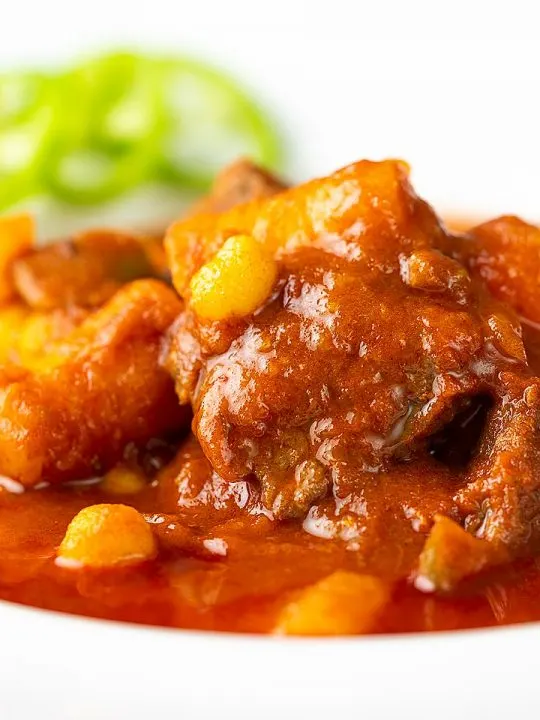 The Csipetke or Pasta.
A take on pasta is not unusual in Hungarian food the nokedli that I serve with my chicken paprikash is similar to pasta.
I also serve my catfish paprikash with csusza testa, which is a really popular Hungarian pasta dish.
This goulash recipe features a hand made pasta called csipetke, which means "pinch". If you watch the video you can see why!
You literally just take a pinch of the rough pasta dough. Then either roll between your fingers or in the palms of your hands.
The you simply cook in the pot for 10 minutes. If you cannot be bothered to make your own then you can add small pasta shapes if you wish.
One final word on serving. You want a big bowl and sprinkle of crushed chilli flakes, some crusty bread and if you can get them some Hungarian hot wax peppers (fresh jalapeno make an acceptable substititute).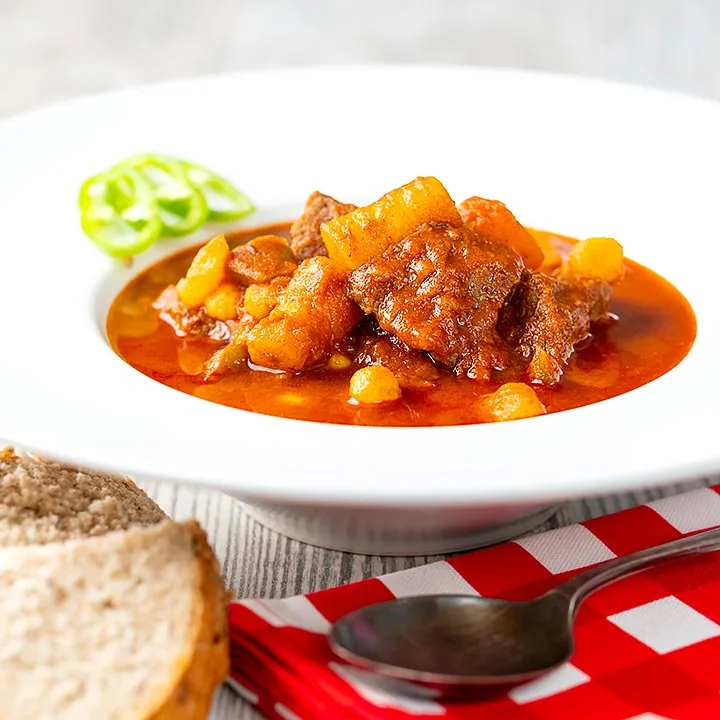 Yield:

4 Servings
Hungarian Beef Goulash Recipe
Cook Time:
2 hours
30 minutes
Total Time:
2 hours
45 minutes
A 'traditional' Hungarian goulash or Gulyásleves is not the thick stew most people believe but it is rather a glorious and simple soup!
Ingredients
500 g (17 oz) Beef
225 g (1.5 Cups) Onion
4 Cloves Garlic
15 g (1 Tbsp) Lard, Duck Fat or Beef Fat
1 Tsp Caraway Seeds
35 g (1/3 Cup) Sweet Hungarian Paprika
150 g (1 Cup) Carrot
150 g (1 Cup) Parsnip
300 g (2 Cups) Waxy Potato
1 Green Pepper
2 Medium Tomatoes
1 L (4 Cups) Water
100 g (3/4 Cup) Plain Flour
1 Egg
Salt to taste
Instructions
Cut the onion into a 1cm dice.
Mince the garlic.
Remove any sinew and cut the beef into a 2cm dice.
Add the fat to the pan over a medium high heat.
When is has melted add the onions and cook for 5 minutes.
Add the garlic and caraway seeds and cook for a minute.
Throw in the beef and one teaspoon of salt and cook for 3-4 minutes stirring occasionally.
Reduce the heat to low then sprinkle the paprika on top of the meat, onion and garlic mix.
The paprika should sit on top of the mix and not on the base of the pan so that it can almost steam in the juices from the previous items.
Add a lid and cook on the lowest temperature possible for an hour.
Peel and cut the potato into a 2cm dice.
Scrub and cut the carrot and parsnip into 1.5cm lengths.
Cut the tomatoes into wedges.
Cut the green pepper into a 1cm dice.
Add the carrot, potato, parsnip, pepper, and tomato.
Pour in the water and stir to combine.
Have a taste and add a load more salt.
Bring to the boil and then simmer gently without a lid for another hour.
About 25 minutes before the dish is ready add the egg to the flour and knead to form a dough.
Rest the dough for 15 minutes.
Pinch of a small amount of the dough between your thumb and forefinger and roll to a small ball.
Repeat with the remaining dough then add to the pot.
Cook for 10 minutes before serving.
Nutrition Information:
Yield:
4
Serving Size:
1
Amount Per Serving:
Calories:

688
Total Fat:

31g
Saturated Fat:

12g
Trans Fat:

0g
Unsaturated Fat:

15g
Cholesterol:

163mg
Sodium:

758mg
Carbohydrates:

61g
Fiber:

10g
Sugar:

10g
Protein:

43g
Calorific details are provided by a third-party application and are to be used as indicative figures only.