Hungarian mutton stew or birkapörkölt is a simple dish from the east of the country that combines bone-in meat with offal & loads of paprika.
The long slow cooking time breaks down the tough mutton and turns it into a beautifully tender meat whilst retaining its huge flavour, this simple dish is the epitome of the idea that less is often more!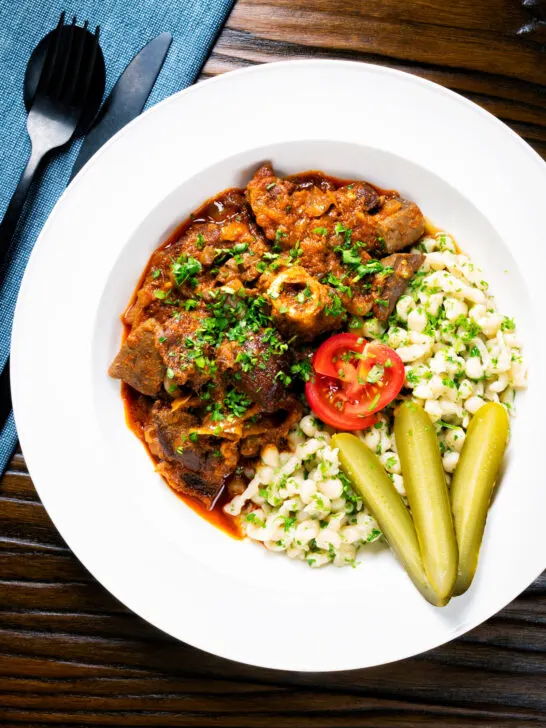 Hungarian Mutton Pörkölt
I spent 13 years living in rural Hungary and as a result, you will find more than the occasional spattering of traditional Hungarian fayre here on my site.
Of course, I have well-known dishes like gulyásleves or goulash and csirkepaprikás or chicken paprikash. But the dishes I love sharing are the less well-known dishes like paprikas krumpli and boros tokany.
This mutton stew hails from the east of the country, the place that I called home for 13 years.
It is the mutton version of my remarkably popular beef or marha pörkölt recipe.
It is my homage to Karcagi birkapörkölt, a much-vaunted dish that sees a whole sheep cooked in a cauldron. When I say a whole sheep, I mean the heart, liver, tripe, kidneys and even the head is cooked in a single pot.
Karcag was only a 25-minute drive from home and the mutton cooking competition held in the town was one of the highlights of every summer for me.
Very little is traditionally added, loads of onions thicken the sauce, then there is just salt, garlic and some dried peppers… oh yeah paprika. Just a little paprika lol!
My version of this recipe is scaled way back to serve just two people (generously), so it is very much an ode to a beautiful dish rather than a faithful recreation.
But nevertheless, it is a recipe that I simply adore!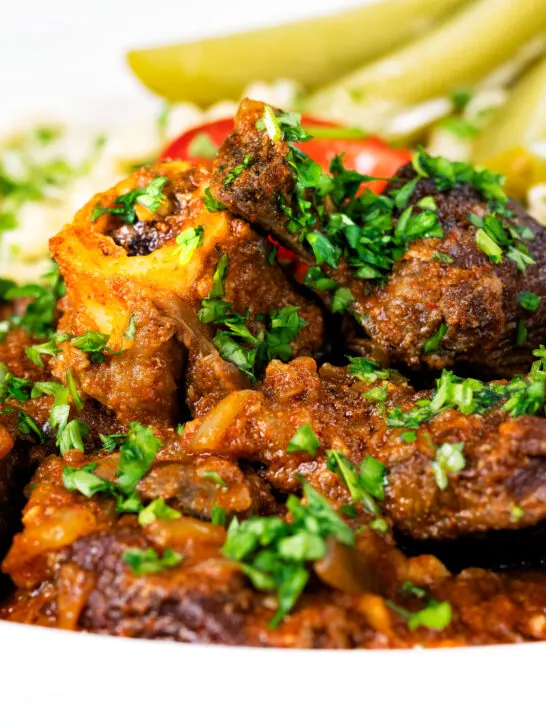 Frequently Asked Questions
Where can I buy bone-in mutton?
The best place to buy rough-cut bone in mutton is either an Indian or Pakistani butchers or a Turkish/Greek butchers.

The former is easier to find in the UK, the latter is easier to find in Continental Europe. If you are in the US and can help, please let me know in the comments section below the recipe.
Can I use boneless mutton?
You could, however, it will never have the same flavour or texture because the marrow, fat and sinew is not there to enrich the sauce.

If you are going to use boneless mutton try to get tougher cuts, shoulder would be ok, neck would be better.
Can I use lamb?
This will very much reduce the flavour in the dish, young lamb really does not have the same amount of flaovur or fat to carry the dish in the same way.
Can I use smoked paprika?
You can, I can't stop you, but I would urge you not to! Try, if you can to find some sweet Hungarian paprika.
Polish stores tend to be good places to look for Hungarian paprika!
Do I have to add the offal?
No, you can omit the offal if you like. I love the stuff and my site is littered with recipes using kidneys and liver, but most birkapörkölt recipes sold in Hungary omit the offal.

I personally think that they are poorer for it, but I understand that offal is not to everyone's taste.

Just increase the amount of meat in the recipe, however, don't skip adding an extra sprinkle of paprika around 30 minutes before serving.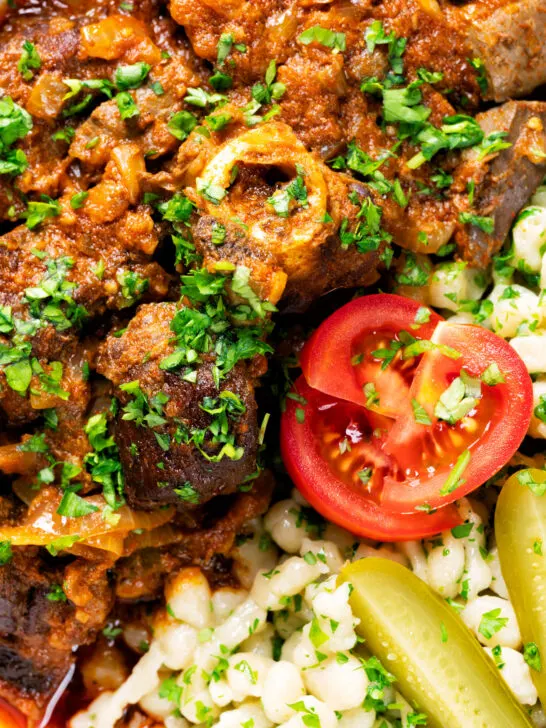 Serving Suggestions
I always requested that my birkapörkölt be served with nokedli when I ordered it in restaurants and as a result, that's how I serve it here.
Whenever I've had it at a festival it has come with nothing other than bread. However, most restaurants that I've eaten in out in the east of the country serve it with boiled parsley potatoes.
If you wanted to do something a little different you could of course serve this mutton stew with mash. Mashed potato would be great although celeriac mash would be outrageously good!
Another superb option would be my crispy fried potatoes or even crispy straw potatoes.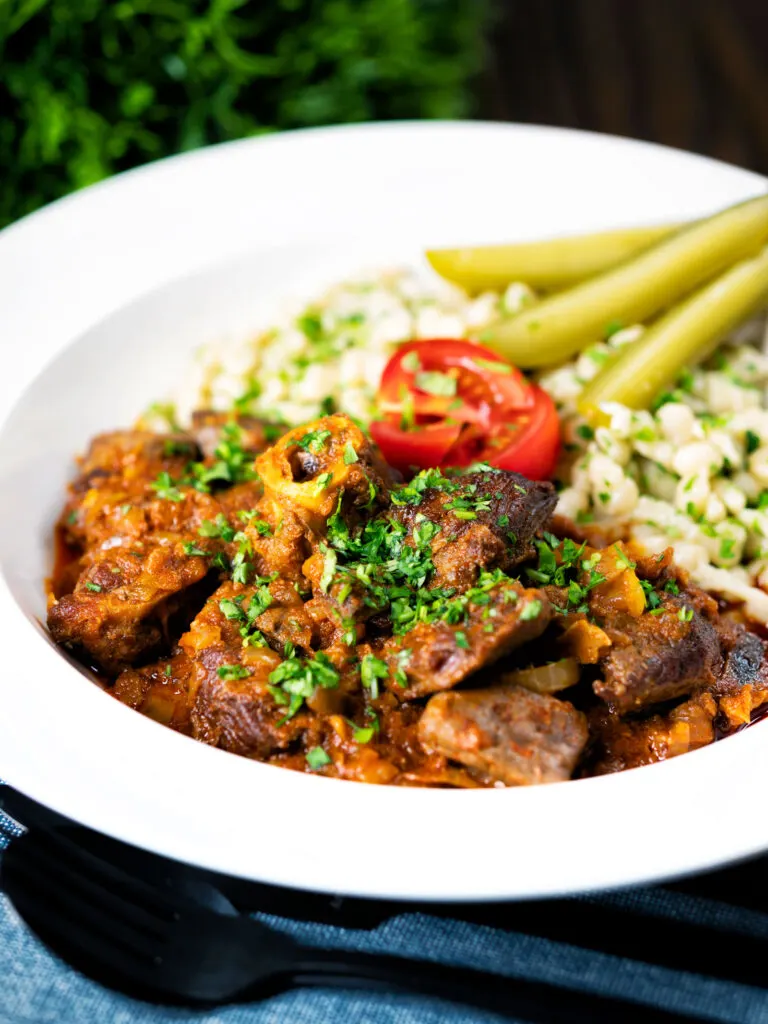 Equipment Used
I only name-check brands of equipment if I think that they make a material difference to a recipe. But if you have any questions feel free to ask them in the comments section below the recipe.
Stovetop.
20cm or 8″ saucepan.
Kitchen knife.
Chopping board.
Stirring and serving spoons.
Weighing scales and or measuring jug, cups and spoons.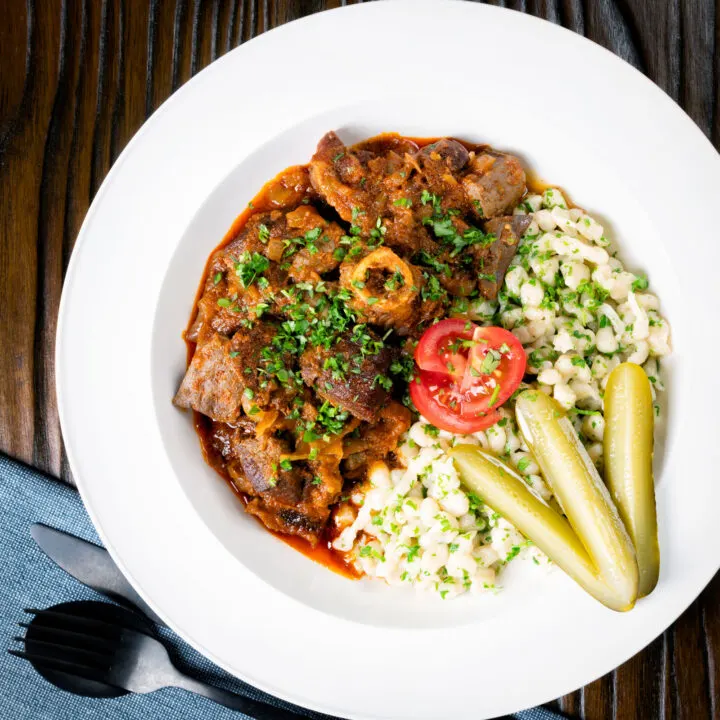 Yield:

2 Servings
Birkapörkölt Recipe a Hungarian Mutton Stew
Total Time:
4 hours
5 minutes
Birkapörkölt is a wonderful mutton stew from the Hungarian Great Plain, it is simplicity personified, slow-cooked mutton with loads of onions and paprika that's finished with a bit of offal.
Ingredients
500g (18oz) Rough Cut Bone in Mutton
2 Tbsp Lard
1½ Tsp Coarse Sea Salt
450g (3 Cups) Onion
6 Garlic Cloves
4-6 Dried Chilli Peppers
4 Tbsp Hungarian Paprika
500ml (2 Cups) Water, plus more as required
225g (8oz) Lambs Offal, Liver or Kidney works best.
Instructions
Heat a 20cm or 8" saucepan over a high heat and when it is hot add the lard, when it melts throw in the mutton and cook it until it becomes nicely coloured stirring regularly. Then reduce the heat to medium and cook for 25 minutes stirring every 10 minutes or so.
Whilst the mutton is cooking peel the onions and cut a third of them (around 150g) into rounds approximately 5-6mm (¼") thick and cut the rest into a 5mm-6mm (¼") dice.
Peel and roughly slice the garlic cloves.
When the mutton has had 25 minutes reduce the heat to low, sprinkle over the diced onion, sliced garlic and dried chill peppers and give everything a stir.
Pour over enough water to just cover the mutton, then sprinkle over 3 tablespoons of the paprika (we will add the final tablespoon later), do not stir in the paprika just sprinkle it over the top as evenly as you can.
Cook gently for another 3 hours topping up with water if needed, do not stir the stew during this phase.
Cut the lamb liver or kidney into a 2cm (¾") dice.
After the lamb has been cooking for 3 hours, add the lamb offal and onion rings and give everything a stir, add a little more water if required, then sprinkle over the remaining tablespoon of paprika and cook for a final 25-30 minutes. After 30 minutes give everything a stir and serve.
Nutrition Information:
Yield:
2
Serving Size:
1
Amount Per Serving:
Calories:

917
Total Fat:

58g
Saturated Fat:

24g
Trans Fat:

0g
Unsaturated Fat:

34g
Cholesterol:

556mg
Sodium:

1955mg
Carbohydrates:

42g
Fiber:

10g
Sugar:

16g
Protein:

59g
Calorific details are provided by a third-party application and are to be used as indicative figures only.