Hungarian nokedli dumplings are a classic simple noodle-style side dish similar to pasta that are delicious, quick, easy & cheap to make.
Four base ingredients form the dumplings, egg, flour, salt and water, they take 15 minutes to cook and are superb tossed with butter and herbs and then served alongside paprikash!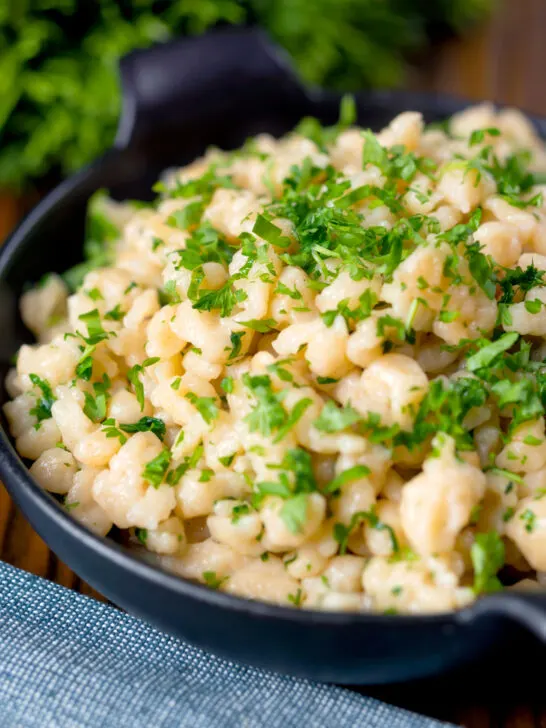 Hungarian Galuska Noodles or Dumplings
Nokedli or Galuska are a delicious dumpling or noodle-style side dish from Hungary… well when I say Hungary I mean across vast swathes of Europe.
If you are in Germany and Austria they are called Spätzle, Knöpfle in Switzerland, Halušky in Slovakia, Vaseršpacli in Slovenia and no doubt countless other variations!
Whilst there are some differences they are essentially a take on homemade pasta.
Egg and flour are the core ingredients, however rather than stiff rollable dough, nokedli dough is sticky and gets pushed through a form into boiling water.
It may sound odd, but it is super simple, I have a video below the recipe that shows just how simple!
Making the dough takes 7 or 8 minutes and then cooking takes 5 or 6 minutes. This means that this delicious carby side dish is a form of pasta that is criminally cheap, easy and quick to make!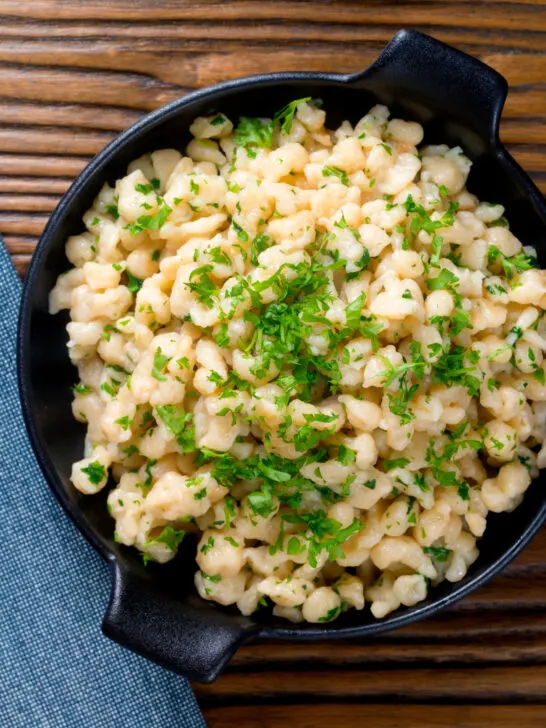 Frequently Asked Questions
Do I have to use a nokedli maker?
No, you could use a colander and a silicone spatula. You could even use a scraper and just push bits of dough off a chopping board, this is the really traditional method.

Both are messy and awkward but will get you there, however, given that a "machine" will set you back around £15 then it's best to pony up in my opinion.

I have linked up the one that I use in the Equipment Used Section and you can see it in use in the video in the recipe.

There are two types of spaetzle make which should I choose?
There are indeed two types, the first is round and sits on a pan. The second is long and looks like a cross between a mandolin and a cheese grater.

Both are commonly used in Hungary, but I cannot get used to using the long version.
Does the size of the nokedli maker matter?
If you are using a round maker then it needs to sit neatly inside the saucepan you plan to use. If it is too small it will obviously fall in. Too large and you will end up in a real mess!

Trust me, I have been there are bought that t-shirt!
Can I make them in advance?
Yes, but they do have a tendency to become more gloopy and stick together though. You can loosen then up by dropping them in boiling water or coating in oil, I prefer the former approach.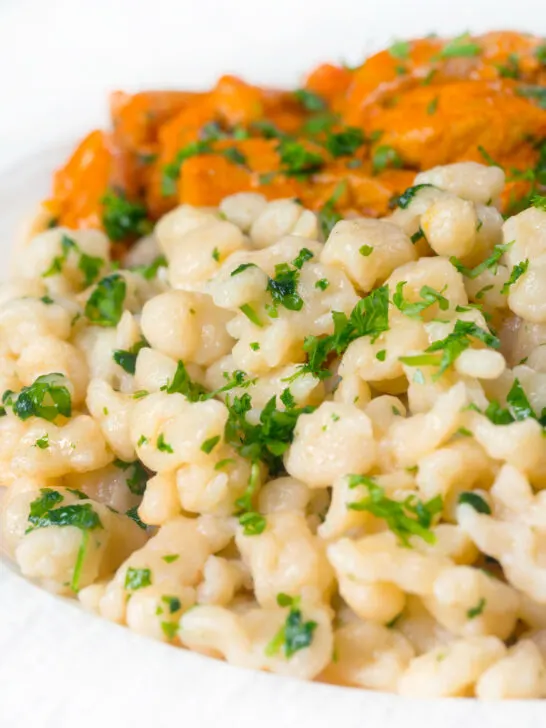 Serving Suggestions
Nokedli gets served with all sorts of stews in Hungarian dishes, they are the perfect carby side dish.
Paprikash is the obvious choice for those outside of Hungary, probably because it is one of the most famous dishes outside of Hungary.
It is pictured above with my pork paprikash, but it is great with chicken paprikash and my fish paprikash.
Other dishes that are less well-known outside of Hungary that work really well with these dumplings are borsos tokany, pictured below and marha (beef) porkolt or birkapörkölt mutton stew.
Don't get wrapped up in Hungarian food though! These noodles are great with everything from pork stroganoff to this Romanian sour cabbage stew.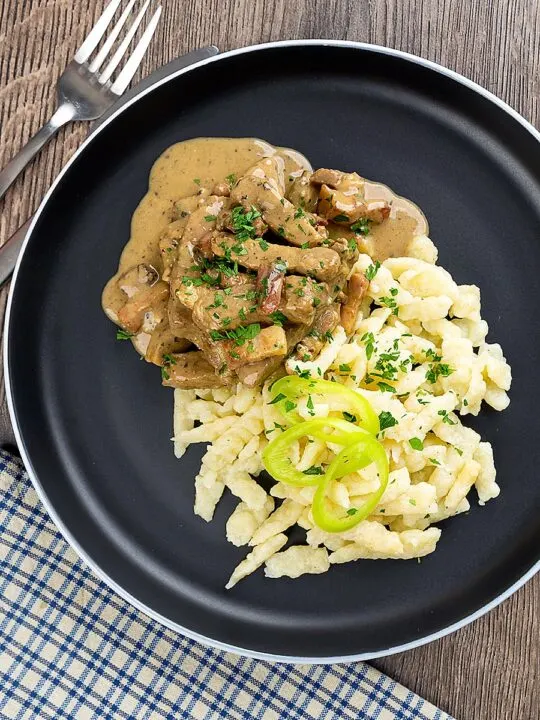 Equipment Used
I only mention specific brands of equipment if I think they make a material difference to a recipe. If you have any questions feel free to ask them in the comments section below the recipe.
Stovetop.
Mixing bowl.
Whisk.
Spatula.
24cm or 10″ saucepan.
Nokedli maker. I use this spaetzle maker it fits perfectly in a 24cm pan. The relationship between your pan and the maker is critical.
Scraper to push through the dough, this should come with your spaetzle maker.
30cm or 12″ frying pan if you are planning on tossing in butter.
Chopping board.
Kitchen knife.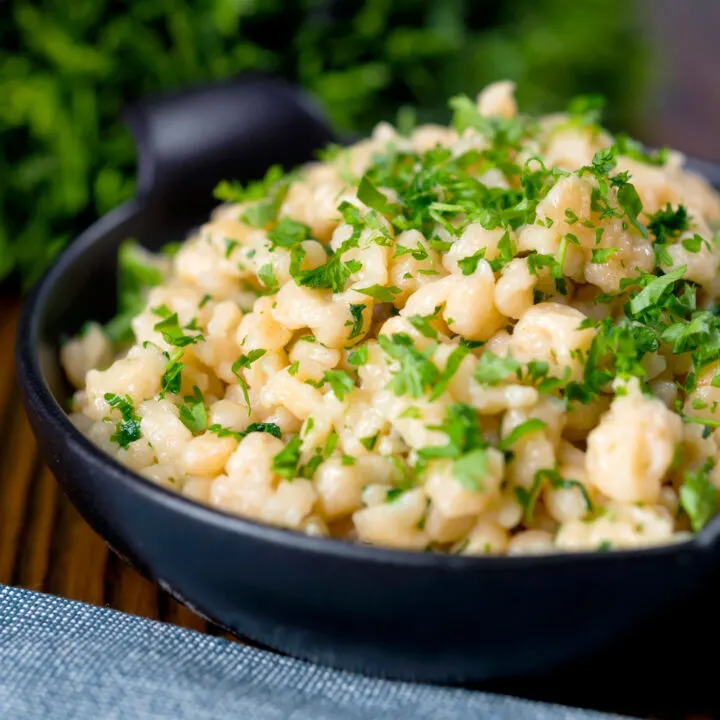 Yield:

2 Servings
Homemade Hungarian Nokedli Recipe
Nokedli are a wonderful Hungarian noodle side dish that shares much in common with pasta!
Ingredients
300g (2 Cups + 3 Tbsp) Plain Flour
1 Large Egg
275ml (1 Cup + 2 Tbsp) Water
¾-1 Tsp Salt
25g (2 Tbsp) Butter (OPTIONAL)
Lots of Fresh Parsley (OPTIONAL)
Instructions
Combine all of the ingredients and bring together to create a thick batter almost like a drop scone thickness.
Do not beat too much though, you want the batter to remain a little "lumpy".
Pass the batter through a Nokedli maker directly into a pan of rapidly boiling salted water.
Then cook in just a couple of minutes and are done shortly after they begin to float.
OPTIONAL Melt a knob of butter in a pan add the dumplings and parsley, then toss to coat and serve.
Nutrition Information:
Yield:
2
Serving Size:
1
Amount Per Serving:
Calories:

672
Total Fat:

14g
Saturated Fat:

7g
Trans Fat:

0g
Unsaturated Fat:

5g
Cholesterol:

120mg
Sodium:

998mg
Carbohydrates:

115g
Fiber:

4g
Sugar:

1g
Protein:

19g
Calorific details are provided by a third-party application and are to be used as indicative figures only.