My Pork Paprikash is a delicious take on a Hungarian Sertéspaprikás, a simple dish featuring juicy pork in a silky, paprika-rich sauce.
Cooking this dish is not just easy, but quick too with cooking and prep weighing in at a little over 30 minutes, making it a perfect midweek dinner.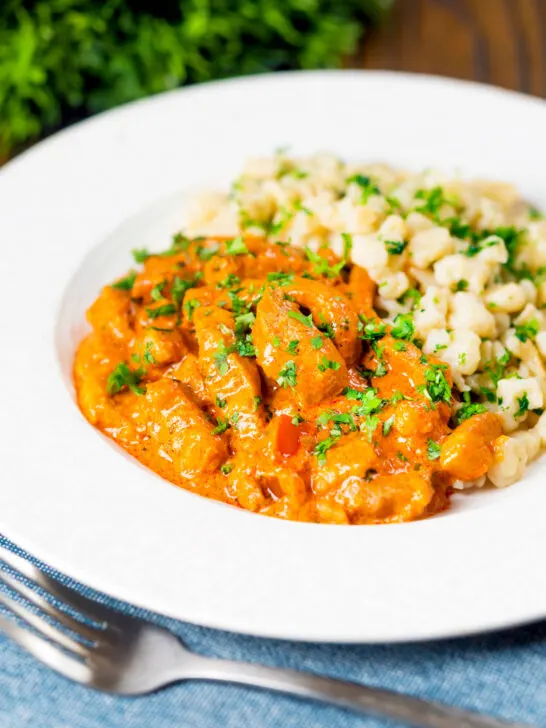 Hungarian Paprika Pork
I may be British but I spent 13 years living in rural Hungary so I picked up a thing or two about paprikash!
It really is the simplest and loveliest of Hungarian dishes. This Hungarian pork paprikash recipe joins my harcsapaprikás (catfish) recipe and a classic chicken paprikash.
It also shares the paprikash name with my krumpli paprikas. Which is a potato stew that foregoes the addition of sour cream.
Many advocates of food authenticity would like you to believe that there is a ground-zero recipe. A recipe that all others follow!
That is simply not the case in most cuisines. Paprikás, if you like, is a spectrum of recipes.
Paprikash is typified by its paprika heavy sauce which is often made silky with sour cream or tejföl as itis called here.
That sauce is often thickened to a lesser or greater extent by mixing flour into the sour cream.
Pork is a relative rarity in paprikash recipes in Hungary. You are much more likely to find it at home than on restaurant menus.
However, it is not without precedent. In fact, this paprika pork recipe features more than a passing resemblance to a classic Hungarian pork stew called borsos tokany.
That dish goes heavy with black pepper, whereas this dish features the unmistakable influence of sweet Hungarian paprika.
An ingredient that is difficult to believe is a relative newbie to a cuisine that dates back millennia.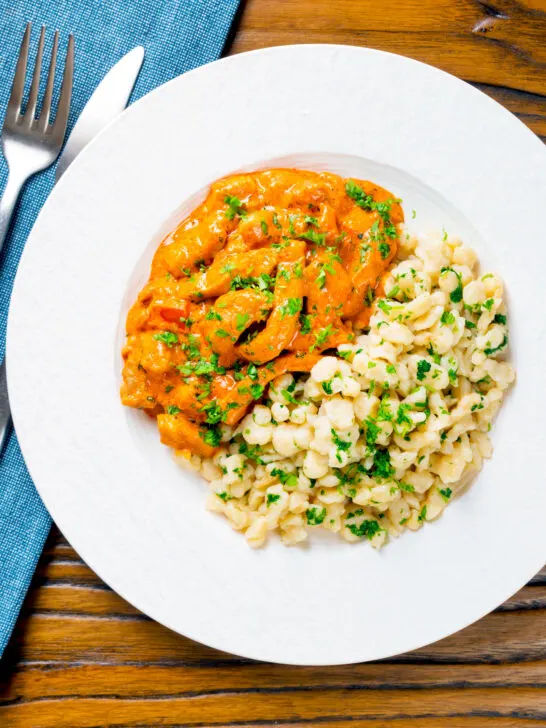 Frequently Asked Questions
What sort of paprika should I use?
The most important ingredient in a paprikash is the paprika… the name kinda gives it away.

You should use the best sweet (Édes) Hungarian paprika you can find. If you are buying it online look for words like 1 Osztály (1st class).

Names like Szeged or Kalocsa are decent indications of good quality, they are both cities in the South of Hungary famed for paprika production.

You can get spicy Hungarian Paprika, which I occasionally use to add a bit of heat to my paprikash recipes. Go ahead and just add more, you can rarely add too much paprika to a paprikash.
Can I use smoked paprika?
It's your dinner you can add what you like but smoked paprika really is not a thing in Hungary.

There are shelves and shelves of paprika in large stores but smoked paprika hides in the international aisle and only appeared after I'd lived in Hungary for nearly a decade!
What cut of pork should I use?
When I lived in Hungary I always use a cut called Tarja in Hungarian.

It is known as Boston butt in the US, blade collar, or even hand in the UK. I have taken to using meat from the top end of the loin of late. You could even use shoulder of pork!
Can I use low-fat sour cream?
You can use lower-fat sour cream in this recipe because the flour helps to stabilise it.

However, it still has a greater chance of splitting than full-fat sour cream and I personally never use it.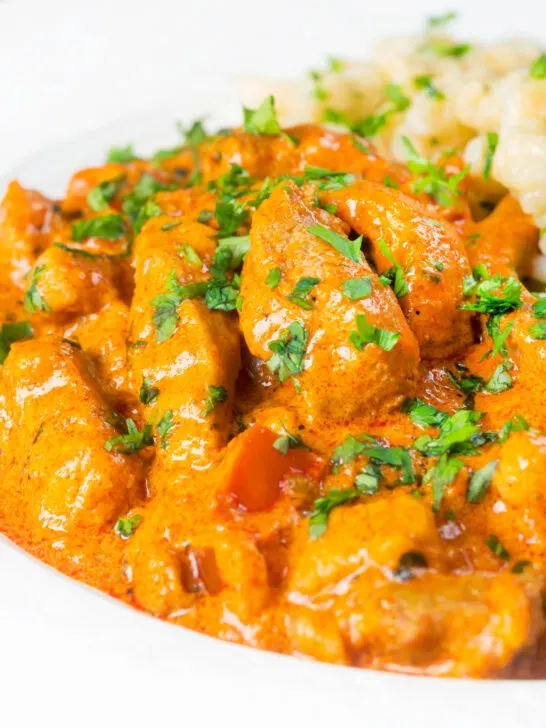 Serving Suggestions
Paprikash here in Hungary is more often than not served with nokedli.
A glorious pasta-style dumpling that I simply adore and a dish that I think deserves to be much more well-known.
Or you could serve it with csusza teszta, a dish that features alongside my catfish paprikash recipe.
It is also served alongside salty potatoes which I like to enrich with butter. Butter is often the answer to many kitchen questions as far as I am concerned.
Although I often serve it alongside crispy fried potatoes, I always serve those with my pork stroganoff. Another dish that is fairly similar to this one.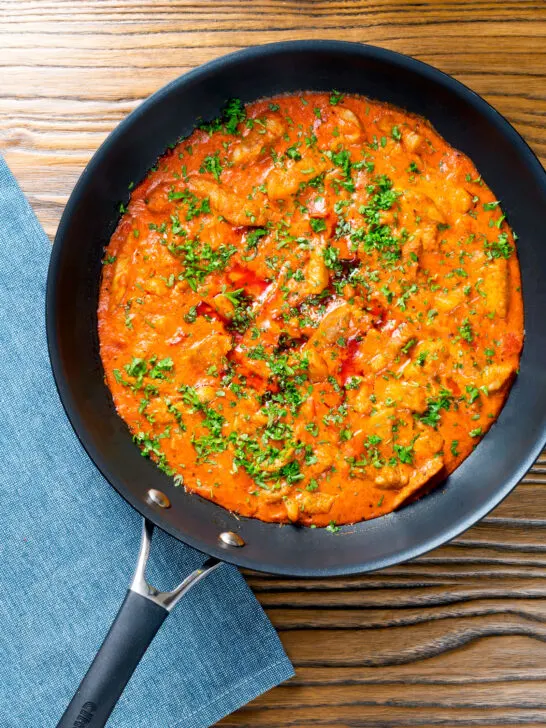 Equipment Used
I only name-check brands of equipment if I think they make a material difference to a recipe. If you have any questions feel free to ask them in the comments section below the recipe.
Stovetop
30cm or 12″ frying pan.
Chipping board.
Kitchen knife.
Small mixing bowl.
Weighing scales and or measuring cups and spoons.
Grater.
Stirring and serving spoons.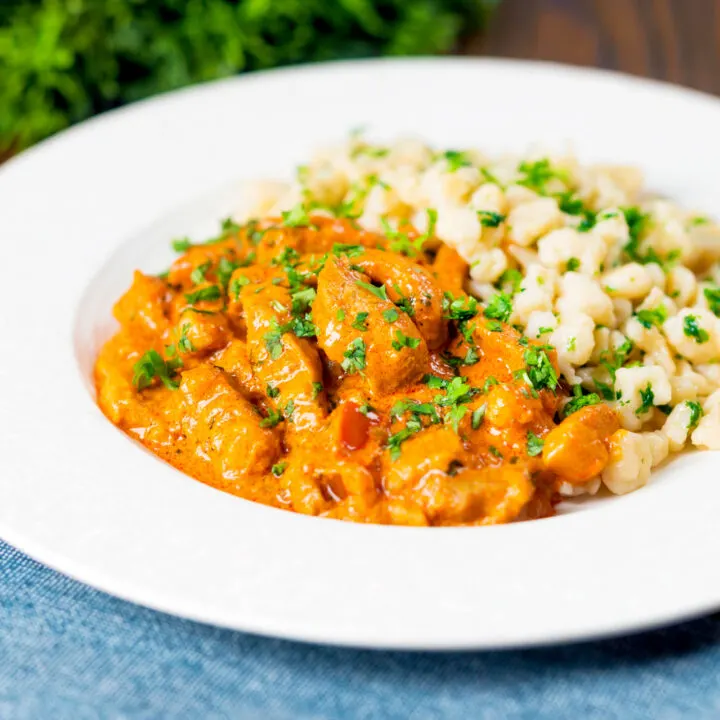 Yield:

2 Servings
Hungarian Pork Paprikash Recipe
A Hungarian paprikash is a simple and delicious dish, this pork paprikas or sertéspaprikás cooks in a shade over 30 minutes and it will become a midweek family favourite.
Ingredients
350g (12 oz) Pork , I use pork from the top end of the loin with a bit of fat
100g (½ Cup) Onion
30g (2 Tbsp) Butter or Lard
1 Tomato
125g (½ Cup) Full Fat Sour Cream
1 Tsp Flour
3 Tbsp Sweet Hungarian Paprika
½ Tsp Cumin
½ Tsp Salt
½ Tsp Black Pepper
75ml (⅓ Cup) Water
Instructions
Cut the pork into a 2cm-3cm dice.
Grate the onion.
Chop the tomato into 1cm cubes.
Heat a 30cm or 12" frying pan over a medium heat and when it is hot add the butter.
When the butter melts add the grated onion and cook for 5-7 minutes.
Season the pork with salt, pepper and cumin.
Add the seasoned pork and stir and cook until all of the pork turns white, we are not aiming to sear and brown.
Remove from the heat and add the paprika and stir to coat.
Add the diced tomato stir and return to a low heat and cook for 3-4 minutes to bring things back to temperature.
Mix the sour cream with the flour in a small mixing bowl and add it to the frying pan along with the water, then stir to form a sauce.
Gently simmer for 15-20 minutes stirring occasionally, adding a little more liquid if the sauce thickens too much.
Nutrition Information:
Yield:
2
Serving Size:
1
Amount Per Serving:
Calories:

637
Total Fat:

41g
Saturated Fat:

19g
Trans Fat:

1g
Unsaturated Fat:

16g
Cholesterol:

209mg
Sodium:

790mg
Carbohydrates:

18g
Fiber:

5g
Sugar:

7g
Protein:

51g
Calorific details are provided by a third-party application and are to be used as indicative figures only.