Harcsapaprikas is a Hungarian fish paprikash, often made with catfish it can be made with any meaty white fish & it is delicious!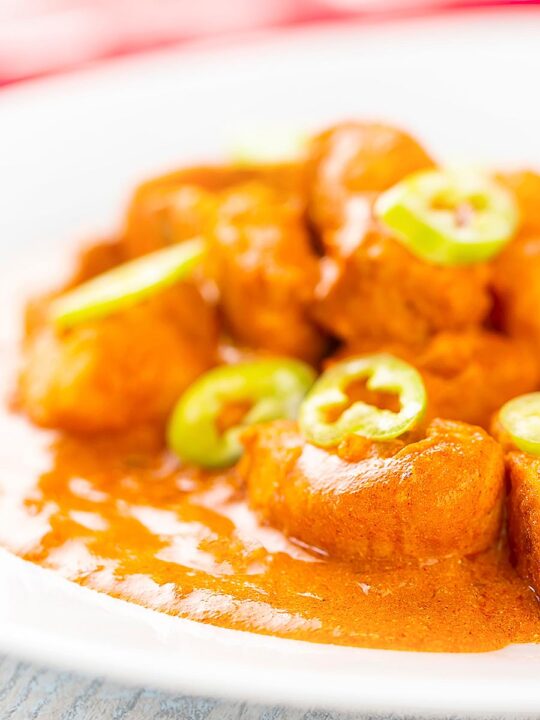 Paprikash without Chicken?
Let's face it people do not know a lot about Hungarian food.
If you asked even the most dedicated foodies to name 5 top Hungarian dishes I reckon that they would struggle to get beyond 2 or 3.
Naturally, Goulash would be mentioned and you will probably find chicken paprikash mentioned but then you will likely slow down long before you got to the majesty of Langos!
But within those two dishes alone there are hundreds of variants and paprikash does not automatically mean chicken!
The first thing that people notice when people visit us in Hungary is the profusion of offal.
The next thing is that paprikash, in these parts at least, is just as likely to be made with fish as it is with chicken. It is even a simple dish made with sausage and potatoes called paprikas krumpli in homes across the country.
This is largely due to our proximity to Lake Tisza, the second largest lake in Hungary, and it is packed to the gunnels with catfish and carp.
Fish paprikash in these parts is made with the former, and harcsapaprikas translates as catfish paprikash.
It is a delicious but simple affair of meaty fish cooked gently in a Hungarian paprika and sour cream sauce.
One important note on the paprika for this recipe, make it sweet Hungarian paprika. Nothing else tastes like it at all!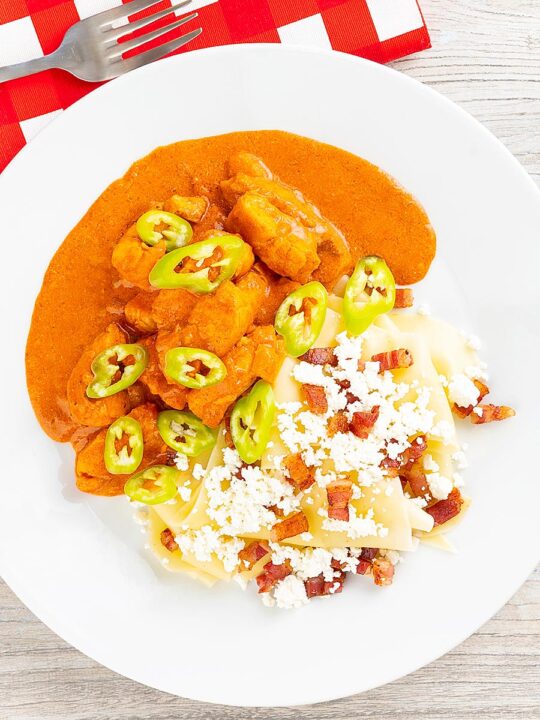 What Fish to Use.
Hungary has not had a coastline in a century and as such harcsapaprikas here is almost always made with freshwater fish.
That does not mean that this dish must be made with catfish. Let's face it the world is not overrun with catfish recipes because it just ain't that popular!
There are many alternatives that I have been testing for you. Huge sacrifices, I know, you can thank me later!
If I had a completely free reign then I would choose monkfish tail, it is perfect for this recipe. But long gone are the days when it was affordable so it would be an indulgent substitution.
I have cooked it twice, it is spectacularly good but needs cooking for 4-5 minutes longer than than the catfish or my other recommendations.
More affordable substitutions are hake, pollock, haddock.
If you are in the UK then I have also heard that Basa or Swai have started to make an appearance in stores as varied as Sainsbury and Aldi. I know it as pangasius and it is a form of catfish and it works really well!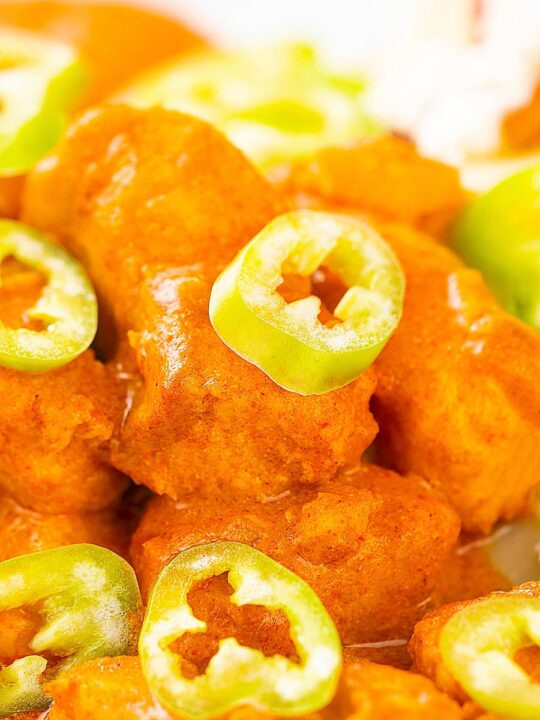 Serving Suggestions
Seemingly in these parts, fish paprikash is served with a dish called csusza teszta.
It is a "curd cheese" pasta side dish that features bacon, turo and sour cream. I have to serve this dish with it or my wife will hurt me, she loves the stuff!
Turo is often translated to be many things and it is none of the things it gets translated as.
You can make it at home and Hungary loves the stuff, they even have a chocolate bar stuffed with it. It is a mild cream cheese and you can make turo it at home!
If you want an alternative Hungarian experience, then pair this recipe with some homemade nokedli. A Hungarian noodle or dumpling perfect for paprikash.
If you want a store-bought option give some gnocchi a boil and toss it through a little butter and maybe add some bacon.
I personally love this served with some crispy fried potatoes.
I also always add some spicy Hungarian hot wax pepper, it has a similar heat level to Jalapeno peppers.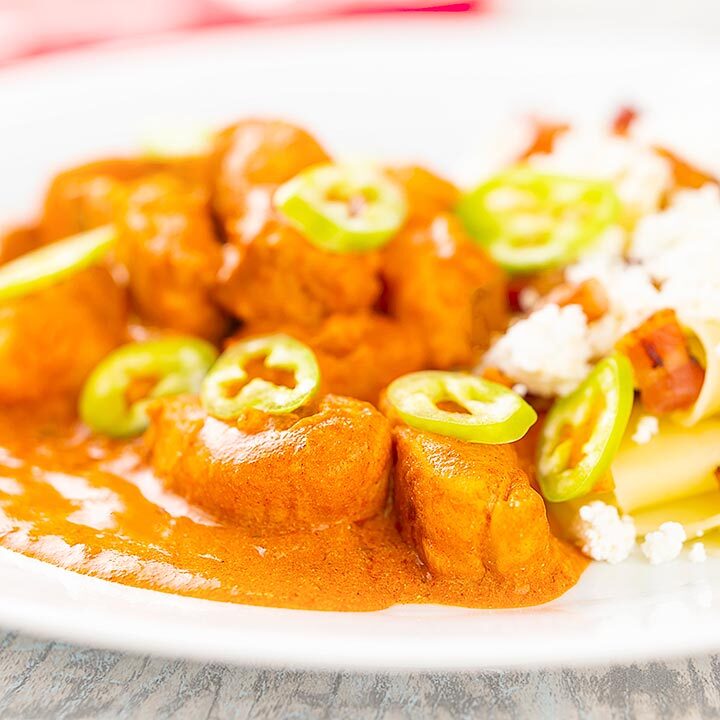 Yield:

2 Servings
Harcsapaprikas, Hungarian Fish Paprikash Recipe
Fish Paprikash or harcsapaprikas is every bit as well known in many parts of Hungary as its chicken based brethren, a wonderfully rich decadent fish dish from Central Europe.
Ingredients
350 g (12 oz) Boneless White Fish
50 g (1/3 Cup) Shallot
75 ml (1/3 Cup) Sour Cream
150ml (2/3 Cup) water
2 Tbsp Bacon Fat or Butter
1 Tomato
1 Small Green Pepper
1 Tbsp Flour
2 Tbsp Sweet Hungarian Paprika
Salt to Taste
Pepper to Taste
Instructions
Cut the catfish into large 2.5-3cm chunks.
Finely dice the shallot.
Cut the tomato and green pepper into 1cm cubes.
Mix together the paprika and flour, then season generously with salt and pepper.
Heat the bacon fat or butter in a frying pan over a medium high heat.
Coat the fish in the paprika mix and fry for 2-3 minutes.
Remove the fish, leaving the fat in the pan, and place in a bowl for later.
Add the diced shallot to the pan and cook until translucent.
Add the diced pepper and cook on for another 3-4 minutes.
Pour in 50ml of water and add the tomatoes and cook for 2 minutes.
Add 50ml of water to the remaining paprika and flour, then mix to form a paste and add it to the pan.
Stir in the fish and cook for 3-5 minutes.
Mix the sour cream with a final 50ml of water and then pour into the pan and bring to temperature before serving.
Nutrition Information:
Yield:
2
Serving Size:
1
Amount Per Serving:
Calories:

615
Total Fat:

39g
Saturated Fat:

14g
Trans Fat:

1g
Unsaturated Fat:

21g
Cholesterol:

182mg
Sodium:

495mg
Carbohydrates:

19g
Fiber:

5g
Sugar:

7g
Protein:

47g
Calorific details are provided by a third-party application and are to be used as indicative figures only.