Cat Fish Paprikash or harcsapaprikas is every but as well known in Hungary as chicken based cousin, a wonderfully rich decadent fish dish from Central Europe.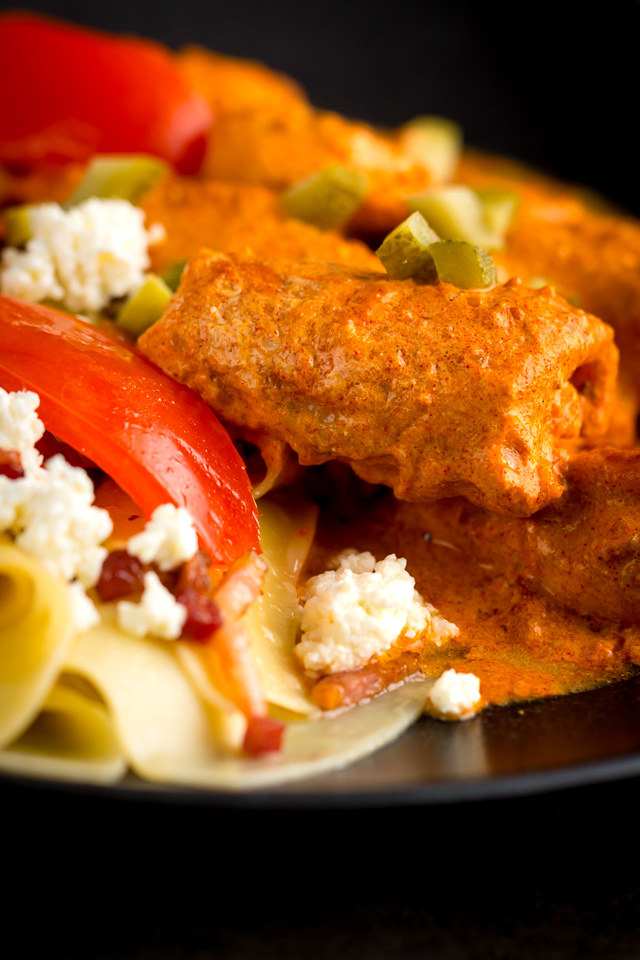 Paprikash is a Hungarian dish known in the main for its chicken variant, I've seen chicken paprikash recipes attempted by writers from all over the world but it's lesser known cousin Catfish Paprikash of harscapaprikás as it is known around these parts is just as common in our corner of Hungary. We live not far from lake Tisza, a man made lake designed to alleviate the flood risk on the Hungarian great plain and it is teaming with fish.
I have been pretty damning of fresh water fish here over the years and I will not go back on that, however there is on fresh water fish that I think is really worth eating. The good old catfish, a beast of a fish with a good meaty and firm texture, it seems to be popular with cooks in the deep south of the US although I rarely see others cooking with it, if you are one of those people who have never cooked with it then I would urge you to give it a try.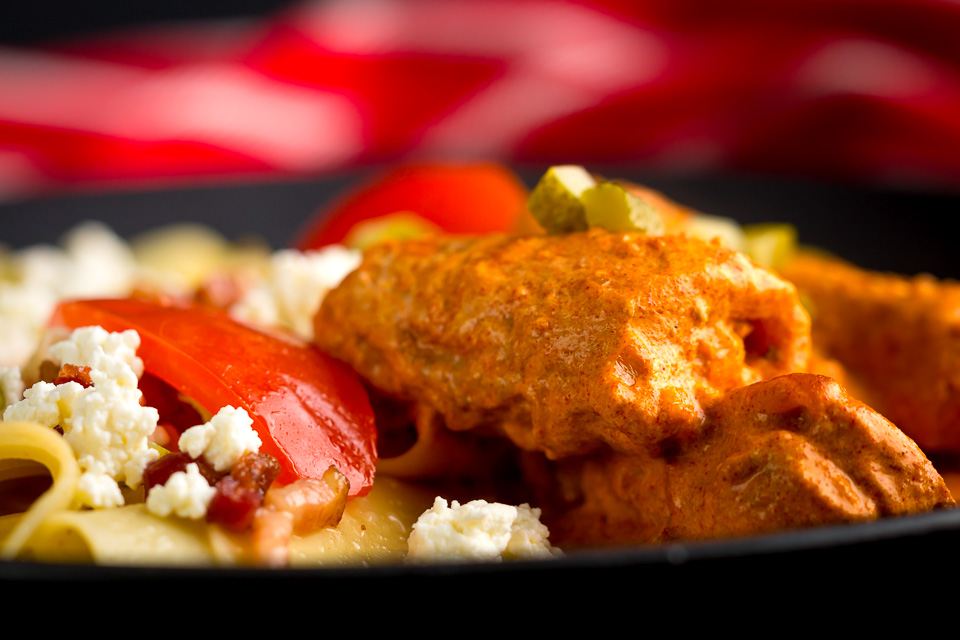 The keen eyed among you may have spotted me using pasta as a side dish for this catfish paprikash, something I genuinely try and avoid where ever possible… I just don't get it, but csusza teszta the name for this rather foxy little pasta affair that I can't even translate really does work so well with this dish. In fact it just works well with everything, at the moment it is my wifes favourite way to eat pasta and she is constantly looking for excuses to put it on the menu.
Go figure my wifes favourite pasta dish is as Hungarian as the Rubiks Cube! If you want to make this recipe and are struggling to find catfish, give it a go with some monkfish tail, if you do please let me know how it works out, I suspect it will need cooking a smidge longer but I would love to give it a try, alas monkfish is not readily found here in the Hungarian countryside.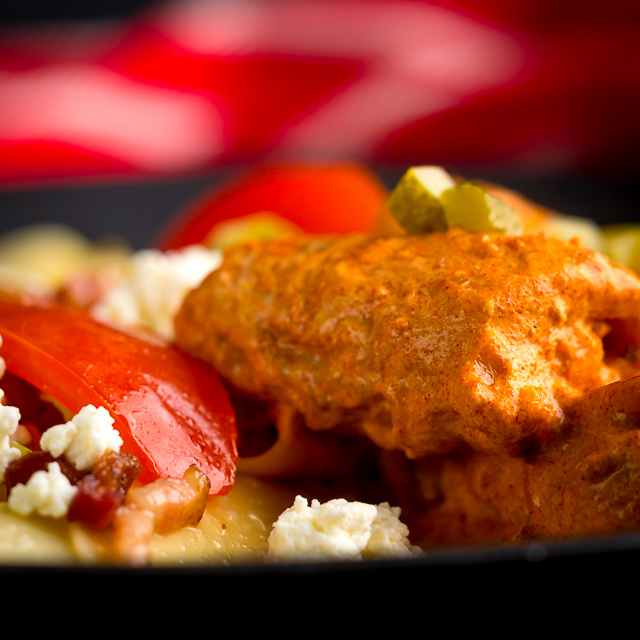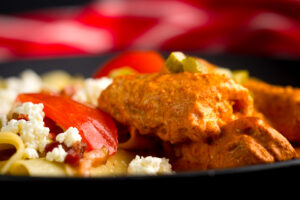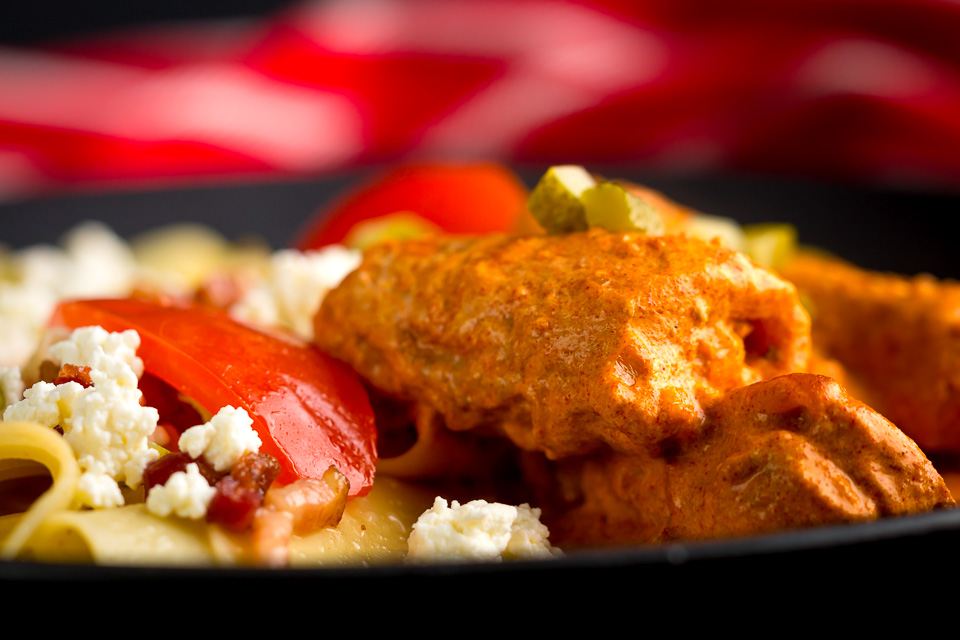 Hungarian Catfish Paprikash, Harcsapaprikas
Cat Fish Paprikash or harcsapaprikas is every but as well known in Hungary as chicken based cousin, a wonderfully rich decadent fish dish from Central Europe.
Ingredients
300

g

Catfish Fillets

Cut into large chunks

50

g

Shallot

Finely diced

2

Tbsp

Cooking Oil

Neutral

150

ml

Sour Cream

50

g

Quark

Sub for Ricotta cheese at a push

100

g

Bacon

Sliced

100

g

Lasagna Sheets

Broken into irregular shapes

50

g

Butter

1

Tomato

Deseeded and cut into wedges

1

Tbsp:

Sweet Paprika

Hungarian of course 😉 Avoid smoked paprika if possible

Salt

To taste

Pepper

To taste
Instructions
Add the cooking oil to a large skillet over a medium heat and fry the diced shallot for 3-4 minutes until softened but not coloured.

Add the paprika to the fish to coat and add 2 tablespoons of water and gently mix together.

Add the fish and paprika mix to the shallots and gently fry the fish ensuring the heat is not too high as it is easy to burn the paprika. Cook for 2-3 minutes.

Now stir in the sour cream, test for seasoning and bake in the oven at 150°C for 10 minutes whilst we prepare the pasta side dish.

Cook the pasta as per the instructions in the packet.

Whilst the pasta is cooking fry off the bacon in a frying pan, when the pasta is cooked transfer to the bacon and add the butter and tomato wedges and stir to combine.

Serve on a plate sprinkled with the quark and the paprikash from the oven.
Notes
Hungarians love pickles and typically serve them on the side of everything, I have used diced pickled cucumber here as a garnish, it tastes fab!