Catfish Paprikash or harcsapaprikás is every but as well known in Hungary as chicken based cousin, a wonderfully rich decadent fish dish from Central Europe.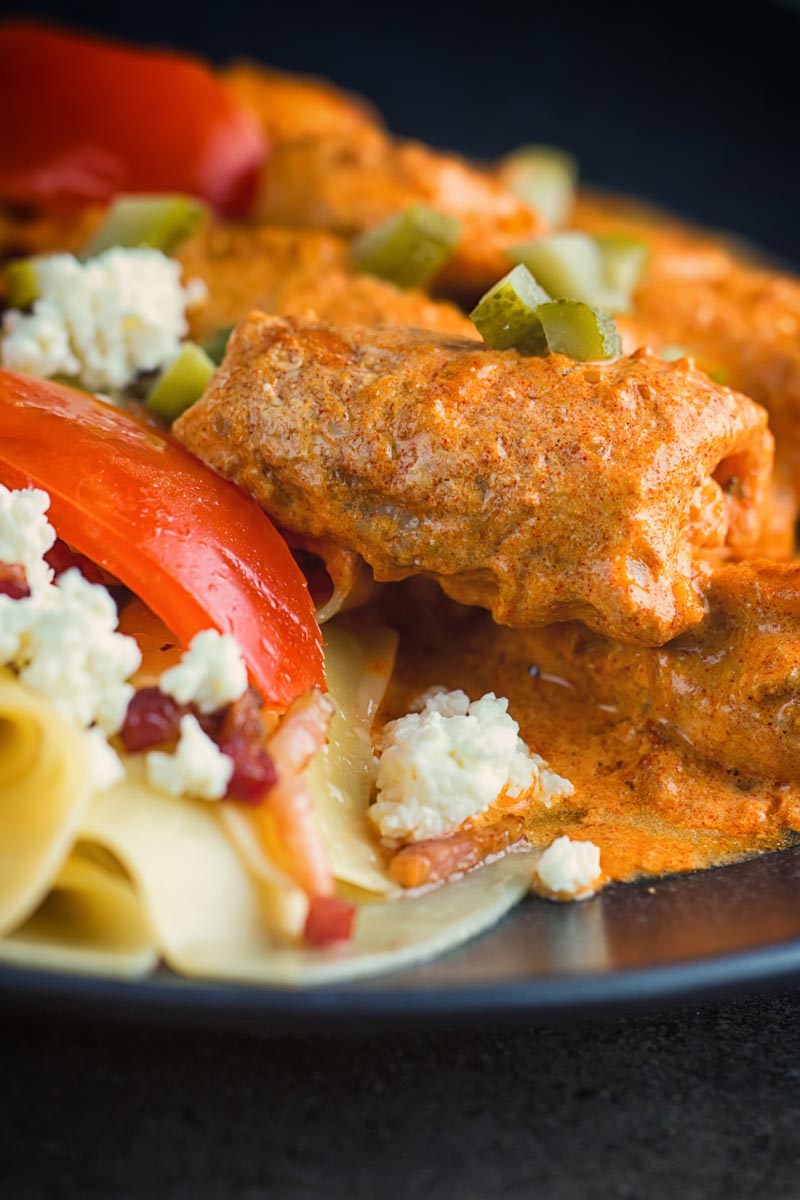 Hungarian Catfish Paprikash or Harcsapaprikás.
Paprikash is a Hungarian dish known in the main for its chicken variant. But this Catfish Paprikash of harscapaprikás is just as common in our corner of Hungary.
In fact, I am more likely to find harcsapaprikás on local restaurant menus than chicken paprikash!
Probably because we live not far from Lake Tisza. A man-made lake designed to alleviate the flood risk on the Hungarian great plain and it is teaming with mahoosive catfish.
I have been pretty damning of freshwater fish here over the years and I will not go back on that. However, there is on freshwater fish that I think is really worth eating.
The good old catfish, a beast of a fish with a good meaty and firm texture.
Catfish recipes are popular with cooks in the deep south of the US although I rarely see others cooking with it.
If you are one of those people who have never cooked with it then I would urge you to give it a try.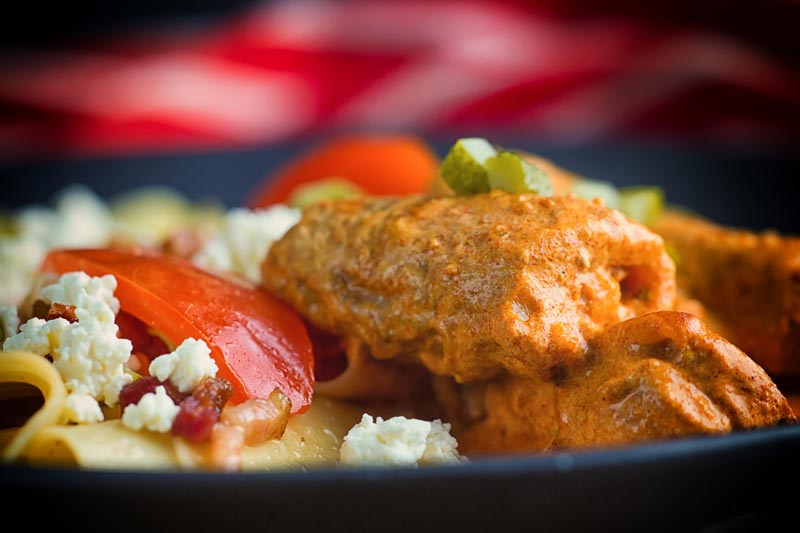 What is Hungarian Paprikash?
Paprikash is every bit as Hungarian as goulash or gulyás as it is called here!
It is a simple dish of a silky sauce of sour cream and sweet Hungarian paprika around some meat or fish. Simple hey?
Whether it be the reference in When Harry Met Sally through to the reference in Bram Stokers Dracula it is known around the world.
Now your choice of paprika will define how successful your recipe will be.
First of all, avoid smoked paprika, it will change the dish into something unrecognisable.
What you are looking for is sweet Hungarian Paprika. Unsurprisingly the real stuff is the very best for this recipe!
I am informed by some Hungarian readers that it is possible to get édesnemes paprika in the US.
This is a good place to start!
If you can not get this then try regular paprika, but avoid anything spicy.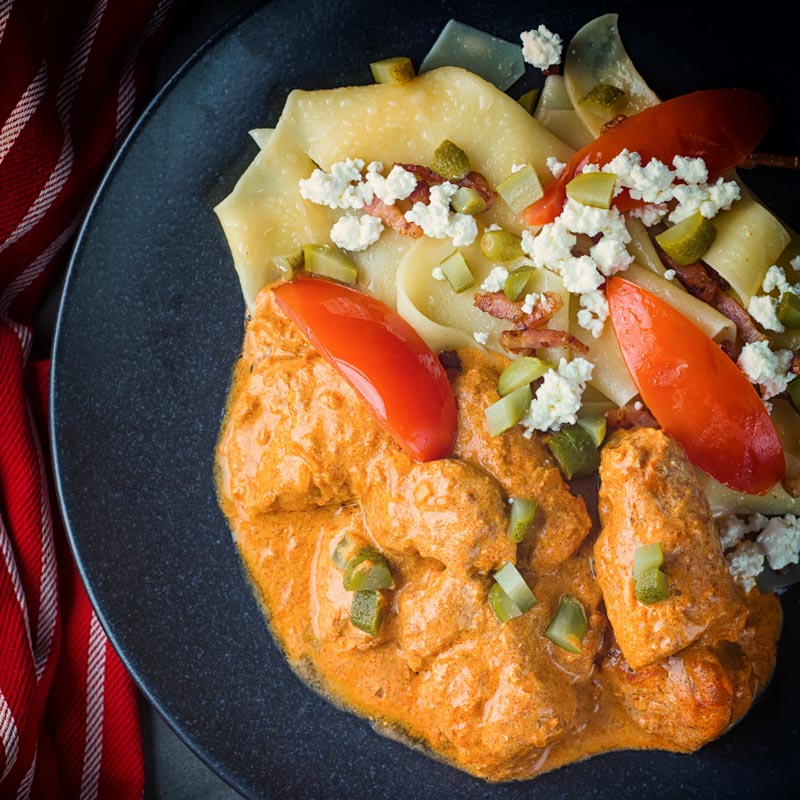 Pasta As A Side Dish!
The keen-eyed among you may have spotted me using pasta as a side dish for this catfish paprikash.
It is something I genuinely try and avoid where ever possible… I just don't get it!
But 'Csusza Tészta', the name for this rather foxy little pasta affair really does work so well with this Hungarian catfish paprikash recipe.
In fact, it just works well with everything!
At the moment it is my wifes favourite way to eat pasta and she is constantly looking for excuses to put it on the menu.
Go figure my wifes favourite pasta dish is as Hungarian as the Rubiks Cube!
If you want to make this recipe and are struggling to find catfish, try some monkfish tail.
And if you do please let me know how it works out. I suspect it will need cooking a smidge longer but I would love to give it a try!
Alas, monkfish is not readily found here in the Hungarian countryside.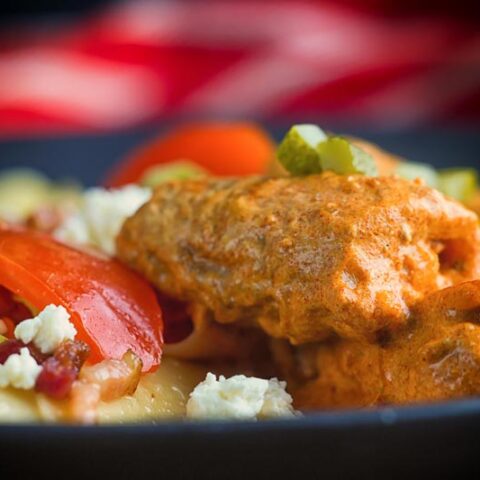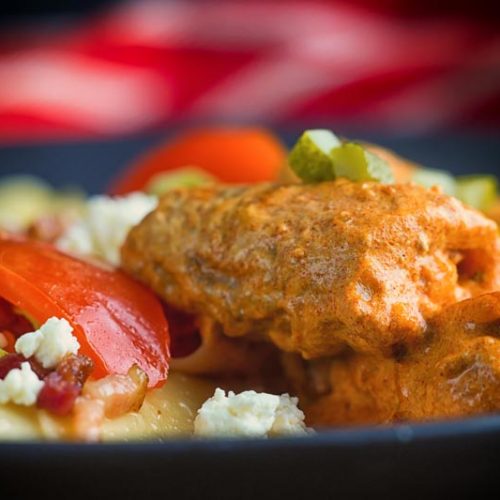 Yield:

2 Servings
Hungarian Catfish Paprikash, Harcsapaprikás
Cat Fish Paprikash or harcsapaprikas is every but as well known in Hungary as chicken based cousin, a wonderfully rich decadent fish dish from Central Europe.
Ingredients
300 g Catfish Fillets
50 g Shallot
2 Tbsp Cooking Oil
150 ml Sour Cream
50 g Quark
100 g Bacon
100 g Lasagna Sheets
50 g Butter
1 Tomato
1 Tbsp Sweet Hungarian Paprika
Salt & Pepper to taste
Instructions
Cut the catfish into large 2.5-3cm chunks.
Finely dice the shallot.
Slice the bacon into batons.
Break your lasagna sheets into irregular shapes.
Deseed and cut your tomato into 8 wedges.
Add the cooking oil to a large skillet over a medium heat and fry the diced shallot for 3-4 minutes until softened but not coloured.
Add the paprika to the fish to coat and add 2 tablespoons of water and gently mix together.
Add the fish and paprika mix to the shallots and gently fry the fish ensuring the heat is not too high as it is easy to burn the paprika. Cook for 2-3 minutes.
Now stir in the sour cream, test for seasoning and bake in the oven at 150°C for 10 minutes whilst we prepare the pasta side dish.
Cook the pasta as per the instructions in the packet.
Whilst the pasta is cooking fry off the bacon in a frying pan, when the pasta is cooked transfer to the bacon and add the butter and tomato wedges and stir to combine.
Serve on a plate sprinkled with the quark and the paprikash from the oven.
Notes
Hungarians love pickles and typically serve them on the side of everything, I have used diced pickled cornichon here as a garnish, it tastes fab!
Nutrition Information:
Yield:
2
Serving Size:
1
Amount Per Serving:
Calories:

1017
Total Fat:

80g
Saturated Fat:

31g
Trans Fat:

2g
Unsaturated Fat:

42g
Cholesterol:

264mg
Sodium:

1572mg
Carbohydrates:

18g
Fiber:

3g
Sugar:

9g
Protein:

56g