Brassói aprópecsenye is a wonderfully comforting Hungarian dish that combines crispy potatoes with pork tenderloin, bacon & lots of garlic.
The name translates as small roast from Brasov, which is not particularly helpful, however just focus on crispy fried potatoes, garlic, pork and bacon and come with me on a journey!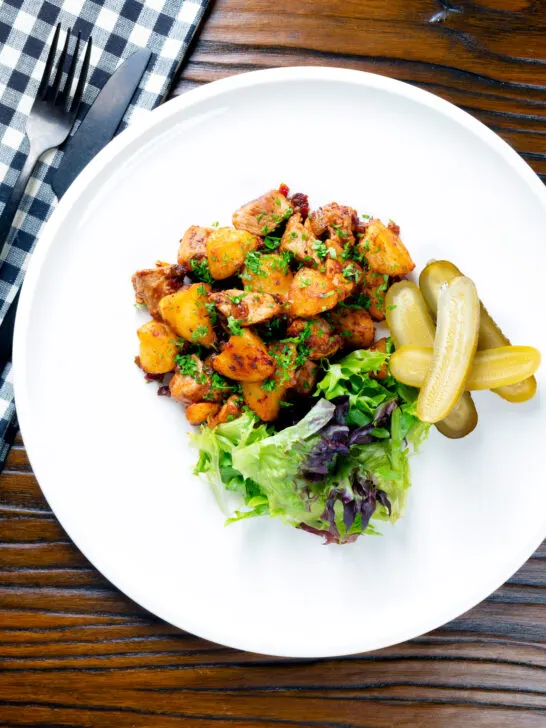 Hungarian Pork Tenderloin with Crispy Potatoes
I spent 13 years living in the Hungarian countryside and I've got more than a spattering of dishes from that part of the world.
Of course, I have well-known dishes like Hungarian gulyásleves (goulash) and csirkepaprikás (chicken paprikash).
I also have dishes that are less well-known outside of Hungary but much loved in their homeland. I think dishes like rakott kaposzta, paprikas krumpli and borsos tokany and infinitely more interesting and delicious!
Brassói aprópecsenye is another of these dishes… it has a disputed history but seems to date from the middle of the 19th century.
Just like all good dishes, it is hotly debated and everyone will argue that their way of making it is not only best but it is the only "right" way!
The name translates as being small roasts from Brasov, a town in the Transylvanian region of Romania. A region that was once part of Hungary and aside from that brief statement of fact, I will make a diplomatic retreat.
However, it definitely does not contain anything roasted! It combines fried pork, tenderloin in this case, onions and garlic with crispy fried potatoes, paprika (of course) and marjoram.
And it is every bit as filthy good as that sounds!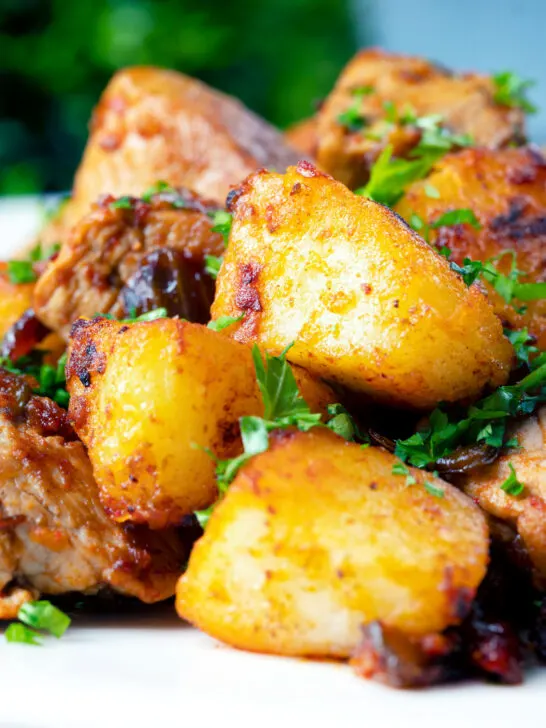 Frequently Asked Questions
Do I have to use lard?
No, you could use oil if you wanted. However, hard fats like lard, beef dripping, and duck fat add a flavour profile and texture that can't be matched!
Do I have to use pork tenderloin?
No, you can use any cut of pork, however using pork tenderloin or fillet allows this dish to cook relatively quickly.

It is known as szűzpecsenye in Hungarian and will often be accompanied by the word szaftos which means juicy.

If you want to use a different cut of pork you will need to fry the pork to get some colour, then add a little water and a lid, and cook it until it is very tender. But only add a little water, the aim is to prevent the ingredients from burning and not to boil the pork.
Does the type of potato matter?
Yes and no… the type of potatoes that you use will change the texture of the dish. The type of potatoes that you use will not ruin the dish!

I use floury potatoes because I love the way they crisp up in the lard that I fry them with. You could use a medium potato, your you could even use baby new potatoes and not even bother peeling them.
Do I have to fry the potatoes?
To my mind, the dish is meant to be made with fried potatoes and it is much better with them.

However, being pragmatic, you could either bake or air fry them in the same way that I do with my Parmentier potatoes.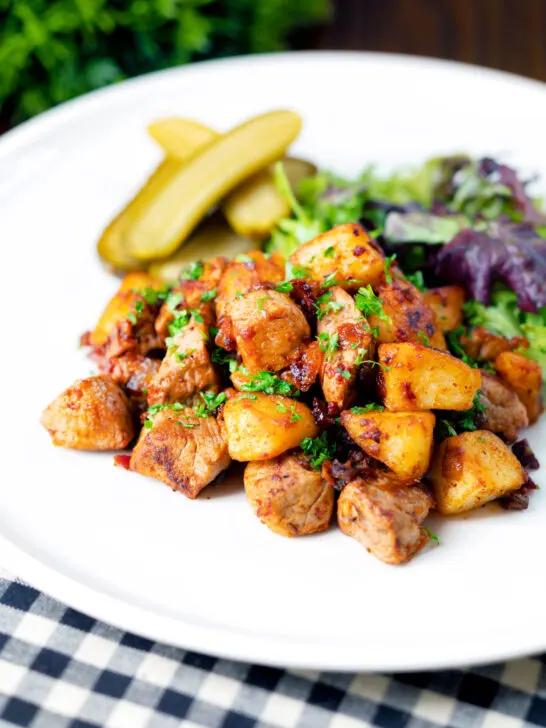 Serving Suggestions
I've always ordered Brassói aprópecsenye as a standalone meal in a Hungarian restaurant… mainly because the portions are HUGE!
Having said that I would often order a side or several sides of pickles.
Hungarians are grandmasters at pickling and fermenting and whilst traditional Hungarian pickles are difficult to find outside of Hungary you could make other things work.
Sauerkraut, pickled chillies or sour pickled cucumbers as pictured here would work really well. A simple nicely dressed green salad is also a great addition.
My version is also on the generous side however it still leaves a little room for you to be creative. I like to serve this with lecso, a wonderful Hungarian pepper and tomato stew.
If you wanted some greens something like roasted tenderstem broccoli or garlic green beans amandine would work well too.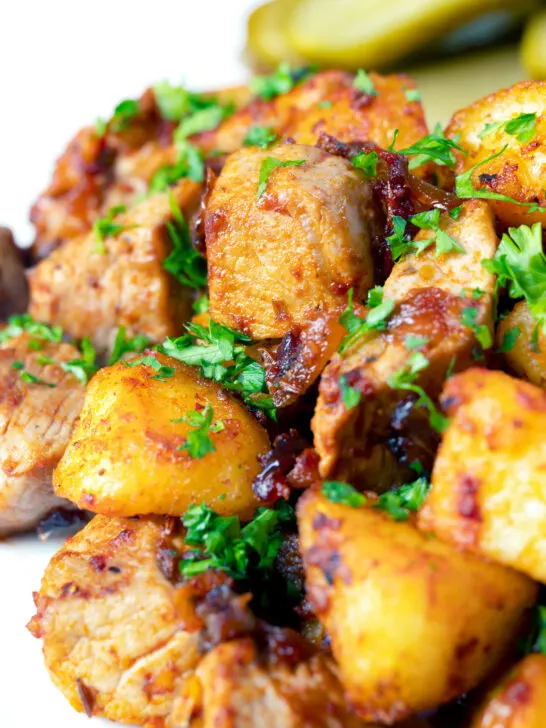 Equipment Used
I only name-check brands of equipment if I think that they make a material difference to a recipe. But if you have any questions feel free to ask them in the comments section below the recipe.
Stovetop.
20cm or 8″ saucepan.
2 of 30cm or 12″ frying pans.
Chopping board.
Paring knife.
Kitchen knife.
Weighing scales and or measuring cups and spoons.
Stirring and serving spoons.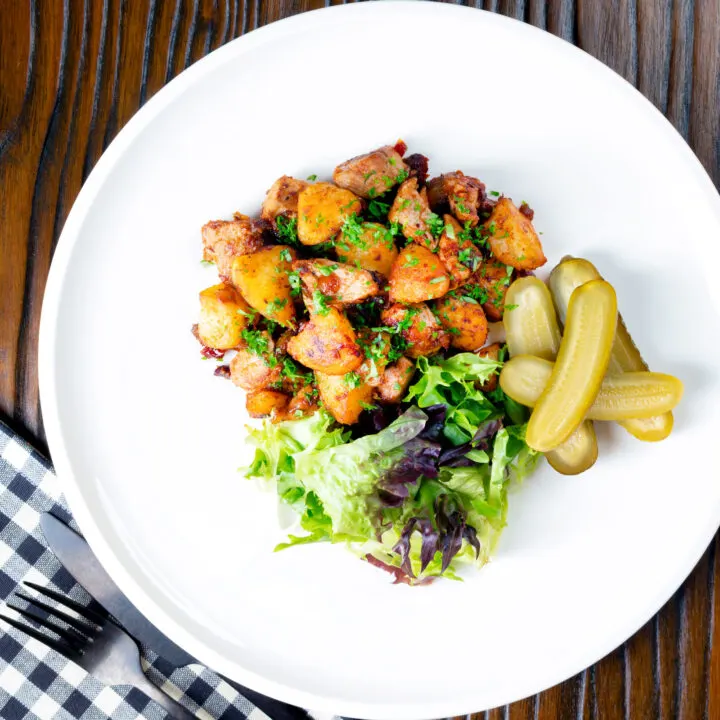 Yield:

2 Servings
Brassói Aprópecsenye Recipe Hungarian Pork with Potatoes
Brassói aprópecsenye is a glorious Hungarian dish that may not be well known outside of Hungary but it is much loved especially in the East of the country. Crispy fried potatoes are tossed through a mix of onions, garlic, bacon and soft pork tenderloin, it's comfort food heaven!
Ingredients
400g (4 x 6-7cm or 2½") Potatoes
150g (1 Cup) Onion
1 Medium (100g) Tomato
1 Small (100-125g) Green Pepper
4 Garlic Cloves
75g (2½ oz) Bacon Lardons
300g (11oz) Pork Tenderloin
1 Tsp Sweet Paprika
½ Tsp Caraway Seeds
½ Tsp Dried Marjoram or Oregano
1 Tsp Coarse Sea Salt (Plus extra to boil the potatoes)
½ Tsp Black Pepper
3 Tbsp Lard, Beef Dripping or Duck Fat
Instructions
Bring a 20cm or 8" saucepan of water to a boil and add 1 teaspoon of salt, then toss in the potatoes and boil them with the skin on for 20 minutes. Then drain the potatoes and cool them for 10 minutes.
Cut the onion in half, peel it and then cut it into a 1cm (½") dice.
Cut the tomato into a dice the same size as the onion.
Deseed the green pepper and cut it into a 5mm (¼") dice.
Peel the garlic cloves and chop them as finely as you can.
Cut the pork tenderloin into a 20-25mm (¾-1") dice.
5 minutes before you drain the potatoes heat a 30cm or 12" frying pan over a medium-high heat and when it is hot add 1 tablespoon of the lard, when it has melted, throw in the bacon and cook until it is golden. This will take 2-3 minutes depending on the heat.
Add the caraway seeds, give them a stir to combine then add the onion, green pepper and tomato and cook for 15-20 minutes. Stir this mix every 2-3 minutes, and keep an eye on it, if it begins to colour too much reduce the heat a little.
When the potatoes have cooled for 10 minutes, peel them and cut them into a dice roughly the same size as the pork.
Heat the remaining lard over a medium-high heat in a second 30cm or 12" frying pan and when it has melted add the dice potatoes and cook them until they are crispy and golden, stir them carefully to stop them from falling apart. This will take around 12-15 minutes.
Around 5 minutes before the potatoes are ready turn the heat under the onions to high, add the pork, garlic, marjoram, black pepper, and salt then cook for 5-6 minutes stirring constantly.
Sprinkle over the paprika, toss to coat and then throw in the crispy potatoes, toss to coat and serve immediately.
Nutrition Information:
Yield:
2
Serving Size:
1
Amount Per Serving:
Calories:

833
Total Fat:

39g
Saturated Fat:

14g
Trans Fat:

0g
Unsaturated Fat:

23g
Cholesterol:

165mg
Sodium:

1908mg
Carbohydrates:

60g
Fiber:

8g
Sugar:

10g
Protein:

60g
Calorific details are provided by a third-party application and are to be used as indicative figures only.