Hungarian lecso or lecsó is a tomato and pepper stew with salami & bacon that works just as well as a main course as it does as a side dish.
This dish, which is occasionally called Hungarian ratatouille, is nice and easy to cook and comes together in around 45 minutes.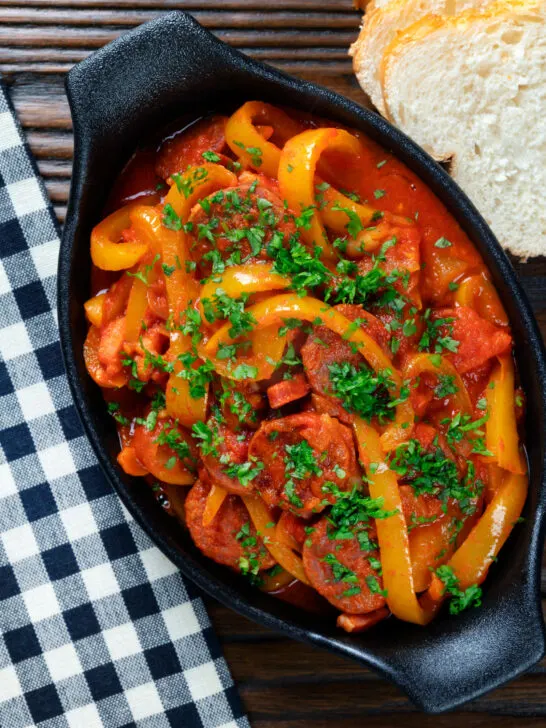 Hungarian Tomato and Pepper Stew
The first thing that people think of when they think of Hungarian food is Goulash, it is ok, it is normal, but Hungarian cuisine is so much more!
Even then, what many people create as goulash is closer to the Hungarian Marha Porkolt.
Sure dishes like chicken paprikash are well-known around the world, but dishes like borsos tokany, rakott kaposzta and langos are glorious and I think deserve to be far better known.
Lecsó is the quiet hero of the Hungarian kitchen, it is pure magic and it is often referred to as Hungarian ratatouille.
It is often served as a main but I love it as a side dish. It provides sauce and a sweet/sour base for salty roasted meats.
I spent 13 years living in and travelling around rural Hungary and never came across two lecsó recipes that were the same.
Some contain kolbász, a cured Hungarian sausage, some contain bacon, some contain both, and some contain neither. That doesn't mean that it then becomes vegetarian because it is so often cooked in lard!
But all of them are delicious and I love the stuff!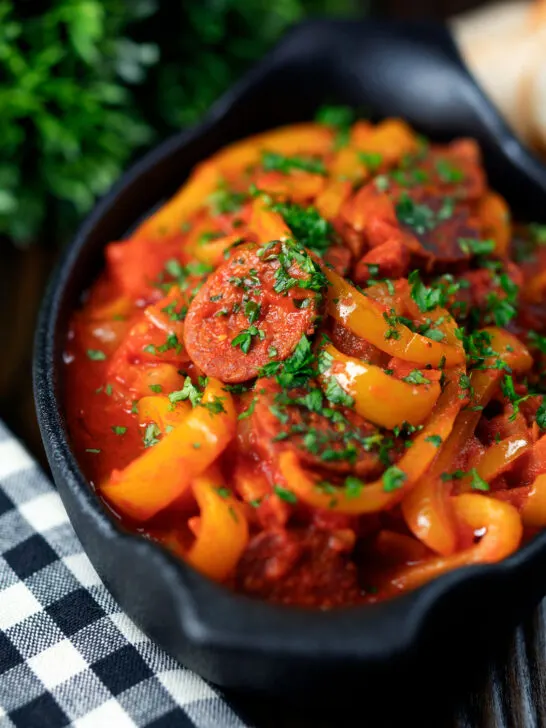 Frequently Asked Questions
Can I use a different colour pepper?
In Hungary, this dish would be made almost exclusively with something "we" know as a TV paprika or feher (white) pepper. It is very mild in taste and sweet, but not as sweet as bell peppers.

I have opted to go with yellow peppers in my international version. They are not as sweet as the red, but they add a sweetness that green peppers lack.
What sort of salami should I use?
This dish would be made using kolbász in Hungary, it is a fairly generic term for a cured sausage in much the same way salami is used.

Gyulai is probably the most famous type of kolbász, although I personally preferred to use Csabai which is a little spicier. You could even get lecsókolbász specifically made for making this dish.

I very much advocate using whatever you can find locally, both salami and chorizo are readily available in most supermarkets. Experiment with that and find something you like.
What sort of bacon should I use?
So much of Hungarian cooking is defined by fat and this dish is no different.

Large chunks of smoked bacon that are mainly fat would be traditionally used to start a lecsó, to mirror that you should get some really fatty bacon lardons if you can.

If the bacon does not have enough fat, throw in a little lard or duck fat.
Can I use smoked paprika?
It is your dinner, you can use whatever you like, but smoked paprika is not traditionally used in Hungarian cooking.

Can I make this in advance?
Yes absolutely, this will be fine in the fridge for 2-3 days and it will get better with time!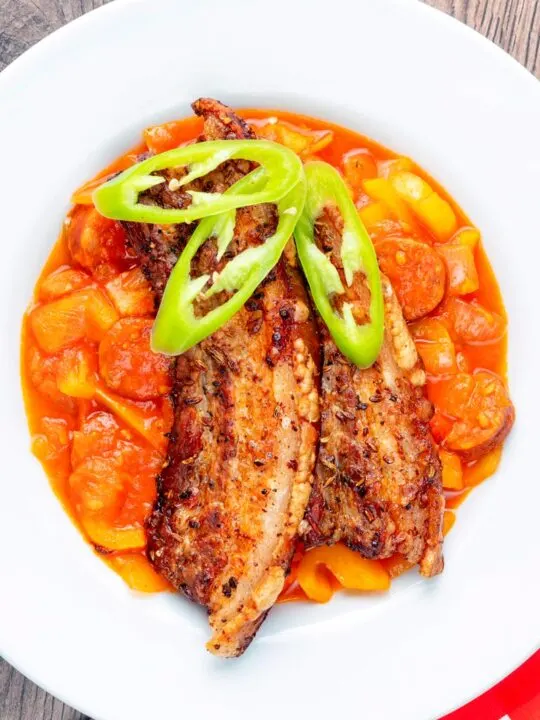 Serving Suggestions
So often lecsó is served as a main course with loads of different types of pickles and big hunks of bread.
It is also awesome with some Hungarian nokedli, which are probably more famously known as spätzle.
It always got my funny looks but I love to eat this with garlic bread!
But for me, lecsó sings as a side dish, I use it on the side of loads of different dishes. I love combining it with Hungarian dishes like rakott krumpli or Brassói aprópecsenye.
It's not just Hungarian dishes that it works well with either. The peppers that I cook with my slow cooker lamb shanks are definitely influenced by the ideas behind lecsó.
It's a wonderfully versatile dish and it works well with any "dry" roasted or fried dish.
As an example of its versatility, it is pictured above with my very "British" roast pork belly slices and below with some Polish kotlet schabowy.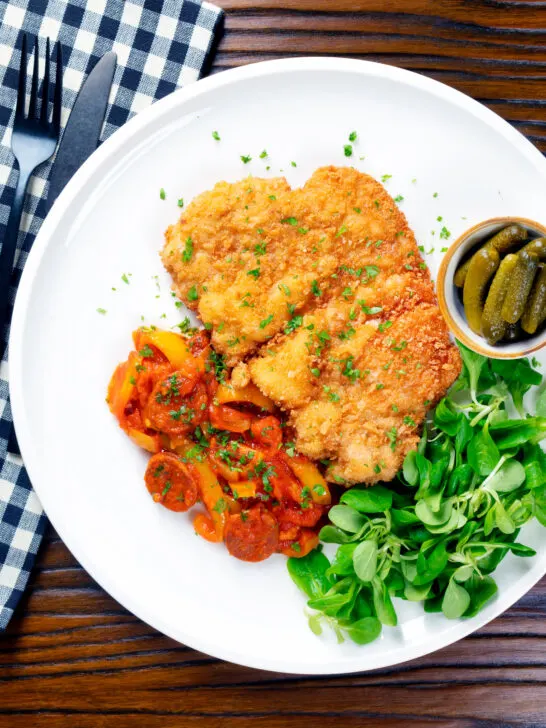 Equipment Used
I only mention brands of equipment if I think that they make a material difference to a recipe. But if you have any questions feel free to ask them in the comments section below the recipe.
Stovetop.
20cm or 8″ saucepan.
Stirring and serving spoons.
Chopping board.
Kitchen knife.
Weighing scales and or measuring cups and spoons.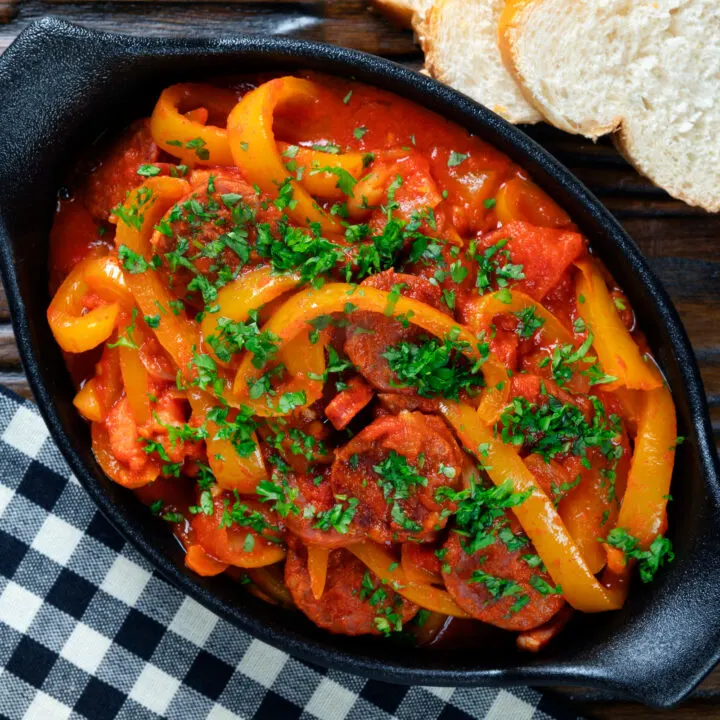 Yield:

2 Servings as a Main 4 as a Side
Hungarian Lecsó Recipe
Lecsó or lesco is a recipe that is often referred to as a Hungarian ratatouille, it is a stew of tomatoes, peppers and onions often cooked with dried sausage and bacon and plenty of paprika of course!
Ingredients
125g (4oz) Smoked Bacon Lardons
75g (2½oz) Salami
4 Medium-Large (450g total) Tomatoes
150g (1 Cup) Onion
2 Small or 1 Large (250g Total) Yellow Pepper
2 Tbsp Sweet Hungarian Paprika
Salt if Required
Instructions
Heat a 20cm or 8" saucepan over a medium- heat, add the bacon lardons and cook gently for 10 minutes to start the fat rendering.
Bring a pan of water to the boil whilst you prep the remaining ingredients then cut a cross 1-1.5cm (½") into the skin of the base of the tomato and plunge them into the boiling water for 30 seconds. Transfer the tomatoes to a bowl of cold water and when they are cool enough to handle peel off the skin.
Slice the salami into 3-5mm (⅛-¼") thick coins and when the bacon has had 5 minutes, add the salami to the pan and cook for another 5 minutes, stirring occasionally
Cut the onion into a 1-1.5cm (½") dice.
Deseed the yellow pepper and cut it into 5mm (¼") strips.
Cut the peeled tomatoes into 8 wedges each.
Add the onion to the pan and cook them for 5 minutes stirring regularly.
Throw in the yellow pepper, tomato wedges and paprika, then give everything a stir, and cook for 25 minutes or until you have a thick rich stew. Have a taste after the stew has been cooking for 5 minutes and add salt if required.
Notes
The calorific value for this recipe refers to serving it for two as a main.
Do not be tempted to make this in a frying pan or skillet, use a saucepan. Doing so encourages the juices from the tomatoes to evaporate too quickly and you will end up with a gloopy sticky mess rather than a thick and unctuous stew!
Nutrition Information:
Yield:
2
Serving Size:
1
Amount Per Serving:
Calories:

561
Total Fat:

36g
Saturated Fat:

12g
Trans Fat:

0g
Unsaturated Fat:

22g
Cholesterol:

102mg
Sodium:

1732mg
Carbohydrates:

29g
Fiber:

7g
Sugar:

10g
Protein:

34g
Calorific details are provided by a third-party application and are to be used as indicative figures only.