Hungarian Lecso is a tomato and pepper stew served typically as a side dish that contains "salami", bacon and of course paprika.
Hungarian Tomato and Pepper Stew.
I'm pretty sure that when Hungarian food is mentioned the first thing that leaps into peoples heads is Goulash!
It is ok, it is normal!
But Hungarian food is so much more, dishes like chicken paprikash are well known around the world. What people actually think of as goulash is usually similar to the Hungarian Marha Porkolt and you are just gonna have to click through to find out about Langos!
Lecso is the quiet hero of the Hungarian kitchen. Often served as a side it provides sauce and a sweet/sour base for salty roasted meats it is not dissimilar to ratatouille.
I have been here in Hungary since 2008 and can assure you that NO two lecso recipes are the same.
Some contain kolbasz, more on that later, some contain bacon, some contain both, some contain neither.
But all of them are delicious and I love the stuff!
Ingredient Substitutions.
This recipe comes with a disclaimer that this recipe has been developed for cooks outside of Hungary in mind.
In Hungary, this dish would be made almost exclusively with something "we" know as a TV paprika or feher (white) pepper.
It is very mild in taste and whilst sweet not as sweet as bell peppers.
I have opted to go with yellow peppers in my international version. They are not as sweet as the red, but they add a sweetness that green peppers lack.
Onto the kolbasz that I mentioned earlier. Kolbasz is a Hungarian salami style of sausage.
Again no two are the same, so use a salami that you like.
Although avoid anything with smoked paprika if you want to get a Hungarian vibe. Smoked paprika is very rarely found in Hungary, yet alone used!
Finally the fat, it is traditionally made with lard, you can, of course, use oil.
But I recommend duck or goose fat. I recommend this shift as I am aware that good quality lard is tough to find in both the UK and US.
Good quality duck or goose fat is a little more available!
One final note on cooking this dish. Do not be tempted to make this in a frying pan or skillet, use a saucepan!
Doing so encourages the juices from the tomatoes to evaporate too quickly. You will end up with a gloopy sticky mess rather and a thick and unctuous stew!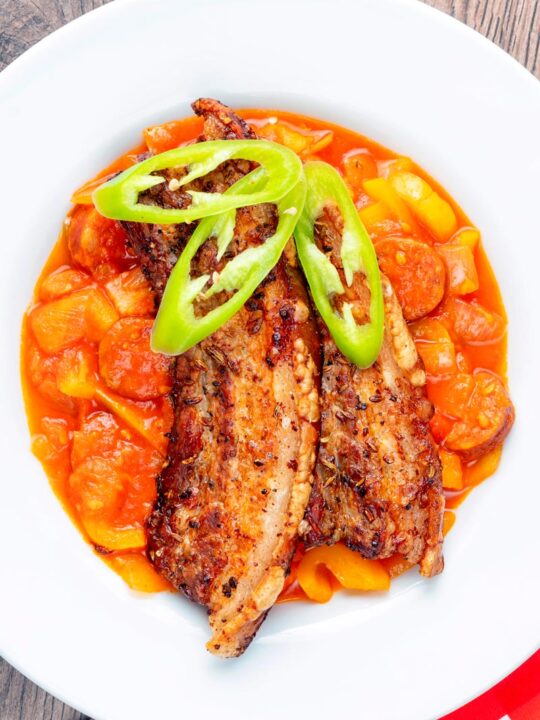 Serving Suggestions.
Gimme a big bowl of this a spoon and some bread and I'd be a happy bunny.
But it is a side dish, a great side dish!
It is particularly good with fattier cuts of meat. It is pictured above with some simple roast pork belly slices.
But it is great with any form of roasted pork.
It is also wonderful with lamb, the cooking "juice" for my slow cooker lamb shanks are definitely influenced by the ideas behind lecso.
But it would also be stunning with this slowly cooked shoulder of lamb!
Finally sticking with the Hungarian theme, I love using it as a chinky sauce alongside my rakott kaposzta (layered cabbage casserole) recipe.
Yield:

2 Servings
Hungarian Lecso Recipe
Lecso is a Hungarian recipe that is essentially a ragu or stew of tomatoes, peppers and onions often cooked with dried sausage and bacon.
Ingredients
75 g (2.75 oz) Smoked Bacon
50 g (1.75 oz) Salami
200 g (7 oz) Yellow Pepper, prepared weight
400 g (14 oz) Tomatoes
150 g (5.25 oz) Onion
1 Tbsp Duck Fat
1 Tsp Sweet Paprika
Salt, if required
Instructions
Bring a pan of water to the boil whilst you prep the remaining ingredients.
Slice the salami in to 3-4mm thick coins.
Dice the bacon into 1cm cubes.
Remove the inside of the yellow pepper and cut into stricks around 2.5cm long and 5-7mm thick.
Cut the onion into a 1cm dice.
Cut a cross 1-1.5cm across and 2-3mm deep in the base of the tomatoes.
Drop the tomatoes into boiling water and scald for 60 seconds.
Transfer the tomatoes to a bowl of cold water.
When the tomatoes have cooled peel and cut into quarters.
Heat a saucepan over a medium heat and add the duck fat.
When the fat has melted add the bacon and salami, and cook for 5 minutes stirring occasionally.
Add the onion and cook for another 5 minutes again stirring occasionally.
Throw in the yellow peppers and tomatoes and stir in the paprika.
Reduce the heat to medium-low and allow this to stew down for 25-30 minutes stirring occasionally.
Notes
It is likely that there is enough salt in the bacon and salami, but you should taste as it cooks and add salt if required.
Nutrition Information:
Yield:
2
Serving Size:
1
Amount Per Serving:
Calories:

426
Total Fat:

28g
Saturated Fat:

10g
Trans Fat:

0g
Unsaturated Fat:

17g
Cholesterol:

71mg
Sodium:

1086mg
Carbohydrates:

23g
Fiber:

5g
Sugar:

9g
Protein:

22g
Calorific details are provided by a third-party application and are to be used as indicative figures only.