Marha Porkolt is a Hungarian stew that is as popular as Goulash, rich with tender beef mine is the product of 12 years of practice!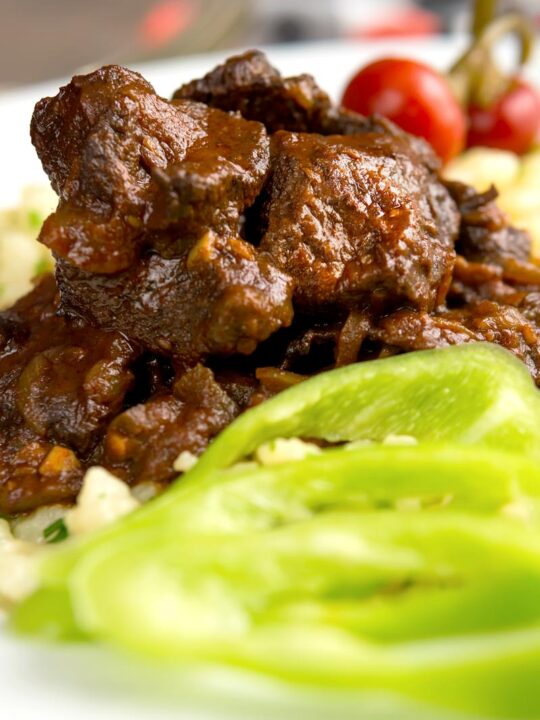 Slow-Cooked Hungarian Beef Stew.
I moved to Hungarian countryside in 2008 and when I say that this simple beef stew is just as popular as Goulash I am talking from experience.
It is the meal I order most often from restaurant menus whether it be beef, mutton or venison it is my favourite. Although I usually steer clear of the tripe variant!
It is a very simple way of cooking and originates on the Hungarian Great Plain, right where I live!
Just like goulash, it would have been cooked in a kettle or cauldron over an open fire. In fact, it often still is at the countless local festivals I attend every year!
I hate the use of the word authentic when it comes to food. It implies that there are ways of cooking that have more value.
So I will avoid it here and simply say that this is food you could put on the table in the Hungarian countryside in front of a Hungarian and be congratulated.
This is a claim that I have tested on many occasions!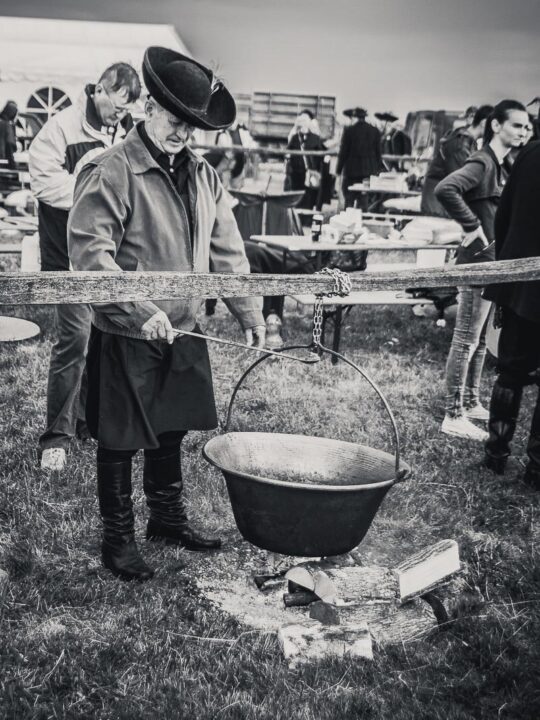 Choosing the Paprika.
Hungarian food remains steadfastly simple to this very day, grasping on to its traditions with a resolute determination.
Spices in general use are simply spicy paprika, sweet paprika, which is never smoked, caraway, salt and black pepper.
But in general, it is dominated by the use of paprika, whether that be in the classic chicken paprikash, rakott kaposzta (layered cabbage casserole) or this marha pörkölt recipe.
Please do try and hunt down some Hungarian paprika, it really does make the dish!
If it is in its original Hungarian packaging you are looking for the word édes, which means sweet. Possibly even the phrase "1 Osztály" which means 1st class.
What is the Difference Between This Pörkölt recipe and a Goulash?
Well simply one is a soup and the other is a stew, goulash contains lots of root vegetables, this doesn't.
It is simply and unashamedly meat in a thick paprika gravy.
This dish should be thick and unctuous with meat that is fall-apart tender.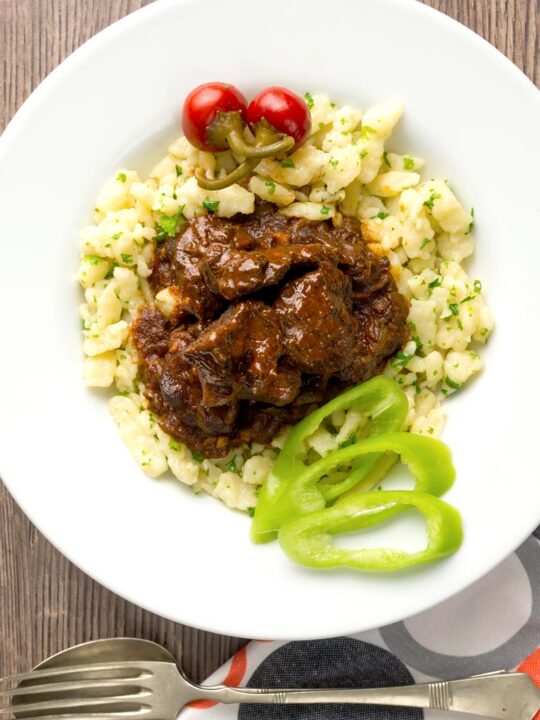 What Beef to Use.
I use either neck or shin of beef for this recipe. They are the cuts that are typically available here in rural Hungary.
Every single person I have spoken too about this recipe say they are the cuts they use.
Quite often it is a mix of the two as shin is gelatinous and results in great body. Neck, on the other hand, offers a great flavour.
I have also made one substitution in this recipe that would not usually happen in Hungary.
I have suggested using green bell pepper, here we would use what is called a TV Paprika.
It is a very pale green or yellow in colour and has a neutral pepper flavour with no heat and exists to add body to the stew.
Do not be tempted to add red or yellow peppers, they add too much sweetness.
I almost always serve or even order mine with nokedli, Hungarian egg noodles of sorts.
However, you could serve with everything from buttered noodles to boiled potatoes. You could even add Hungarian rakott krumpli to the side if you were feeling particularly greedy.
Adding pickles, any pickles will make the experience much more Hungarian!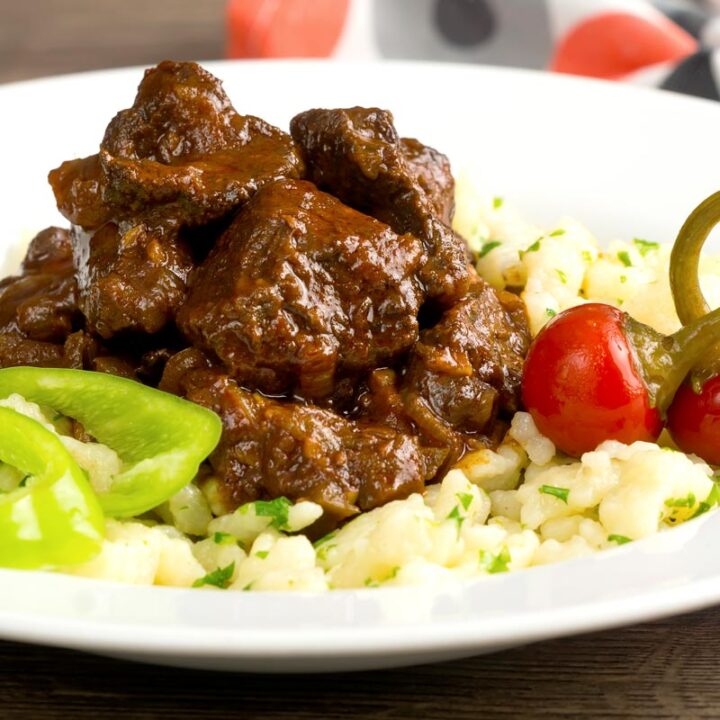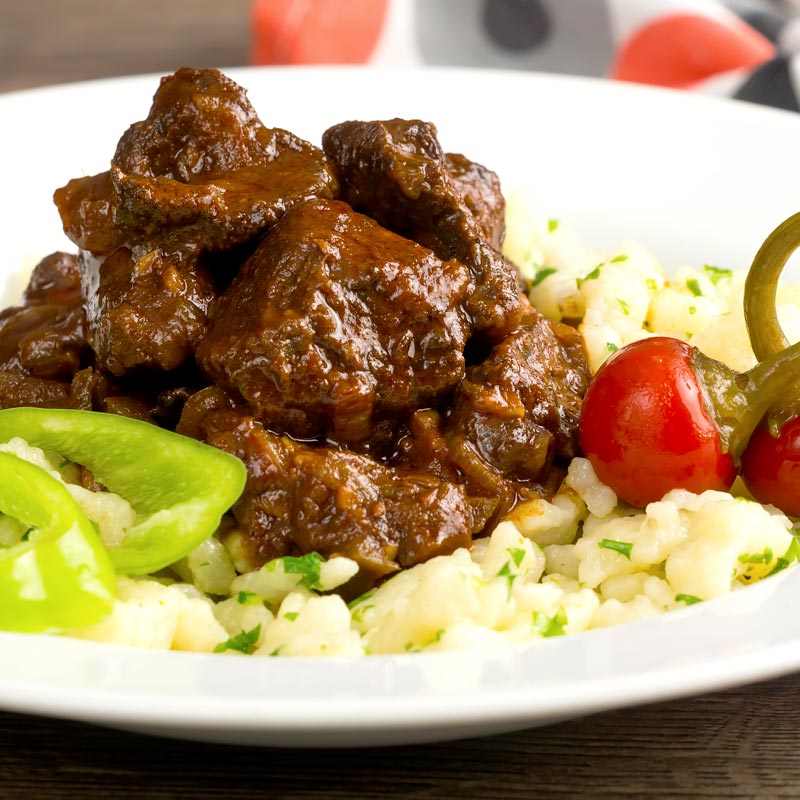 Yield:

2 Servings
Hungarian Marha Porkolt Recipe
Total Time:
1 day
4 hours
20 minutes
Marha Porkolt is the classic Hungarian Beef Stew, no it is not a goulash but beautifully simple slow-cooked comfort food that will have you craving more.
Ingredients
450g (1lb) Stewing Beef
750ml (1 Bottle) Red Wine
5 Sprigs Fresh Thyme
2 Bay Leaves
200g (1⅓ Cup) Onion
2 Tbsp Lard, substitute for goose or duck fat
1 Green Bell Pepper
4 Cloves Garlic
1 Tbsp Tomato Puree
1 Tsp Caraway Seeds
2 Tbsp Sweet Hungarian Paprika
Generous Pinch Salt
Instructions
Cut the beef into 2.5cm cubes and place in a bowl.
Pour over the wine and add the thyme and bay leaves, cover with cling film and marinate for a maximum of 24 hours.
When you are ready to cook finely slice your onion into half-moons.
Heat a medium pan over a medium high heat and when hot add the lard.
Fry the onion, stirring occasionally until golden brown and soft.
Finely dice the green pepper and finely chop the garlic.
Remove the beef from the marinade discarding the thyme and bay leaves but reserving the wine.
Pat the meat dry and then add to the onions and cook until lightly browned.
Add the garlic and green pepper and cook for 5 minutes stirring occasionally.
Reduce the heat to low and stir in the sweet paprika, salt and caraway seeds.
Pour over enough of the red wine to just cover the beef and add the tomato puree.
Transfer to the oven and cook at 150°C or 300°F for 3-4 hours.
As the meat cooks the sauce will evaporate, and the exposed beef will darken, stir to put this darkened beef into the juices every so often.
Notes
I like to serve this with buttered nokedli which can be found in my chicken paprikash recipe. You could also serve with a pasta or even simply boiled and buttered potatoes.
Nutrition Information:
Yield:
2
Serving Size:
1
Amount Per Serving:
Calories:

653
Total Fat:

23g
Saturated Fat:

9g
Trans Fat:

0g
Unsaturated Fat:

12g
Cholesterol:

49mg
Sodium:

120mg
Carbohydrates:

31g
Fiber:

5g
Sugar:

10g
Protein:

15g
Calorific details are provided by a third-party application and are to be used as indicative figures only.