This beef hotpot features a delicious spicy beef stew that features almonds & dried apricots and is finished with a crispy sliced potato lid.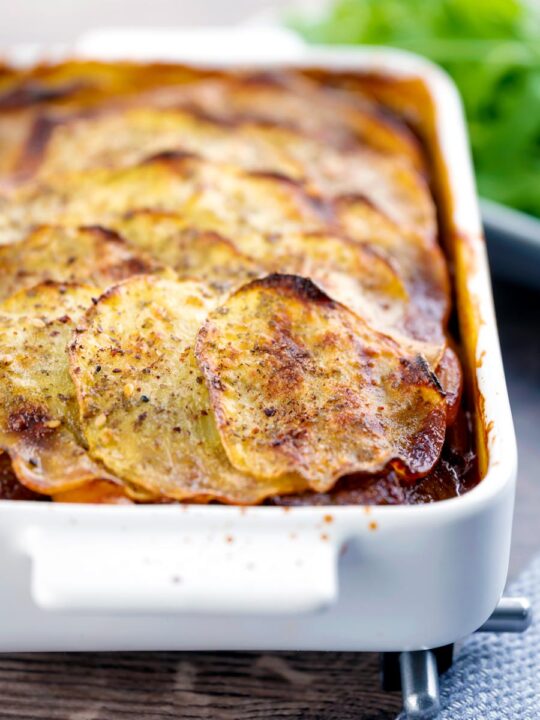 Moroccan Spiced Hotpot.
Depending on where you are from the name hotpot or occasionally hot pot means different things. I'm British so to me it is a pie with a "scalloped" potato topping.
The most well-known British variant is the Lancashire hotpot, which features either lamb or mutton, I also have a chicken hotpot!
A Chinese hotpot is a group meal, it is a broth that simmers away whilst you dip in an array of raw ingredients, cooking them in the broth.
Japanese hotpots follow a similar idea although can be less communal. The most famous is Sukiyaki and it features very finely sliced beef that you cook in a broth.
This beef hotpot recipe goes trawling for new influences and flavours. It features a rich sweet and sour stew heavily influenced by north african flavours.
We have dried apricots, almonds, zaatar and sumac offering sweet and sour elements and a bit chilli to liven everything up.
Everything is then finished off with some finely sliced potatoes and cooked until jammy and the potatoes are crispy.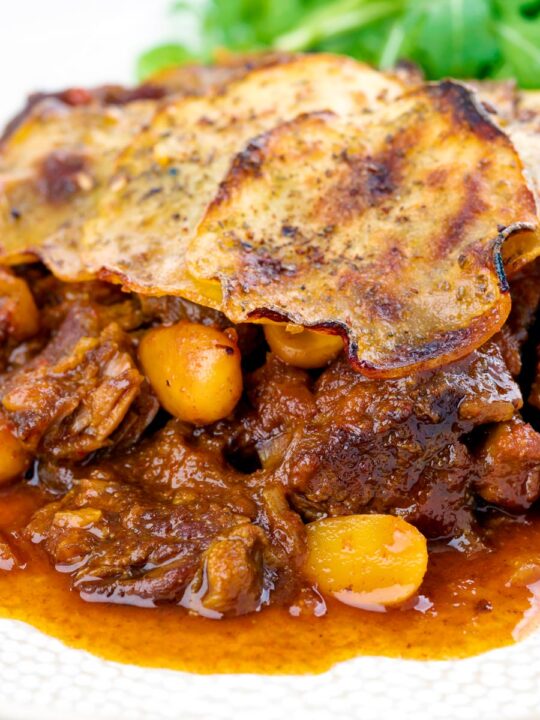 Frequently Asked Questions.
What cut of beef should I use?
The recipe calls for stewing beef, that kinda covers everything from chuck to shoulder.
If you want to be really particular and get the very best out of this recipe try either beef cheeks or beef shin. They add a real depth of flavour to this recipe.
Can this be made in advance.
Yes, you can make the stew well in advance, in fact, as with most stews it will taste even better on day 2 or 3.
Do not top with the potato until you are ready to flash it through the oven for the last half an hour.
The stew will save in the fridge for 3-4 days and can be frozen for up to 3 months.
How do you cut the potatoes so thin.
I use a mandolin to slice everything form thin potatoes to cutting vegetables into a julienne for stir frying.
Be sure to invest in something decent, they are pretty scary bits of kit and buying cheap is not wise. I personally use an OXO good grips 2.0 if that helps.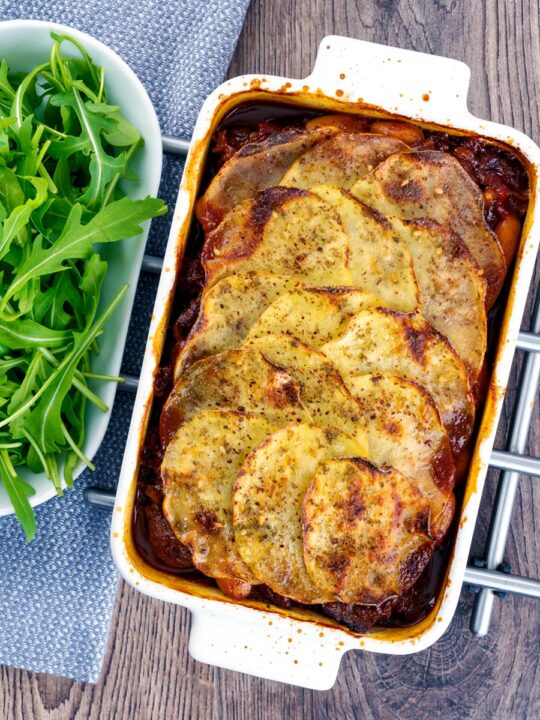 Serving Suggestions.
A classic British hotpot tends to be a one-pot dinner, much like my chicken hotpot.
This beef hotpot recipe is no different and is perfectly filling as a meal in and of itself.
But it is a very meaty meal and I serve this for two.
Although I do often add a simple salad on the side, something like a scaled-down version of this carrot salad is perfect, or just throw on some peppery rocket, arugula for my American visitors.
However, you could stretch this to a meal for four and add some sides. It is tempting to suggest some simple steamed vegetables.
But I would personally embrace the North African influence and serve this with a some bulgur wheat or buttered couscous.
If you wanted to increase the vegetable element then you could serve this with my roasted vegetable couscous.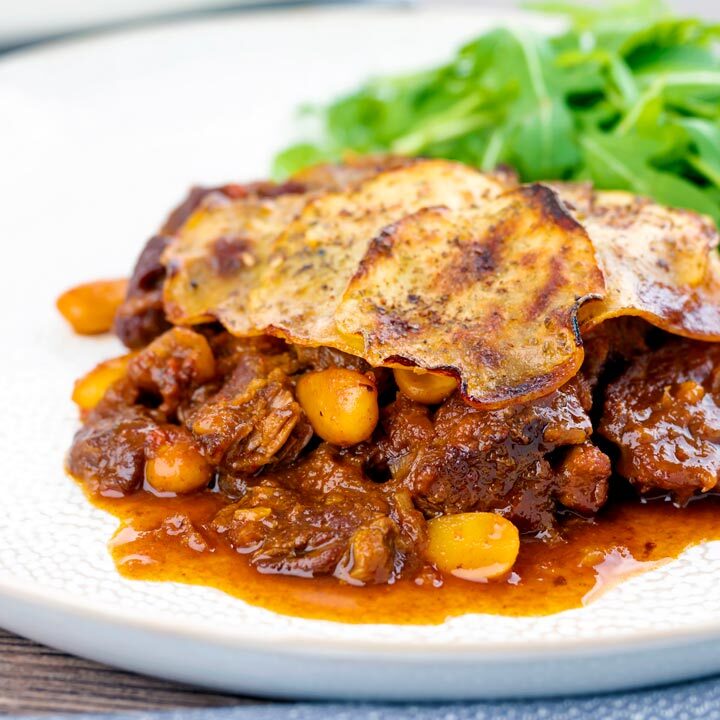 Yield:

2 Servings
Spicy Beef Hotpot Recipe
Cook Time:
1 hour
50 minutes
This Beef Hotpot recipe features a meeting of two cuisines, a very British style pie topped with sliced potato meets a Moroccan influenced beef stew.
Ingredients
350g (12oz) Stewing Beef
2 Tbsp Cooking Oil
250g (1 2/3 Cup) Onion
3 Garlic Cloves
1 Red Chilli Pepper
1/4 Tsp Black Pepper
1 1/2 Tsp Coarse Sea Salt
100g (1/2 Cup) Dried Apricots
50g (1/3 Cup) Blanched Almonds
1/2 Tsp Ground Coriander
1 Tsp Ground Cumin
1 Tsp Turmeric Powder
2 Tsp Paprika
375ml (1 1/2 Cup) Water
1/4 Tsp Sumac
1 Tsp Zaatar
175 g (6oz) Potatoes
1 Tbsp Olive Oil
Instructions
Cut the beef into 2cm cubes and season with one teaspoon of sea salt and pepper.
Heat half of the oil in a pan and fry the beef in batches until nicely browned, then remove and set aside.
Chop the onion into a 1cm dice.
Add the remaining oil to the pan and then add the onion and cook on a medium high heat for 10 minutes.
Dice the garlic and chilli as finely as you can, add it to the onions and cook for 1 minute.
Cut the apricots in half.
Throw in the apricots, almonds and return the beef to the pan.
Sprinkle with ground cumin, coriander, turmeric, and paprika then pour over the water and stir.
Add a lid and bake at 160°C or 320°F for 90 minutes.
Slice the potato so that it is 1-2mm thick.
Pour the olive oil over the sweet potato and then season with the remaining salt and the zaatar.
Arrange the sweet potato slices over the stew.
Turn up the heat on the oven and return cooking at 200°C or 400°F for 30-35 minutes.
Sprinkle with the sumac before serving.
Nutrition Information:
Yield:
2
Serving Size:
1
Amount Per Serving:
Calories:

724
Total Fat:

38g
Saturated Fat:

17g
Trans Fat:

1g
Unsaturated Fat:

18g
Cholesterol:

91mg
Sodium:

946mg
Carbohydrates:

84g
Fiber:

14g
Sugar:

44g
Protein:

20g
Calorific details are provided by a third-party application and are to be used as indicative figures only.