Sausage hotpot a take on a classic British dish, pork bangers cooked in a delicious cider & onion gravy then baked under a crispy potato lid.
It also features a layer of potatoes in the base of the casserole that slowly cook in the gravy which is enriched with apple sauce.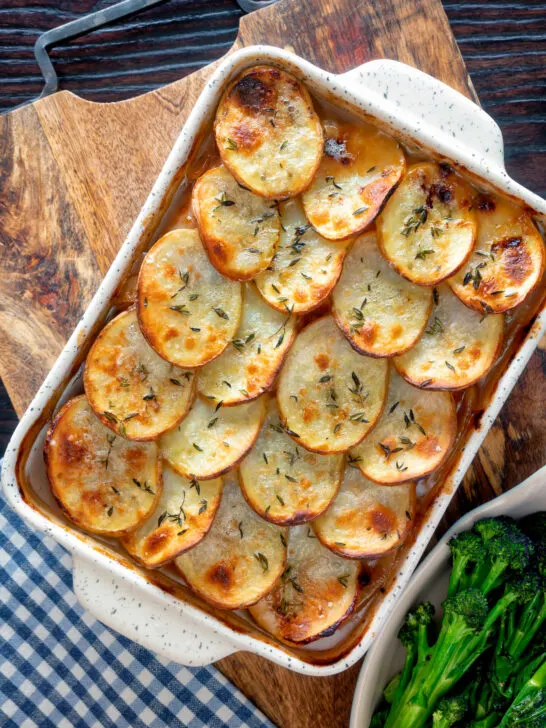 Scalloped Potato Topped Sausage Casserole
A hotpot or hot pot in my wee corner of the world (the UK) means a stew or casserole topped with a scalloped potato lid.
It is baked in the oven until the spuds are crisp and quite often contain other layers of potato that cook in the gravy of the stew.
The most popular variant is the Lancashire lamb hotpot. But I love playing with ideas and have a Morrocan-influenced spicy beef hotpot and mustardy chicken hotpot too.
The magical panacalty is a hotpot in all but its name too and rocks lots of onions and corned beef!
My latest version is a glorious sausage hotpot with a cider based onion gravy and it is stonkingly good.
I use some Bramley apple sauce to add a little more oomph to the gravy, it's a wonderfully simple dish, even if it takes a while to cook.
It comes hot on the heels of a sausage and mash pie, which tells you what I love cooking with at the moment.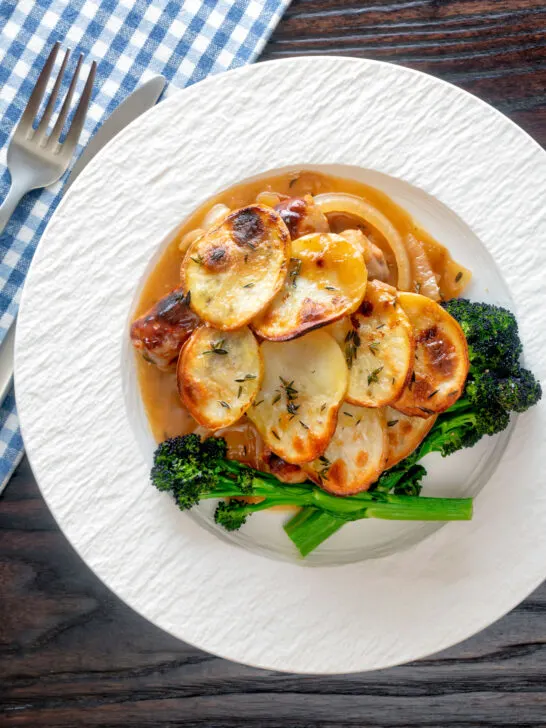 Frequently Asked Questions
What sausages should I use?
So long as they are pork sausages and are not loaded with paprika you are good to go.

I used pork and apple sausages to complement the cider gravy, but anything from pork and caramelised onion to Cumberland sausages would work well.
What cider should I use?
You need a nice dry cider for this recipe, avoid the popular often sweet "pub favourites".

I used an Aspall Premier Cru.
A NOTE FOR US VISITORS!
Cider in the UK and most of the world refers to an alcohol beverage, so look for something you guys call hard cider.
What is Bramley apple sauce?
Bramley apples are a unique British variety of apple that are practically inedible as an eating apple. But cook them down they make an outstanding apple sauce!

You can make your own sapple sauce at home, but I usually buy a small jar as I do not use it often enough to justify making it.
Does the type of potatoes matter?
So long as you avoid waxy "new" potatoes you are good to go. An all-purpose potato or floury potato is fine, I usually use Maris Piper or King Edwards if I can.

If you are from somewhere that insists on the infernal A,B,C system of potatoes look for either a B or C potato.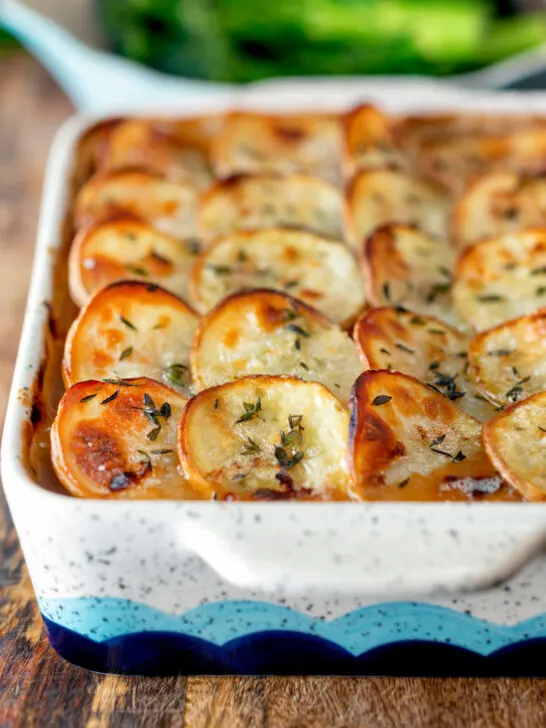 Serving Suggestions
This sausage hotpot is a hearty old dish and does not need a great deal to finish it off as a meal.
I like to add some greens and as the oven is already on, something that you can throw in whilst the hotpot bakes is ideal.
My main squeeze as a simple side dish at the moment is some roasted tender-stem broccoli. A bit of rapeseed oil, salt and pepper and off you go!
My miso-roasted Brussels sprouts with bacon would also go down a real treat.
Other sides that would work well include some buttered cabbage, garlic green beans or braised cavolo nero.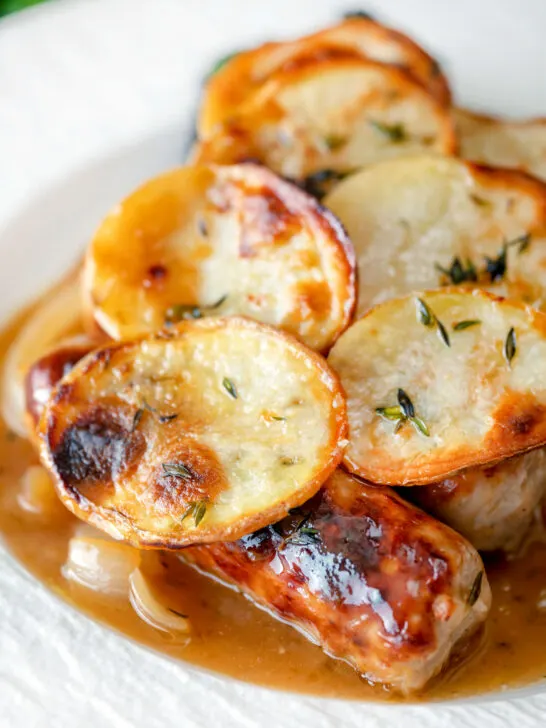 Equipment Used
I only recommend specific brands of equipment if I think that they make a material difference to a recipe. If you have any questions feel free to ask them in the comments sections below the recipe.
Stovetop.
Oven.
Grill, aka broiler (OPTIONAL)
1 Litre (1 Quart) casserole dish. Mine is 21cm x 16cm x 4.5cm or 8″ x 6″ x 2″.
Mandolin for slicing potatoes (OPTIONAL).
28cm or 11″ frying pan.
15cm or 6″ saucepan.
Sharp kitchen knife.
Chopping board.
Weighing scales and or measuring cups and spoons.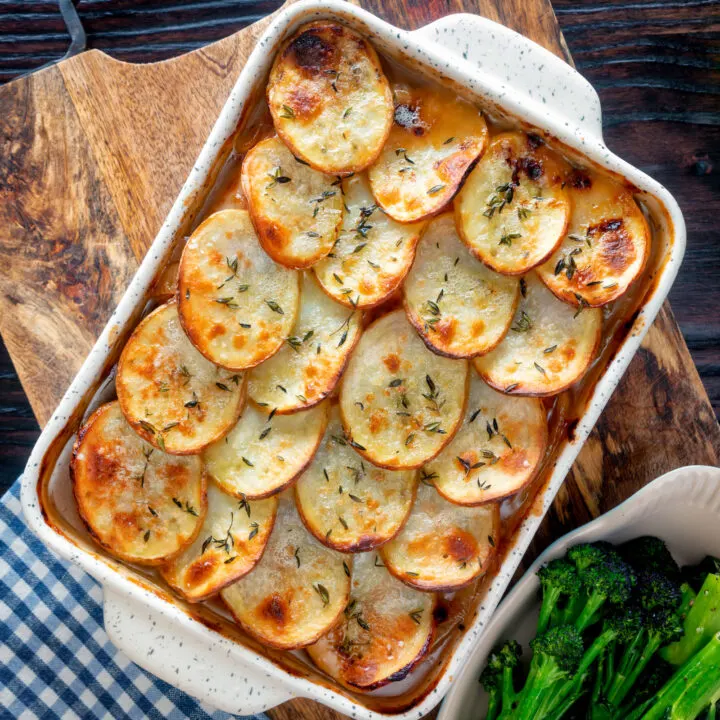 Yield:

2 Servings
Sausage Hotpot Recipe
Cook Time:
1 hour
30 minutes
Total Time:
1 hour
35 minutes
Pork bangers, delicious scrumpy cider and Bramley apple sauce sit at the heart of this delicious and comforting sausage hotpot.
Ingredients
400g (6 Total) Pork Sausages
1 Tbsp Cooking Oil
500ml (2 Cups) Dry Cider
300g (2 Cups) Onion
2 Tbsp Flour
50ml (3 Tbsp + 1 Tsp) Brandy
250ml (1 Cup) Chicken Stock
2 Tbsp Bramley Apple Sauce
2 Sprigs Thyme
35g (2 Tbsp + 1 Tsp) Butter
300g (2 Cups) Potatoes
Instructions
Heat a 28cm (11") frying pan that is not non-stick over a medium heat and when it is hot add the oil and brown the sausages on all sides, then remove and set aside.
Whilst the sausages are searing pour the cider into a 15cm (6") saucepan and reduce by half.
Cut the onions in half, peel them and then cut them into half-moon shapes 7-10mm (¼"-½") thick.
Pick the leaves from the sprigs of thyme.
Add the onions to the sausage pan and soften for 15 minutes stirring occasionally.
Whilst the onions are softening cut the potatoes into 3mm (⅛") thick slices, using a mandolin really helps with this.
Add half of the potatoes in a single layer to the base of a 1-litre casserole dish.
Return to the onions after they have been cooking for 15 minutes and add the flour then stir continuously for 1 minute.
Pour the brandy into the onions and stir until it has almost evaporated.
Add the chicken stock, reduced cider, half of the thyme leaves and the Bramley apple sauce to the onions and stir until everything forms a nicely thickened sauce.
Pour the sauce over the layer of potatoes in the casserole dish and add the sausages.
Arrange the remaining potato slices on top of the sausage mix, then dot on the butter and sprinkle over the remaining thyme leaves and a sprinkling of coarse sea salt.
Bake at 180°C or 350°F for 55-60 minutes.
Slide the hot pot under the grill (broiler) for a final few minutes to finish browning and crisping up.
Nutrition Information:
Yield:
2
Serving Size:
1
Amount Per Serving:
Calories:

1259
Total Fat:

77g
Saturated Fat:

27g
Trans Fat:

1g
Unsaturated Fat:

44g
Cholesterol:

212mg
Sodium:

2259mg
Carbohydrates:

71g
Fiber:

6g
Sugar:

29g
Protein:

44g
Calorific details are provided by a third-party application and are to be used as indicative figures only.