Panacalty is a simple and delicious layered corned beef, onion, bacon and potato bake that is cooked in beef stock from North East England.
Cooking this dish takes a while, but if you use a mandolin prep becomes much easier, then you just layer it up and throw it in the oven for a couple of hours.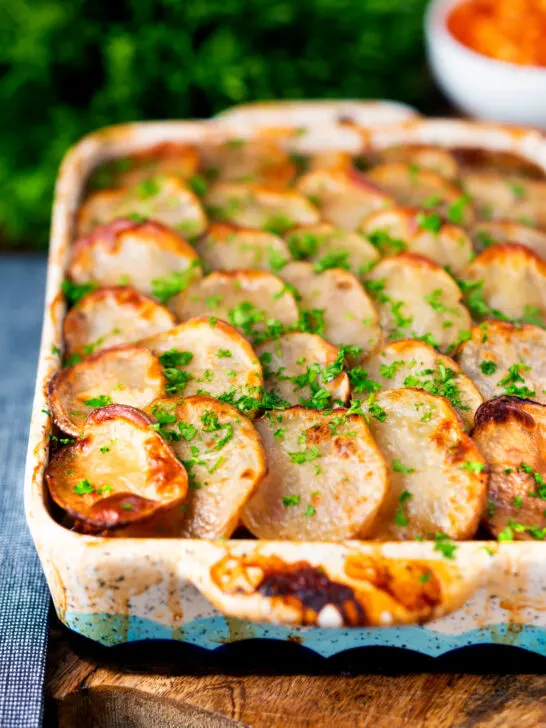 British Panackelty Potato Bake
Like so many regional British recipes my take on a panacalty is a dish that has a multitude of names!
It is also known as panakelty, panaculty and even pannack, if you head down toward the Humber you will find panaggie and in Northumberland, the pan haggerty which adds cheese.
It is essentially a corned beef and potato bake, and unsurprisingly in some places it is called a corned beef tatty pot.
Layers of potatoes are combined with layers of corned beef, carrots and cooked bacon and onions.
Then beef stock is poured in and the whole thing is cooked in the oven until it is all bubbly and cooked through. It is pure comfort food stodge and it tastes amazing!
Tinned corned beef has started to appear here quite regularly since my return to the UK. It holds so many food memories from my childhood and I love exploring them.
This recipe joins other "classics" like corned beef and potato pie, corned beef hash and a corned beef and baked bean stew.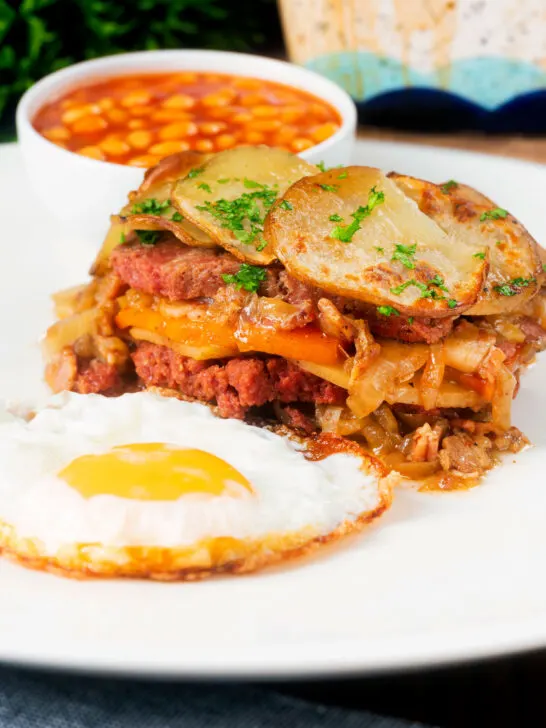 Frequently Asked Questions
Can I make this in advance?
Yes, this is one of the rare recipes that I always make with leftovers in mind too because it is awesome for breakfast.

You can layer up the dish cover it with foil and then just pour in the beef stock mix when you are ready to cook.
Or you can cook it, chill it and then just reheat it in the oven when you are ready. It will be fine in the fridge for 2-3 days.
Why do you over-dilute the stock cubes?
I like to add a little marmite to my beef stock to ramp up the umami flavours in the dish.

But as we have lots of salty elements like the bacon and corned beef the dish rapidly becomes too salty. Adding extra water to the recommended stock dilution reduces the chances of this happening.

If you are not using OXO cubes make up your stock but add around a third more water than it recommends.
Does the type of potato matter?
I think that this recipe is much better made with a floury potato like a Maris Piper or King Edwards, or a Russet if you are in the US.

You could use a medium potato like a standard yellow baking potato or Desiree red potato too. But it is best to avoid waxy salad potatoes.
Is a mandolin really worth it?
I personally think so yes! They reduce preparation time in a dish like this considerably but they also provide exactly the same thickness of vegetable every time.

Just be careful to use the safety guide, they can mangle fingers just as easily as they do vegetables.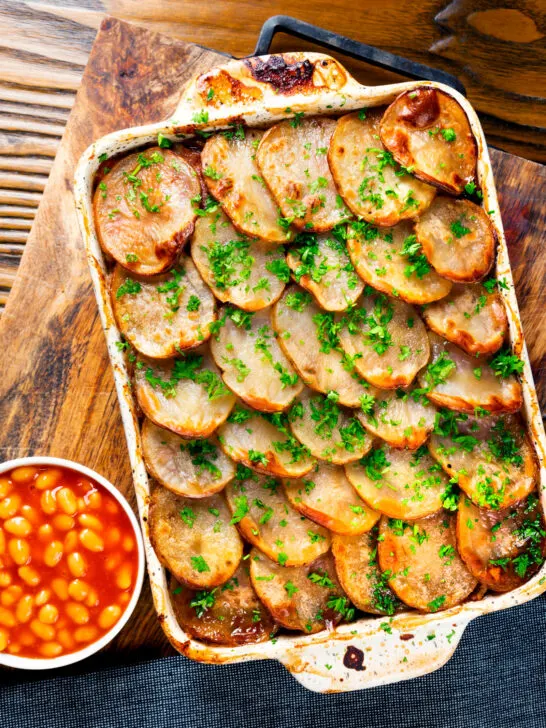 Serving Suggestions
This panacalty recipe is a hearty old dish and needs very little as a side dish.
I love to add a fried egg, especially if I am serving leftovers for breakfast.
Baked beans may seem like an odd combination, but my inner child comes out with food like this and I love the combination. If you are visiting from the US and this British-style baked bean recipe will get you pretty close.
Another option is to double down on the carbs! Add some crusty bread, it is great for mopping up the juices.
I'd usually get a crusty loaf from the shop but if you are a baker knock up a quick soda bread, it is superb!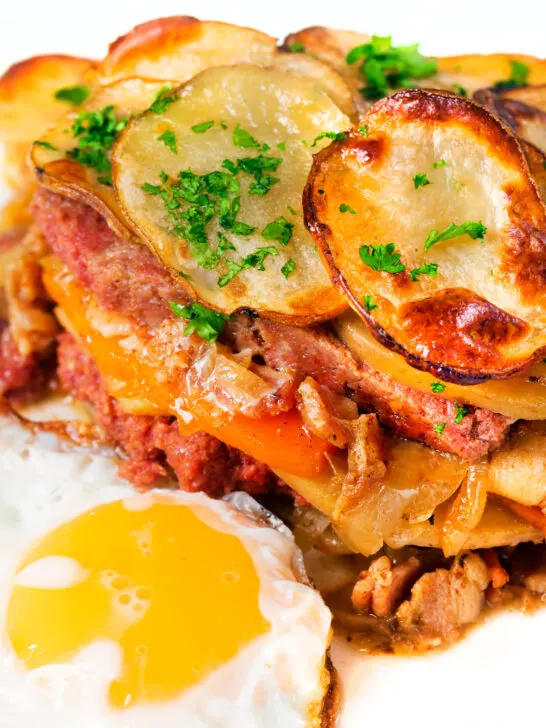 Equipment Used
I only name-check brands of equipment if I think they make a material difference to a recipe. If you have any questions feel free to ask them in the comments section below the recipe.
Stovetop.
Oven.
Kitchen knife.
Chopping board.
Mandolin, this is optional but it really speeds up the preparation.
Weighing scales and or measuring cups and spoons.
30cm or 12″ frying pan, not nonstick if possible.
20cm by 15cm or 8″ by 6″ baking or casserole dish.
Kitchen foil.
Stirring and serving spoons.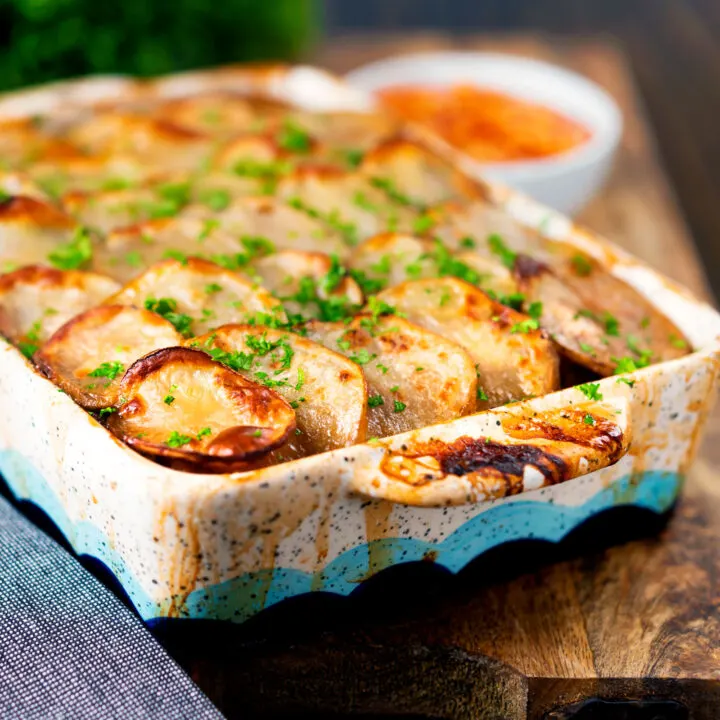 Yield:

4 Servings
Panacalty Recipe a Corned Beef and Potato Bake
Cook Time:
2 hours
20 minutes
Total Time:
2 hours
25 minutes
This panacalty recipe is my take on a dish popular across the North East of England, it is a layered bake of potatoes, corned beef with bacon, onions and carrots all cooked in beef stock enriched with marmite.
Ingredients
300g (11oz) Smoked Streaky Bacon
400g (3 Medium) Onions
500g (18oz) Floury Potatoes
250g (2 Large) Carrots
340g (12oz) Tin of Corned Beef
1 Tbsp Cooking Oil to Grease the baking dish.
½ Tsp Black Pepper
2 Beef OXO Cubes (You can use other stock cubes see FAQ section)
1 Tbsp Marmite
35g (2 Tbsp) Butter
Instructions
Heat a 30cm or 12" frying pan (not nonstick if possible) over a medium heat.
Cut the bacon into 1cm (½") thick strips across the rasher and add them to the frying pan cooking until it begins to crisp up and render out the fat. Stir regularly, this will take around 10-12 minutes.
Cut the ends of the onions and peel them, then slice them into 3-4mm (⅛") thick rounds, a mandolin really speeds up this process.
Add the onions to the bacon and cook until softened, again stir regularly, this will take another 10 minutes. As moisture is released from the onions it will allow you to scrape off the bacon residue from the base of the pan, this adds loads of flavour!
Cut the potatoes into 3-4mm thick slices, again this is much quicker with a mandolin.
Cut the carrots into ribbons the same thickness as the potatoes and onions.
Slice the corned beef into 5mm thick strips.
Grease a 20cm by 15cm (8" by 6") baking or casserole dish with a neutral cooking oil or butter.
Add a layer of potatoes in the base of the baking dish, season with pepper, then add some sliced carrot, half of the fried bacon and onion mix and a layer of corned beef.
Repeat with another layer and then finish with a final layer of sliced potatoes.
Mix the OXO cubes with 500ml (2 cups) of boiling water, this is less than the recommended dilution, then stir in the marmite until it has dissolved.
Carefully pour the stock into the casserole dish until it is full, this should take almost all of the liquid.
Wrap tightly in tin foil and place in the oven at 170°C or 340°F for 90 minutes.
Remove the baking dish form the oven and flip it to fan mode and increase the temperature to 200°C or 400°F.
Remove the foil from the dish, dot the top layer of potatoes with the butter and then return to the oven for 20-25 minutes to crisp up the top layer of potatoes.
Allow the casserole to sit for 5-10 minutes before serving.
Nutrition Information:
Yield:
4
Serving Size:
1
Amount Per Serving:
Calories:

744
Total Fat:

53g
Saturated Fat:

19g
Trans Fat:

0g
Unsaturated Fat:

30g
Cholesterol:

176mg
Sodium:

2487mg
Carbohydrates:

19g
Fiber:

3g
Sugar:

8g
Protein:

46g
Calorific details are provided by a third-party application and are to be used as indicative figures only.