Corned beef stew with baked beans and potatoes, a gloriously easy & fun throwback frugal dinner that fills me with childhood memories.
Using canned bully beef and a good old tin of baked beans makes this simple stew or soup a real quick dinner, coming in at a shade over 30 minutes!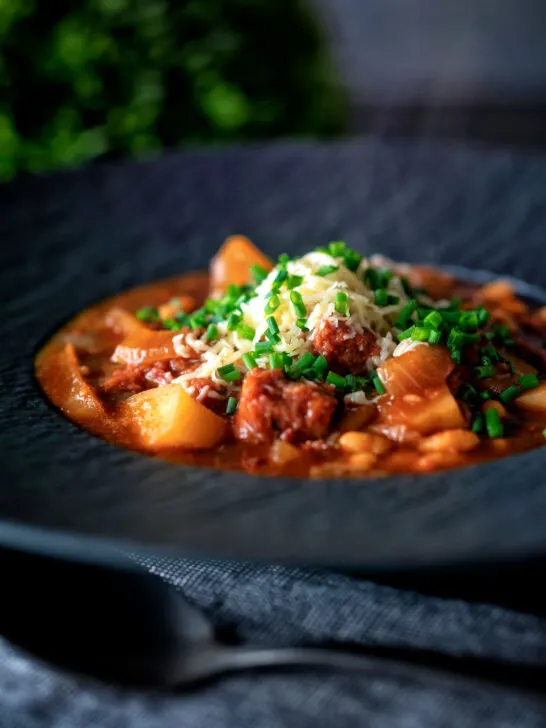 Canned Bully Beef Stew
I love this corned beef stew, it is a real fun dish that is a throwback to my childhood!
As odd as it sounds this dish, made with very "unfoodie" ingredients is a bit of a celebration dish for us.
My wife was diagnosed with cancer back in 2021 and recently she had the tumour removed and a stoma reversal. It's all great news and it was a wonderful Christmas present.
A consequence of that is that a lot of food that was once off the menu is now firmly back on it.
Baked beans are one of them and this recipe is me filling a request for me to cook her a baked bean dinner. We enjoyed it so much it is rocking a page on my site!
Corned beef has appeared here a few times in the guise of a corned beef and potato pie, panacalty and of course a corned beef hash!
It joins other childhood memory dishes like spam fritters, mince and dumplings and my favourite cheese and potato pie!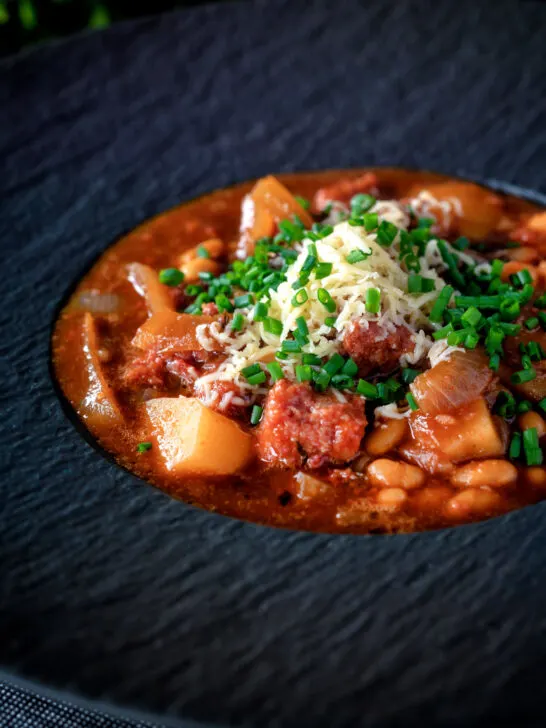 Frequently Asked Questions
Does the type of potato matter?
Not really, but I do prefer a floury potato for this recipe because the starch helps thicken the stew a little.

But you could use waxy new potatoes without a problem. You could even use tinned potatoes to make this an insanely low-maintenance tea!
Can I cook this in a slow cooker?
In theory yes but I personally would not bother!

The beans and the corned beef really do not need cooking but just heating through. As a result, a long slow cook in the crockpot is seriously OTT to braise the potatoes in stock.
Is there a substitute for tinned corned beef?
No, not really, tinned corned beef is a really unique product.

I did however test this recipe with spam and it works wonderfully, but it is better to swap out the beef stock for chicken stock.
Why do you add the corned beef right at the end?
Corned beef is really fragile when cooked and I wanted to keep large chunks in the stew.

So it goes in right at the end to prevent it from breaking down into a mush.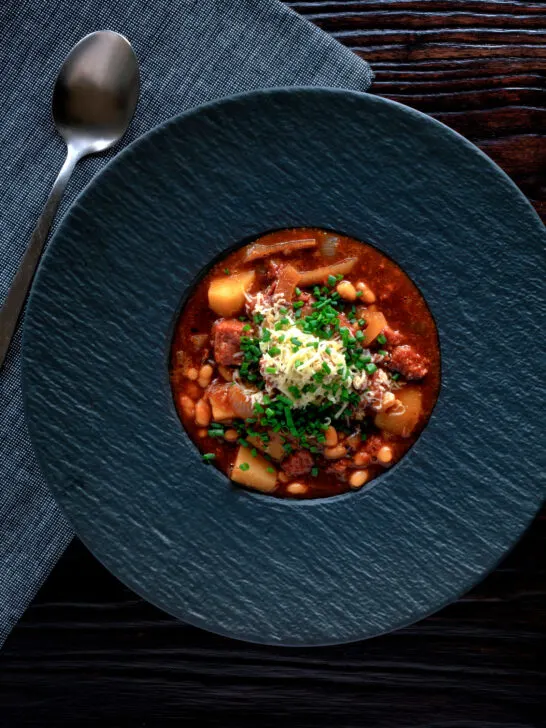 Serving Suggestions
This corned beef stew or soup is a simple one-bowl dinner but it does beg for a bit of bread!
It is fab with some grilled ciabatta or slices of focaccia.
But it really comes into its own with a bit of garlic baguette or cheesy garlic bread!
I also like to top it with some grated mature cheddar cheese and some snipped chives.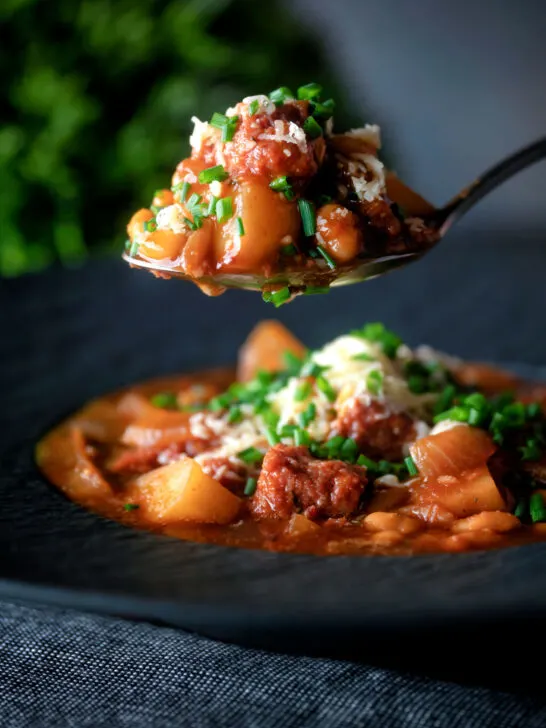 Equipment Used
I only mention brands of equipment if I think that they make a material difference to a recipe. If you have any questions feel free to ask them in the comments section below the recipe.
Stovetop.
20cm or 8″ saucepan.
Weighing scales and or measuring cups and spoons.
Chopping board.
Kitchen knife.
Vegetable peeler.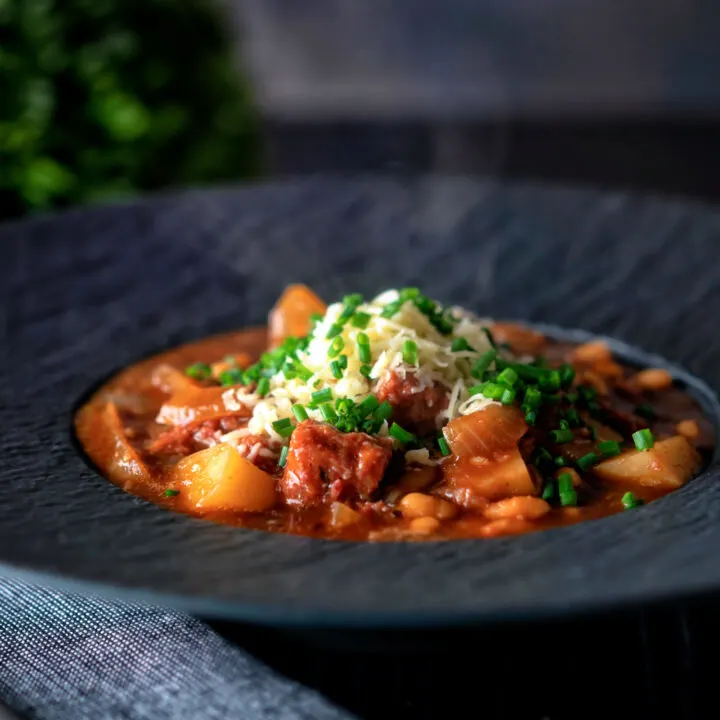 Yield:

2 Servings
Corned Beef Stew Recipe
This easy corned beef stew is a bit of British retro fun food and features canned bully beef, tinned baked beans and Worcestershire sauce... cooking in a little over 30 minutes makes it a super quick meal too.
Ingredients
150g (1 Cup) Onion
1 Tbsp Vegetable Oil
350g (2-2¼ Cups) Potatoes
2 Tbsp Worcestershire Sauce
375ml (1½ Cups) Beef Stock
1 Tsp Garlic Salt
1 Tsp Smoked Paprika
½ Tsp Dried Thyme
400g (14oz) Tin Baked Beans
200g (7oz) Corned Beef
Instructions
Cut the onion in half and peel it, then cut it into 5mm (¼") thick slices.
Heat a medium (20cm or 8") saucepan over a medium-high heat and add the oil.
Throw in the sliced onions and cook for 8-10 minutes stirring regularly.
Peel the potatoes and cut them into a 1-1.5cm (½-¾") dice.
When the onions have softened for 8-10 minutes, add the potatoes, smoked paprika, garlic salt and dried thyme and stir.
Pour in the Worcestershire sauce and beef stock, add a lid and simmer for 15-20 minutes or until the potatoes are cooked.
Whilst the potatoes are cooking open the corned beef and cut it into a 1cm (½") dice.
Remove the lid, add the beans, mix and heat for 2-3 minutes or until hot.
Add the corned beef and heat for 2 minutes stirring gently so as not to break up the corned beef too much.
Serve topped with grated cheese and chives.
Nutrition Information:
Yield:
2
Serving Size:
1
Amount Per Serving:
Calories:

738
Total Fat:

27g
Saturated Fat:

7g
Trans Fat:

0g
Unsaturated Fat:

17g
Cholesterol:

98mg
Sodium:

2223mg
Carbohydrates:

94g
Fiber:

13g
Sugar:

24g
Protein:

37g
Calorific details are provided by a third-party application and are to be used as indicative figures only.