Canned corned beef hash, a trip down memory lane for Brits of my age, I like to fry mine in beef dripping and add Worcestershire sauce.
Cooking this dish could not be easier, parboil the potatoes, throw everything into a pan and fry them up together, and it is all done and dusted in around 30 minutes.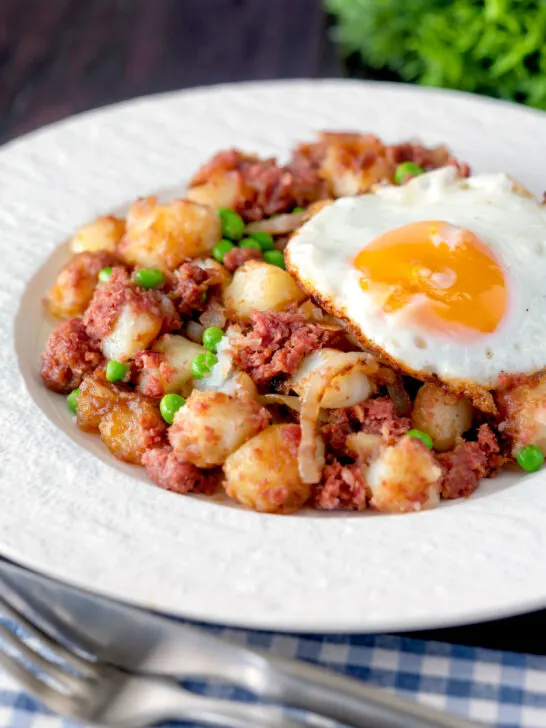 Fried Bully Beef Hash
Growing up canned corned beef hash was never far from away from being the next meal. It was tasty, cheap and hearty which ticked all of the boxes for my family.
Now there are some folk that turn up their nose to "cheap" products of yesteryear, but for me, nostalgia trumps that every time!
This recipe joins other childhood favourite dishes like cheese and potato pie, spam fritters, fish finger pie, corned beef stew, panacalty and corned beef and potato pie.
This was hands down one of my favourites as a nipper. I have changed up the dish a little bit, by turning up the flavour with some anchovies and Worcestershire sauce.
The anchovies add a big whack of umami and not a hint of fishiness, they are an ingredient that I add to a lot of recipes!
Finally, I always fry my potatoes and onions in beef dripping because it adds a wonderful crispness and flavour to the dish.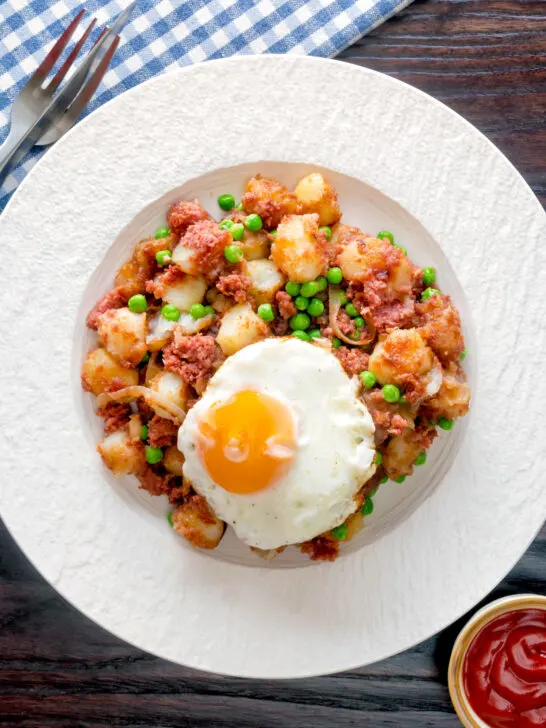 Frequently Asked Questions
Does the type of potatoes matter?
Yes and no, this will work with any old potatoes, I favour a medium potato. If you go too floury or mealy then the potatoes will tend to err towards mash, too waxy and they will not break down at all.
Can I use leftover potatoes?
Absolutely if you have some leftover boiled potatoes knock yourself out, they will need cooking a little less! Just give them fry until they colour up.

If you have leftover roast potatoes… A) what's wrong with you and B) use them instead!
What is canned corned beef?
A question often asked by US based readers. What you guys refer to as corned beef is commonly known here as salt beef.

Canned corned beef or bully beef is a curious product that hails from the UK but is most often produced in South America and it is perfect for making hash.

It is minced or ground beef that is cured and canned, and it is very much a love-it or hate-it product!
Do I have to use anchovies?
Nope, but I would urge you to give it a try, it ramps up the whole umami flavour of the dish. Let's face it you are already adding them in the form of the Worcestershire sauce.
Can I use oil instead of beef dripping?
Yes, of course, although you will not get the same flavour from the potatoes.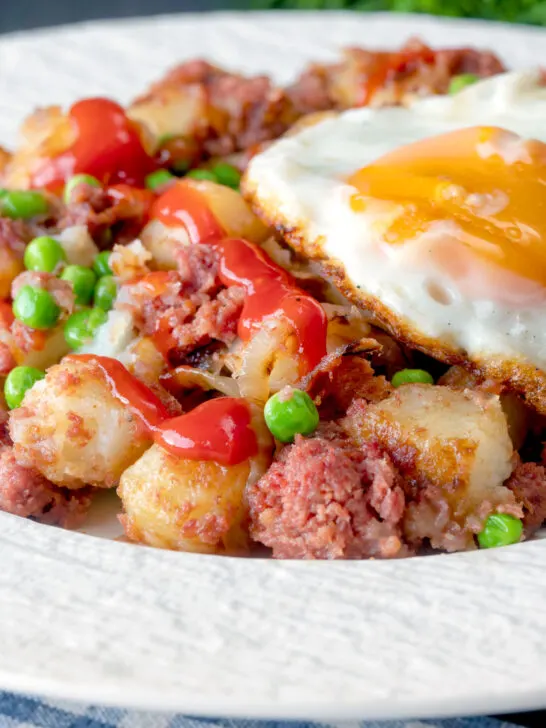 Serving Suggestions
The only thing that this canned corned beef hash needs is a fried egg and some tomato ketchup.
A nice poached egg is a great alternative to a fried egg, although, despite the pages written about the perfect poached egg, the most important thing is having fresh eggs.
If your eggs are not fresh then it is not worth trying in my opinion!
I personally like the little explosions of sweetness that peas bring to this recipe.
However, I know there will be folk out there clamouring for baked beans, knock yourself out. There are no "rights and wrongs" in your kitchen!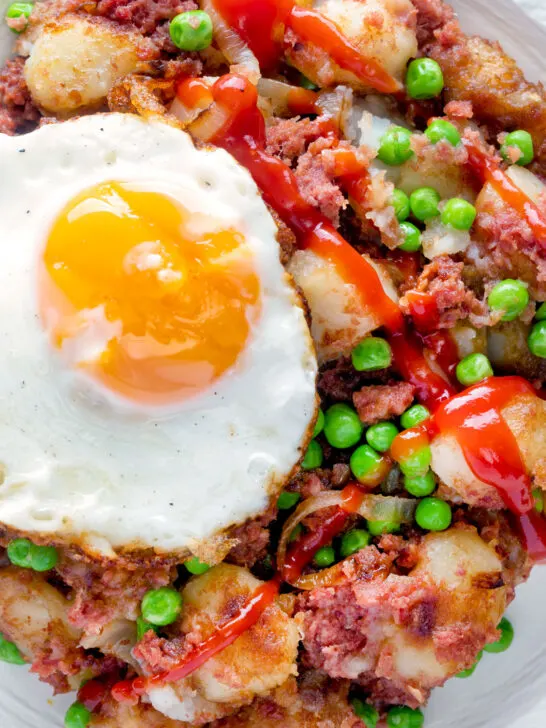 Equipment Used
I do not usually recommend specific brands of equipment unless I think that it makes a material difference to a recipe. If you have any questions feel free to ask them in the comments section below the recipe.
Stovetop.
28cm or 11″ nonstick frying pan.
24 cm or 9½-10″ nonstick frying pan to fry the eggs.
18-20cm or 7-8″ saucepan.
Sharp kitchen knife.
Chopping board.
Weighing scales and or measuring cups and spoons.
Sieve or colander.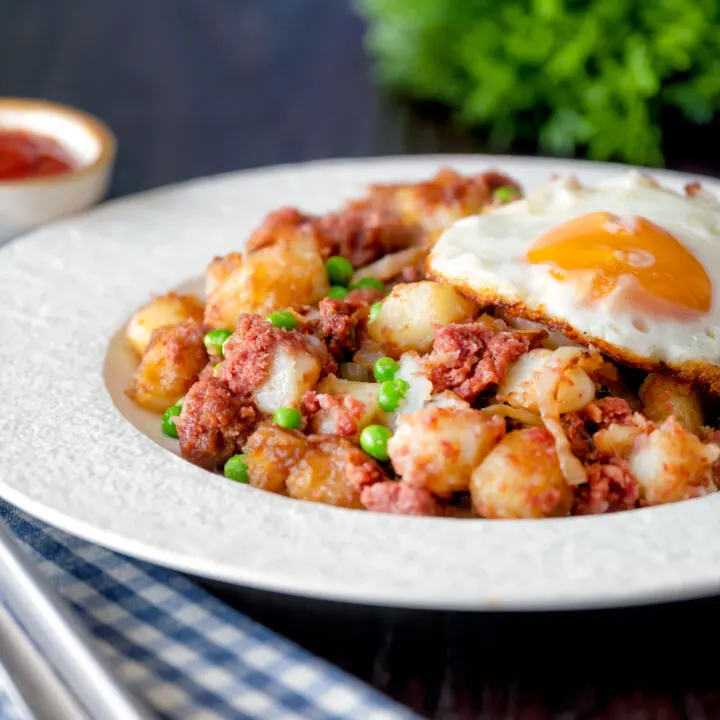 Yield:

2 Servings
Canned Corned Beef Hash Recipe
Food nostalgia is just as important as hunting out the new and the bold, this canned corned beef hash recipe is my take on such an evocative dish from my childhood and I love it!
Ingredients
400g (~2½ Cups) Potatoes
200g (7oz) Can Corned Beef
75g (½ Cup) Onion
100g (⅔ Cup) Peas
4 Anchovies
2 Tbsp Worcestershire Sauce
15g (1 Tbsp) Beef Dripping
2 Eggs
Oil for Frying Eggs
Instructions
Peel and cut the potatoes into a 1.5-2cm dice.
Bring a medium (18-20cm or 7-8") saucepan of well-salted water (1 Teaspoon and a bit of dalt) to a boil and when it is boiling par boil the diced potatoes for 7-8 minutes. When cooked drain the potatoes and allow the to steam dry for 4-5 minutes.
Cut the onion in half, then peel it and cut it into 4-5mm thick half moon shapes.
If you are using frozen peas defrost them under running water for 3-4 minutes
Finely chop the anchovies.
Cut the corned beef into a 1cm cube.
Heat a 28cm (11") non-stick frying pan or skillet over a medium high heat and when it is hot add the beef dripping.
Add the sliced onion and anchovies and cook to soften the onions for 3-5 minutes.
Turn the heat up to high and add the potatoes and fry for 5-7 minutes or until golden.
Add the corned beef and cook for 2 minutes, tossing occasionally.
As soon as the corned beef goes into the pan, it is time to fry the eggs, I use a 24cm or 10" nonstick frying pan.
Add the peas and Worcestershire sauce and cook for a final 60-90 seconds.
Nutrition Information:
Yield:
2
Serving Size:
1
Amount Per Serving:
Calories:

616
Total Fat:

26g
Saturated Fat:

9g
Trans Fat:

0g
Unsaturated Fat:

14g
Cholesterol:

297mg
Sodium:

1530mg
Carbohydrates:

58g
Fiber:

8g
Sugar:

9g
Protein:

37g
Calorific details are provided by a third-party application and are to be used as indicative figures only.