Corned beef and potato pie, these individual shortcrust pastry pies get a generous shake of Worcestershire sauce and taste of my childhood!
Whether you use store-bought pastry or make my beef dripping shortcrust pastry is up to you but these hearty pies as pure food nostalgia.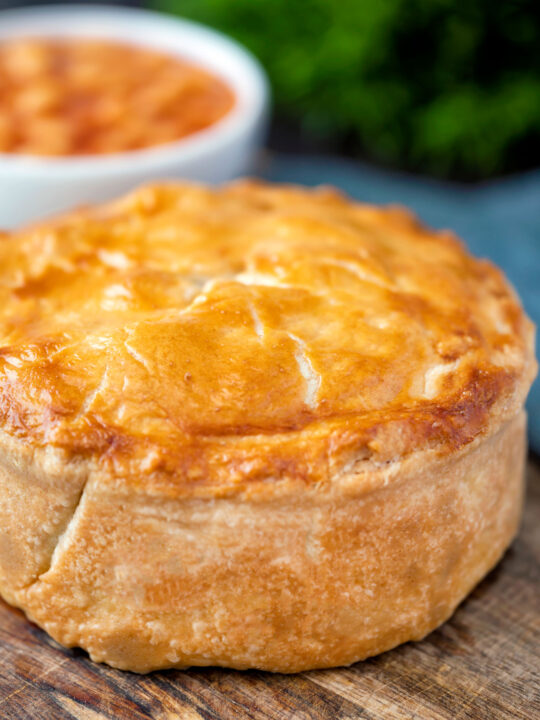 British Bully Beef Pie!
Us Brits are far more than roast beef and fish and chips.
Pies, and in particular savoury pies are just one part of rich and colourful food tapestry of the UK.
Everything from the Cornish pasty from the 13th Century and Scotch pie from the 16th Century, to rabbit pie which gained particular popularity during WWII due to the lack of rationing are part of a wonderful spectrum of pastry wrapped treats.
This corned beef and potato pie features an ingredient that many a foodie would turn their nose up at.
Tinned corned beef or bully beef, it is finely minced beef salted and pressed in gelatine.
It dates back to the 18th century and was one of my favourite things to have on a sandwich growing up. Obviously not in the 18th century of course!
My Mom would also use it to make corned beef hash which was as much of a joyous favourite growing up.
In a nod to that dish, these bully beef pies also contain a liberal sprinkling of Worcestershire sauce.
If you are looking to explore more foodie nostalgia then you must check out my spam fritters and savoury minced beef recipes!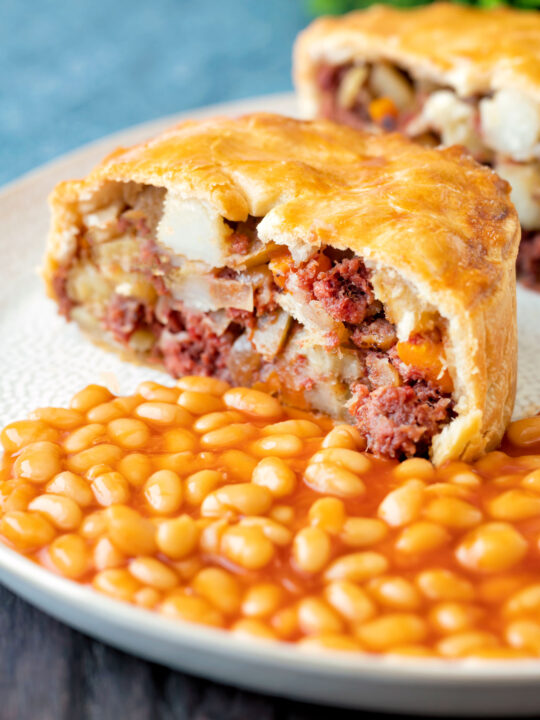 Frequently Asked Questions
Is there are alternative to Corned Beef?
Nope… I'm afraid you are gonna have to order online if you are in a territory that does not have corned beef. There really is no substitute.
Can I make this pie in advance?
Yes and no. You could prepare the pie in advance and refrigerate. However, in my experience that leads to the dreaded "soggy bottom" of the pie.

If I wanted to reduce the load I would make the filling in advance and refrigerate, you can do this up to 2 or 3 days ahead of time.

Then I would make the pastry separately, or use store-bought pastry. Then build the pie just before cooking.
Is making my own pastry worth it?
Only you can tell me the answer to that question. I like making my own shortcrust pastry, a food processor makes it quick and pretty easy.

The flavour that the beef dripping adds to the pastry is simply stunning.
What is beef dripping?
It is the fat rendered from a cow in the same way that lard is pig fat and duck fat is… erm… from a duck. It is delicious and makes the very best chips!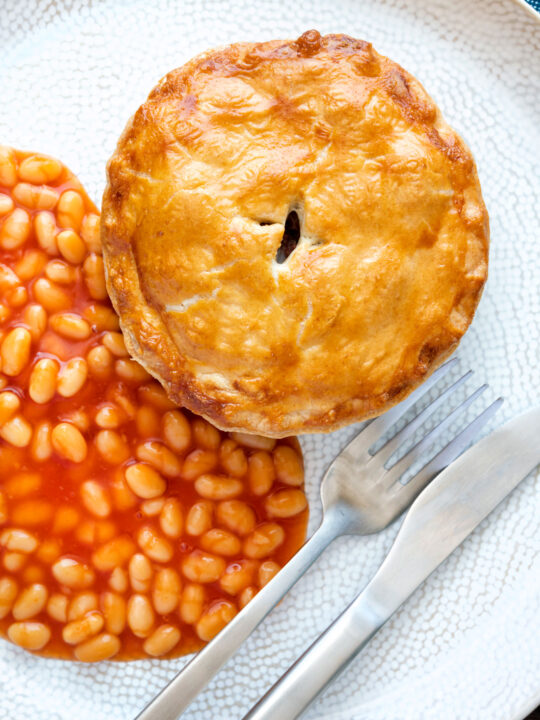 Serving Suggestions
For me, this corned beef and potato pie should be served with baked beans.
Now you could of course get all involved and make your own baked beans, but this dish is all about nostalgia for me and that calls for a tin of beans!
My wife disagrees and insists on peas and loads of tomato ketchup, but they are equally easy to knock up.
If I were adding peas then they would be mushy peas and there would be ketchup!
These individual pies are on the greedy guts size but fear not because leftovers are awesome for breakfast.
I serve it cold with a fried egg and more beans, although the ubiquitous ketchup is also an option.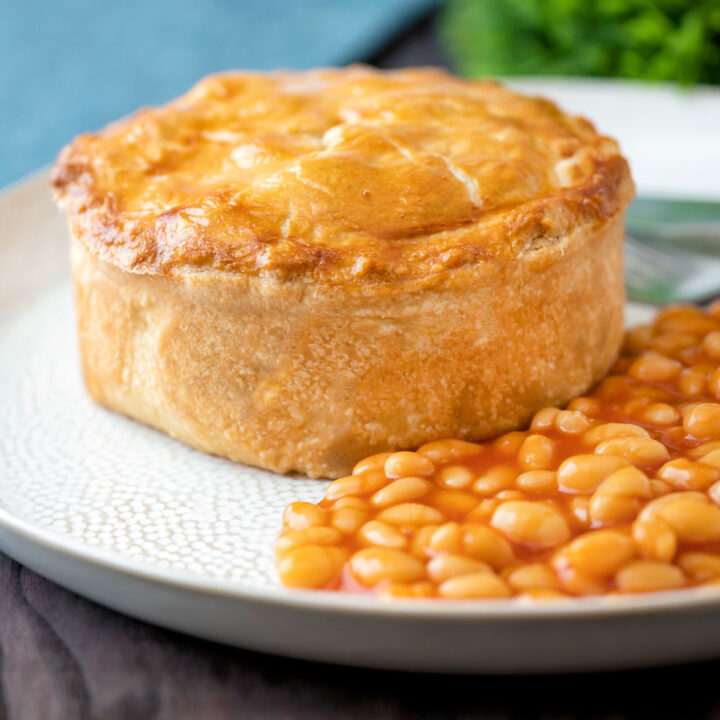 Yield:

2 Servings
Corned Beef and Potato Pie Recipe
Cook Time:
1 hour
20 minutes
Total Time:
1 hour
30 minutes
Old school British corned beef and potato pie, comfort food personified in individually presented shortcrust pastry wrapped pies, just add baked beans and you are done!
Ingredients
340g (12oz) Tin Corned Beef
250g (1⅔ Cup) Potatoes
100g (⅔ Cup) Onion
75g (½ Cup) Carrot
1 Tbsp Cooking Oil
2 Tbsp Worcestershire Sauce
1/2 Tsp Black Pepper
Salt to taste
250g Shortcrust Pastry
1 Beaten Egg
Homemade Beef Dripping Shortcrust Pastry
165g (1⅓ Cups) Flour
60g (4 Tbsp) Beef Dripping
20g (1 Tbsp + 1 Tsp) Butter
~50ml (~3 Tbsp + 1 Tsp) Cold Water
1/2 Tsp Salt
Instructions
If you are using homemade pastry add the flour, salt, lard and butter to a food mixer and bring together.
Pour the water for the pastry into the mixer little by little until it forms a ball.
Remove the pastry and wrap it in cling film and chill for at least 3 hours.
Bring a medium pan (20cm) of water to a boil and season generously with salt (1 teaspoon at least).
Cut the potatoes into a 1cm dice and parboil for 10 minutes.
Cut the corned beef into a 1cm dice.
Peel and cut the carrot into a 1cm dice.
Heat a frying pan over a high heat and when it is hot add the oil.
Fry the onion and carrots over a high heat for 5-7 minutes until they begin to colour.
Add the parboiled potatoes and fry for another 5 minutes.
Remove from the heat and stir through the corned beef and Worcestershire sauce.
Remove the pastry from the fridge and cut it into half and then cut each half into ⅔ and ⅓ pieces.
Place the pastry that you are not using in the fridge.
Lightly flour your work surface and roll the larger piece of pastry out so that it is roughly a 20cm (8") circle and around 3mm thick.
Gently line a 10cm or 4" pie dish that is 4-5cm (around 1¾" or 2") deep with this pastry ensuring you have plenty overlapping the sides.
Repeat with the second pie.
Spoon in half of the corned beef mixture into each pastry lined tin.
Roll the remaining two pieces of pastry into a round shape large enough to seal the pie.
Use your finger to run a little water around the edge of the pie dish and then add the lid using either a finger or a fork to crimp the pie shut.
Brush each pie with a little beaten egg and then cut a small cross in the centre of the upper crust.
Finally, place in a hot oven at 200°C or 400°F and cook until nicely golden brown which should take around 40-45 minutes.
Notes
Timings assume store-bought shortcrust pastry is used.
Nutrition Information:
Yield:
2
Serving Size:
1
Amount Per Serving:
Calories:

1221
Total Fat:

70g
Saturated Fat:

28g
Trans Fat:

0g
Unsaturated Fat:

33g
Cholesterol:

335mg
Sodium:

2697mg
Carbohydrates:

99g
Fiber:

8g
Sugar:

28g
Protein:

48g
Calorific details are provided by a third-party application and are to be used as indicative figures only.