This rabbit pie features succulent pieces of rabbit with carrot and leeks in cider sauce featuring fennel seeds under a suet crust pastry.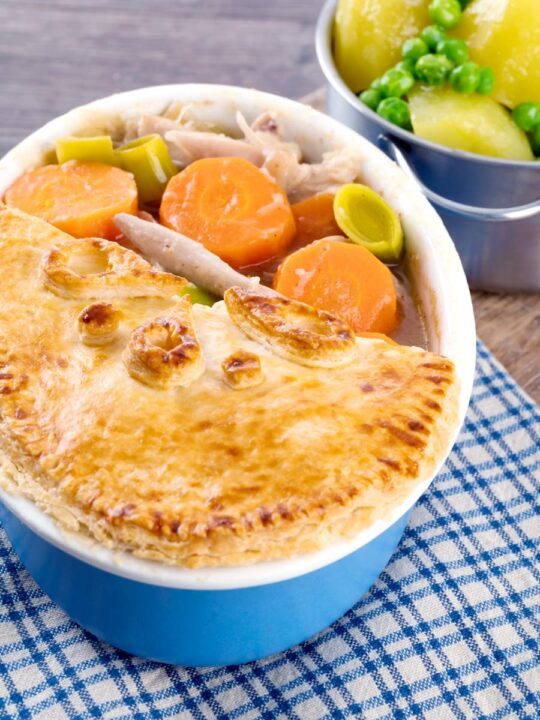 Traditional British or English Pies.
Us brits are kinda obsessed with wrapping things in pastry and have a proud history of pie making.
Whether it is a classic Cornish pasty or the more homely meat and potato pie or corned beef and potato pies we just cannot get enough.
This pretty traditional braised rabbit pie a stunning and easy segue into pie making.
There are some that say a pie is not a pie unless it has a pastry bottom too.
Those people are wrong! I'm a pluralist when it comes to food, I firmly believe that there is no room for polarisation when it comes to filling your belly!
So whether you want to have a pastry base like my cheese and onion pie or go pot pie approach like me beef and ale pie or this rabbit pot pie it is all good.
In this recipe we gently cook rabbit in a cider sauce with some chunky carrot and leeks.
Then add a suet crust pastry to seal the pie and cook it until golden. To my mind a suet crust pastry is the easiest of all pastries to make and it tastes fantastic.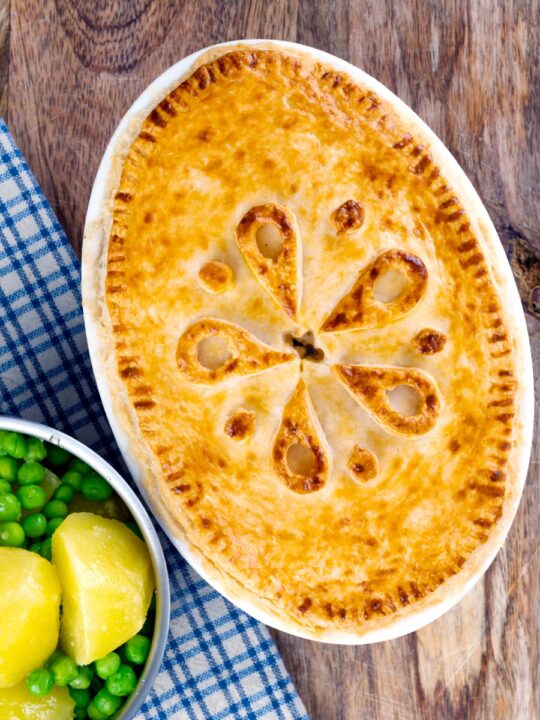 Frequently Asked Questions.
That sounds like a lot of meat is that right?
Yes, the rabbit is a bony beast and you will get enough meat for two from 500-600 grams of bone in rabbit meat.
What cut of rabbit should I get?
I aim to use a mix of cuts, they are readily available here. But you can get a whole rabbit and roughly cut it up.
The loin is delicious and succulent and the legs offer a stronger flavour and more texture.
What cider should I use?
This question is one often asked by my American-based readers. Cider to us Europeans is booze, so buy a dry hard cider, do not make this with what is branded as apple cider in the US.
After that use whatever you like, I always go for a bone-dry apple cider. But a dry perry (pear cider) would also be wonderful
Can I use store bought pastry?
Yes, I use suet pastry here as I love the texture and it is outrageously easy to make.
But feel free to use store bought puff or shortcrust pastry.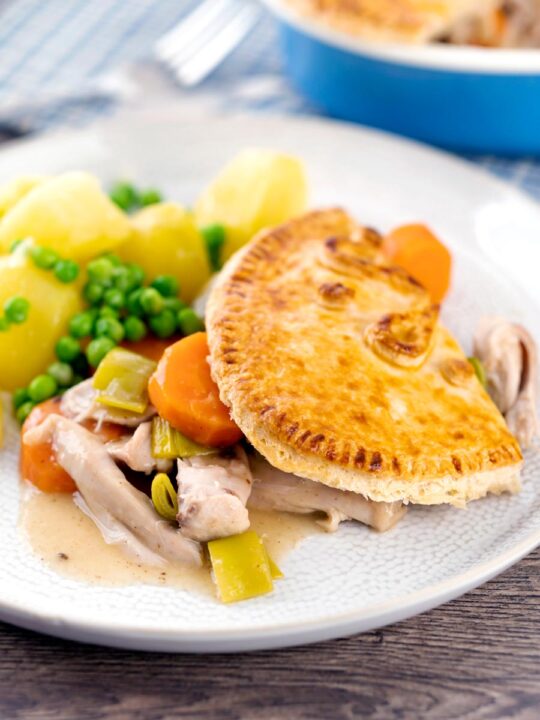 Serving Suggestions.
I love to serve this simple and easy pie with some equally simple boiled potatoes and peas.
But it would be equally good with this potato pave if you wanted to fancy it up a little.
Don't forget the greens though, my simple quick air fried asparagus would be great in spring.
Green beans are great from frozen which makes this green beans amandine a perfect addition throughout the year.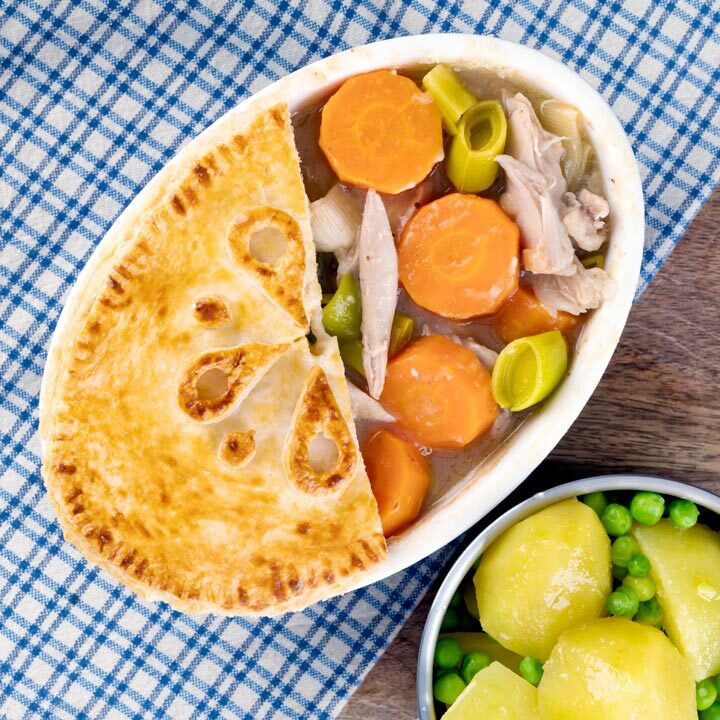 Yield:

2 Servings
Rabbit Pie Recipe
Cook Time:
1 hour
50 minutes
Total Time:
2 hours
30 minutes
This delicious savoury braised rabbit pie features succulent chunks of subtly flavoured rabbit wrapped in a silky cider sauce with leeks and carrots.
Ingredients
For the Filling:
600g (20 oz) Bone-in Rabbit Pieces
50g (3 Tbsp + 1 Tsp) Butter
1 Tbsp Cooking Oil
2 Tbsp Flour
1 Tsp Fennel Seeds
175g (3/4 Cup) Carrot
150g (3/4 Cup) Leek
330ml (1 1/3 Cup) Dry Cider
250ml (1 Cup) Chicken Stock
1 Tbsp Cornflour
Salt to Taste
For the Pastry:
100g (2/3 Cup) Flour
50g (1/3 Cup) Dried Suet
1/2 Tsp Salt
1/4 Tsp Baking Powder
3-5 Tbsp Water
1 Beaten Egg
Instructions
Peel and slice the carrots into 1.5 cm thick rings.
Cut the leek into 1.5cm thick rings.
Place the flour on a plate and season generously with salt.
Heat the oil and butter in a medium-sized pan over a medium high heat.
Dredge the rabbit pieces in flour and then brown all over in the butter mix.
When browned remove the rabbit and set aside.
Throw in the fennel seeds and the remaining flour and stir until it becomes a medium brown.
Pour in the cider slowly to start off with and stir to form a paste.
As once you have a smooth paste you can add the remaining cider and chicken stock stirring to form a lump free sauce.
Taste the sauce and add more salt as needed.
Return the rabbit, then add the sliced carrots and leeks, do not try and submerge them, keep them on top to steam gently.
Add a lid and reduce the heat to low and cook gently for 45 minutes.
After 45 minutes, turn off the heat remove the rabbit and vegetables.
Allow the rabbit to cool a little before breaking down into bit sized pieces.
Whilst the rabbit is cooling return the cooking liquid to a medium high heat.
Add a tablespoon or two of this liquid to the cornflour and stir to form a smooth paste.
Return this to the pan and stir until thickened, turn off the heat and cool.
Mix together the rabbit and vegetables and place in a 500-600ml pie dish and pour over the cooled sauce. You will have too much but save it for later, it freezes well!
Mix together the dry ingredients for the pastry and then slowly add the water using the back of a knife to bring it all together.
Once it has clumped together go in with your hands and knead to form a fairly smooth dough.
Roll out to 3-5mm thick.
Wet your finger and run it around the top of your pie dish and add the pastry.
Trim the excess and use a fork to push down the edges onto the pie dish.
Cut some shapes for decoration if you wish and add them to the pie.
Pierce the centre of the crust with a knife to create a whole.
Brush the pastry with the beaten egg.
Place in a 180°C 350°F oven for 35-40 minutes.
Nutrition Information:
Yield:
2
Serving Size:
1
Amount Per Serving:
Calories:

659
Total Fat:

37g
Saturated Fat:

13g
Trans Fat:

0g
Unsaturated Fat:

20g
Cholesterol:

235mg
Sodium:

860mg
Carbohydrates:

25g
Fiber:

1g
Sugar:

14g
Protein:

53g
Calorific details are provided by a third-party application and are to be used as indicative figures only.