Cheese and onion pie, a true British institution, my version adds potato & wholegrain mustard to sharp Cheddar and onions cooked two ways.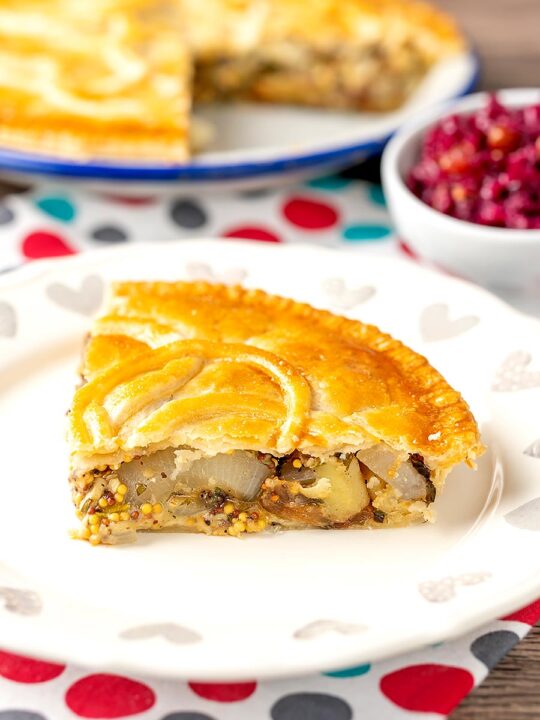 The Savoury Pie.
Growing up in the UK you just kind of assume that pies are savoury. Of course we have sweet pies but hands down the most common pies are stuffed with savoury goodness.
This plate pie follows hot on the heels of my meat and potato pie and I have offerings as diverse as corned beef pie, lamb Scotch pie to rabbit pie.
They share the same form, being cooked on a 22cm or 9″ enamel plate from the "I" place.
This recipe is stonkingly good!
It features two types of onions, some deeply caramelised and then some just "steamed" in the pie.
It is rounded out with just a few potatoes and then lots of glorious whole grain mustard.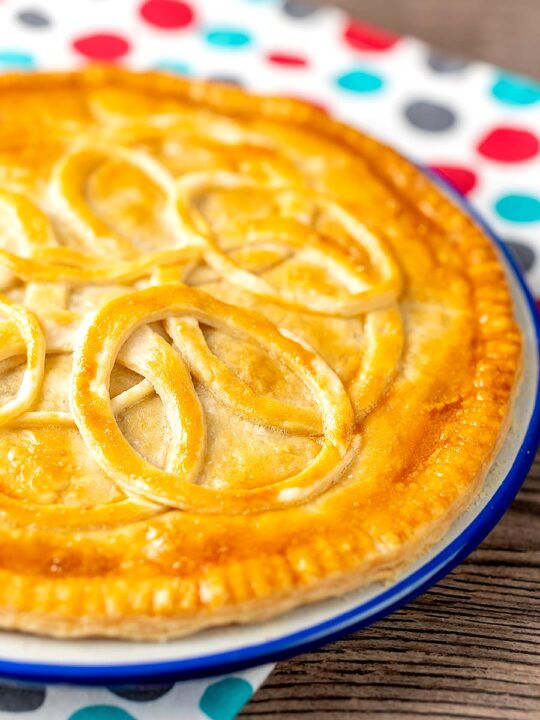 The Shortcrust Pastry.
Shortcrust pastry is impossible to buy here and in the kitchen, pastry is my nemesis!
I hate making it, my kitchen is either far too cold or far too hot.
As a result, I rely on kit to make my foolproof shortcrust pastry. The secret is to not touch it with your hands if you can help it!
Keep everything cold and work as quickly as you can.
There are some that claim that if you pastry has not been lovingly made with hands that you have chilled with dry ice then you ain't a cook.
I have words for those people and those words you would not share with your gran, your priest or your kids!
This pastry sees me just fine! I use it on everything from my traditional Cornish pasties to my pork and apple sausage rolls.
If you can buy shortcrust pastry, go ahead, I would! Do not be tempted to make this homemade cheese and onion pie with puff pastry, it just ain't right.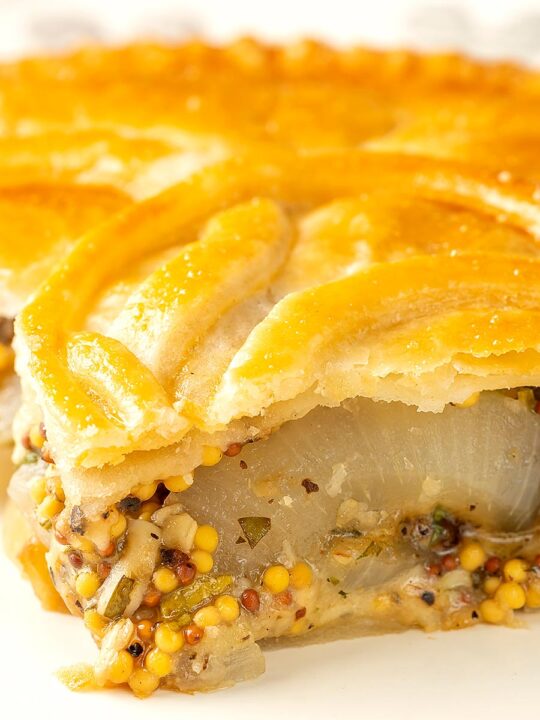 Serving Suggestions.
This pie can be served both hot and at room temperature but you do need to let it sit for 20 minutes before slicing.
This patience will stop the filling of the pie pouring out into the plate when you slice it.
As a kid growing up my Mom would have served cheese and onion pie with baked beans and I would have licked the plate clean!
But I am older now and more grown up apparently and prefer this served at room temperature.
It is stunning to take on a picnic and it works well with everything from my apple chutney to my red cabbage chutney.
Add a nice simple garden salad on the side and you have my idea of food perfection.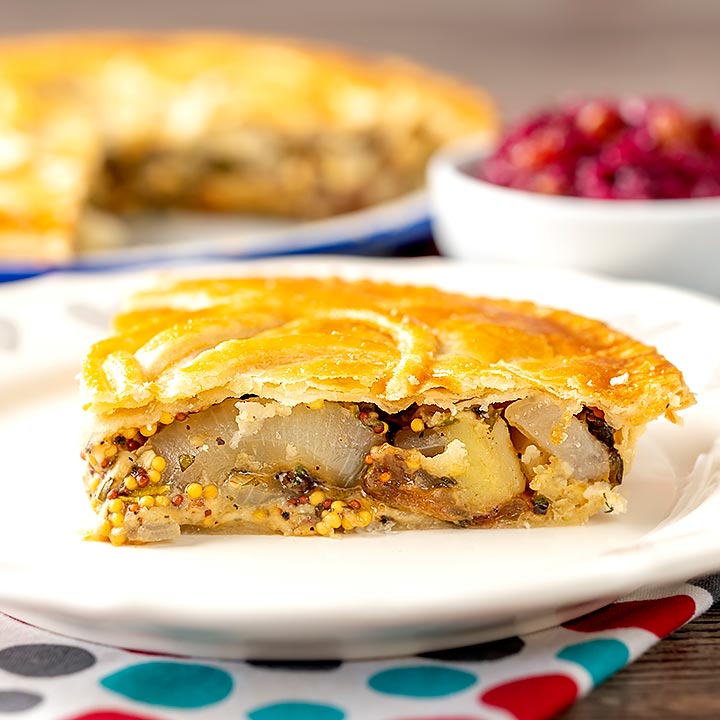 Yield:

4 Servings
Cheese and Onion Pie Recipe
Cook Time:
1 hour
50 minutes
Total Time:
2 hours
10 minutes
Cheese, potato and onion pie, a true British classic, great as the centre of an evening meal or sliced and packed into a lunchbox or picnic!
Ingredients
For the Pastry:
200 g (1 3/4 Cups + 2 Tbsp) Flour
50 g (3 Tbsp + 1 Tsp) Lard
50 g (3 Tbsp + 1 Tsp) Butter
3-4 Tbsp Water
Pinch of Salt
1 Egg
For the Filling
350 g (2 1/3 Cup) Onions
100 g (3/4 Cup) Floury Potatoes
1 Tbsp Cooking Oil
100 g (1 Cup) Sharp Cheddar Cheese
1 Tbsp Wholegrain Mustard
15 g (1/4 Cup) Chopped Parsley
1 Tsp Black Pepper
Instructions
Add the flour and salt to the bowl of a food processor.
Dice in the cold lard and butter.
Pulse to form a breadcrumb texture.
Add the water to the pastry pulsing until it just comes together.
Turn out onto a lightly floured surface and just bring together to form a ball.
Wrap with cling film and place in the fridge for an hour.
Peel and slice the onions into 5mm thick half moon shapes.
Heat a pan over a medium low heat and add the cooking oil.
Add half of the sliced onions and allow them to caramalise for 45-60 minutes stirring occasionally, then cool.
Bring a separate pan of water to the boil.
Peel and cut the potatoes into a 7-10mm dice.
Add a good pinch of salt to the water and throw in the potatoes.
Boil for 10 minutes before draining and cooling.
Grate the cheese and place in a bowl and when cooled add the remaining ingredients for the filling.
Mix well and set aside.
Take just over half of the pastry and roll out until 2-3mm thick and large enough to fit your pie plate.
Dust the plate lightly with flour.
Add the pastry to the pie gently pushing into the shape of the pie.
Add the pie filling then roll out the remaining pastry to the same thickness.
Use a finger to apply a ring of water round the exposed pastry on the bottom of the pie.
Add the lid, then use the prongs of a fork to seal.
Add any decoration and then brush with beaten egg.
Bake in the oven at 180°C or 350°F for 45-50 minutes.
Allow to cool for at least 20 minutes before cutting.
Nutrition Information:
Yield:
4
Serving Size:
1
Amount Per Serving:
Calories:

602
Total Fat:

37g
Saturated Fat:

17g
Trans Fat:

1g
Unsaturated Fat:

17g
Cholesterol:

110mg
Sodium:

344mg
Carbohydrates:

54g
Fiber:

4g
Sugar:

5g
Protein:

15g