Cheese and onion pasty stuffed with sharp cheddar, potato, shredded onions & a big dollop of Branston pickle in a golden shortcrust pastry.
I have included a wonderful homemade shortcrust pastry recipe but you can use store-bought pastry to make great pasties too.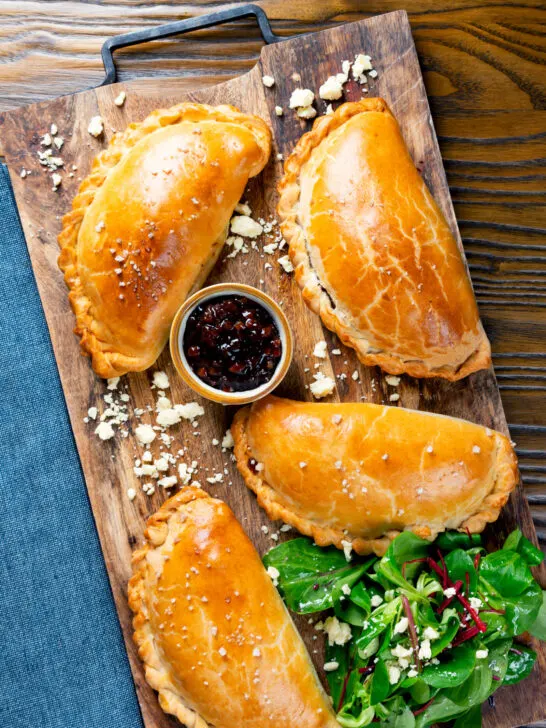 Homemade Cheese and Onion Pasties
Here we go with more pies, us Brits love a good savoury pie and my website is littered with them.
I have everything from corned beef and potato pies, to an old school meat and potato plate pie and even rabbit pie.
Of course, the most well-known pasty is the good old Traditional Cornish pasty, a dish that dates back some 800-900 years!
Cheese and onion as a filling for pasties are arguably most well known as a veggie option from Greggs, the ubiquitous high street bakers.
This ain't that pie! There ain't nothing wrong with them, but if I am cooking at home I want something infinitely more interesting.
Out goes the puff pastry, as far as I am concerned it it ain't shortcrust, pastry it ain't a pasty… although I note that Greggs no longer calls them a pasty. I honestly can't remember if they ever did.
Then the biggest addition, a big dollop of Branston pickle… other sandwich pickles are available of course!
It is the perfect sweet-and-sour addition to the sharp cheddar cheese and shredded onion in this pasty.
And yes, they take a while to make, but we are all worth that little bit of extra effort every now and then.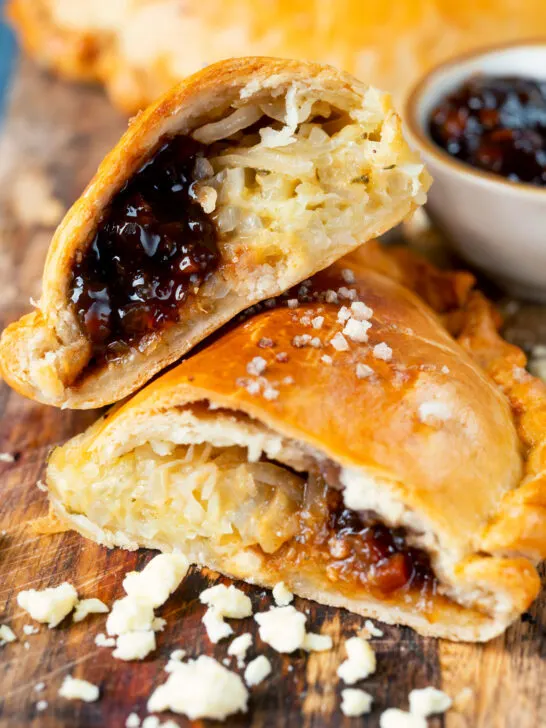 Frequently Asked Questions
Can I make these in advance?
Absolutely, they are wonderful eaten cold, but are also simple to reheat.

You could drop them in a moderate oven (170° or 340°F) for 20 minutes. But my preferred method is to drop them in an air fryer at 160°C or 320°F for 12-15 minutes because it saves on energy!
Can I use other types of pickle?
Yes, throw in whatever takes your fancy. It is important that it is not too chunky and also not too wet but you can get creative.

They are particularly good with a nice caramelised onion chutney or even my sticky red cabbage chutney.
Is store-bought pastry ok to use?
Yes, if it is frozen defrost it, cut it into 4 then roll each square into a hockey puck-shaped circle. Then wrap them in cling film and place them back in the fridge for 30 minutes.

I do this because it makes them easier to roll into circles and reduces pastry wastage.
Can I use different types of cheese?
Yes, get creative and go to town. It is particularly good with a blend of cheese, but make sure they have a bold flavour.

I have combined mature cheddar with Lancashire and Cheshire cheeses and these work wonderfully.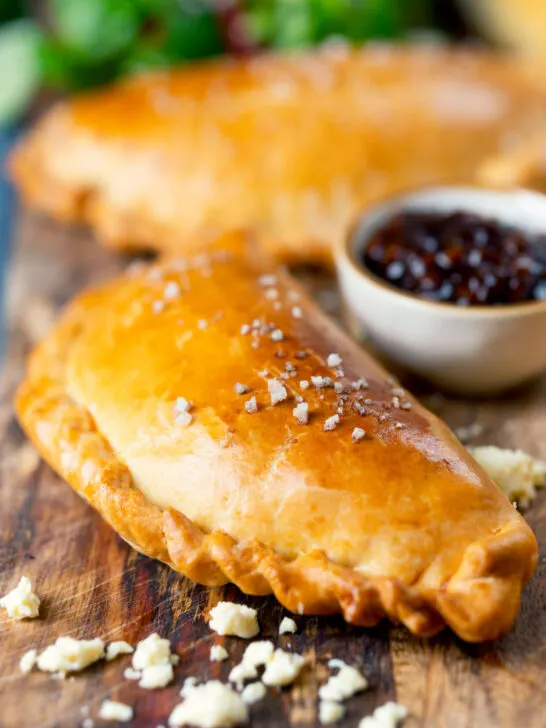 How to Crimp a Pasty
Crimping pasties may seem tricky but with a bit of practice it is quite easy, here is a visual guide as to how I do it:
1: Fill the centre of the pasty with your filling leaving around 25mm (1″) at the edges, then brush the edge with water. Using your finger is the easiest way to do this.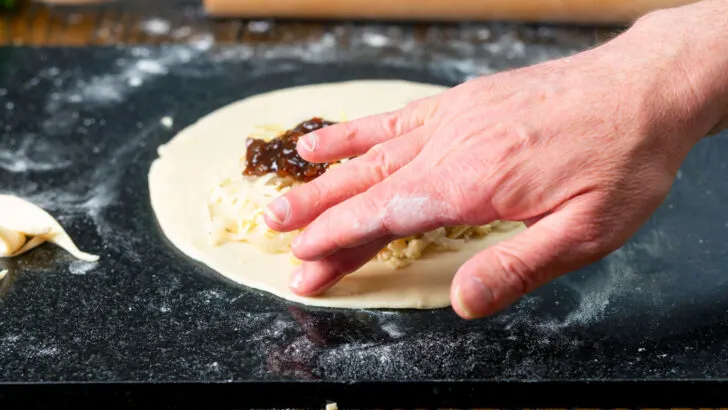 2: Fold over the pasty to form a half-moon shape.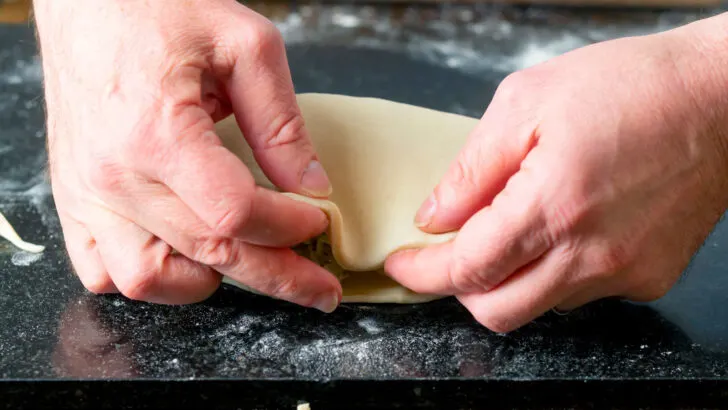 3: Press the edges to form a seal.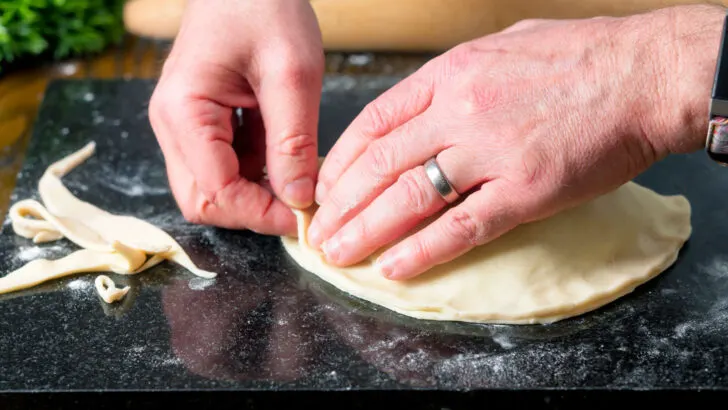 4: Pick up the pasty in your "dominant" hand with one end of the half-moon shape pointed at you. Take the corner of the pastry between your thumb and forefinger with your thumb at the top and fold the pastry over at a 45° angle.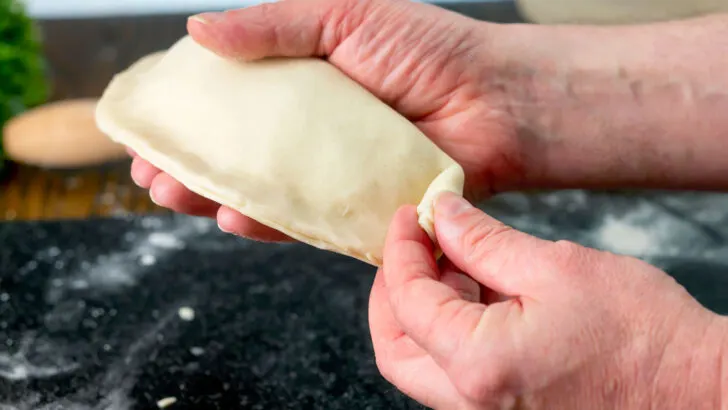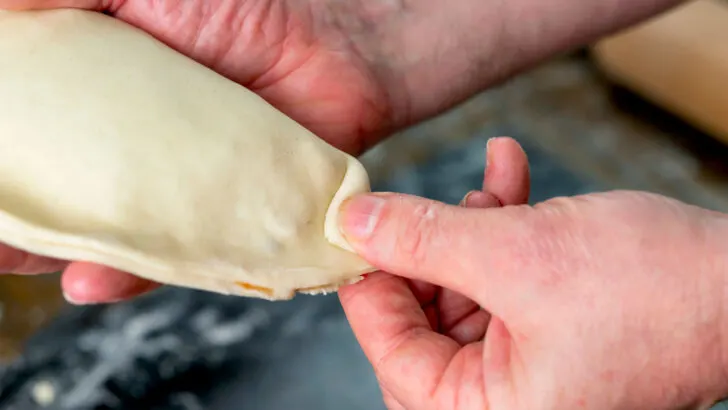 5: Move along the pasty and repeat the process. But this time squeeze to seal and pull back the finger at the bottom of the pasty to form a lobe, then fold over to create the crimp.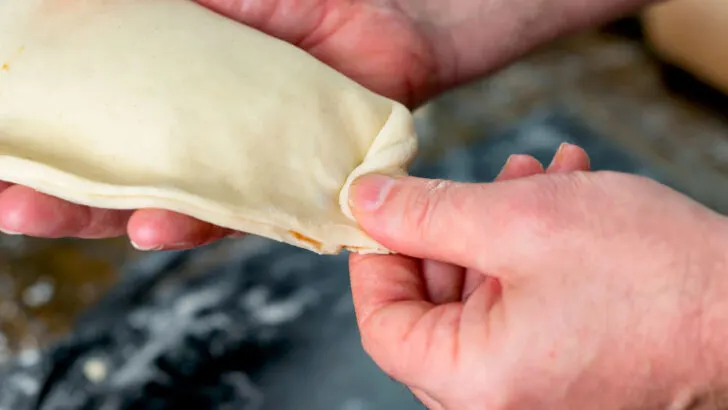 6: Repeat this process working all the way around the pasty turning as you go so that your hand stays in the same position.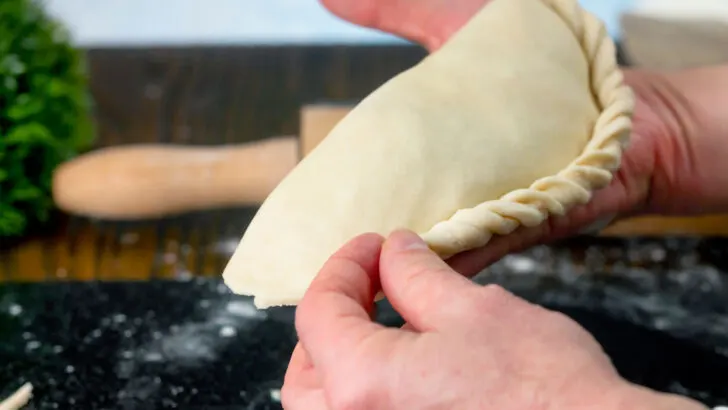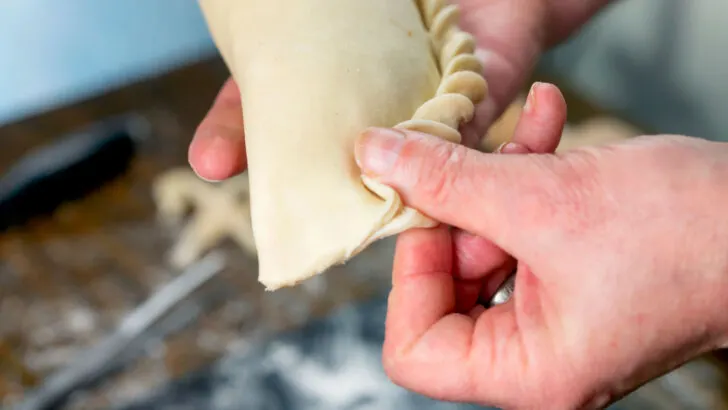 7: When you get to the end fold the final crimp under the pasty.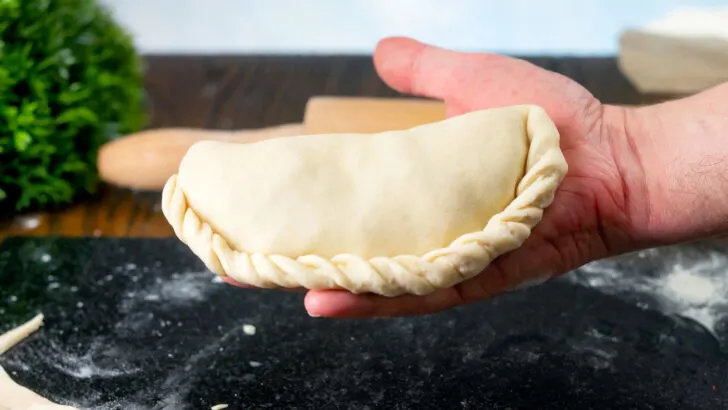 Serving Suggestions
This cheese and onion pasty recipe tends to serve as lunch for me. It is proper finger food with no need for a plate or knife and fork.
You can push it out as a meal and I will often do this with a good old tin of baked beans and maybe some crispy straw potatoes.
A nice salad on the side also works well, and doubling down on the cheese may seem indulgent but the earthy, salty and sour flavours in this beetroot and feta cheese salad work a treat with these pasties.
They are also great travel food for a road trip or a picnic. I'll often take these along with some Scotch eggs and maybe some slices of quiche.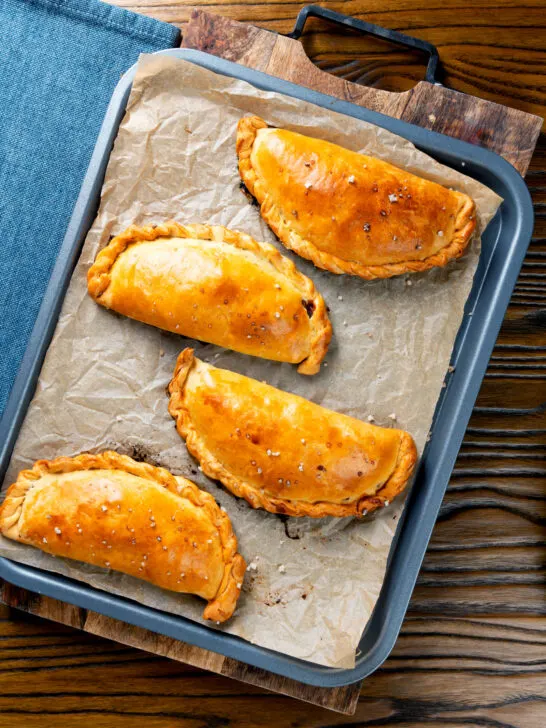 Equipment Used
I only name-check brands of equipment if I think they make a material difference to a recipe. If you have any questions feel free to ask them in the comments section below the recipe.
Oven.
Baking tray.
Baking parchment.
Cling film.
Mixing bowls.
Grater.
Kitchen knife.
Chopping board.
Marble or stone rolling "board". This is optional but I think it helps to keep the pastry cold.
Rolling pin.
Weighing scales and or measuring cups and spoons.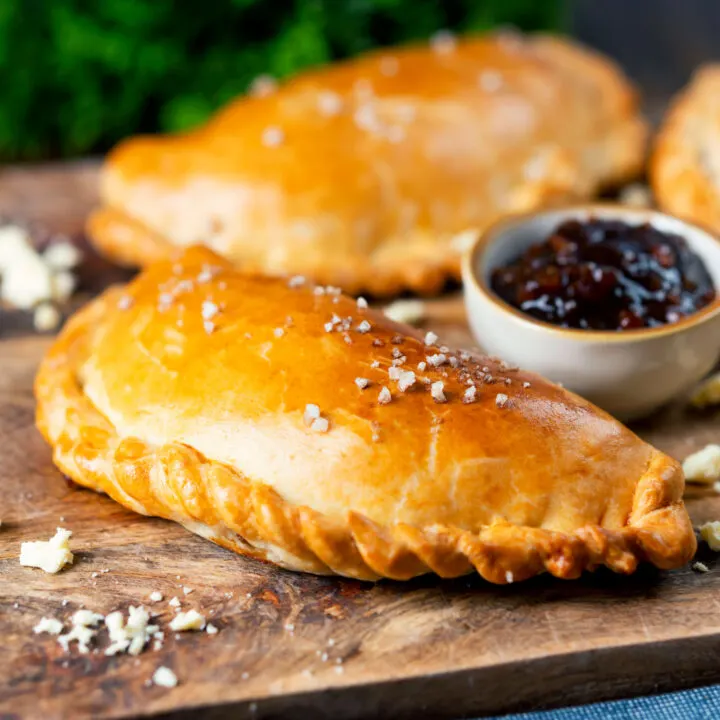 Yield:

4 Pasties
Cheese and Onion Pasty Recipe with Branston Pickle
Prep Time:
1 hour
15 minutes
Pasties are a true British institution, my cheese and onion pastie recipe gets an addition of Branston pickle and a wonderful homemade pastry that can be replaced with store-bought if you wish.
Ingredients
For the Pastry:
300g (2⅓ Cups) Plain Flour
75g (¼ Cup plus 1 Tbsp) Butter
75g (¼ Cup plus 1 Tbsp) Vegetable Fat (Shortening in the US)
1-2 Tbsp Water
Pinch of Salt
1 Egg Yolk
2 Tbsp Milk
For the filling:
150g (1 Cups) Onion
150g (1½ Cups) Mature Cheddar Cheese
100g (⅔ Cup) Waxy New Potato
1 Tsp Dried Thyme
⅛ Tsp White Pepper
50-60g (~¼ Cup) Small Chunk Branston Pickle
Instructions
Weigh the flour into the bowl of a food processor and place it in the fridge.
Cut the vegetable fat and butter into a 1cm (½") dice and place them in a bowl in the freezer for 10 minutes.
Add the vegetable fat and butter to the flour, add the pinch of salt and then pulse to create a breadcrumb-like texture.
Add the water little by little until a ball forms in the food processor, it is important that you do not overwork the dough.
Move to a work surface and form 4 hockey puck-shaped rounds, each will weigh around 115g or 4oz. Wrap them individually in cling film and place them in the fridge for between 30 minutes and 1 hour.
Cut the onion in half, peel it and then cut it into half-moon shapes as thinly as possible, then place them into a bowl.
Grate the cheese and add it to the bowl with the onion.
Give the potato a scrub (don't bother peeling it), then grate it and squeeze out any excess moisture before adding it to the cheese and onion mix.
Add the white pepper and thyme to the mix and have a taste (avoiding the potato), it should not need salt, but by all means, add some if you think it does.
Roll out the pastry so that it is 2-3mm (just over ⅛") thick and cut each out 4 x 200mm (8") circles.
Add a quarter of the cheese and onion mix to one half of the pastry disc forming a "rugby ball" shape leaving around 1½ cm or 1" of pastry at the edge.
Add a quarter of the Branston pickle in a strip over the top of the cheese filling.
Fold over the pasty, (the pickle will fall towards the crimp) sealing the edges with a little water. Then crimp by pinching between your thumb and forefinger, pull and twist, then move on to the next crimp. There is a visual guide for doing this further up the page,
Beat the egg yolk and milk together and then brush this over the pasties.
Bake in the oven at 180°C or 350°F for 45 minutes.
Notes
You could use a 450-500g packet of ready-made shortcrust pastry, see the Frequently Asked Questions section for detials.
Nutrition Information:
Yield:
4
Serving Size:
1
Amount Per Serving:
Calories:

655
Total Fat:

38g
Saturated Fat:

21g
Trans Fat:

0g
Unsaturated Fat:

12g
Cholesterol:

149mg
Sodium:

781mg
Carbohydrates:

59g
Fiber:

4g
Sugar:

19g
Protein:

21g
Calorific details are provided by a third-party application and are to be used as indicative figures only.