Baked Scotch egg, a truly British institution, boiled eggs wrapped in spiced minced pork & coated in breadcrumbs and baked for a jammy yolk.
These are baked in the oven rather than fried, although you can fry them and keep that egg yolk runny!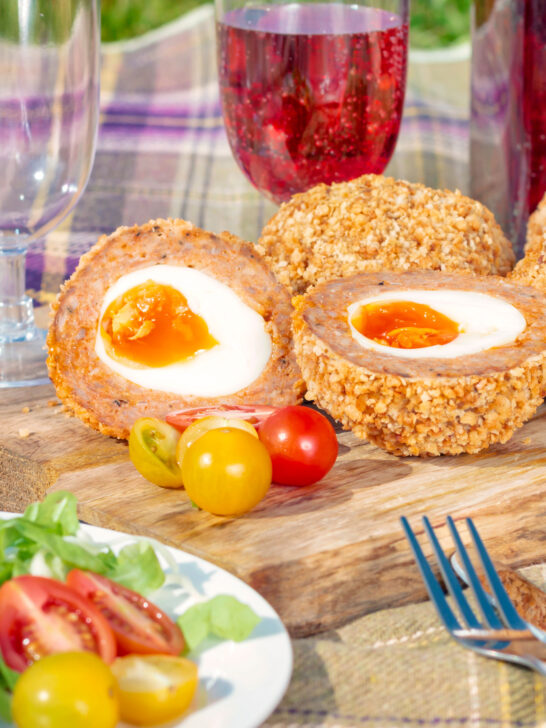 Sausage Wrapped Boiled Eggs
As much as I love seeking out new foods and playing with food from around the world, the draw of food nostalgia is strong.
These baked scotch eggs join dishes like corned beef hash and Spam fritters as being odes to my childhood, and I love them deeply!
The Scotch egg is credited as being "invented" by Fortnum and Mason in 1738, but the idea is much older.
The nargis kebab or nargisi kofta is a boiled egg wrapped in a spicy meat mixture and predates the Scotch egg by a century or two. Let's face it the Brits have no shame in grabbing hold of something and claiming it as their own!
My version is baked rather than fried, primarily because I don't have the will to maintain a deep fat fryer. But they are also a little healthier!
Rather than using store-bought sausage meat I also make my own coating from store cupboard spicing.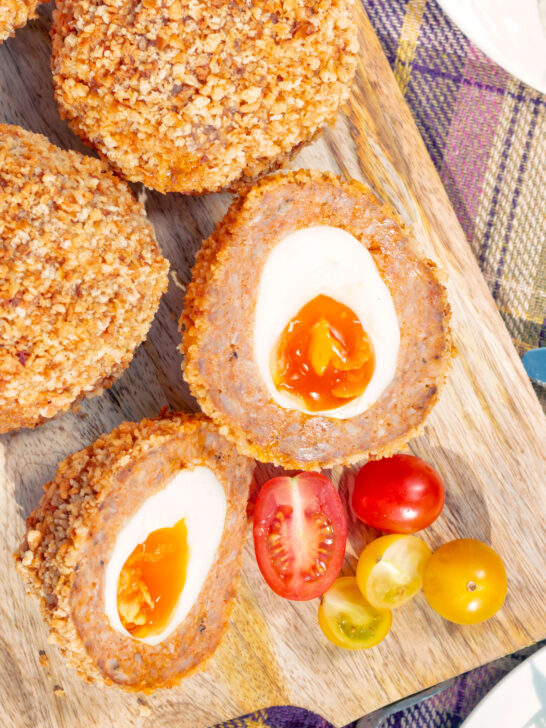 Frequently Asked Questions
Can I deep fry these Scotch eggs?
Yes! You will need a deep fat fryer to do it safely, fry them for 5-8 minutes at 170°C or 340°F.

You can skip the browning of the breadcrumbs (step 7) if you use this method.
Can I air fry Scotch eggs?
Yes, this recipe predates my time with an air fryer. But I have tested the recipe and you can air fry at 180°C or 350°F for 15-20 minutes, rotating them halfway through the cooking time.
Can I use store-bought sausage meat?
Absolutely! You will need 550-600g (19-21oz) of sausage meat and you can use anything that takes your fancy.
Can I use low-fat minced pork?
For me no! Fat is an essential part of a sausage mix and prevents the meat from drying out and falling apart.
How long will Scotch eggs last in the fridge?
They will be safe to store in the fridge for 2-3 days.
Can I freeze Scotch eggs?
Technically yes, they will be perfectly safe to eat, however, the texture falls off a cliff and they are not the best to eat in my opinion.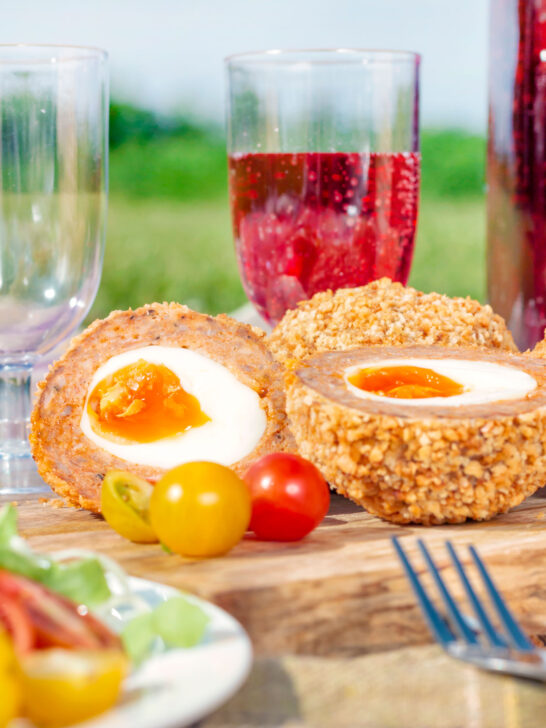 Serving Suggestions
These baked Scotch eggs are the perfect lunchbox or even picnic munch.
As such they tend to form a bit of a spread for me, so I would serve them with a simple green salad, and pork pie because ain't no picnic complete without one!
Pasta salads are also awesome on a picnic jaunt! You could go with an old school favourite like tuna pasta salad or something like this tomato-heavy Sicilian pasta salad.
One final option, and one that I think should feature more often in a picnic basket, is the classic Italian Panzanella salad!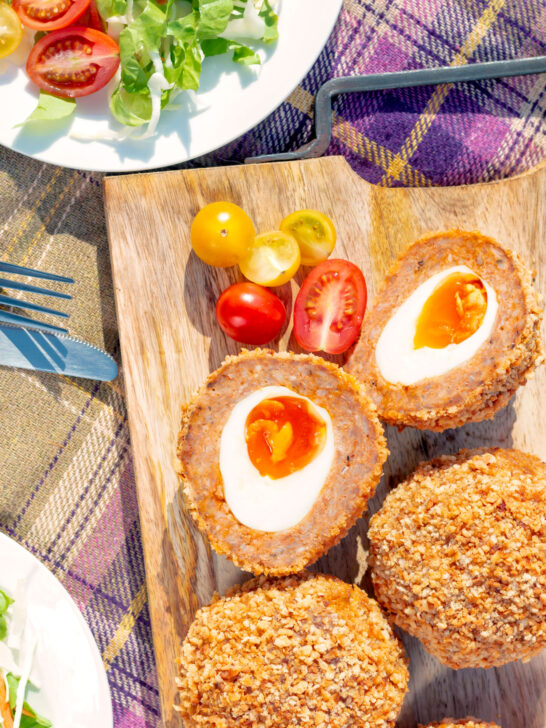 Equipment Used
I only recommend or name-check any specific brands of equipment if I think that it makes a material difference to a recipe. If you have any questions feel free to ask them in the comments section below the recipe.
Oven.
Baking tray.
Baking Parchment.
Cling film.
Medium saucepan (20cm or 8″).
Medium frying pan (24cm or 10″).
Mixing bowls.
Meat thermometer, a quick read thermometer is best.
Weighing scales and or measuring cups and spoons.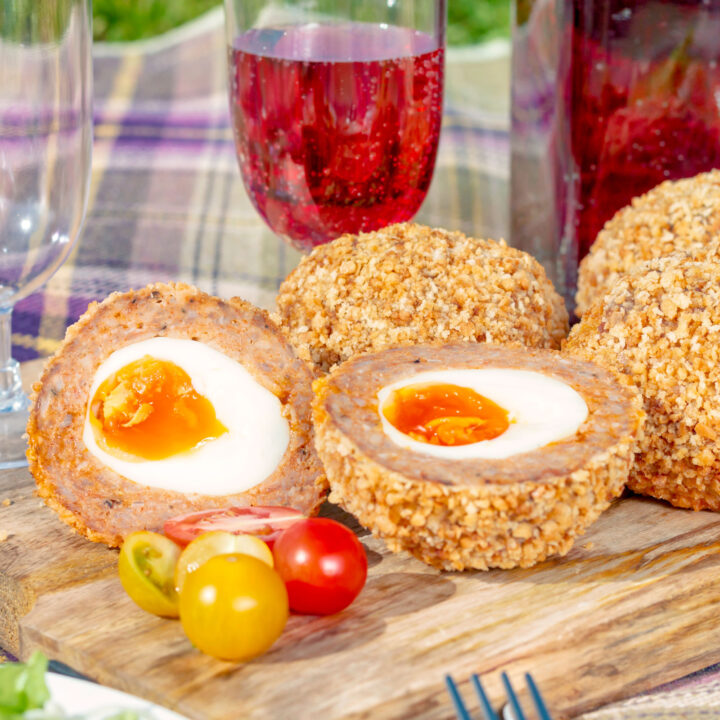 Yield:

4 Portions
Baked Scotch Egg Recipe
Total Time:
1 hour
35 minutes
Baked Scotch egg are the perfect picnic finger food, so many childhood memories and it is perfectly possible to cook them with a jammy yolk in the oven!
Ingredients
For the Pork Mix:
500g (17oz) Finely Minced Pork (Use pork with a fat content around 15%)
1 Tsp Dried Sage
2 Tsp Sweet Paprika
1 Tsp Garlic Powder
2 Tsp Onion Granules
½ Tsp Coarse Ground Black Pepper
½ Tsp Coarse Sea Salt
½ Tsp Ground Mace
50g (⅓ Cup) Dried Breadcrumbs
1 Egg Yolk
For the Breadcrumb Crust:
1 Egg
35g (¼ Cup) Plain Flour
35g (2 Tbsp) Butter
75g (½ Cup) Dried Breadcrumbs
Instructions
Bring a large pan of water to a rolling, when the water is boiling reduce the temperature to a rapid simmer and then add the eggs and boil for 6 minutes. Be sure to use room temperature eggs.
Coll the eggs quickly by running them under cold water then peel them immediately.
Mix together all of the ingredients for the pork mix in a bowl ensuring that they are completely combined. Then divide it into 4 equal portions.
Take two pieces of cling film and flatten one of the pieces of pork mix to around 1cm thick.
Roll one of the boiled eggs in a little flour to get a light coating.
Wet your hands in cold water before gently working the pork around the egg to form a smooth round ball, then repeat with the remaining three eggs and place them in the fridge to firm up for 30 minutes.
Melt the butter in a medium (24cm or 10") frying pan over a medium heat and fry off the breadcrumbs until they are golden brown, then set aside to cool.
Crumb the scotch eggs, begin by rolling in flour, then into a beaten egg and then into the cooled breadcrumbs.
Place the Scotch eggs on a baking tray lined with baking parchment and bake in the oven at 180°C or 350°F for 25-30 minutes, or until the pork reaches 73°C or 165°F.
Nutrition Information:
Yield:
4
Serving Size:
1
Amount Per Serving:
Calories:

540
Total Fat:

38g
Saturated Fat:

15g
Trans Fat:

0g
Unsaturated Fat:

20g
Cholesterol:

358mg
Sodium:

858mg
Carbohydrates:

8g
Fiber:

1g
Sugar:

1g
Protein:

38g