These baked scotch egg are perfect picnic fodder, robust enough to rattle around in a picnic basket and tasty enough to raise smiles all round!
Even just the word Scotch Egg evokes such strong childhood memories for me. These baked scotch eggs are the number 1 item in any picnic as far as I am concerned.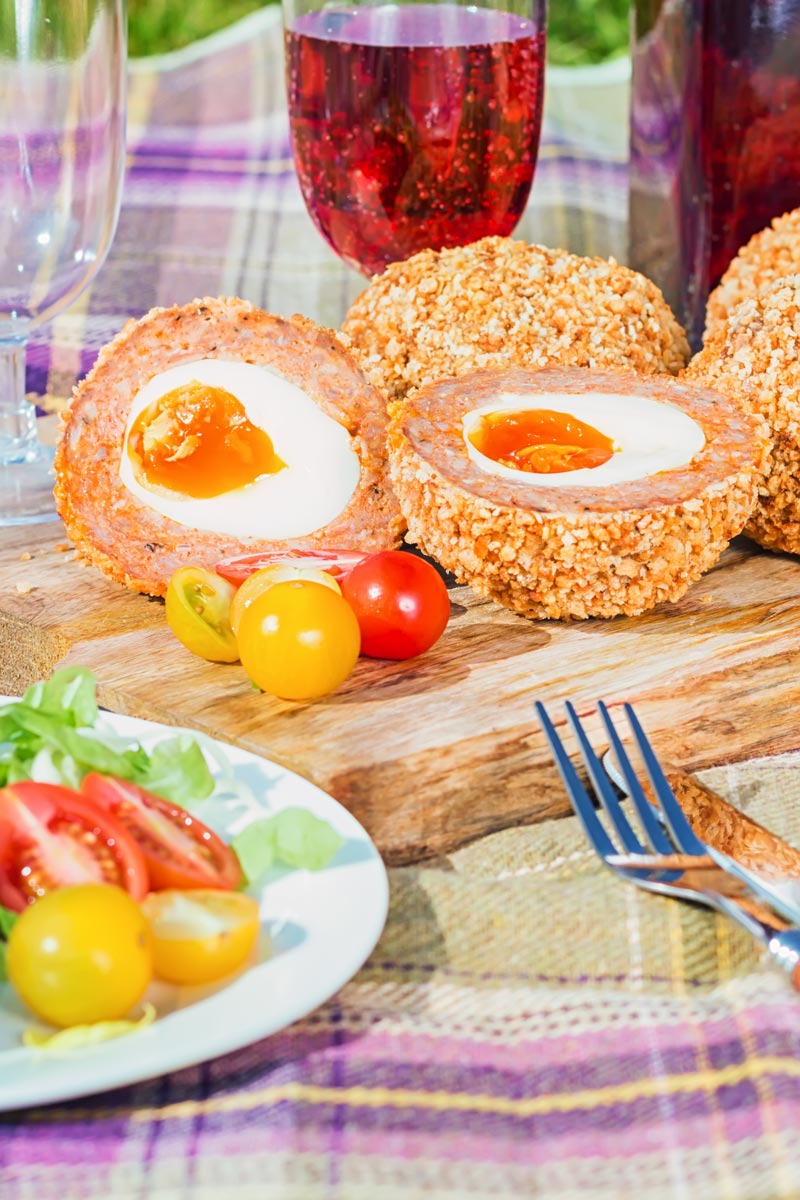 Baked Scotch Egg Recipe…
This is the first of what will be many picnic dishes this summer but rest assured these bad boys will be in every picnic basket I pack.
Scotch eggs were everpresent in my lunch box when I was growing up and I loved them. I still do!
They are wonderfully tactile and great picnic food. For me picnic recipes need to be able to be eaten simply with no mess. Not to mention they need to hold up to being rattled around in a picnic basket.
As a result, I like scotch eggs or of course things like a good tuna pasta salad.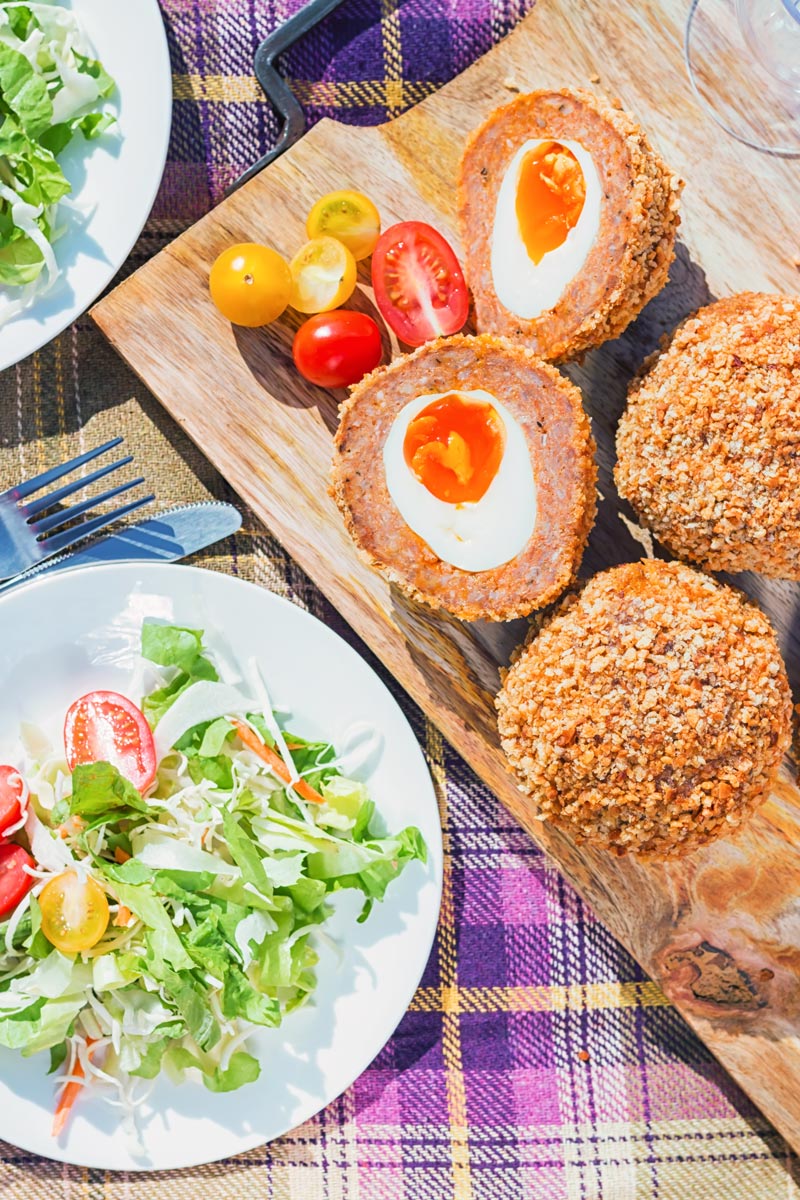 Why A Bake a Scotch Egg rather than Fry?
As you know I am definitely not afraid of deep frying. I am also definitely not interested in courting the 'clean eating' brigade. But I certainly do not deep fry all of the time!
I also do not even have my deep fat fryer out all of the time and these get made ALL OF THE TIME!
Now if I were to be eating these warm I would definitely deep fry and keep the egg yolk really very liquid. But for a picnic that does not work for me.
A baked scotch egg really is the way to go as the longer cooking temperatures can give you that lovely vibrant 'jammy' egg yolk.
The scotch eggs I remember as a child came with the most insipid, pale and almost chalky yolks. Now for me, that is no longer acceptable, but if you like your eggs that way fill your boots. Just boil them for an extra 2 minutes.
That sticky ooze and the vibrant yolk colour really is the main part of the joy of a Baked Scotch Egg.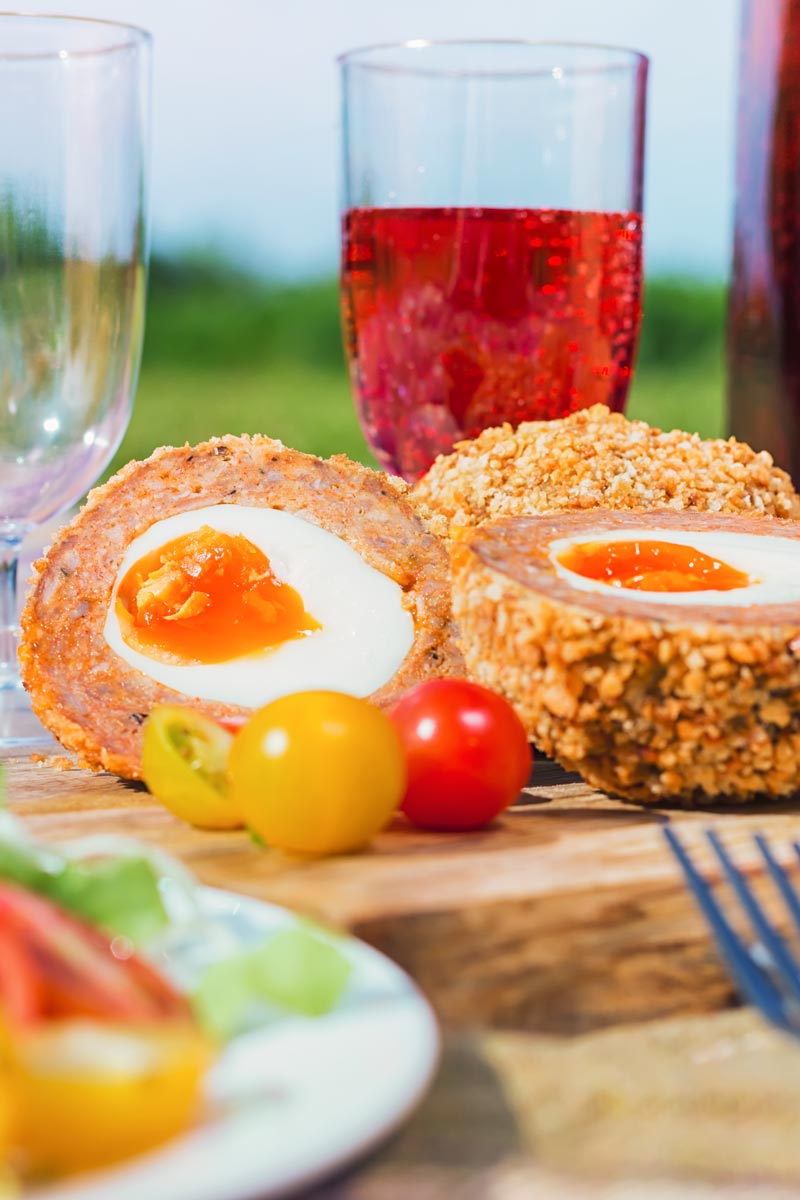 The Scotch Egg is not Scottish!
Wo which came first? No I am not talking about the chicken or the egg!
The 'nargisi kebab' recipe I posted not long after I started my site is an Indian Scotch Egg. As much as it shatters my memories it would seem that the Indians came up with this idea first.
The Nargisi kebab dates back to the times of the mughal empire in the 16-17th Century. The Scotch egg, on the other hand, was claimed by Fortnum and Mason no less in 1738. But hey us foodies thrive on inspiration and I have a deep love for both versions!
I have no idea why it took so long for me to post this recipe. I think I maybe got distracted by my new BBQ last summer.
Our Hungarian friends love these, they are completely unheard of over here. I cooked some up for a 'cooking competition', about 5 or 6 years ago. We are not talking Masterchef here but an excuse to have munchies whilst consuming beer at a local pub!
The baked scotch egg was a huge hit and still very much remembered today.
It is mildly amusing when we break out our picnic basket at a thermal spa and people stroll over and ask us what we have. Hungarians are very much like that, so I always make extra!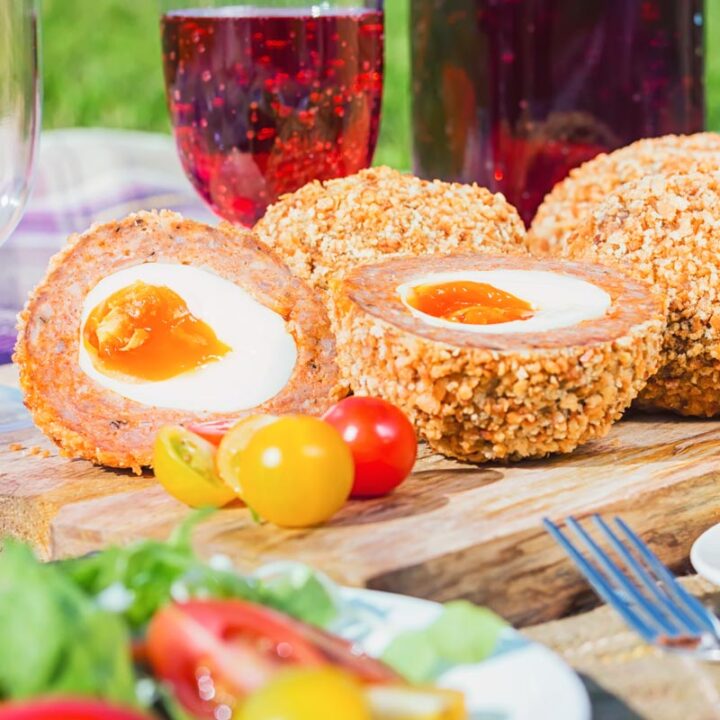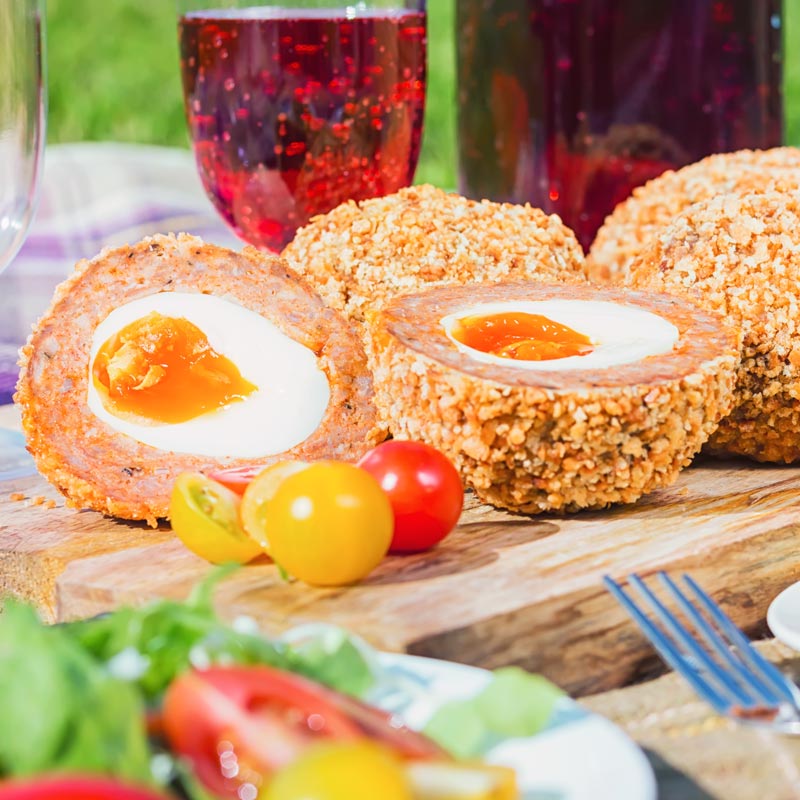 Yield:

4 Scotch Eggs
Baked Scotch Egg
Total Time:
1 hour
35 minutes
These baked Scotch egg are the perfect picnic finger food. So many childhood memories and it is perfectly possible to cook them with a jammy yolk in the oven!
Ingredients
For the Pork Mix.
500 g Pork Shoulder, Finely ground
1 Tsp Dried Sage
2 Tsp Sweet Paprika
1 Tsp Garlic Powder
1/2 Tsp Black Pepper, Ground
1 Tsp Coarse Sea Salt
50 g Bread Crumbs
1 Egg, Large
For the Breadcrumb Crust.
1 Eggs, Beaten
Flour, As needed
25 g Butter
50 g Breadcrumbs
Instructions
Bring a large pan of water to a rolling.
When the water is boiling reduce the temperature to a rapid simmer and then add the eggs and boil for 6 minutes.
Cool quickly and then peel and set aside whilst we make the 'sausage' mix.
Mix together all of the spices with the pork shoulder, additional egg and breadcrumbs and mix and split into 4, roughly 150g per portion.
Take two pieces of cling film and flatten a quarter of the pork mix to around 1cm thick.
Roll each boiled egg in a little flour before wrapping in the pork mix.
Now wet your hands in cold water before gently working the pork around the egg to form a smooth round ball and repeat with the remaining three and place in the fridge to firm up for 30 minutes.
Meanwhile melt the butter in a frying pan over a medium heat and fry off the breadcrumbs until golden, then set aside to cool.
Heat your oven to 180°C.
When cooled it is time to crumb the scotch eggs, begin by rolling in flour, then into the beaten egg and then into the cooled breadcrumbs.
Set aside and repeat with the other 3 eggs and when warm place in the oven and bake for 30 minutes or until the pork mix reaches 72°C on an instant read thermometer.
Notes
If you are deep frying skip frying off the breadcrumbs and fry in oil at 180°C until the pork reaches 72°C on an instant read thermometer.
Nutrition Information:
Yield:
4
Serving Size:
1
Amount Per Serving:
Calories:

540
Total Fat:

38g
Saturated Fat:

15g
Trans Fat:

0g
Unsaturated Fat:

20g
Cholesterol:

358mg
Sodium:

858mg
Carbohydrates:

8g
Fiber:

1g
Sugar:

1g
Protein:

38g