Pork pie is a grand English staple that no picnic or buffet table is complete without and the debate of whether you like the jelly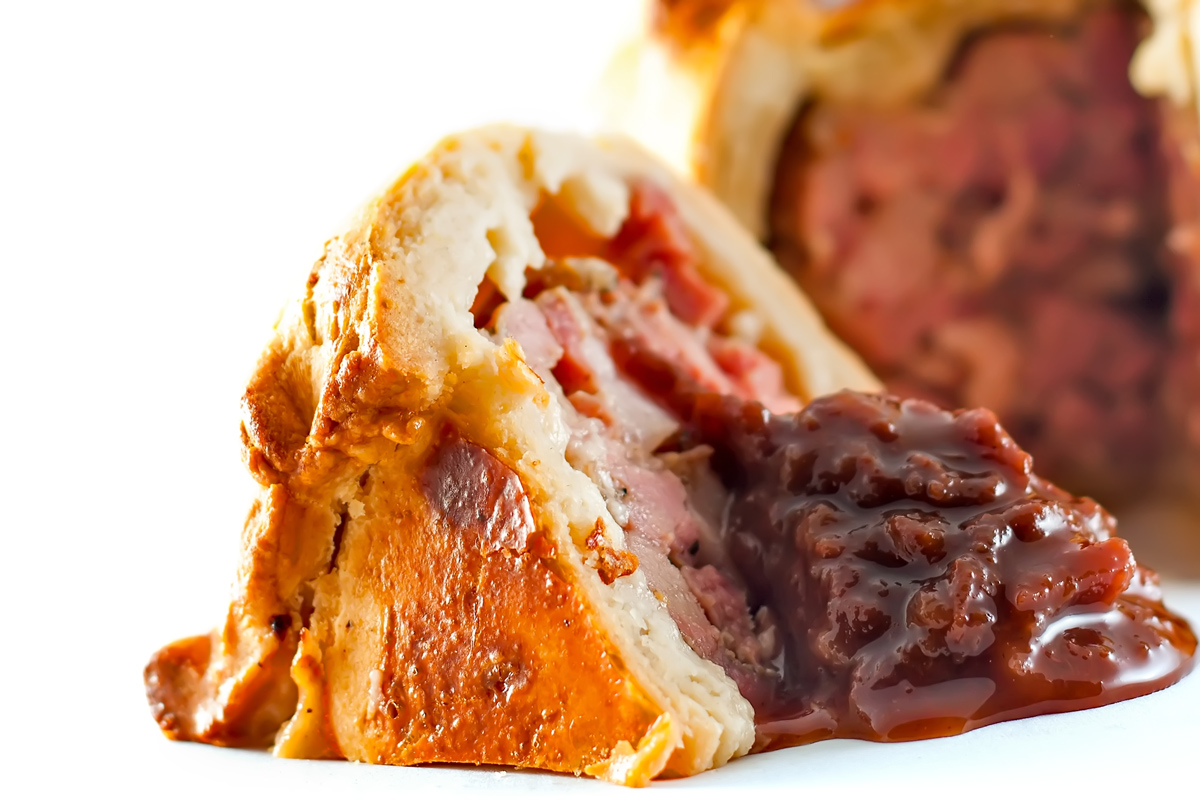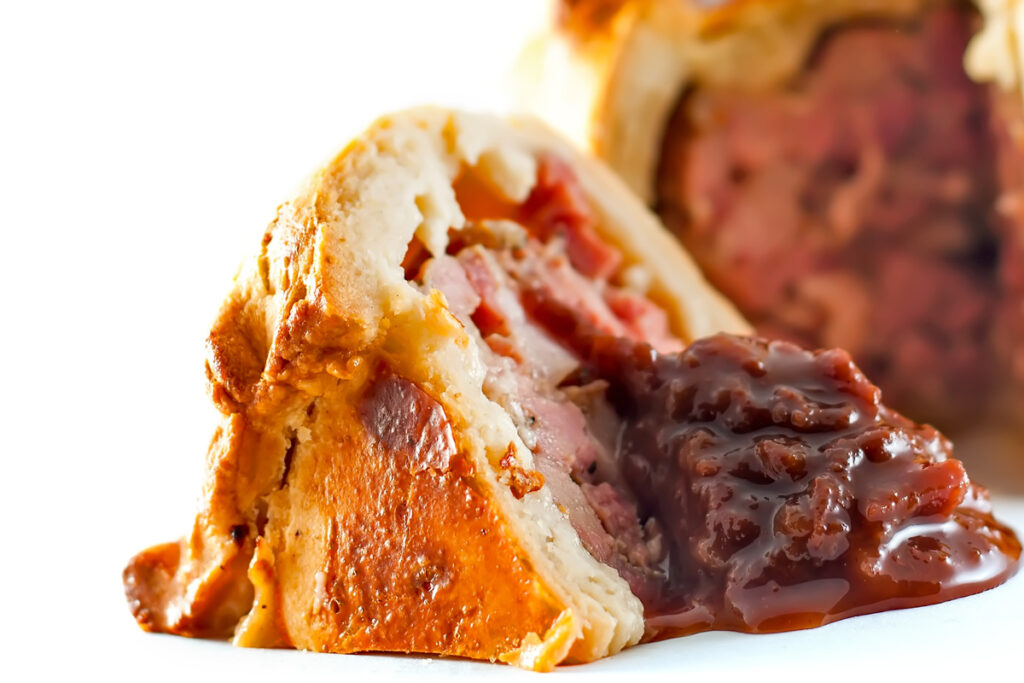 There is one undeniable truth about being an 'migrant' and that is 'there are always foods that you miss', and this pork pie recipe goes a long way to fill that gap. It is a good thing though, let's face it the global food scene would be much more boring if those that traveled assimilated into eating exactly the same as locals do.
Over a period of time I have found that those desires do wain a little, however as a cook many hours were spent trying to fill those gaps, whether they be the desires for food bought to the UK by waves of Asian migrants or in this case something much more 'British'.
A pork pie is a grand English staple that no picnic or buffet table is complete without and the debate of whether you like the jelly will forever rumble on but it is something that both myself and my wife love. The first time I attempted to make my own was in our second year hear and I made a large one with a candle in it instead of a birthday cake for my wife.
Now that may sound a little harsh and not very glamorous, but neither of us have a sweet tooth and any cakes we do make tend to go to wast. As a result the Pork Pie was very much appreciated. Having said that it was not the greatest, however as time has progressed I have honed my recipe and my 'hand raising' technique has improved greatly. My jelly has also got a lot better although I sometimes still struggle to get it completely surrounding the meat.
Technically this pork pie recipe is probably the most time consuming thing that I make and as such it is certainly a 'special occasion' dish as I reckon you need at least 2 days to get it right and then you cannot eat until day 3 and it gets even better on days 4 & 5.
But if you are blessed with good quality pork as we are give it a try, taste wise it wipes the floor with anything you get from anywhere but the finest of butchers and achievement wise it will have you feeling smug and very proud of yourself for weeks!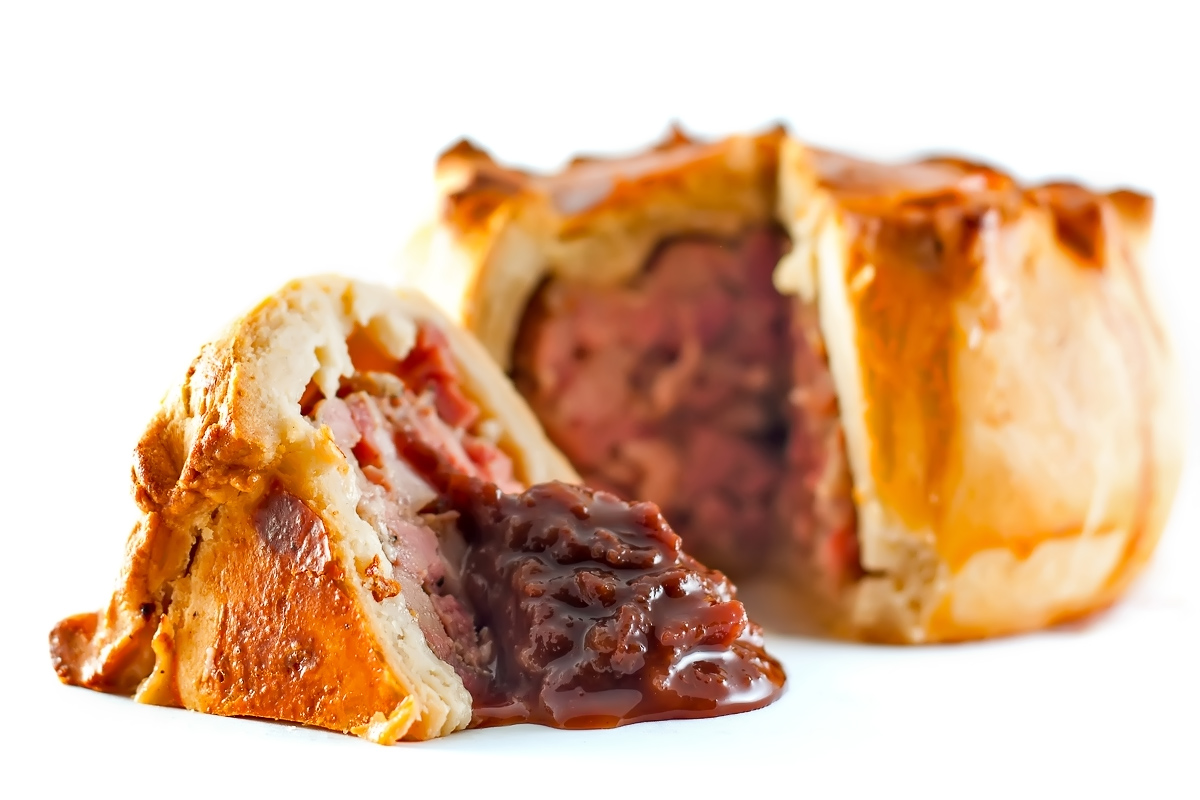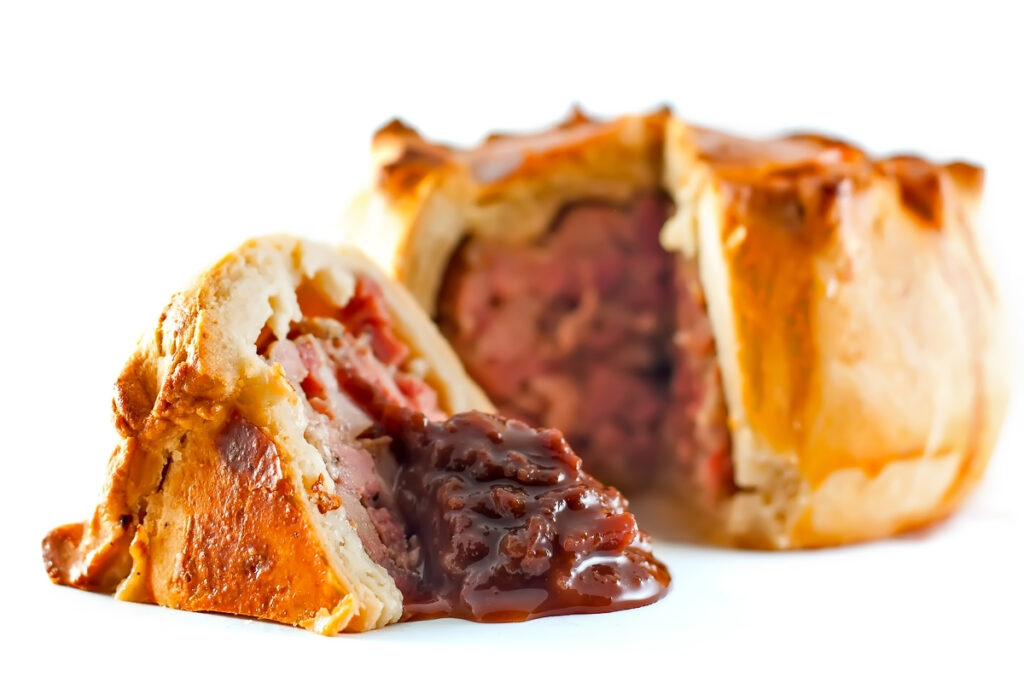 I can understand if you do not want to go to the time and effort to make your own Pork Pies, lets face it I only spent the time required to learn how to do it as shipping them from the UK really was not and enviable or viable option…
However there is a wee bonus with this recipe, if you take the filling for the pie add a further 200g of pork belly or other fatty pork and 180g of bread crumbs or crushed rolled oats you end up with a really sexy sausage mix, don't let anyone telly you that good sausages have no 'cereal content.
Ok I am assuming you own a meat grinder but mince up all of the meat on the large setting and don't worry about the size of the dice, mix in the breadcrumbs, herbs, salt and pepper.
Then use your meat grinder to push into sausage skins, if you can't get sausage skins use it as a stuffing or form into patties either way they are very very tasty! So there you go, who knew you could take a pork pie recipe and turn it into a breakfast sausage?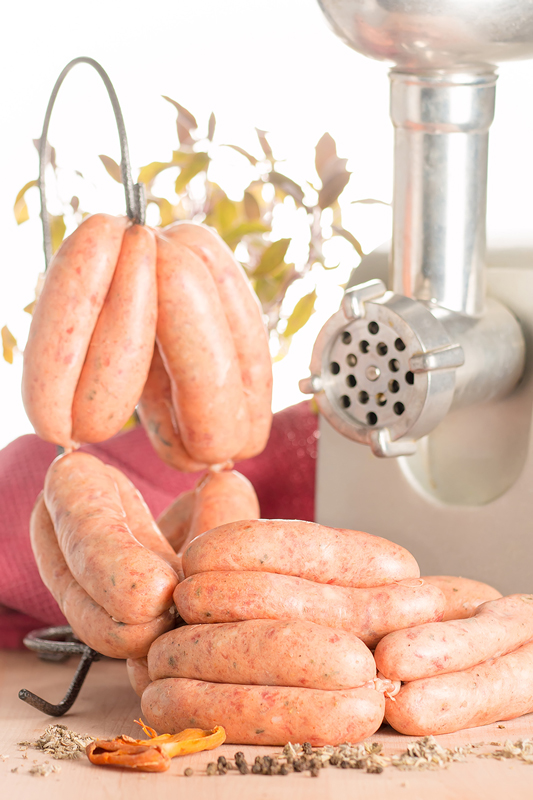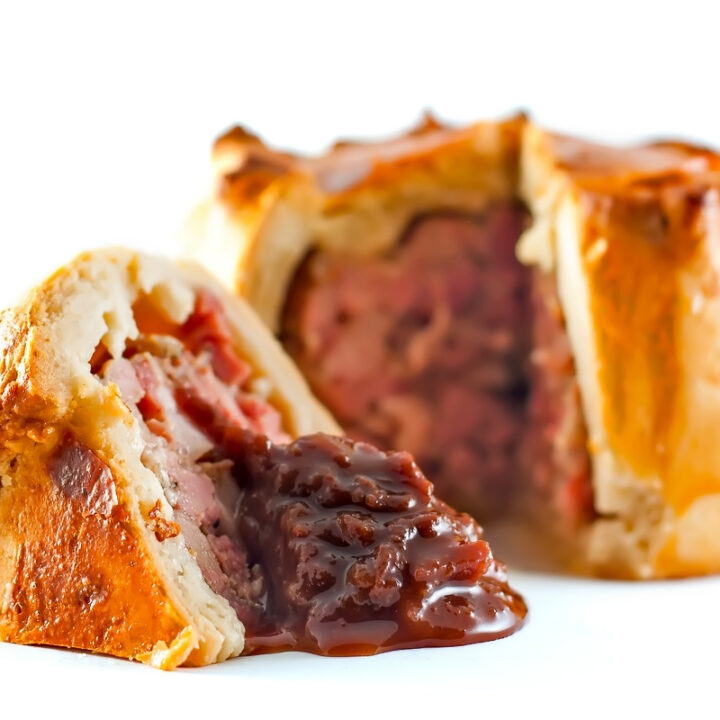 Pork Pie Memories
Prep Time:
1 days
22 hours
Pork pie is a grand English staple that no picnic or buffet table is complete without and the debate of whether you like the jelly will forever rumble on but it is something that both myself and my wife love.
Ingredients
For the Jelly
1 Pigs trotter, Split in two
1-1.5 kg Pork bones and scraps, I tend to save off-cuts from any pork I have on the bone for this purpose
2 Onions, Cut in half
2 Carrots, Roughly chopped
2 Celery Stalks, Roughly chopped
1 Bay Leaf
6 Pepper Corns
1 Sprig of fresh thyme
For the Pastry
100 g Lard
100 g Butter
200 ml Water
500 g Plain flour
1 Tsp salt
1 Large egg
For the Filling
1 kg Pork shoulder
300 g Pork blade
300 g Smoked cured pork
18 Sage Leaves
1 Tsp Salt
2 Tsp Ground Black Pepper
1/2 Tsp Ground Mace
1/8 Tsp Hot Paprika
1/8 Tsp Sweet Paprika
1/8 Tsp Powdered Mustard
1 Egg, For basting and sticking the lid on
Instructions
Day 1 Making The Jelly.
This is the easy bit, pre-heat the oven to around 400°C and roast the pork bones and scraps for between 15-20 minutes until they take on a little flavour.
Transfer to a slow cooker and add the rest of the stock ingredients and cover with just enough water to cover and cook on low for 8 hours. Skimming any froth from the surface as the day goes on.
Once complete drain the liquid through a fine sieve or through some muslin and leave in the fridge over night, skimming off any fat deposit that have settled the following morning.
Day 2 Making The Pie.
Place the butter, lard and water into a pan over a low heat and melt the solids, no need to boil the aim is just to melt the fat.
In a mixing bowl add the flour (I never bother to sieve it) salt and egg and stir them together with a metal spoon until fairly well mixed.
Once the fat is melted and not too hot add to the flour and bring to a soft dough consistency adding more flour if it is too sticky to handle and more water if too dry. You are looking for something that is only just coming away from your fingers, once this is done wrap in cling film and refrigerate for at least an hour.
Preheat the oven to 180°C or 350°F.
Dice all of the pork into a 5-6mm dice.
Mix all of the ingredients for the filling together and divide into two and form into a ball.
Remove the dough from the fridge and cut off 1 quarter this will be enough for two lids so cut in half again. Also cut the remaining pastry in half and return the pastry for the 2nd pie to the fridge. This is where you need to move fast so make sure you have space to work.
Roll both the lid of the pastry and the pastry body into circles about 7-8mm thick.
Use your fist as a mould to form the pie base and throw in the ball of filling, the pressure of 'throwing' in the pork mix should give you the flat bottom and bowed side look. Then place on the lid using some egg wash to stick it into place and pierce the lid in the centre with the tip of a knife (you can pierce at the side of the pie in two places where you join the lid if you wish it apparently makes the jelly process easier but I have not found that to be true). Then repeat the process for the second pie.
Place in to the oven and bake, after 30 minutes reduce the temperature and bake for another 1.5 hours after 2 hours remove from the oven and glaze with an egg wash and return to the oven until the glaze has set and the pie looks unctuous.
Remove from the oven and allow to cool whilst heating the jellied stock until it become pourable you made yesterday, it is important that the stock turns to jelly or the next step will not work. Having said that many people hate the jelly so feel free to omit if you either do not like it or it does not work.
I use a syringe for filling the pie so suck up the warmed stock and pump in the stock through the cooking hole at the top of the pie until no more will fit and cool to room temperature.
Place in the fridge and be patient, they will probably last up to 10 days refrigerated but peak taste is after about 3-5 days!
Notes
This will make 2 traditionally sized pies and each pie will normally be cut into 6 pieces.
Calorific value refers to a single whole pie.
Nutrition Information:
Yield:

2
Serving Size:

1
Amount Per Serving:
Calories:

3976
Total Fat:

247g
Saturated Fat:

101g
Trans Fat:

2g
Unsaturated Fat:

124g
Cholesterol:

1055mg
Sodium:

3243mg
Carbohydrates:

193g
Fiber:

8g
Sugar:

1g
Protein:

229g
Calorific details are provided by a third-party application and are to be used as indicative figures only.