The Nargis Kebab, the Indian origins of the ever-popular British Scotch egg, my version wraps spiced beef around a jammy yolked boiled egg.
Perfect as either a picnic or lunch box treat to part of a multi-course Indian meal as a starter, these will become a real versatile favourite.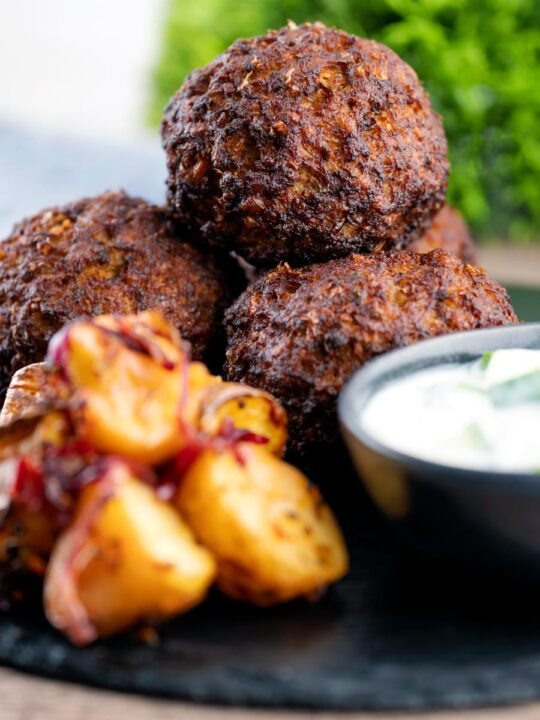 Nargisi Kofta!
I love Scotch Egg so imagine my joy when I stumbled across something called a nargisi kofta.
It was described as an Indian Scotch egg in an Indian Restaurant called the Shirley temple in a place called Shirley. I only mention that because, well restaurant naming goals!
As a Brit stumbling on this dish blew my mind, like many I was "taught" that the Scotch egg was invented by Fortnum and Mason in the early 18th Century.
The Indians are laughing into their sleeves as the Nargis Kebab predates them by centuries.
Just like the Scotch egg this recipe features minced meat wrapped around a boiled egg.
In India this meat is often lamb for cultural reasons.
I choose beef as it has a slightly less greasy mouthfeel which is important if you are sneaking them into a lunch box and eating them cold.
The eggs are the perfect smooth and silky foil to the richly spiced meat, in much the same way they do in my egg curry.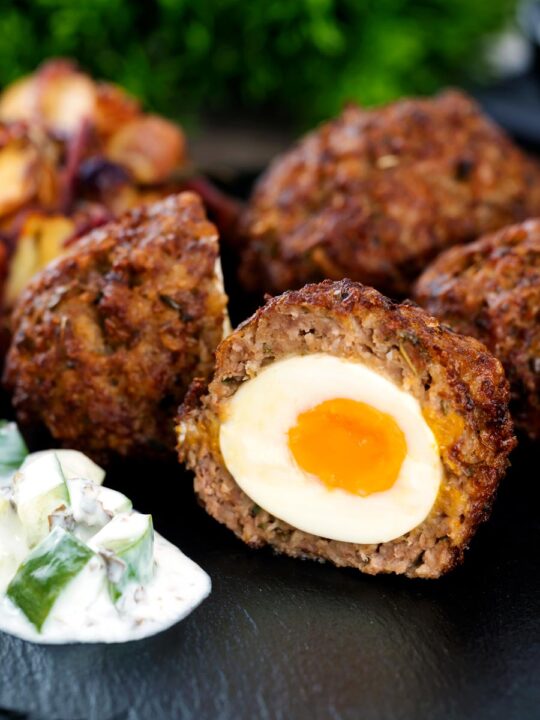 Frequently Asked Questions
Can I use any other meat?
Yes, the Nargis kebab is most often made with lamb, but I have also seen it made with chicken.
I am a stickler for changing spicing in recipes to compliment the meat.
If I were using lamb I would dial back the fenugreek and increase the amchur to add acidity to cut through the rich lamb.
I would dial back all of the spices when using chicken but also increase the amchur.
Can they be eaten cold?
Yes, they are a killer lunchbox or picnic dish.
They can be made up to 4 days in advance and as is so often the way with spicy food the flavours improve with time.
However, if you plan on eating them cold increase the spicing by 10-20%. Spices are always a little more muted in cold dishes.
Where are the breadcrumbs?
There are no breadcrumbs on nargisi kofta, they just don't exist n the same way in Indian food and certainly didn't a few centuries ago.
Why are my kebabs cracking when fried?
This is likely a result of one or two things or a combination of both.
The first is as a result of too much moisture. You need to pour away almost all of the liquid from the grated onions.
The second is not smoothing over the kebab. If you leave cracks in the surface oil will get in and pop them open.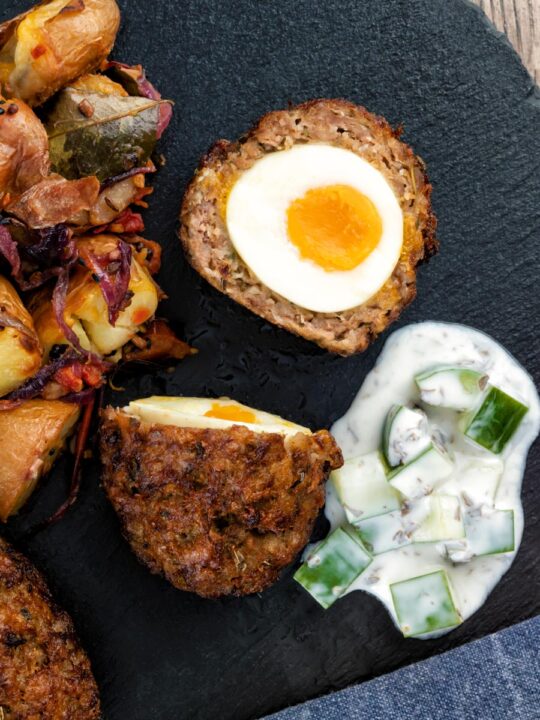 Serving Suggestions.
A Nargis kebab is often served as a starter, although I prefer them as a centrepiece of a meal.
I usually serve them with something light but also something with a little acidity and sweetness. This helps counter that all that rich protein.
That for me means a mint and cucumber raita.
This dish also works really well with a kachumber salad, which is a mix of onion, cucumber and often tomato.
In restaurants they are served with a simple omelette.
If I'm feeling particularly greedy, I'll serve them with roast Bombay potatoes.
Yield:

4 Kebabs
Indian Nargis Kebab Recipe
These Nargis kebabs really are a hidden jewel of Indian cuisine, they are almost certainly the inspiration behind the British Scotch Egg.
Ingredients
250g (1 2/3 Cup) Onions
1 Tsp Ginger Paste
1 Tsp Garlic Paste
1 Tsp Ground Corriander
1/2 Tsp Kashmiri Chili Powder
1/2 Tsp Mango Powder
1/2 Tsp Salt
1 Tsp Ground Cumin
1 Tbsp Dried Fenugreek Leaves
300g (8oz) Minced Beef
35g (1/2 Cup) Dried Breadcrumbs
4 Eggs
Instructions
Grate the onion.
Mix together the ground beef with all of the ingredients with the exception of the eggs, making sure you only add a little of the water from the grated onions.
Boil the eggs by placing them in rapidly boiling water for 7 1/2 minutes and immediately refresh in cold water.
Pre-heat your deep fat fryer to 170ºC or 340ºF.
Peel the eggs when cooled.
Divide the meat mixture into four portions.
Flatten out a single serving on a piece of cling film to a rough circle approximately 5-7mm thick and place an egg in the middle
Bring up the edges of the cling film to wrap the meat mixture around the egg.
Wet your hands and remove the cling film and proceed to form the meat into a smooth covering around the egg. Make sure you smooth out all cracks.
Repeat this process for the remaining eggs.
Fry in a deep fat fryer for 5 minutes or bake at 180C or 350F for 20-25 minutes.
Notes
The cooking time for the boiled eggs relates to room temperature eggs, if you are using chilled eggs you will need to add another 60 seconds or so.
Nutrition Information:
Yield:
4
Serving Size:
1
Amount Per Serving:
Calories:

546
Total Fat:

24g
Saturated Fat:

7g
Trans Fat:

1g
Unsaturated Fat:

14g
Cholesterol:

299mg
Sodium:

455mg
Carbohydrates:

24g
Fiber:

2g
Sugar:

6g
Protein:

32g
Calorific details are provided by a third-party application and are to be used as indicative figures only.