I love Scotch Egg & I have been trying to replicate an Indian version for quite some time. The Nargis Kebab which actually predates the British Scotch Egg and by jove I think I have cracked it, see what I did there?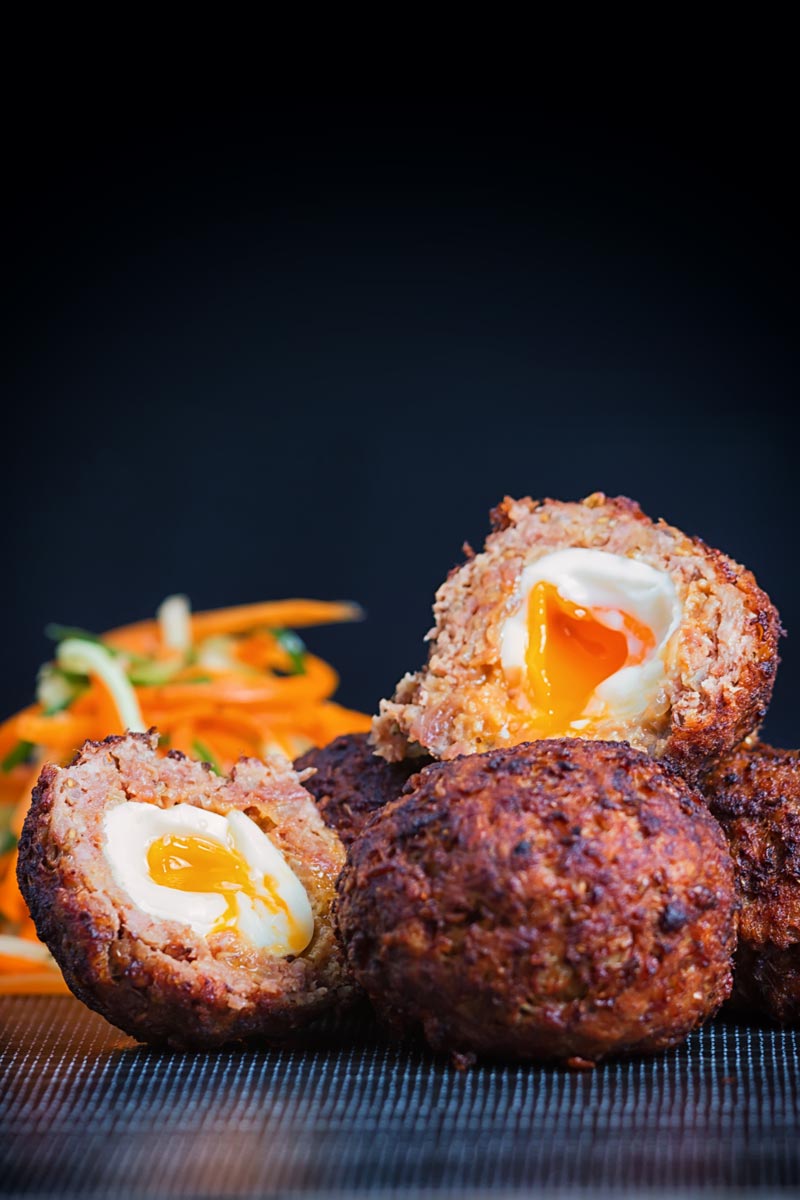 Indian Scotch Egg or Nargisi Kebab.
I love Scotch Egg so imagine my joy when I stumbled across something called a nargisi kebab. It was described as an Indian Scotch egg in an Indian Restaurant in the UK.
I guess it was around 1995 and I had never seen it on a menu before and I had no idea if they are an old Indian recipe or not.
But I do know that they tasted delicious and that restaurant rapidly became my favourite place to get Indian food. They also were the only place that served a homestyle egg curry!
As time passed by I did notice it on other menus in other restaurants and it was one of those dishes that I just had to order.
Naturally when I moved to Hungary then there was no more Nargisi Kebab and that made me a little grumpy. So I did what any self-respecting cook does when they miss something. Make it myself!
The Indian Scotch Egg I remember were all made with lamb, which is unfortunately very difficult to get your hands on in Hungary. As a result, my meat of choice is beef.
It works exceptionally well and after a few years of practice, I settled on a recipe which I am delighted to share with you!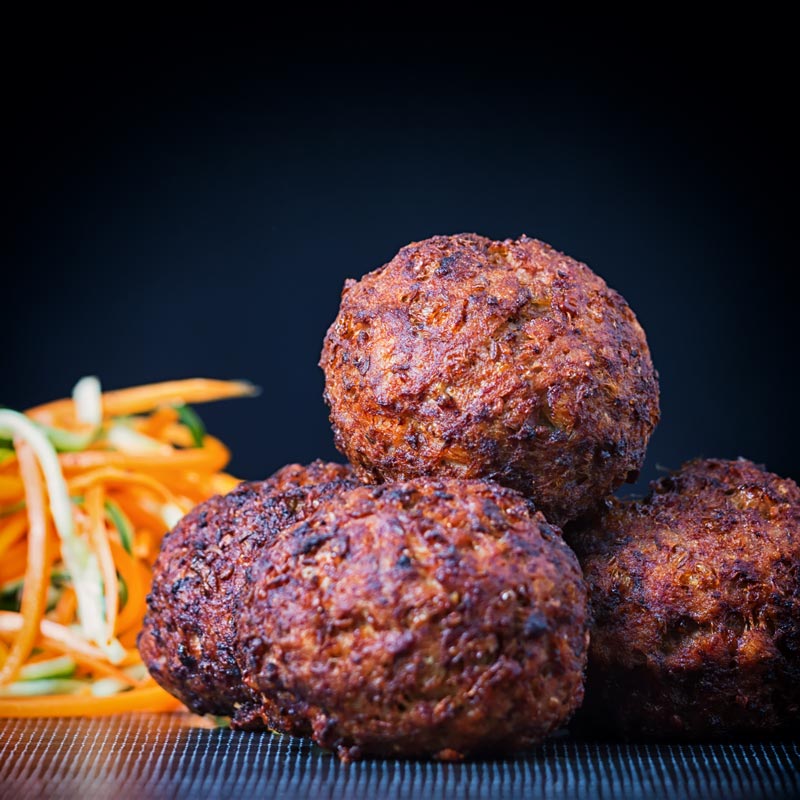 What is a Scotch Egg?
For those of you who do not know what a Scotch egg is then you are missing a treat.
The traditional British Recipe is a hard-boiled egg wrapped in a 'sausage meat' casing. They have a golden breadcrumb outer shell and they are tremendous, like ninja level tremendous!
They make perfect picnic food and they have been part of my food favourite list as long as I can remember.
I have even been playing with them as part of a meal rather than a finger food with a still runny yolk for many years.
You could of course boil your eggs a little longer than I do. Then follow the recipe and pack them in a lunch box and send your kids to school with them.
If, of course, you do not eat them all first.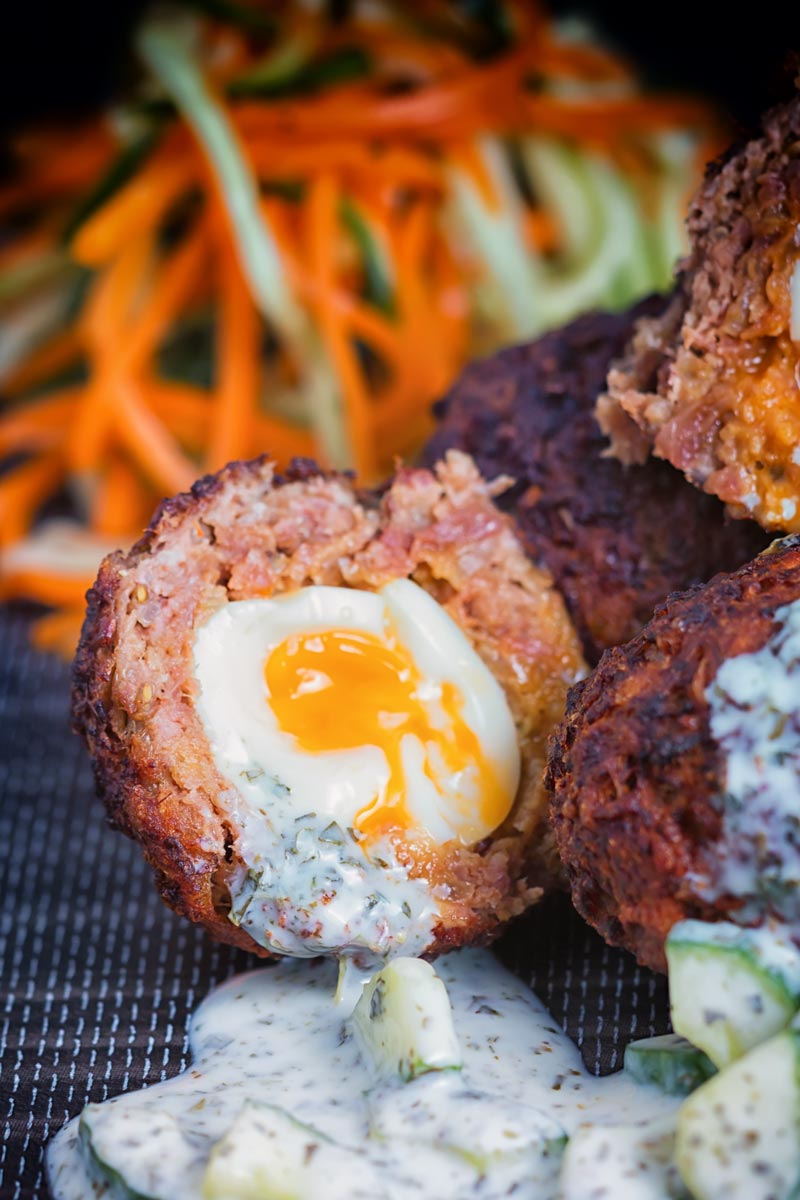 Can You Eat Scotch Eggs Cold?
You most certainly can, they make fantastic picnic food!
If you are cooking these to eat cold then I would also increase the spicing by around 25% as spices are notoriously milder in cold food.
These little balls of joy make me smile a great deal. I am a sucker for a runny yolk on an egg especially when they are fresh.
As these popped out of our chickens the morning of making this dish they really do not get any fresher.
This dish really works well with a mint and Cucumber raita despite not being made of lamb. Something similar to this would be perfect!
Raita is a traditional Indian side dish with as many variations as there are families or restaurants. However, the one I favour consists of yoghurt, sugar, lemon juice and tonnes of fresh mint.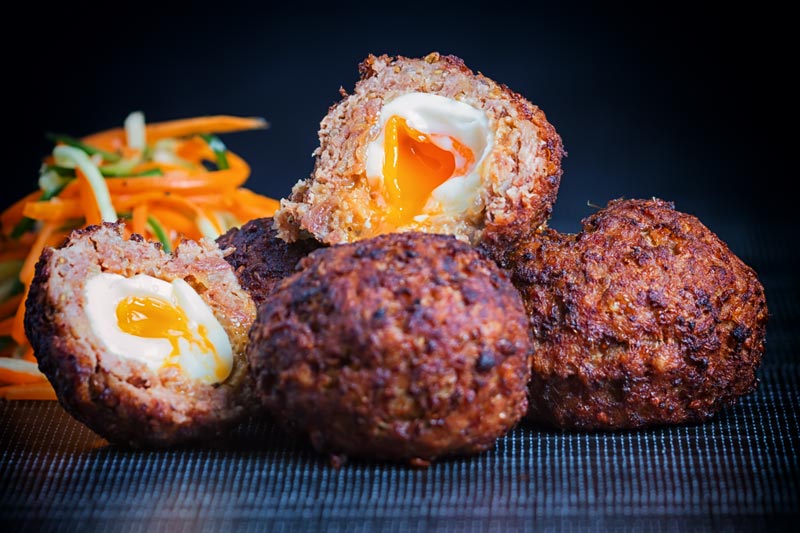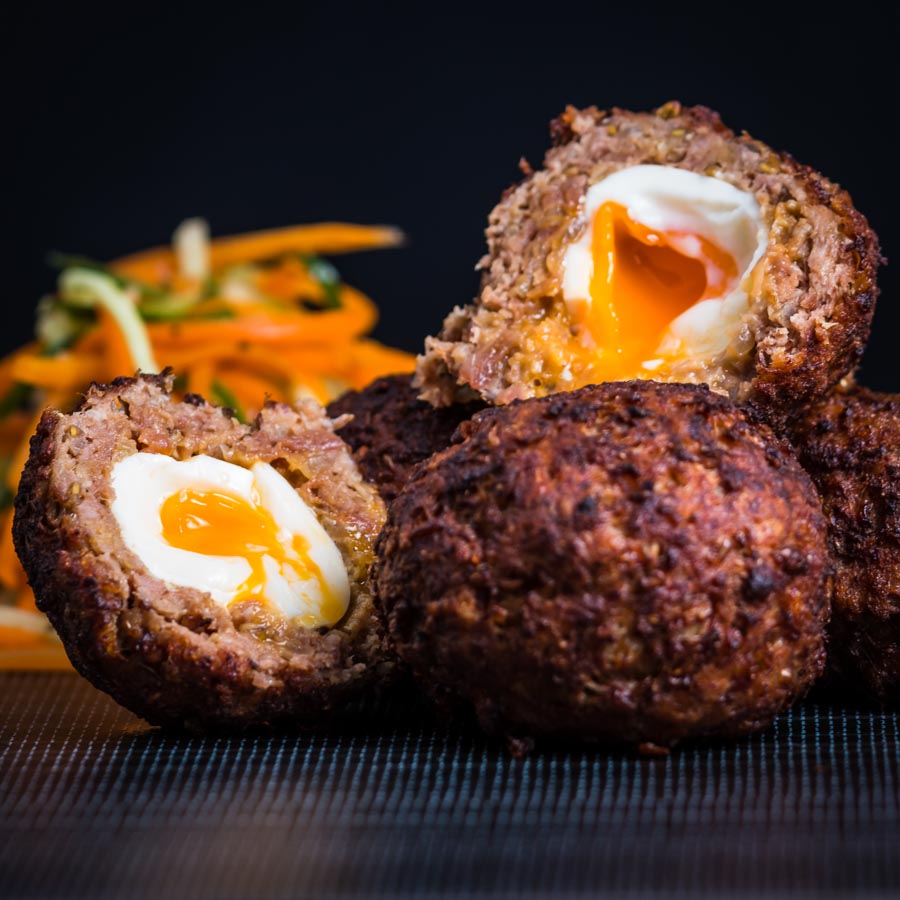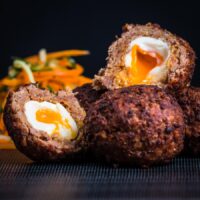 Indian Scotch Egg or Nargis Kebab
I love Scotch Egg & I have been tring to replicate an Indian version, the Nargis Kebab for quite some time and by jove I think I have cracked it! 
Ingredients
1 Tbsp Cooking Oil, Neutral
1 Tbsp Cumin Seeds
1 Tsp Fenugreek Seeds
250 g Onions, Finely Diced
20 g Ginger, Grated
2 Garlic Cloves, Finely Diced and Crushed
1 Tbsp Ground Corriander
1/2 Tsp Kashmiri Chili Powder
1/2 Tbsp Mango Powder
1/4 Tsp Salt
300 g Ground Beef, I favour Rump Steak
5 Eggs
75 g Breadcrumbs
Instructions
Heat the Oil in a heavy based pan over a medium high heat
Add the Cumin and Fenugreek seeds and fry until fragrant, approximately a minute or two
Add the Onion, Garlic and Ginger then reduce the heat to a medium low setting and cook down until golden
Throw in the Ground Corriander, Kashmiri Chili, Salt and Mango Powder, stir and cook for a further 1 minute and set aside to cool completely
Pre-heat your deep fat fryer to 170ºC
Add the onion mixture to the ground beef along with a single egg and the breadcrumbs and mix, this should give you approximately 550g of force meat to wrap around the eggs
Boil the remaining 4 eggs by placing them in rapidly boiling water for 4 minutes and immediately refresh in cold water
Peel the eggs carefully as they are very soft boiled they will be fragile so take your time
Then divide the meat mixture into four portions and flatten out a single serving on a piece of cling film to a rough circle approximately 5-7mm thick and place a shelled egg in the middle
Bring up the edges of the cling film to wrap the meat mixture around the egg and then with wet hands remove the cling film and proceed to form the meat into a smooth covering around the egg
Repeat this process for the remaining eggs and then fry in a deep fat fryer for 5 minutes and serve warm
Nutrition Information:
Yield:

4
Serving Size:

1
Amount Per Serving:
Calories:

493
Total Fat:

27g
Saturated Fat:

8g
Trans Fat:

1g
Unsaturated Fat:

15g
Cholesterol:

317mg
Sodium:

463mg
Carbohydrates:

24g
Fiber:

2g
Sugar:

6g
Protein:

38g
Calorific details are provided by a third-party application and are to be used as indicative figures only.