I love a good Scotch Egg & and this Indian version is called a Nargis Kebab and actually predates the British version!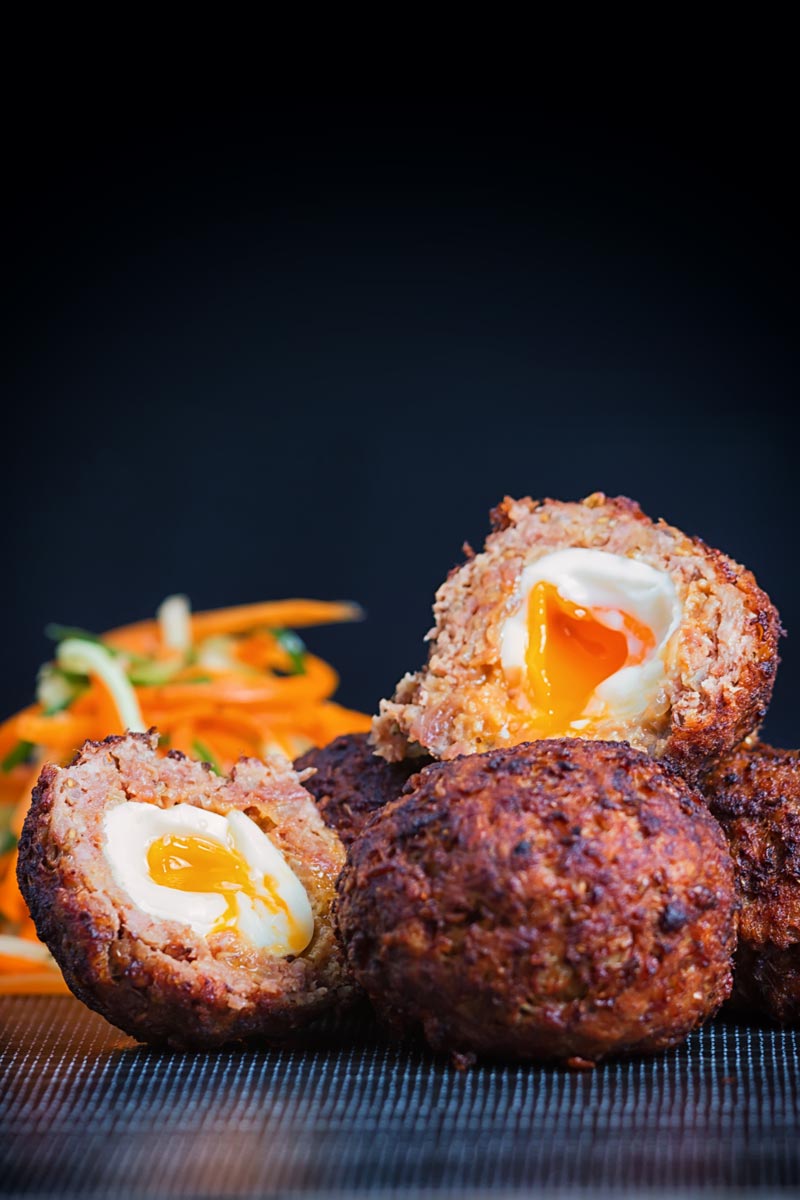 An Indian Scotch Egg?
I love Scotch Egg so imagine my joy when I stumbled across something called a nargesi kebab. It was described as an Indian Scotch egg in a Restaurant in the UK.
I guess it was around 1995 and I had never seen it on a menu before and I had no idea if they are an old Indian recipe or not.
But I do know that they tasted delicious and that restaurant rapidly became my favourite place to get Indian food. They also were the only place that served a homestyle egg curry!
A bit of research indicates that this recipe was probably the forerunner of the British Scotch Egg.
My version uses a spiced beef mix and if fried to keep the perfect runny yolk.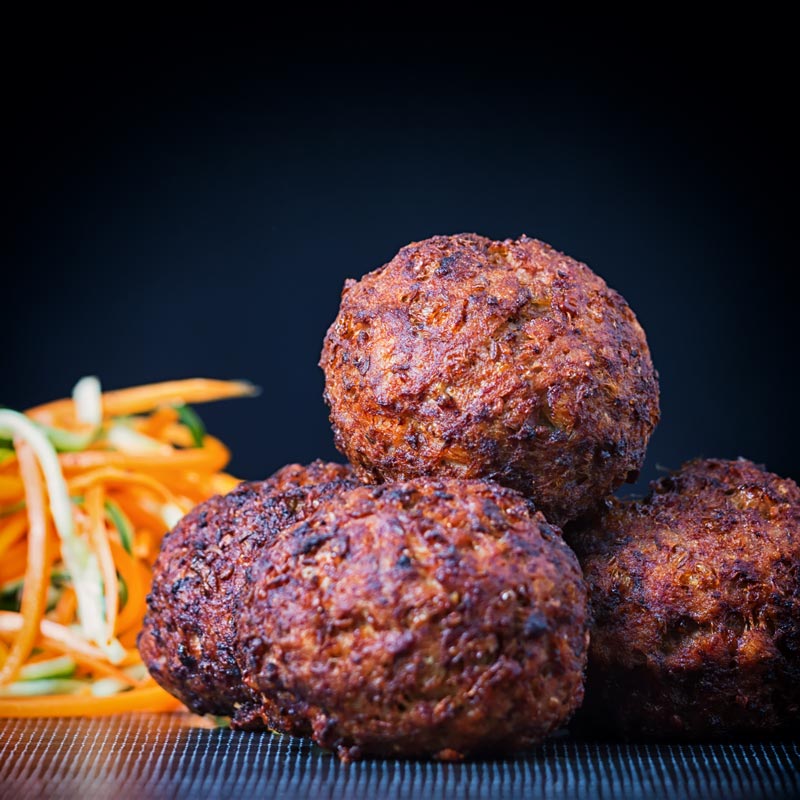 Cooking Hints & Tips.
How you cook these nargesi kofta really will depend on how you intend to use them.
If I am eating them as a meal at home then I insist on a runny yolk and they must be deep-fried to achieve this.
Boil your eggs as long as it takes for you to get them out of the shells.
For me that is 5 to 6 minutes in boiling water, please note this is using unchilled eggs. As a general rule, eggs in Europe are not refrigerated.
If you are using chilled eggs then this will need to be up to a minute longer.
If I am taking them on a picnic then I boil them for 1-2 minutes longer and will then typically bake them in the oven rather than fry them.
In order to bake them I cook them in a fiercely hot oven around 220°C or 450°F for 15 minutes.
Also if you are planning to eat these cold then increase the spices by 15-25%. The intensity of spices tends to dull when food is served cooled.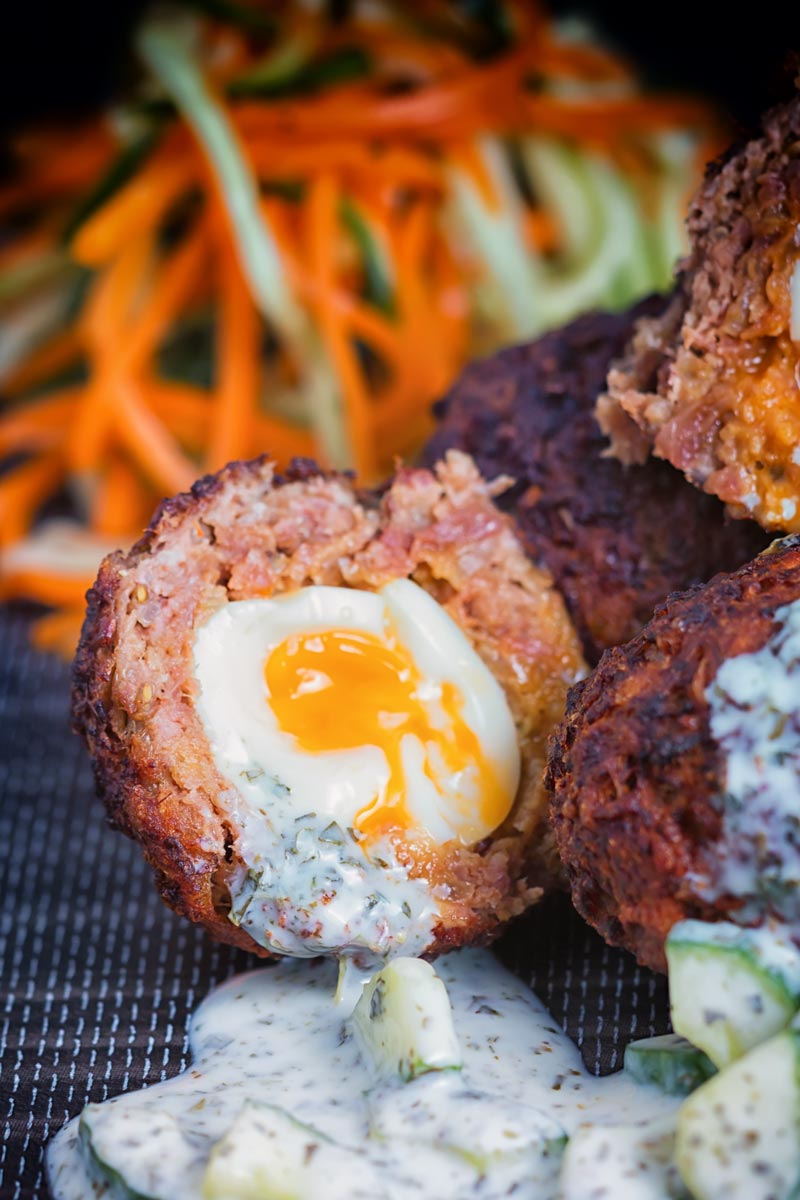 Serving Suggestions.
A Nargis kebab is a seriously rich and filling centrepiece of a meal despite being diminutive in size.
As a result, I usually serve them with something light but also something with a little acidity and sweetness. This helps counter that all that rich protein.
That for me means a mint and cucumber raita.
Raita is a traditional Indian side dish with as many variations as there are families or restaurants.
However, the one I favour consists of yoghurt, sugar, lemon juice and tonnes of fresh mint.
This dish also works really well with a kachumber salad, which is a mix of onion, cucumber and often tomato.
It features a lemon and sugar "dressing" and herbs like mint and coriander.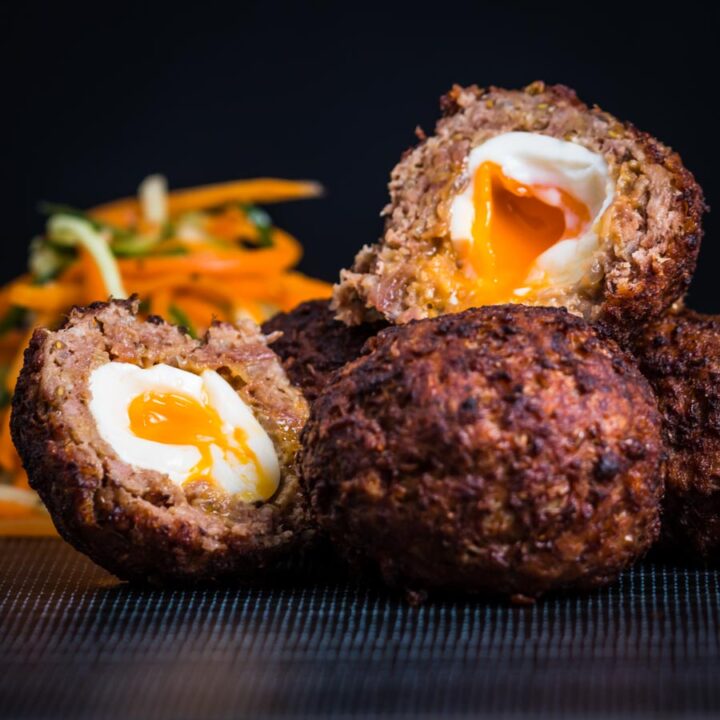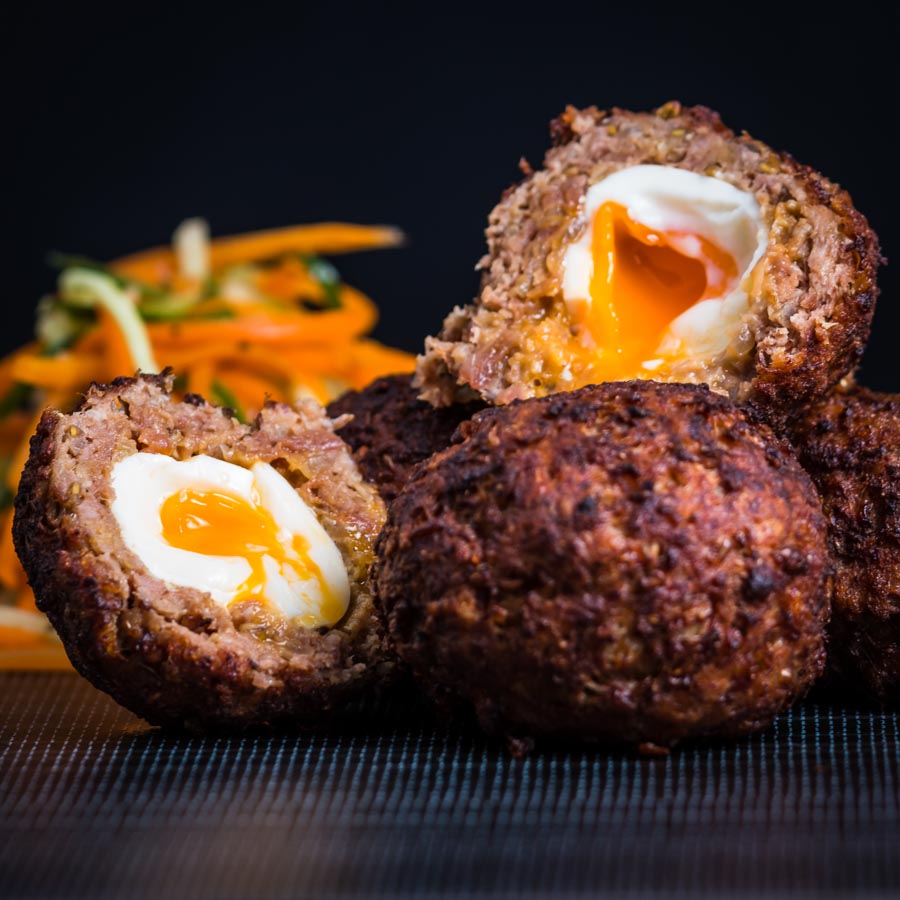 Yield:

4 Kebabs
Indian Nargis Kebab Recipe
These Nargis kebabs really are a hidden jewel of Indian cuisine, they are almost certainly the inspiration behind the British Scotch Egg.
Ingredients
1 Tbsp Cooking Oil
1 Tbsp Cumin Seeds
1 Tsp Fenugreek Seeds
250 g Onions
20 g Ginger
2 Garlic Cloves
1 Tbsp Ground Corriander
1/2 Tsp Kashmiri Chili Powder
1/2 Tbsp Mango Powder
1/4 Tsp Salt
300 g Ground Beef
5 Eggs
75 g Breadcrumbs
Instructions
Finely dice the onion and garlic, then grate the ginger.
Heat the tablespoon of oil in a heavy based pan over a medium high heat.
Add the Cumin and Fenugreek seeds and fry until fragrant, approximately a minute or two.
Add the Onion, Garlic and Ginger then reduce the heat to a medium low setting and cook down until golden.
Throw in the Ground Corriander, Kashmiri Chili, Salt and Mango Powder, stir and cook for a further 1 minute and set aside to cool completely.
Pre-heat your deep fat fryer to 170ºC or 340ºF.
Add the onion mixture to the ground beef along with a single egg and the breadcrumbs and mix. This should give you approximately 550g of meat to wrap around the eggs.
Boil the remaining 4 eggs by placing them in rapidly boiling water for 5-6 minutes and immediately refresh in cold water.
Peel the eggs carefully as they are very soft boiled they will be fragile so take your time.
If you want firmer egg yolks simply boil for longer.
Then divide the meat mixture into four portions.
Flatten out a single serving on a piece of cling film to a rough circle approximately 5-7mm thick and place a shelled egg in the middle
Bring up the edges of the cling film to wrap the meat mixture around the egg.
Wet your hands and remove the cling film and proceed to form the meat into a smooth covering around the egg
Repeat this process for the remaining eggs.
Fry in a deep fat fryer for 5-7 minutes.
Notes
The cooking time for the boiled eggs relates to room temperature eggs, if you are using chilled eggs you will need to add another 60 seconds or so.
Nutrition Information:
Yield:
4
Serving Size:
1
Amount Per Serving:
Calories:

446
Total Fat:

24g
Saturated Fat:

7g
Trans Fat:

1g
Unsaturated Fat:

14g
Cholesterol:

299mg
Sodium:

455mg
Carbohydrates:

24g
Fiber:

2g
Sugar:

6g
Protein:

32g
Calorific details are provided by a third-party application and are to be used as indicative figures only.