Devilled kidneys on toast is a classic old-school British recipe featuring tender lambs kidney in a mustard & Worcestershire sauce glaze.
This delicious recipe is not just quick, weighing in at a rapid 15-20 minutes, it is also wonderfully frugal too!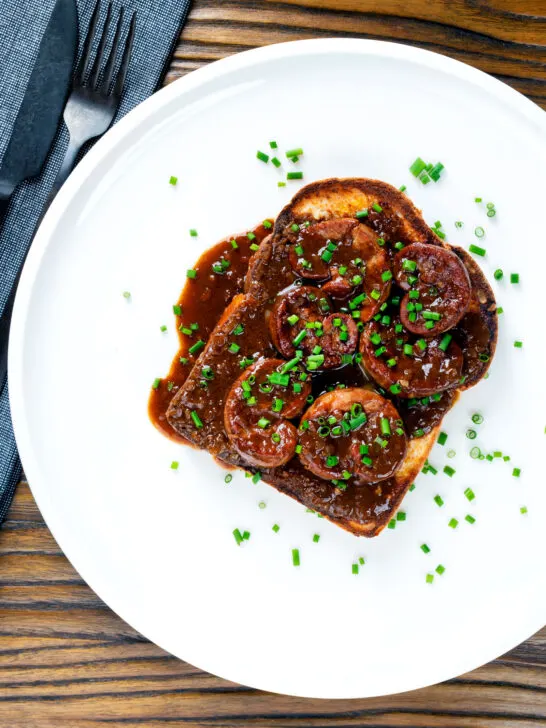 Spiced Lambs Kidneys
An awful lot of people turn their noses up at the thought of offal, but not me, I love the stuff and it is no stranger to my site.
It is delicious, pretty easy to cook and quite often a really cheap and nutritious meal.
Recipes like my pan-fried lambs liver with port onions, easy chicken liver stew, peri peri chicken livers, liver curry and haggis stuffed Balmoral chicken are easily some of my favourites!
Devilled kidneys on toast are my latest offering from the world of "variety meats".
They join my devilled mushrooms on toast and some rather foxy devilled mackerel fillets.
Like both of those recipes, the sauce "devilling" for this recipe is heavily influenced by Mrs Beetons old recipe from the early 20th century. They are pretty far removed from devilled eggs!
We get a bit of Worcestershire sauce, some wonderfully strong English mustard and a bit of cayenne to dust the kidneys with before they are fried in butter. Not only does it give a wonderful texture to the meat but it also thickens the sauce.
Add a proper doorstep of toast that you have buttered generously and some snipped chives then breakfast, lunch, dinner or supper is served. Yes, I eat this dish for any meal of the day!
If you like to look beyond beans on toast and love food like this, have a gander at my smoked haddock rarebit on toast and my creamy garlic mushrooms on toast recipes.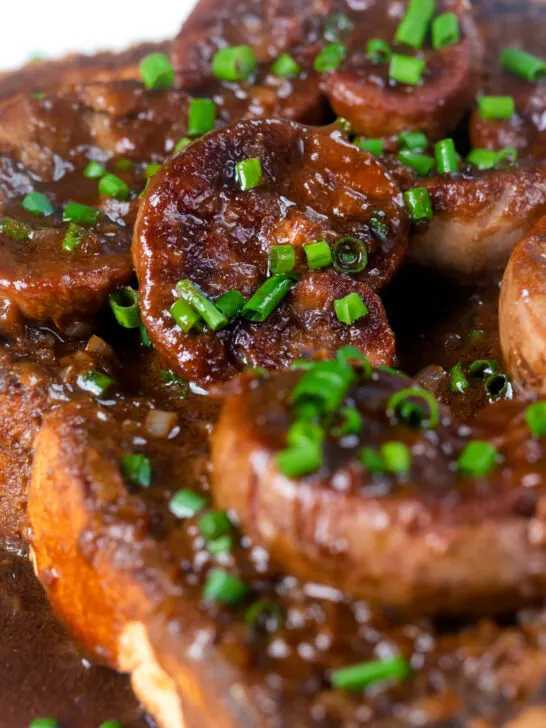 Frequently Asked Questions
How do I prepare lambs' kidneys?
Most kidneys come almost completely prepared, however, there is a bit of fat in the centre that needs removing.

After you cut the kidneys in half there will be some white firm fat in the centre of the kidney, this can be cut out with some sharp scissors.

Sometimes a paring knife can help and that is it, you are ready to rock and roll.
Do I have to add the cayenne pepper?
No, you could omit this without any problems, there is only a little of it and it provides a little background heat.
Do I have to use English mustard?
No, you could swap it out for any mustard you like, English mustard is generally speaking the strongest flavoured mustard. As a result, anything you swap it out with will likely tone down the flavour.
Is lamb stock or beef stock better?
Lamb stock gives the dish a really wonderful and unique flavour however it is a little more difficult to find depending on where you are from.
Can I make this in advance?
Not really, quick cooked kidneys really do not reheat very well because they become tough and rubbery.

However, this recipe cooks really quickly, you only need 10 minutes so it is not difficult to squeeze in.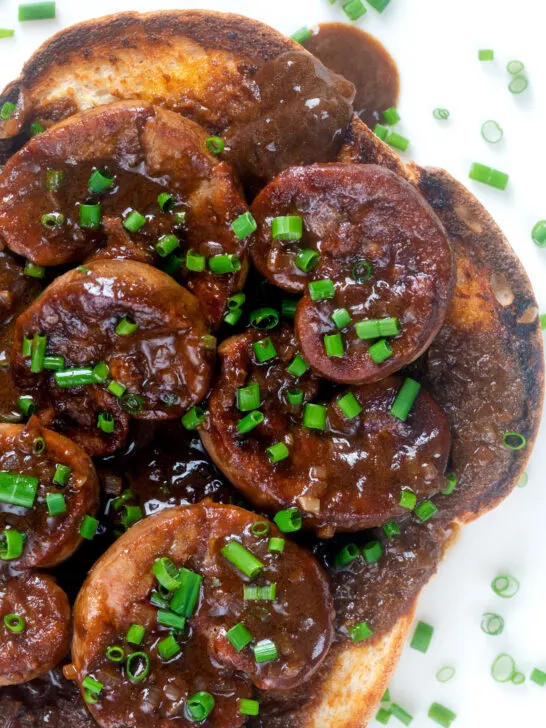 Serving Suggestions
As far as I am concerned devilled kidneys need nothing more than a doorstep of toast, plenty of butter and some snipped chives.
But if you wanted to turn these into a more substantial meal then doing so is really easy.
They are delicious served with mash, whether that be mashed potato or celeriac mash, you could even serve them with some cheesy polenta.
Sticking with the theme of potatoes, serving these with a simple air fryer cooked baked potato, air fryer chips or even some crispy fried potatoes would be great too.
If you insist on some greens how about some simple roasted tenderstem broccoli?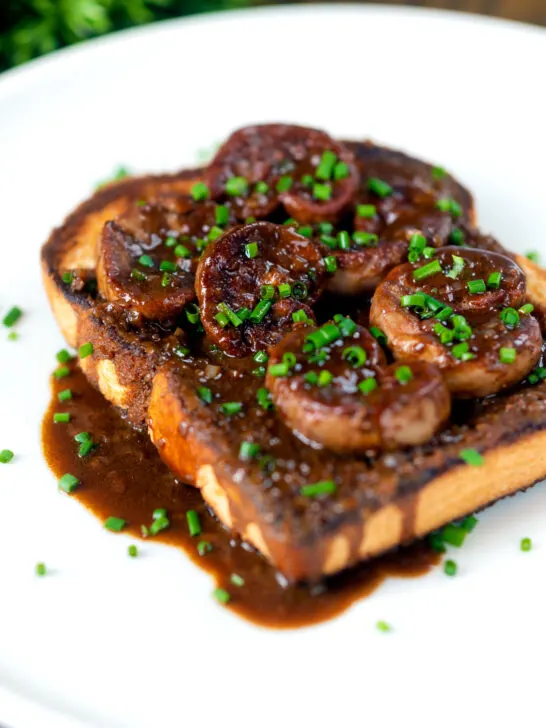 Equipment Used
I only mention brands of equipment if I think that they make a material difference to a recipe. But if you have any questions feel free to ask them in the comments section below the recipe.
Stovetop.
Grill (broiler) or toaster.
30cm or 12″ frying pan or skillet.
Mixing bowl.
Weighing scales and or measuring jug, cups and spoons.
Kitchen tongs.
Serving and stirring spoons.
Plate for dredging the kidneys.
Chopping board.
Kitchen knife.
Paring knife.
Scissors.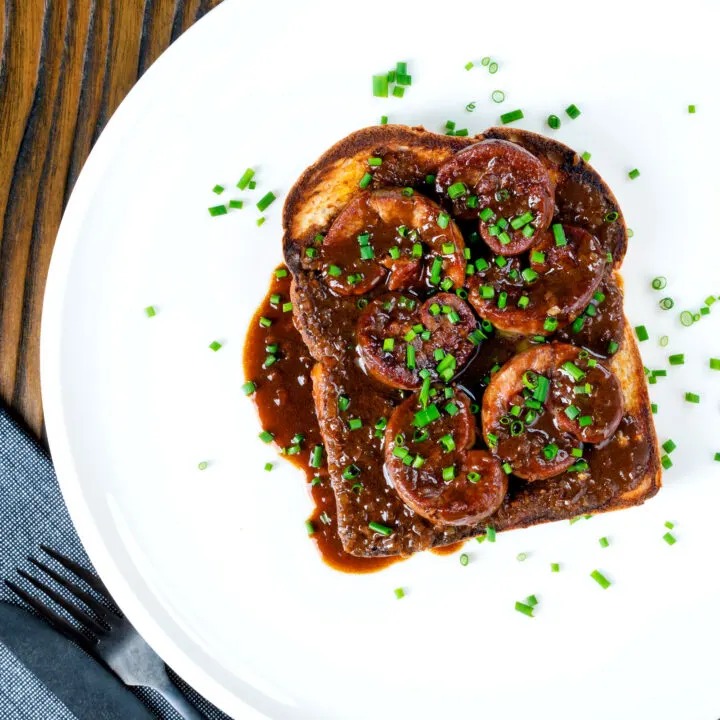 Yield:

2 Servings
Devilled Kidneys on Toast Recipe
Offal might not be cool, but it is both delicious and frugal if treated well, these delicious devilled lambs kidneys come are dredged in cayenne pepper and flour and cooked in mustard and Worcestershire sauce, then served on a slice of toast.
Ingredients
2 Thick Slices of Bread
6 (Around 350g) Lambs Kidneys
3 Tbsp Plain Flour
½ Tsp Cayenne Pepper
½ Tsp Salt
10g (¼ Cup) Chives
For the Devilled Sauce:
1 (35g) Banana Shallot
2 Tbsp Worcestershire Sauce
1 Tbsp English Mustard
125ml (½ Cup) Lamb or Beef Stock
50ml (3 Tbsp + 1 Tsp) Brandy (Optional)
50g (3 Tbsp + 1 Tsp) Butter (Plus Extra for Buttering Toast)
Instructions
Heat your grill to toast the bread as hot as it will go, if you have a toaster you could use that too.
Cut the kidneys in half lengthways and cut out the white membrane, a combination of sharp kitchen scissors and a paring knife are best for this. Then pat them dry on some kitchen paper.
Cut the shallot in half, peel it and then dice it as finely as you can.
Chop the chives into a fine dice.
Mix together the mustard, Worcestershire sauce and lamb stock in a small bowl.
Mix together the flour, cayenne pepper and salt on a plate.
Place the kidneys cut side down into the flour.
Heat a 30cm or 12" frying pan (I use a nonstick pan) over a high heat and add the butter, when it begins to foam tap any excess flour from the kidneys and place them cut side down in the pan and cook for 90 seconds.
Now is a good time to start toasting the bread, do this on both sides.
Flip the kidneys and add the shallots, then cook for 30 seconds stirring constantly.
Pour in the brandy and cook until reduced by two-thirds, this will take another minute.
Finally pour in the devilled sauce and cook for a final minute or so, the sauce should thicken a little.
Butter the toast, add the kidneys, and some of the sauce and sprinkle with the snipped chives.
Nutrition Information:
Yield:
2
Serving Size:
1
Amount Per Serving:
Calories:

918
Total Fat:

35g
Saturated Fat:

17g
Trans Fat:

2g
Unsaturated Fat:

14g
Cholesterol:

1880mg
Sodium:

1615mg
Carbohydrates:

56g
Fiber:

4g
Sugar:

8g
Protein:

80g
Calorific details are provided by a third-party application and are to be used as indicative figures only.