I adore cooking with and eating offal, sadly it is not more popular, this chicken liver ragu combines them with peas and mushrooms in a red wine sauce.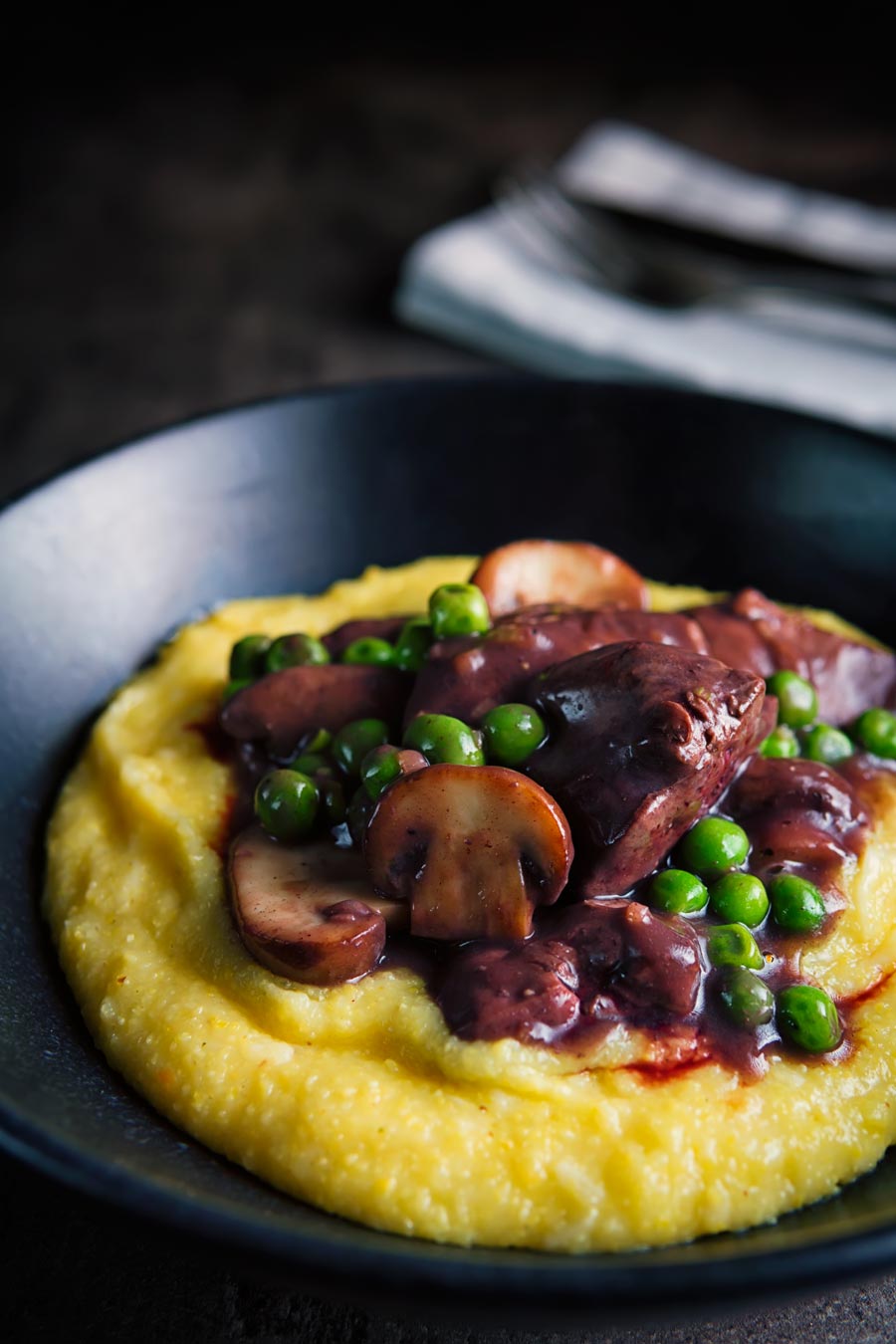 Chicken Liver Ragu With Polenta.
I love this chicken liver ragu recipe, simple, tasty, hearty and dirt cheap to cook. Basically, it is the perfect dish for just after Christmas when we have all spent our pennies and it is dark and cold outside!
Admittedly offal recipes are not exactly the height of food fashion. But I have never really been a slave to fashion, food or otherwise.
This chicken liver recipe is full of big flavours, we naturally have the iron rich flavour of the livers.
Then we have some mushrooms for an earthiness and bling that up with sweet peas. Finally, we wrap that up in a lovely thick red wine sauce.
The ragu itself is quick to cook, taking just 20-25 minutes. But I just love pairing this with polenta so in total this dish takes around 45 minutes.
But as you should know by now. We have a wine bottle open therefore it is illegal to not have a glass of something to keep us company.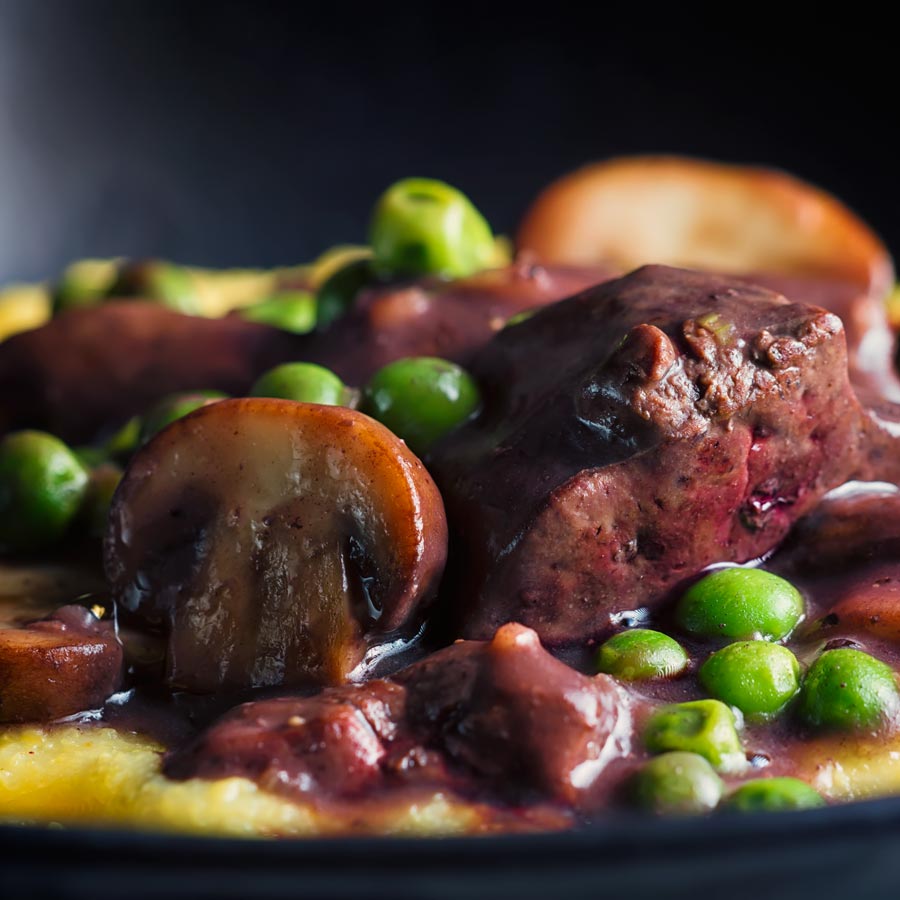 How To Cook Chicken Livers.
As far as I am concerned chicken livers need to be quickly cooked and left a little pink inside.
As I explained in my Liver and Onions recipe, liver can have a tendency to err towards boot leather if it is not cooked properly.
So in this chicken liver ragu recipe I start them off in a hot pan to get a nice colour. Then turn down the heat and let them cook for no more than 10 minutes.
They retain a little pinkness inside and are beautifully soft and tender.
To be honest you could pretty much spread these bad boys on toast and turn them into a pate!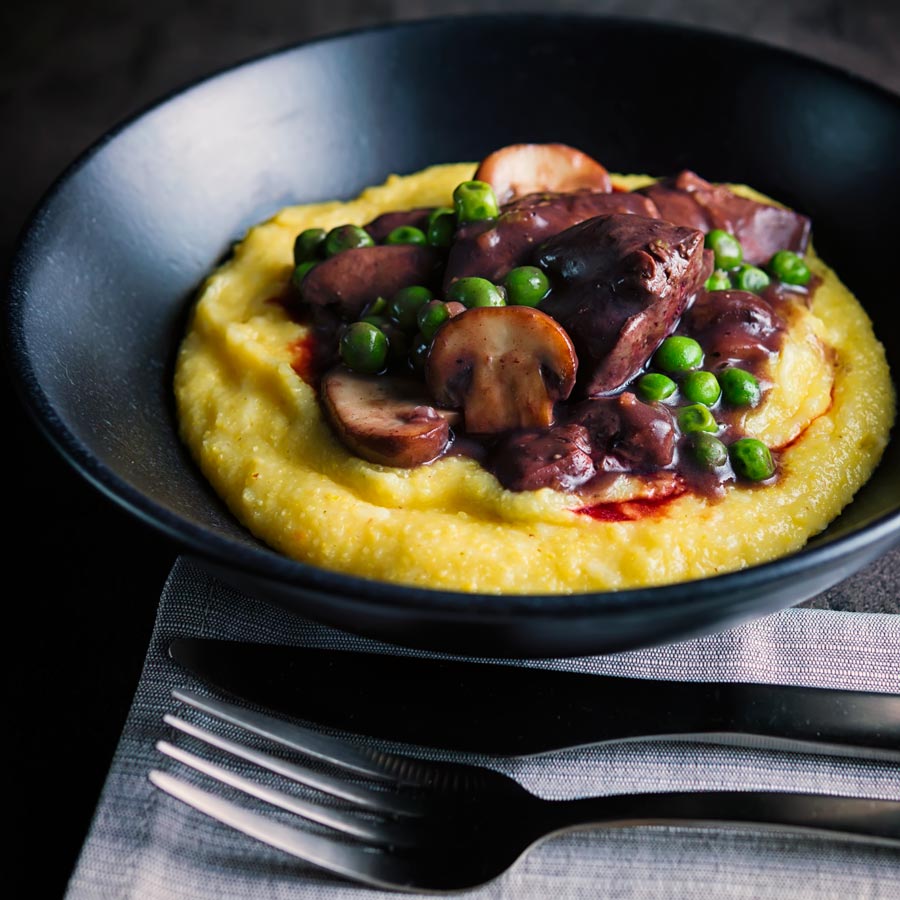 Cooking With Offal.
My website is littered with references to my preference for the less favoured and as a result cheaper cuts of meat.
This love extends to offal, whether it is chicken livers, kidney or brains, they all feature regularly on my table.
We seem as a society to have become squeamish about eating offal and I think it is a crying shame for two reasons.
It is nothing short of wasteful, rearing an animal only to refuse to eat part of it because… 'eww' is frankly daft!
It tastes fantastic, well apart from tripe anyway! There is so much wonderful rich flavour in offal.
If you are new or a little squeamish about eating offal check out my Faggots and mash recipe. These are the most incredible meatballs!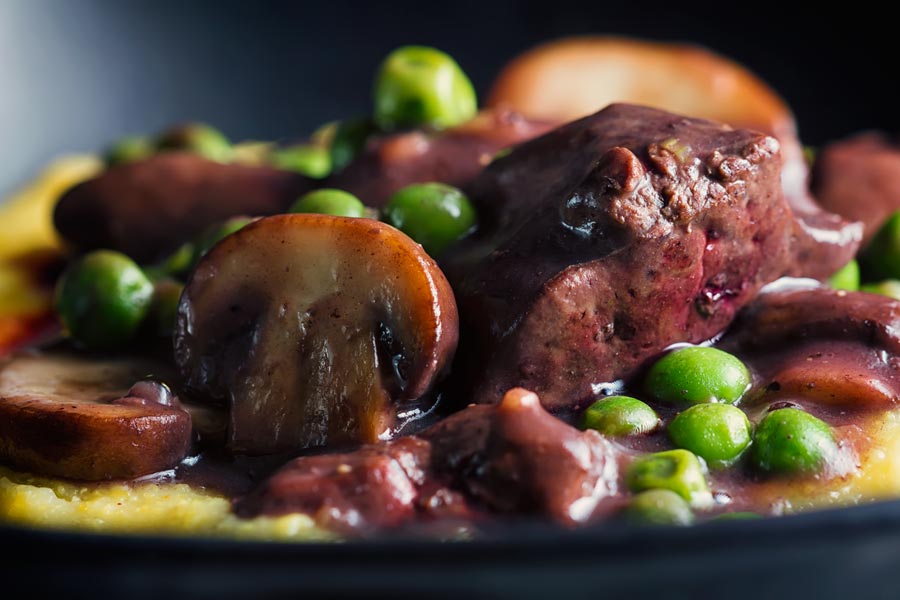 Choosing The Wine.
Ordinarily, I like to cook with big and bold fruity wines like Merlot or Syrah. However, they are not the best for this chicken liver ragu recipe.
Fruity and sweet is not the greatest match with the rich iron flavours of liver.
Instead, you are looking for something with a little acidity. This is to provide a contrasting but complementary set of flavours to the chicken liver.
A Pinot Noir or Gamay is perfect for this recipe. You can, of course, use any wine you like and it will have a dramatic impact on the flavour of this recipe.
The best advice about cooking with wine is that if you would not drink it do not cook with it!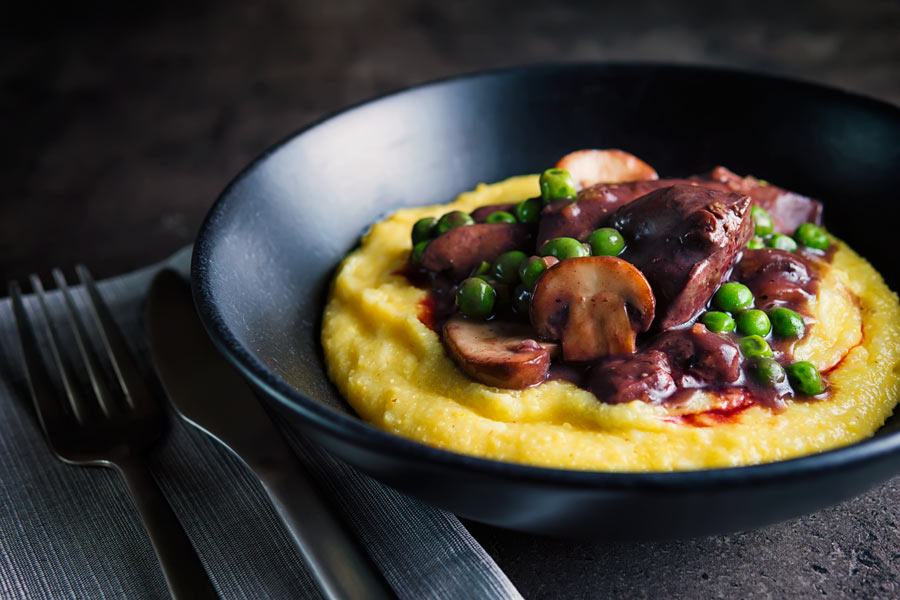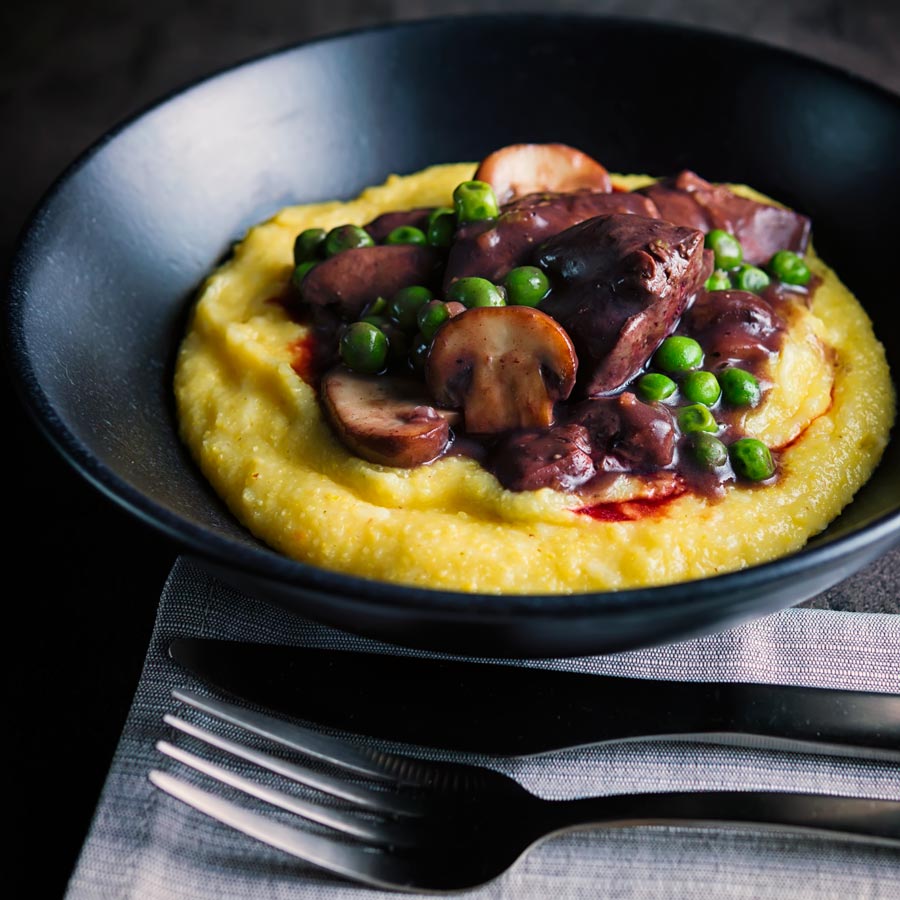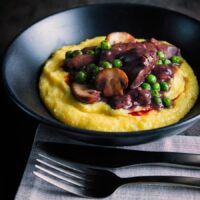 Chicken Liver Ragu With Polenta
I adore cooking with and eating offal, sadly it is not more popular, this chicken liver ragu combines them with peas and mushrooms in a red wine sauce.
Ingredients
350 g Chicken Livers, Trimmed of sinew
125 g Chestnut Mushrooms
75 g Frozen Peas
50 g Shallot
2 Cloves Garlic
1 Tsp Tomato Puree
100 ml Red Wine
35 g Butter
1 Tsp Cornstarch, AKA Cornflower
Salt and Pepper, To taste
For the Polenta:
500 ml Chicken Stock
85 g Polenta
30 g Gruyere Cheese, Grated
Instructions
Begin by getting your polenta on the go.
Bring the stock to a simmer and then pour in the polenta stirring as you go.
When the polenta starts to 'plop', turn down the temperature as low as it will go and cook for 40 minutes, stirring vigorously every 5-10 minutes.
Whilst that is happening finely dice the shallot and garlic, and whilst you have the wine open, have a glass you deserve it!
Cut your mushrooms in half if they are small enough to make them bit size, otherwise cut them in quarters.
Now trim up your chicken livers removing any sinew and cut them up into 2-2.5cm pieces, that's about an inch for those of you of that persuasion.
When you have 15 minutes left on the polenta heat a large frying pan over a medium-high heat and add the butter.
When it foams add the shallot and cook for 2-3 minutes.
Add in the garlic and saute for another minute,
Throw in the mushrooms, season with a little salt and coók stirring occasionally for 5 minutes.
Turn up the heat to high, add in the chicken livers and saute for 2-3 minutes.
Season well with salt and pepper.
Pour in the wine and the tomato puree then stir, reduce the temperature to medium and cook for 2 more minutes.
Add 1 tablespoon of water to the cornstarch and mix together.
Drop the peas in the pan, followed by the cornstarch and cook stirring for a minute or two.
Your polenta should now be done so add the cheese and stir until melted.
Serve and tuck in!
Nutrition Information:
Yield:

2
Serving Size:

1
Amount Per Serving:
Calories:

720
Total Fat:

36g
Saturated Fat:

17g
Trans Fat:

1g
Unsaturated Fat:

15g
Cholesterol:

1052mg
Sodium:

1031mg
Carbohydrates:

30g
Fiber:

3g
Sugar:

9g
Protein:

59g
Calorific details are provided by a third-party application and are to be used as indicative figures only.