This venison ragu is a real indulgence, its big flavour comes from anchovies, dried mushrooms, bacon & juniper cooked in a bold red wine.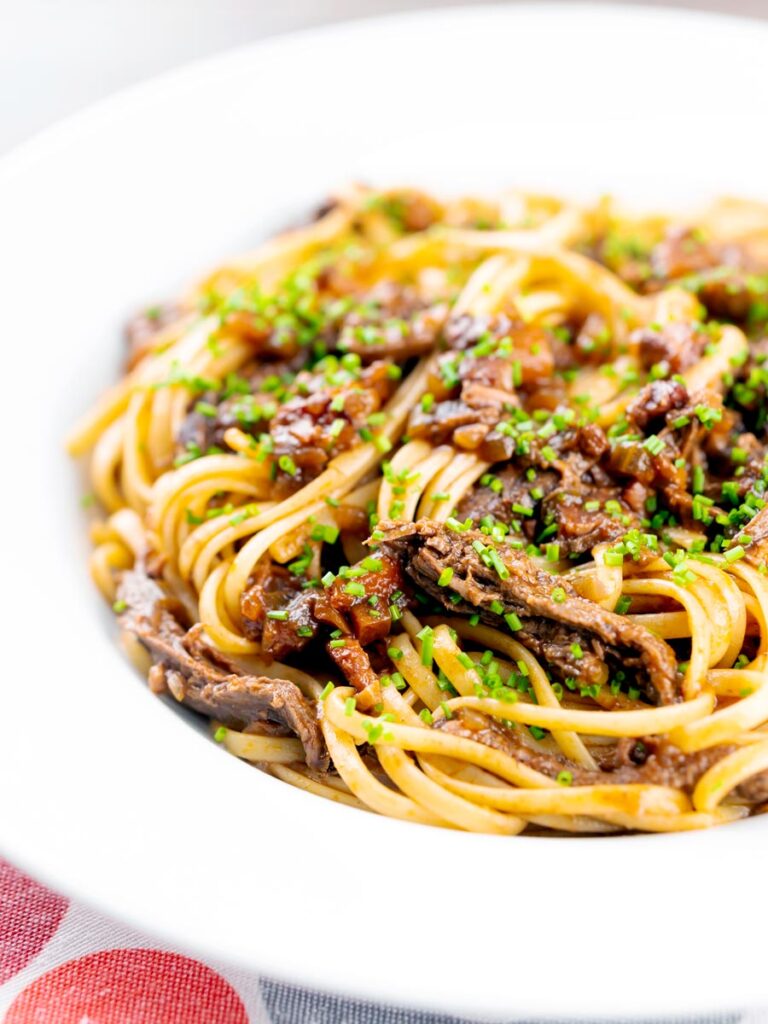 Venison Ragout.
A ragu is a typically meat based sauce often served with pasta and my site is littered with them.
Of course the most common is ragu alla bolognese. But I take a very liberal approach to a ragu as is quite common, and I use a whole host of meats.
This venison ragu joins ones made with rabbit, duck, and wild boar in a series of game based pasta sauces.
A ragu should be a "meat" based sauce rather than a tomato based sauce. Although I do have a vegetarian mushroom ragu.
This recipe features with big and bold flavours that all work wonderfully alongside gamey venison. We have juniper, anchovies and dried porcini mushrooms.
We season with bacon and cook it all in a nice red wine based sauce, it's almost like a shredded venison bolognese.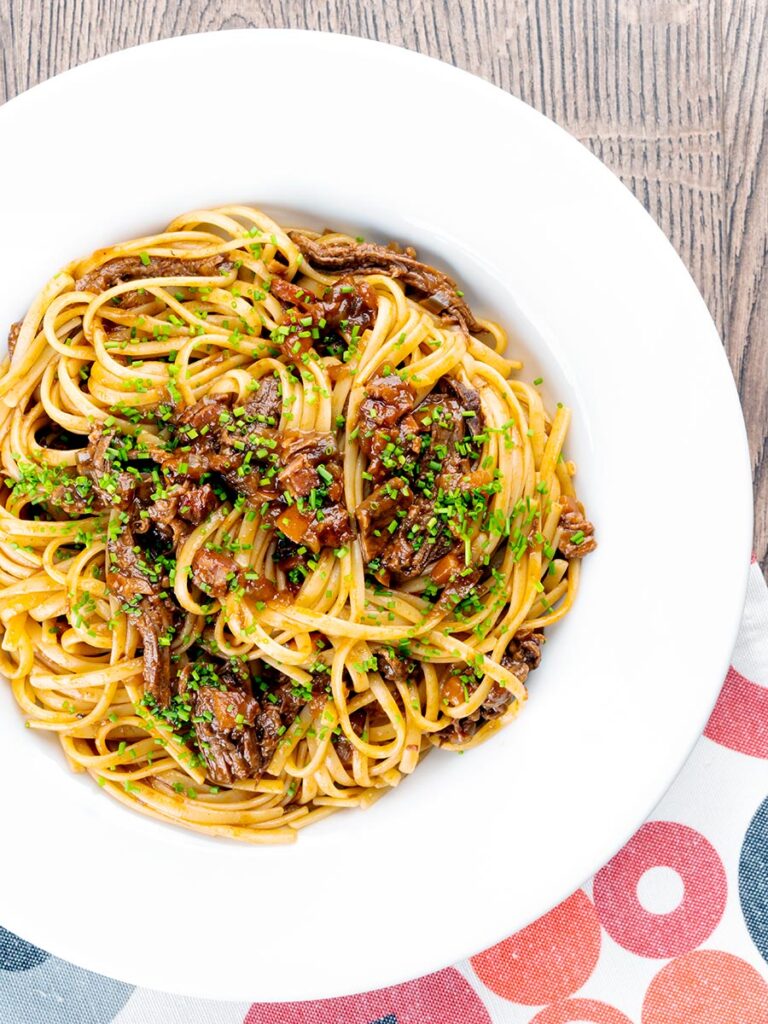 Ingredient Advice.
Venison is the star of this recipe and we do not need a lot, just 250g or 9oz is fine for two.
You want something form the shoulder or leg because it takes well to long cooking. It also shreds really well!
If you are in the US then it may very well just be labelled as venison roast apparently. Have a chat with your butcher and try and get an off cut.
If you are new to dried mushrooms don't be too alarmed by the price.
A little goes a very long way and they add an amazingly rich and meaty flavour to any dish.
Try to use dried porcini if you can, but if not experiment with some other dried shrooms the preparation method will be identical. Just soak them in boiling water for a while.
Many moons ago you used to have to strain the stepping liquid to get rid of grit. But I have not had an issue with gritty mushrooms in many many years!
One final piece of advice is to watch the salt in this recipe.
We have lots of potentially salty things here, bacon, stock, pasta so be careful with your seasoning and taste as you go.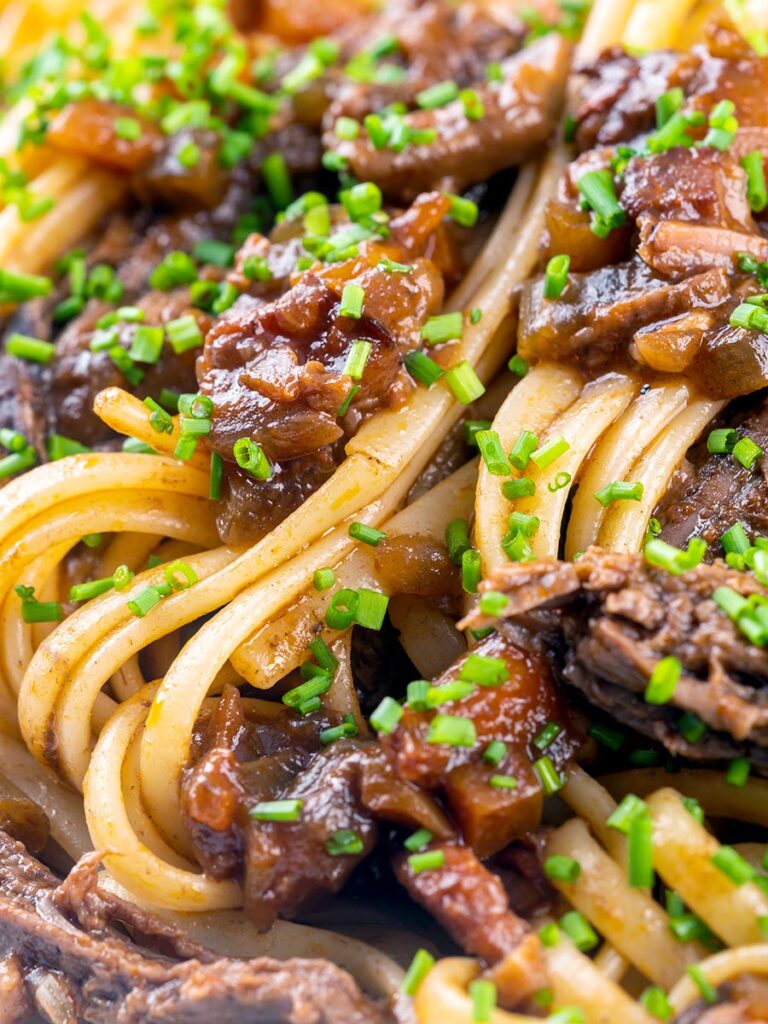 What Pasta To Use.
There are all sorts of conventions or surrounding what sort of pasta works best with different types of sauce.
I tend to feel my way around, this thickly shredded ragu is served with linguini.
The slightly wider oval shape of the linguini grabs hold of the sauce and holds it really well. The large shreds of venison are a perfect starting point to skewer before you twirl up the pasta.
But it would work just as well with everything from tagliatelle to pappardelle.
It would also be awesome with orecchiette which is how I serve my similarly shredded pork ragu.
But don't get tunnel vision here, this venison is awesome served over cheesy polenta.
Or how about ladled over a baked potato, maybe even the filling of a proper hardcore sandwich!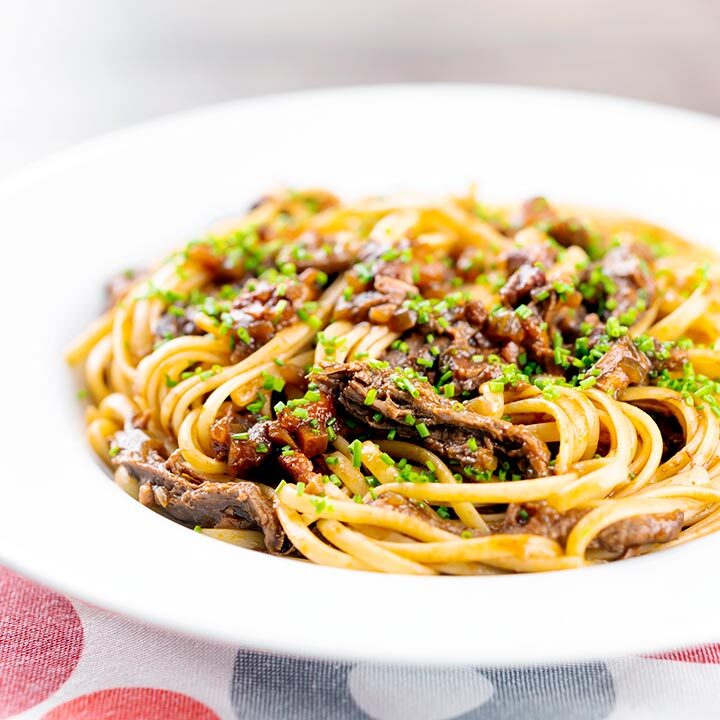 Yield:

2 Servings
Venison Ragu Recipe
Cook Time:
2 hours
55 minutes
Pasta in a big and bold meat sauce is my idea of heaven and this venison ragu ticks all of those boxes, it may take a while to cook but it is simple and outrageously good.
Ingredients
250 g (9 oz) Venison Shoulder
75 g (2.5 oz) Smoked Bacon
75 g (1/2 Cup) Onion
50 g (1/3 Cup) Celery
75g (1/2 Cup) Carrot
2 Anchovy Fillets
10 Juniper Berries
2 Tbsp Tomato Puree
250 ml (1 Cup) Red Wine
10 g Dried Porcini Mushrooms
125 ml (1/2 Cup) Boiling Water
1 Bay Leaf
1 Tsp Oil
Salt to taste
Back Pepper to taste
150 g (5oz) Dried Pasta
Instructions
Cut the bacon into a 5mm dice.
Pour the boiling water over the dried mushrooms and allow them to soak.
Heat the oil in a heavy based pan and when hot cook the bacon over a medium heat for 10 minutes.
Cut the onion, celery and carrot into a 2-4mm dice.
Season the venison with a little salt and lots of pepper.
Push the bacon to one side and add the venison and sear the venison on both sides.
Remove the venison add the diced vegetables along with the anchovy fillets and juniper berries.
Stir and cook until the onions go "glassy" which should take 5-10 minutes.
Turn the heat up to high and pour in the red wine and deglaze the pan, scraping away any residue.
Add the tomato puree, the liquid from the dried mushrooms stir and turn off the heat.
Chop the dried soaked mushrooms and add them to the pan with the bay leaf and add the venison.
Stir everything together and coat the venison in the sauce and add a lid, then transfer to the oven.
Cook at 150°C or 300°F for 2 hours.
Just before the venison is due to come out of the oven place the pasta on to cook.
Remove from the oven and place on the stovetop on a medium heat.
Take off the lid, then remove and shred the venison.
Before you add the venison back to the pan remove the juniper berries and bay leaf.
Stir through the venison and cook until any residual liquid has evaporated.
Stir the pasta through the ragu and serve.
Nutrition Information:
Yield:
2
Serving Size:
1
Amount Per Serving:
Calories:

653
Total Fat:

17g
Saturated Fat:

6g
Trans Fat:

0g
Unsaturated Fat:

10g
Cholesterol:

169mg
Sodium:

979mg
Carbohydrates:

37g
Fiber:

4g
Sugar:

5g
Protein:

61g
Calorific details are provided by a third-party application and are to be used as indicative figures only.