Slow cooker bolognese sauce is the perfect crowning element for a spag bol or classic lasagna this recipe creates more than enough to freeze.
All you have to do is chops some ingredients, brown them and throw them in the slow cooker, then kick back and relax!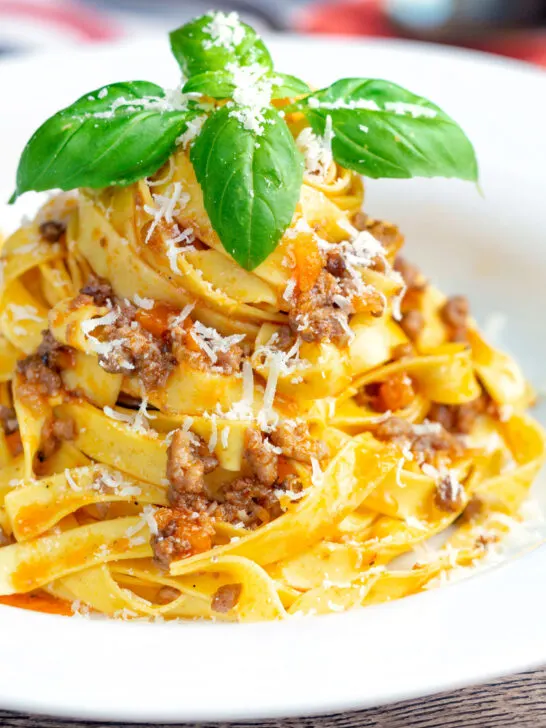 Crock Pot Bolognese Sauce
Everyone loves a good bowl of spag bol and I'm no different, but it gives me a challenge.
I cook for two and not usually one for "leftovers", I love to cook, but bolognese is one of the few dishes I make an exception for.
But a good ragu alla bolognese needs good slow cooking and to do that with minced meat you need a body of ingredients.
In order to do that I make my bolognese sauce in the slow cooker or crockpot! Don't worry I have provided stovetop instructions too.
It makes a wonderfully rich and thick sauce that is just as good stirred through pasta, dolloped on pasta or even in a classic lasagna bolognese.
It is an exceptionally meat-rich ragu that is built on classic Italian recipes, it contains very little tomato and has quite a lot in common with both my duck ragu and wild boar ragu recipes.
I finish it off with milk… yes, milk! It is a very traditional approach and gives the sauce a wonderfully smooth finish.
A bonus of making so much of this recipe is that you get to try it at its best. The flavours mature with time, so eating this on day 2 or 3 is a real treat.
It also freezes really well.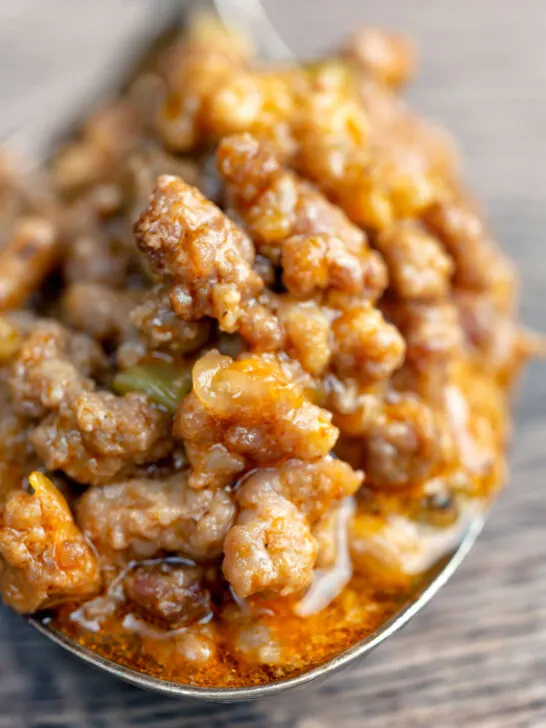 Frequently Asked Questions
Is this bolognese sauce best cooked in the slow cooker on the stovetop?
I almost always cook it in the slow cooker the main reason is that it is a much more energy-efficient way of cooking.

Stovetop cooking for me involves an induction hob. Whilst they are great at quick and hot cooking, they are distinctly average at low and slow.

I have provided instructions for cooking this bolognese sauce recipe on both the stovetop and in the slow cooker.
Do I have to brown the meat and soften the vegetables?
For the best results, yes!
How would I freeze this?
I portion it up in bags with enough for two people and then flatten it, It will last for 6 months in the freezer.
Do I have to defrost it before cooking?
I never bother, I cook it boil-in the bag style, yes you read that correctly.

Bring a pan of water to a boil drop a leaf steamer in the base and drop in the bag and cook it until it is piping hot. I do this because it reduces the amount of evaporation when reheating making sure the sauce remains juicy.

Just make sure you use a heavy-duty freezer bag.
Does the size of slow cooker really matter?
Yes, cooking in a slow cooker relies on having a reasonable volume of ingredients in the pot. If you no not have enough you will burn or dry out the food, even in a crockpot!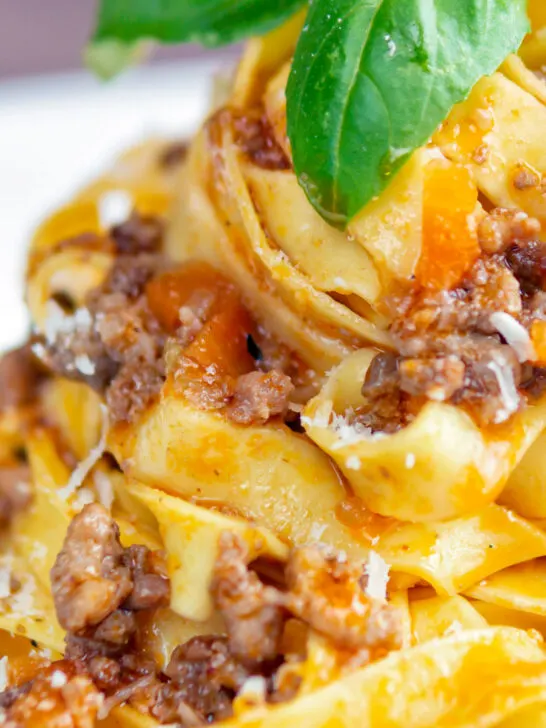 Serving Suggestions
A bolognese sauce is very closely associated with pasta. We all know spaghetti bolognese right?
Well, traditionally it would not be served with spaghetti. This is because it does not offer enough surface area for the sauce to cling to.
Now if you have a really saucy tomato bolognese then you are good to go with your spag bol!
This slow cooker ragu alla bolognese sauce needs more "real estate", traditionally that would be fettucini or tagliatelle.
It also should be combined with the pasta as far as I am concerned. But you go right ahead and dollop it on top if that is your style.
I also usually add basil and freshly grated parmesan because I can!
As for sides, who can resist a nice slice of cheesy garlic bread… right?
You can even use small amounts of bolognese sauce to stuff air fryer arancini!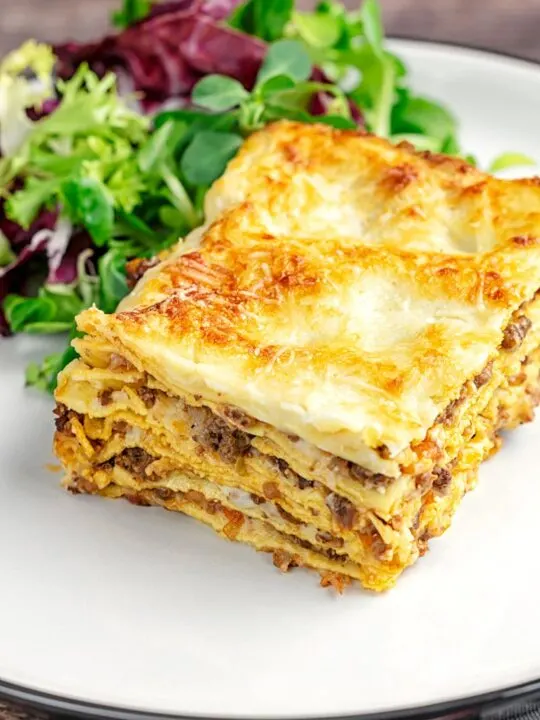 Equipment Used
I only recommend specific brands of equipment if I believe that they will make a material difference to a recipe. If you have any questions feel free to ask them in the comments section below the recipe.
Stovetop.
28cm or 11″ frying pan or skillet, try not to use nonstick if you can.
Slow cooker, I use a 3-3.5 litre slow cooker.
Sharp kitchen knife.
Chopping board.
Weighing scales and or measuring cups and spoons.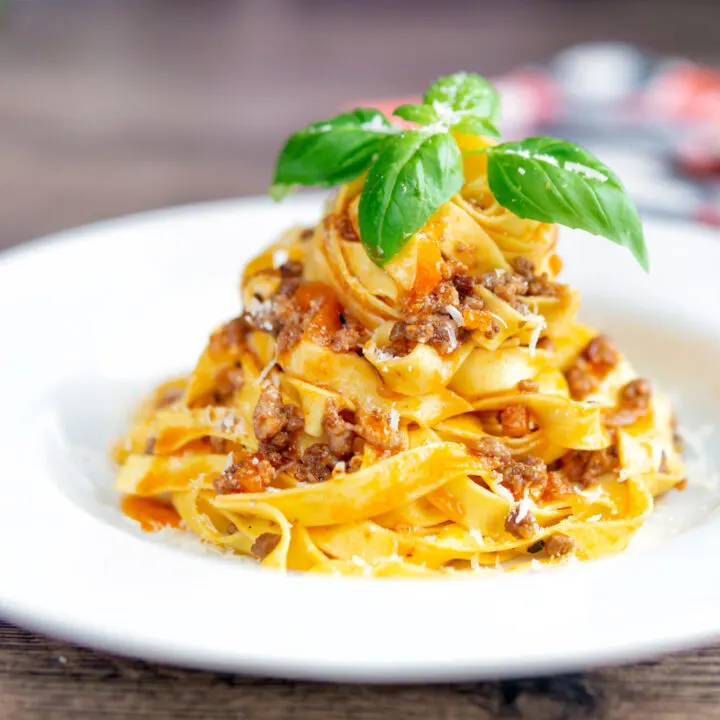 Yield:

8-10 Servings
Slow Cooker Bolognese Sauce Recipe
Cook Time:
5 hours
30 minutes
Total Time:
5 hours
40 minutes
I always make this pretty traditional Italian Ragu Alla Bolognese Sauce in my slow cooker to get plenty of leftovers to freeze!
Ingredients
500g (17oz) Minced Beef
400g (14oz) Minced Pork
150g (5oz) Smoked Streaky Bacon
100g (⅔ Cup) Onion
100g (⅔ Cup) Carrot
100g (⅔ Cup) Celery
50g (3 Tbsp + 1 Tsp) Butter
375ml (Half of a Bottle) Red Wine
2 Tbsp Tomato Puree
1 Tsp Salt
½ Tsp Black Pepper
3 Bay Leaves
125ml (½ Cup) Full Fat Milk
Instructions
Begin by cutting your celery, carrot and onion into a uniform fine dice approximately 3mm in size.
Cut the bacon into a 7-10mm dice.
Slow Cooker Instructions
Heat a frying pan (not non stick) over a high heat and add the bacon and minced pork and cook for two minutes.
Add the beef to the pork mix and cook until it starts to caramelise, stirring occasionally. This will take around 10-12 minutes.
After cooking season well for with salt and pepper, then add the bay leaves and transfer to a slow cooker..
Return the pan to the heat and add the butter.
When melted add the onion, carrot and celery and cook over a medium heat until softened, this will take about 10-12 minutes. Do not colour the vegetables.
Turn the heat up to high and add the tomato puree and red wine, then mix well.
Add this mix to the slow cooker and mix well.
Add the lid and cook on low for 4 hours or high for 2 hours.
Pour in the milk and continue to cook on for a further 45-60 minutes.
Stove Top Instructions:
Heat a 28cm or 11" frying pan (not non-stick) over medium a high heat, when it is hot add the bacon and cook for 2 minutes.
Add the butter and when it begins to foam add the onion, carrot and celery and cook until softened, this will take about 10-12 minutes. Do not colour the vegetables.
Add the beef to the pork mix and cook until it starts to caramelise, stirring occasionally. This will take around 10-12 minutes.
Turn the heat up and add the minced pork and beef and cook until well-browned stirring occasionally, this will take 10-15 minutes.
Stir in the add the tomato puree and red wine.
Cook for 5 minutes before adding a lid, then reduce the heat to low and cook on for 90 minutes.
Remove the lid and stir in the milk, return the lid and cook for another 30 minutes.
Nutrition Information:
Yield:
10
Serving Size:
1
Amount Per Serving:
Calories:

381
Total Fat:

24g
Saturated Fat:

10g
Trans Fat:

1g
Unsaturated Fat:

12g
Cholesterol:

107mg
Sodium:

436mg
Carbohydrates:

5g
Fiber:

1g
Sugar:

2g
Protein:

30g
Calorific details are provided by a third-party application and are to be used as indicative figures only.