Bolognese Sauce is perfect for batch cooking, forget shop bought jars and packets this is the real deal and can be frozen and used later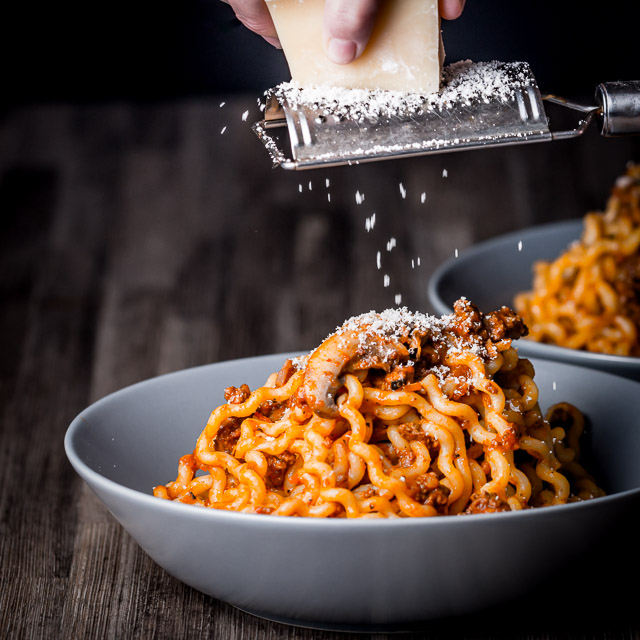 This Bolognese Sauce represents my first foray into batch cooking on my site, I tend to cook quick, fast and fresh in summer but in winter I indulge another food love, slow cooking. Unfortunately slow cookers or crock pots are not exactly built for cooking for two people. They just do not cook efficiently when not reasonably loaded with food.
So my slow cooker has become my 'batch cooking' machine, I use it to create dishes that can be re-purposed and naturally frozen for later. Everything from home made baked beans through to large batches of soups and that is before I have even begun to think about classic stews from around the world.
Bolognese Sauce Perfect for Freezing
Bolognese sauce is for me the perfect batch cooking dish, the sauce is so incredibly versatile and can be used in much more than a pasta bolognese. This particular recipe makes around 2kg of bolognese sauce and I will portion that into 10, 200g portions.
I use ziploc bags and place the portions sauce in each bag whilst keeping the bag flat, then remove as much air as possible and drop them in the freezer. They will keep for at least 3 months in the freezer and using them is as easy as removing from the freezer and heating through.
I personally love adding mushrooms to bolognese sauce but really do not like what freezing them does so if I want to add mushrooms. I will fry them in a little butter and oil and maybe add a little balsamic vinegar and then add the sauce when it is defrosted to heat it through.
This bolognese sauce has seemingly become a bit of a ritual for us at this time of year. This past weekend was wood chopping weekend for us, our 2 tonne of wood was delivered a few days ago and it all needs splitting and stacking to keep us warm over winter.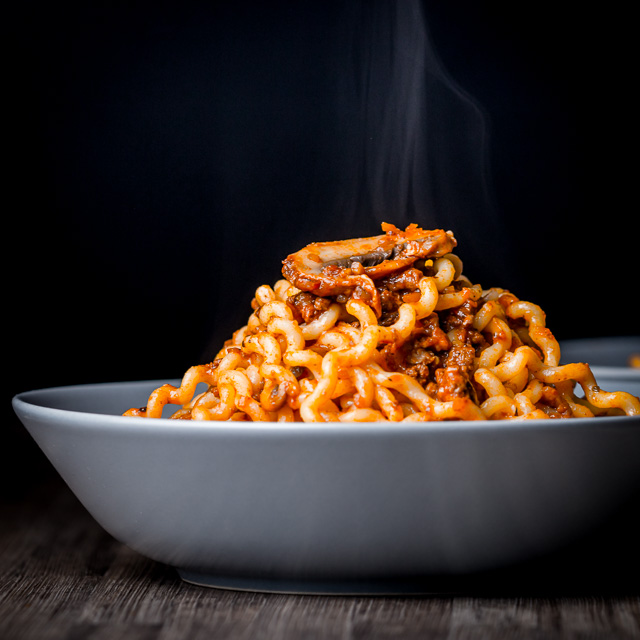 One of the many joys of living where we live is that the only heating available to us is solid fuel and given that we are independently minded folk we always split it ourselves. As you can well imagine in the first year that was quite a shock, it took us a week to split 2 tonne of winter wood and my hands looked like I had grated them.
This year we were beaten by light on Saturday and had to spend an extra hour on Sunday, but a week to 9 hours in just 7 years. I have kinda broken my desk jockey, office worker hands though!
I am very aware that it would be better for us to chop our wood in spring and let it season throughout the summer, however it has become something of a full stop in the year for us. All but the winter vegetables are harvested, our wine is made and we have very little to do between now and March. Apart of course from enjoying the fruits of our labour and galavant around what will soon be the frozen Hungarian Tundra. Which is currently decidedly marshy!
Did I digress? Imagine that! I think my point was that this sauce for me fills many purposes, I can spend maybe 45 minutes on it in the morning. Then walk away and come back to it after a full on days work, but it also gives me plenty of joy in the following days and weeks.
Naturally I will make you come back for the second part of this post as I am mean. But it contains a few more ideas of what to do with frozen bolognese sauce and whilst my next recipe is Lasagne the post will contain a whole smorgasbord of ideas some of which are obvious but others really rather surprising.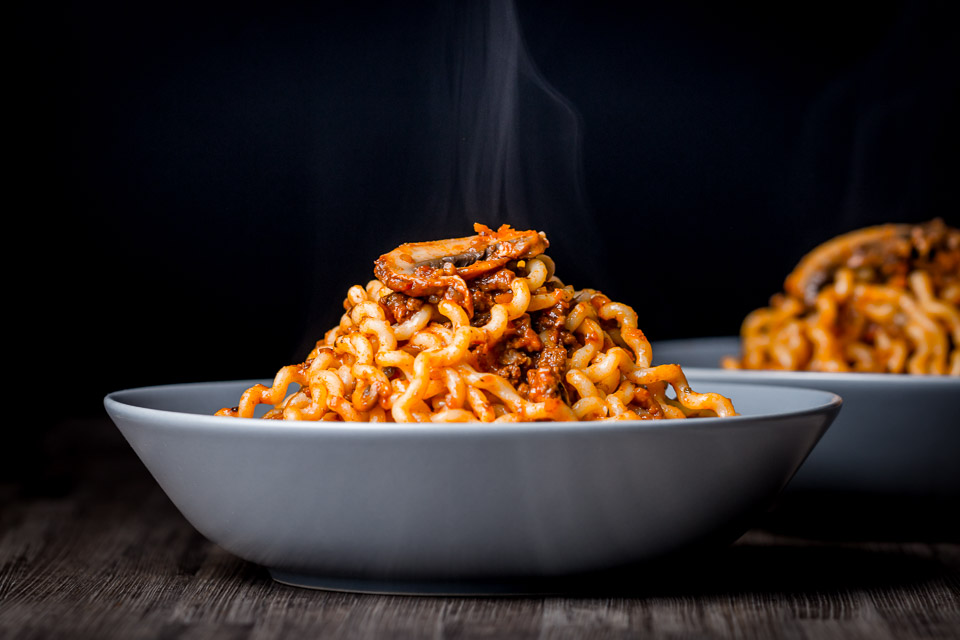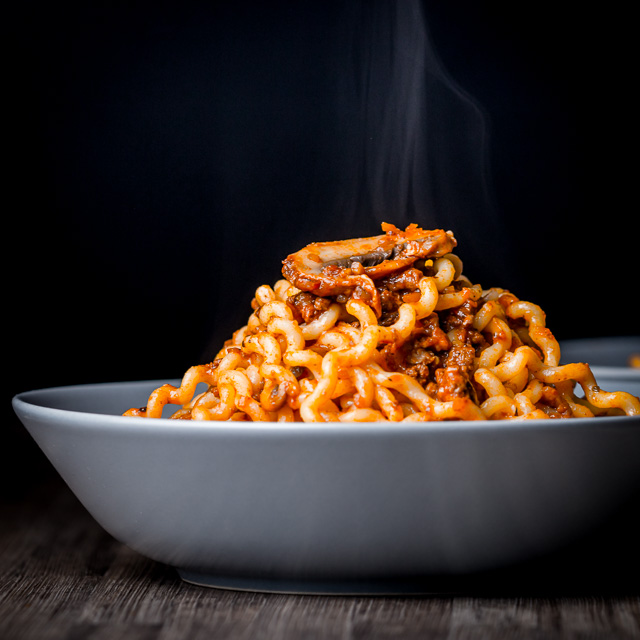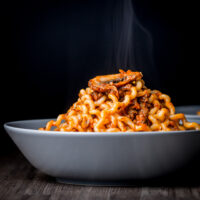 Bolognese Sauce Crockpot Edition
Total Time:
4 hours
45 minutes
Bolognese Sauce is perfect for batch cooking, forget shop bought jars and packets this is the real deal and can be frozen and used later
Ingredients
150 g Smoked Streaky Bacon, Roughly Chopped
150 g Onion, Finely Diced
4 Cloves Garlic, Peeled and finely sliced
1 Tsp Cooking oil, Neutral
150 g Celeriac, Finely diced, substitute for Celery Stalks if you wish
150 g Carrot, Finely Diced
1 Kg Minced Beef, I personally like to use shin of beef as I find the tendons break down and give the sauce a wonderful richness when slow cooked, coarsely ground
200 ml Red Wine
2 Tbsp Balsamic vinegar
400 g Tomato Passata, Tomato sauce in the US
2 Tbsp Tomato Puree
250 ml Beef stock
1 Tbsp Honey
2 Tsp Oregano
Salt and Pepper to Taste
3 Bay Leaves
Instructions
Pre heat your slow cooker or crockpot to low
Cook the streaky bacon in a frying pan over a medium heat until the fat has rendered off and the bacon is crispy, should take around 10 minutes
Transfer the Bacon to the slow cooker using a slotted spoon leaving the bacon fat in the pan
Fry the onions in the bacon fat until translucent for around 7-8 minutes
Add the garlic to the onions and fry for a further 2 minutes
Then turn up the heat under the pan to high add 1 tsp of cooking oil and add the carrot and celeriac and cook for 5 minutes stirring occasionally
Transfer the carrot and celeriac to your crock pot and stir the ingredients together
In the dry frying pan sear off your beef mince, do not over crowd your pan so do this in 3 or 4 batches, seasoning each batch with a touch of salt and pepper as you go, after each batch transfer to your crock pot
Once your meat is cooked you have a frying pan with lots of flavour so keep it on a high heat and add 200ml of red wine scrapping the bottom of the pan to capture all of the flavour
Reduce the red wine by three quarters and add to the crock pot
Return the fying pan to a high heat and add the balsamic vinegar and reduce for a minute then add the tomato passata (tomato sauce) and tomato puree, then bring to a simmer
Add the beef stock, honey and marjoram, then stir and then check the seasoning adding more salt and pepper if required
Add to the crock pot and stir to combine then add three bay leaves and leave to cook for 4 hours
Notes
In this instance I served 400g of this sauce with 200g of pasta. I fried up 100g of button mushrooms with a little butter, when cooked added 1 Tbsp of balsamic vinegar and reduced then added the Bolognese Sauce and stirred into the pasta
Nutrition Information:
Yield:

12
Serving Size:

1
Amount Per Serving:
Calories:

365
Total Fat:

21g
Saturated Fat:

8g
Trans Fat:

1g
Unsaturated Fat:

11g
Cholesterol:

93mg
Sodium:

476mg
Carbohydrates:

9g
Fiber:

2g
Sugar:

5g
Protein:

30g
Calorific details are provided by a third-party application and are to be used as indicative figures only.