This very traditional and delicious Italian Ragu Alla Bolognese recipe contains instructions for both slow cooker and stovetop preparation.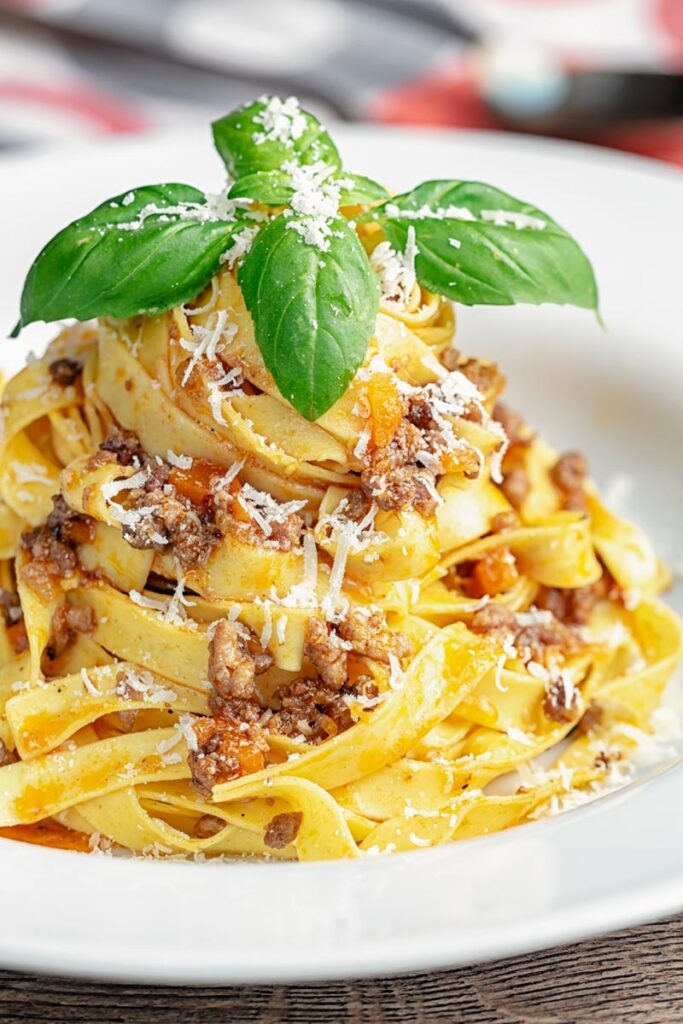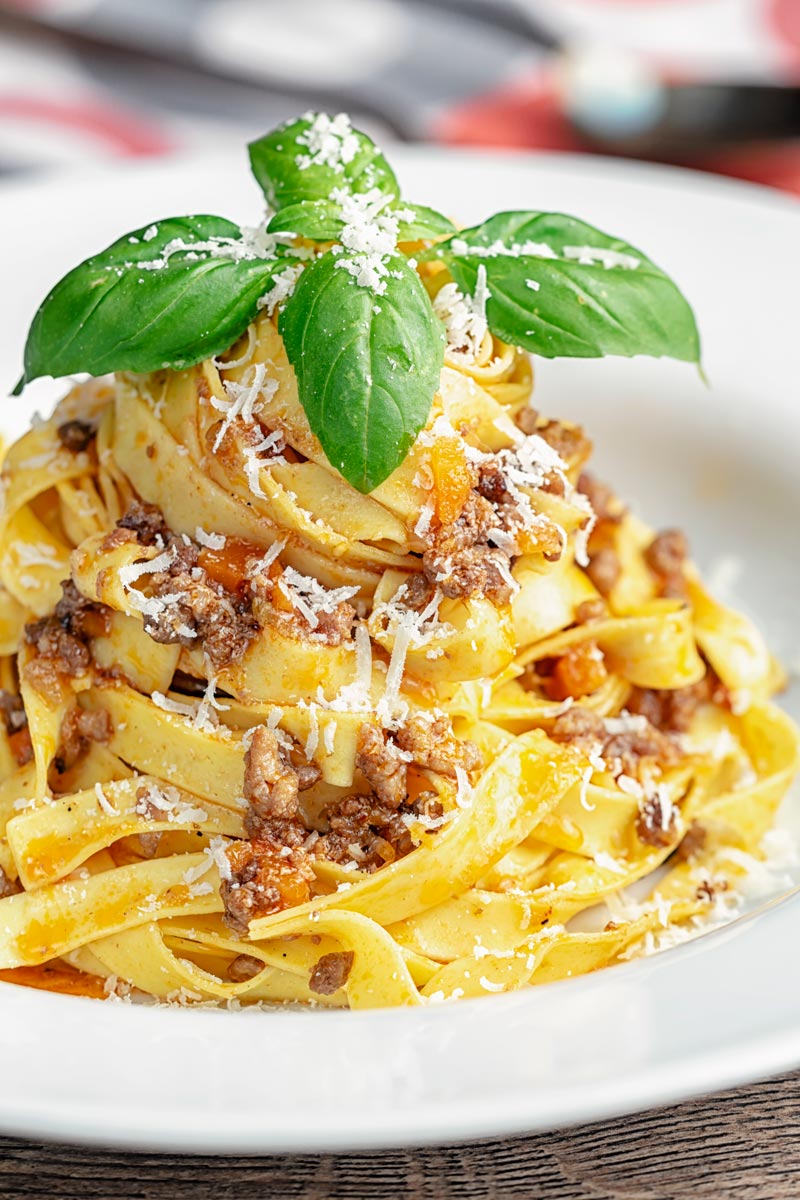 The Italian Bolognese Sauce.
Regular readers will know that I put very little stick in the notions of either traditional or authentic when it comes to cooking.
It is nice to know where food comes from and to understand traditions. But I do not think we should be a slave to those traditions.
This recipe however very much errs towards the side of tradition. This is not the bolognese you get in your local pub or out of a jar from the supermarket!
It is an exceptionally meat-rich ragu that contains very little tomato and has quite a lot in common with my duck ragu recipe!
It is given a smooth and round finish with milk… Yes, milk!
It is fantastic as pushed through a little pasta or as the meat component of a traditional Lasagna Bolognese.
A bonus of making so much of this recipe is that you get to try it at its best. The flavours mature with time, so eating this on day 2 or 3 is a real treat!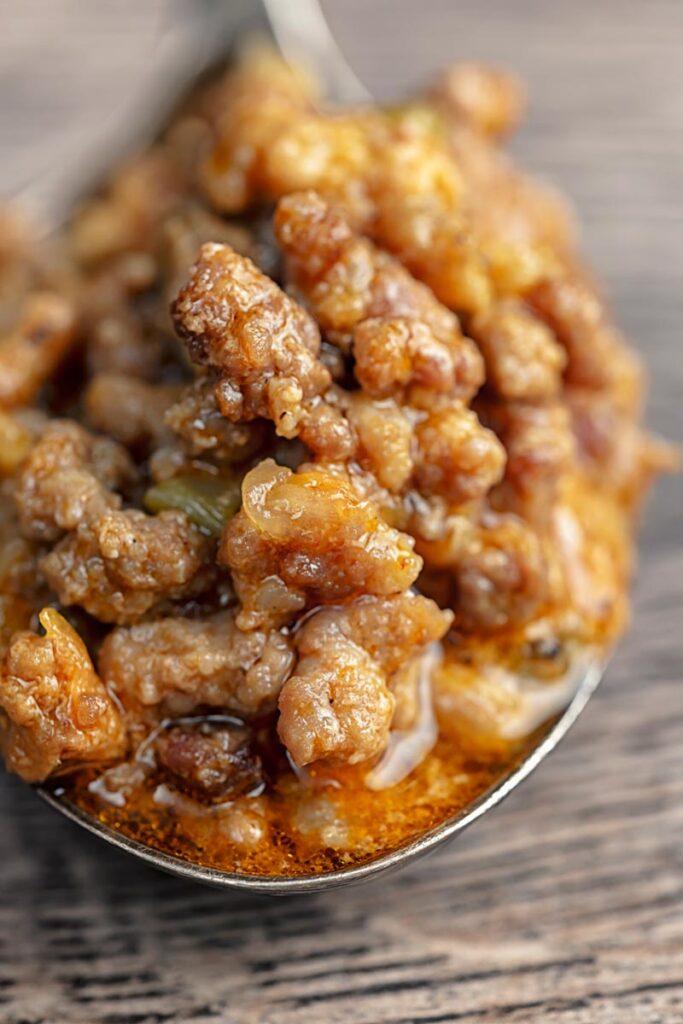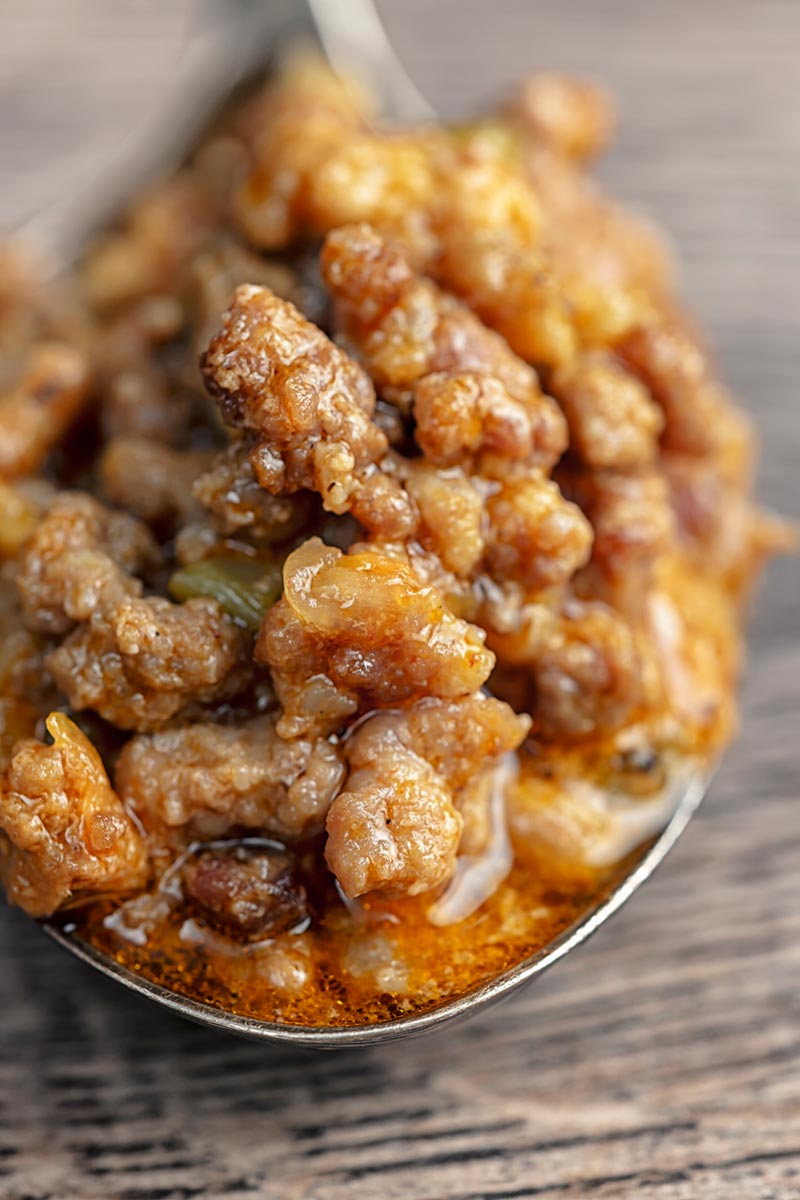 Cooking Ragu Bolognese in the Slow Cooker.
I have provided instructions for cooking this recipe on both the stovetop and in the slow cooker.
I almost always cook this in the crockpot, for no other reason than it is a much more energy-efficient way of cooking.
Stovetop cooking for me consists of an induction hob. Whilst they are great at quick and hot cooking, they are distinctly average at low and slow.
It is however not a dump and run recipe, the meat still needs browning and your vegetables still need softening.
Slow cookers do have their drawbacks and cooking smaller portions is a challenge.
As a result of this, I always cook lots of this recipe and freeze in individual portions for two.
It will last for 6 months in the freezer and you can heat from frozen by dropping a bag of the ragu in gently simmering water until piping hot.
If you fancy taking a bit of a food journey, I have a vegetarian lentil bolognese sauce that is just as good as this one!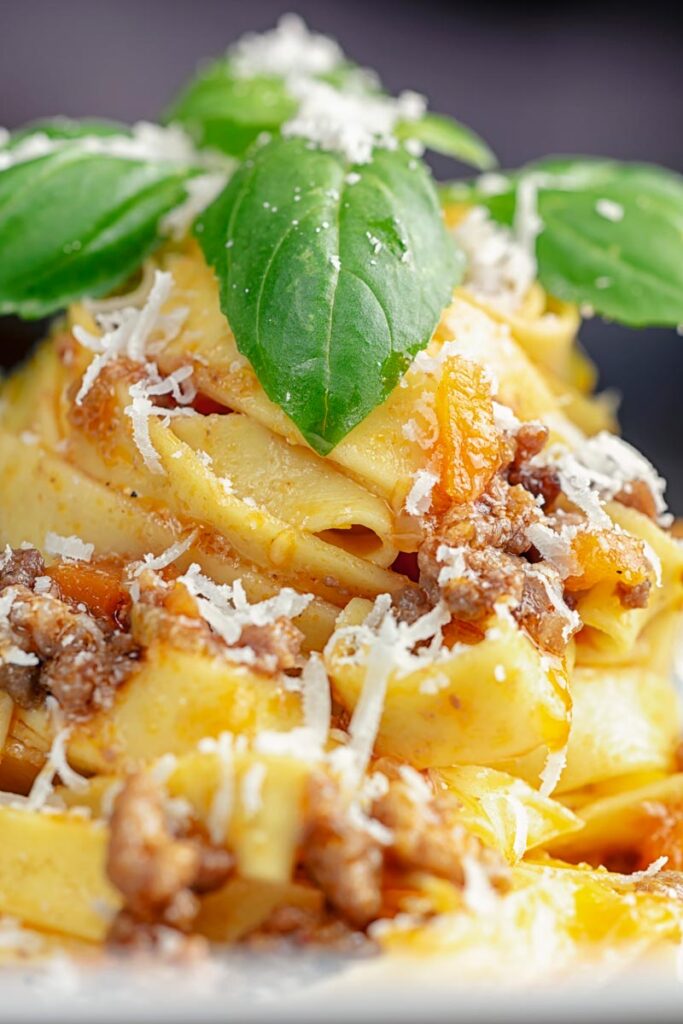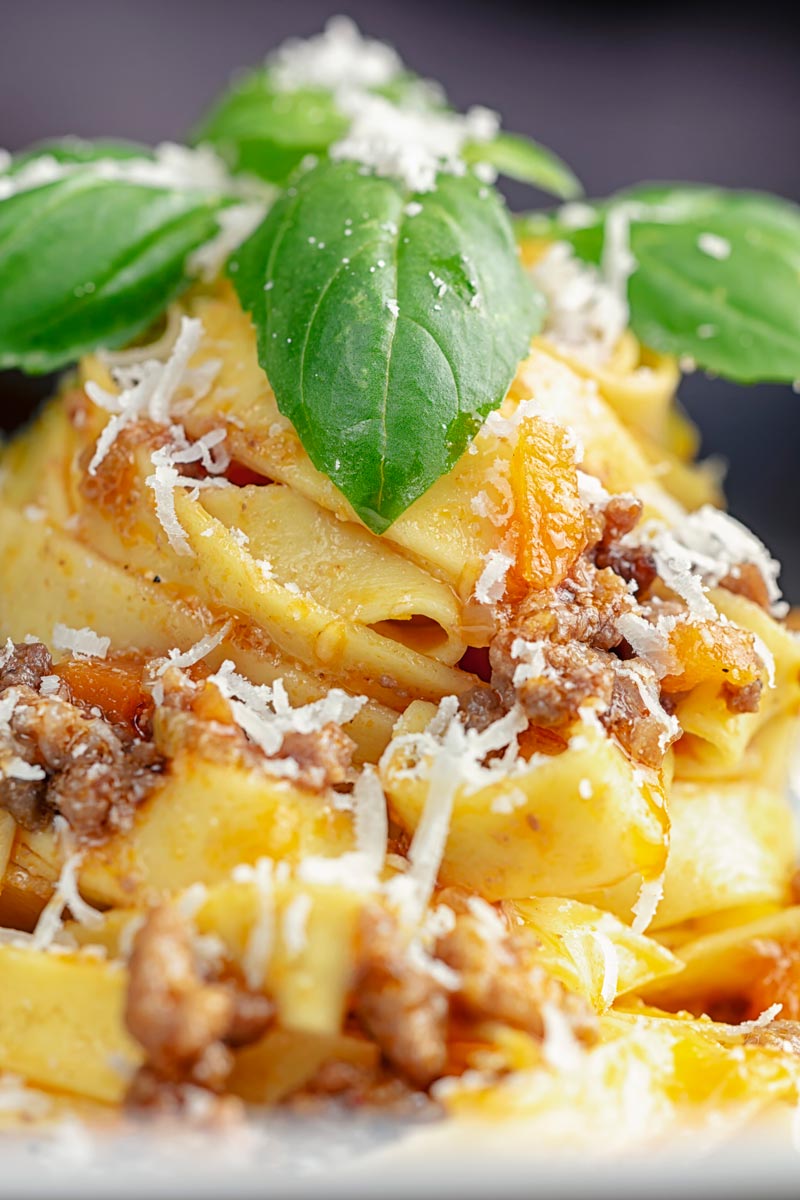 How to Serve Pasta Bolognese.
A bolognese sauce is very closely associated with pasta. We all know spaghetti bolognese right?
Well, traditionally it would not be served with spaghetti. This is because it does not offer enough surface area for the sauce to cling to.
Now if you have a really saucy tomato bolognese then you are good to go with your spag bol!
This, however, needs more "real estate", traditionally that would be fettucini or tagliatelli. It also should be combined with the pasta.
I usually run with tagliatelli and use a single serving size of 125g of dried pasta and 100-125g of the ragu per person.
I also usually add basil and freshly grated parmesan because I can!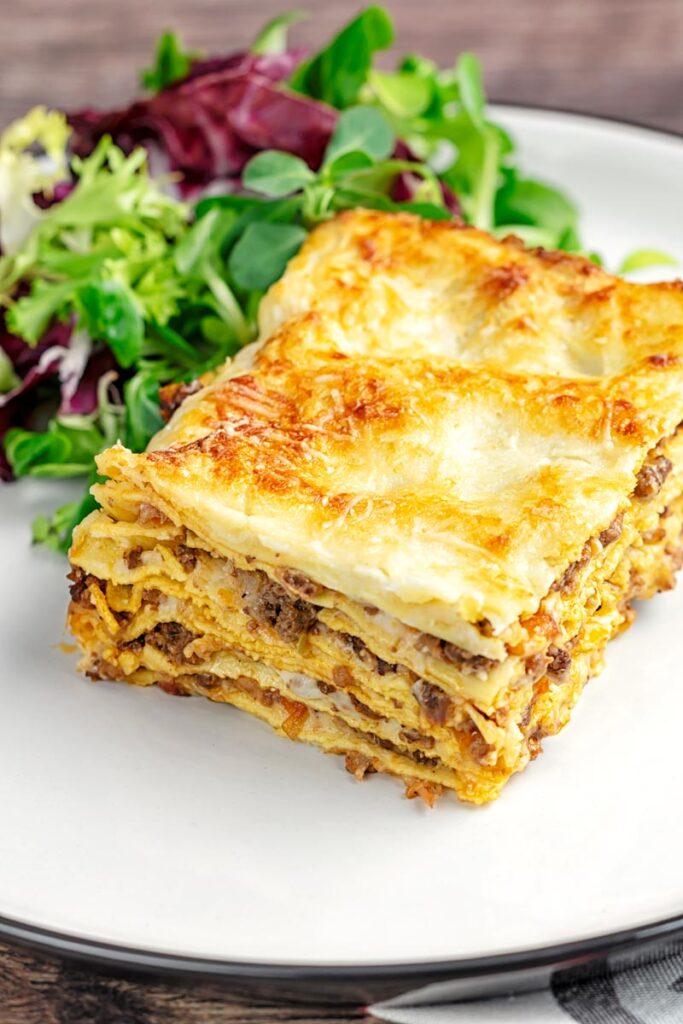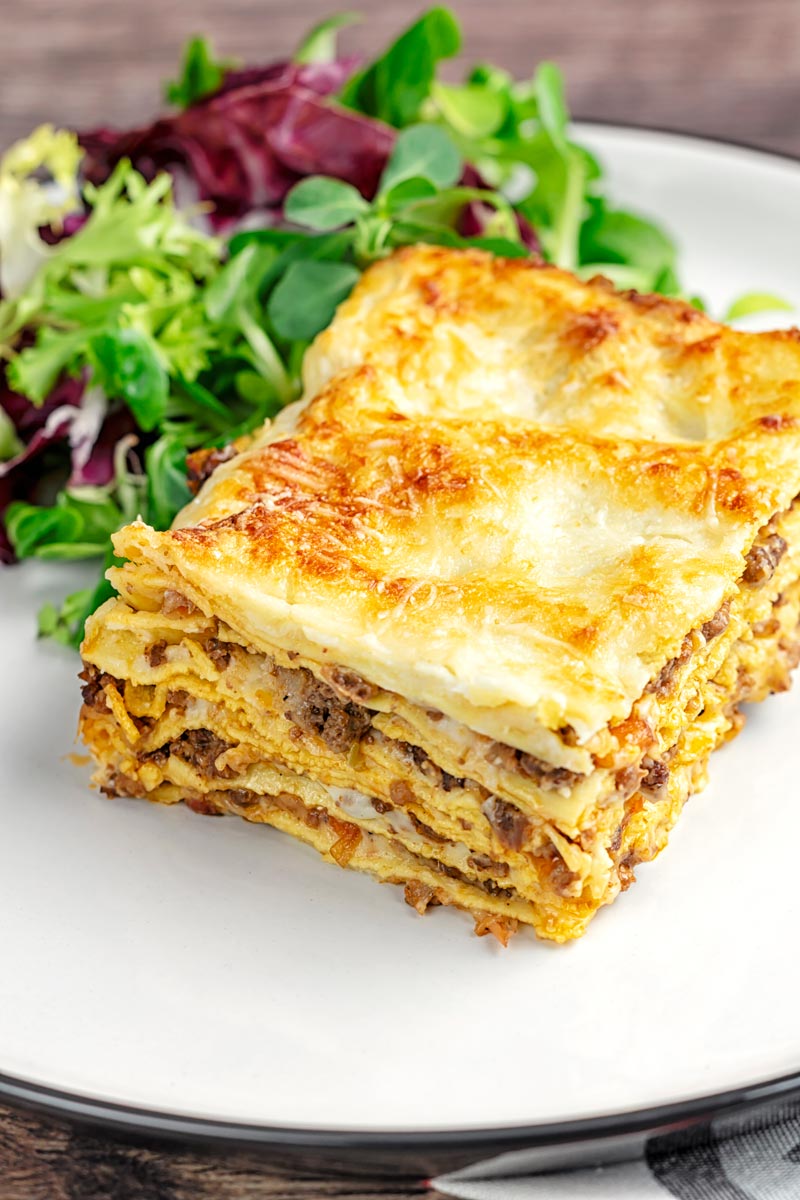 A Guide to Ingredients.
The first thing that you will notice about this classic ragu alla bolognese is the omissions!
Garlic, tomatoes and oregano form no part of a trad bolognese sauce.
Once you try this you understand why, this is an unashamedly rich meaty ragu and they do not really add anything.
Next up, the meat! I say this a lot but do not go for lean minced meat. It needs a fat content to keep it moist and rich, lean minced meat turns into polystyrene!
I always mince my own meat and use shin for the beef and collar for the pork and mince through a medium plate.
But if you are going to the butchers or supermarkets, you want meat with a fat content of 15-20%.
The bacon is unsliced, smoked, streaky bacon and whilst not traditional in some quarters it is a flavour I love added into this classic ragu.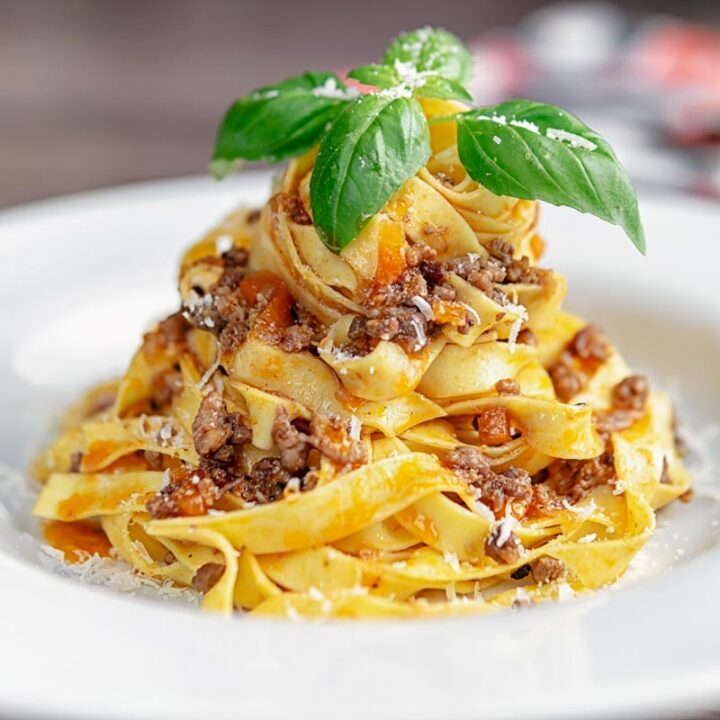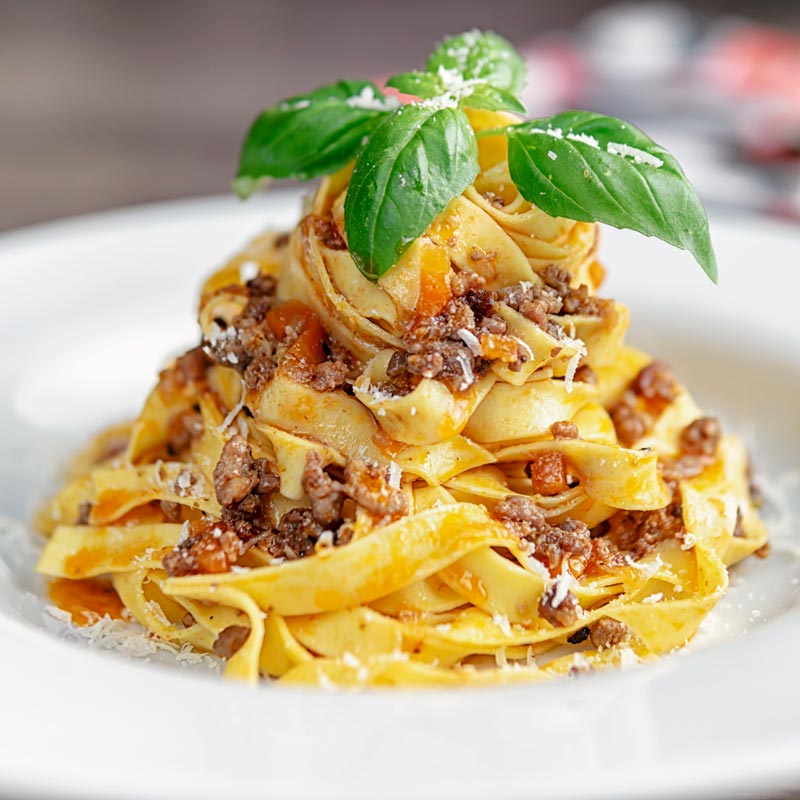 Yield:

10 Servings
Ragu Alla Bolognese Recipe
Cook Time:
5 hours
30 minutes
Total Time:
5 hours
40 minutes
I always make this pretty traditional Italian Ragu Alla Bolognese Sauce in my slow cooker with plenty of extras to freeze!
Ingredients
500 g Minced Beef
400g Minced Pork
150 g Smoked Streaky Bacon
100 g Onion
100 g Carrot
100 g Celery
50 g Butter
250 ml Red Wine
75 g Tomato Puree
2 Tbsp Tomato Puree
Salt to Taste
Black Pepper to Taste
3 Bay Leaves
125 ml Whole Milk
Instructions
Begin by cutting your celery, carrot and onion into a uniform fine dice approximately 3mm in size.
Cut the bacon into a 7-10mm dice.
Heat a dry pan over a high heat and add the bacon and minced pork and cook for two minutes.
Add the beef to the pork mix and cook until it starts to caramelise, stirring occasionally. This will take around 10-12 minutes.
After cooking season well for with salt and pepper, then add the bay leaves and transfer to a slow cooker or to a bowl if cooking on a stove top.
Return the pan to the heat and add the butter.
When melted add the onion, carrot and celery and cook over a medium heat until softened, this will take about 10-12 minutes. Do not colour the vegetables.
Turn the heat up to high and add the tomato puree and red wine, then mix well.
If you are cooking to a stovetop add the meat and stir, if you are cooking in a slow cooker mix all of the components in the slow cooker.
For the slow cooker: Mix well and then add the lid and cook on low for 4 hours or high for 2 hours.
For the stovetop cooking: Mix well and then add the lid and simmer on low for 2 hours.
After the allotted cooking time, pour in the milk and continue to cook on for an hour in the slow cooker or 35-40 minutes on the stovetop.
Nutrition Information:
Yield:
10
Serving Size:
1
Amount Per Serving:
Calories:

381
Total Fat:

24g
Saturated Fat:

10g
Trans Fat:

1g
Unsaturated Fat:

12g
Cholesterol:

107mg
Sodium:

436mg
Carbohydrates:

5g
Fiber:

1g
Sugar:

2g
Protein:

30g
Calorific details are provided by a third-party application and are to be used as indicative figures only.