Wild boar makes a great meat for a bolognese style ragu, this version is really simple, tastes fantastic and cooks slowly on the stovetop.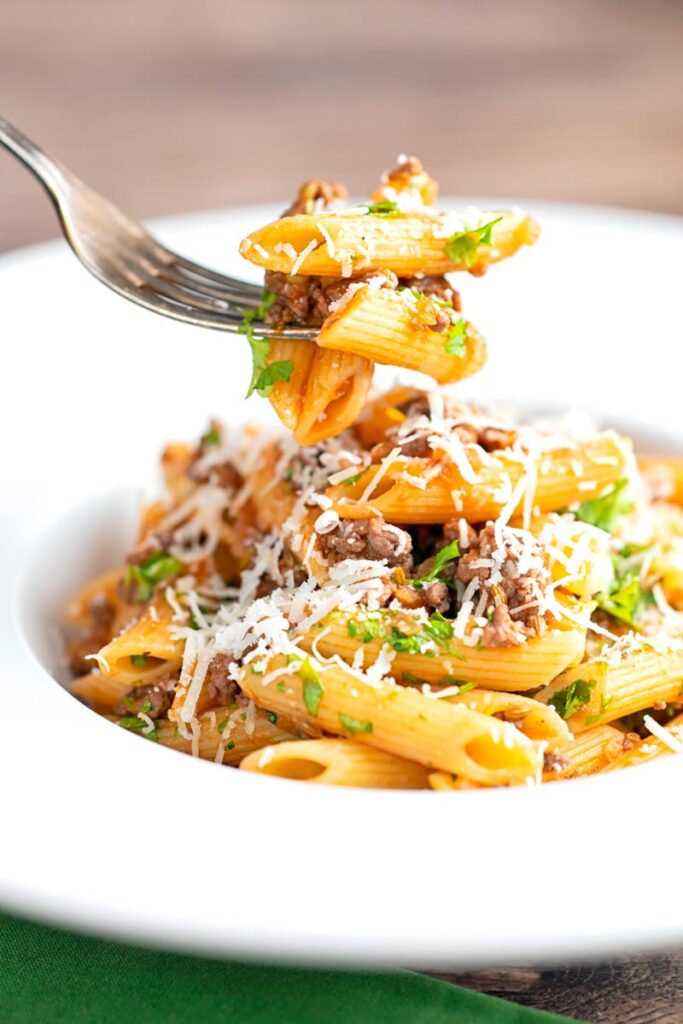 Wild Boar Bolognese.
Pasta with a meat sauce may seem as old as time, but in reality it has only been around since the 18th century.
Despite that it is a firm favourite all around the world and most cooks have a take on ragu alla bolognese in their armoury.
I have many! I refuse to only do things "one way", there is always room to like lots of things.
This version uses wild boar and matches it with fennel, two flavours that are perfect together.
But I also have a beef cheek ragu, duck breast ragu, a pork ragu, lamb ragu and sausage ragu.
I even have a lentil ragu that I would gladly stack up with any of my meaty offerings!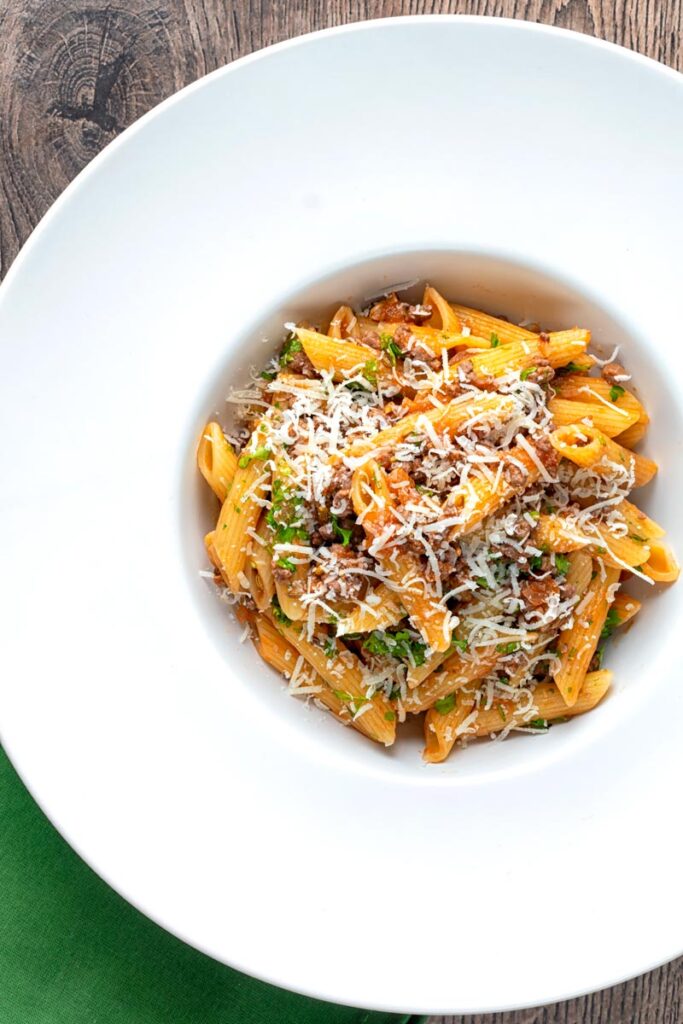 Making the Most of the Boar.
Most minced or ground boar comes from either the shin or the leg.
I tend to buy my own meat for mincing and grind it myself, that way I know exactly what I am getting.
Boar is fattier than most game, but it is still a relatively lean meat.
As a result, you may need to add a little more fat.
If it is similar in colour to the meat in the video for my wild boar stew, then add a little fat.
I will usually ask my butcher for a little pork fat and mince it myself. I usually don't get charged!
If you do not have a mincer at home, then you can chop it by hand. Simply cut it into a small dice, and then chop it as finely as you can with a chopping motion rocking backwards and forwards.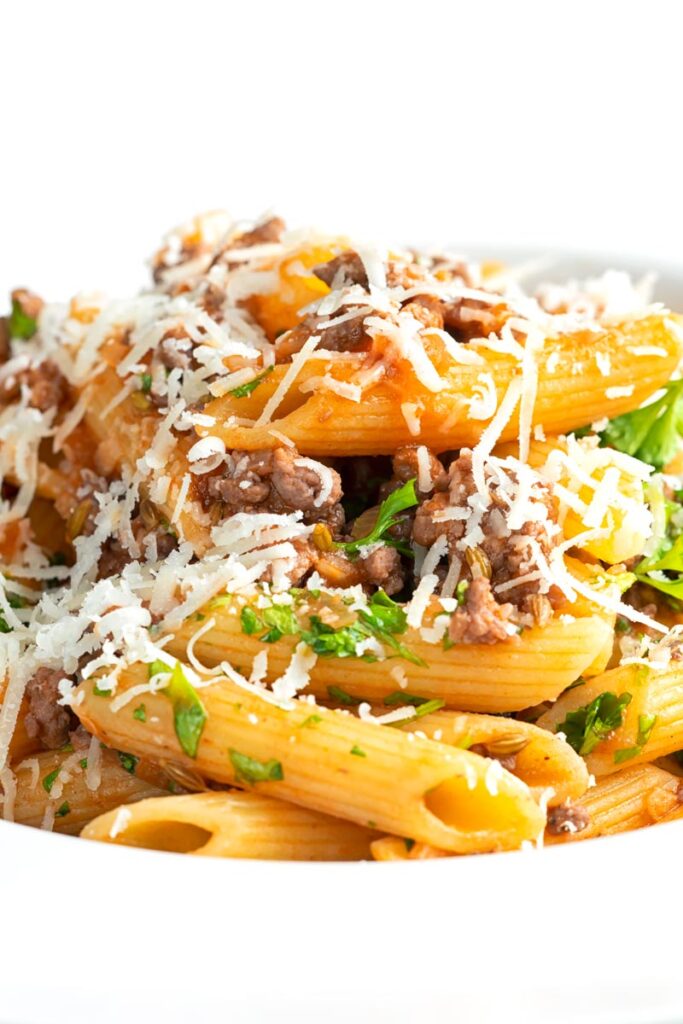 Choosing the Pasta.
Apparently there are rules as to what pasta to put with what… As far as I am concerned unless you can enforce them, then they ain't rules!
Put your ragu with whatever you like. It is typically served with something like pappardelle or tagliatelli.
I like to serve this with penne pasta or rigatoni.
But if you are doing this you need to ensure that your ragu sauce is "wet" enough to flow.
This means that the penne gets the sauce on the inside of the tubes and not just the outside.
I do this by adding some of the starchy pasta cooking water when I am stirring the pasta together with the ragu.
Finally, do not forget to salt your pasta water well! Once it is cooked pasta will not take seasoning, it will just sit on the surface.
Work on the basis of at least 1 tablespoon of salt for 4 litres of cooking water.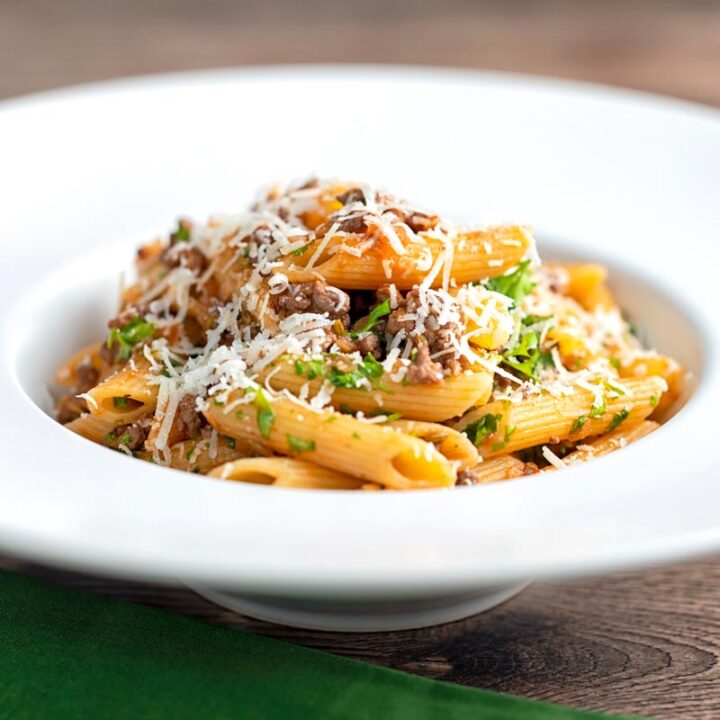 Yield:

2 Servings
Wild Boar Ragu Recipe
Cook Time:
1 hour
20 minutes
Total Time:
1 hour
25 minutes
A simple bolognese style ragu can be made from anything, the delicious and simple example uses minced wild boar and tastes incredible!
Ingredients
200 g (7 oz) Minced Wild Boar
175 g (6.25 oz) Dry Pasta
50 g (1.75 oz) Onion
2 Garlic Cloves
2 Anchovy fillets
2 Tsp Fennel Seeds
150 ml (5 fl oz) Red Wine
50 ml (1.75 fl oz) Tomato Passata
1 Tbsp Lard
Salt to taste
Pepper to Taste
Parmesan Cheese for serving
Parsley for serving.
Instructions
Dice the garlic and onion as finely as you can.
Melt the lard in a pan over a medium heat.
When hot add the onion and cook gently for 10 minutes until it has softened.
Roughly chop the anchovy fillets.
After 10 minutes turn up the heat to medium high and add the garlic and anchovy.
Cook for 1-2 minutes stirring continually.
Add the wild boar, season with salt and then brown well, this should take 3-4 minutes.
Pour in the wine, tomato passata and add the fennel seeds.
Season with salt and pepper to taste and then reduce the temperature to low.
Cook for an hour.
10 minutes before you are ready to serve boil the pasta in well salted water.
Mix together adding 1-2 tbsp of the cooking liquid and serve.
Nutrition Information:
Yield:
2
Serving Size:
1
Amount Per Serving:
Calories:

486
Total Fat:

9g
Saturated Fat:

3g
Trans Fat:

0g
Unsaturated Fat:

5g
Cholesterol:

9mg
Sodium:

451mg
Carbohydrates:

74g
Fiber:

5g
Sugar:

4g
Protein:

14g
Calorific details are provided by a third-party application and are to be used as indicative figures only.