Sardine pasta with a nod to a rich Bolognese sauce made with red wine, sun-dried and fresh tomatoes and my favourite cheaper canned fish.
All told this delicious and fairly frugal recipe cooks in around 35-40 minutes making it a relative rocket ship for a ragu-style sauce!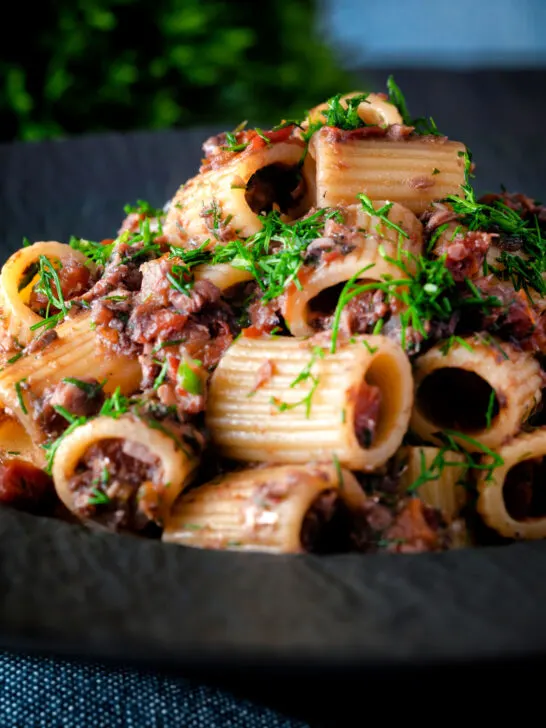 Canned Sardine Ragu with Mezzi Rigatoni
This dish is born of something I saw on TV years ago, it was a mackerel bolognese on the Great British Menu, I seem to recall.
I've been meaning to play around with a similar idea using canned sardines for the longest time. This is the result and I love the canned sardine pasta ragu or Bolognese if you like.
It joins other "unusual" ragu style recipes on my site, like duck ragu, rabbit ragu, wild boar ragu, quick spicy chicken pasta ragu and a haggis bolognese style ragu.
Unlike those dishes, which all take long slow cooking, this recipe cooks in a shade over 30 minutes.
It is also relatively frugal, obviously, wine is not a cheap ingredient and sun-dried tomatoes also add a cost.
But the savings made by using canned sardines mean that splashing out on a bit of extra flavour hurts a little less.
And what flavour it is, this thing is big bold and meaty… and contains no meat, it's a perfect change up for pasta!
Definitely a dish for like-minded fans of all things fish and seafood.
If you want a seafood pasta dish that is a little quicker and lighter check out my crab linguini with samphire or classic spaghetti alle vongole!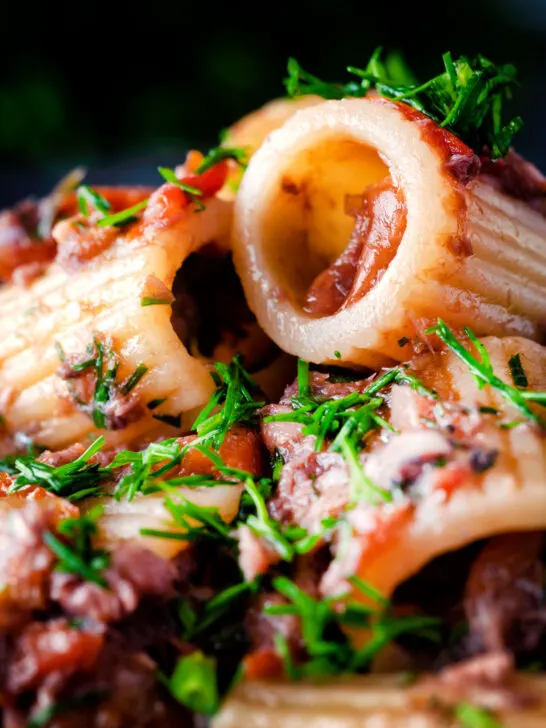 Frequently Asked Questions
Can I use other types of fish?
I think the best alternative fish to use would be canned mackerel. I would avoid tuna and salmon personally speaking.
Can I use canned fish in water rather than oil?
Yes, if reducing "fat" is important to you, you can make this switch, both the texture and flavour will change but it will still be tasty.
Can I use different types of pasta?
Definitely, I make this with mezzi rigatoni, short tubes, but everything from pappardelle to spaghetti would work well.
Can I make this in advance?
Yes, the ragu will sit in the fridge perfectly well for 3-4 days and can be heated gently in a pan with a lid.

I would not freeze this personally.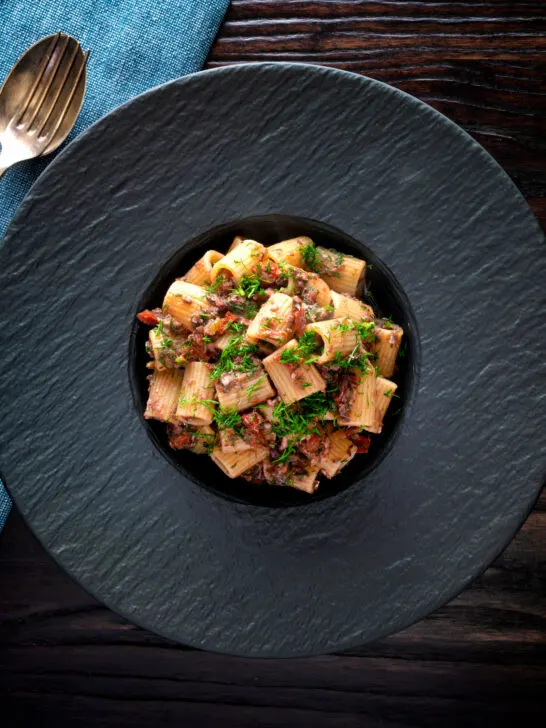 Serving Suggestions
This is a simple bowl of sardine pasta bolognese and as far as I am concerned all it needs is some garlic bread and you are good to go.
That does not mean that I have no more suggestions for you!
The ragu on its own is simply stunning spread on toast.
Just throw some ciabatta bread on a griddle and drizzle with oil and then spread the warm sardine ragu on with a spoon. I'm not sure that I would get out of the kitchen before emptying the pan.
You can even use it to stuff arancini!
It is also particularly good spooned over a wet polenta porridge, it does need to be a bit wetter though so take care not to cook it down as much. If you go too far bring it back with a bit of fish stock and off you go.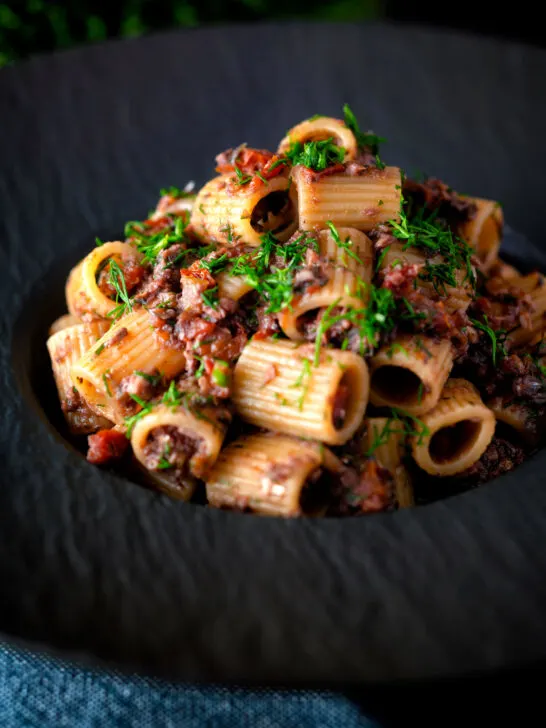 Equipment Used
I only recommend specific brands of equipment if I believe they make a material difference to a recipe. If you have any questions feel free to ask them in the comments section below the recipe.
Stovetop.
Small 15cm or 6″ saucepan.
28cm or 11″ skillet or frying pan.
Sharp kitchen knife.
Chopping board.
Weighing scales and or measuring cups and spoons.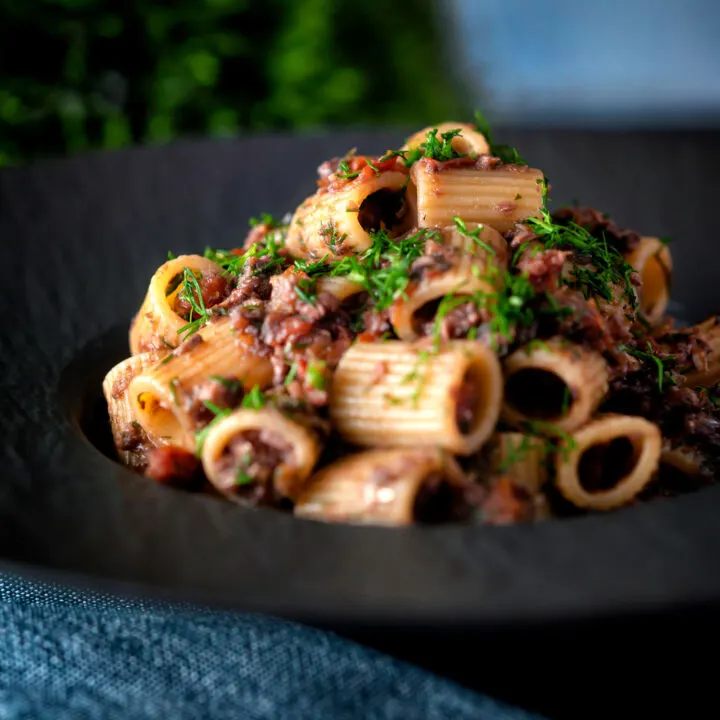 Yield:

2 Servings
Sardine Pasta Bolognese Recipe
This delicious Bolognese style sardine pasta dish uses canned fish as the base for a rich and boldly flavoured sauce that is just as good on toast as it is stirred through some rigatoni!
Ingredients
250g or 9oz (drained weight) Tinned Sardines in Oil
375ml (½ Bottle) Red Wine
1 (35g) Shallot
1 Garlic Clove
25g (Half of a Stalk) Celery
1 Large (250g) Tomato
100g (½ Cup) Sundried Tomatoes in Olive Oil
½ Tbsp Oil from Tined Sardines
½ Tbsp Oil from Sundried Tomatoes in Olive Oil
¼ Tsp Salt
175g (6oz) Dried Pasta
Instructions
Heat a small (15cm or 6") saucepan over a high heat and add the red wine and reduce it to around 100ml or just under half of a cup. This will take around 15 minutes.
Drain the sardines from the oil preserving half of a tablespoon of the oil.
Peel and dice the shallot as finely as you can.
Peel the garlic and dice it as finely as you can.
Dice the celery as finely as you can.
Cut the tomato into a 1cm (1/2") dice.
Cut the sundried tomatoes into a 5-7mm (1/4") dice.
Heat a medium (28cm or 11") frying pan over a medium heat and add the oils from the tomatoes and sardines.
Add the shallots and celery and soften for 5 minutes stirring occasionally, if they begin to colour turn the heat down a little.
Add the garlic and cook for another minute.
Add the tomatoes, salt and sun-dried tomatoes and cook for 10 minutes or until the fresh tomatoes have had the moisture almost all cooked away.
Pour in the reduced wine and add the sardines and mash the fish with the back of a fork.
Cook the pasta generously in salted water (1 Tbsp for every 4 Litres of water) until al dente.
Cook the ragu on low for as long as it takes to cook the pasta.
Drain the pasta reserving 75ml of the cooking liquid and add the pasta to the ragu.
Stir in as much cooking liquid as needed to form a nice sauce and serve.
Nutrition Information:
Yield:
2
Serving Size:
1
Amount Per Serving:
Calories:

787
Total Fat:

24g
Saturated Fat:

3g
Trans Fat:

0g
Unsaturated Fat:

18g
Cholesterol:

178mg
Sodium:

755mg
Carbohydrates:

69g
Fiber:

10g
Sugar:

26g
Protein:

45g
Calorific details are provided by a third-party application and are to be used as indicative figures only.