Air fryer arancini balls are a take on the classic Italian risotto rice balls, mine are stuffed with mozzarella cheese & have a tomato sauce.
It is a dish that can all be prepared in advance and even frozen and then popped in the air fryer to cook later.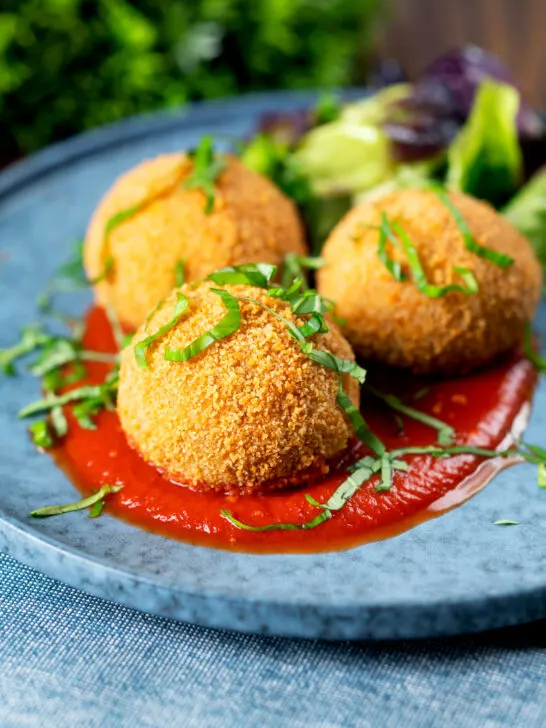 Air Fryer Risotto Balls
I love risotto, my site is littered with recipes as diverse as smoked haddock risotto and black pudding risotto to tomato risotto and pea and ham risotto.
Arancini is a recipe that originally used up leftover risotto, now I'm not sure about you but the concept of leftover risotto does not compute to me!
Asa result I make up a batch of risotto the night before and then form my rice balls when I am ready to cook them, I even cook my arancini in the air fryer.
They are traditionally fried, and frying does result in a better rice ball, but with a little care, the air fryer does a fantastic job.
I like to stuff mine with a little mozzarella cheese and serve them as a main course with a simple tomato sauce.
Apart from cooking and cooling the risotto, this dish takes around 30 minutes to cook and prepare.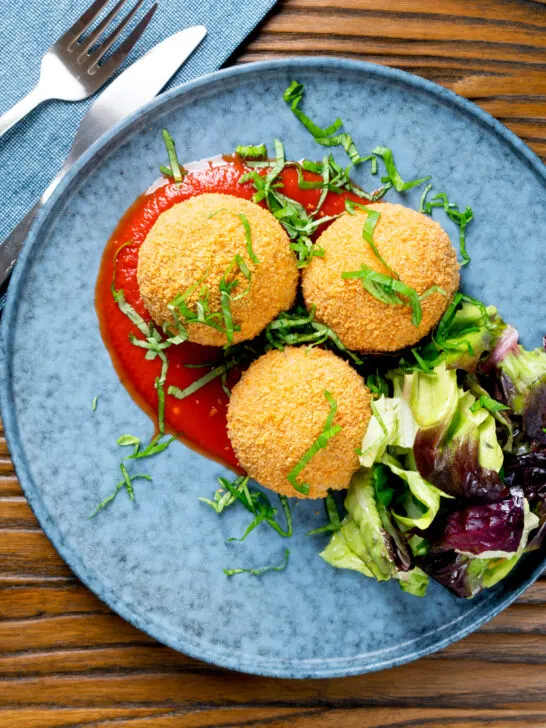 Frequently Asked Questions
Do I have to use cooled rice?
Yes, it is vitally important that the rice is completely cooled before forming the arancini balls. Failing to do this will result in them collapsing and falling apart.
Can I stuff them with anything else?
Yes, absolutely. Get creative, everything from cooked diced ham to black pudding and even leftover bolognese sauce or ragu.
Can I fry them?
Of course, either deep fry or shallow fry in around 1-2cm of oil at a temperature of 170°C or 340°F.

if you are shallow frying you need to roll them around.

Deep frying produces the best result because it firms up the ball immediately meaning they have a much better structure.

If you are frying the arancini do not toast the breadcrumbs.
Can I bake them in the oven?
Yes, but they are much more likely to split when baked in the oven. Cook them at 200°C or 400°F for 25 minutes.
Why do you toast the breadcrumbs in butter?
This adds both colour and flavour to the breadcrumbs, air frying them without toasting them leaves the outside of the rice balls very pale and quite bland.

I use exactly the same process in my air fryer chicken cordon bleu recipe.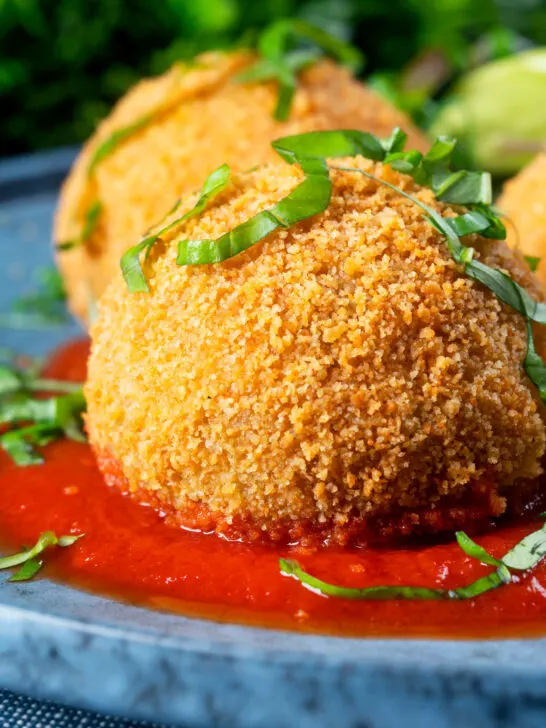 Serving Suggestions
These air fryer arancini balls are deceptively filling and as a result, I am happy to serve them with a simple tomato sauce and a nice green side salad.
If you wanted some greens these rice balls then dishes like roasted tenderstem broccoli, green bean amandine or air fryer asparagus would work well.
You could even add some garlic bread if you wanted carbs with your carbs!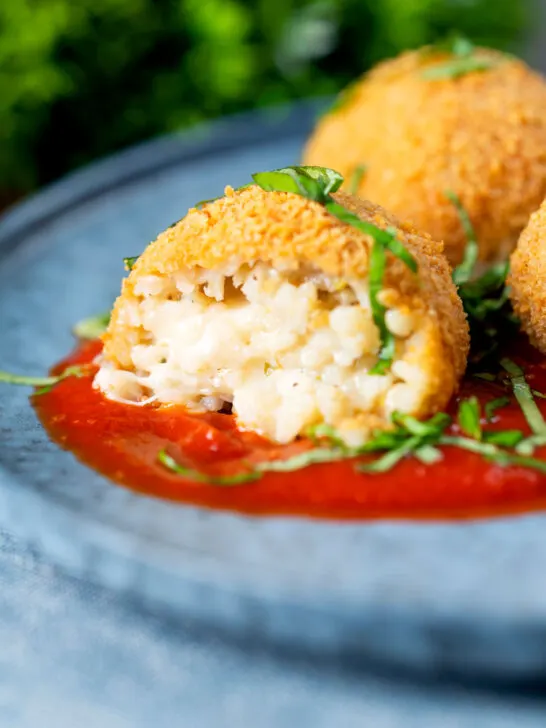 Equipment Used
I only name-check brands of equipment if I think they make a material difference to a recipe. If you have any questions feel free to ask them in the comments section below the recipe.
Risotto Equipment:
Stovetop.
30cm or 12″ frying pan.
Small saucepan to keep the stock hot.
Chopping board.
Kitchen knife.
Weighing scales and or measuring cups and spoons.
Ladle.
Stirring spoon.
Large bowl to allow the risotto to cool.
Arancini Equipment:
Stovetop to toast the breadcrumbs.
Air Fryer.
Small 24cm or 10″ frying pan.
Chopping board.
Kitchen knife.
Bowls to panne the rice balls.
Kitchen paper.
Weighing scales and or measuring cups and spoons.
Tomato Sauce Equipment:
Stovetop.
Small 24cm or 10″ frying pan.
Weighing scales and or measuring cups and spoons.
Stirring and serving spoons.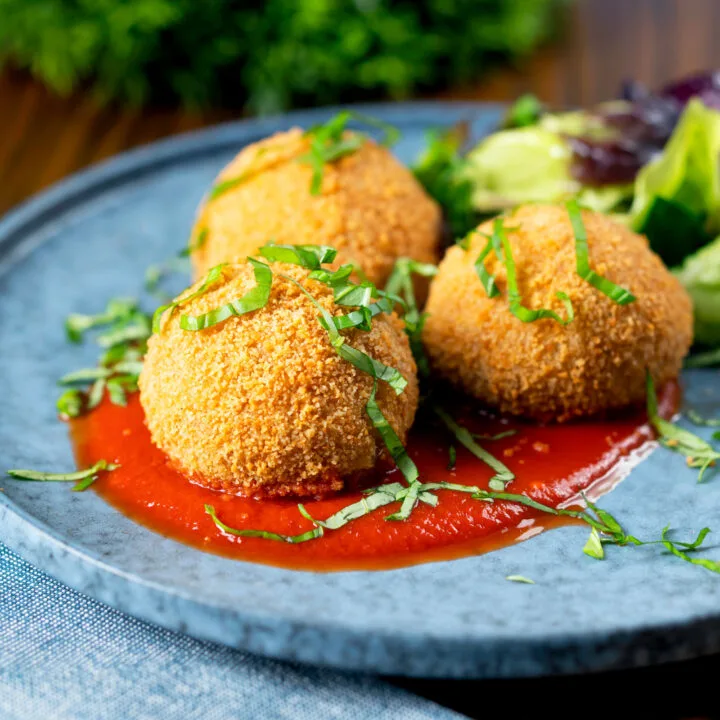 Yield:

2 Servings
Air Fryer Stuffed Arancini Balls Recipe
Cook Time:
1 hour
10 minutes
Cooling Time (Minimum):
2 hours
Total Time:
3 hours
20 minutes
An air fryer adaptation of classic stuffed arancini balls, gooey risotto rice cooked to perfection then cooled, stuffed with mozzarella cheese and coated in golden bread crumbs. Then served with a wonderful and easy tomato sauce!
Ingredients
For the Risotto:
2 (70g Total) Banana Shallots
4 Garlic Cloves
2 Tbsp Olive Oil
100g (½-⅔ Cup) Risotto Rice
½ Tsp Dried Basil
1 Tsp Dried Oregano
125ml (½ Cup) White Wine
450-500ml (2 Cups) Hot Vegetable Stock
50g (½ Cup) Freshly Grated Parmesan Cheese
For the Bread Crumb Coating:
75g (¾ Cup) Fine Bread Crumbs
30g (2 Tbsp) Butter
75g Fresh Mozzarella Cheese
1 Egg
2-3 Tbsp Flour
For the Tomato Sauce:
1 Tbsp Olive Oil
2 Garlic Cloves
200g (¾ Cup) Tomato Passata
75ml (⅓ Cup) White Wine
Pinch of Salt
Pinch of Dried Chilli Flakes (Optional)
Lots of Fresh Basil
Instructions
Making the Risotto:
Cut the shallots in half, peel them and then cut them into a dice as finely as you can.
Peel the garlic and then dice it as finely as you can.
Keep the vegetable stock hot on a low heat and stir through the oregano and basil.
Heat a 30cm or 12" frying pan over a medium heat and add the olive oil.
Throw in the shallots and cook them for 2 minutes to soften, if they begin to colour reduce the temperature.
Add the garlic and cook for another minute.
Pour in the risotto rice and cook for 3-5 minutes stirring constantly.
Pour in the white wine and cook, stirring regularly, until almost dry, you want a little "starchy" residue left in the pan. This will take 2-3 minutes.
Add the stock a ladle at a time (75-100ml or ⅓-½ Cup) and cook until almost dry (as above) before adding the next ladle. For the first 2 or 3 ladles stir very regularly, after that you can add a little more stock and stir less regularly.
Cook until the risotto is creamy and is cooked almost all of the way through, the rice should have the tiniest of "bites" in the centre. This should take 25-30 minutes. You may need to add salt depending on how salty your stock is, have a taste as you are cooking and remember you are adding parmesan cheese.
Remove from the heat and add the grated parmesan cheese, then set aside to cool completely (overnight is best). This will yield 450-500g of risotto.
Preparing and Cooking the Stuffed Arancini:
Heat a 24cm or 10" frying pan over a medium high heat and add the butter.
When the butter begins to foam throw in the bread crumbs and cook until golden, then transfer to a plate with kitchen paper to absorb any excess butter.
Cut the mozzarella cheese into 2cm chunks.
Lightly beat the egg in a bowl.
Place the toasted bread crumbs in another bowl
Dust the risotto balls lightly with flour, then dip them into the egg draining off any excess egg, then coat in breadcrumbs and set them aside.
Place the balls in the air fryer and cook for 12-15 minutes at 170°C or 340°F.
Cooking the Tomato Sauce:
Heat a small 24cm or 10" frying pan over a medium high heat and add the olive oil.
Bash the garlic cloves with the side of a knife and add them to the oil and cook for 2-3 minutes.
Pour in the white wine and reduce by half.
Add the tomato passata, a pinch of salt and a pinch of chilli flakes, then stir to combine, reduce the heat to low when the sauce begins to bubble and cook until the risotto balls are cooked.
Serve the balls on a bed of the sauce (discard the garlic) and sprinkle with lots of finely shredded basil.
Notes
The timing for this recipe includes the time to make and cool the risotto!
Nutrition Information:
Yield:
2
Serving Size:
1
Amount Per Serving:
Calories:

957
Total Fat:

53g
Saturated Fat:

21g
Trans Fat:

1g
Unsaturated Fat:

28g
Cholesterol:

176mg
Sodium:

1812mg
Carbohydrates:

76g
Fiber:

5g
Sugar:

14g
Protein:

29g
Calorific details are provided by a third-party application and are to be used as indicative figures only.