The Italians are responsible for some of the most wonderful comfort food ever devised and this Mozzarella Cheese stuffed Arancini recipe is a testament to that.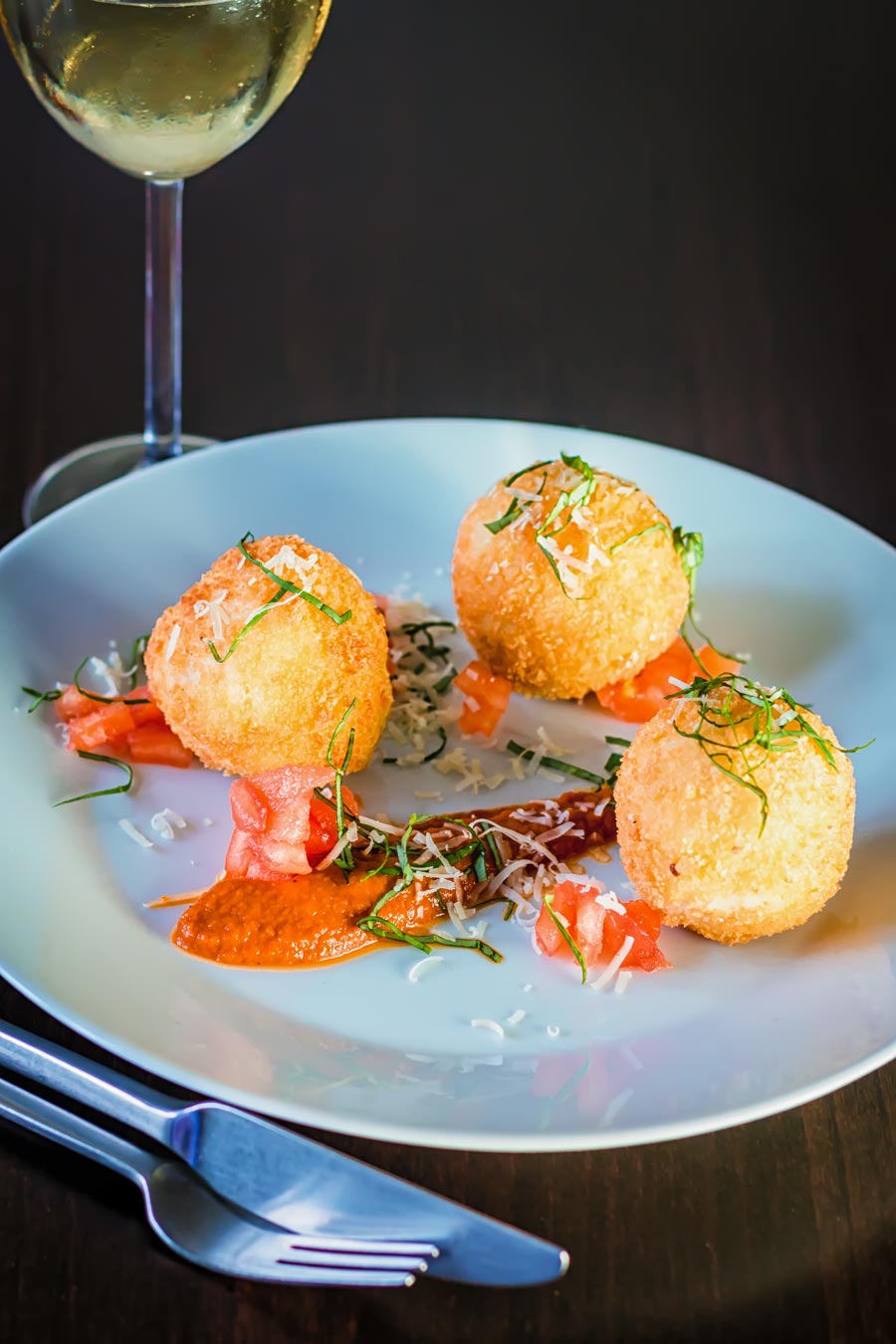 Mozzarella Stuffed Arancini: Leftover Risotto Balls.
The Italians are responsible for most of my favourite comfort food and Arancini is right up there. It is largely a peasant dish designed to use up leftovers.
However, I think a good arancini recipe makes for a spectacular dish and one that can be made to look beautiful.
I have waxed lyrical about risotto in a previous recipe, it is my idea of heaven.
This takes cooled risotto, wraps it in breadcrumbs, deep fries it and makes it heaven²!
Unfortunately, the notion of leftover risotto is completely alien to me!
No matter how much I make it will always be eaten and the pan will be wiped clean. I usually have to make up a small batch and cool it in order to make arancini balls.
It is a challenge but knowing how good Arancini are then I muscle through!
Naturally, all of these will result in a slightly different flavour of arancini.
Just make sure that if you have vegetables in there that you serve them in your main dish. Alternatively, chop them finely as larger chunks will make rolling your Arancini more difficult.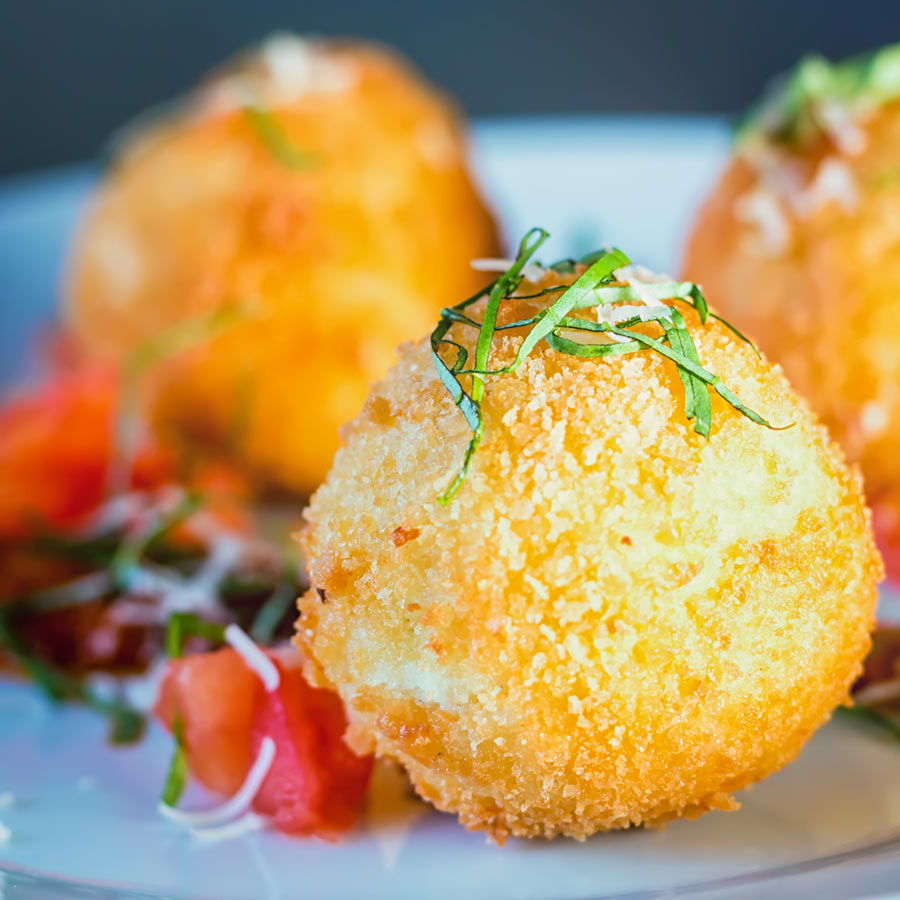 Can You Bake Arancini?
Yes, baked arancini is definitely a thing.
I personally prefer to fry mine as the immediate immersion in hot oil offers the simplest and most reliable way of cooking them.
However, if frying is not your thing you can heat your over to high. Around 200°C or 400°F will do and bake until golden.
All of the ingredients are already cooked so all you need to do is bring to temperature and get a nice colour. This should take around 20-25 minutes.
When making your risotto for arancini you need to ensure it is cooled as quickly as possible to avoid the growth of bacteria.
Do not leave your rice at room temperature for longer than necessary. Transfer to the fridge as soon as possible!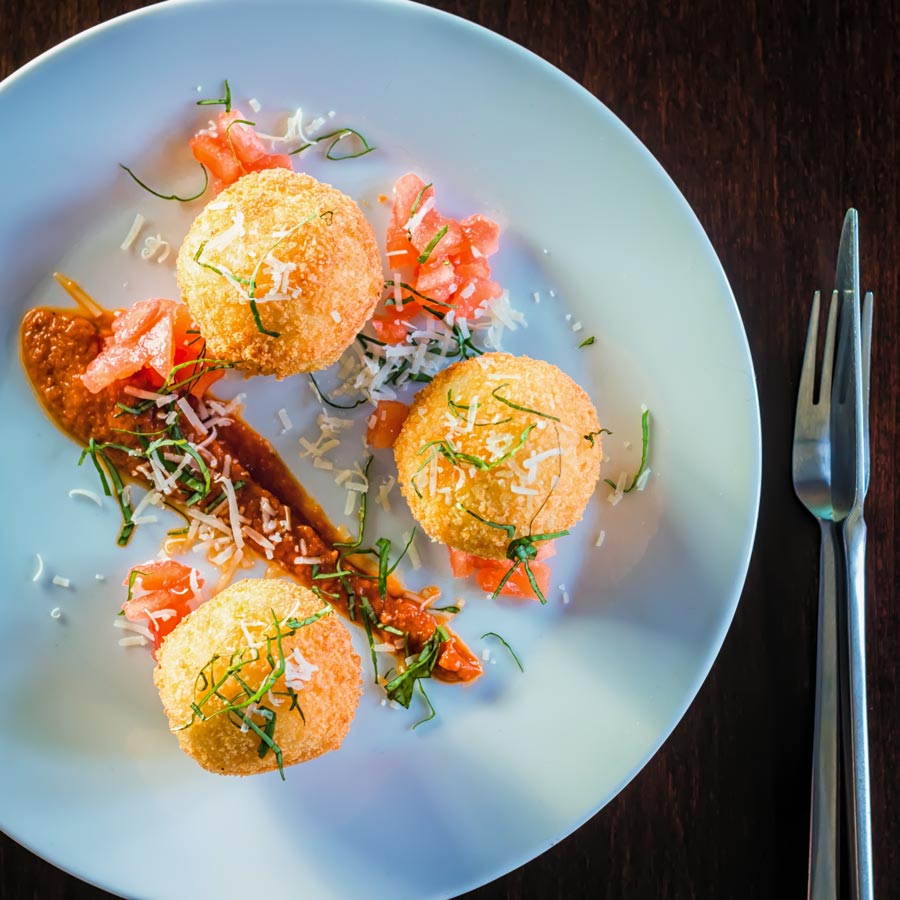 Plating Techniques.
Some of you may have noticed that I am playing around with my presentation over the last few weeks. Whilst I am more than confident in the flavours of my food and snapping pictures of them.
But often feel as though when I put stuff on a plate that it often looks a little messy. Ok, I think it looks like I have thrown it at the plate from the other side of the room!
So all this is a learning curve for me and it is a huge challenge. But one that I am enjoying.
Arancini is pure out and out peasant food made from leftovers. But, with just a little bit of forethought, a really simple and humble dish can be made to look really special.
When I am cooking I lock myself away in the kitchen and left alone to shout along to some metal music and swear at myself for making mistakes.
In all fairness part of it is due to the fact that we have a tiny kitchen. and another part is myself and my wife largely have very different tastes in music.
As a result of this Julie usually has no idea what the food is going to look like.
So it is usually a surprise and a couple of times in the last couple of weeks she has been all 'ooooo look at you getting all fancy' when I have bought out her dinner. I think that is a good thing.
Although she continues to take the 'piss' out of me trying to make our food look purdy on a daily basis!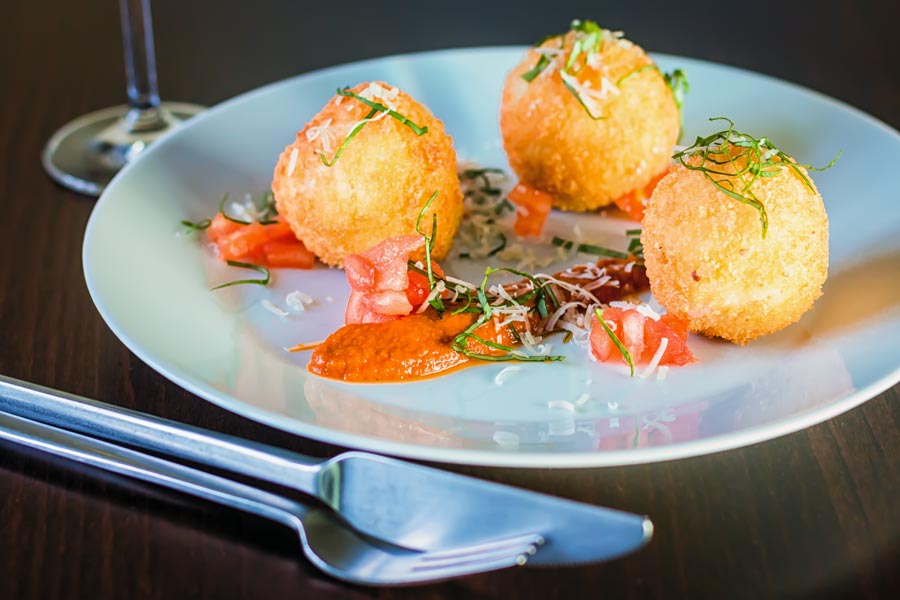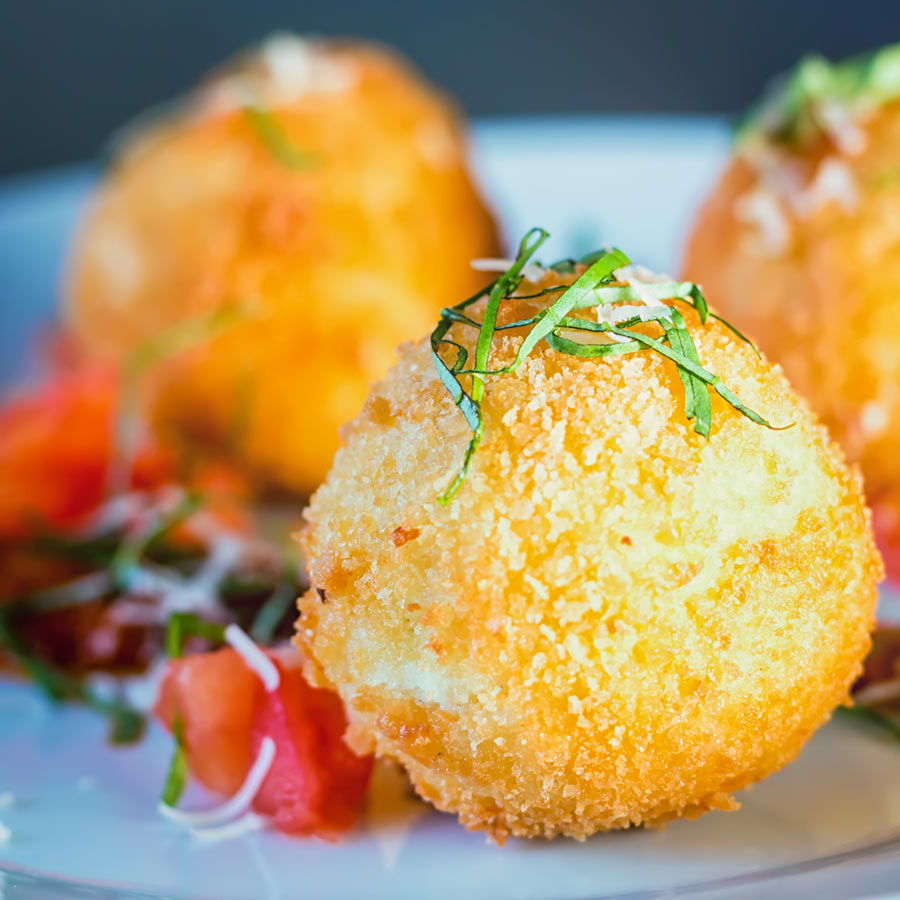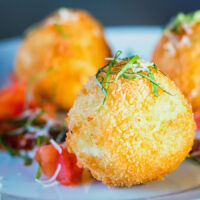 Mozzarella Stuffed Arancini: Risotto Balls
The Italians are responsible for some of the most wonderful comfort food ever devised and this Mozzarella Cheese stuffed Arancini recipe is a testament to that.
Ingredients
For the Tomato Accompaniment
1/2 Tbsp Cooking oil, Neutral
1 Onion, Finely Diced
2 Cloves Garlic, Finely Diced
1 Stick Celery, Finely Diced
200 ml Tomato Passata, Tomato Sauce in the US
1 Tbsp Tomato Puree
1/2 Tsp Dried Oregano
150 g Tomatoes, Peeled deseeded and cut in into a 3-4mm dice
4 Fresh Basil Leaves, Thinly Sliced
Salt and Pepper to Taste
For the Arancini
450 g Left Over Cold Risotto, If like me then left over Risotto is a bit of a no no then there is a link in my blurb to a basic Risotto recipe
60 g Mozzarella, Cut into 10 equal cubes
1 Egg, Beaten
60 g Breadcrumbs
30 g Plain Flour, Seasoned with Salt and Pepper
Oil for Deep Frying
Instructions
Begin by preparing your Arancini.
Take around 70g of your cold cooked risotto and form into a flat circle in the palm of your hand and place a single chunk of Mozzarella in the middle and wrap around the remaining risotto rice. This should form a fairly smooth ball fairly quickly.
Repeat with the remaining risotto, this should make 6 balls, set aside in the refrigerator whilst you prepare the sauce.
Heat the oil for the tomato accompaniment over a medium high heat in a frying pan and add in the onion, garlic and celery and cook without colouring until soft which should take approximately 10 minutes.
Add in the tomato passata, tomato puree and oregano then allow too cook for a further 5 minutes.
Add salt and pepper to taste and I like to then blitz my sauce in a blender and pass through a fine sieve but this is optional.
If you are blitzing your sauce return it to the pan and reduce to a texture you are happy with, this should take about 5 minutes depending on preference when ready set a side to warm up when ready to serve.
Now heat your deep fat fryer or oil in a pan to 160°C or 320°F.
Now panne the Arancini by rolling them in the seasoned flour, then into the beaten egg and then into the bread crumbs.
Then take the Arancini balls and fry them in the hot oil until golden brown which should take about 8-10 minutes, you may need to do this in batches.
Notes
You can dress the plate as you wish but as you can see it is pretty simple to make a really pretty looking plate fairly simply from this very humble dish.
Nutrition Information:
Yield:

2
Serving Size:

1
Amount Per Serving:
Calories:

1218
Total Fat:

44g
Saturated Fat:

18g
Trans Fat:

1g
Unsaturated Fat:

23g
Cholesterol:

176mg
Sodium:

3478mg
Carbohydrates:

156g
Fiber:

8g
Sugar:

33g
Protein:

43g
Calorific details are provided by a third-party application and are to be used as indicative figures only.