Air fryer chicken cordon bleu is essentially a ham & cheese Kyiv, breast meat is butterflied & stuffed before being coated in breadcrumbs.
All of the work in this recipe is in the preparation, but this can all be done in advance and then thrown in the air fryer for 15-20 minutes. You can even cook them in the oven!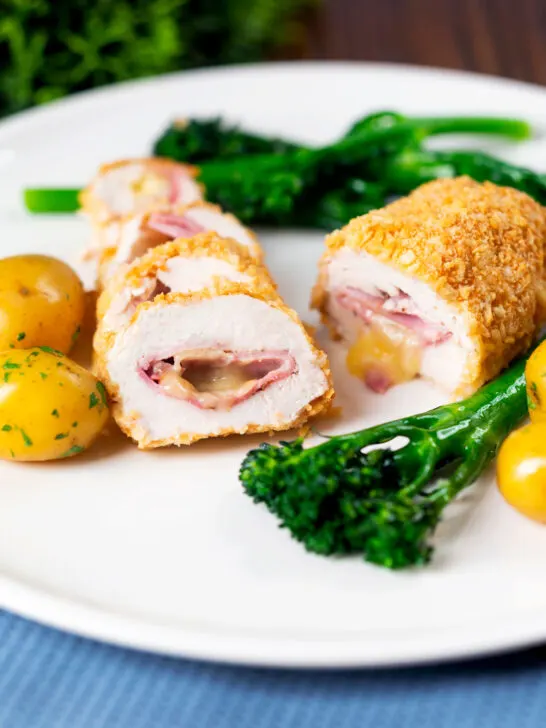 Ham and Cheese Chicken Kyiv
Chicken cordon bleu, a proper slice of retro joy comprised of a chicken stuffed with cheese and ham, coated in breadcrumbs and either fried or baked.
It is essentially a ham and cheese chicken Kyiv, a dish that I remember from my childhood but one that I can't find on a single menu since returning to the UK.
Living in Hungary it existed on every restaurant menu, although the name was less "catchy". Sajttal sonkával töltött rántott csirkemell is not exactly the stuff of marketing dreams!
My take on cordon bleu uses chicken breast and has evolved over the years to be cooked in an air fryer, just like my mozzarella stuffed air fryer chicken breast.
But it is easy to cook in the oven using the same technique as I do for my Cornflake chicken recipe. Yes, you read that right!
You could also cook in good quality butter or even lard in the same way that I do with my Wiener Schnitzel recipe.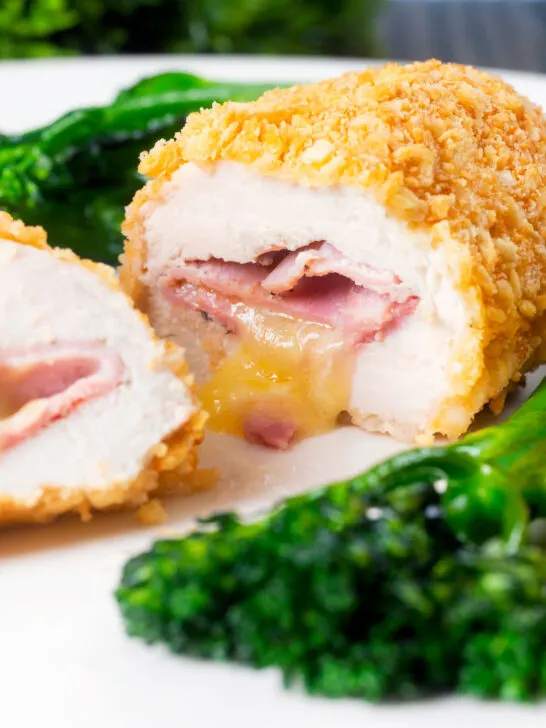 Frequently Asked Questions
Can I cook this cordon bleu in the oven?
Yes, definitely. Place it on a baking grid in order to stop the bottom from going soggy, then bake at 180°C or 350°F for 23-28 minutes, maybe longer if you are using a particularly large chicken breast.
Can I fry chicken cordon bleu?
Yes, you can deep fry for 4-5 minutes at 180°C or 350°F, or if you are feeling really indulgent shallow fry it in butter or lard.
Use 125g (1 stick) of butter and 2 tablespoons of neutral cooking oil and melt it all together in a 28cm (11″) frying pan over a medium to high heat.
When the butter begins to foam add the chicken and cook for around 15 minutes basting and turning continuously. If you do this you do not need to toast the breadcrumbs.
Do I really need to toast the breadcrumbs?
No, but it does make the dish better. It adds both flavour and colour to the crumb coating.

I use exactly the same process in my air fryer arancini recipe.
What cheese is best?
Any well-flavoured melting cheese is great in this recipe, I often use smoked cheddar cheese.

But everything from a sweet and nutty Gruyere to Swiss raclette and French Comte works really well!

Avoid mozzarella because it really does not have enough flavour to carry this recipe.
What ham should I use?
I like to use a fairly thick sliced country ham, I would avoid anything too thin because it can get lost in this recipe.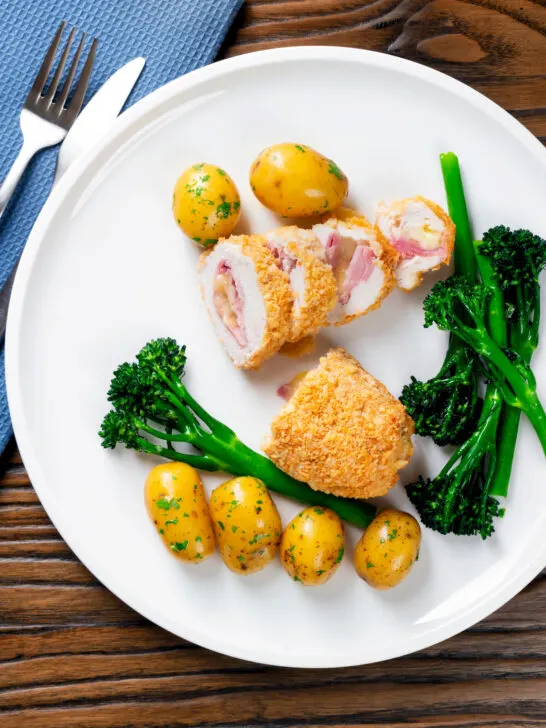 Serving Suggestions
I've served my Air Fryer chicken cordon bleu here with some buttered parsley potatoes and some "roasted" tenderstem broccoli.
I blanched the broccoli in the potato water and then threw it into the air fryer for 5 minutes whilst the chicken rested. It's so simple and delicious!
You could also knock up my buttered air fryer asparagus in much the same way.
It would also work exceptionally well with green beans amandine.
If you are cooking your cordon bleu in the oven then something like honey roast carrots and my Parmentier potatoes would be fantastic.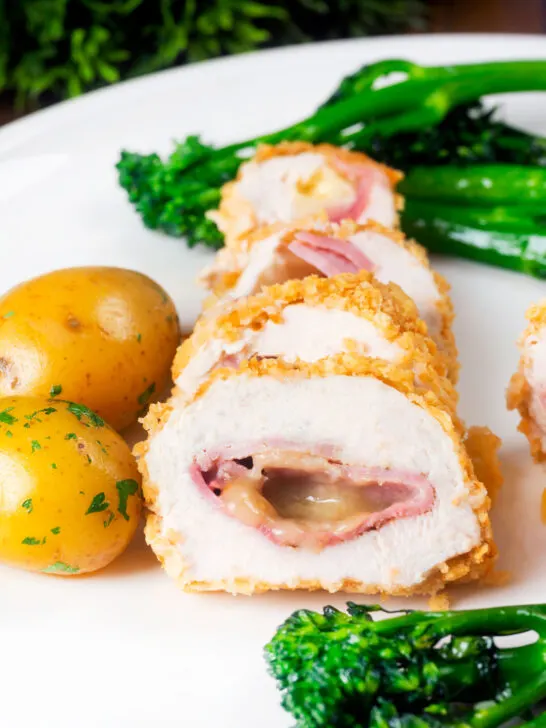 Equipment Used
I only name-check brands of equipment if I think they make a material difference to a recipe. If you have any questions feel free to ask them in the comments section below the recipe.
Air Fryer.
Stovetop.
Weighing scales and or measuring cups and spoons.
Kitchen knife.
Rolling pin.
Grater.
Kitchen paper.
Cling film.
Bowls or plates to panne the chicken.
Quick read meat thermometer, optional but recommended!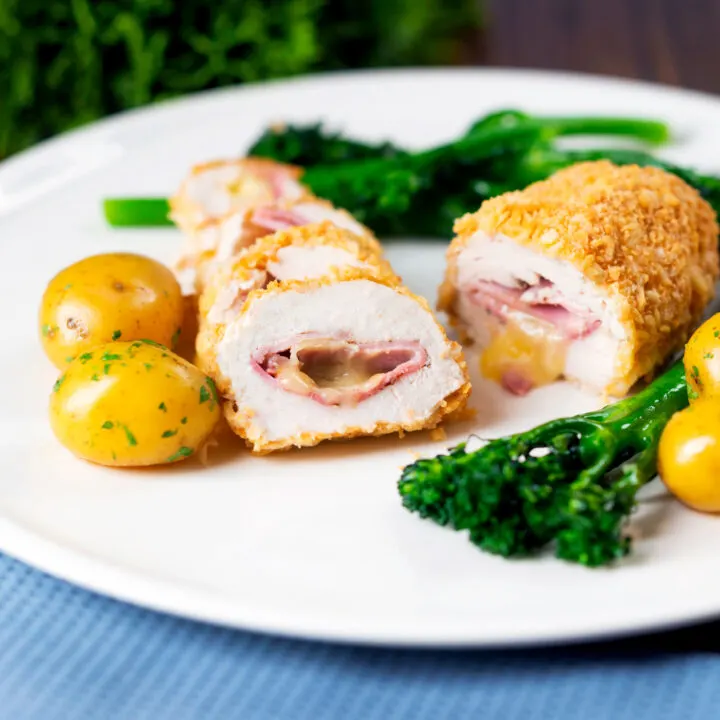 Yield:

2 Servings
Air Fryer Chicken Cordon Bleu Recipe
Air Fryer chicken cordon bleu, a classic and simple chicken breast stuffed with salty cured ham and smoked cheddar cheese and then "baked" until perfectly cooked.
Ingredients
2 (400-450g total) Skinless Chicken Breasts
2 (60g Total) Slices Ham
75g Smoked Cheddar Cheese
25g (2 Tbsp) Butter
75g (1 Cup) Panko Breadcrumbs
1 Egg
2 Tbsp Flour
½ Tsp Black Pepper
2 Pinches of Salt
Instructions
Grate the cheddar cheese.
Make a cut through the chicken breast from the side making sure that you do not cut all of the way through, then open it like a book.
Bash the chicken with a rolling pin to make it lie flat, the idea isn't to make the chicken thinner, just to even it out, this makes it easier to roll.
Season the bashed side of the chicken breasts with the pepper and a pinch of salt. Be careful with the salt because we have lots of salty ingredients to add.
Add the slices of ham, folding them to fit without any overhang, and the grated cheese.
Fold the chicken back over using a little "force" if necessary and season the outside with a little salt.
Place the chicken breast on a sheet of cling film and wrap it around, eliminating as much air as possible.
Then pinch the ends and begin to roll backwards and forwards to form a "Christmas cracker shape. Keep going until you form a nice barrel shape on the chicken breast, then transfer it to the fridge and allow it to sit for at least 30 minutes.
While the chicken is resting heat a medium frying pan (~24cm or 10") over a medium heat and when it is hot melt the butter.
When the butter begins to foam add the bread crumbs and cook until golden, this will take between 5-10 minutes depending on how hot your pan is. Take care not to burn them!
Transfer the breadcrumbs to some kitchen paper and allow them to cool.
Add the egg to a bowl and lightly beat it with a fork.
Add the breadcrumbs to a separate bowl.
Sprinkle the rolled and stuffed chicken with the flour and lightly tap off any excess.
Roll the chicken through the beaten egg allow any excess to drain and then transfer to the breadcrumbs and again roll to coat completely.
Add the breaded chicken to an air fryer and cook for 15-20 minutes at 170°C or 340°F.
Allow the chicken to rest for 3-5 minutes. Check that the temperature of the meat has reached 73°C or 165°F before serving, you can remove it from the air fryer around 5° before this temperature and it will continue to warm through.
Nutrition Information:
Yield:
2
Serving Size:
1
Amount Per Serving:
Calories:

726
Total Fat:

31g
Saturated Fat:

14g
Trans Fat:

1g
Unsaturated Fat:

13g
Cholesterol:

335mg
Sodium:

953mg
Carbohydrates:

23g
Fiber:

1g
Sugar:

2g
Protein:

84g
Calorific details are provided by a third-party application and are to be used as indicative figures only.