This recipe takes a Chicken breast and cuts it 'Hasselback' style and stuffs it with sharp cheddar cheese and jalapeño chili. Whilst it is roasting in the oven we have the perfect amount of time to knock up a quick pineapple salsa which is good, because it makes the perfect accompaniment.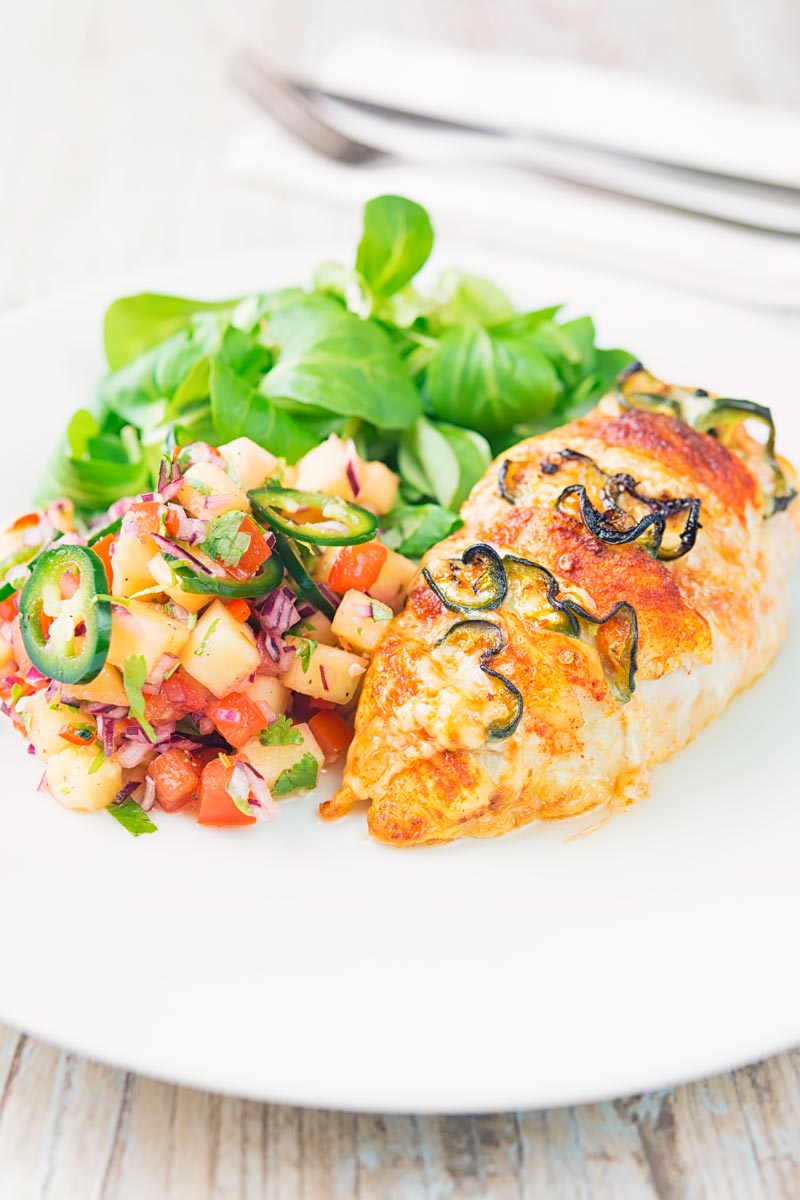 Jalapeño & Cheddar Stuffed Chicken Breast With Pineapple Salsa.
Usually, when I think of stuffed chicken I think of chicken cordon bleu or chicken Kiev. This recipe is very different to those retro classics!
We are rocking some seriously retro flavour combinations in this recipe. I can't think of pineapple and cheese without being reminded of them being served together on a toothpick.
This recipe embraces the idea that fruit and cheese work well together but doesn't really hark back to the 70's or 80's.
It takes just 30 minutes to prep and cook and can be scaled up in size with next to no additional time.
Moderating the amount of spice is also pretty simple, Just pull back on the jalapeño.
If you want more just increase the spiciness of the chili in the pineapple salsa.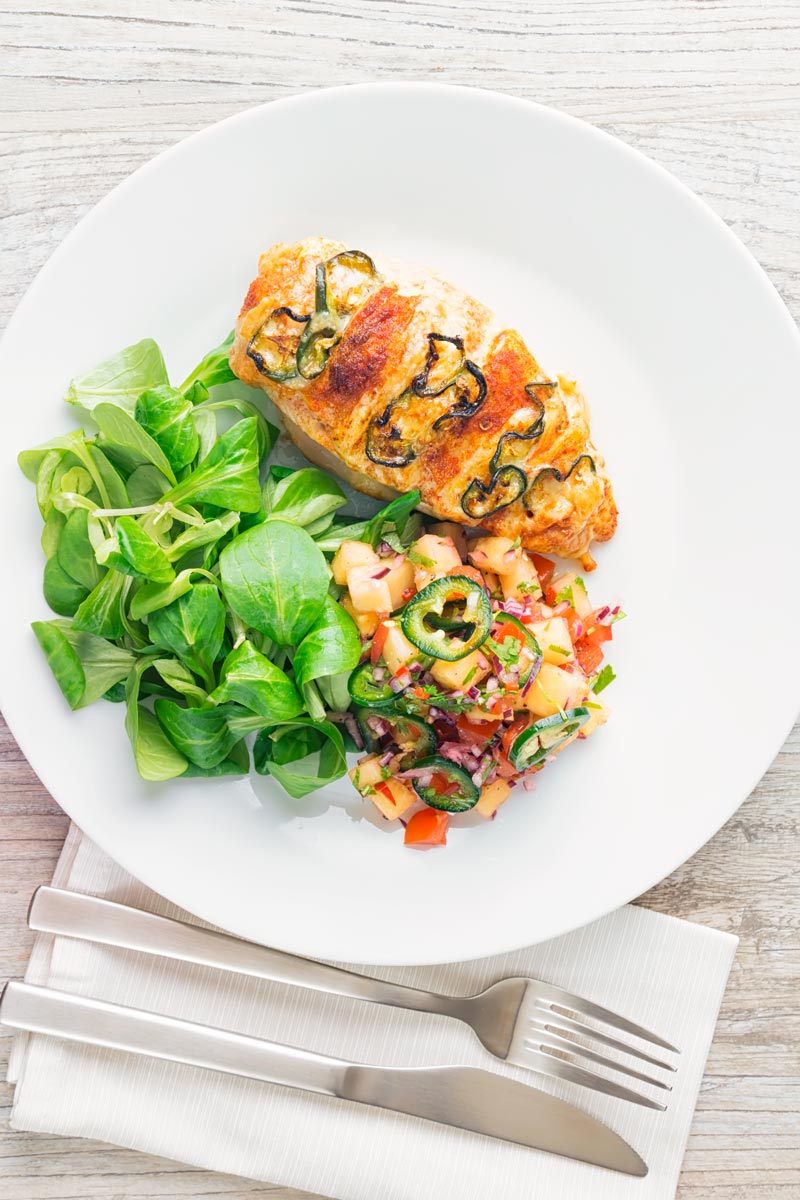 Can You Use A Different Cheese?
Of course, however, I would advise that you do not!
A good, well-matured, cheddar cheese is the perfect stuffing for this Hasselback chicken breast.
This recipe contains big flavours and you need a cheese that can stand up to them.
Cheddar has the perfect blend of acidity and saltiness.
It also has great melting characteristics, moving to a less flavoursome cheese will mean you need more cheese.
Now I am not a cook that thinks more is always better. You can most definitely have too much garlic, cheese, chili or indeed anything else!
Cooking is about balancing flavours. In this recipe, sharp cheddar cheese offers the perfect amount of flavour for the amount needed to stuff the chicken breast.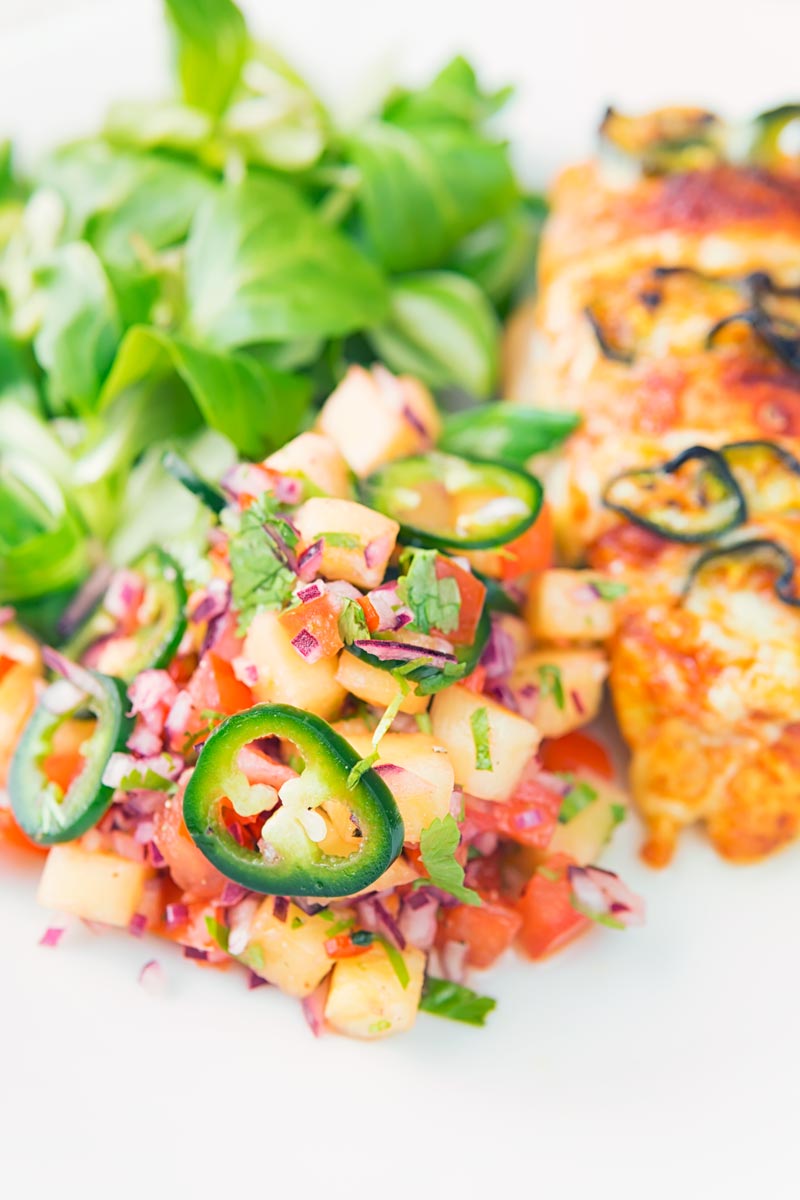 How Long Will Pineapple Salsa Last?
I personally think that a pineapple salsa is best made fresh, from fresh pineapple and with fresh coriander.
I do not think that it is a recipe that benefits with age, which is definitely the case with some salsa recipes.
However, it will store for 3-4 days in an airtight container in the fridge.
But if you want to make your pineapple salsa in advance there are a few steps to take to ensure it is at its best.
First of all, do not season with salt until you are ready to serve. Salt is a preservative and will drive off liquid, that is not a good thing in this recipe.
Secondly you want to ensure that the coriander is fresh, otherwise, it has no flavour. So again add this just before you serve.
Finally, if you have leftover pineapple, don't worry! You can use it in everything from sweet and sour chicken to BBQ pineapple chicken kebabs and even this Thai duck curry!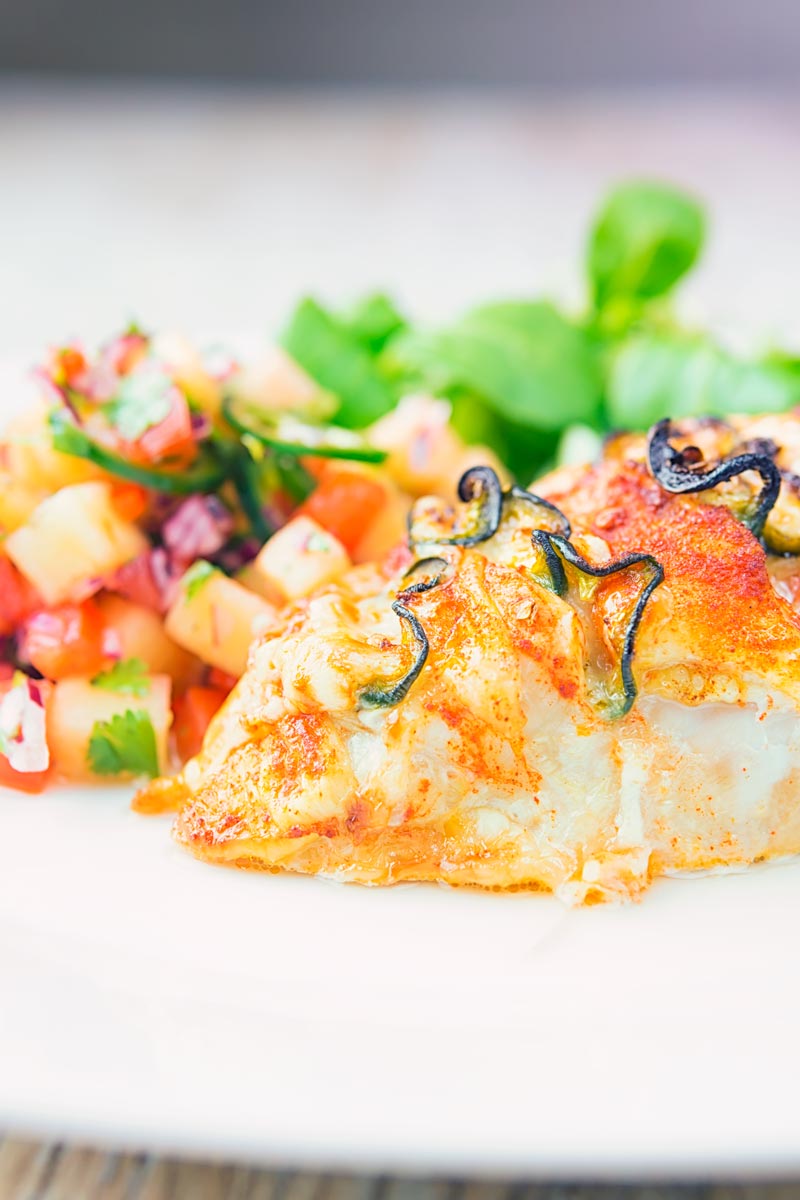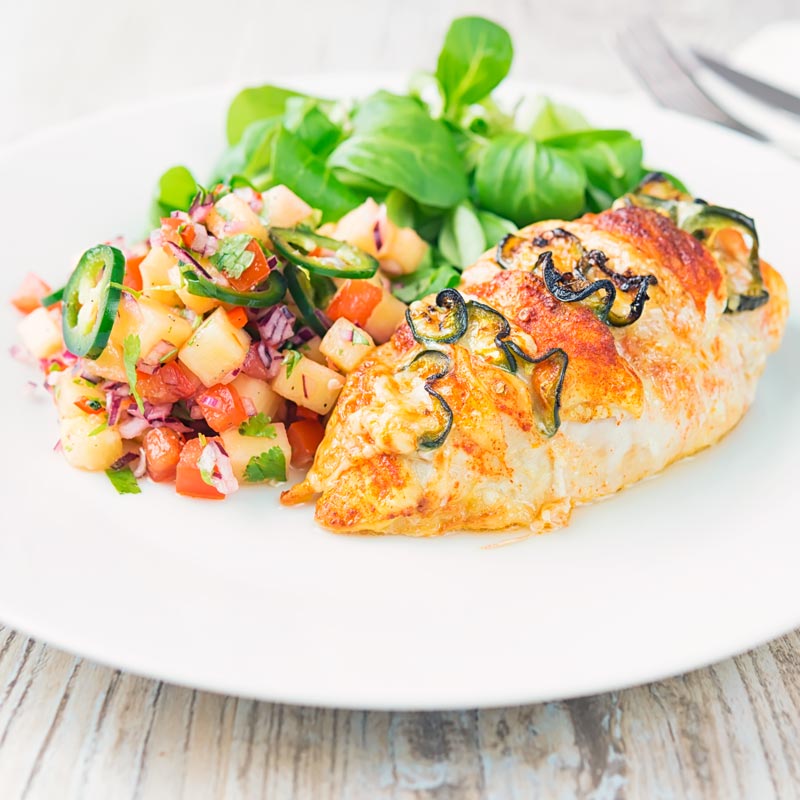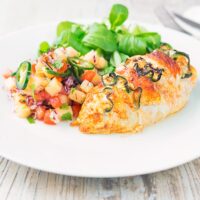 Jalapeño Stuffed Chicken Breast With Pineapple Salsa
Chili and cheese, pineapple and cheese, chicken and cheese, pineapple chicken... Yes, this stuffed chicken breast recipe rocks some pretty awesome flavour combinations. It is quick, light, easy to make and all sorts of delicious, off to the kitchen you must go!
Ingredients
For the Chicken:
2 Skin On Chicken Breast
3 Jalapeño Chili Peppers
50 g Cheddar Cheese
1/2 Tsp Salt
1/2 Tsp Sweet Paprika
For the Pineapple Salsa:
150 g Pineapple
75 g Tomato
1 MIld Red Chili Pepper
10 g Coriander
1 Lime
Salt and Pepper to taste.
Instructions
Finely dice the jalapeño chilies.
Mix together the salt and the paprika in a small bowl.
Slice the cheddar cheese into 3-4mm thick slices.
Make 4-5 slices in the chicken breasts perpendicular to the length making sure that you do not slice all the way through. We are going to fill these slices with cheese and jalapeño.
Sprinkle the skin side of each chicken breast with the paprika and salt mix.
Stuff the slices with a slice of cheese and then as many jalapeño slices as you can squeeze in.
Place in a roasting tin and place in a fan assisted oven at 180°C or 350°F for 20-25 minutes or until the chicken is cooked.
Peel and dice the pineapple into a 5mm dice, the weight quoted in the recipe is the prepared weight.
Cut the tomato into wedges and then into a 4-5mm dice, again the required weight is the prepared weight.
Finely dice the chili pepper and the red chili pepper.
Finely chop the coriander.
Mix the pineapple, tomato, chili pepper, red onion and coriander in a bowl gently.
I like to add any left over jalapeño slices to this mix too.
Zest and juice the lime and then add this to the mix, season with salt and pepper to your taste and set aside.
Nutrition Information:
Yield:

2
Serving Size:

1
Amount Per Serving:
Calories:

582
Total Fat:

25g
Saturated Fat:

9g
Trans Fat:

0g
Unsaturated Fat:

13g
Cholesterol:

189mg
Sodium:

1042mg
Carbohydrates:

24g
Fiber:

6g
Sugar:

12g
Protein:

67g
Calorific details are provided by a third-party application and are to be used as indicative figures only.