This chicken breast stuffed with cheese recipe is perfect for a simple midweek dinner.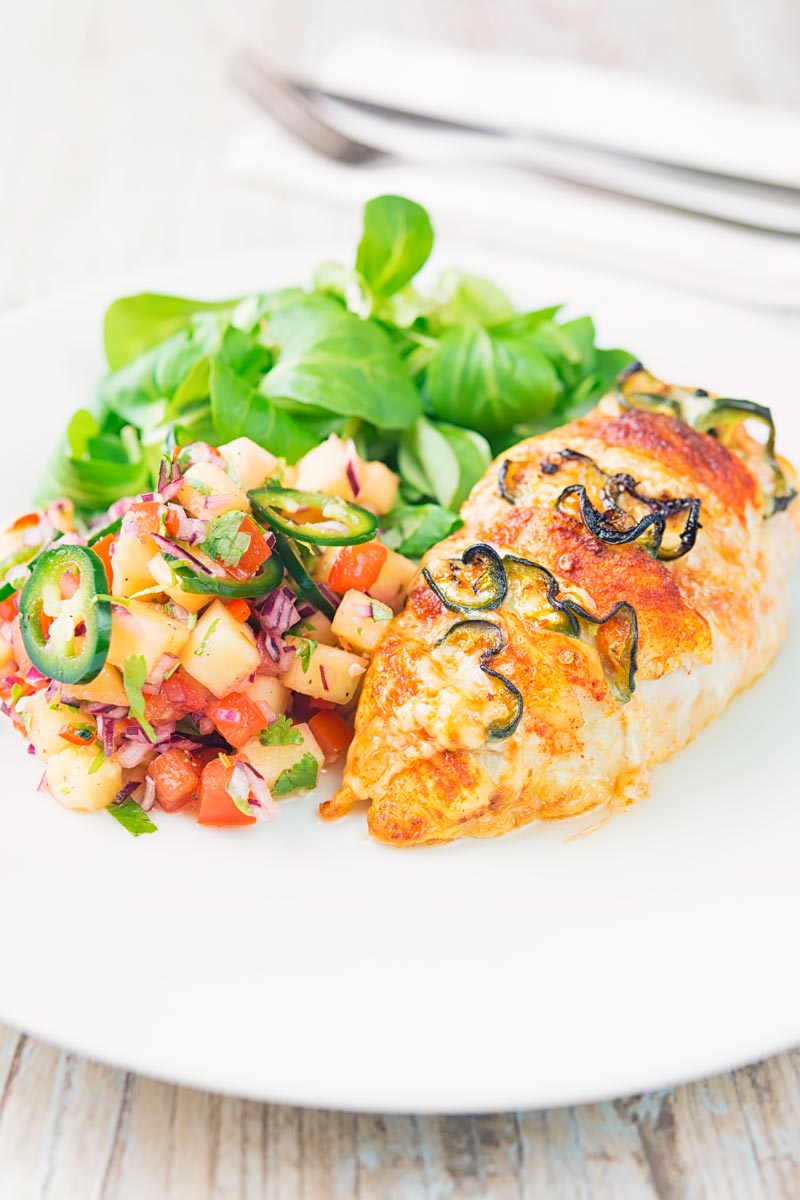 Stuffing Chicken Breast the Lazy Way.
Usually, when I think of stuffed chicken I think of chicken cordon bleu or chicken Kiev. This recipe is very different from those retro classics!
It takes just 30 minutes to prep and cook and can be scaled up or down in size with next to no additional time.
There is no time consuming bashing flat and rolling or the fiddly creation of pockets.
Simple deep slices in the chicken breast are the name of the game here.
Then in goes sharp cheddar cheese some chilli, a bit of salt and some paprika and we are done.
This is the sort of cooking that even the most novice of home cooks can tackle with confidence.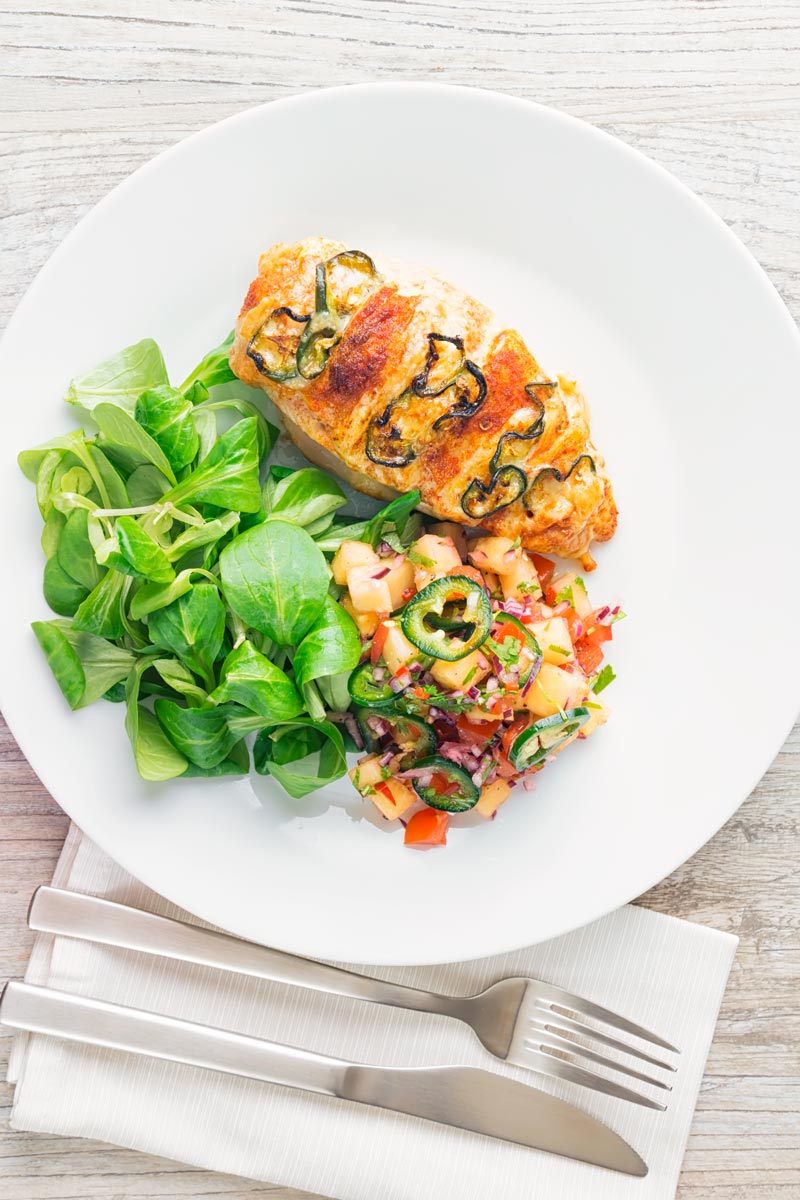 Can You Use A Different Cheese?
Of course, however, I would advise that you do not!
A good, well-matured, cheddar cheese is perfect for this recipe.
Make sure that you go for a well-aged cheese, it should be pretty crumbly when you slice it. Don't worry if it falls apart a little just stuff it in.
Mature Cheddar cheese has the perfect blend of acidity and saltiness.
It also has great melting characteristics, moving to a less flavoursome cheese will mean you need more cheese.
Now I am not a cook that thinks more is always better.
You can most definitely have too much garlic, cheese, chilli or indeed anything else!
Cooking is about balancing flavours and in this recipe, sharp cheddar cheese offers the perfect balance.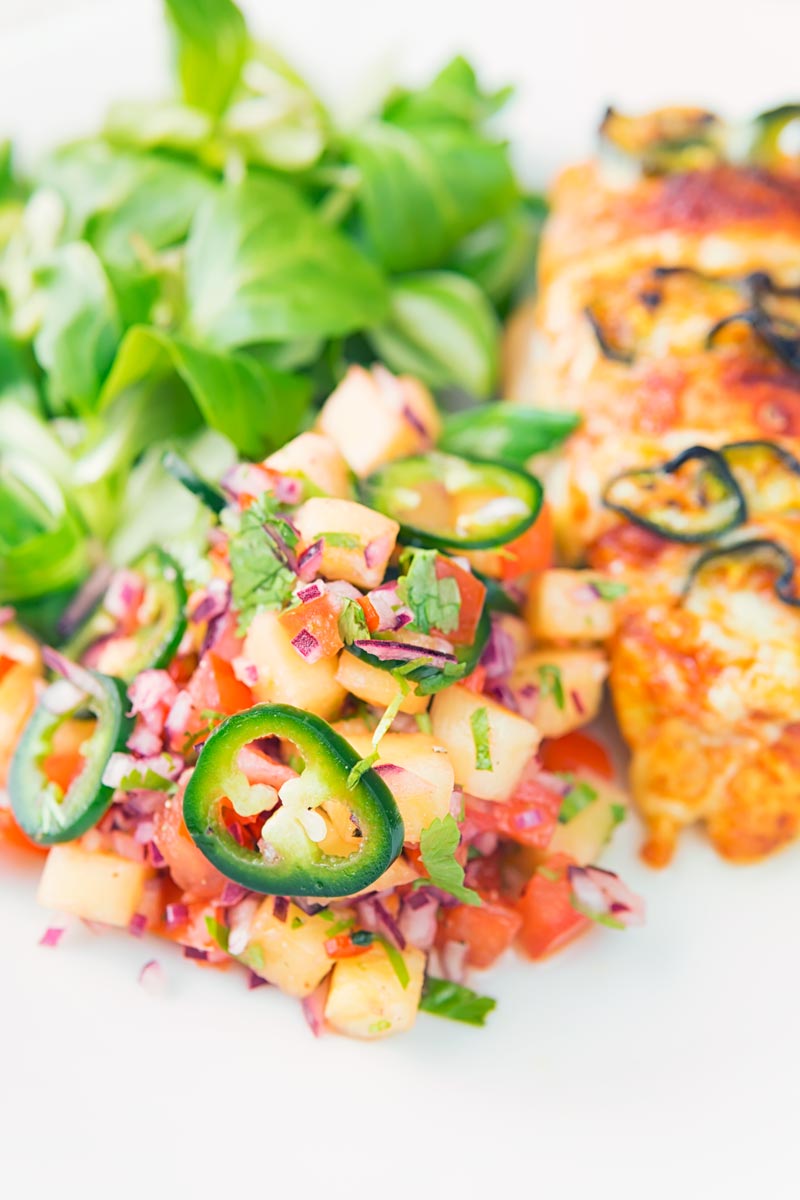 Cooking Tips and Serving Suggestions.
There ain't anything complicated in this Hasselback style chicken breast recipe. but there some basics that I often neglect to mention.
First of all for the love of all that is good use a sharp knife! You will do yourself much more damage with a blunt knife than a sharp one.
You are also much more likely to do damage as you will have to work the knife harder.
Secondly, beware of that chilli. Jalapeno really is not that spicy but the juices from it are just as unpleasant if you get it in your eyes or "elsewhere" as any other chilli.
Rubbing a bit of oil into your hands before you slice the chilli is a great tip. You could wear rubber gloves but I cannot work a knife wearing them.
It prevents the capsaicin from penetrating the pores and washes off with hot soapy water.
Of course, I never take my own advice!
As for serving, I like to go with a pineapple salsa, it works on so many levels. Pineapple and cheese, Chicken and Pineapple, Pineapple and chilli are all classic combinations.
But potato wedges and a BBQ sauce would work equally well.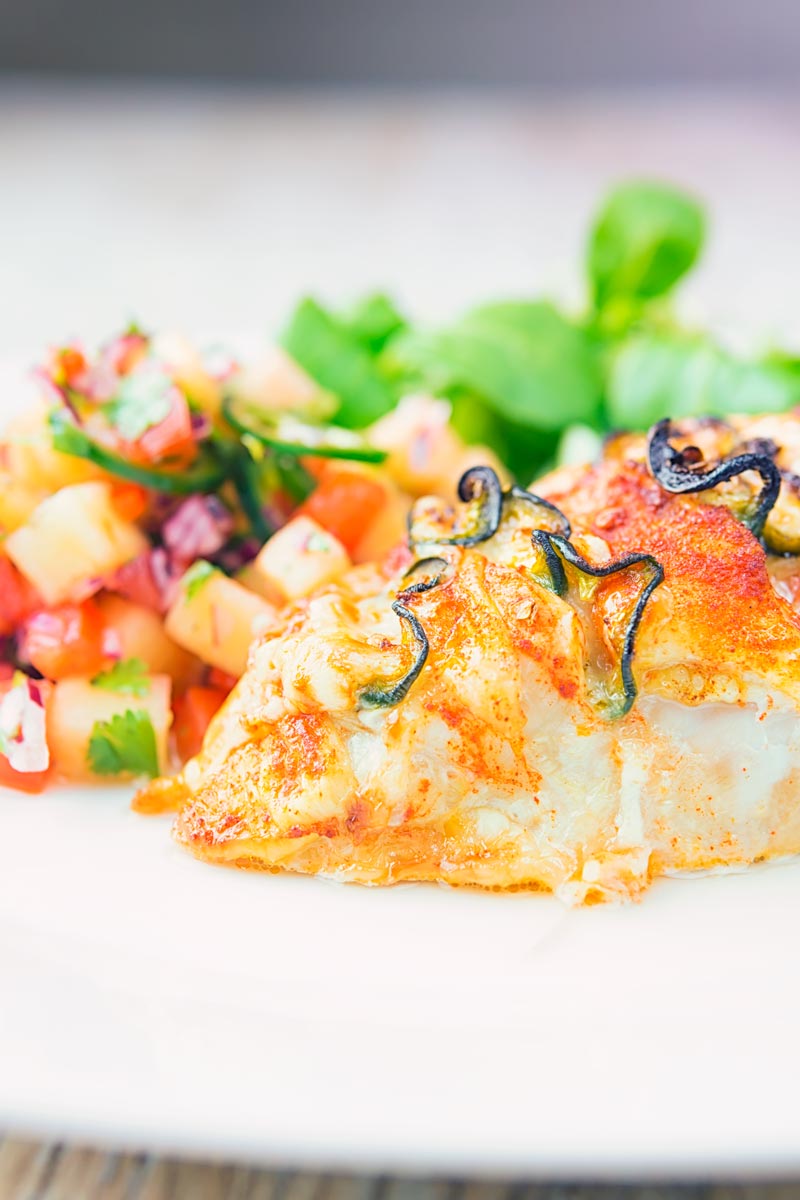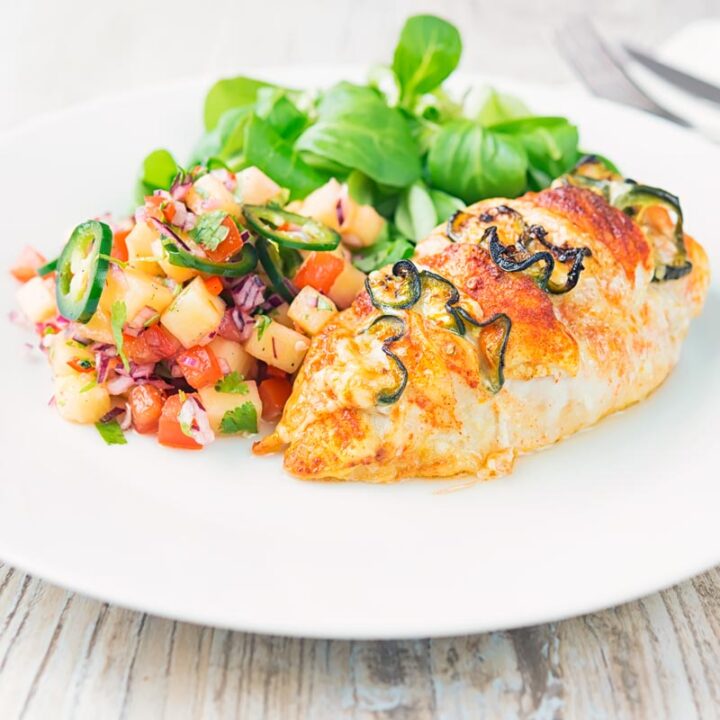 Yield:

2 Servings
Recipe for Simple Chicken Breast Stuffed with Cheese and Jalapeno
This simple chicken breast recipe stuffed with cheese and jalapeno pepper is the perfect centre piece of a quick midweek meal.
Ingredients
2 Chicken Breasts
3 Jalapeño Chili Peppers
50 g Cheddar Cheese
1/2 Tsp Salt
1/2 Tsp Sweet Paprika
Instructions
Finely slice the jalapeño chilies.
Mix together the salt and the paprika in a small bowl.
Slice the cheddar cheese into 3-4mm thick slices.
Make 4-5 slices in the chicken breasts perpendicular to the length making sure that you do not slice all the way through.
Sprinkle the skin side of each chicken breast with the paprika and salt mix.
Stuff the slices with a slice of cheese and then as many jalapeño slices as you can squeeze in.
Place in a roasting tin and place in a fan assisted oven at 180°C or 350°F for 20-25 minutes or until the chicken is cooked. 200°C or 400°F in a non-fan assisted oven.
As ever you want the chicken to reach an internal temperature of 74°C or 165°F before serving.
Notes
Serve with a side salad and some salsa or with wedges for a heartier meal.
Nutrition Information:
Yield:
2
Serving Size:
1
Amount Per Serving:
Calories:

316
Total Fat:

13g
Saturated Fat:

6g
Trans Fat:

0g
Unsaturated Fat:

5g
Cholesterol:

127mg
Sodium:

836mg
Carbohydrates:

4g
Fiber:

1g
Sugar:

2g
Protein:

44g
Calorific details are provided by a third-party application and are to be used as indicative figures only.