Where the Garlic butter stuffed chicken Kiev comes from is hotly debated although it is almost certainly not Kiev. What is not debated is how utterly glorious and wonderful a perfect Kiev is!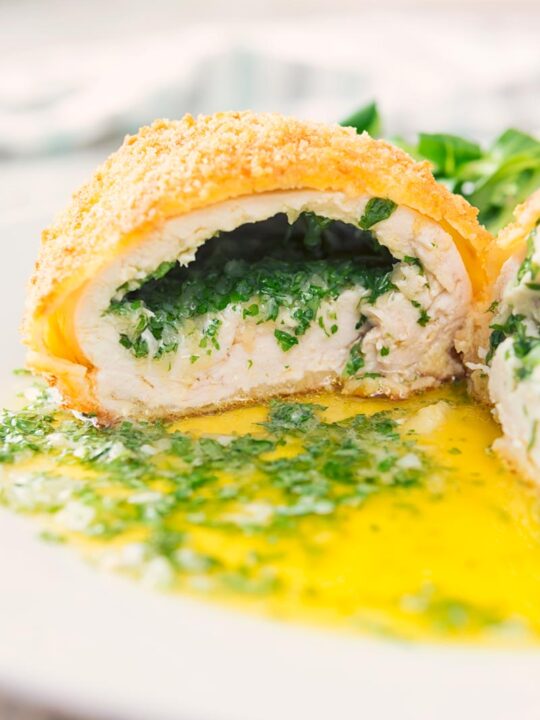 The Perfect Kiev!
Defining the perfect Kiev is simple, a perfectly cooked chicken breast with a crispy golden breadcrumb coating. Very similar to a classic Wiener Schnitzel!
Then when you cut it open it should ooze with lots and lots of garlic butter.
If you feel a little adventurous with your crispy chicken coating then I can recommend my Cornflake chicken… Seriously, just go with it, it will blow your mind!
If you have been visiting my site for any period of time you will know that I am rather fond of butter.
It really does make everything better, whether it is the base for sauces like that in my veal scallopini or in my bread and butter pudding.
Sometimes a little goes a long way but when it comes to this recipe a lot goes even further.
It is not an everyday recipe, it is not even an every week recipe.
It is a rich and indulgent treat and one you can make in advance if you want.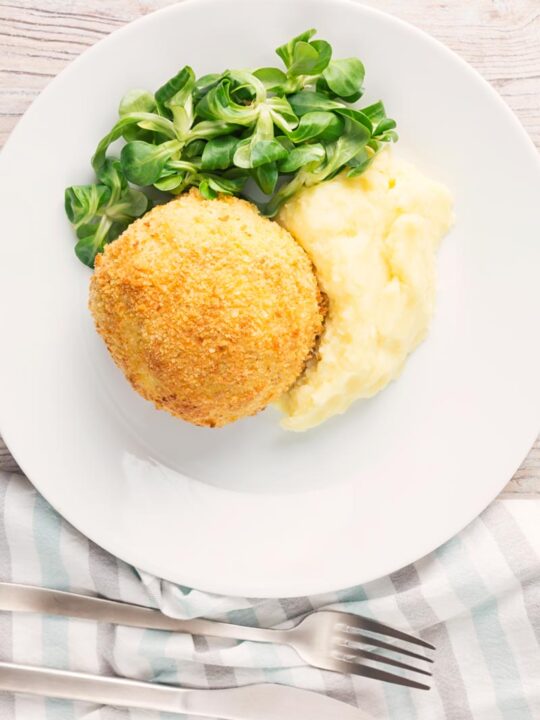 The Secret.
The trick with this recipe is all in the preparation, it ain't one you can knock up when you get home from the office.
I've spent years playing around with different methods for creating the perfect chicken Kiev. This recipe is where I experimentation reached the end of the search.
There are 3 'sections' of recipe prep, you cannot rush them, there are no shortcuts.
Making the Garlic Butter: This is pretty simple, but the key is lining a small bowl domed bowl around 7.5cm or 3″ with cling film to create the perfect shape. You can see from the images that the shape is still visible after cooking.
Sealing The Kiev: More cling film to the rescue! After flattening the chicken breast it gets wrapped around the butter. The base of the Kiev will be a little thicker than the top, it is meant to be this way. It is absolutely critical that we let the chicken sit after this stage and wrap it tightly. This permits the chicken to rest and almost seal itself.
Coating the Chicken Breast: Finally, we do a classic panne, ensuring that we double dip. Again resting for half an hour after this stage is very important. I use dried breadcrumbs from a packet for this, you could make your own. They do need to be very dry and they need to be fairly uniform in size.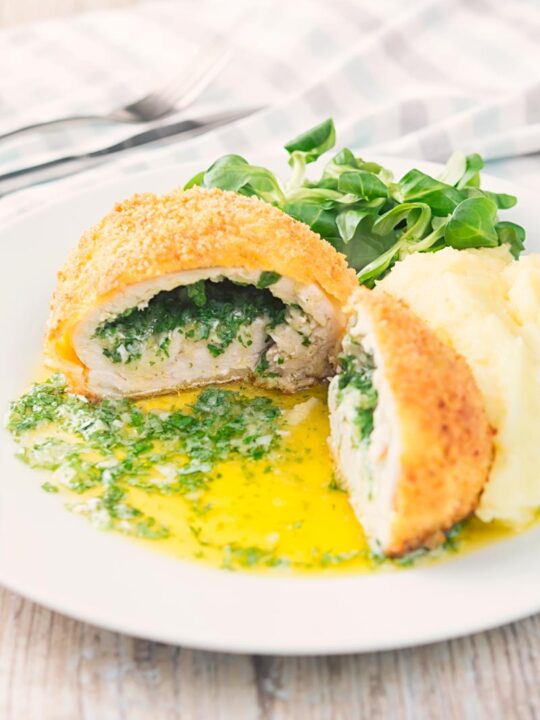 Serving Suggestions.
Well, we have a wonderfully buttery chicken Kiev, surely the last thing we need is more butter right? Wrong!!!!!
As far as I am concerned serving this with anything other than mashed potato is a crime.
And yes that mashed potato has butter in it!
It is the perfect thing for mopping up the butter that oozes out of the Kiev. My guide to mashed potatoes will fill you in with all you need to know about mash!
It is the conduit that makes it all simply perfect! I also like some green leaves to serve with it, because it makes it healthy… Heheheheheheheheheeee.
Enjoy, and remember, not every day, not every week!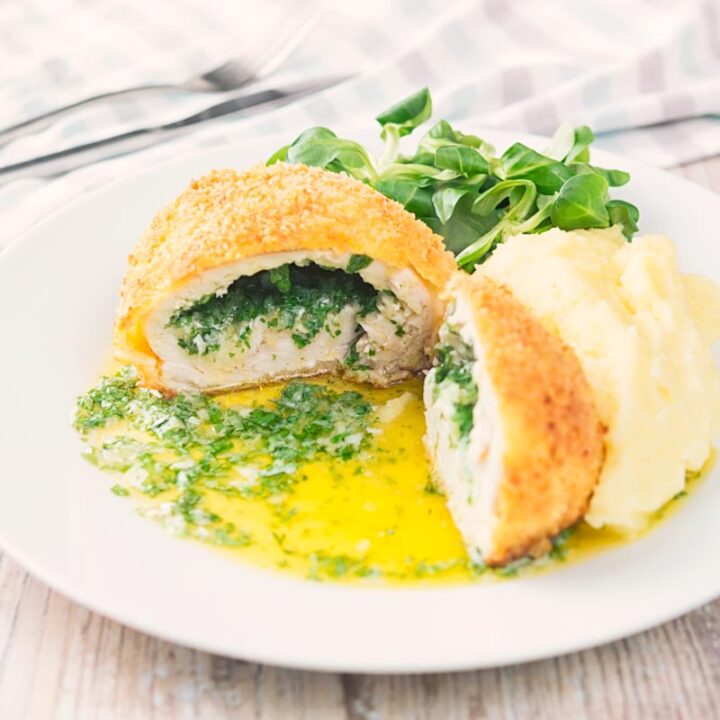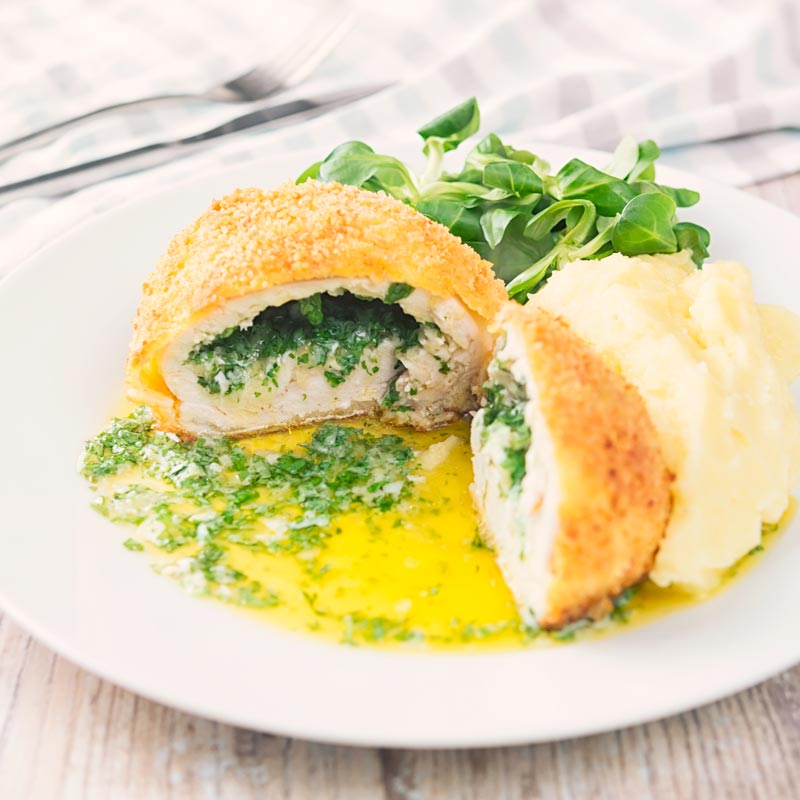 Yield:

2 Servings
Buttery Chicken Kiev with Mashed Potato
This recipe comes to you courtesy of butter... The chicken Kiev is a rich and indulgent dish, do not accept skinny substitutes, take it for being what it is, a magical treat to be enjoyed occasionally!
Ingredients
2 Chicken Breasts
100 g Softened Butter
6 Garlic Cloves
5 g Parsley
50 g Breadcrumbs
2 Eggs
4 Tbsp Flour
Oil for frying.
Salt and Pepper to taste
For the Mashed Potato
350 g Potato
50 g Butter
Salt to taste
Instructions
Chop the parsley and mash the garlic cloves.
Add them to the softened butter and mash.
Divide this mix in half and form half domes.
Wrap these in cling film and freeze for at least 30 minutes.
Whilst the butter is firming up take you chicken breasts one at a time and sandwich between two sheets of grease proof paper.
Bash each chicken breast flat so that it is an even 1cm thick all over ensuring that you only bash the underside of the chicken breast.
Place the chicken breast on a large sheet of cling film with the smooth un-bashed side down.
Remove the garlic butter from the cling film and place in the center of the chicken breast.
Bring up the chicken so that the butter is completely covered and then wrap with the cling film.
Work the cling film to form a perfect shape that covers the butter completely and evenly (although thicker at the bottom of the dome).
Refrigerate these for 3 hours (as long as over night), this part of the process is essential!
Now panne the Kievs by rolling in flour then dipping in the beaten egg and finally into the breadcrumbs.
Repeat the final part of this process by double dipping into the egg and breadcrumbs.
Place on a plate lined with baking parchment and allow to sit for 30 minutes in the refrigerator.
Just before you are ready to cook the kievs, peel the potatoes and cut into 1.5cm cubes.
Bring a pan of salted water to the boil and cook the potatoes until soft.
Fill a frying pan that can be transferred to the oven with enough oil to form a 1cm pool and heat over a medium high heat.
When hot add the kievs and spoon over the oil to make the breadcrumbs on top turn golden. This should take 3-4 minutes.
Transfer to the oven and cook for 20-22 minutes at 200°c or 400°F.
Your potatoes should be ready to mash just before the kievs are ready to serve.
Press them through a potato ricer which as far as I am concerned is the best way to make mashed potato.
Then mix in the butter.
Serve immediately and listen for the squeals of delight as the kievs give up all that garlic butter!
Nutrition Information:
Yield:
2
Serving Size:
1
Amount Per Serving:
Calories:

1136
Total Fat:

72g
Saturated Fat:

42g
Trans Fat:

2g
Unsaturated Fat:

24g
Cholesterol:

449mg
Sodium:

1141mg
Carbohydrates:

70g
Fiber:

6g
Sugar:

4g
Protein:

54g
Calorific details are provided by a third-party application and are to be used as indicative figures only.