Wild garlic is a wonderful ingredient that has a perilously short season and is a great sign that summer is coming. This wild garlic pesto pasta fizzes with the flavour of garlic and basil and is pimped with a little gorgonzola cheese.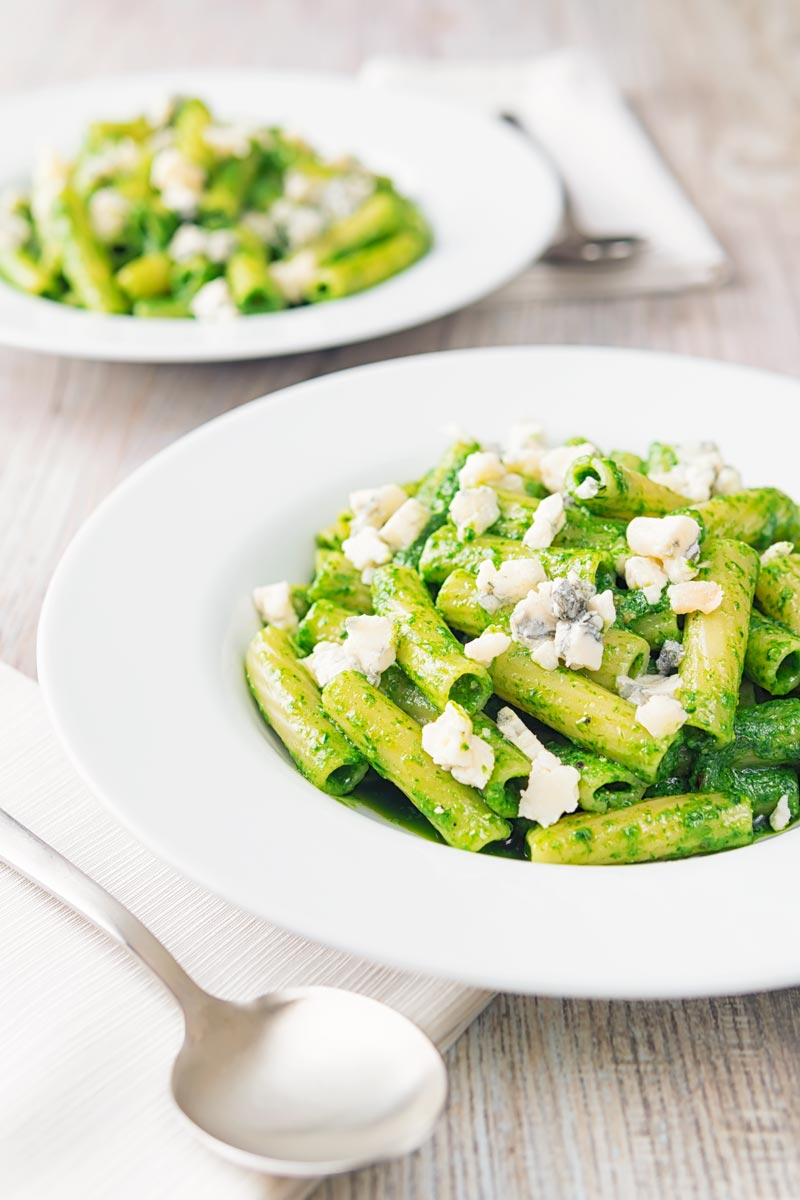 What is Wild Garlic?
Wild garlic has many names, ramsons, buckrams, broadleaf garlic to name but a few.
Unlike the cultivated garlic we are all very fond of it is the leaves that are much prized. Wild garlic does produce a 'bulb' however it is very small.
It is in season for around 3 months, April through July so don't blink or you will miss it.
Unsurprisingly wild garlic tastes like garlic, but it is a little brighter in flavour.
It can be used in everything from salads through to sauces and is a real treat.
It is now highly prized by cooks and chefs alike in Europe but at one point in time, it was used for cow fodder.
The result was a highly prized Swiss garlic butter, how cool would that be?
When it gets to the end of the season I actually try and get a lot and turn it into garlic butter. It adds a real freshness to my garlic spaghetti with blue cheese recipe!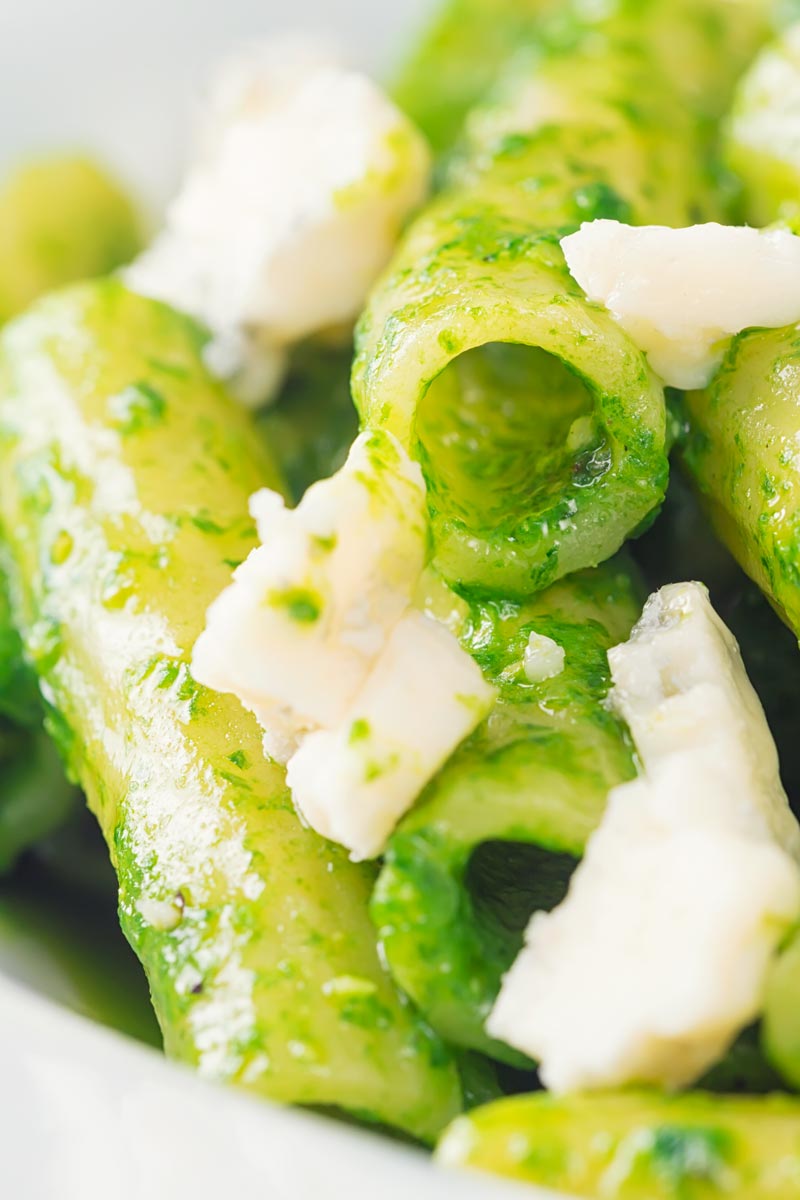 Wild Garlic Pesto.
For me, one of the finest ways to use wild garlic is in a wild garlic pesto.
There is of course nothing wrong with basil pesto, it is fantastic! You can find my recipe for it in this pesto spaghetti with goats cheese recipe.
There is never a binary choice in food, there is always room for more, to that end I even make a pea pesto pasta!
On that note, this pesto pizza uses a rocket pesto and it ain't always green! This pesto alla Trapanese uses almonds and sun dried tomatoes!
My recipe does not just swap out wild garlic for basil.
Wild garlic can be incredibly overpowering if you use too much, just like bulb garlic.
It has an almost fizzy effect in the mouth if overused and gives an almost 'numbing' sensation like cloves.
So in this recipe, we add a load of wild garlic, some basil… Well, it is a pesto after all, and a smidge of parsley.
As for preparation chuck it in a blender and blend!
And the pinch of sugar?
Well, that is a tip I picked up from watching Massimo Bottura and it is genius. It just counteracts that slight bitterness of the herbs!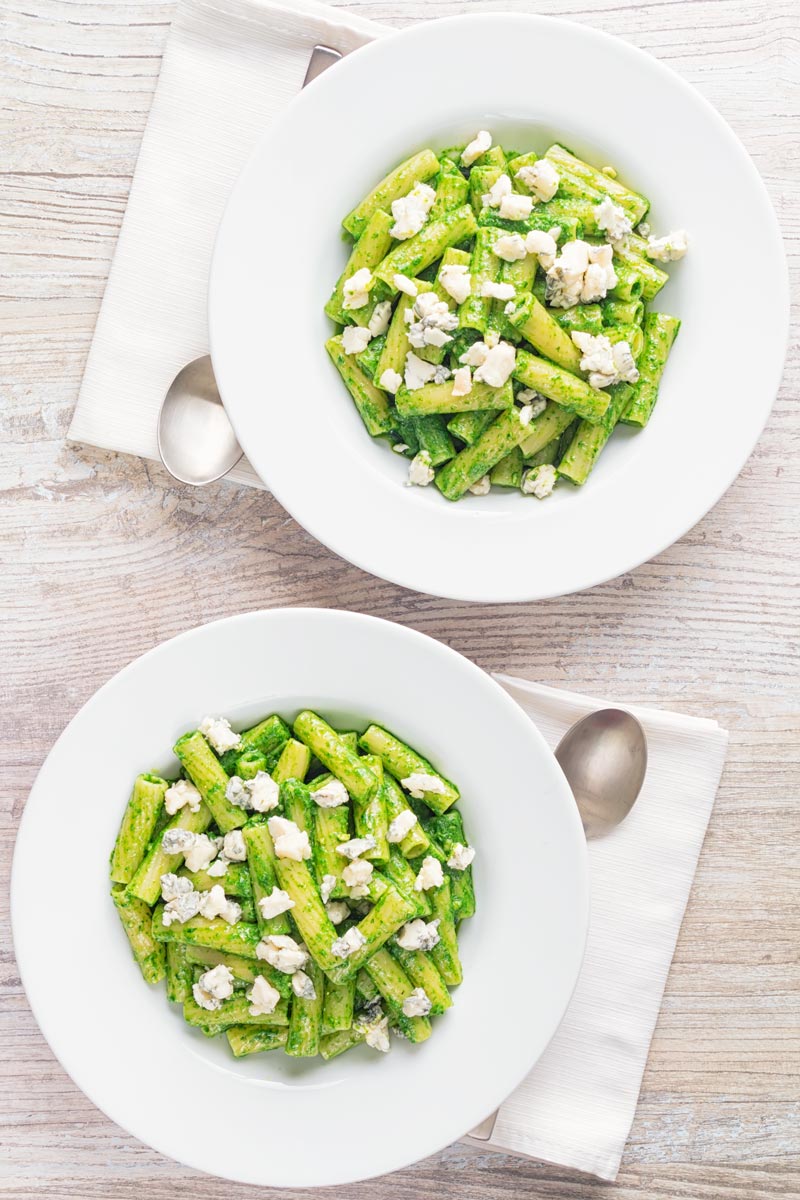 What Pasta To Use?
I usually serve my pesto sauces with a long pasta like spaghetti or linguini.
But I'm always much more generous with wild garlic pesto and serve much more than I would a regular pesto.
As a result of this, I find a shorter pasta with a greater surface area is preferable.
Here I have gone with rigatoni, but it would be great with penne, fusilli or any other pasta with lots of places for the sauce to hide.
If you want another idea then how about stirring it into some soup to really pimp it up!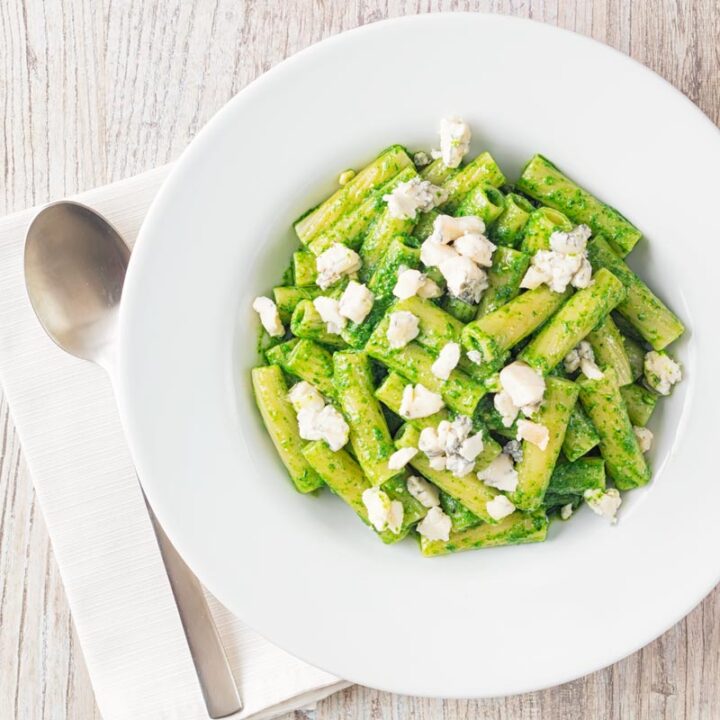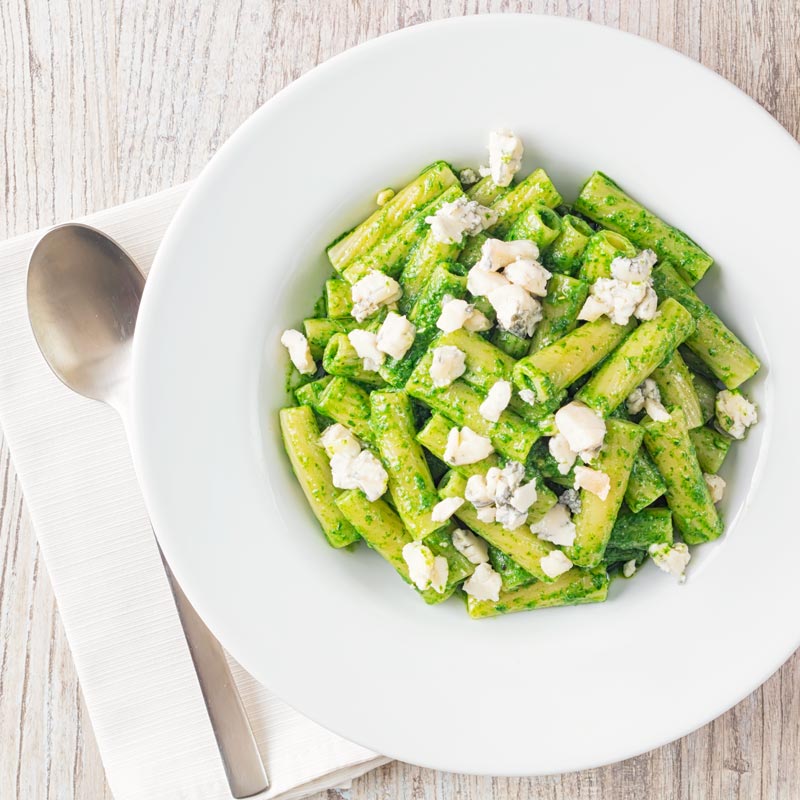 Yield:

2 Servings
Wild Garlic Pesto Pasta with Gorgonzola Cheese
The season for wild garlic is short but truly magical, this wild garlic pesto pasta is the perfect fast spring/summer recipe. Cooking just 10 minutes with 10 minutes prep means it is a fast, vibrant and beautiful seasonal recipe.
Ingredients
200 g Short Pasta
60 g Wild Garlic
30 g Basil
10 g Parsley
35 g Parmesan Cheese
Pinch of sugar
75 ml Extra Virgin Olive Oil
50 ml Rape Seed Oil
25 g Pine Nuts
100 g Gorgonzola Cheese
Salt and Pepper to taste
Instructions
Begin by toasting your pine nuts in a dry pan.
Drop your pasta into boiling, generously salted water.
Put the wild garlic, basil and parsley to a blender whilst your pasta is cooking.
Add the Parmesan cheese, a good pinch of black pepper, a small pinch of sugar and the oil.
Blend to form a pesto adding more oil if required.
When the pasta is cooked drain it reserving a little of the cooking liquid.
Stir the pesto through the pasta.
Adding a little of the reserved cooking liquid to form a nice sauce texture.
Have a taste and season with salt as required before serving topped with Gorgonzola.
Nutrition Information:
Yield:
2
Serving Size:
1
Amount Per Serving:
Calories:

981
Total Fat:

82g
Saturated Fat:

16g
Trans Fat:

0g
Unsaturated Fat:

61g
Cholesterol:

38mg
Sodium:

731mg
Carbohydrates:

45g
Fiber:

3g
Sugar:

2g
Protein:

21g
Calorific details are provided by a third-party application and are to be used as indicative figures only.