Burgers and Steak ain't the only game when it comes to a cookout, this campfire baked fish in foil is a great way to change up your al fresco cooking.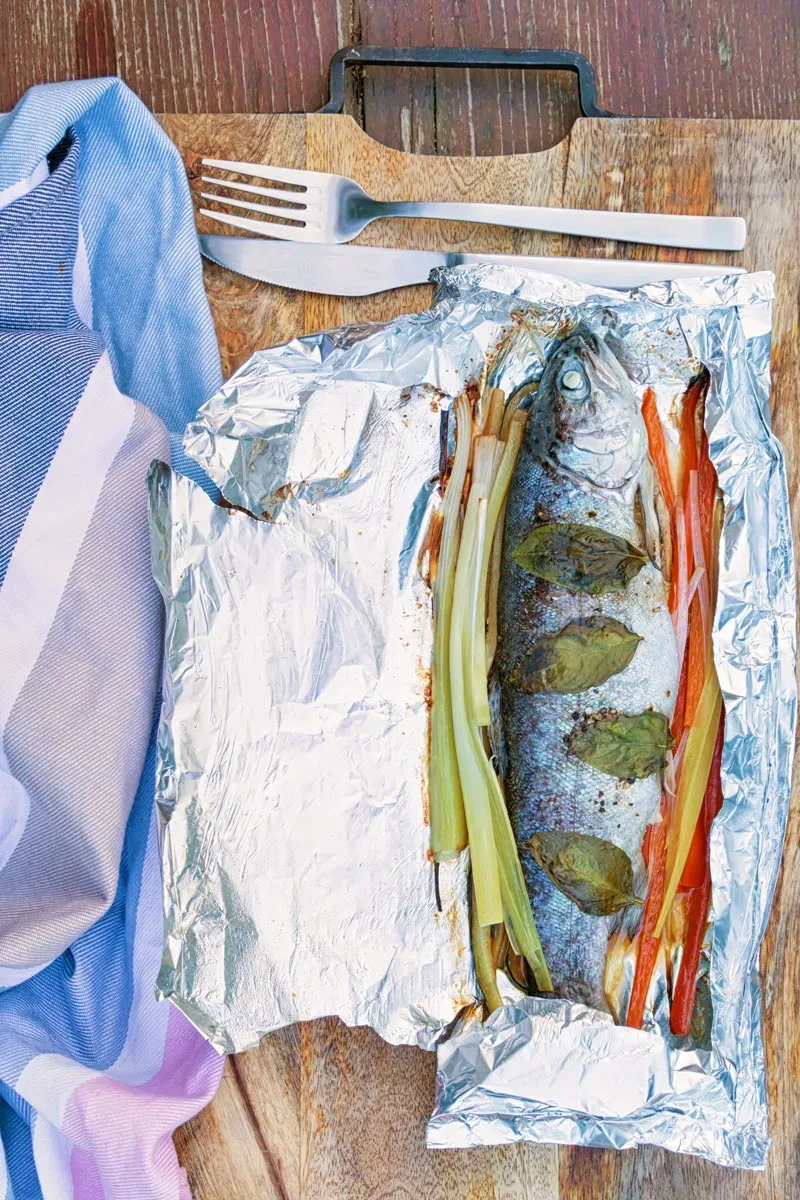 Baked Fish in Foil: Trout.
This recipe and technique will stand you in great stead for cooking a whole bone-in fish at your next cookout.
It does not matter whether you are cooking on a Campfire or a BBQ. So long as you have some form of grid you can place above the fire you are good to go.
It also gives you a degree of flexibility of what fish to use too.
I use trout here but you could use sea bass, mackerel or pike-perch. If you are feeding a tribe you could even play around with a whole small salmon.
The technique is the same as my Cod en Papilotte recipe. That one cooks in the oven so you don't even need a campfire.
Boy am I good to you!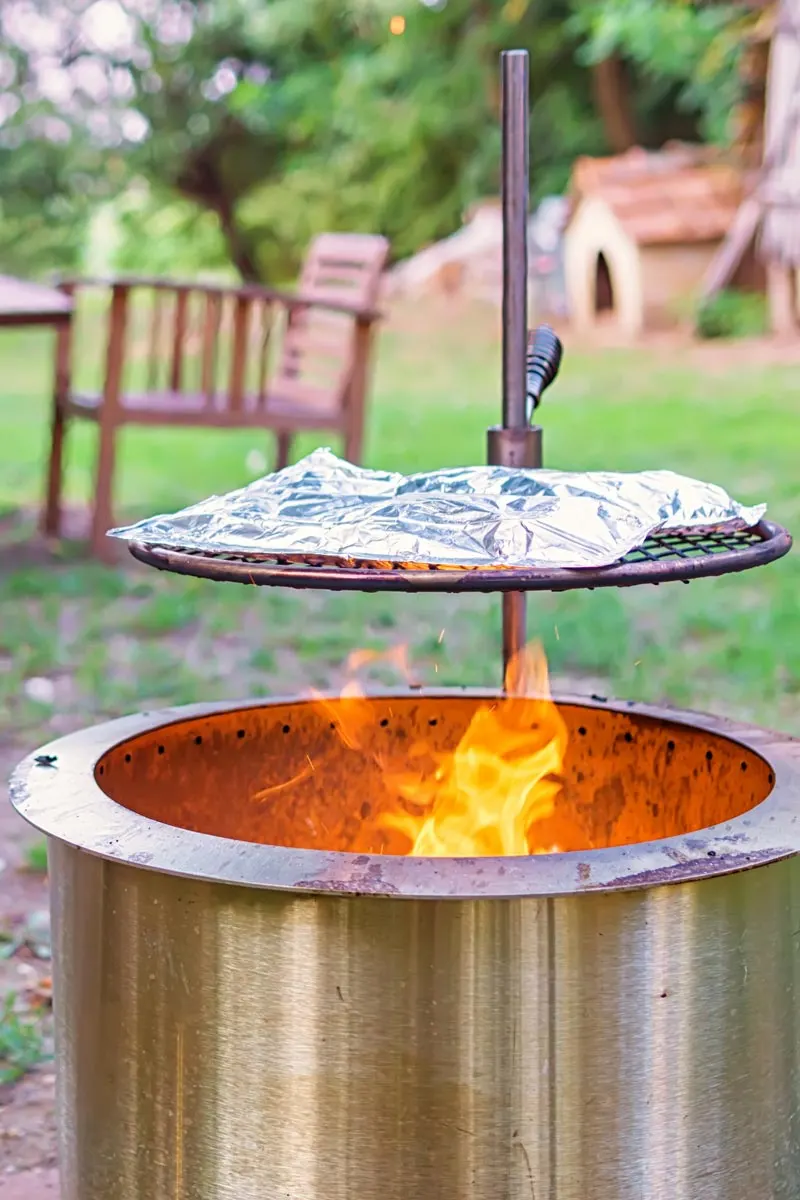 What Is So Great About Baking Fish In Foil?
The answer is simple, flavour, flexibility and texture!
When you cook a fish over an open heat as I do with my tandoori fish you drive off a lot of moisture. You can, of course, bake fish without foil and get great results, this whole baked sea bass is heavenly!
That is great for that charred flavour, but there are always other ways of cooking food.
Wrapped in foil the fish steams in its own juices and the flavours that you add. In addition to this, anything else you add to the packet adds to the flavour and receives the flavour from the fish.
So in this instance, the courgette, red pepper, and leeks get steamed in a fish broth.
And because we are steaming the fish it is a much gentler way of cooking. Yes, even though we are cooking over open fire!
So long as your foil packets are not too close to the fire then it is very difficult to overcook the fish.
That is in stark contrast to cooking fish over and open flame like this grilled trout recipe. You have to be very vigilant to ensure you cook the fish to perfection.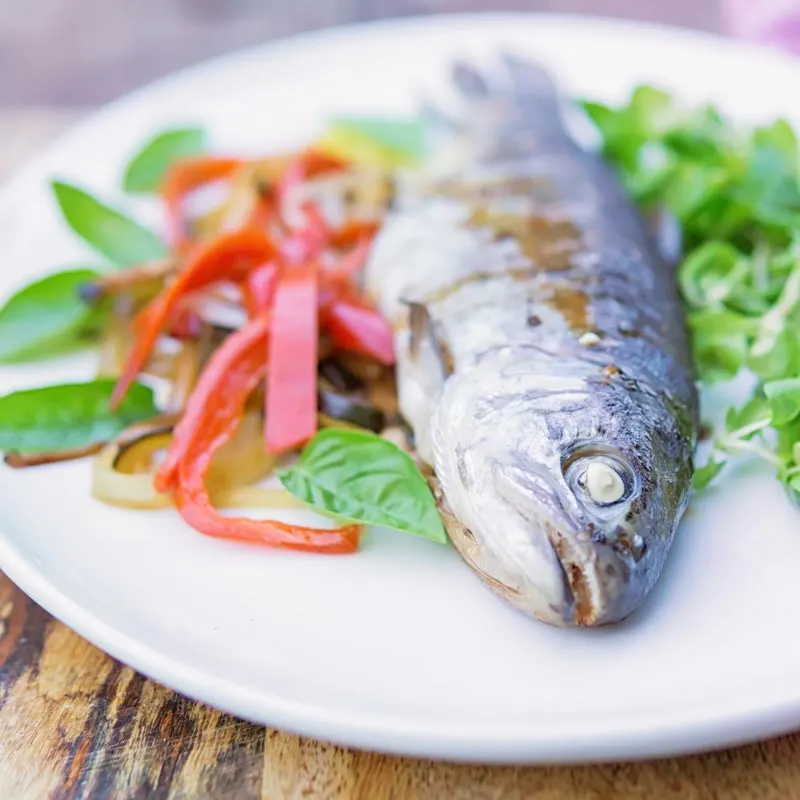 How To Cook in Foil.
There is one thing you need to consider above all other when cooking baked fish in foil and that is the foil!
It is vitally important that the foil packets are properly sealed.
Cheap, thin foil will make that difficult and if you do split the foil then start again. It will prevent the 'bag' from inflating and allowing those juices to steam the fish.
Whilst I am on the subject of the bag inflating… Be careful when you open up the packet it is inflated by steam, it is hot and it will burn!
Other than that choose your fish and vegetables and off you go.
When cutting your vegetables consider how long they take to cook in relation to each other.
I use vegetables that all take a similar time to steam, you can use others but if some take longer to cook than others then cut them smaller.
This cooking malarky really is that simple!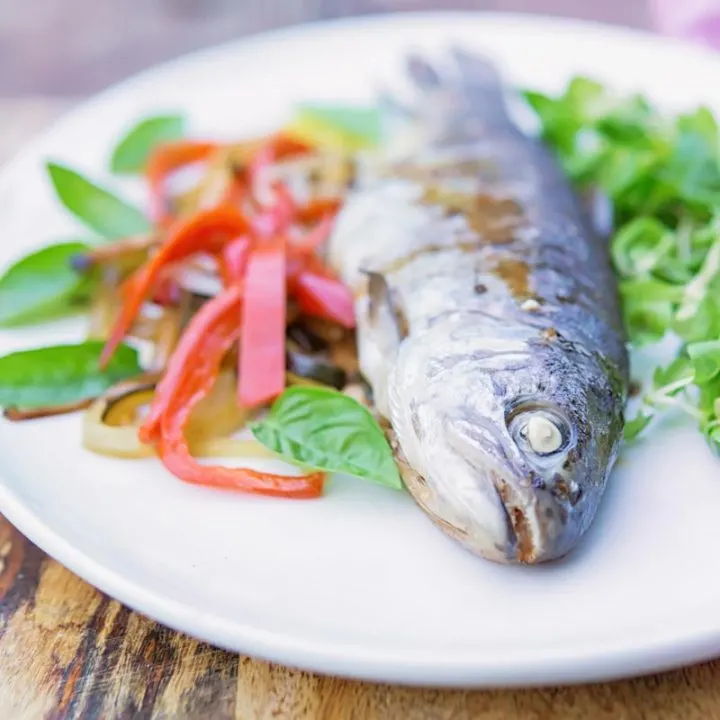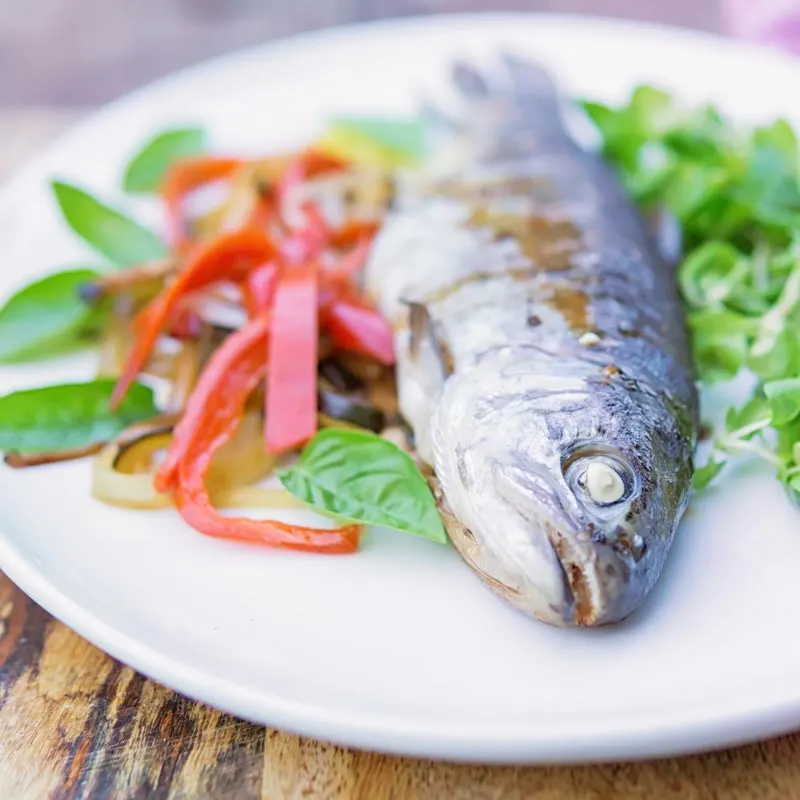 Yield:

2 Servings
Campfire Foil Baked Fish
Foil baked fish is a great recipe for a BBQ or Campfire, this version takes a whole trout and cooks it with Mediterranean flavours, a perfect al fresco meal.
Ingredients
2 Whole Trout
1/2 Leek
1 Courgette
1 Red Pepper
2 Cloves Garlic
Handful Basil
2 Tbsp Balsamic Vinegar
2 Tbsp Olive Oil
Salt and Pepper to taste
Instructions
Naturally you need to begin by getting your BBQ going!
Ensure that your trout is gutted and cleaned, ask your fishmonger to do this for you... It should not cost anymore and will save you all the mess and time!
Take the leek, courgette and red pepper and cut long ribbons around 2-3mm in profile.
Pick the basil leaves from the stems.
Finely slice the garlic.
Season the cavity of the trout generously with salt and pepper.
Take two large pieces of tin foil and lay the trout in the centre of one, add half of the vegetables around the fish.
Pour over half of the balsamic and half of the oil.
Season the flesh with a little more salt.
Add 4-5 basil leaves to the top of the fish.
Now fold over the foil as I mention above it is important to create a tight seal but also leave space around the fish (see image below)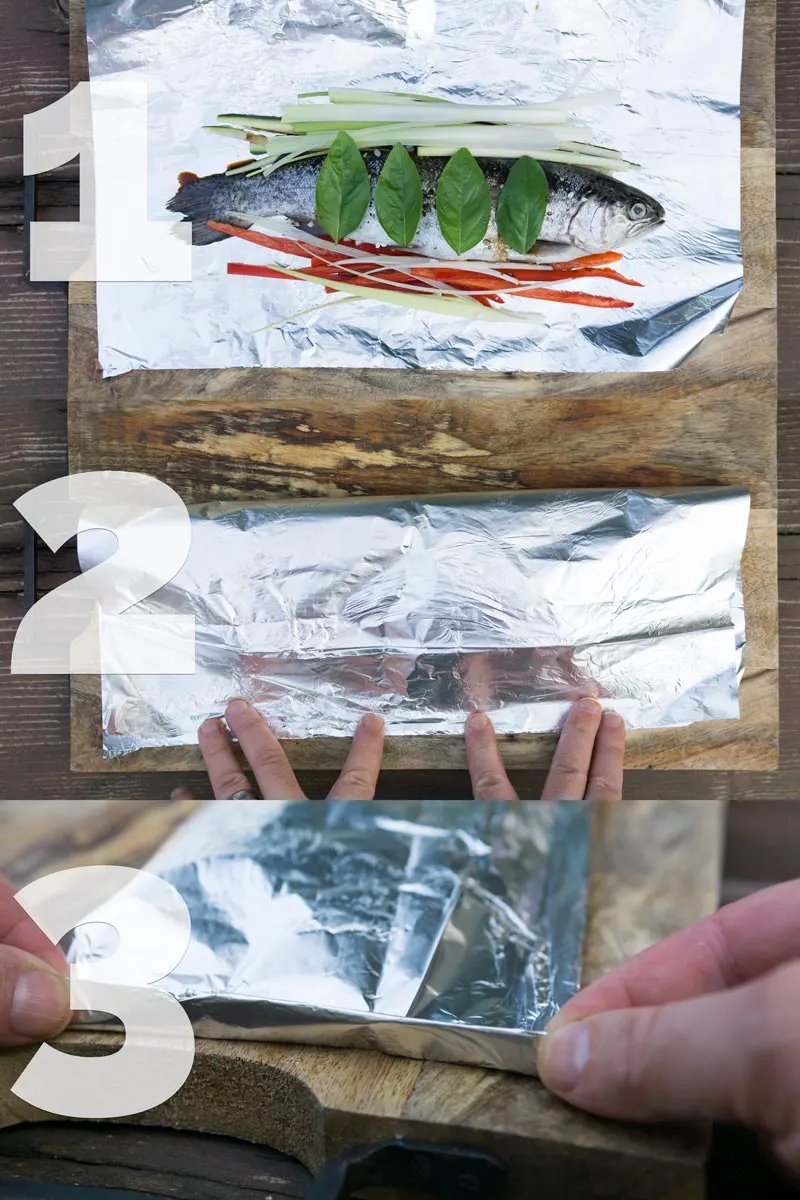 Repeat with the second fish.
Place on a grid 20-30cm above the flame of a fire and cook for around 20 minutes.
Remove from the heat and allow to cool for 2-3 minutes before opening.
Nutrition Information:
Yield:
2
Serving Size:
1
Amount Per Serving:
Calories:

307
Total Fat:

20g
Saturated Fat:

3g
Trans Fat:

0g
Unsaturated Fat:

16g
Cholesterol:

46mg
Sodium:

203mg
Carbohydrates:

14g
Fiber:

3g
Sugar:

8g
Protein:

20g
Calorific details are provided by a third-party application and are to be used as indicative figures only.