This Asian Fish En Papillote features a classic French technique with bright and vibrant Asian flavours, you cannot beat a whole sea bass cooked on the bone.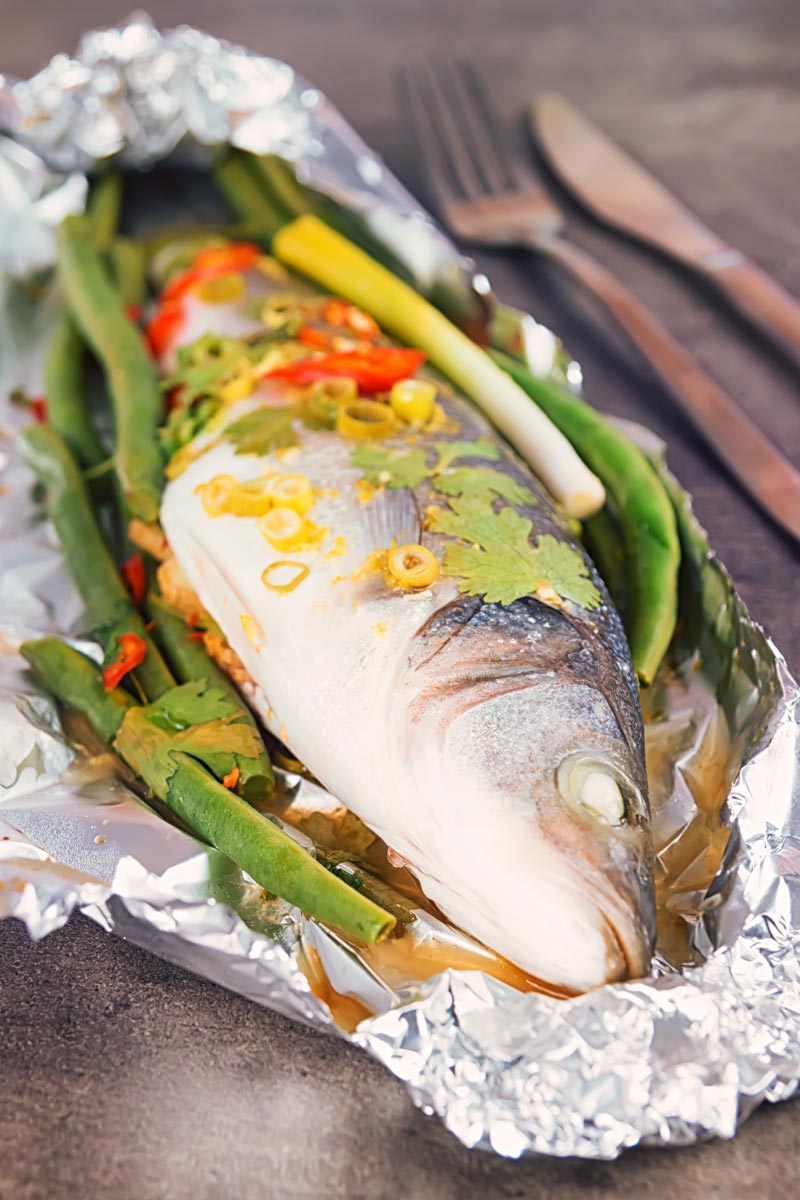 Asian Fish En Papillote (Sea Bass).
This Asian Fish En Papillote recipe uses a fresh whole sea bass with great vibrant Asian flavours. It comes hot on the back of a whole tandoori fish recipe that used very different Asian flavours.
Cooking en papillote may sound fancy but it essentially is nowt more than cooking in a 'bag'. It creates a wet cooking environment rather than a dry roasting environment used for my whole baked Sea Bass.
It is often thought of as a classic French cooking technique but dates back over 4,000 years and earliest records have it rooted in India. Originally there would have been no tinfoil of course, with leaves being used.
It is actually a technique still practiced today throughout Asia. However, banana leaves are not all that easy to lay your hands on in these parts as you may imagine.
Either way, it is a beautiful way of cooking fish the parcel seals in all of the steams, juices and flavours. As a result, the fish cooks much more gently than traditionally baked or grilled fish.
As this steamed chicken recipe show steaming food results in beautiful meals!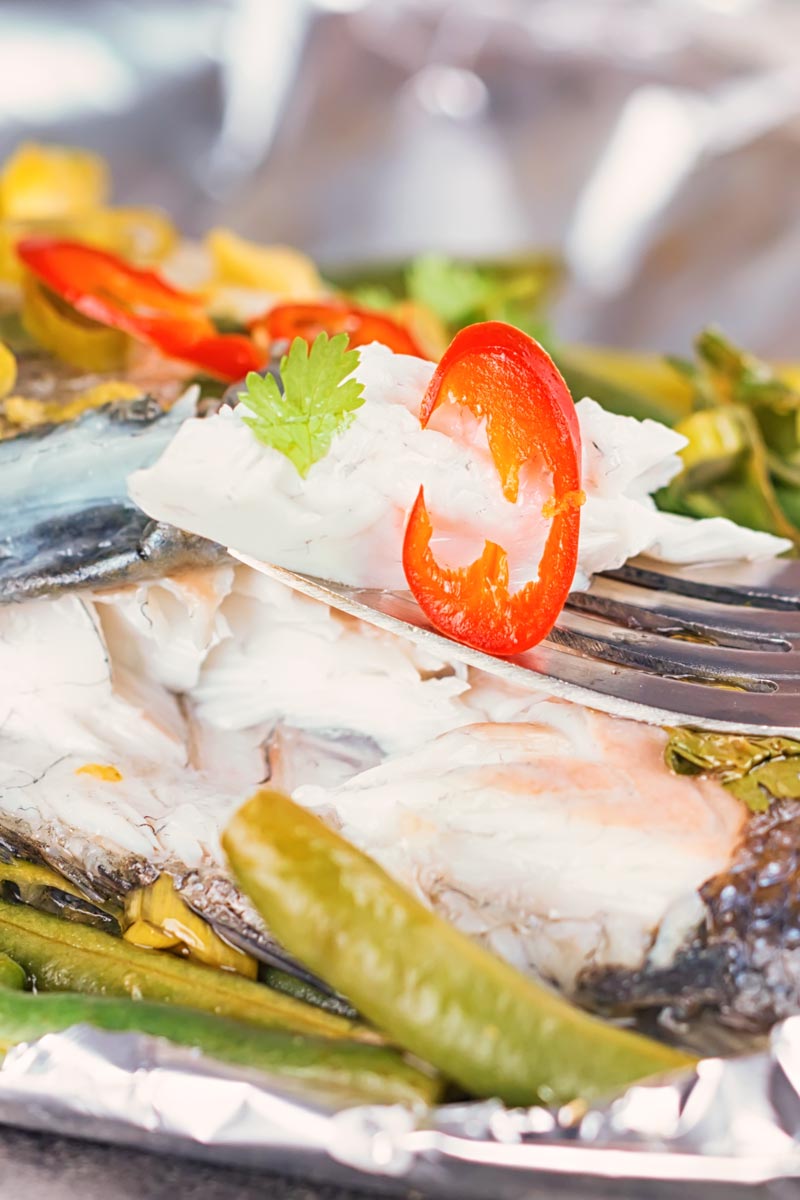 How To Cook En Papillote.
For some strange reason, lots of folk worry about eating food with eyes… I have no idea why, if you eat meat or fish they all had eyes at some point in time or other.
There is a true majesty in serving a whole fish that I think cannot be beaten.
Particularly in this fish en papillote. There is a drama and a sense of magic as you unwrap your own little parcel. Don't get me started on the aroma that has been trapped in that parcel as it slowly roasts and steams.
The secret is to ensure that the parcels are tightly sealed so that none of the steam can escape.
But do not tightly wrap around your fish, you want to make a tent that allows the flavour and steam to do its magic.
After that, it is a simple case of chucking it in the oven and letting it do its 'thing'. You could even cook this on the BBQ if you wanted to like this grilled trout recipe. Just chuck the parcels over some indirect heat and cook for 20-25 minutes.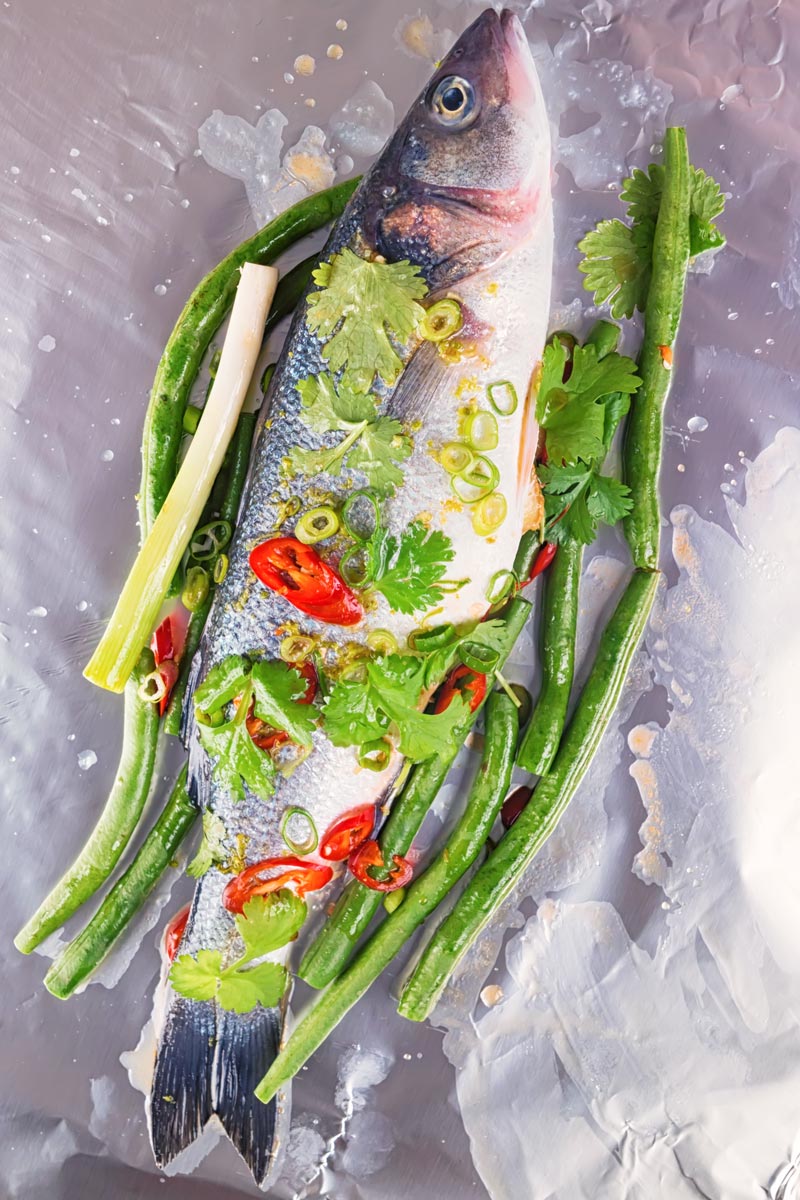 Fish Recipes…
In the relatively short time I have been running my website the availability of fresh sea fish in Hungary has changed dramatically.
This sea bass recipe is the first time I have seen sea bass here in Hungary.
Cooking with seafood and fish in the UK was one of the things that got me hooked on cooking.
So seeing sea bass in stores means that recipes like this fish en papillote, my pan-fried cod recipe or blow torched mackerel recipe will be a more common feature as time progresses.
You may even hear me squeal with excitement no matter where you are if I ever find fresh mussels!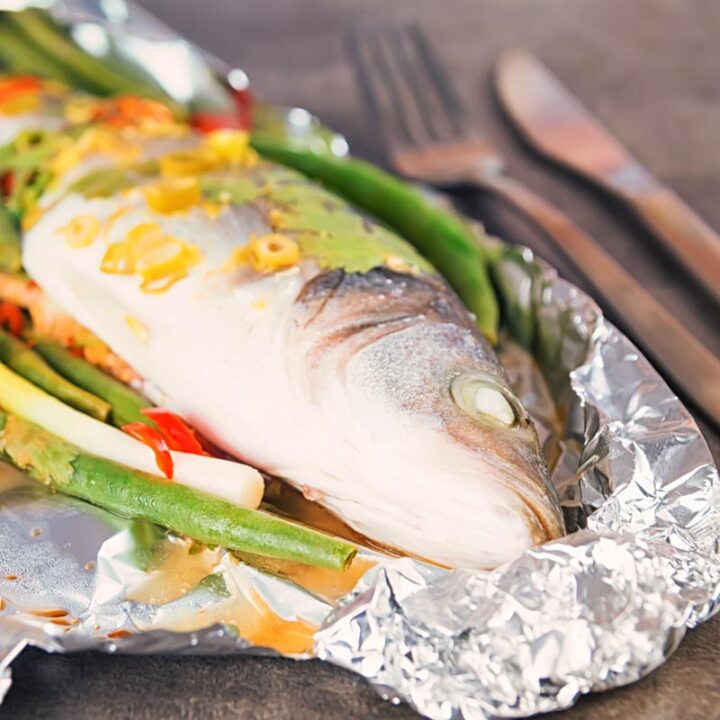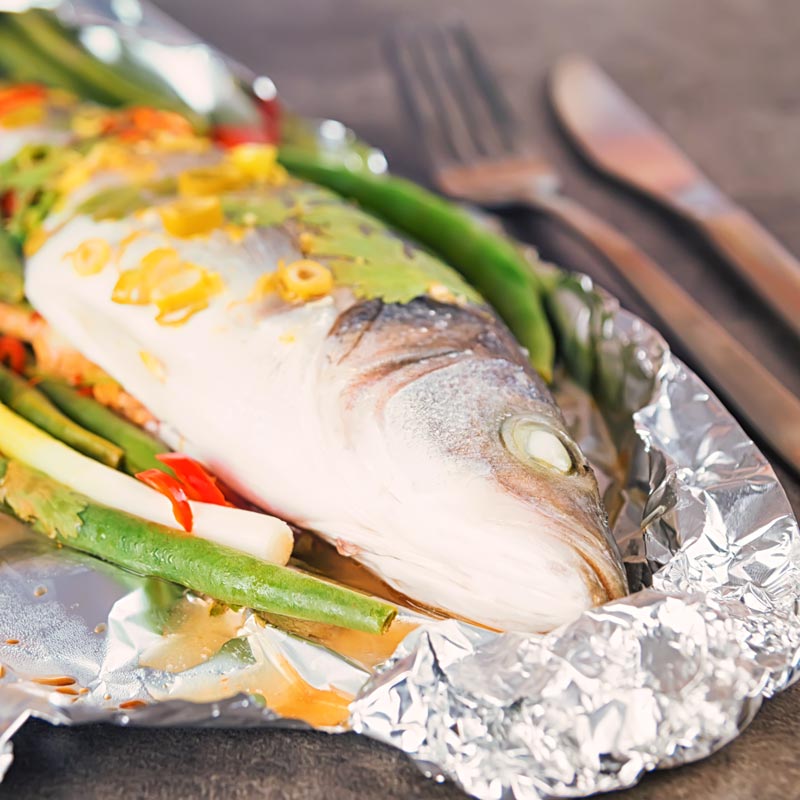 Yield:

2 Servings
Asian Fish En Papillote (Sea Bass)
This Asian Fish En Papillote features a classic French technique with bright and vibrant Asian flavours, you cannot beat a whole sea bass cooked on the bone.
Ingredients
2 Whole Sea Bass
50 g (2-3" Long Piece) Ginger
1 Red Chili Pepper
3 Cloves Garlic
1 Lime
150 g (1 Cup) Green Beans
2 Spring Onions
10 g (2-3 Tbsp) Coriander
2 Tbsp Rice Wine
1 Tsp Sesame Oil
Salt, To taste
Instructions
If your friend fishmonger has not cleaned the fish for you, scale and gut the fish.
Slice the garlic and chili and cut the ginger into coins approximately 2-3mm thick.
Top and tail your green beans.
Zest the lime and then cut the lime in half.
Finely slice the green parts of the spring onions and leave the white part whole.
Then pick some of the leaves off the coriander and leave the rest with the stalks on,
Now take 2 squares of foil around 40-45cm square
Place a single seabass diagonally on the baking parchment and season with salt inside and out.
Stuff the cavity with half of the ginger, garlic and the coriander that we prepared with the stalks
Then arrange half the green beans, add the white part of the spring onion, half of the chili.
The season with half of the lime zest, lime juice, sesame oil and rice wine.
Wrap to form a parcel, you do not want to wrap the foil around the fish. You want to create a tent but sealed well enough to prevent the steam from escaping.
Repeat with the second fish.
Bake in the oven at 180°C or 350°F for 25 minutes.
Serve at the table allowing people to open their own parcels, the smell is insanely good!
Nutrition Information:
Yield:
2
Serving Size:
1
Amount Per Serving:
Calories:

256
Total Fat:

6g
Saturated Fat:

1g
Trans Fat:

0g
Unsaturated Fat:

4g
Cholesterol:

54mg
Sodium:

390mg
Carbohydrates:

22g
Fiber:

7g
Sugar:

5g
Protein:

28g
Calorific details are provided by a third-party application and are to be used as indicative figures only.