These beer battered cod tacos are very much inspired by the much-vaunted Baja fish taco but feature many European influences.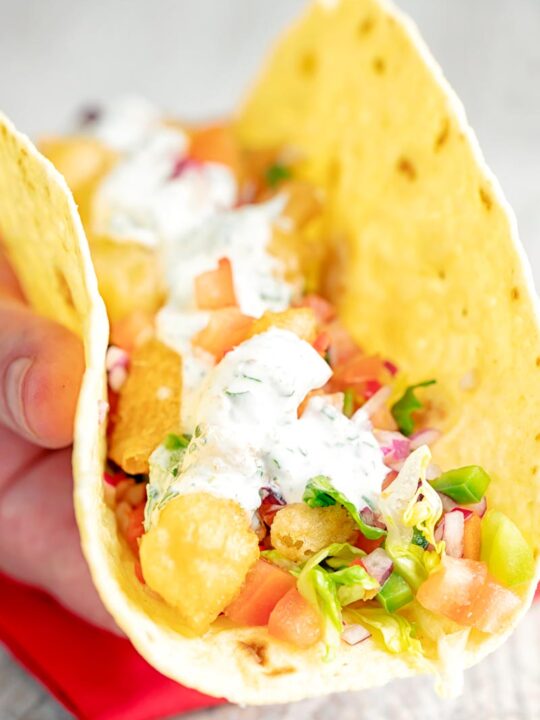 My Baja Style Fish Taco!
This recipe is very much one of those things that I saw referenced on TV and had to have a go at putting my slant on.
As I have mentioned before, US food beyond the obvious exceptions and certainly Mexican food rarely travels across the Atlantic.
But hey, I am a Brit, I was bought up with chip shop fish and chips. Battered fish is part of my food DNA, So this had to be done!
My version gets a quick and vibrant salsa given its piquancy from a little chilli and red wine vinegar.
Then the lightest crispiest beer then gets a hit of coriander and cumin crema!
This is a recipe of 4 parts, the salsa and the crema can both be made up hours in advance and left in the fridge.
Making the batter needs to be done just before frying but it is very quick! It is a very similar batter to the one that I make for my spam fritters.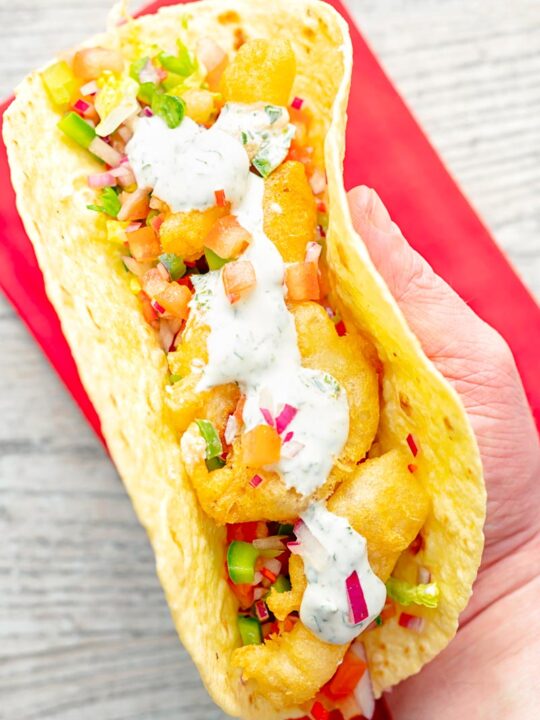 Choosing the Ingredients.
There are a couple of areas in this recipe where you can do your own thing and still keep to the spirit of the recipe.
The first is the fish. I use cod, it is a rare treat for me and it is a fish from depleted stock. So I keep it as a treat rather than a regular ingredient!
I do use it occasionally in recipes like my baked cod with new potatoes, baked cod in tomato sauce or cod loin wrapped in bacon.
But just like that recipe you can replace the fish with something like whiting, halibut, hake or pollock.
Next up is the beer… I use a Leffe blonde Belgian Weiss Beer.
Mainly because I love the stuff, but it has a great citrus edge that works well with seafood.
No surprise then that it is the beer of choice for my beer steamed mussels!
You can use whatever you like, and APA or IPA would work well as would a pilsner-style lager. You do however want to avoid anything too dark.
I personally prefer a light salsa on top of these crispy fish tacos. But if you are an avocado fiend a simple guacamole would work well.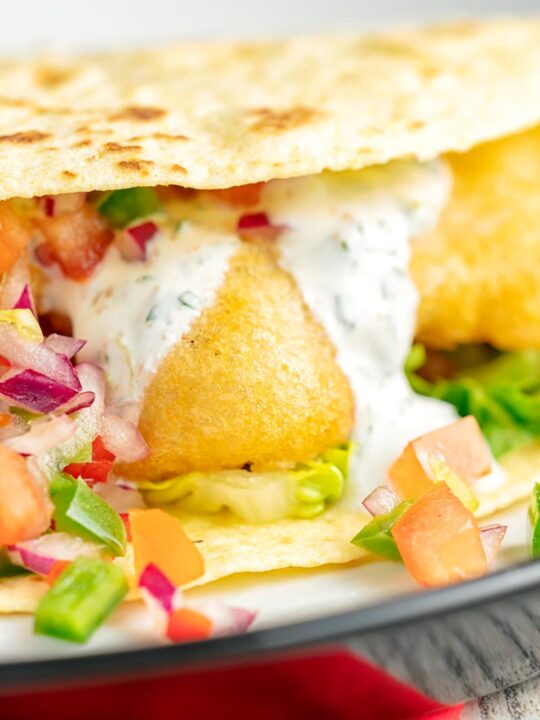 Frying Safely.
Deep frying is something that I do not do often, although it is a technique that I love and one that cannot be replicated using any other method.
For some dishes like my Vietnamese fried tofu, yes you read that right, a wok with a little oil is perfect.
However, just like my deep-fried goats cheese, the safest way to cook this fish taco recipe is in a deep fat fryer.
This batter is very light and it expands greatly. As a result, you need to ensure that your frying device is not overloaded.
You also need to have precise control over the temperature.
This stops the batter from sucking up the oil and keeps the crispy coating light and crunchy.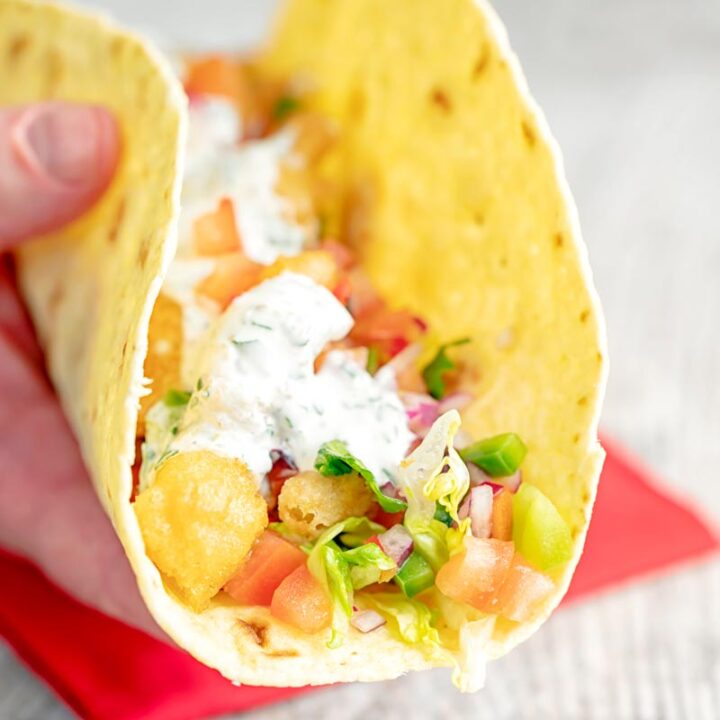 Yield:

2 Servings
Beer Battered Cod Tacos Recipe
These glorious beer battered cod fish tacos are things of great beauty, in the flavour department at least, they are loaded with the cumin, coriander and lime!
Ingredients
4 Small Corn Tortilla
250 g (9 oz) Cod Fillet
1 Baby Gem Lettuce Heart
For the Salsa
125 g (1 Medium) Tomato
50 g (1/3 Cup) Red Onion
1/2 Green Pepper
1 Medium Hot Red Chilli Pepper
1 Tbsp Red Wine Vinegar
1 Tsp Sugar
Oil for deep frying
For the Coriander Sauce
2 Tbsp Plain Yoghurt
2 Tbsp Sour Cream
1 Lime
1 Tsp Cumin Seeds, Toasted and ground
5 g (1/3 Cup) Coriander Leaves
Pinch Salt, to taste
For the Batter
100 g (3/4 Cup) Plain Flour
1 Tsp Baking Powder
1/2 Tsp Coarse Sea Salt
175 ml (3/4 Cup) Beer
Instructions
Step 1: Make the Salsa.
Deseed and cut the tomato into a 5mm dice.
Remove the seeds and the membrane from the green pepper and cut into a 5mm dice.
Peel and cut the red onion into a 2-3mm dice.
Remove the seeds and membrane from the chilli pepper and dice as finely as you can.
Place the diced vegetables in a bowl and mix with the sugar and red wine vinegar.
Have a taste and season with salt.
Step 2: Make the Crema.
Mix together the yoghurt and sour cream.
Heat a dry frying pan over medium heat.
Add the cumin seeds and toast until they release an aroma.
Grind the seeds in a pestle and mortar and add to the sour cream mix.
Chop the coriander and add to the sauce.
Zest the lime and add it to the sauce, then squeeze in enough juice to make the sauce taste good to you.
Finally, add salt to taste.
Step 3: Batter and Cook the Fish.
Heat the oil in your deep fat fryer to 180°C or 350°F.
Whilst the oil is cooking cut the fish into strips around 4-5cm long and 1cm by 1cm in profile.
When the oil is hot mix together the ingredients for the batter until it has just become a single batter.
Dip the fish into the batter then straight into the hot oil.
Cook for 3-4 minutes flipping halfway through cooking.
ENSURE THAT YOU DO NOT OVERCROWD THE FRYER AND BATCH FRY AS REQUIRED.
MAKE SURE THAT THE OIL RETURNS TO TEMPERATURE BEFORE ADDING A NEW BATCH!
Notes
Both the Crema and the Salsa benefit from being made in advance but can be served immediately.
If making in advance remove from the fridge to bring closer to room temperature before serving.
Nutrition Information:
Yield:
2
Serving Size:
1
Amount Per Serving:
Calories:

1722
Total Fat:

58g
Saturated Fat:

18g
Trans Fat:

1g
Unsaturated Fat:

34g
Cholesterol:

335mg
Sodium:

6340mg
Carbohydrates:

152g
Fiber:

14g
Sugar:

16g
Protein:

122g