Some glorious beer battered fish tacos that are a thing of great beauty, loaded with the flavours of cumin, coriander and lime!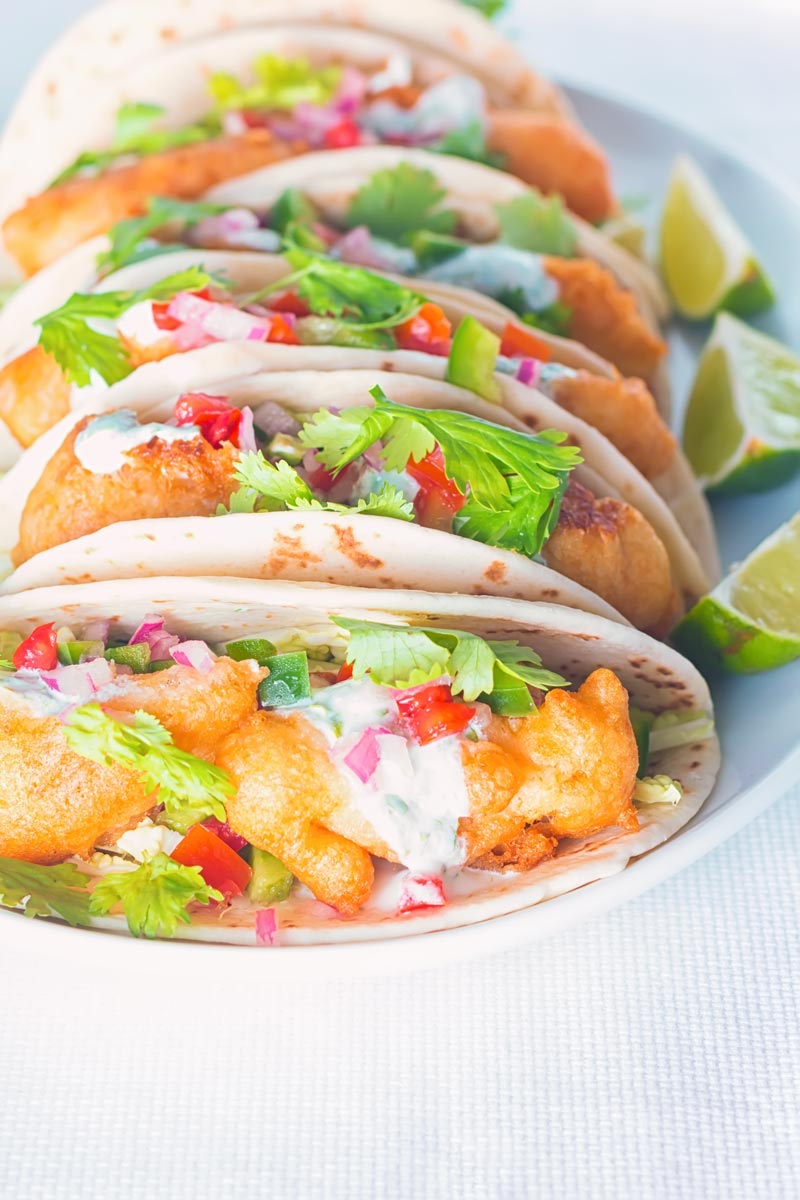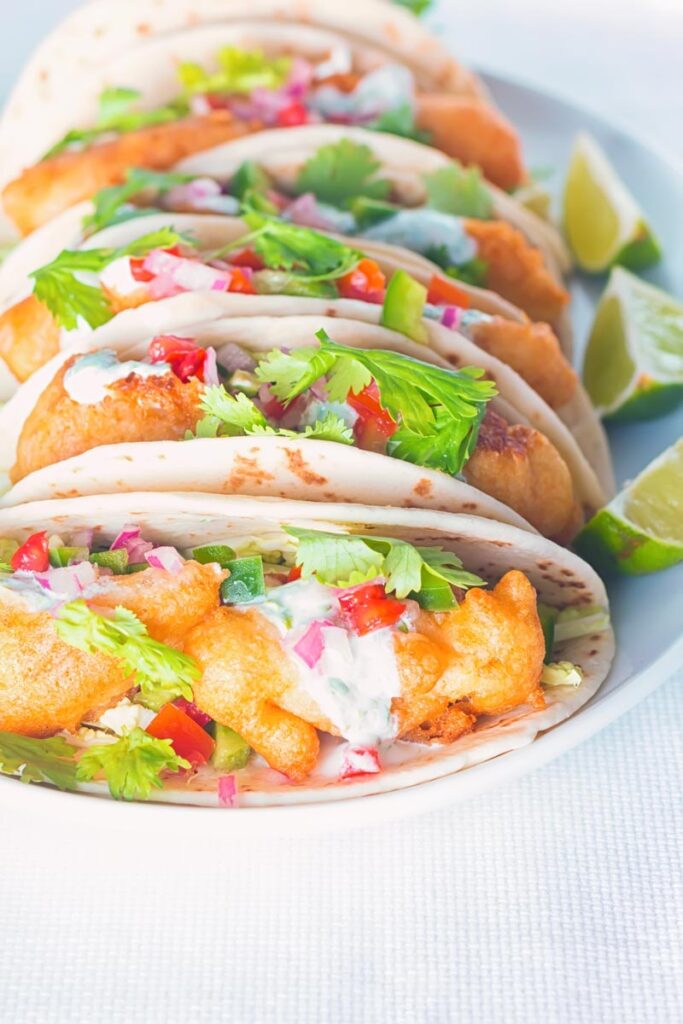 Beer Battered Fish Tacos.
Here we go with another dish I have been working on for a while. Fish tacos are something us Brits hear about on American television but rarely see on our menus. But hot on the heels of my chicken fajitas it was one I wanted to put my spin on.
I would love to name check every recipe I worked from and the books I read but there are far too many to name. However, I have had bucket loads of fun experimenting with this dish.
Primarily because I used it as an excuse to experiment with a new recipe for beer batter. This naturally involved buying lots of really tasty beers.
Naturally, I had to make sure I bought enough to experiment with. But was then really careful not to mess up so I had to dip into my drinking stash.
I chose a Belgian Weissbeer for my fish tacos and more specifically a Leffe Blonde a beer. One that I am rather partial to a glass or several of, but also one that adds a fabulous floral flavour to the batter.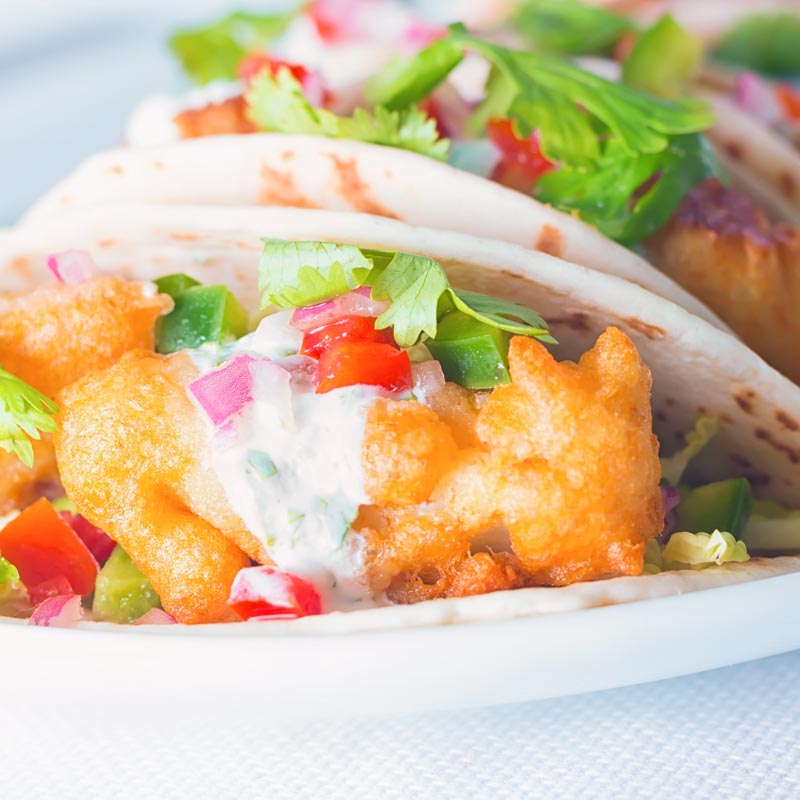 Fish Taco Sauce…
I went with a coriander or cilantro crema as my fish taco sauce. The bright and vibrant citrus flavours just seemed a natural fit with the fish. It is so simple to make and it would work really well with a host of dishes.
This fish taco recipe is most definitely a bit of a fusion recipe. It very much leans on my British roots as much as it nods to its Californian natural environment.
You see us Brits love Fish and chips… You know that right? The batter on this fish taco recipe definitely is a nod to a much more modern battered fish.
Whilst developing this recipe I did experiment with cooking the fish 'nekid', not me of course! But whilst the flavours I added to the fish worked really well, the texture just felt all a little soft.
So I started experimenting with both breadcrumbs and batter… Of course, I landed at beer batter fish tacos, where else was I gonna end up?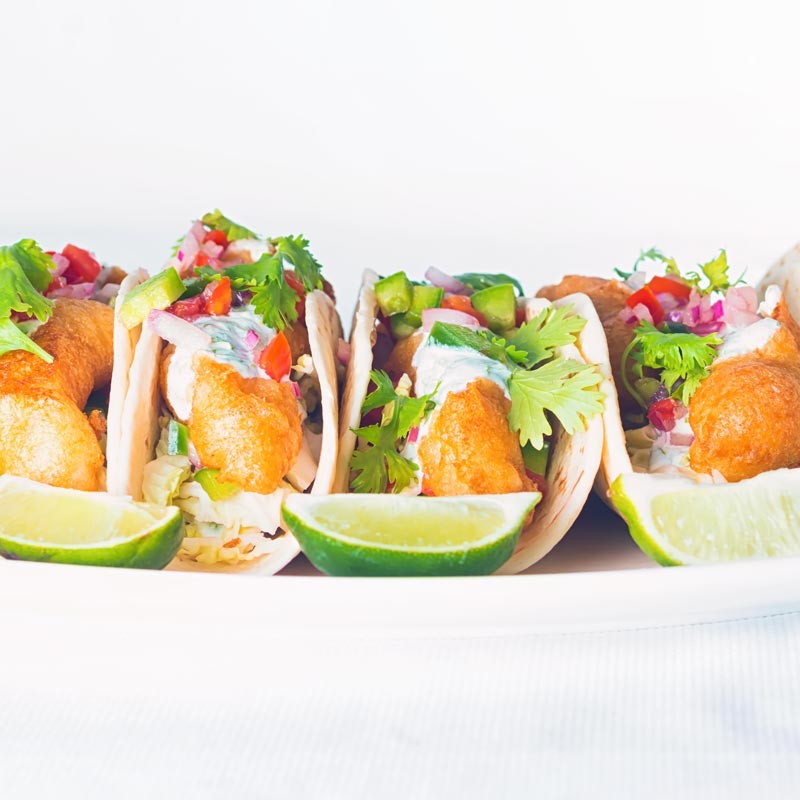 Weissbeer And Batter.
In fact, during my experiments, I found that all weissbeers added a wonderful lightness to the batter. It almost made them souffle right up.
Of course I had to try this multiple times to ensure it was not my imagination.
Which of course lead to lots of leftover beer. Leftover beer never gets left over for long in our house. And that also meant lots of fish Tacos, life is so hard!
Speaking of beer as I am writing this last paragraph prior to posting a week after I prepared this recipe. I have been working at getting ahead as my Mother in Law is visiting at the moment.
Guests for us typically mean a little too much indulgence on both beer and food. This visit is no different we are getting through bucket loads of the amber nectar.
Besides drinking we have a pretty full program of site seeing, relaxing and even a bit of sport (spectating only naturally). We are about half way through and if you are curious what I get up to for fun in Hungary besides cooking and gardening maybe you should check out my Instagram feed.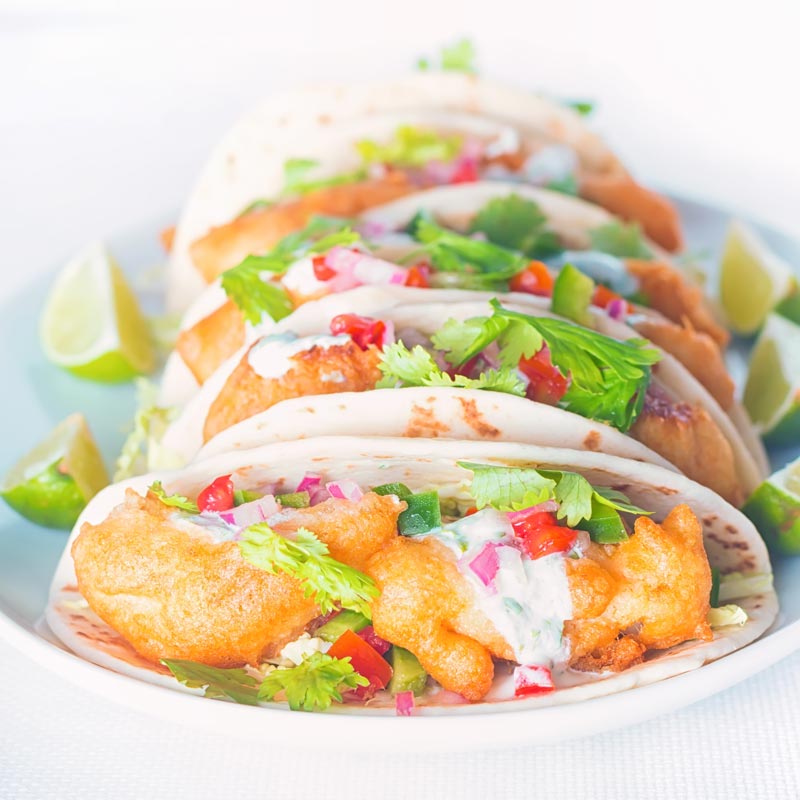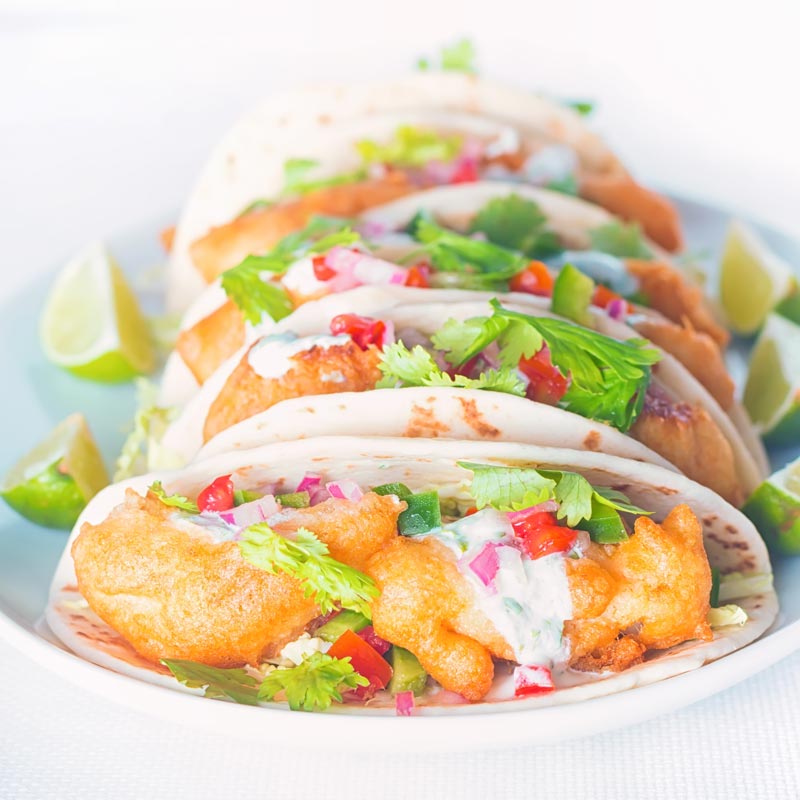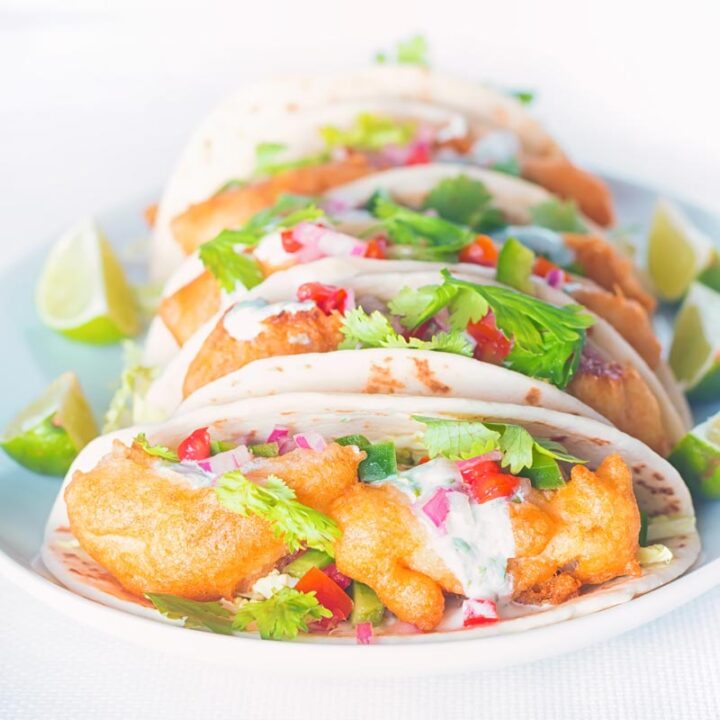 Beer Battered Fish Tacos
Some glorious beer battered fish tacos that are thing of great beauty, loaded with the flavours of cumin, coriander and lime!
Ingredients
6 Soft Tacos, Small
300 g Firm White Fish, I used some local catfish but cod or pollock would be ideal cut into 1cm by 2.5 cm strips
150 g Green Cabbage, Shredded
2 Plum Tomatoes, Peeled and finely diced
1 Red Onion, Finely Diced
1/2 Green Pepper, Finely Diced
1 Tbsp Red Wine Vinegar
1 Tsp Sugar
Oil for deep frying
For the Coriander Sauce
2 Tbsp Plain Yoghurt
2 Tbsp Sour Cream
Pinch Salt, to taste
1 Lime, Juice and zest
1/4 Tsp Cumin Seeds, Toasted and ground
1 Tsp Coriander leaves
For the Batter
150 g Plain Flour
3 Tsp Baking Powder
3 Tsp Coarse Sea Salt
300 ml Beer, I like to use a Belgian Weiss beer but go for something that you like that is fairly light and fizzy
Instructions
Begin by making your sauce by mixing together all of the ingredients... Sauce done!
Then prepare your salsa by mixing together the red onion, tomato, green pepper, red wine vinegar and sugar and set aside.
Mix together the dry ingredients for the flour and set aside.
Now lets get going, add enough oil to a pan so that it is 5 cm deep and heat to 180°C, although a deep fat fryer is just as good.
Then fry off your fish in batches for 2-3 minutes until nice and crispy, transfer each batch to a flat pan lined with kitchen paper.
Finally build your tacos and enjoy!
Notes
You can stuff your tacos with any accompaniments you like, I personally love the crunchiness of the cabbage alongside the crispy fish and sharp salsa and creamy sauce.
Nutrition Information:
Yield:

2
Serving Size:

1
Amount Per Serving:
Calories:

1722
Total Fat:

58g
Saturated Fat:

18g
Trans Fat:

1g
Unsaturated Fat:

34g
Cholesterol:

335mg
Sodium:

6340mg
Carbohydrates:

152g
Fiber:

14g
Sugar:

16g
Protein:

122g
Calorific details are provided by a third-party application and are to be used as indicative figures only.