This spicy mango salad is the perfect easy side for rich dishes, fresh chilli, sweet mango, peppery rocket & sour lime hits all the right notes!

This easy side salad recipe leverages the sweetness and juicy ripe mango to create a dish that is simply perfect alongside rich dishes.

It's also a super quick recipe coming together in well under 20 minutes if you need it to.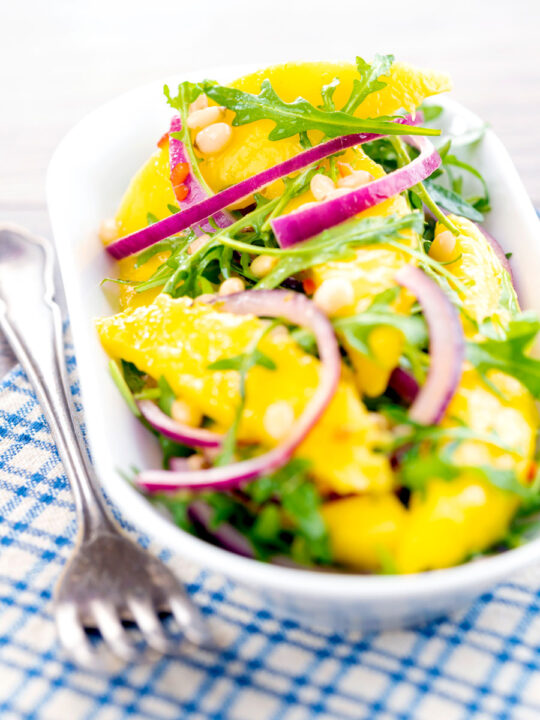 Mango Side Salad.
I love cooking with mango. I often caramalise it to add a trace of bitterness as I do in this chicken and mango salad or this millet and mango salad.
But here we go "nekid" and run with the pure sweetness of mango.
That sweetness is offset by beautifully sharp lime, given a big punch of heat with some fresh chilli.
We finish this spicy mango salad with peppery rocket, arugula for my American visitors, sharp & sweet red onion, and creamy toasted pine nuts.
It really is the perfect all year round pick me up sunny side dish!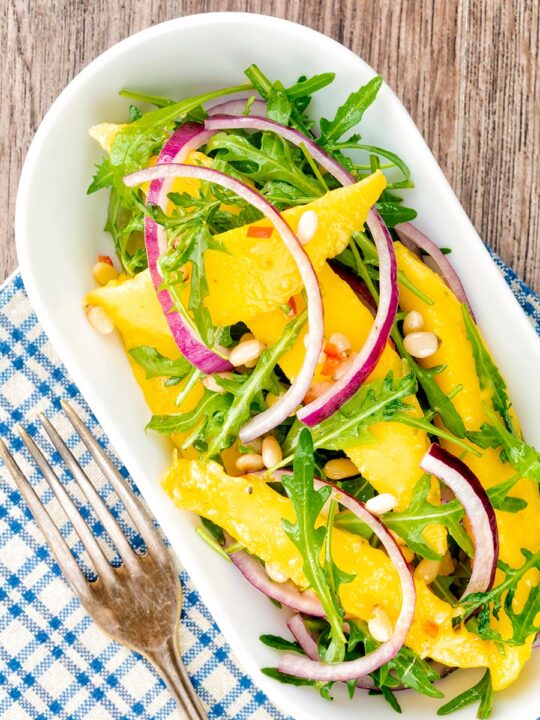 How do you prepare a Mango?
Begin by laying the mango on a chopping board with one of the ends facing you.
Roll the mango through 90 degrees keeping the end facing you, if you let go the mango will fall over. This will ensure that the tall and narrow seed is vertical.
The seed is around 2cm (3/4 inch) thick, so take two slices from each side of the mango leaving the seed section in the middle.
Score each slice of mango through to the skin taking care not to cut through. You can do this as thickly or as thinly as you like. If you score in a crosshatch pattern you will get dice or diamonds.
Take a spoon and slide it between the flesh and the skin and scoop out the flesh and you are done.
I've added a video below for those that prefer visual instruction.
Frequently Asked Questions
What type of chilli should I use?
I personally use a fresh cayenne pepper for this recipe. You should use a chilli that you can tolerate the heat from.

Tolerance to capsaicin is incredibly personal and one person's raging inferno is another person's mild tickle. For that reason alone you should use your own judgement.
How do you tell if a mango is ripe?
As with most fruits the answer is give it a gentle squeeze. It should yield to the squeeze but not be 'squidgy'!
Pine nuts are expensive, is there another option?
They are indeed a costly item and we only use a small amount here as they go a long way.
You can use other nuts or seeds.
Slivered almonds add much more of a crunch and a great flavour, chopped cashew nuts mirror the creamy texture of pine nuts but add more sweetness.
If you want to go left field get some hulled sunflower seeds or even shelled pumpkin seeds and toast them off.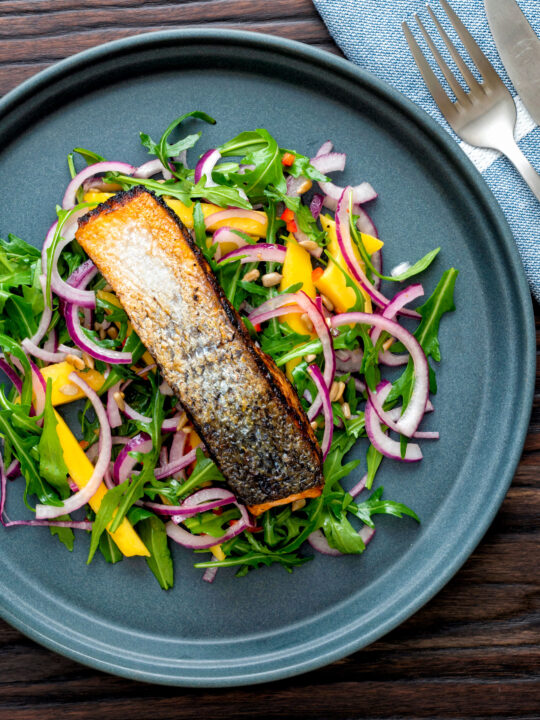 Serving Suggestions.
This simple side salad is fantastic alongside a whole host of types of food. It is pictured above with jerk salmon!
It is also particularly good served with fried food, something like sweetcorn and Prawn fritters or even these courgette fritters.
They would also be great served with these old school fried chicken wings.
It is also good rich meat and oily fish recipes. For instance, this pan fried duck breast or this seared tuna steak are the perfect main elements to serve with this salad.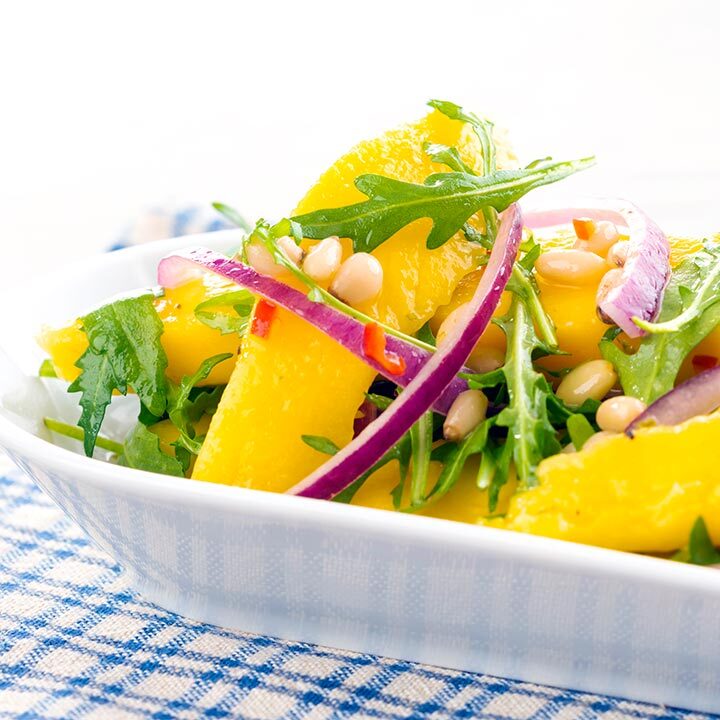 Yield:

2 Servings
Spicy Mango Salad Recipe
This simple spicy sweet and sour mango salad is a wonderful light and fresh side salad that compliments everything from fried food to roasted meats.
Ingredients
1 Medium Mango
50g (1/3 Cup) Red Onion
35g (1 1/2 Cups) Rocket
20g (3 Tbsp) Pine Nuts
1 Red Chilli Pepper
1 Lime
1/2 Tsp Sugar
3 Tbsp Rape Seed (Canola) Oil
1/4 Tsp Salt
1/4 Tsp Black Pepper
Instructions
Zest and juice a lime and place both in a jar.
Cut the chilli in half lengthways and remove the seeds then dice the chilli as finely as you can before adding to the lime.
Add the oil, salt, pepper and sugar and give it all a shake and set aside.
Peel then cut the onion in half and then slice it into 2-3mm thick half-moon shapes.
Pick the rocket and add it into a bowl with the red onion.
Heat a small pan over a medium heat and toast the pine nuts until golden (4-5 minutes), keep them moving with a spoon to prevent them from burning.
Just before serving cut the mango into thin slices (see video below) and add it to the rocket and red onion.
Dress with the dressing and sprinkle with the pine nuts before mixing well.
Nutrition Information:
Yield:
2
Serving Size:
1
Amount Per Serving:
Calories:

208
Total Fat:

8g
Saturated Fat:

1g
Trans Fat:

0g
Unsaturated Fat:

6g
Cholesterol:

0mg
Sodium:

299mg
Carbohydrates:

37g
Fiber:

5g
Sugar:

28g
Protein:

4g
Calorific details are provided by a third-party application and are to be used as indicative figures only.