This griddled chicken and mango salad is the epitome of bright and zingy summer flavours but made with ingredients that are available all year round.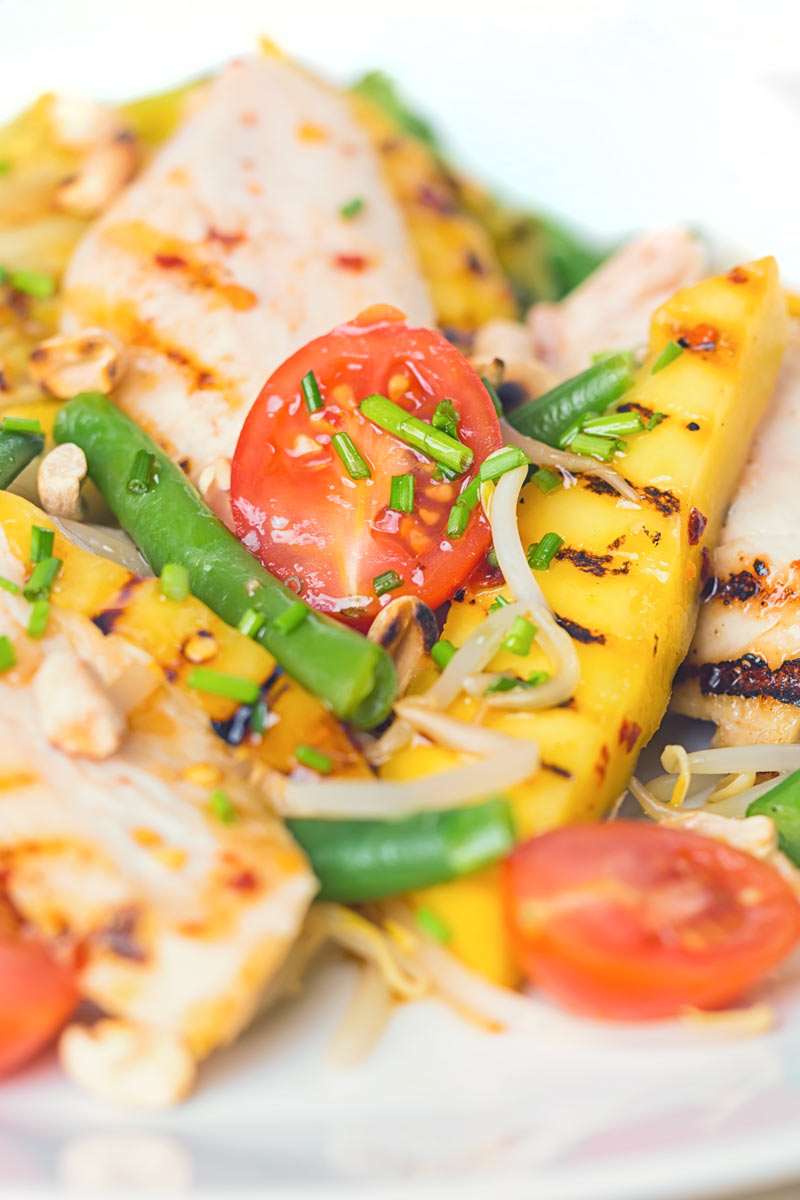 Griddled Chicken and Mango Salad.
I am a little jaded by winter food right now so I went a plundering in my local supermarket and came up with this chicken and mango salad.
Now it would be a leap to say that winter here has been harsh. Nevertheless, I have had enough of it.
So I cranked the log burner up as high as it would go, put on some bouncy music and donned our shorts and had a wee slice of summer.
Ok, the shorts are an exaggeration but this salad recipe is a real slice of summer!
The sweet, sour and salty dressing with a hint of spice really ties all of those bright flavours together.
Regular readers will know that salads to me are not about eating 'healthy'or reducing my calorific intake.
But about lightning up and brightening up what I am eating. They are also definitely not just for summer.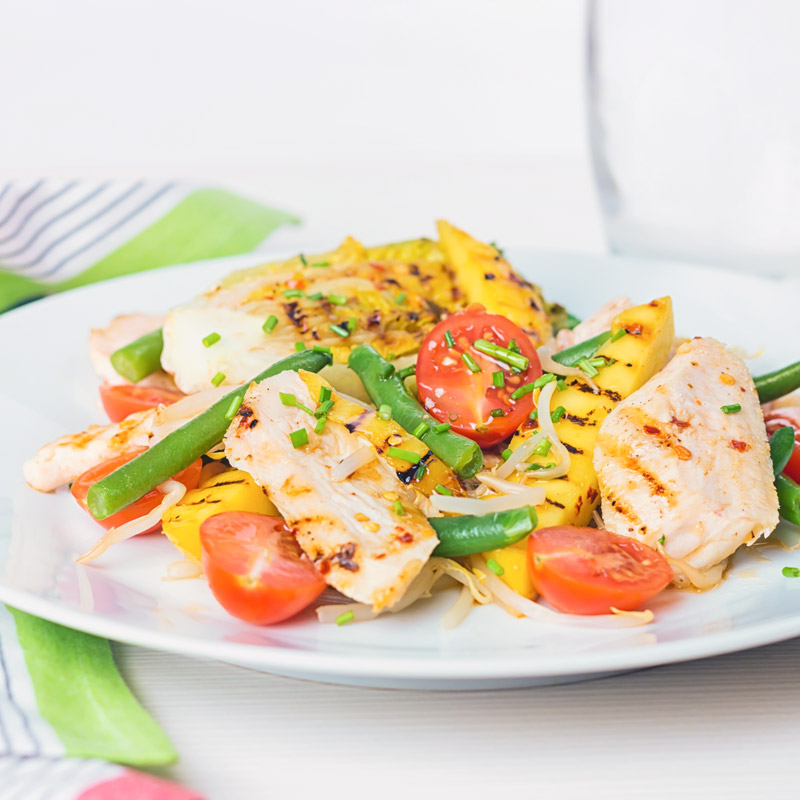 Winter Salad Recipes.
Whilst this chicken and mango salad may be a summer influenced salad that does not mean there is no such thing as a winter salad.
My smoked mackerel salad and my Thai Beef salad are regularly consumed right throughout the year.
But moving on from there recipes like my radicchio salad recipe or roasted fig salad recipe are specifically designed to be winter (ish) salads.
That was not going to cut it today! I wanted a slice of summer and my initial plan for this was to do it with pineapple.
But when I saw the beautiful mangoes, I knew they had to be featured in my now mango chicken salad.
So here it is, go grab some summer tunes and enjoy!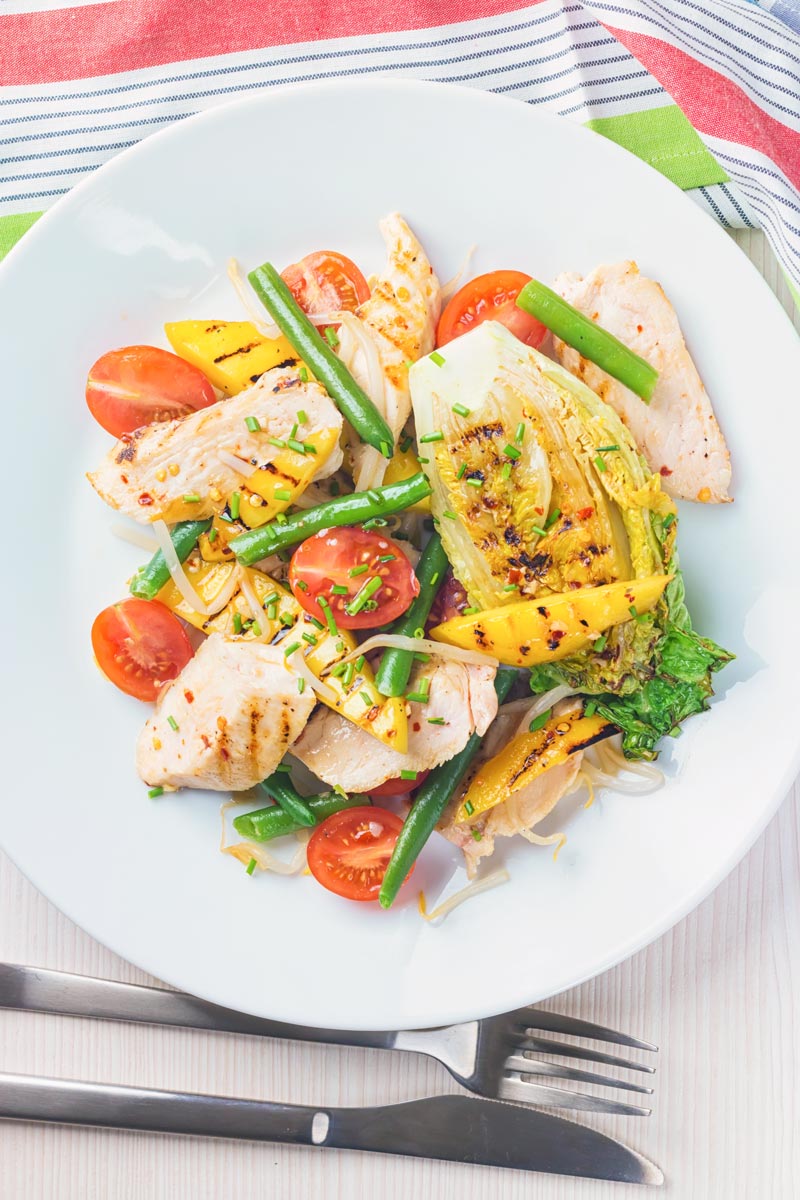 Asian Salad Dressing.
Mangoes are actually indigenous to the Caribbean and South America. But they are now throughout all of the Tropical regions of the world.
To me, they always seem like an Asian influenced ingredient. Probably due to the association of mango chutney and Indian food.
But the dressing for this griddled chicken and mango salad grabs influences from further east.
Ingredients like fish sauce, sugar and chili peg these bright flavours at being much more South East Asian.
It is superb and will work on so many salads.
I'll leave you with a secret from my kitchen… I have a dressing jar, it is just a jar, I can't even remember what was in it originally.
It has been my dressing jar for 10 years, chuck stuff in, shake it up, dressing done. Kitchen gadgets are often over-priced and over-rated, teehee!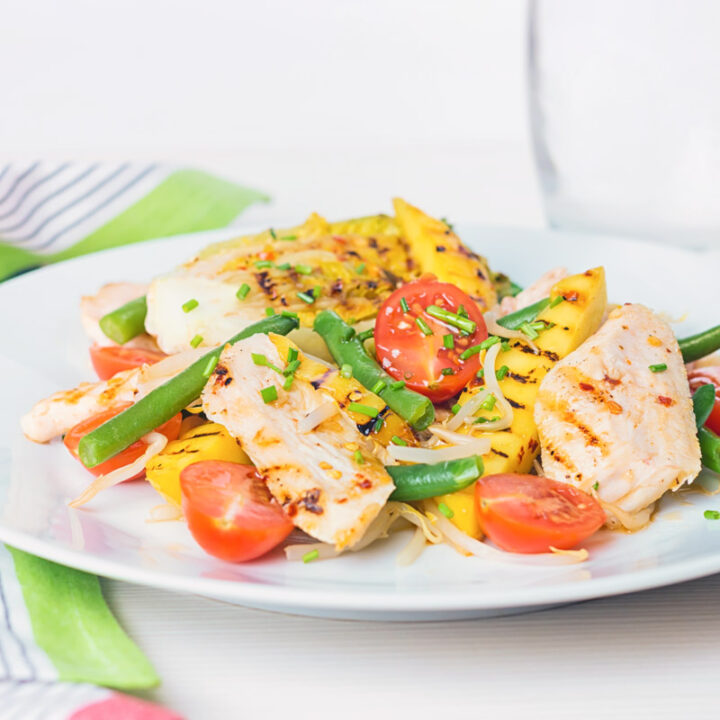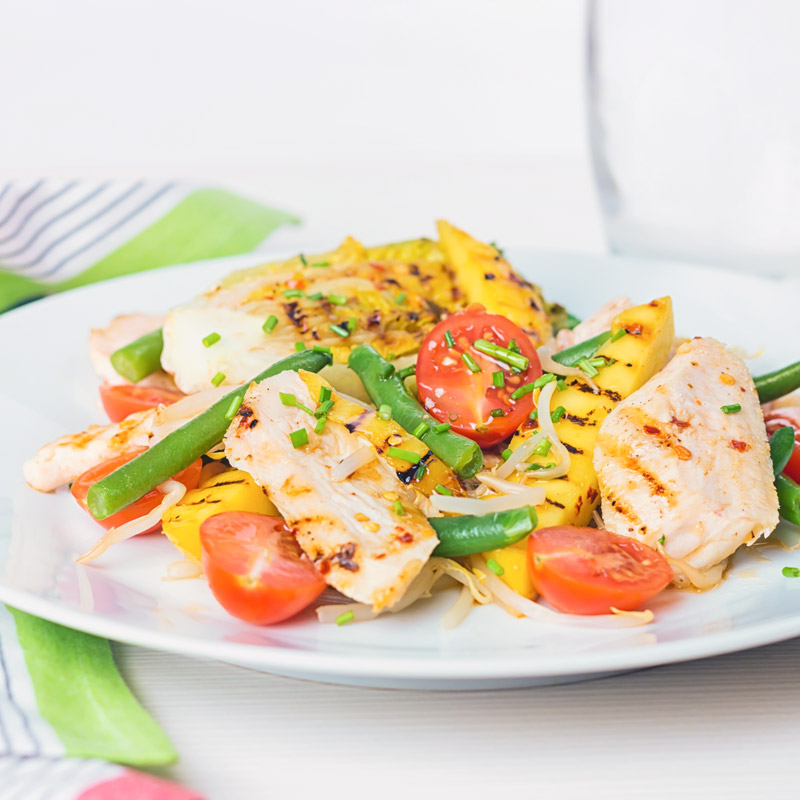 Yield:

2 Servings
Griddled Chicken and Mango Salad
This griddled chicken and mango salad is the epitome of bright and zingy summer flavours but made with ingredients that are available all year round...
Ingredients
1 Mango, Sliced
50 g Peanuts
20 g Cherry Tomatoes, Cut in half
100 g Bean Sprouts
150 g Green Beans, Frozen is fine
1 Baby Gem Lettuce, Cut in half
250g Chicken Breast, Butterflied and bashed out to 1.5cm thick
1 Tbsp Cooking Oil, Neutral
1 Tsp Chili Flakes
2 Tsp Brown Sugar
3 Tsp Fish Sauce
2 Tsp Sesame Oil
3 Tsp Lemon Juice
1 Clove Garlic, Mashed
Salt and Pepper, To taste
Instructions
Put the chili flakes, brown sugar, fish sauce, sesame oil, lemon juice and garlic in a jar or your favourite dressing mixing 'device' and combine.
Toast off your peanuts in a dry pan for 2-3 minutes.
If you are using frozen beans defrost them in a pan of salted water then drain and refresh, keeping the hot water.
Rub your butterflied chicken breast with oil and season with salt and pepper and then place in a hot grill pan and leave for 4-5 minutes.
Flip over the chicken and cook for a further 3-4 minutes until cooked through and then set aside to rest.
Make sure your water that you put the beans in is still warm and then drop them back in off the heat just to warm up.
Add the mango to the grill pan and again grill to get the griddle marks and warm through.
Pour your dressing into a large flat bottomed bowl.
Remove the mango and place them in the dressing.
Add the lettuce to the grill pan and cook for 2-3 minutes on the cut side.
Slice the chicken and add to the mango and the dressing.
Begin to build your dish by layering up the ingredients.
Finally remove the lettuce from the griddle pan and dip the cut side in the remaining dressing and adding to the plate.
Nutrition Information:
Yield:
2
Serving Size:
1
Amount Per Serving:
Calories:

622
Total Fat:

30g
Saturated Fat:

5g
Trans Fat:

0g
Unsaturated Fat:

22g
Cholesterol:

107mg
Sodium:

1072mg
Carbohydrates:

45g
Fiber:

8g
Sugar:

33g
Protein:

50g