Chicken en croute, chicken breast sat on a slice of ham & mushroom duxelles before being encased in puff pastry served with a mushroom sauce.
Using a lattice of puff pastry over the top of the chicken lightens the dish significantly. It also makes checking that the chicken breast is perfectly cooked much easier.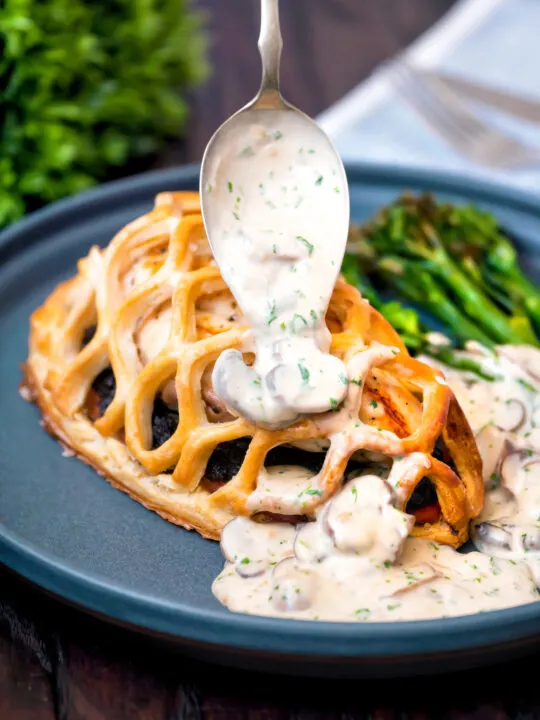 Chicken Breast in Puff Pastry
Cooking something "en Croute" or in a crust is a French technique that can be traced back to the end of the 12th Century. So it's pretty tried and tested!
This chicken en croute recipe is my take on an idea that sees everything from pate to salmon stuffed inside a puff pastry crust.
I use chicken breast, a much-maligned cut of meat among foodies.
But one that is both easy to buy and easy to cook. I use it in dishes ranging from the classic chicken kyiv and chicken forestière through to Japanese chicken katsu curry.
I place it on a nice thick-cut slice of ham and top that with mushroom duxelles. This means that the puff pastry base remains crispy rather than it getting soggy with chicken cooking juices.
I use a pastry lattice cutter to create an "open" top for my chicken parcel.
In part this is practical, it means you can get a meat thermometer into the chicken without messing with the crust. Let's face it, overcooked chicken breast is just nasty and undercooked is plain dangerous!
But it also lightens the dish, I find a whole chicken breast completely wrapped in pastry too large for me.
As a result, there is plenty of room for the creamy and silky mushroom sauce that I pair this with!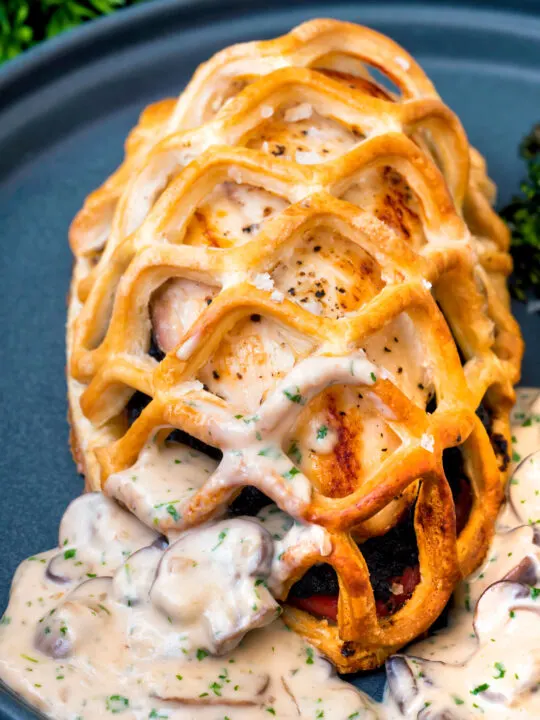 Frequently Asked Questions
What can I do with the leftover puff pastry?
This is an indulgent recipe that does result in quite a lot of leftover puff pastry. Especially if you use store-bought puff pastry like me.

There are a host of ways to use up the leftover puff pastry. Everything from puff pastry cheese straws through to these puff pastry asparagus wraps.
If it's Christmas time you could even give these puff pastry mince pies a whirl.
Do I have to make the mushroom duxelles?
No, you can omit it if you wish. However, it serves a purpose beyond just flavour!

Mushrooms are full of water, cooking them this way drives off that liquid and turns them almost into a sponge. They suck up the cooking juices from the chicken, this permits the puff pastry to go crispy on the base.
How do I know when the chicken is cooked?
I keep on saying this, buy a meat thermometer. They are relatively cheap and will make you a better cook on day 1, with no more overcooked or undercooked meat. Perfection every time!

To serve chicken it should be 73°C or 164°F (165°F according to the USDA). If you are resting the meat remember it will continue to cook when you remove it from the oven.
Do I have to use dry sherry in the sauce?
No, a host of other types of booze works well. You could use brandy, marsala wine or even cider.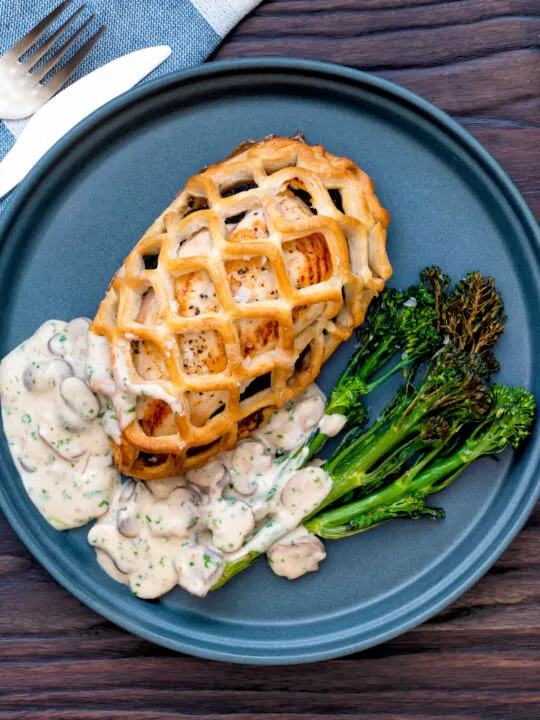 Serving Suggestions
These chicken puff pastry parcels form a hearty centrepiece to a dish and as a result, I keep the sides relatively light.
Green vegetables are my usual accompaniment to this recipe.
Here it is pictured served with some roasted tenderstem broccoli. But it would be great with everything from garlic green beans to my miso roasted Brussel sprouts.
Other things that work well include, runner beans, sugar snap peas and some simply cooked buttered cabbage.
If you really wanna stretch that waistline then go for it and have some mashed potato!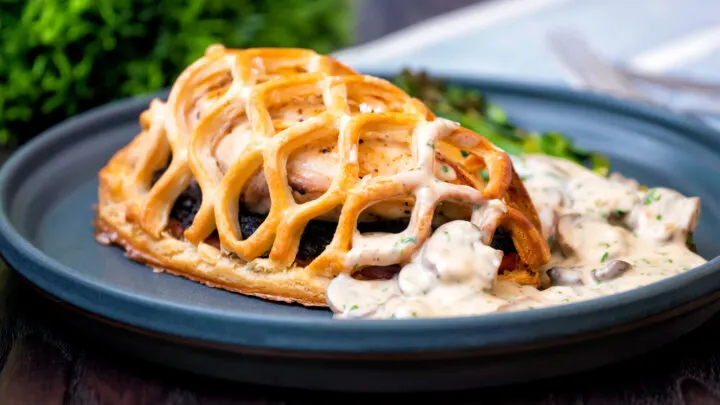 Equipment Used
I only mention specific brands of equipment if I think they make a material difference to a recipe. If you have any questions feel free to ask them in the comments section below the recipe.
Stovetop.
Oven.
Weighing scales and or measuring cups and spoons.
Chopping board.
Kitchen knife.
Blender.
28cm or 11″ frying pan, not nonstick if possible.
18cm or 7″ saucepan.
Rolling pin.
Pastry lattice cutter.
Baking parchment.
Small mixing bowl.
Pastry brush.
Serving and stirring implements.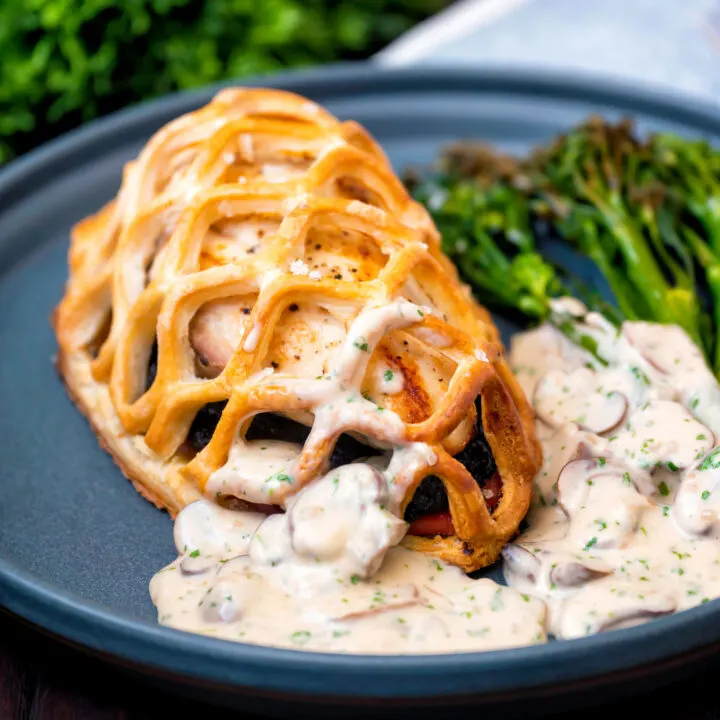 Yield:

2 Servings
Chicken en Croute Recipe
Total Time:
1 hour
40 minutes
Puff pastry encased chicken breast or chicken en croute, a really tasty and hearty recipe that I like to serve with a creamy mushroom sauce.
Ingredients
For the Mushroom Duxelles:
250g (2-2½ Cups) Chestnut Mushrooms
1 (35g) Shallot
25g (2 Tbsp + 1 Tsp) Butter
¼-½ Tsp Salt
½ Tsp Black Pepper
For the Mushroom Sauce:
150g (1¼-1½ Cups) Small Chestnut Mushrooms
25g (2 Tbsp + 1 Tsp) Butter
1 (35g) Shallot
1 Tbsp Flour
75ml (⅓ Cup) Dry Sherry
125ml (½ Cup) Chicken Stock
75ml (⅓ Cup) Double Cream
10g Fresh Parsley
Salt to taste
For the Chicken Parcels:
2 Small (150-175g each) Skinless Chicken Breasts
1 Tsp Cooking Oil
1 Packet (500g) Puff Pastry
50g (1¾ oz) Thick Cut Ham
Mushroom Duxelles (see above)
¼ Tsp Salt (plus a pinch of coarse sea salt)
¼ Tsp Black Pepper
2 Tbsp Milk
Instructions
For the Mushroom Duxelles (40 Minutes + Cooling Time):
Place the mushrooms in a blender and pulse until they form a coarse (5-8mm) crumb.
Peel and dice the shallot as finely as you can.
Heat a wide-based (28cm or 11" not non stick) frying pan over a medium-low heat.
When the pan is hot add the butter and wait for it to melt.
Add the mushrooms, shallot, salt and pepper and cook for 30 minutes stirring every 4-5 minutes.
After 30 minutes the water should have been driven off from the mushrooms and you will be left with quite a dry mushroom "paste". Set this aside and allow it to cool.
For the Mushroom Sauce (25 Minutes):
Cut the mushrooms into slices 3-4mm thick.
Peel the shallot and dice it as finely as you can.
Heat a small saucepan (18cm) over a medium-high heat and when it is hot add the butter.
When the butter begins to foam add the shallots and soften for 2 minutes stirring regularly.
Add the sliced mushrooms and cook until they begin to colour (stirring occasionally) and all of the moisture has evaporated, this will take around 5-7 minutes.
Add in the flour and cook for 1-2 minute stirring continuously, the texture will go claggy, this is fine.
Pour in the dry sherry and cook until the sherry has almost all evaporated.
Reduce the heat to low and add the chicken stock and cook for 5 minutes.
Have a taste and add more salt if required, remember we are adding cream so the mushrooms should be a little too salty at this point.
Add the cream 5 minutes before the chicken parcels come out of the oven and cook over a low heat, making sure that the sauce does not boil.
Just before serving finally chop the parsley and stir it through the sauce.
For the Chicken Parcels (50 Minutes):
Rub the chicken breasts with the oil and season with the 1/4 tsp of salt and pepper.
Heat a wide-based (28cm or 11" not non-stick) frying pan over a medium-high heat.
When the pan is hot add the chicken breasts presentation (skin side) down and cook until they go golden, (3-4 minutes.
Flip the chicken and cook for another 2-3 minutes, then remove and set aside on a plate.
Roll out the puff pastry until it is 4-5mm thick (using as much flour as needed to stop it sticking) and cut it so that it forms four rectangles. Two rectangles should be 1-2cm larger than the chicken breast, the other two should be around 25% larger than the first two.
Cut the ham so that it is the same shape and size as the chicken breast.
To build place one of the rectangles of pastry on your work surface and place the ham on top of it in the centre.
Spread half of the mushroom duxelles on top of the ham in an even layer.
Place the chicken breast on top of the mushroom and ham.
Take a second sheet of pastry and run over it with a pastry lattice cutter.
Tease the pastry open so that it forms a good looking lattice.
Using your finger run some water on the bottom layer of puff pastry around the edge of the chicken.
Place the pastry lattice over the chicken and gently seal the edges by pressing down.
Cut the parcel so that it is the shape of the chicken and place on a baking sheet lined with baking parchment.
Repeat steps 7-14 for the second parcel and place it on the baking sheet.
Finally, brush the pastry with a little milk so that it glazes nicely and sprinkle with just a little coarse sea salt.
Place it in an oven at 200°C or 400°F and cook for 25-30 minutes or until the thickest part of the chicken reaches 73°C or 164°F.
Nutrition Information:
Yield:
2
Serving Size:
1
Amount Per Serving:
Calories:

1308
Total Fat:

83g
Saturated Fat:

29g
Trans Fat:

1g
Unsaturated Fat:

48g
Cholesterol:

243mg
Sodium:

1707mg
Carbohydrates:

71g
Fiber:

4g
Sugar:

11g
Protein:

70g
Calorific details are provided by a third-party application and are to be used as indicative figures only.